Our little log cabin is back in action! We are back in the main house after living in the cabin for a year: a fun adventure! About the cabin, it's mostly heated by the wood fireplace. Kitchenette has microwave, 1 burner, mini-fridge, dishes etc. upstairs is full-sized bed
Sweet restored stockade style log cabin right on Haller Lake. You would never know you were within the Seattle city limits! Haller Lake is a quiet, natural spring fed 15 acre lake surrounded by private homes. Custom woodwork inside with artful touches. Sleeps 2 upstairs in full sized bed. Main floor has comfy sofa, kitchenette with microwave, single induction burner cooktop, coffee maker, toaster and small refrigerator, teapot, dishes and glasses; 3/4 bath with new stone tile shower. This cabin is heated mainly with the wood fireplace. The photos show the old wood stove. You can now watch the flames and there is a fan to spread the heat around a little better. There is also a deLonghi oil heater to add a little more heat when needed. There is no TV but there is WiFi. Bring slippers, the stone floor gets chilly. Fish from the dock or take a ride in the paddleboat. We just got a canoe! (The boats are out of the water in the winter). No pets please! We are now living in the main house. We have an Australian Shepherd and a flock of chickens and ducks (the dog and chickens do not come into the cabin, just in case you were wondering) Parking is shared with the main house. It's close to Northgate Shopping Mall with shops, restaurants and Thornton Place Cinema. A few blocks to Northwest Hospital and the new proton center (look up ProCure Center) The lake is about 20-35 minutes from downtown Seattle via I-5 or highway 99 (can be a bit more in heavy traffic). Bus route #346 has a stop at the end of the driveway. If you are interested in having a party or many friends over, please clear it with us before making your reservation. We have limited parking and there is no parking down our communal access road. Check out by noon, Check in no earlier than 2pm, sometimes later if I can't get the cabin ready because of work. To be agreed upon according to schedule. If you want an early morning check-in, please book the night before.
This cabin is so charming, I never wanted to leave! Rustic yet refined log construction with a craftsperson's loving attention to detail. Intricate wood inlays, a gorgeous walkin shower tiled in natural stone, a great woodburning stove that keeps it cosy. Bedroom is upstairs, double bed, amazing view of the lake. Kitchen is also charming - microwave and single burner stove, little fridge and most everything you'd need, pots and pans wise, to cook the basics. Well appointed. Feels miles and decades away from metro Seattle, but is centrally located. Roberta is so neat and kind and helpful, we got in at about 1 a.m. when we arrived due to our plane schedule, and Roberta left a flashlight, detailed instructions and a lighted path to the cabin - even had a little fire going and lots of standby firewood to warm it up for us! Roberta and Dan's cabin is going to be our #1 spot in Seattle from now on. Charming!
Kit
2012-02-24T00:00:00Z
I stayed in this cute little log cabin with my boyfriend late April. The place was better than I had expected! The weather was beautiful and we were able to take advantage of it on the lake by using a paddle boat that Roberta dried for us. Communication between Roberta and Dan was great - they responded to all my emails in a quick and friendly manner. We had no problems at all with check in and out stay. It was a little tricky to find the place as I almost drove by the first time, but there is a street sign that will guide the way. I really enjoyed my trip, it was the perfect getaway! The cabin was isolated enough that you wouldn't know it was only a 5 minute drive away from the shopping mall. Will definitely be back!
Cindy
2012-04-29T00:00:00Z
Impressed with the site, the architectural beauty, the welcome details and the conversations with Roberta, our hostess... We had a total ball in their darling cabin by the lake ;) I took "a ton" of pictures...will post them little by little, to re-live the fun time spent there. Full heartfelt recommendation, from both Robert and myself...:D Always love, light and laughter; Leticia & Robert Hube(URL HIDDEN) (URL HIDDEN)
Leticia
2012-05-13T00:00:00Z
Super interesting log cabin with nice grounds and Haller Lake view very near Northgate Shopping Center (and my daughter's apartment). Hosts are very gracious and accommodating, and I'm recommending the bigger house for friends visiting their children in Seattle, and may do a "girls' weekend" from Spokane. For the log cabin, I'd recommend one or two persons at most and to take only light luggage and a flashlight for the walk from the parking lot near the bigger house.---especially in these dark winter months. You might also want to take a tape player or radio for music at the cabin.
Connie
2011-12-01T00:00:00Z
Roberta and Dan have a great little cabin in a beautiful location. It was quite and cozy and we wish we could have stayed longer.
Andrew
2011-12-20T00:00:00Z
We thoroughly enjoyed the peacefulness we found at the Haller Lake Log cabin. It was perfect after the busy days getting our daughter settled at UW. Roberta's communication before, during, and after our stay was great. The cabin had everything we needed. The setting was a little oasis. So relaxing. Perfect short stay. Would love to return sometime and spend a little more time on the lake. Thank you Roberta and Dan for sharing your lovely retreat with us.
Lynne
2011-09-26T00:00:00Z
Roberta and Dan's Haller Lake Log Cabin was everything I could have possibly asked for. It is truly a hidden gem within the hustle and bustle of the city of Seattle. Walking back to the cabin, I was immediately taken aback by the beauty of the trees surrounding it and the serenity of the lake stretching out before it. My first night, I simply sat out on the private dock, taking it all in. The cabin itself was perfect. It was cozy, rustic, and the ideal way to go "back to nature" without losing any of the amenities of home. The window in the bedroom took up almost the entire wall and each morning my boyfriend and I enjoyed awaking to sunshine and birdsongs. The patio in front of the cabin was fantastic for enjoying relaxing breakfasts outdoors, and the fireplace was ideal for cozying up on the couch each night. As if all of this wasn't enough, Roberta and Dan left coffee and tea for us and provided enough firewood to keep us warm all day and night. While Dan wasn't at home when we arrived, Roberta took the time to give us a tour of the cabin, show us how to light the fireplace, and answer any and every question we had. She was a fantastic host-- and even helped me locate the cabin when I got lost on the way there. I would definitely recommend this cabin to anyone and everyone interested in having a relaxing, enjoyable and picturesque escape from the city.
Megan
2014-03-21T00:00:00Z
This magical cabin was made even better by the beautiful pristine lake and warm and accommodating hosts. A big thank you to Roberta and Dan for their hospitality. The cabin was well stocked, clean, and super comfortable. I will treasure our time there and hope we can return one day! Only 15 minutes from downtown Seattle but a world away. Very tranquil and peaceful.
Emily
2015-08-24T00:00:00Z
Værelsestype
Helt hjem/lejlighed
---
Ejendomstype
Sommerhus/hytte
---
Med plads til
2
---
Soveværelser
Seattle, Washington, USA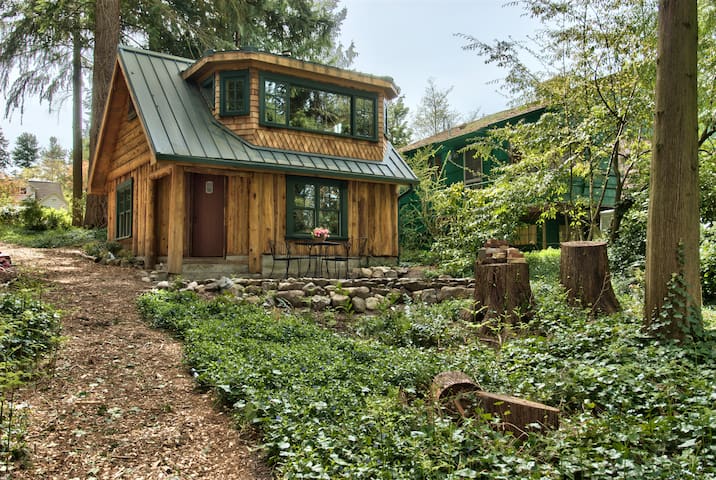 For travelers who are passing through town short-term and like a rustic cabin vibe in a great city location. Features: Futon pull out double bed, twin single loft bed, toliet & kitchette, but note: No bathing facilities available on site. Welcome!
This space has a lot of funky charm and is in a great part of the city. The room is cozy and a bit quirky with a rustic/self built vibe as we inherited the space (for example, the walls are simple paneling) but if you like its charm like we do, you will always have clean sheets, fresh duvets and coffee. You can have your coffee on the roof to see the tips of the skyscrapers while listening to the collection of birds that seem to like our yard! We hope you will love this place so please do not book just because it "will do for the price." Not everyone likes ladders, futons, old wood wall paneling or lack of a shower, but some people love cozy and fun and will truly resonate with our offering as they travel like we do! We love people to be happy and feel safe. There is a toliet is in the room with a curtain and half wall dividing it from the rest of the space, but no solid door. There is a single foam bed in the loft for those that are comfortable on a loft ladder. The futon in the main space is a pull out that could fit two people and is comfy. I set it up with clean sheets and bedding always. It will take up most of the room, so if you are staying more then a night, you may want to push it back to have a sitting space as there is a small table and two seats for eating space and a kitchenette, but no drawers for clothes..though we have lots of hooks and a shelf- if you have large wheel suitcases it will be possibly too tight...I offer all this to be upfront so you will enjoy your stay if you select the Zen Loft :) The wifi password for the zen loft is hulahoop :)
Ravenna is a wonderful neighborhood with an extemely good walking score. You are only a few blocks from so much! Less than 10 minutes walk and you are walking around Greenlake, or at Ravenna Alehouse, Zeeks Pizza, Ravenna Park, Third Place books, you name it! There is so much in our area to enjoy! For drivers, you are just 10 blocks from 1-5 and 5 minutes drive to the University District and 10 minutes to areas like Phinney, Fremont and the Woodland Park Zoo. In the city, but without the traffic, noise or high rises.
Great stay, Lara is a very accommodating host and great with communication. Would recommend to anyone
Taryn
2016-08-14T00:00:00Z
I arrived late night (delayed flight) and everything was ready for good sleep. The place is clean nice and special. Free parking just near.
Lena and Slava
2016-09-18T00:00:00Z
I was very welcomed. The description was accurate and the neighborhood was very nice, safe.
michele
2015-11-08T00:00:00Z
The Zen Loft was so cozy and fun to stay in! Lara was great and made sure we were comfortable. We had a great time!
Elizabeth
2015-05-30T00:00:00Z
What a wonderful treat! Lara and family were very accommodating and friendly. I love the fact that my money for a place to stay didn't go towards some billionaire kid's college fund but to a delightful middle-class family's son (who has inherited the family's gift for guest treatment).
Gus
2016-04-08T00:00:00Z
Although we didn't get to meet Lara, she was very welcoming and easy to contact before our stay. We weren't in Seattle for very long, but the Zen loft was a great place to rest. It was raining during the night, which made it even cosier. It was a very unique place to stay, which is one of the best things about using air bnb. We got the experience of staying in a 'tiny home' without the full time commitment. It was just a short drive to a lot of things we wanted to do, like go to the Green Lake area and Fremont/Ballard.
Elizabeth
2015-09-02T00:00:00Z
The tiny little loft was good for a pitstop. It was cool to climb the roof and see the beautiful sunset. Pretty good location felt very safe. Could be dusted a bit more but worked for us since it was a pitstop (no shower)
Lauren
2015-07-26T00:00:00Z
This is a great place to stay if you are looking for something a little more unique. At first I was concerned how far out of from downtown this place was, but learned that I could drive down the road to the UW Link Light Rail Station and take that closer into the city to prevent dealing with parking. Only drawback I had while staying was that the WiFi was a bit finicky and kept cutting out, but only need to refresh the page and it was fine. So if having a steady internet connection is important to you then maybe check with the host to see if it is acting up.
Dillon
2016-07-17T00:00:00Z
Værelsestype
Helt hjem/lejlighed
---
Ejendomstype
Andet
---
Med plads til
3
---
Soveværelser
Seattle, Washington, USA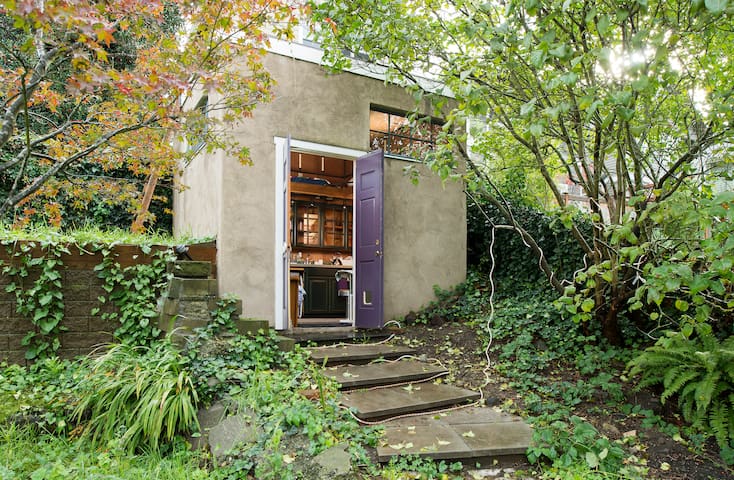 This cozy little bungalow was fully updated in the Summer of 2016. It is a block and a half from beautiful Green Lake, and walking distance to many great local restaurants, bars, shops, and outdoor activities, as well as a short drive (or long walk) to the University of Washington and Woodland Park Zoo. Parking is easy to find and the neighborhood is quiet and safe.
This detached bungalow is in the backyard gardens of the owners' restored craftsman home. It is perfect for 2 people that want a residential retreat in a vital Seattle neighborhood with the option to prepare all your meals in-house. Amenities include Wifi, TV, Netflix streaming, heating, air conditioning, linens, stove, microwave, refrigerator, coffee maker, coffee and tea. Other Things to Note This bright, charming tiny bungalow is entirely yours, with a landscaped backyard that is shared with the owners. Enjoy the comfy queen-sized bed, sectional couch, TV (with local channels and Netflix), tiny kitchen, and a small bathroom with a shower. Heating and air conditioning are controlled entirely by you. If the weather allows, relax outdoors around the firepit or the covered pergola seating area, surrounded by lilac trees, flowers and plants.
Seattle is among the most active cities in the U.S. and Green Lake is Seattle's hub for recreation. Circling the lake is a 2.8 mile walking/running/wheels trail. The park offers tennis and basketball courts, baseball and soccer fields, 9-iron golf course, public swimming pool and beaches, boat/kayak/paddle board rentals, and a theatre. The trail is also a great place for people watching and the best way to access many restaurants and shops lining the lake.
This was a fantastic place to stay during our trip to Seattle! We really enjoyed how cozy the bungalow was, yet it all everything we needed. You can really see the care Rob and his family put into making this such a unique and comfortable place to stay. Close to the bus stop too - an added bonus!
Jayme
2017-01-21T00:00:00Z
Rob's bungalow was cozy and clean. It was a very nice stay!
Emily
2016-09-23T00:00:00Z
The greatest neighborhood and cutest house ever! And nice, respectful hosts. This place is the epitome of Airbnb awesomeness.
Margaret
2016-10-11T00:00:00Z
Great host, had no trouble finding the tiny house and everything was clean and organized.
Mark
2016-09-16T00:00:00Z
Perfect place to stay in Green Lake! Very cozy, private, and comfortable. Highly recommend.
Sara
2017-03-10T00:00:00Z
The tiny house was so cute, cozy and just enough room for two people! The neighborhood is really nice and about 30 mins away from the airport. I went during the winter, Rob had the house prepared and warm for us when we arrived. I highly recommend staying here!
Morgan
2017-01-09T00:00:00Z
Rob's place was in excellent condition and had just enough room for 2 guests. He was a great and friendly host and their dog, Django, was a great addition!
Brenae
2017-03-23T00:00:00Z
Rob's tiny house was so totally adorable!!!! My husband and I came to Seattle for a little get-away and this place was so ideal for us. It was adorable, quite, and in a beautiful area!! Can't wait to go back!!
Leah
2017-03-15T00:00:00Z
Værelsestype
Helt hjem/lejlighed
---
Ejendomstype
(ukendt)
---
Med plads til
2
---
Soveværelser
Seattle, Washington, USA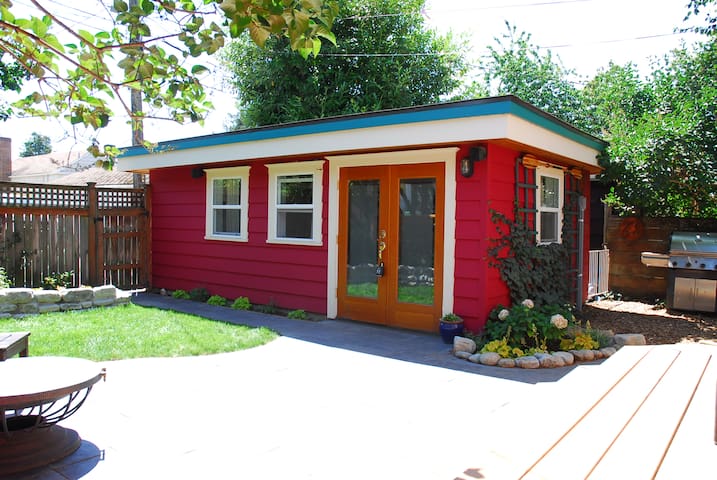 Downtown Seattle is 7 miles away. 800 sq.ft. Basement Unit with 2 bedrooms (3 Beds) with 3 Bathrooms 2- Private Bedrooms, each with a private 3/4 bath. 1/2 bath off the TV room. 1st Bedroom has a Full size bed, 2nd Bedroom a Twin bed with a Trundle. Off Street Parking. (Please) Park in our Driveway. Up to 2 cars. Nice TV room with Hulu, Netflix, Prism, WiFi- 1 GB. Mini Frig. Lots of storage space. Microwave available in entrance. Water provided for each guest.
The space is yours to enjoy Sleeps up to 4 Guests. 1 Full Size Bed / Plus 1 Twin Size with Trundle Bed. Laundry room included. TV room with plenty of comfy furniture. All Guest Must be booked and noted per Airbnb reservation system. You must communicate with us if additional guest(s) will be added prior to your arrival. 4 Guests Maximum.
North Seattle Victory Heights - small pocket community in Seattle Close to Northgate Mall, Childrens Hospital, Northwest Hospital, U Village, U of W, and other colleges. Great local restaurant's in the neighborhood Elliott Bay Brewery on Lake City Way Thai Restaurant(s) Dick Drive In - A must visit Multiple Starbucks QFC Grocery Store within walking distant
Great spot and very accommodating hosts. It was perfect for our stay!
Kjersten
2016-11-19T00:00:00Z
Very quiet and conveniently located, everything was very clean and comfortable. Exactly what you want when traveling.
Andrea
2016-07-07T00:00:00Z
My boyfriend and I stayed in Fern and Loren's place this past weekend and it was absolutely fantastic! The area was clean, comfortable, and we had everything that we could have needed. We had hangers, shampoo, towels, heaters, AC, TV, etc. Since we occupied the downstairs, we had a private little getaway, which was exactly what we wanted. We had a place to park our car and a private entrance through the garage. At the same time, Fern and Loren made it very clear that we could contact them were we to need anything from them! We didn't have much interaction with the two of them, but the few times that we saw them they were very sweet and kind. They even came out and offered to take our picture when we were struggling to take a nice selfie :P Overall, we had a fantastic experience. It was a nice place in a great location and we will definitely plan on coming back!
Ariella
2016-05-10T00:00:00Z
This was a very clean and comfortable place. 3 bathrooms and two beds, way more space than my wife and I needed but it was great. The 2 recliners were really comfy too. Enjoyed our stay here. Thanks Fern!
Tim
2016-12-10T00:00:00Z
Nice and convenient place to stay. Good for family of 4 or small group of friends who planed a short stay in Seattle.
Polly
2017-02-06T00:00:00Z
This was our first time using an Airbnb so we were a little nervous about this. However, from the day we booked this location, through until our departure, Fern and Loren made us feel welcome and at home LOCATION: The location was great. I had looked for hotels close to where my daughter lives but either they were too expensive, too far away, or both. The location and the price were spectacular! In addition, public transportation was < 1 block away and both Uber and Lyft were easily available within minutes. The residence itself included not one, but two real bedrooms, each with its own bathroom, which was perfect for my wife and I, as well as my college-aged son. It was spotless, cozy, and offered all the necessities. We would definitely stay here again!
Mark
2017-01-09T00:00:00Z
Good communication before hand, nice to be able to arrive at any time. Nice touches like the bottled water and amenities.
Matt
2016-11-20T00:00:00Z
We really enjoyed our stay here. The place was very clean and spacious, and the beds were very comfortable. It had very convenient access to UW. We would definitely stay here again.
Jeff
2016-08-05T00:00:00Z
Værelsestype
Privat værelse
---
Ejendomstype
Hus
---
Med plads til
4
---
Soveværelser
Seattle, Washington, USA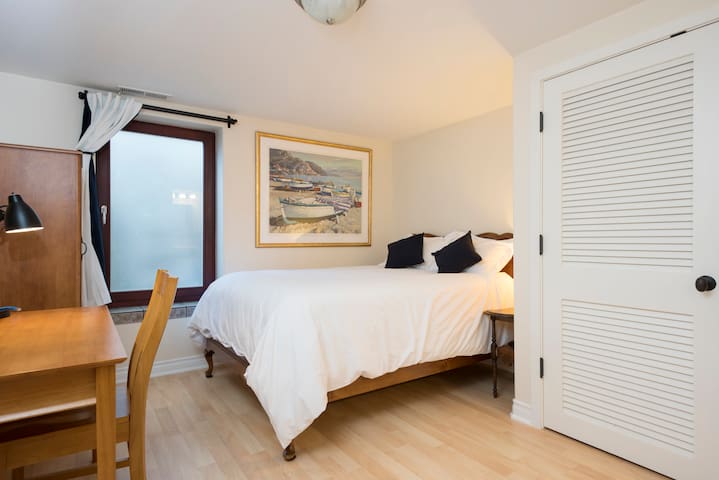 Bright and funky architectural home (Wendell Lovett) with hip furnishings on a wooded property steps away from Lifeguarded Matthews Beach and the Burke-Gilman trail that connects to University of Washington, Children's Hospital, & University Village Shopping Center. The home is ideal for visiting professors, doctors, or technology & biotech workers because of its proximity to these job centers.
Three Bedrooms (two rooms have queen beds and one has a full bed) , 2.5 bathrooms, and the fourth bedroom is the Loft with a queen bed. The main floor is an open plan space looking out onto the views and up into a vaulted ceiling. The open stairwell is a beautiful architectural feature. For safety purposes, please use the handrail while going up and down the stairs.
The neighborhood is known as "Matthews Beach". It is located 4 miles north of the University of Washington. The lifeguarded beach and playground is a block and a half away. •Close to Sail Sand Point (rental equipment kayaks, paddle boards, sailing boats…) •Located on bus lines to downtown and U-District route 75), •1 mile from Children's Hospital and University Village •10 minutes to University of Washington •Easy access to Burke-Gilman Trail. •7 miles to Downtown Seattle
The space and house is beautiful. The snacks in the fridge were really helpful too. Although some of the logistics were just very difficult for an 8 person group with the lack of black out curtains, noise that travels throughout the entire house, rigid check-out, etc to enable a well rested weekend.
Cyrena
2017-02-26T00:00:00Z
We had a wonderful stay at Analisa's beautiful house. Although we did not get to meet Analisa (she was out of town during our stay), she welcomed us with a note and some necessities. The house easily accommodated our small family gathering of 4 adults and 3 kids. The kids loved the lego wall! Great location in a quiet neighborhood within walking distance to the beach and playground. Close enough to downtown to enjoy all the tourist attractions. Will definitely be back for our next Seattle trip! Thanks Analisa.
Yi Yi
2015-08-11T00:00:00Z
Beyond dreamy, such a lovely space! Perfect for the girls weekend we had, all 4 people had their own space with common areas for us to all spend time with one another, we stayed in mostly the whole weekend, cooked and just enjoyed this place! Analisa was the most fantastic host, warm and welcoming. We were greeted upon arrival and Analisa had provide some snacks for us in the fridge along with a lovely card welcoming us to Seattle. We spent two nights in this home and I wanted to never leave. It is a 5 minute walk to a lovely, clean, family friendly park right on Lake Washington. If I could buy this home I would, it is that AMAZING! The photos are spot on but the host, area, atmosphere, energy and everything else that comes with this place are an even extra bonus!! I would travel back to this place in a heartbeat!!! My friend Kate had similar things to say as well "Beautiful house--perfect for our ladies weekend getaway! The architecture and bright colors were as inspiring as the pictures. Clean lines and organized, but very comfortable. Each bedroom was lovely and relaxing. The short walk to the lake, through the quiet neighborhood and on the bike path, was enjoyable. Our host couldn't have been nicer and more accommodating. As our weekend came to a close, we didn't want to leave, but we vowed to come back. A wonderful experience!"
Sarah
2015-10-25T00:00:00Z
Definately my best experience in Airbnb, the house was designed by local famous architecture William Booth, and interior designing too. With Lego as the design theme, you can easily find Lego elements in all the details. You can tell the house and all the furnitures (lots of desiner's stuff) and facilities are the best quality for an Airbnb house. Thanks Analisa, she makes this house so tidy, clean and beautiful, we all enjoyed to stay in the house and it's no doubt the best I would recommend to anyone who will travel to Seattle.
Daniel
2016-02-20T00:00:00Z
Analisa was very welcoming to her home. I stayed at this airbnb with a group of 6. She greeted us and showed us around the place. However, while the experience here may be different in other seasons, this is not somewhere I would recommended in the winter. For the price per person, my group was dissatisfied with the heating provided. It was fairly cold (20s-30s) when we arrived in Seattle. After the first night, everyone woke up freezing and we found that the thermostat that we had set to 72 degrees when we went to sleep had dropped to 59 degrees when we woke up. I asked her to raise the temperature for the second night, and though she very promptly and kindly responded, she raised it initially to 64 degrees and then for a few hours to 72 degrees before it automatically dropped back down again in the morning to somewhere in the 60s. She said that she installed a nest thermostat because a previous guest had raised up the temperature to the point where the heater was overworking. While I totally understand this, I also didn't appreciate that after our group spent as much as we did for her airbnb, half of my group ended up feeling a cold coming on after sleeping that first night. We all agreed we'd rather stay at a warm hotel over this place, despite this place having a lot of cool architectural features. It might have been a different experience at another season, but unfortunately because of the temperature situation, this was one of the worst airbnb experiences I and members of my group had.
Irene
2016-12-18T00:00:00Z
We had a wonderful time at this house for our girls weekend. The house was so unique and fun, it was perfect. Though technically in the city, it really felt like you were surrounded by forest with views of the lake. Very calming. Very clean and contemporary design. Would definitely book again. (The only issue we had was the neighbors power washing their roof all day on Saturday which was quite noisy but obviously out of everyone's control).
Gina
2015-09-13T00:00:00Z
Analisa and her children were very welcoming!! The home is lovely and charming and truly exceeded our expectations! It was also very private, and there was a surprising view of Lake Washington from the balcony. It is at Matthews Beach! We walked the very short distance to the beach every evening after sight seeing in Seattle, and our kids swam in the warm lake water. There were always lifeguards on duty. She really equipped the kitchen with everything we could want. We can't wait to come back for an even longer stay next summer!
Richard
2015-08-13T00:00:00Z
An amazing place, we loved it. Analisa was a great host and made it very easy for us. Highly recommend!
Jason & Tatiana
2016-01-11T00:00:00Z
Værelsestype
Helt hjem/lejlighed
---
Ejendomstype
Hus
---
Med plads til
8
---
Soveværelser
Seattle, Washington, USA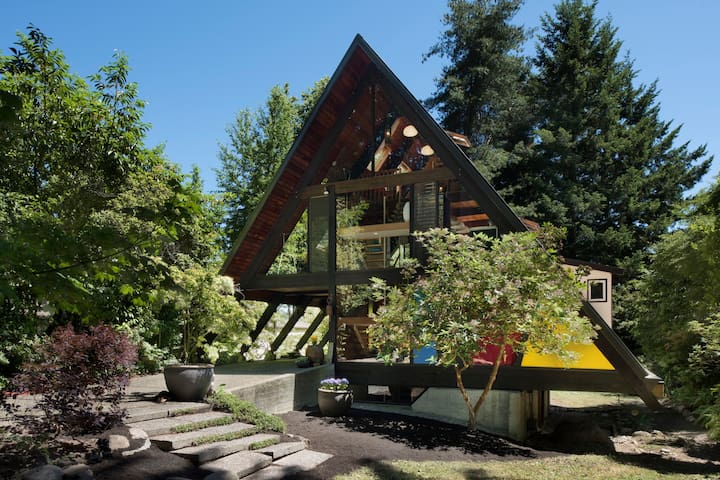 Beautiful Craftsman style cottage located in the heart of downtown Kirkland. Walk to all the great restaurants, shopping, galleries, and Lake side parks that Kirkland offers. Kirkland is a beautiful town that sits on the shores of Lake Washington. It is a 15 minute drive to downtown Seattle. Come stay and relax in this quiet cozy little MIL apartment located above my detached garage. In addition to the full bathroom in your unit, there is a full bathroom with full size washer and dryer for your use, if needed, in the garage below. If you are looking for a allergy free place to stay, this is it. Clean, hardwood floors, dust free, alternative down pillows, 600 count Egyptian cotton linens. Sorry! NO PETS or SMOKERS.
Quiet neighborhood one block from everything that downtown Kirkland has to offer.
We came to Kirkland from the east coast for a wedding and were not disappointed. Jeff's place was gorgeous, and Jeff was extremely accommodating. When we told Jeff the keurig was not working on the first day, he bought a brand new one and delivered it to us within just a few hours. Great place, great host!
Bethany
2015-08-10T00:00:00Z
Jeff's cottage was wonderful once again. A+
Matt
2016-02-05T00:00:00Z
Jeff was a very friendly host and provided us with everything we needed. The inside and outside of the cottage looked beautiful. I would stay here again.
Jay
2012-04-26T00:00:00Z
Jeff is a wonderful host and the cottage is absolutely gorgeous inside. It is warm, cozy and has all the amenities of home. He has done everything with the highest standard possible right down to the 600 count Egyptian Cotton sheets. I have never slept on anything that soft. We very much enjoyed meeting Jeff and having some interesting discussions with him. I would highly recommend staying in Jeff's Kirkland Cottage! We are looking forward to coming back! Thank you Jeff, you are an amazing person.
Connie
2012-10-01T00:00:00Z
As a frequent airbnb user I can say with confidence this one of the best stays we have had. Jeff has built a fabulous apartment with full amenities at a great location. The workmanship and art of the place is incredible and Jeff is a gracious host. 5 stars across the board!
Gary
2016-11-07T00:00:00Z
Jeff is a great guy and the best host. The guest cottage is spotlessly clean, excellently maintained, and peacefully comfortable. I look forward to future visit.
Sean
2014-05-31T00:00:00Z
This home is one of the most warm and welcoming homes I have had the pleasure of staying in. The pictures do not do this home justice. Every rock, every board, every piece of furniture was given such detail. Impeccably clean, and very quite. I would live here if he allowed it. Jeff is a very interesting man himself with a warm smile and a firm handshake. Very detail driven and it shows in his work on this home.
Wayne
2015-06-30T00:00:00Z
Excellent stay as always. Jeff is the perfect airbnb host. I look forward to future stays.
Sean
2014-11-21T00:00:00Z
Værelsestype
Helt hjem/lejlighed
---
Ejendomstype
Lejlighed
---
Med plads til
2
---
Soveværelser
Kirkland, Washington, USA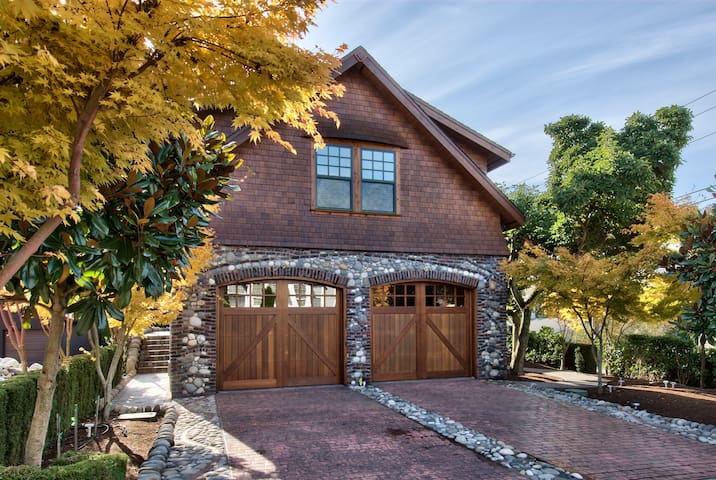 Enjoy a large master bedroom with king-sized bed, with attached bathroom with two sinks, shower and tub. Full use of kitchen. Also feel free to use hot tub on deck. House is 1/2 mile from Lake Sammamish trail and within two miles of many wineries. This is a great location for visiting wineries and concerts at St. Michelle. I'm usually flexible with check-in and check-out times.
Location: About two miles by car to many Wineries and very close to freeway access. Great place to stay if you want to do some wine tasting, relax in a hot tub and have a comfortable sleep. It is 30-40 minutes or so to downtown Seattle depending on traffic. House is on hill at the end of a cul-de-sac in a quiet, peaceful neighborhood. Room and Bathroom: Master bedroom suite with attached bathroom. The bedroom is quite large and has a King sized bed. Bathroom has two sinks, a tub, and a shower. Rest of House: Feel free to use kitchen for cooking. There is coffee, grinder, and maker for guest use. Hot tub on the deck is there for you to use. Parking Park in driveway.
Nice, quiet, friendly neighborhood. House is at the top of a dead end street and has very little traffic. Under two miles to wineries, breweries and grocery store.
Great location. Good for concerts and wine enthusiasts. Kevin was responsive and accomodating.
Alexander
2016-09-04T00:00:00Z
Everything exceeded expectations! Kevin was nice, friendly and accommodating, and the room was clean and VERY comfortable.
Patrick
2016-07-22T00:00:00Z
I stay at Kevin's house often. It's always clean and he is very personable. He has the friendliest and cutest dog as well. The neighborhood is quiets yet very close to all the amenities Woodinville and the entire Eastside has to offer. James
James
2017-02-09T00:00:00Z
Kevin and his home were both fantastic. He responded almost instantly to anything we needed, even though he was away from the house. Very clean, comfortable. ;)
Jennifer
2015-11-28T00:00:00Z
Lovely stay in Woodinville close to all the wineries and attractions. Very spacious room with everything needed. Only spent the night when in town for a wedding, and it was perfect for what we needed. Thanks Kevin!
Meaghan
2015-08-02T00:00:00Z
Kevin was a great host! He made us feel welcome and made great recommendations on what to do and see while in Woodinville. Kevin was prompt on answering questions and made sure we felt comfortable in his home. He was dog sitting while we were staying with him, which he asked us ahead of time if that was okay. He also has a a darling dog who was so sweet to play with. I'd definitely recommend staying here as there's a hot tub, a spacious bedroom and private bathroom in a cute, quiet neighborhood close to the stretch of wineries/breweries in Woodinville!
Paula
2015-12-20T00:00:00Z
The house was great. Everything was clean and the bedroom and bathroom were very spacious. Kevin was a great host and his dog is adorable. The house was in a great location, close to all of the wineries. We would definitely stay here again. Thanks Kevin!
Yadira
2015-07-04T00:00:00Z
I visited Woodinville for the long weekend to see Lyle Lovett at the Chateau Ste Michelle winery (a beautiful outdoor venue). Kevin's house is conveniently located to the so I could walk or uber. His house is at the top of a cul de sac and is nice and quiet. I stayed in the master bedroom which was super comfortable and has an en suite bathroom. I didn't get a chance to meet Kevin because he was away for the weekend but he was very responsive, promptly answering my questions and had great suggestions for places to eat or drink. This area has many tasting rooms for wine but also beer, cider and even bourbon. I enjoyed Fish Brewing where there was live music on the patio, and JP Trodden (bourbon) and Locust (cider) in the "warehouse" district (an area with over 50 tasting rooms). I took the train from Vancouver, BC and didn't have a car but was able to take transit from Edmonds station and then back to Seattle (the 522 is an express bus from Woodinville to Seattle). I walked along the river walk to get to the winery/Fish Brewing, and I walked to the warehouse district (not as pretty because the route is along busy roads but safe). Uber was very handy for getting back to the house at night!
Sally
2016-07-04T00:00:00Z
Værelsestype
Privat værelse
---
Ejendomstype
Hus
---
Med plads til
2
---
Soveværelser
Woodinville, Washington, USA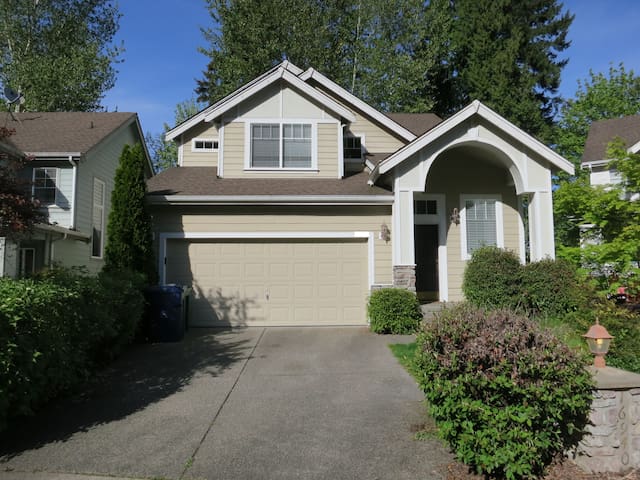 The Woodinville Carriage House is separate and detached from the Farm House built in 1943. Wineries & breweries only minutes away. Full private kitchen available if you do not have the energy to visit and eat at over 100 wineries in the area. The grounds are gated. See gate code at booking.
The Carriage house has its own separate entrance, porch, kitchen and and driveway. The wood stove provides a cozy fire for warmth on rainy days. The queen size bed will be plenty of room for you to rest and sleep after a days adventure in the wine country.
The Hollywood Hills district of Woodinville has parcels in excess of one acre per home. Safe and secure ... the Woodinville Farm House is private and secluded but conveniently close enough to the "downtown" area to explore the wineries, breweries and the Seattle Metro Area.
The carriage house was amazing. The chalkboard out front had our names welcoming us which was awesome. Once in the carriage house it was very well outfitted and comfortable and the bed was a dream. Smit invites us to join his family at the Bon fire which was nice. Being that close to the Hollywood district for some wine tasting was even better. We hope to be back soon!
Pete
2016-01-11T00:00:00Z
What a lovely experience! From the minute we arrived we were made to feel welcome! The Carriage house was spacious and very comfortable and included everything we needed for our stay. The grounds were lovely and we enjoyed drinking our morning coffee outside. An added bonus was the delicious breakfast made by Smit. How wonderful to have a host that is an experienced Chef and Caterer! The location was perfect for our event at the Chateau Ste. Michelle Winery which was only minutes away. This was our first experience using an airbnb property and we were really impressed! We would absolutely return to this property. It is easily accessible and close to the wineries and local concert venues. The hosts were attentive but also gave us our privacy. I would rate this as a 5 star!
Michelle
2015-07-12T00:00:00Z
Our host welcomed us with a sign outside the door, and instructions. They allowed us to have privacy and quiet for the weekend. We really liked this treasure. The decor was beautiful and the landscaping around was lovely. A great weekend.
Tanya
2016-09-19T00:00:00Z
Just what I needed. A change of scenery, time to read, meditation out in the yard, Ray Lamontagne at chateau ste michelle, a nap, windows open to flowers and fresh air, knitting by the wood stove.... simple, quiet and peaceful. Smit and Trea were welcoming and kind hosts. Do I recommend this offering? Yep.
Melinda
2016-09-07T00:00:00Z
Clean, bright, and comfortable. I woke up on our last morning sad to leave.
Tricia
2016-10-11T00:00:00Z
We only stayed one day at this wonderful, cozy place, and really enjoyed it. We did not meet Smit during our stay but a nice welcoming message and clear instructions made it very easy to settle in. We found the place exactly as advertised, clean, a quiet location with lots of mature trees around. The location is a short 1 mile drive up the hill from the Hollywood District of Woodinville where a lot of wineries have their wine tasting rooms and nice restaurants can be found.
Carel
2016-01-09T00:00:00Z
Love this place! We will be back.
Stacia
2015-06-21T00:00:00Z
Smit's cottage exceeded my expectations! I was greeted by a welcome sign with my name and a key so access was quick and easy. The cottage was very spacious and immaculate. Smit was gracious enough to credit me for breakfast even though I was not expecting this as I was already aware breakfast could not be included during my stay. At the last minute, he also accommodated a later check out time, which I very much appreciated. I highly recommend Smit's cottage and look forward to returning the next time I am in Woodinville!
Jodi
2015-09-11T00:00:00Z
Værelsestype
Helt hjem/lejlighed
---
Ejendomstype
(ukendt)
---
Med plads til
2
---
Soveværelser
Woodinville, Washington, USA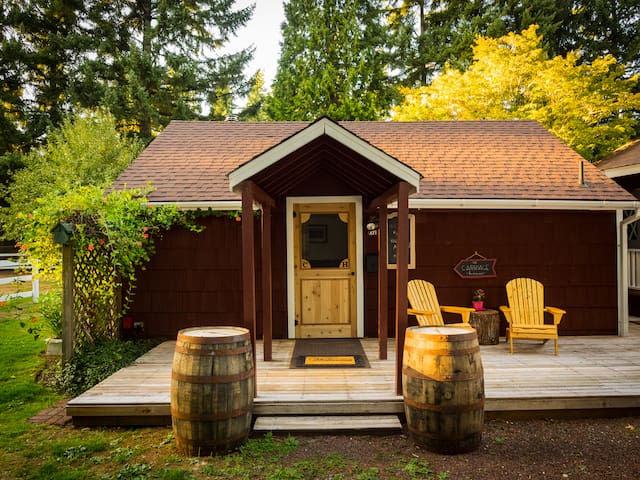 My place is located in the heart of Woodinville, just a few miles from beautiful wine country and is a short 25 minute drive to Seattle. It is also close to Bellevue and the Microsoft Campus. You have access to an outdoor pool, hot tub and small workout space. The condo accommodates 2 guests comfortably and can hold up to 4 with the use of a queen sleeper sofa in the living space. .
Our weekend stay here was great. The condo is quite lovely and decorated well to make you feel at home. The bathroom was well stocked with the most comfortable towels. The location is close to major highways and easy to find. Would definitely stay here again.
Beth
2016-08-14T00:00:00Z
Well appointed and comfortable condo walking distance to shops and restaurants! We even walked along the Sammamish River Trail to the wineries!
Daniel
2016-11-30T00:00:00Z
First off the space is BETTER than the the pics (who has been able to claim that?!).... Clean and new and great use of space.. Even sat on the patio one night, yes in winter, its covered. Great location in Woodinville with access to restaurants and an awesome grocery store. Kim was always available/quick to respond. We had NO issues. I highly recommend this space
jerry
2016-11-14T00:00:00Z
Really lovely place. Very good location to wineries. Really relax get away. Would definitely come stay again. The bed was very comfortable
Amanda
2016-10-23T00:00:00Z
Nice cozy place. Very convenient for visiting family in the area. Will try to use in the future.
Sheryl
2016-11-27T00:00:00Z
Super cute, clean, and comfortable condo and highly convenient to my destination. Kim was a wonderful host....very smooth process from start to end. Will definitely stay again!
Belisa
2016-10-08T00:00:00Z
The condo was perfect. We were in Woodinville for the Woodinville Wine Country Half Marathon. The location of the condo is perfect for anyone wanting to stay in the Woodinvile wine country, central to town and within a few miles of all the wineries. It is simple to find and easy to settle into. We felt right at home and were glad we hadn't chosen a hotel. After a cold wet run, we were able to stop by the condo to shower and get dry before heading off for lunch and wine tasting. We will definitely use this location again when we are in Woodinville.
Kerry
2016-09-19T00:00:00Z
Our stay in Kim's condo was lovely! The space was comfortable, nicely decorated and a great location for time spent in Seattle, Vancouver B.C., and the local Woodinville wineries. The kitchen was well-appointed so we could buy groceries and make our own breakfasts before venturing out for the day. The bed was super cozy and we enjoyed spending time on the patio, too. Kim was clear in her communications and was very helpful in making our stay enjoyable. We can highly recommend this rental for your next stay in the Pacific Northwest!
John and Lora
2016-09-07T00:00:00Z
Værelsestype
Helt hjem/lejlighed
---
Ejendomstype
Lejlighedskompleks
---
Med plads til
4
---
Soveværelser
Woodinville, Washington, USA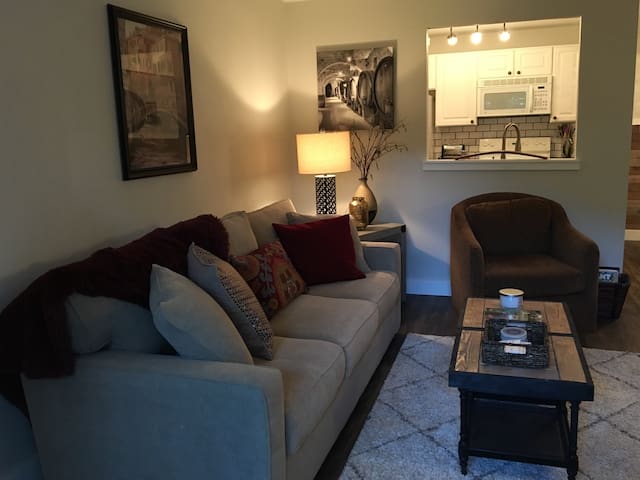 Only minutes from Woodinville Wine Country, Microsoft and downtown Seattle. This quiet, private one bedroom cabin sits on an acre of land along peaceful Bear Creek. Fall Salmon runs and direct access to hiking trails create a relaxing environment and opportunities for exercise. Tucked away in a cedar grove there is a fire pit to enjoy evenings as you listen to the sights and sounds of the creek.
The king bed is luxurious with a thick down comforter during the winter and a cooler version for summer. The kitchen is stocked with all the basic supplies including a Keurig style coffee maker, large mugs, and tea. There is a gas fireplace for rainy cool days and french doors that open wide to fresh air and sounds of nature when the weather is inviting. TV and Bluray/streaming media player with an assortment of Movies. Set your computer up on the roll top desk, or if you prefer, sit in the overstuffed recliners with the provided laptop desk. There are relaxing sitting areas on the patio, in the canopy of the trees by the fire pit and of course in the sun by the creek. The house stays comfortably cool in the heat of summer and cozy in winter.
Serene neighborhood tucked away in an old growth forest. We have a wonderful long time relationship with neighbors. 30 minutes direct to downtown Seattle and 10 minutes to Woodinville's wineries.
This place is the perfect retreat for a relaxing get away. While in a rural neighborhood, it is super quiet and you feel like you're alone in the woods. There are many outdoor seating areas to relax in, and should it be raining as it tends to do in the Northwest, you will enjoy the wooded view from the cozy indoor recliners which face the double glass doors. I was pleased to spend two quiet/serene days in the cabin as well as a wet walk down to the creek. Hope I get to come back in sunny weather so I can enjoy the out of doors for extended time. One warning: Do not trust your gps to get you to the front door. Have the written directions on hand to get you down the private road. This is a great place.
Cary
2017-03-08T00:00:00Z
The cabin was perfect and everything was as described. Very clean and comfortable. A mountain feel but only 20-30 minutes from Seattle and close to food and grocery. Cheryl and John were great hosts with quick responses. We also loved that they provided a list of things to check out while in the area. We would definitely consider staying there again!
Haley
2017-03-27T00:00:00Z
My husband and I came to town for a wedding and we were so pleased to find this little treasure! We like to stay in "tiny houses" through air b&b whenever possible and this little cabin was absolutely perfect. The land around the property was exquisite! I wish we had more time to explore using the helpful tips Cheryl and John left for us. The bed was so incredibly comfortable and I would love to know where they got the bedding! The only downside was that there wasn't a TV - we would have liked to of watched a movie or something to relax before bed. That's not really something that is important, but would have been a nice amenity. I would love to come back when we have more time so that we could enjoy the space more thoroughly! Thank you for sharing your space - it was amazing.
Kari
2017-03-05T00:00:00Z
We loved staying here! The creek was lovely, the fireplace was cozy, the kitchen was stocked with all the essentials, and the bed was super comfy!! John and Cheryl were super sweet and provided easy to follow instructions for everything! We loved that they have a blue ray player and access to streaming services if you want to watch Netflix, Hulu or Amazon while you're there. Even though there are other houses around, the cabin faces the creek and is totally private, so it feels like you're in the middle of the woods. We'd definitely stay here again. :)
Sonya
2017-03-19T00:00:00Z
Værelsestype
Helt hjem/lejlighed
---
Ejendomstype
Hus
---
Med plads til
2
---
Soveværelser
Woodinville, Washington, USA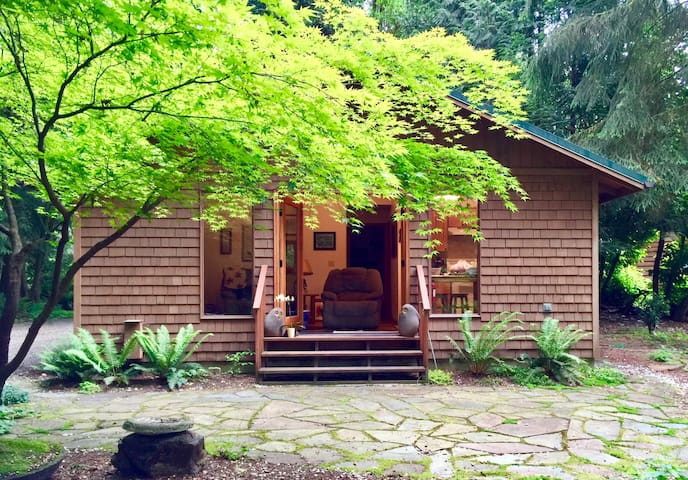 Our home is one of a kind, contemporary in design, yet very warm and cozy. Designed and built by the homeowner, a marble & granite specialist, no detail has been left uncovered. The industrial design is beautiful as well as functional.
Our suite additionally features a gas fireplace, heated cork floors, skylights, custom countertops and a contemporary bathroom with marble shower and sink as well as a towel warmer. A fully appointed kitchen will more than accommodate your inner "chef". An ample size bedroom and plenty of storage space is also available for any length of stay.
Our Shoreline home is approx. two blocks from city bus routs to downtown, UW and all points north and south. Both Shoreline and Edmonds Community College is just five minutes off I-5 Freeway in quiet residential area of North Seattle. Major supermarkets including the fabulous Central Market, as well as other shops needed are all conveniently located five to ten minutes away from your suite.
Christie was awesome! She was very responsive, accommodating, and sweet. The place was really great, too. Nice open space, clean, secure, and easy access to I-5 and 99 to get into the city. Would definitely recommend!
Steven
2016-07-13T00:00:00Z
The space is magical and it is located in a beautifully quiet neighbourhood. Christie and Robert are a hoot! I believe that at a certain point in life, we choose our family and those with whom we become close to. I consider Christie and Robert family. They made me feel at home. Their souls shine extremely bright and I am ever thankful to have experienced it. I was going through a tough time with my relationship and really needed a hug, Christie came out back and delivered one without hesitation and that made my stay all the more sensational. When you rent this space it doesn't only come with an airy feel and a "dance-able" kitchen (lol), but it comes with love, a family, great friends, and a sense of home away from home. The universe has a way of bringing what we need into our lives when we need it. I'm glad that was Christie and Robert for me.
Gab
2015-02-25T00:00:00Z
This place was awesome! Christie was very helpful and made our stay a pleasure. The space itself is very modern with great paintings, custom furniture and all the amenities you could ask for.
Jack
2016-08-20T00:00:00Z
The whole experience from start to finish was a breeze. Christie was quick to reply and very helpful whenever I had a question. Her space was super clean and everything was so nice!
Justin
2014-12-12T00:00:00Z
This is now my go to place when I'm in Seattle. Christie and Robert have a one of kind suite that fits all your needs and is done in a contemporary clean style. They where warm and gracious hosts and the pictures don't do it justice! Looking forward to returning!
Peter
2015-01-26T00:00:00Z
This was an exceptional rental experience. The architectural implementation of marble and iron works was stunning. Hosts Robert and Christie were helpful, but non-intrusive. This certainly was the cleanest rental we have been in, and we are frequent renters. The stay was quiet and serene. This is a perfect rental for one or two people visiting the North Seattle area.
Stephen
2016-07-28T00:00:00Z
Værelsestype
Helt hjem/lejlighed
---
Ejendomstype
Lejlighed
---
Med plads til
2
---
Soveværelser
Shoreline, Washington, USA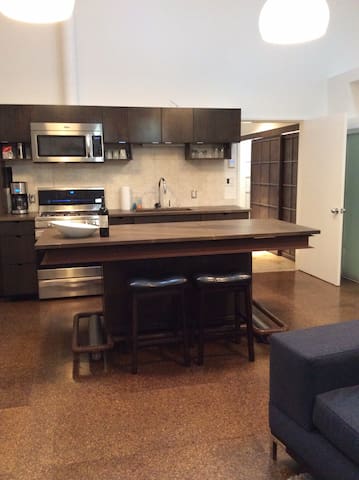 1650 sq ft. Very clean, bright and spacious Attached one-car garage 3 bedrooms (1 large one) 1 full bathroom Half kitchen with refrigerator, toaster oven, stove and sink Dining table and 5 chairs Living area with large couch and coffee table
Beautiful Ravenna area. Quiet, safe and charming.
Beautiful Ravenna area. Quiet, safe and charming. Very close to the University of Washington, University Village, downtown Seattle and Northgate.
Great house! Notice, you truly don't get the whole house, it's the lower house. Still very spacious and suited our needs greatly. Grace was quick to be helpful and responsive. I'd recommend it for sure.
Tristan
2016-09-05T00:00:00Z
The neighbourhood was very nice but that is honestly all I can say about my experience. My friends and I (7 of us in total) stayed here for a total of two nights. We checked in late on the first night and were horrified to find spiderwebs and spiders in over 8 corners of the basement suite. We immediately contacted Grace via text to address our concerns - my girlfriend especially has a phobia of spiders and was freaking out during our entire stay there. Given that it was close to midnight there was not much that Grace could do which was understandable. However we mentioned that we would like to check out immediately the next day and she acknowledged that via text. The next morning we immediately contacted Grace to see if we could get a refund for the second night. It was not a cheap stay as we had paid close to $800 for the two nights. It took us while to reach her (she may have been at work) but her son finally called us back. We addressed our concerns but he insisted that he had cleaned the place and didn't believe what we had said. He would not discuss a refund unless we had evidence to show him. I thought that was extremely outrageous given that we had to get rid of all the spiders in the living quarter ourselves. It was a very uncomfortable stay as is and we were very offended to be questioned about our claims. After a while Grace came by personally and we showed her some of the remaining spiderwebs left behind. She acknowledged the situation but did not stay to properly address our concerns because her mother was waiting in the car (granted she was a senior and it was an extremely hot day). We tried to negotiate a refund with her (Airbnb's policy is 50%) for the single day but all she offered was $100, which felt like a huge slap in the face given the uncomfortable situation that we had to stay in. It really didn't make sense for us financially at that point so we had to swallow our pride and finish our stay. All in all, it honestly was one of the most disappointing Airbnb experiences that I have ever had. The posting shows 1,650sf and the entire basement was nowhere close to that size (even counting for the garage). Two of the pictures posted were clearly not from the basement because they were not there (fireplace, dining table with a window). If you can show me where they are located in the basement I will rescind this entire review. The pillows were stained yellow with no covers and none of the bed sheets resembled anything as seen in the posting. We PAID $800 for this place and we honestly feel very cheated from this experience. Not trying to bash on Grace but this is how all 7 of us felt...
Matt
2015-07-20T00:00:00Z
Grace was able to answer any questions about the place when we arrived. Although we never met Grace, she did a great job responding to messages. Based on past reviews, we were nervous to stay here, but things went well during our stay.
Megan
2016-08-22T00:00:00Z
This is the perfect place to stay for your airbnb experience. It is a short 15 minute uber ride to downtown. Grace is an awesome host and the space was massive. With sleeping bags you could accommodate a massive group. It was clean and comfortable and even had a garage. Can't recommend this enough.
Brandon
2016-08-14T00:00:00Z
Checking in was very easy. It was easy to find. The neighborhood was nice with a grocery store that was convenient. The place was spacious with plenty of room for the six of us. The place was pretty dirty. Long black hairs (not ours) all over the bathroom, dirty q-tips on the floor in front of the closet in one of the bedrooms, dead bugs in most corners of each room. I killed 5 spiders in two days. There were clean linens on the beds and they were comfortable. Clean towels were provided.
Brett
2016-08-28T00:00:00Z
Grace was very responsive with my inquires and requests. The layout was perfect for our group as we were starting a bike race in the morning and having easy access to the garage was ideal. Neighborhood was quite, but easy to walk a few blocks to get food or shop at Wholefoods
Jason
2015-07-12T00:00:00Z
Good neighbourhood some tea left
Aidan
2015-07-28T00:00:00Z
owner kept the rooms very clean. I booked the house by mistake forget to check this is house basement. We arrived little early of the day. Althrough there is litthe mass in the house. But owner did her best tidy up quickly. House is good for adults travel to seattle but not appropreate for family specialy have younger child.
yang
2016-07-29T00:00:00Z
Værelsestype
Helt hjem/lejlighed
---
Ejendomstype
Hus
---
Med plads til
8
---
Soveværelser
Seattle, Washington, USA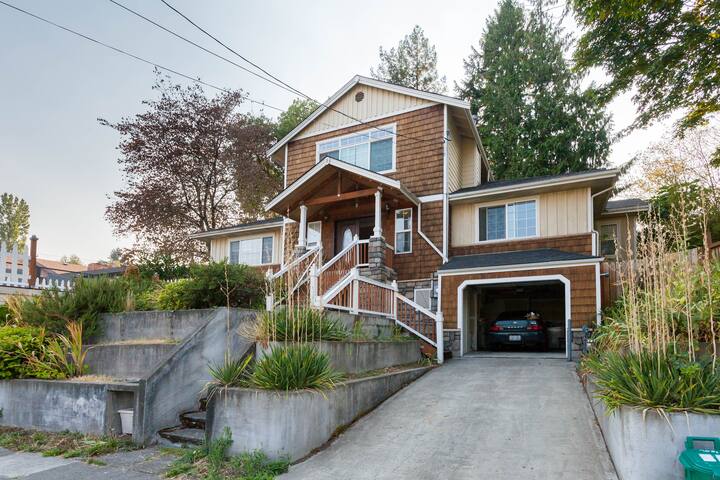 This is a mother in law suite. We are 3 mins by car from the St Michelle for the summer concerts. It is a separate, private in-law suite on a level of its own-quiet. Has a private living room, bedroom, bathroom and you will have your own entrance.
We have a Mother-in-law Suite that includes a living room, bedroom with a brand new queen size mattress installed Aug 4th 2016, private bathroom and a walk out to our garden in Woodinville (wine country north of Seattle) for rent. Total Sq Ft = 700. You will have complete quiet and privacy, the unit is separated from the rest of the house on another level. If you are a party of 2, there is an attached bedroom for your use. If you are a party of 3 or 4, there is also a futon with a Spa sensations 6 inch memory foam mattress in the living room that you can use. You have your own private patio with a table and chairs to enjoy your morning coffee or wine in the evenings overlooking our garden. There is high speed internet, cable TV and if you need it Netflix. Full size washer and dryer is available for guest(s) who stays more than 1 week and upon request. New linens and towels will be provided weekly, you are responsible for all cleaning and keeping the place up yourself. Special Package available for Woodinville Weddings. We will provide the space for wedding party to get ready, host you with mimosas, cupcakes and fruit. Please ask the host. Located in Woodinville you are steps away from the Chataeu St. Michelle, Hollywood Wine District, and Colombia winery among the 140 wineries in the neighborhood. All about 2 miles or 5-6 minutes away. This is a great opportunity for traveling professionals coming into the area for a short-term either a single person or couple. The private room/bath is furnished with: - Double bed with clean and high-end linens - Directly adjacent to your private bathroom - You also have access to a TV, cable, and wireless internet The location yields very easy access to I-405, 522 This room & bath is comparable to a cozy & comfortable hotel room rather than a shared living situation. You have complete privacy as you are on the lower level of the house opening up into the garden. **If you have an extra guest/child, you will need to add the extra person to the booking** Please include everyone who will stay in the house, infants, kids and everyone. About the Security Deposit Airbnb will only charge the security deposit amount if an issue is reported by the host.
Manicured neighborhood in a cul-de-sac. We are close to Willows Lodge, University of Washington Bothell campus, Chateau Ste. Michelle winery, Redhook brewery, and Woodinville Whiskey in Woodinville.
My husband and I had a great stay at Jackie's apartment. She welcomed us warmly when we arrived. She also provided us with bottled water, snacks, chocolates, and free wifi. They all came in handy, as we were celebrating our wedding anniversary in Woodinville wine country (just a short distance away - less than $10 for a one-way ride on Uber). The apartment was clean and tidy and had everything we needed. It was just the right amount of space for the two of us. It's located in a nice neighborhood, which felt quiet and safe. Jackie was very responsive and even provided us with some good recommendations on wineries and restaurants. All in all, we had a great experience and we would definitely consider staying again for our next wine-weekend-getaway.
Charisse
2015-09-27T00:00:00Z
Jackie is very responsive. She's a quick text away if you need anything. If you need window/ air/ ventilation in the bedroom, this is not the place for you.
Charity
2017-03-20T00:00:00Z
The rental is very close to all of the many wineries in Woodinville. The location is great and the host was amazing. She left chocolates for Valentine's Day and even offered to bake breakfast rolls and bring them down with jam. This place is a definite must for anyone staying in the area.
Kainoa
2017-02-15T00:00:00Z
Jackie's place was perfect for my business travel trip. This place would work great for a couple or a single traveler. Thanks!
Troy
2017-03-02T00:00:00Z
Great place to stay that is very close and convenient to all the places to visit in Woodinville.
Jason
2017-02-26T00:00:00Z
Wonderful home!! Would definitely recommend, Jackie was a wonderful host and super communicative about my needs
Kaira
2017-02-28T00:00:00Z
Very short drive from wineries. Host was so thoughtful and left us some goodies for our stay.
Sarah
2017-01-08T00:00:00Z
Great stay, Cozy and easy access to local restaurants. thank you again for everything!!
James
2015-12-06T00:00:00Z
Værelsestype
Helt hjem/lejlighed
---
Ejendomstype
Hus
---
Med plads til
5
---
Soveværelser
Woodinville, Washington, USA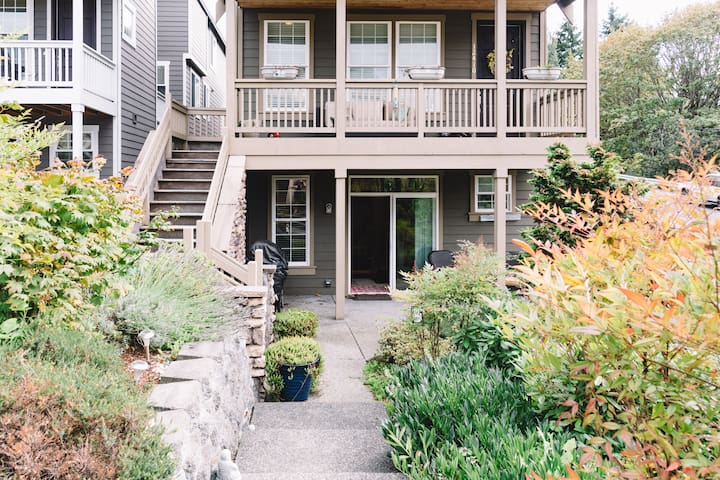 My place is close to Trails, bikeways, river, walkways; Seattle, Kirkland, Everett. You'll love my place because of Enormous pine trees surround acres of orchard trees, quiet yard, private trails. My home has rustic touches like warm floors made from barn wood, open sided fireplace, chef's kitchen. Relax on the deck or play horseshoes in the gaming pit. Please be mindful that this is a quiet, peaceful environment. Respect for solitude and calm appreciated. Breathe in air; enjoy the slow life.
This is a simple, small room with a queen sized inflatable mattress. The air mattress is a new high-end, flocked (so it doesn't feel or sound "plasticy"), and comfortable. the room has a workdesk, chair, and light. The bathroom is directly across the hall and is shared. Please note my home is rustic with woodsy doors that do not shut out the rest of the world and have simple lever handles that don't lock. while your privacy is always respected, you can expect a more "community" feel with other guests in my home.
We are surrounded by private trails through forested areas. There is even a creek running through that often has ducks and geese on it. Owls hoot right overhead and sometimes even rest in the trees on my property. I love that my neighborhood feels like it is out in the woods yet is still 2 minutes from the highway!
Alisa's place is absolutely beautiful. I only hope to own a home so beautiful one day. I had absolute privacy and comfort. The room is as described.
Oliver
2017-02-03T00:00:00Z
L(PHONE NUMBER HIDDEN)ed staying at Alisa's place, and I'm glad I get to go back again!! Such a quiet, peaceful house. I thought the fancy air mattress was super comfortable and the bathroom, like other reviews say, is so nice! The shower is very pleasant:) also loved the espresso in the morning and the wide variety of kitchen utensils for cooking :) awesome place, thank you Alisa! :)
Dagny
2017-03-18T00:00:00Z
Peaceful, clean & quiet. The host was kind enough to accommodate me with short notice (as I decided to go night skiing spontaneously). Great communication. Very professional. Thank you.
Michon & Deborah
2017-03-06T00:00:00Z
I stayed at Alisa's twice. Her and her husband are kind and welcoming hosts. They give you your privacy and keep their home clean for you. I can't say enough about their kindness.
Oliver
2017-02-09T00:00:00Z
It was such a scenic beautiful place. I loved the natural wooden interior with the bricks decoration on the wall. I had a great stay. It was my first stay with Airbnb and was a great memory. Thank you so much!
David
2017-01-15T00:00:00Z
Great place, scenic surroundings with a laid back atmosphere. My dog loved it. Thanks Alisa!
Andrew
2016-09-20T00:00:00Z
Alisa's place is amazing. It looks even nicer than the photo's. Bathroom is like a four star hotel. Amazing rustic decor throughout the house. Nature sounds like frogs and owls at night. A very peaceful place to stay.
Jacob
2017-03-14T00:00:00Z
Beautiful home in the woods. It was great to have somewhere peaceful and quiet to relax after long days of travel and sight seeing. Alisa and her dogs were a pleasure to meet.
SHANTELL
2017-03-04T00:00:00Z
Værelsestype
Privat værelse
---
Ejendomstype
Hus
---
Med plads til
1
---
Soveværelser
Woodinville, Washington, USA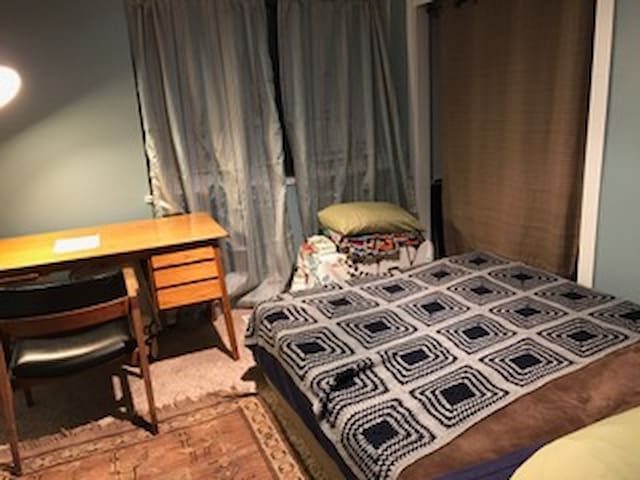 Quiet setting with lake view. Large patio with BBQ, Smoker and Fire Pit. A nightly hot air balloon floats across the lake in the summer. Also, George, the peacock may come to visit. This mother-in-law is great for business travelers, relocation, couples retreat and wine and brewery tours. The accommodations are rustic and we always have ongoing projects but the photos are accurate. We love pets so all animals are welcome. Advanced bookings will be professionally cleaned prior to arrival.
This is the daylight basement of our home and is completely independent living with its own locked entry around the side of the house. Enjoy the large open living room and fully equipped kitchen, large bedroom and bathroom. For entertainment, a large 50" flat screen TV with a full-range of channels including the sports package. The dining room table has a leaf to accommodate 6 people if you'd like friends and family to join for dinner. The bedroom has a queen size bed, 2 night tables, large dresser (for guests staying longer), walk in closet with hangers. For additional sleeping, we have a queen-size airbed that fits in the bedroom and it is the height of a bed but not as comfortable. Business travelers have the use of wifi and wireless printer in bedroom unless you choose the airbed option. The space is usually warm and cozy in the winter because the heater is located in the hallway. If the heat is not on and you want it cozier, there is an electric fireplace that puts out nice heat. In the summer, it is naturally cool and the patio is a great place to hang out and BBQ or use the smoker. An evening under the stairs with the fire pit is very memorable. The laundry is available for use.
Very quiet area with no street lights or side walks. Each evening during nice weather, you'll see a hot air balloon over Cottage Lake. Most neighbors walk their dogs and everyone is friendly. There is occasional sightings of black bears, bald eagles, coyotes and our local neighborhood peacock, Sir George. Feel free to walk at Cottage Lake park or around the neighborhood.
Warm and Genuine Greeting on a short notice. She is new to Air BnB and admits she is still getting things up to speed. There were holes in the celiling, missing door trims, loud walking noise in the morning from 2nd level when trying to sleep in, wood burning fireplace flute was not staying open so we had a close call after lighting the starter log realizing the room was rapidly filling up with smoke and had to quick get the bring log outside. The floors were not vacuumed and tile floor was poorly swept. Master bedroom carpet is pretty worn out. We were surprised there are no curtains to the patio doors so there is no privacy if you watch tv, only if you lay in the bedroom can you feel truly private. Again, Connie is warm and seems motivated to make a great air BnB retreat and being new I'm sure she will make this even better. Most of these are easy fixes but fair that clients are aware before spending the $120. She had also baked us warm healthy cookies, unfortunately the time we got to them they were covered with about 30 ants :( So that was not in her control of course. Overall felt very welcome and it is a lake house and in a safe area with ample space and a few extras available like washer and dryer or fire pit and bbq. Enjoy!
Ron
2016-10-18T00:00:00Z
The host canceled this reservation 6 days before arrival. This is an automated posting.
Darren
2017-04-04T00:00:00Z
This house has an incredible view of the lake. It's a very quiet neighborhood. It was easy to get in and out of, and close to main roads so it was ideal for us. Connie was very friendly and accommodating, and we had good communication before and during our stay. Our plans changed during our stay and we ended up cutting our say short; Connie was helpful and offered her assistance.
Thomas
2016-12-06T00:00:00Z
Connie was an incredibly warm and welcoming host who went out of her way to make us comfortable when we arrived. The view of the lake is beautiful as well.
Zachary
2016-10-12T00:00:00Z
Værelsestype
Helt hjem/lejlighed
---
Ejendomstype
Andet
---
Med plads til
4
---
Soveværelser
Woodinville, Washington, USA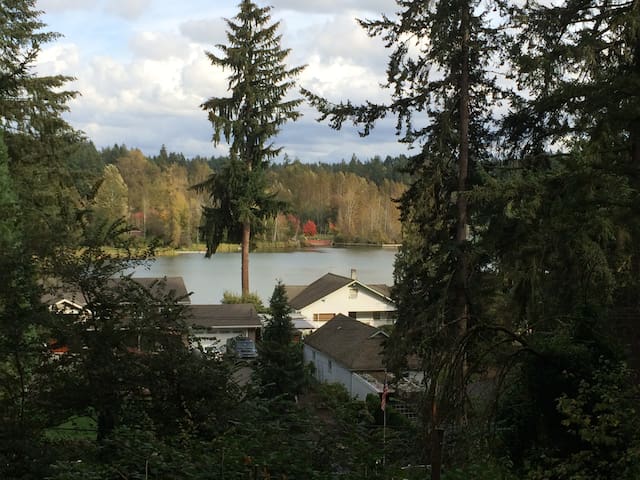 Wooded & private Wellington Carriage house awaits you! Just 5 minutes from downtown Woodinville & hundreds of wine tasting rooms/beautiful wineries, distilleries, breweries & restaurants. After a day of exploring come back & relax in our spacious, quiet studio where you can put up your feet and enjoy a movie on our 10 foot drop down screen or a friendly competitive game of pool. Fully stocked kitchen, bath & coffee/tea bar. Great for couple/family, solo adventurers, and business travelers.
This detached home sits on the front of our horse acre property with our personal (EMAIL HIDDEN)pletely private.
Quiet neighborhood great for walking/jogging in and just five minutes from downtown Woodinville and surrounding areas. We are just 30 min. from downtown Seattle and one hour from Stevens Pass ski area.
very clean place and laurie was very responsive prior to check in. I didn't have to communicate much with her during my stay b/c everything was perfectly as expected. thanks Laurie!
Carol
2017-02-26T00:00:00Z
Very nice place, totally private with everything we needed. Lovely hosts, very friendly and helpful. Highly recommend!
Linda
2017-03-19T00:00:00Z
The Carriage house is a little off the beaten path, but made for a quiet stay and still close enough to all that Woodinville has to offer. A lovely, clean home and Laurie was very accommodating and quick to respond.
Amy
2017-03-05T00:00:00Z
My friend and I booked this room very last minute for our trip to Woodinville. Even more last minute was our flight delay. Laurie was very accommodating and maintained great communication the entire time to ensure we had everything we needed. The space is more like a small apartment than a hotel room and is both in the middle of a wooded area as well as being conveniently close to downtown and several of Woodinville's fantastic wineries. Definitely recommend the carriage house for a wine weekend!
Jennifer
2017-02-12T00:00:00Z
Nice place!
Sarah
2017-03-01T00:00:00Z
Laurie was a great hostess! The Woodinville Carriage was cozy and perfect. We really enjoyed our stay! Thank you, thank you :)
Sierra
2017-04-01T00:00:00Z
In town for a nearby wedding, we enjoyed spending some time in the adorable Carriage House. It was comfortable, very clean, and we loved the pool table and projection screen. The hosts were very kind and communicative, too. So glad we found this place!
Amy
2017-04-02T00:00:00Z
The carriage house made our vacation! Essentially, a studio with every amenity necessary. It could easily play host to a Billards and craft beer retreat. Lay the stage for a lovely woodinville wine tour. Or, allow a small family the relaxing ambiance of a BnB without being the "kitschy" BnB so many dread. A very comfortable queen Murphy bed can come down at night and tuck away when fun is to be had. There was plenty of room to add a pack-n-play. But there is also a small couch with a chaise for older guests. Somehow, this open concept also sports an electric fireplace (that was sufficient for heating the place in March), a dining table, a pool table, a large projector screen (TV), two chairs, two ottoman (footstools or seats) and a coffee table with room to spare. The kitchen is large with an abundance of cabinet space, a good size regfrigerator, and counter space along the entire small wall with a small wrap around eat-in/desk space. Pair that with two amazingly friendly hosts Laurie and Robert and you are ensured a memorable trip. We had a 1 year old so we didn't do any trips to wineries or craft breweries of which woodinville has been made locally famous. If you enjoy, definitely make time for a tour-it's on our to do list for next time! We are already talking about when we can come back!
Jessica
2017-03-29T00:00:00Z
Værelsestype
Helt hjem/lejlighed
---
Ejendomstype
Hus
---
Med plads til
5
---
Soveværelser
Woodinville, Washington, USA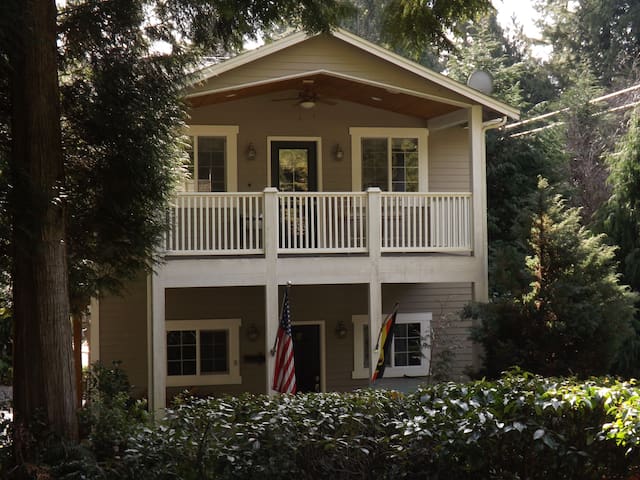 Our house is a 5 min drive or a short bicycle ride from 130 wineries and wine tasting venues. We have an idyllic country setting on Hollywood Hill close to Rts 405 and 522. The room has private bathroom, WiFi, TV, cooktop, microwave, refrig, laundry facilities. Great for couples, solo adventurers, or business travellers. Wake up to birds chirping and beautiful scenery. Enjoy privacy, tranquility, mountain views, landscaped yard and a global traveller as hostess! No smoking or pets please.
ふた部屋付で個人のお風呂場(シャワー)と簡単キッチン、プライベートのべらんだ、食卓/コンピュウター用テーブル、ソファ、大きな戸棚付。テレビで映画など見られ、WiFi無料。デザイナーのタッチ、大人に最高。1人か二人に最高です。景色が部屋から見えます。洗濯できます。スーツケースでどうぞ。This suite has a bedroom and a living room with fully equipped kitchenette. Cooktop, microwave, refrigerator. TV and WiFi are available. You have a large, walk in closet and a private patio with chairs and table. Private bathroom with shower en suite.
田舎風ですが高速道路まで8分。山が見える緑に囲まれた住宅街で安全。買い物、ハイキング、バイク、ワインが好きな人には最適です。冬はスキー場まで2時間。カナダまで2時間強。単身赴任の方はご連絡下さいね。よろしく。Hollywood Hill is a quiet, high end residential area with evergreen trees and mountain views of both the Olympics (from the road) and Cascades (from your bedroom). Woodinville is horse country and many hiking trails are near us. Wine touring and the Woodinville Wine Country area is a 5 min drive, or $7 Uber. Many restaurants are within a 5-7 min drive. Chateau Ste Michelle Summer concert is coming! 5 min drive! Book early through September!! Continental breakfast served on concert guests! Midnight snacks and more.
Adrienne exceeded all of our expectations (and so did the location)! The home (room with bath, sitting area, large closet, patio) is well furnished and very clean. Adrienne's experience as an interior decorator added so much to the overall atmosphere and comfort of the room. The room opened to a secluded back patio with a wonderful view of the yard/garden/mountains. Very quiet. We were welcomed with a surprise anniversary greeting and bottle of champagne in the refrigerator; snacks left discretely in the afternoon while we were out; some ice cream in the refrigerator, and an expertly prepared continental breakfast both mornings (set on an attractive stand outside our door). Ultimate privacy provided. Washer / dryer and kitchenette available just outside the door (we did not need to use). The bed was very comfortable. Internet provided. We enjoyed two very relaxing mornings sitting outside watching the birds and rabbits. Easy access to I405 - and all of the wineries. Adrienne is very personable / professional and very engaging in manner of conversation and expression of goodwill. We quickly understood that she was truly concerned with our welfare and the enjoyment of our weekend! We look forward to staying with Adrienne again!!!
Doug
2016-08-07T00:00:00Z
I booked a room for my friend Peter with Adrienne for a week at the end of August and he had a wonderful stay. Not only was Adrienne a lovely person she went above and beyond to make sure his stay was very comfortable. I visited briefly with my little dog and she even left food for my dog Izzy. Her breakfasts were delicious and everything about her home and her hospitality was top notch! She and her husband have a beautiful home and I would highly recommend it to anyone. The room was beautiful and the grounds were stunning! Thank you so much for a delightful experience.
Jennifer
2016-09-02T00:00:00Z
Adrienne was the most fabulous hostess work such a rich knowledge of the area and great recommendations for activities. Her house is absolutely gorgeous and the space for us was very private with a porch for sunrise coffee over a jagged horizon of impressive west coast mountains. Adrienne's generous continental breakfast each day was fresh delicious and healthy. The garden surrounding the house is quite impressive as well. It was nice chatting with Adrienne and her husband Bill and their cat, Kitty. Overall the best place to stay when you're in the Seattle area.
Ariel
2016-08-14T00:00:00Z
Værelsestype
Privat værelse
---
Ejendomstype
Hus
---
Med plads til
2
---
Soveværelser
Woodinville, Washington, USA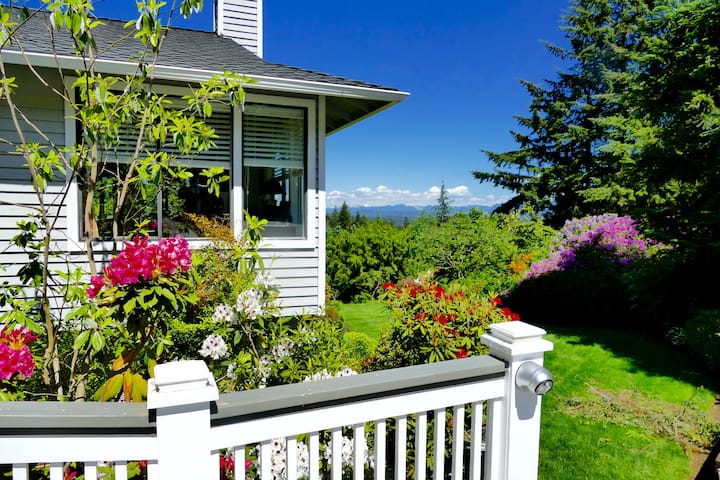 Lake home with 2 bedrooms and 1.5 bathroom. Located in the eastside suburb of Seattle - Woodinville. Famous for many wineries and tasting rooms. Come enjoy the covered porch, sandy beach and view of a small lake. You will have the house to yourself. The only areas without access are the garage and master bedroom. I have also hosted previously- one guest bedroom . You can check out the reviews by clicking "View Other Reviews"
My home is on a small lake called Lake Leota. When I look out the window it seems like the country. The suburb town of Woodinville is only 2 miles away.
The location is wonderful and the situation by the lake is lovely. The host was very communicative and stayed in touch up until we arrived and were in the house. The location has easy access to coffee, restaurants, and salons, by car--we used a nail salon in the Woodinville shopping area and it was super easy to get an Uber back since the rest of the family had taken the car elsewhere. Dog hair on the furniture was the only downside.
Radhika
2016-07-17T00:00:00Z
Always feel special by our host, Suzanne. She's made accommodations for us when we've had to change our dates. Her home is a such a beautiful retreat for us.
Marlene
2016-10-23T00:00:00Z
We've stayed here several times and find it such a beautiful, restful place. Suzanne has been so flexible and understanding when we've had to change our dates.
Marlene
2016-11-19T00:00:00Z
A lovely house with gorgeous surroundings.
Marlene
2017-03-02T00:00:00Z
Susanne was easy and direct to communicate with, and the arrival process went smoothly. She was away so I didn't have a chance to meet her. The house is really lovely, especially the view of the backyard and lake from the porch swing. Everything we needed!
Amy
2016-09-06T00:00:00Z
Susanne met us at the house and walked us through everything we needed to know about her amazing place! While her pictures of her house were fantastic they did not really do it justice. We were truly amazed by the lake house! We spent several evenings and afternoons lounging on the porch (either on the bench swing or in the hammock) enjoying the cool breeze and the view of the lake. Hands down this is one of the most peaceful and beautiful places we have stayed! We will be back!
Joshua
2016-07-26T00:00:00Z
Suzanne was such a gracious host and the house was filled with all the comforts of home. Location overlooking the lake was spectacular
Marlene
2016-09-30T00:00:00Z
Lovely place, serene with all the amenities of home
Marlene
2016-10-24T00:00:00Z
Værelsestype
Helt hjem/lejlighed
---
Ejendomstype
Hus
---
Med plads til
4
---
Soveværelser
Woodinville, Washington, USA
Woodinville - Airbnb
:
Gennemsnitligt

4.96

ud af

5

stjerner fra

1217

gæsteomtaler
Indtast datoer for at se den samlede pris. Yderligere gebyrer gælder. Der kan blive tilføjet skatter.