Indtast datoer for at se den samlede pris. Yderligere gebyrer gælder. Der kan blive tilføjet skatter.
Glamping (glamorous camping) will create a memory that you will never forget. During your stay, you will sleep, relax, freshen up, and maybe even watch a Blu-ray inside this 2016 Airstream International Serenity 25' FB (Front Bed). You will experience tiny house living, without the hassle of hauling it. I will deliver the Airstream to a campground that you prefer. To help you save money, you can provide a grocery list for me, and I will stock the fridge. Bring your own junk food, alcohol.
There is one queen-size bed. The second bed is the dining table which converts to a full-size bed. The third bed is a pull-out couch. The first and second bed is suitable for couples, and the third bed is suitable for only one person. This place is ideal for a family of five or two couples. Upon your arrival, you will see a guidebook to cover the common questions. If you have additional questions, I will be nearby and available to help out whenever you have a question.
The Grand Canyon has a long and rich history. At an elevation of 6,800 feet, the Grand Canyon sits more than 5,000 feet above the Colorado River. The hikes going down the Canyon are extremely strenuous, and even experienced hikers have experienced serious injuries. Pack a lot of water, and take it slow. There is limited parking during peak season inside Grand Canyon National Park. A shuttle service that operates during the day from Tusayan and all throughout the National Park. There is an entrance fee to get into Grand Canyon National Park. $30 for a seven-day pass, $80 for an annual pass. There are excellent bike paths in Grand Canyon National Park, and a beautiful walking path around the Rim of the Canyon appropriately named the Rim Trail. I am providing (2) daypacks so that you can have a successful hike while you are in the Grand Canyon. I have a bag with multiple camping items that are useful for a day hike. You will fill a backpack what you want to take on your hike. Inside the bag, I have multiple of the following: - compass - maps - hand warmers - matches - first aid kits - canteens - electrolyte packs - trail mix - high-carb, high-calorie bars - dry towels
There's nothing like experiencing the Grand Canyon...but doing it in an Airstream is unbelievable! Chad was attentive, helpful and available during our entire stay making sure we had everything we needed. The Airstream itself was clean, modern, classic and truly the way to stay outdoors! He had it stocked with everything we needed for a great, comfortable stay! We can't wait to do it again!!! Thanks again Chad!
Laura
February 2017
Værelsestype
Helt hjem/lejlighed
---
Ejendomstype
Campingvogn
---
Med plads til
5
---
Soveværelser
0
Grand Canyon Village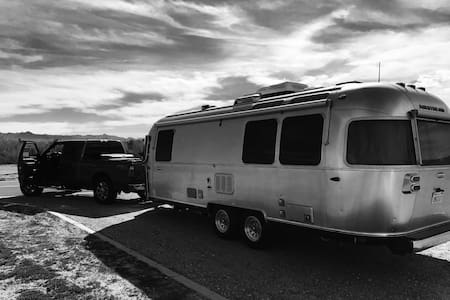 Stay in this amazing 1969 Playmor Camper near the South Rim of the Grand Canyon! You will be parked at one of the wonderful campgounds in the area with all the amenities including showers. The backyard will include 1 of the 7 wonders of the world!
When you enter you will immediately be drawn to the hand crafted kitchen table with two bench seats on both sides. This table can be dropped down into a single bed for a nights sleep. On the other side of the trailer is a couch that can be transformed into a full size bed. In between the two is the kitchen, it has a 3 burner stove, ice box and all cooking utensils you will need. There is also a propane lamp that gives off a lovely glow in the space. Especially useful on cool mornings and evenings. If the propane light isn't your style there is a plethora of other lighting options as well. Also you will have access to a small closet with hangers. Guests will have access to the whole campground with all of its amenities. I will leave a lock box at the camper so that you will be able to let yourself in at any time after check in. I can meet you when you get there or anytime after that. It will be up to you!
The south rim of the Grand Canyon is one of the most desirable places to visit in the world! It encompasses some of the best hiking, sightseeing and photography you can find. When you visit there are restaurants, grocery stores and everything you will need with in minutes of the South Rim and your Camper. Come and explore! There is public transportation in the park that will allow you to see all of the park without dealing with all the traffic and parking. It makes the experience so easier. If you have a bicycle or would rather walk there are plenty of nicely paved trails connecting all points of interest at the South Rim. Driving is also a very easy way to see the highlights of the park. There are lots of pull outs and parking along the South Rim. So when you book I will provide you with campgrounds in the area that are available and you can pick out what ever one you feel is the best for your needs. I will then set up the camper in this location for you, also the canopy will sometimes not be on the trailer due to weather.
Værelsestype
Helt hjem/lejlighed
---
Ejendomstype
Campingvogn
---
Med plads til
3
---
Soveværelser
0
Grand Canyon Village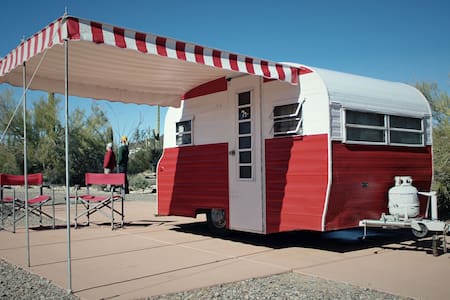 A once in a lifetime camping experience in the Grand Canyon National Park. Enjoy your own private camp for your family/friends. Our camp accommodates to up to 10 tents (20 persons total). Located in the majestic Grand Canyon North Rim, this Air Concierge in partnership with American Safari Camp, retreat is just a few short miles from picturesque Grand Canyon National Park. This breathtaking retreat is where luxury and nature collide.
A $600/person/night once in a lifetime experience. **PRICING: Due to Airbnb pricing software, we will itemize charges according to the number of persons in your group. We charge by the number of people and as such, your price may not be reflected accurately simply by entering your dates into the Airbnb calendar. We will confirm the total price before a confirmed reservation. Our camps are capable of accommodating up to 20 guests per group. Our tents are outfitted with signature appointments and furnishings carefully placed by the Air Concierge & American Safari Camp Design Team, featuring your option of either a queen or two twins and private en suite bathroom. Each camp is situated either meadowside, lakeside, or riverside, tucked into the trees, and enjoys breathtaking views of local mountains, waterways or wildlife. A locally sourced, hearty, table-side, chef prepared breakfast, lunch and dinner are included and served daily with wellness options, fresh fruit, yogurt, and granola. We may offer, (depending on time of year) private, lakeside dinner options, upon request. Along with your reservation, you will be invited to our nightly sunset campfires with evening drinks and s'mores, as well as weekly farm to table dinners. ACTIVITIES: Included in your stay at North Rim Grand Canyon camp is daily: Hiking Mule rides into the Canyon Mountain biking Star Gazing Maximum number of adults is 2 per tent. A bunk bed can be placed in a tent to accommodate children. Our tent beds are queen size beds, twin beds or bunk beds (7 or younger) FREQUENTLY ASKED QUESTIONS 1. what is bathroom situation? how many? where are they located? Each tent has a toilet attached to the back of it extended off about 8 ft. from the back. The toilets are self contained chemical toilets. 2. what is bed sizes? are they all the same? or do they change per tent? We can have queen size beds, twin beds or bunk beds (7 or younger). 3. is this kid friendly? if so, does that include infants? Yes very kid friendly but for infants we recommend them to be with the parents or in a twin tent with the parents. 4. is this pet friendly? If so, is there any limitation (size, # of pets, etc.) - No – can not have pets in most national parks 5. Where in the park is the camp set up? - It varies year over year but for example our North Rim Grand Canyon camp is located in the Kaibab National Forest about 15 minutes from the park entrance. 6. what are details for arriving to you (via car and air?) We meet the guests at a specified location and then escort you in. 7. what amenities are provided (food, towels, linens, flashlights, gear, etc.) - Food, towels, linens (300 thread count) We provide luggage racks, storage bins, night stands, lamps, head lamps, water bladders for cold nights, heavy blankets, all meals, fires, common area with card games, telescope for star gazing 8. what is not provided that is usually required or recommended ? Good clothing appropriate for the weather. Even in August it can be very cold in Yellowstone and at the North Rim. Standard Rate for 2017 season ranges between $600-$700: This includes: Daily complimentary, full chef curated gourmet breakfast with potentially locally sourced menu and wellness options. Complimentary coffee, refreshments, snacks, and in-tent bottled water, in your tent and refreshed throughout the day Daily communal campfire complete with evening treats, s'mores, etc. Personal concierge services to assist with arranging and scheduling activities prior to your stay, as well as during your stay. Rates may vary based on date and availability. For example, Wednesday nights tend to be less expensive than Saturday nights. Please enter your dates in our booking engine (right) in order to find specific nightly pricing. At time of booking, you will be asked for the number of guests in your party. Each tent accommodate up to 2 adults. Each additional guest (1 or 2 children under the age of 7) will cost an additional $100. Beyond 2 adults and 2 children will require an additional tent reservation. Adults will be accommodated in a choice of plush queen bed (or 2 twins of their choosing). Children will be accommodated in bunk beds, which will be added to your tent based on your reservation. We love pets, and we know they are part of your family. However in certain parks, pets are not allowed on the property and as such cannot be brought along. We do not sell, distribute or pour any alcohol at the Yellowstone Collective Retreat. Guests may not drink alcohol in any public spaces while on property at this Property. Please review our terms & conditions for more information
This camp is being provided by American Safari Camp Inc under a commercial use permit with North Kaibab National Forest We strive to make your stay as flexible and unique to your needs as possible. Both a hearty, ranch style breakfast or a morning wellness style option (examples include Greek Yogurt, fresh fruit, and granola) is included as part of every stay. We also similarly provide an equally hearty and filling lunch and dinner so your food needs are 100% accounted for. Several lunch options are available daily, including a gourmet picnic / boxed style option. In addition, we offer several, unique options for dinner, right on property. If you want to explore options outside of our property, a few of our favorites in the surrounding area are listed below. We are happy to make arrangements and reservations for you. Our concierge will reach out to you prior to your stay to coordinate your meals for the duration of your trip.
Værelsestype
Helt hjem/lejlighed
---
Ejendomstype
Telt
---
Med plads til
16
---
Soveværelser
10
North Rim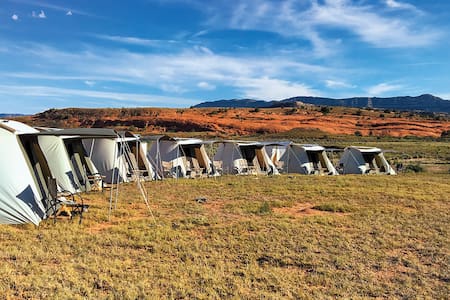 Tent camping area will be provided, you will be camping in back yard... More pics to come, any questions contact me. No need to wait a year to visit my beautiful back yard. Come as my guest and you will only pay visitors fee.
A 12x12 tent area in Supai Village. A couple of miles from Supai Falls. You will be staying in a homes backyard. You must bring your own tent and camping gear . No need to wait a year to visit stay in our backyard and just pay the visitors fee. restroom inside home, water faucet next to home. Shower upon request, be respectful and courteous We will be in home if anything is needed
One of the most beautiful falls in the world. You will be camping in our back yard as our guest. Essentially having access to the Falls and all the sights. You must hike down the canyon about 2 1/2 to 3 1/2 hr hike. Or can be brought in by helicopter you must make arrangements . Please do your research first or contact me for any questions Be courteous to family in home. Be respectful to culture. This is just a place to camp and the only way to have access to the falls.
This is the easiest way to get to Supai! Marty is a quick communicator and he gave me the opportunity to see the most beautiful falls in the world planning only a week in advance. Otherwise you will have to wait a year if you went through the tourist office. The location is hosted by a family in the village. I got to experience a new culture. The first day was rough because I didn't expect a culture so different. The hosts were so accommodating though. They would give the shirt off their back if you needed it. Their kindness grows on you. Being here instead of the campground allowed me a chance to be with the Havasupai and I felt like I was a part of their community. If you're open to new experiences, don't pass this opportunity up. It was the greatest adventure and I feel like I have a family now in Supai.
Hilary
January 2017
Værelsestype
Deleværelse
---
Ejendomstype
Telt
---
Med plads til
5
---
Soveværelser
1
Supai