"Glamping at its' best"! 16' x 16', suspended between 3 large fir trees, it has a queen size bed, loft w/2 twin beds, gravity-fed water, RV-type commode, much more, situated on 20 acres with a pond. Heated, minifridge, microwave, coffee pot.
The Tree House sits on our 20-acre property at the base of Mt. Hood (about an hour east off downtown Portland - a great city to explore!). We are 30 minutes west of Ski Bowl and the Mt. Hood National Forrest. It is really sweet. There is a wood spiral staircase that goes up to the Treehouse. The Tree House is approximately 200 square feet, with an 8'x10' sleeping loft. The main floor has a queen bed, bistro table, reading chair, mini frig, coffee maker, microwave, RV toilet and cold water sink. There is a seating area below the Treehouse as well, so you can sit and enjoy the outdoors even if it is raining (a good thing in Oregon). Picnic table (not covered) and gas grill are available for your use. If you like camping or backpacking, you will love the treehouse. It is 'Glamping' (Glamorous Camping). If you prefer more amenities (like porcelain toilets and a shower, check out the guest cottage on our property, also listed on AirBnB). This is a unique property, please view "House Rules" prior to booking.
The Neighborhood We are mid-way between Sandy and Welches on the flanks of Mt. Hood. We are six miles from town (Sandy) so it is quiet. Most neighbors have acreage properties. The area is forested and beautiful. There is another guest cottage (also listed on AirBnB), a pond cottage, and our personal home.
We found this listing from a friend who lives in Portland and posted these amazing pictures and instantly needed to fly out to stay and experience this! This treehouse is a must! I really can't describe it as any other word but magical. The whole property is magical in fact. This is the perfect spot to get away and Hollis and family are such wonderful hosts. When we arrived we were greeted by the three amazing dogs, who kept us great company the whole time (which was probably our favorite part since we are such animal lovers). Hollis was in town so her daughter gave us an overview of the property, and then when she got back filled us in on all the great stuff a little more. The beds are super comfy and it is truly the glamping feel, which we love. We were able to grill and cook s'mores and have coffee in the morning! The little black kitty came out at night when we were relaxing by the fire to snuggle which was also such a great part. We instantly fell in love and couldn't have asked for better hosts! We will definitely try to come back!! Thank you again Hollis and family for your hospitality!!!
Megan
2016-08-17T00:00:00Z
Our experience on Hollis and Dave's property was even better than we expected! They've built a beautiful tree house on their property, with plenty of privacy, and a beautiful piece of land to explore and enjoy. Hollis was an exceptional host and made sure that our needs were taken care of. I would recommend this place to anyone looking for a quick getaway!
Ryan
2016-02-06T00:00:00Z
Our family of four (two kids aged 13 and 11) absolutely LOVED our stay here, and we consider ourselves unbelievably lucky to have had the opportunity to stay here! The location is excellent: we explored the Columbia River Gorge with multiple stops, went on several hikes in the Gorge and around Mt. Hood, checked out the Timberline Lodge, took the lift up Mt. Hood, and *still* had plenty of time to relax and enjoy this beautiful property and treehouse. We all paddled around the lake in kayaks, took countless runs on the zipline into the lake, played tetherball and carpetball (a new game for us!), and walked the property after dinner every night, accompanied by the hosts' hilarious, cute and super friendly dogs. The boys also enjoyed a huge swing and played some basketball ... this place is nirvana for kids and kids at heart! :) The treehouse itself is simply unbelievable ... Hollis and Dave have thought of every imaginable need in a small but fabulous space. Comfortable beds, a handy little heater that worked great for chilly nights, cozy slippers, beach towels, plates & cutlery for meals ... it's all there. Best of all is the incredible, obvious care and craftsmanship that went into building the treehouse, and just the sheer fun of living up in the trees, made for an experience that we'll never forget. We also really enjoyed getting to know hosts Hollis and Dave, along with a few of their kids, during our stay, particularly one night when we all gathered around a firepit with s'mores. Don't hesitate another moment - book this one fast. You will have a magical experience with fabulous people, in a beautiful part of our country.
Stephanie
2016-07-02T00:00:00Z
Hollis and Dave went above and beyond with our stay. We were even greeted with a happy birthday balloon for my husbands 30th. The treehouse was magical and the company was perfect. Henry is just the sweetest- it was hard to leave him. Thank you Hollis and Dave!! Laura and Jared
Laura
2016-10-22T00:00:00Z
Definitely the coolest AirBnB I have ever stayed in. Treehouse was glamping (glamorous camping) at its best! Property was also great with on site hiking, a pond, and lots of outdoor activities. Hollis was there to great us and welcome her into the home.
Kevin Kenji
2016-06-15T00:00:00Z
What a magical place! Hollis welcomed us when she got off work and walked us through the tree house, showing us the amenities and introducing us to the property.
Sara
2016-04-06T00:00:00Z
We had an amazing weekend during our stay at the Magical Treehouse! We booked the treehouse for a weekend getaway to celebrate our daughter's 18th birthday. She was interested in visiting Portland, and we figured we'd go the unconventional route by staying at a treehouse instead of at a hotel. Best decision ever! We arrived Friday evening and located our treehouse at the top of a small hill, twinkling with little Christmas lights all the way up the pathway. A spiral staircase led us up to our treehouse, which was a cozy, well-appointed cabin with bed (super comfy!), a loft, sitting area, and small kitchen area (Keurig coffee maker and fridge). Despite coming during a cold, rainy weekend, the tree house was kept warm with 2 small heaters. Hollis and Dave included lots of thoughtful touches like board games, slippers, umbrellas, extra linen, etc. The property itself was beautiful too. We took morning walks both days we were there. The treehouse is about an hour's drive from Portland and a little less than that to Multnomah Falls, both which we visited during our stay. As we came in the winter, we didn't get to enjoy the pond, with the ziplining, kayaking, etc., but we may just have to return during the spring/summer! All in all, I'd highly recommend this property to anyone who needs to "unplug" and re-bond with their family, which is exactly what we did. Thanks, Hollis and Dave!
Melanie
2017-01-22T00:00:00Z
Tree House living at Hollis and Dave's complete with snow was amazing, loved every minute!
Colin
2017-03-06T00:00:00Z
Værelsestype
Helt hjem/lejlighed
---
Ejendomstype
Hus i træerne
---
Med plads til
4
---
Soveværelser
Sandy, Oregon, USA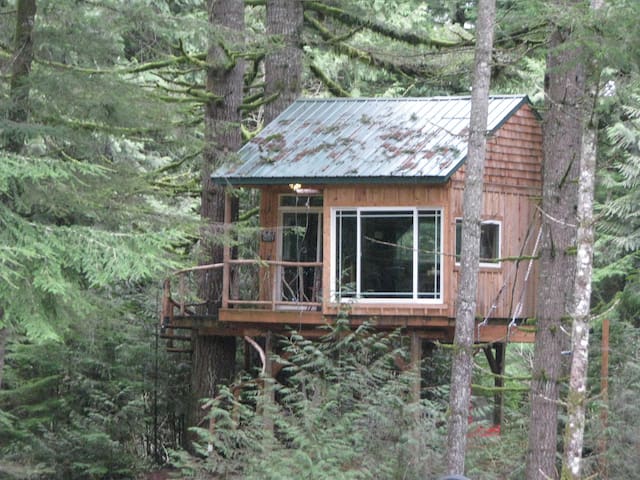 Come stay in a Tiny House getaway in the country half way between Mt. Hood Skiing & Portland Nightlife. You will be surrounded by the natural wonders of farm life, horses, peacocks, goats & friendly cats all here to brighten your stay at Corbett Farm
*** Please Note*** During the winter months (Jan, and Feb) if the temps are expected to drop below freezing the water is shut off in the tiny house. In the off chance that temps are below freezing when you arrive the Tiny House remains cozy and the main farm house is available at your convenience for use of the kitchen and a private bathroom. The tiny house is a one of a kind design. It is a simple home with a cabin feel. The walls are tongue and groove cedar panelling giving the space a wonderful scent. A sleeping loft with sitting height ceiling (for most) is reached by a ladder to a comfortable Queen size mattress made locally with organic cotton. All sheets and bedding are also organic cotton. The house is insulated with natural wool keeping the house cool in the summer and cozy in the winter months. Two skylights in the house give you a feeing of being perched in the trees. This particular tree is also a common evening roosting spot for the farms peacock inhabitants. Don't be alarmed if you see one peaking in while you are cooking breakfast. The small kitchen contains basic amenities. It has a dorm size refrigerator with mini freezer, electric water kettle, toaster, gas stove/oven, and sink. The toilette is a simple bucket composting system and should not smell with proper maintenance. Each guest will be asked to remove their toilet waste from the tiny house upon leaving. This is simple and is not as bad as it may sound. Their will be clear instructions in the house on your arrival. For your bathing needs a small shower is also inside. The hot water comes from the 10 gal. water tank and takes less than 30min to reheat. All shampoo and soap amenities are provided for your use. If you do decide to use personal soaps please make sure it is biodegradable because the house grey water is used for farm watering. All house cleaning products are non toxic and biodegradable. Bedding is cleaned with non scented hypoallergenic soaps and air dried.
Woods and Small Farms Higher Elevation en route to Mt. Hood. Numerous rivers and streams, good fishing nearby, Hiking & Biking Trails abound.
stuart was super friendly and helpful. the tiny house was awesome and the entire property was beautiful as well. great to stay around so many fun animals!
magnus
2016-05-30T00:00:00Z
We had a great time staying in the tiny house! It was a very comfortable and relaxing environment. The farm was beautiful and we enjoyed meeting all of the animals. We didn't have time to ride the horses unfortunately, but we would love to go back and do that sometime! Stuart was a friendly host. Highly recommended!
andrew
2015-11-27T00:00:00Z
Enjoyed our stay here!! Nice, relaxing time on beautiful peoperty.
Ryan
2016-07-09T00:00:00Z
The tiny house was amazing! My husband and I have been traveling cross country for about a month and this is easily the coolest place we have stayed (and our favorite!) Stuart is an impeccable host, and we had an excellent time! Both he and Leanne were warm and welcoming, and gave us great recommendations for what to do in the area. I would highly recommend staying here. The tiny house is SUPER cool, and it was truly an experience to stay there. We loved the tiny house on Corbett Farm!!
Jamie
2015-09-15T00:00:00Z
Stuart was so kind and accommodating. The farm is beautiful and relaxing, and the tiny house was very clean and comfortable. Had a great time with the friendly animals. We took the opportunity to rent the horses for a trail ride which was definitely worth it!
Isabel
2016-02-22T00:00:00Z
thank you stuart! the tiny house wasnt just adorable and functional, it was also comfortable and a good inspiration for simply living. it's beautiful to see the sky through the skylight and to awaken to peacocks quietly strolling around the farm. thank you also for the horse adventure. your horses are beautiful and your support and encouragement for riding techniques was delivered with skill and warmth. stuart is kind-hearted, sincere, and has an inspiring vision for equine therapy. we're delighted to have met him...
sarahjoy
2015-08-23T00:00:00Z
Stuart is the greatest host I've ever had. He is super friendly and truly loves his animals. The tiny house is cozy and really cute. We also did horseback riding, and it was great! Also, ask him for restaurant recommendation!
La
2016-03-31T00:00:00Z
Corbett Farms is a beautiful hidden gem just outside of Portland. Stuart is a wonderful host, super hospitable, and friendly! BONUS: horses, peacocks, goats, and a sociable roster! If you're looking for something off the beat a path, with a unique experience, book this air bnb!
Juliann
2016-08-25T00:00:00Z
Værelsestype
Helt hjem/lejlighed
---
Ejendomstype
Sommerhus/hytte
---
Med plads til
2
---
Soveværelser
Corbett, Oregon, USA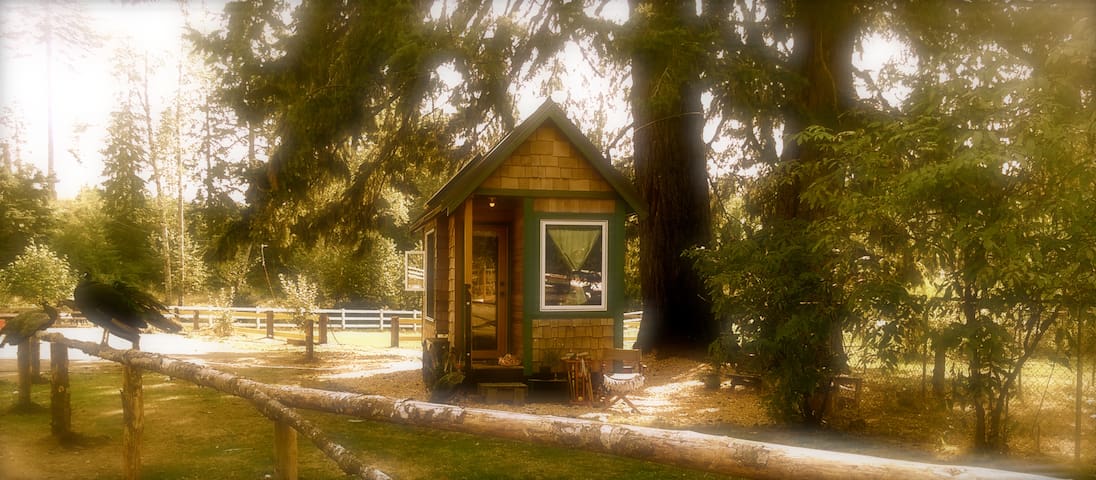 This beautiful one bedroom studio has a queen bed and a private full bathroom (We have an additional queen or twin mattress if needed upon request). You'll have covered parking and your own private entrance. Wake up every morning to a stunning view of Mt. Hood and the valley below (photos are actually taken from your room). The home is located on private 23 acres and is just a mile from downtown. The room has a mini fridge, space heater, and we have storage for mt. bikes, skis, etc if requested.
Private bedroom and full bathroom. Large closet, space heater, and mini fridge included in room.
This beautiful house is located in Sandy city limits with restaurants and stores nearby, but on a remote 23 acres. 30 minutes from Mt. Hood and skiing. 10 minutes from world class hiking/mountain biking. Also only 40 minutes to downtown Portland and PDX airport. The perfect in between location for outdoorsy adventure and city glam!
This was exactly what I needed for the weekend I was in Sandy. The weather and my schedule were such that I didn't see Mt. Hood, but the house is in a nice quiet area and the morning view over the valley was really pretty. The bed is super comfy. Kim is really responsive, got back to all my emails and texts within minutes. On request Kim put a coffee maker in my room so I could make a pot early in the morning to take with me for my day. Joe's Donuts 5 minutes away in downtown Sandy were a good morning treat!
Jen and Nick
2016-04-25T00:00:00Z
My husband and I had such a pleasant stay at Kim's place! Kim was very accommodating to our flexible schedule, and I would highly recommend this venue based on the view of Mt Hood alone!
Lauren
2016-09-17T00:00:00Z
Such a delightful space and lovely hosts - I would love to go back to spend more time there! Thank you both for a wonderful stay!
Megan
2016-07-16T00:00:00Z
What a wonderful place: beautifully decorated, clean, with a super comfy bed. Kim was so friendly, answered so quickly and took care that there is always a contact person, just in case if she is not available for a few hours. We'd love to stay longer.
Sylvia
2016-09-03T00:00:00Z
The stay was fantastic with great views of Mt. Hood. House was clean and comfortable. Kim and her family was very friendly and we even had a BBQ get together in the evening. Kim's son and my son had a lot of fun playing together. We would love to stay at Kim's place again
Vijay Pothi
2016-04-18T00:00:00Z
This was our first experience using Airb&b. Our hosts Kim and Tony were the best, so friendly and welcoming! Our accommodations were perfect, neat, clean and comfortable. Views views views of beautiful Mt. Hood and the lush Oregon landscape. Peace and quiet abound here. We will definitely stay with Kim and Tony again and would highly recommend this spot to all! Thanks again and see you soon!
Anthony Craig&Helene
2016-05-10T00:00:00Z
Kim and Tony are great hosts - very pleasant and accommodating. One afternoon we asked about having a picnic on their back lawn and Tony promptly offered a picnic blanket and suggestion of a spot with the best view. Speaking of views, I feel like the photos in their listing of Mt. Hood simply don't due justice to the amazing view you have right outside the room. It's simply a stunning million dollar view! Will definitely look to stay here if we're back in Sandy any time soon.
Dan
2016-08-01T00:00:00Z
Kim is a nice man. The view is pretty awesome. Everything like my house, I feel very comfy to stay in Kim's house.
Zhicong
2016-03-31T00:00:00Z
Værelsestype
Privat værelse
---
Ejendomstype
Hus
---
Med plads til
2
---
Soveværelser
Sandy, Oregon, USA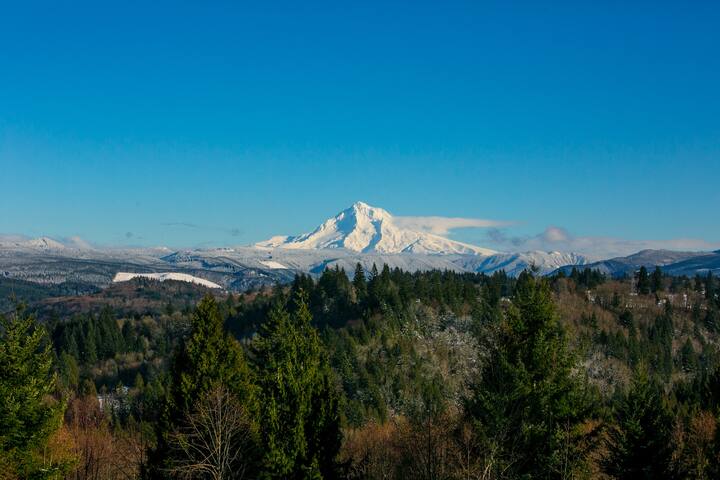 If you are looking for a centralized location to explore Portland, Mt Hood and the Columbia River Gorge, we've got access to all of it! We converted our upstairs bonus room into a suite with a queen sized bed, couch for lounging, and desk should your work come with you. The bathroom is not attached to the room, but it's all yours when you stay with us.
We converted our large, upstairs bonus room into a guest bedroom with queen bed, full couch, and computer desk. Guest bathroom (detached from the room) has dual sinks and shower with detachable shower head. The guest room is the only west facing room upstairs and is decently spaced from any of the remaining upstairs bedrooms for added privacy. Backyard is fenced, large patio wraps around east and south faces of house with sunshine all day.
Quiet, safe neighborhood. Less that 5 minute walk to 5k nature trail and 2 minute drive to main streets of town.
We had an all-around fantastic stay. Kim is a wonderful host and my wife and I felt very welcomed. The room is very clean, comfortable and spacious and the listing is in a quiet, cozy little neighborhood easy to find off the main route from Portland to Mt Hood.
Mark
2016-06-26T00:00:00Z
Kim and C.J. were gracious hosts! When my arrival plans changed at the last minute they were accommodating and friendly. The room was spacious and comfortable, as well as clean and inviting. I would definitely stay here again - an probably will when business brings me back to the Sandy area.
Karlene
2016-10-20T00:00:00Z
Lovely couple, lovely house, lovely stay! Kim and CJ were very communicative, welcoming, and accommodating. The room was spacious and clean, and the house was a great launching off point for visits to Mt. Hood NF, the Gorge, and the Hood River orchards. I plan to visit Oregon more often and hope to stay with these two (and their adorable pooches!) again soon.
Sara
2016-07-31T00:00:00Z
Kim and CJ were there to welcome us and show us around.
Carol
2016-09-14T00:00:00Z
Kim & CJ were fantastic. Large bedroom, private bath and laundry made my stay very pleasant. Their suggestions for places to eat were perfect. Comfy bed. Friendly dogs. Highly recommended.
Bill
2016-09-23T00:00:00Z
This was a great place to stay between Portland and Mt. Hood. The bedroom was huge with plenty of space to spread out and relax. Both the bedroom and bathroom were very clean. Kim and CJ were great hosts. They were very welcoming. Communication ahead of the stay was excellent. We also enjoyed their friendly dogs! I definitely recommend staying here!
pat
2016-07-21T00:00:00Z
You should stay here! It's awesome, people are very nice, room is clean and beautiful
Alex
2017-01-15T00:00:00Z
Kim and CJ's home is fantastic! There is plenty of space, a great kitchen, your own bathroom and a huge bedroom to relax in. The dogs, Rolo and Lily, are so lovely and always up for play time. The home is in between Portland and the ski hills and close to bars, supermarkets, shopping and some restaurants and the town has a good vibe. Our hosts offered so much information on the area and were always happy to recommend and suggest things to do. Kim and CJ are great fun too, and nothing seems to much trouble for them, even popping out to get us some washing pods when we were in need of clean clothes! We can't recommend this place enough and would hope come back again.
Lauren
2017-03-29T00:00:00Z
Værelsestype
Privat værelse
---
Ejendomstype
Hus
---
Med plads til
2
---
Soveværelser
Sandy, Oregon, USA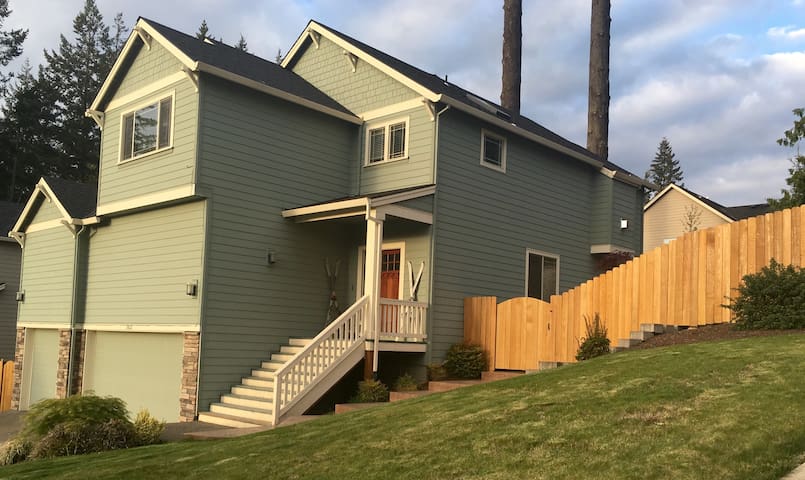 Our home is a balance of terraced gardens, stone paths, deck and Jacuzzi under a canopy of Cedar trees. Situated 25 min. from PDX, 35 min to Portland, we are the gateway to the Gorge, walking trails of the Sandy River, and 25 minutes from Mt. Hood.
The entire backyard of our property sits on the bank of Cedar Creek. A stunning Mt. Hood glacier sourced tributary that feeds into the Sandy River nearby. Walk out of the master bedroom right onto the deck overlooking the Creek. The dining room as well leads out directly onto the deck. Sit in the Jacuzzi on the deck, relax and watch the water flow downstream, or find your favorite reading spot on one of the several benches or swings on the property. Relax and read by the coy pond and small waterfall. The layout of the house is one of many vaulted ceilings, windows and natural light, creating a unique contemporary fusion with a fun rich palate of colors to warm you. There are two wood burning stoves. One is a fireplace insert in the family room and the other is a wood pallet stove in the dining room (each room including the bathroom has its own heaters, the house has been recently completely insulated) The master bedroom with a queen size bed, has a wall of windows looking out onto the creek, and the giant cedars in the backyard. You will fall asleep to the sounds of the creek rushing by. You have your own direct door access to the deck and the Jacuzzi. The 2nd bedroom is a fully functional den with a twin sofa that folds out into either 2 separate singles or one full size bed, there is a wall mounted internet compatible TV for you to use your Netflix, Hulu etc. The den has a desk with several full large monitors to check in at home or work as needed. There is high speed wireless internet throughout the house. (The internet speeds are suitable for financial trading, movie down streaming and gaming.) The 3rd bedroom is in most case will not be accessible - special request can be made. This bedroom has a loft with a Japanese full size futon, an electronic piano in the downstairs sitting area. The kitchen is fully functional and is open to the family room, with stools for counter eating (great for kids). The bathroom is heated with a claw foot tub. There is a full size utility room with washer and dryer. The garage is for the owner only, but there is plenty of parking on the drive way and 2nd driveway for three cars.
Single handily the greatest thing in our neighborhood, besides just relaxing on our property by the creek, is walking/driving to the next street over, down to the Salmon fish hatchery and all the wonderful salmon fishing spots up and down the banks of the Sandy River, or just to go for a walk and enjoy the serene beauty of the Sandy river away from the crowds.
David was great and the house is beautiful. The hot tub had a glitch and David went out of his way to make sure it was up and running before we arrived. One thing that we think guests should know is that there is an old, cool claw foot tub/shower combo which could be challenging for guests over 5'4". Overall we truly enjoyed our stay.
Trista
2017-03-14T00:00:00Z
David and his wife were wonderful and accommodating hosts. The home was warm and quiet and located in a very convenient place near stores and restaurants in town. I appreciated David's reaching out to us during our stay to ensure we were doing well. Thank you!
Noemi
2016-05-19T00:00:00Z
David was very detail oriented and left many notes on how to work many of things in his house. Some of them were fairly complicated. The house was nice. There's a babbling brook behind the house.
Tom
2014-07-18T00:00:00Z
David's home outside of Sandy is lovely. It is well appointed and the landscaping is spectacular, particularly the creek and the trees. Some of the beds are quite hard and could use a foam topper to make them more comfortable. Otherwise I have no complaints. It is a lovely place to stay.
Eloine
2015-07-21T00:00:00Z
Wonderful experience! David communicated well- was always available for our questions. House incredibly peaceful... Exactly what we were looking for. We were 6 adults and 1 baby. Small but cozy spot for all of us. As others mentioned, 1 small bathroom but we didn't mind. Plenty of hot water... Although shower faucet a bit cantankerous- sounded like David's aware and working to fix this. Hot tub a bit old but relaxing nonetheless. Fireplace fantastic! Area was awesome- we enjoyed first real snow up mountain and went snowshoeing. Would visit again!!
Alison
2014-12-30T00:00:00Z
David was an awesome host! When we (5 of us total, including my girlfriend and 3 colleagues) found his listing, we just couldn't pass it up! His place is absolutely beautiful, with an AMAZING creek view in the backyard. We felt comfortable and at home during our stay. And, the location was perfect; close to the Columbia Gorge, Mt. Hood, and Portland. I can tell that David really cares for his guests. Prior to even arriving in Portland/Sandy, David provided us with lots of information regarding sightseeing tips and local eateries. On our last morning, since we were his first renters, he wanted to get feedback from us in person so that he could fix any possible issues we found for his next guests. We chatted for quite a while as we were packing up. David, save our place for us the next time we're in the area! :)
James
2014-07-06T00:00:00Z
David's place was a great winter retreat for my family and I. It's perfectly located smack dab between Portland and Mt. Hood -- far enough away from the city to be peaceful, but close enough to be an easy drive. And getting to Mt. Hood is a breeze, too. The beds are very comfortable, and so are the pillows! Also, we enjoyed using the hot tub -- complete with a river view and huge pine trees stretching up above. Oh, and important to note for the winter: the heating system works very, very well. As for David himself, he's an incredibly helpful and communicative host. Before we left on our trip he gave us a call to explain how the fireplace and pellet stove worked, as well as give us tips about the area. He even made sure that we could reach him while he was on vacation in Nicaragua!
Alexis
2016-12-29T00:00:00Z
David was a gracious host. The cabin was clean and well appointed. The creek is beautiful and relaxing. The neighborhood was very quiet, and the neighbors are even quieter. It's in a great location, nothing is too far of a drive. We had a wonderful time in the hot tub and we went for hikes and drives and had a great afternoon at the mt hood ski bowl.
Jessica
2015-07-02T00:00:00Z
Værelsestype
Helt hjem/lejlighed
---
Ejendomstype
Hus
---
Med plads til
4
---
Soveværelser
Sandy, Oregon, USA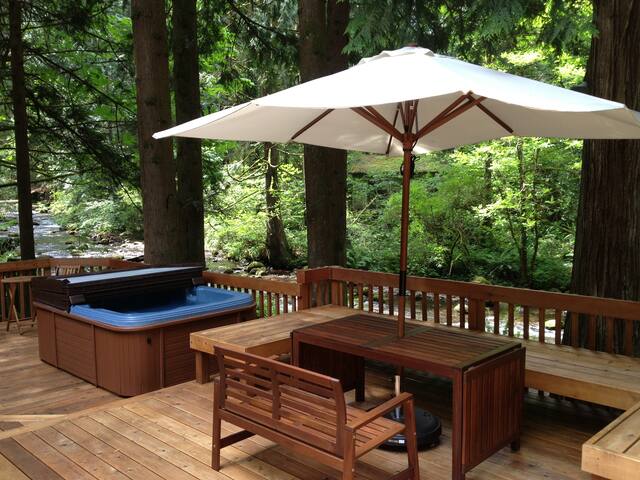 Scenic View Lodge is a fantastic place for gatherings. A Chef's dream kitchen, including wood smoker to create a delicious feast. The main living area is open to the kitchen, dining, outside patio, fire place on the deck, hot tub and sauna all looking over the grand view. 3 of the bedrooms have king beds, all with a view. 2 bedrooms have bunk beds and games for the kids. Centrally located, for Portland events, Mt Hood skiing & hiking, Cedar Creek fishing and Columbia River Gorge hiking.
Where skiing, hiking, mountain biking or fishing can end with a luxurious soak in a hot tub with views of the Sandy River and Mt Hood... Where reading by the fireplace or board games can follow a meal prepared in your gourmet kitchen... Where you can end the evening just listening to the river or pick from our selection of movies and watch on our modern flat screen TV's... Where you will sleep in blissful comfort and rise to the natural beauty of tranquil surroundings... Welcome to Mt. Hood Lifestyle Scenic View Lodge, where we want you to be our special guest for a unique combination of natural beauty, creature comforts and inspirational possibilities. Scenic View Lodge is a custom homes sited on the Bluff overlooking the Sandy River and Mt Hood providing you with a unique opportunity to jump into nature or sit back and relax or both! Come celebrate your special occasion or precious get away only 40 minutes from downtown Portland. Our guests travel from across the river to across the world to celebrate life with our unique blend of comfort, nature, and relaxation. That's the Mt Hood Lifestyle! Please join us as our guest for your next vacation. The Scenic View Lodge was specifically designed to be a great place for small or large groups to gather. With 3 King sized bedrooms and 2 bedrooms furnished with bunk beds. Scenic View Lodge was designed to be both flexible and inviting. A modern kitchen provides great entertainment for those who love to cook and 3 bathrooms provide not only privacy, but also convenience! Great community and private spaces are just a few of the things that make Scenic View Lodge so appealing. Whether you prefer to snuggle next to the fire with a book or gather at the table to play a competitive game of Scrabble, Scenic View Lodge is ready to accommodate. Each of the rooms has been intentionally designed to provide a relaxing retreat from the hustle and bustle of everyday life. Amenities: Sleeping(URL HIDDEN)King bed(URL HIDDEN)bunk beds, 3 singles and 1 doubl(URL HIDDEN)baths (hair dryers provided(URL HIDDEN)All linens provide(URL HIDDEN)Baby package available * Eating/Dining(URL HIDDEN)Coffee Make(URL HIDDEN)Espresso Make(URL HIDDEN)Microwav(URL HIDDEN)Toaste(URL HIDDEN)Blender Entertaining(URL HIDDEN)Wi-F(URL HIDDEN)TV(URL HIDDEN)CD/DVD playe(URL HIDDEN)DVD Collectio(URL HIDDEN)Stereo Sound syste(URL HIDDEN)Board game(URL HIDDEN)Outdoor dec(URL HIDDEN)Gas BB(URL HIDDEN)Propane Wood Smoke(URL HIDDEN)Fire Pit with seatin(URL HIDDEN)Hot Tu(URL HIDDEN)Outdoor patio se(URL HIDDEN)Outdoor deck heater
The stay was wonderful. Definitely my best airbnb experience so far. It's a listing that seems too good to be true but it lived up all expectations.
Brittany
2016-09-15T00:00:00Z
TALK ABOUT THE MOST BEAUTIFUL VIEW. I really enjoyed my stay here. It was incredibly spacious and yet cozy. The kitchen was so nice and the beds were really comfy. On top of all that, it was clean and just how it was described. Would definitely stay there again! Oh! And it's near to town and Joe's Donuts so that was a bonus! :)
Elizabeth
2016-11-21T00:00:00Z
The house was great, very large and spacious, and had everything we were looking for. The view was incredible! The deck area in general was fantastic. Quick responses to my inquires. Would definitely stay here again.
Kayla
2017-03-26T00:00:00Z
We had a great time at Keri's place! The view was incredible and that house was beautiful!
Christopher
2017-01-04T00:00:00Z
We really enjoyed our stay. What a beautiful place and a amazing view! Would love to go back!
Brittany
2016-12-11T00:00:00Z
The house is really nice. It has a fantastic view and balcony. Highly recommend checking this spot out!
Matt
2016-12-23T00:00:00Z
Jason
2017-01-29T00:00:00Z
Lovely, thoughtfully appointed place with little things that everyone needs when you stay at a place with a kitchen, like cooking oil, spices, condiments, etc. The view was amazing! 9 of us stayed here over a long weekend for a birthday ski trip. About 1/2 hour from Government Camp/Skibowl, and 1 hr from Mt Hood meadows. This place was absolutely perfect for a large group, and the kitchen, hot tub and tv was great to help us stay in and enjoy rather than needing to go out.
Lauren
2017-02-26T00:00:00Z
Værelsestype
Helt hjem/lejlighed
---
Ejendomstype
Hus
---
Med plads til
11
---
Soveværelser
Sandy, Oregon, USA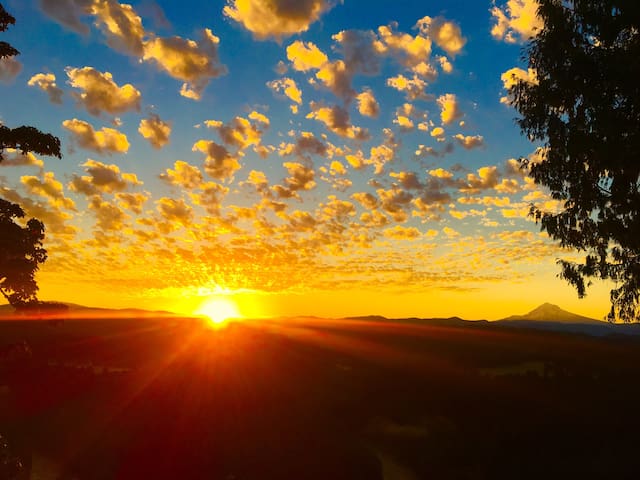 This is a beautiful, fully equipped guest cottage. It has a double bed in a bedroom, full bath, washer & dryer, kitchenette, a small living room area (with a fold-out sofa bed) and a spiral staircase to an additional sleeping loft. 1/2 hour to skiing in winter, Mt. Hood recreation.
This cottage sits on our 20-acre property at the base of Mt. Hood (about an hour east off downtown Portland - a great city to explore!). We are 30 minutes west of Ski Bowl and the Mt. Hood National Forrest. The cottage is approximately 300 square feet, with a small covered porch and fireplace. Private bedroom with full bed, living room with a wood spiral staircase up to a sleeping loft (spiral staircase is not appropriate for small children), a kitchenette with toaster oven, microwave, coffee maker and mini refrigerator. A full bath with the added bonus of a washer/dryer. Great for after a day of travel or playing in the outdoors.
We are mid-way between Sandy and Welches on the flanks of Mt. Hood. We are six miles from town (Sandy), in a quiet setting. All neighbors have acreage properties. The area is very forested and beautiful, the cottage and private home sit on about two acres around the pond, and are out from under the trees, so there is plenty of light.
Hollis and Dave made us feel very welcomed at their cottage. They live on the same property, and provided us privacy at the same time. The cottage is quaint, warm, with many amenities. We enjoyed hikes around their property during the day, and they have 2 lovely dogs whom visited us at the cottage from time to time.
Frances
2016-01-25T00:00:00Z
We had a wonderful stay in this cozy cottage! We had everything we needed, and Hollis made us feel right at home when we arrived. Mount Hood is a short drive away, and the cottage is set in a beautiful location. We'll be back!
Ian
2017-02-05T00:00:00Z
Beautiful place and wonderful hostess!
Kerrie
2017-01-29T00:00:00Z
Beautiful property, comfy place!
Sarah
2017-02-20T00:00:00Z
This cottage was so perfect! It has everything you need, even laundry and a cute little porch! Hollis and family were great hosts and made our stay so comfortable and inviting. She even suggest local spots to take day trips to and restaurants etc. We were able to use everything on the magical property and hangout with the pets which made our trip so amazing! Thank you for being such great hosts!!!!
Megan
2016-08-20T00:00:00Z
Our experience at Hollis + Dave's place was beyond amazing. The listing definitely does not do the place justice. It was much more than we expected, and my friends and I are all so grateful we got to spend time at this incredible property. Everywhere we turned there was something on their property that amazed us. The cottage itself was cozy and comfortable. We were provided with snacks, lots of towels and blankets, and games. The loft upstairs was really neat. Their private lake was so much fun to zipline and boat in, and there were so many activities set up throughout the yard that we never even needed to leave the property. We hiked through the trails on their property with their two dogs Henry and Oliver as our guides, which was such a cool experience. Hollis and Dave are so nice and accommodating and such great hosts. Hollis was very helpful when we asked about things to do in the area and they were so generous when it came to using things on their property. They invited us to join them at the campfire at night and it became such a significant part of our trip. Everything about our stay was perfect, we were completely mesmerized and impressed the entire stay. Their location is also close to many different scenic sites and hikes so it's the perfect place for people who want to enjoy nature. We still can't believe we were able to find a place so amazing and perfect! Overall, an incredibly unique and breathtaking experience. We can't wait to visit again.
Claudia
2015-09-07T00:00:00Z
What a cute little cottage! My husband and I really enjoyed our 'weekend away' with you. It was a great warm and comfortable place to relax after a busy day hiking in the area. We enjoyed all the comforts of the little place. We loved Henry and his love of Scooby snacks. We would happily come back for a visit in the future!
Jenni
2016-05-24T00:00:00Z
Hollis made us feel very welcome and we wished we had more time to stay and enjoy the fun and relaxation. We will just have to go back!
Julie
2015-08-30T00:00:00Z
Værelsestype
Helt hjem/lejlighed
---
Ejendomstype
Bed & Breakfast
---
Med plads til
4
---
Soveværelser
Sandy, Oregon, USA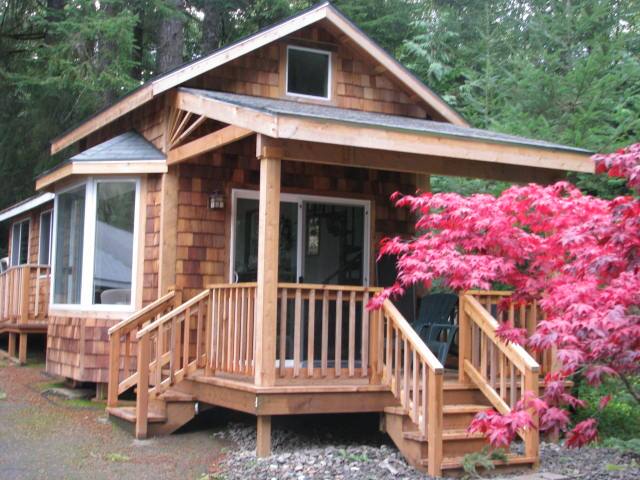 Stargazer Farm is a 60 acre historical conservation land, located at the junction of the Sandy River and Bull Run Watershed.
Originally settled in the mid 1800s by a Dutch family off the Oregon Trail, it was later purchased in the early 1900s by Jan de Graaff, a 10th generation Dutch botanist. Stargazer quickly became the heart of the commercial lily industry, patenting over 150 varieties and processing $50 million in bulbs per year. Presently Stargazer is a farm following organic practices suppling to some of Portland's finest restaurants, including Ava Gene's, Dove Vivi, Biwa, Renata and others. Enjoy your time in the wilderness hiking, fishing, mountain biking, foraging and snowboarding/skiing. Find your escape a mere 30 minute drive from Portland, located at the foothills of Mt. Hood. The 800 sq. ft. Carriage House has been fully renovated with reclaimed wood, a refurbished 1950s refrigerator and comfortably furnished with vintage decor to host 2-6 guests.
This place is awesome. Close to the mountains, the Columbia and Portland, but just enough off the beaten path that it was amazingly quiet. All I saw outside were stars and all I heard were crickets - no cars, trains or streetlights. The house itself was a little tough to find, but Billy was so warm and easygoing chatting with him, that I didn't feel getting the wrong door would be a problem. The pictures don't do it justice either, it's a great mix of modern and well cared for antiques. Not kitchy at all. The beds are very comfortable as well.
Jeremy
2016-08-23T00:00:00Z
We had a great time. The place was very well designed and the property was magical. I recommend booking an extra day because you are not going to want to leave. The hosts were also very nice and welcoming. We will definitely be back!
Jodie
2016-05-16T00:00:00Z
The owner was very friendly and generous. He gave us a great tour in his farm. My family fell in love with the antique items and His decoration.
Sid
2016-09-25T00:00:00Z
Stargazer Carriage House is a perfect rural oasis and Billy is a great host. The house and cottage have great history and charm. A very comfortable stay -- highly recommended!
Kiira
2016-01-05T00:00:00Z
We loved our stay at the Stargazer! The carriage house was immaculately clean and well-maintained. It was quiet at night and the beds were very comfortable. We thoroughly enjoyed taking walks on the large, picturesque property. Our host, Billy, and other people who were doing various other projects on the property (greyhound rescue, organic gardening, etc) were all very pleasant and many stimulating conversations were had. All in all, one of the best get-away experiences I've had. A+!
Eric
2016-08-27T00:00:00Z
The Carriage House is an inviting and comfortable space located on a beautiful property. Five of us stayed the night. Billy was there to greet us and made sure we had everything we needed. We would love to stay again the next time our travels bring us to the Portland area.
Courtney
2016-08-25T00:00:00Z
Billy was friendly and showed me around his property. It was nice and quiet and my son and I slept great.
April
2016-10-02T00:00:00Z
This was our 2nd stay with Billy @ Stargazer Farms. We absolutely love this place as a home away from home and consider Billy part of the family. He is an amazing host!
Rick & Cindy
2016-06-30T00:00:00Z
Værelsestype
Helt hjem/lejlighed
---
Ejendomstype
Loft
---
Med plads til
6
---
Soveværelser
Sandy, Oregon, USA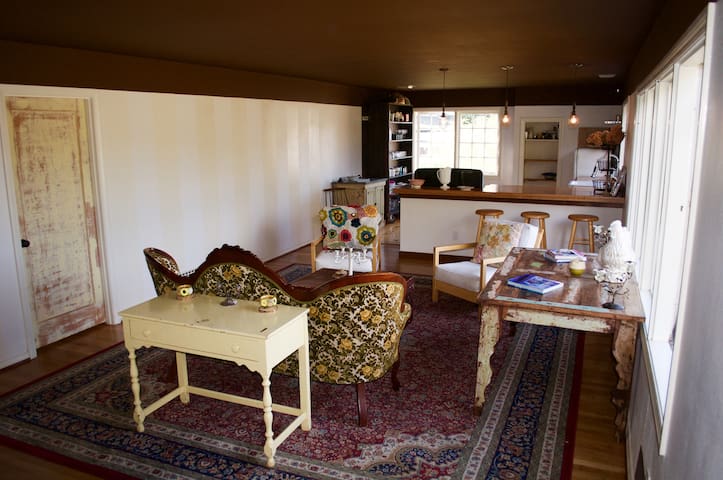 This large open home is the perfect location for hood to coast teams. It is located in Sandy Oregon close to the start at Timberline and near the first van exchange. It has plenty of beds, and floor space for an entire HTC team. Unbelievable view!
Værelsestype
Helt hjem/lejlighed
---
Ejendomstype
Hus
---
Med plads til
14
---
Soveværelser
Sandy, Oregon, USA
Close to Mt. Hood! Small private studio room, with its own separate entrance. Quiet setting on 2 acres. This studio room has a comfortable queen bed, and a 3/4 bath with all the amenities. There is cable tv and wifi in the room. The Studio room is supplied with a coffee pot, a toaster, microwave and a mini refrigerator.
The space is new construction. Very clean and cozy with all the amenities. It is very light and bright! The space is small, but very functional. There is limited seating, a small bench by the window. We do not have a closet, but there are wall hooks. The laundry room is available for your use, scheduled between the hours of 8am and 6pm.
We are basically in Sandy, even though our address is Boring. It is a quick 35 miles to Timberline Ski Resort. Towards the mountain you will also find many summer and winter activities. In the wintertime Mt. Hood offers, skiing, snowshoeing, snow mobile trails, sledding and much more! Summer season offers, hiking, biking, camping, skiing, the adventure park, lakes, golfing just to name a few! It is a beautiful place to explore anytime of the year! We are about 35-40 minutes from downtown Portland, depending on traffic. We are about 30-40 minutes from the airport as well.
Valerie is very quick to respond to any questions. She made us feel at home, there was hand written note and lovely pastries for us The suite is exactly as described. Queen size bed is very comfortable. Very quiet country setting. The suite is located near the quaint village of Sandy. Great little Italian restaurant Trattoria in Sandy( aprox3miles) the food is delicious( lasagna is yummy) Many hiking trails nearby, both Columbia Gorge and Mt. Hood. Portland is 30 mins to downtown. We would definitely stay here again.
Neil
2016-10-21T00:00:00Z
This place is great! Room was perfect size for me and had everything I needed. Location is close to grocery stores, coffee, etc. Val was also great about being in contact with me and seeing if I needed anything. I would absolutely stay here again!
Hilary
2017-03-21T00:00:00Z
Out stay was easy and enjoyable. Our hosts were very attentive and had great communication.
Gina
2016-08-15T00:00:00Z
Great stay close to the sandy river for fishing, thanks again.
Nick
2017-02-18T00:00:00Z
It is a small space, but as long as you are comfortable with such, it is a beautiful location (and inside is very cozy :), away from the hustle and bustle of city life (thank you!) Downtown Sandy is a five minute drive, though, so it is a beautiful little getaway. I loved it, and appreciated the warmth and thoughtfulness of their welcome, and the comfort of the place. Totally worthwhile. :)
David
2017-02-05T00:00:00Z
This studio is very clean and new, and small but cozy. It was a perfect first stop on our way to Eugene for the weekend. Delicious muffins were a sweet touch!
Allison
2016-07-17T00:00:00Z
Valerie and William were wonderful hosts. This was honestly one of the best outfitted Air BnBs I've stayed in. The room is clean and brand new, the towels and sheets are top notch, and there is every kind of soap and bath product you could ever need! Val and William even helped me find the best route out of town in the midst of an ice storm. They get anything you need. 10/10!!!!!
Amanda
2017-01-09T00:00:00Z
Very cozy! Nice little studio with a clean and functional setup. Had no problem finding even after dark. Val was very communicative, sweet and gracious during my stay. If you're looking for a little hideaway, I definitely recommend crescent meadow home!
Kelsey
2017-03-03T00:00:00Z
Værelsestype
Helt hjem/lejlighed
---
Ejendomstype
Lejlighed
---
Med plads til
2
---
Soveværelser
Boring, Oregon, USA
We have the best of both worlds here in Corbett. Portland is about a 30 minute drive. We are less than 20 minutes from amazing waterfall hikes, fishing, 1 hour from skiing, class 3/4 river rafting, kite boarding, and wind surfing in the gorge.
You'll have the entire bottom floor all to yourselves, with a private entry. Super comfortable queen size bed with private bath. Relax here on the two large couches with a flat screen TV and Netflix. 6 large windows and a glass slider door looking out over our 5 acre pasture. It also has a small refrigerator, microwave, and coffee maker. Linens, soap, and shampoo are also provided. Also, has A/C and heat. Private living area is approx. 800 square feet. If you have more than two in your party, we have a Coleman Premium Double High 18" Airbed that we will set up for you. If you enjoy fishing, the Sandy River is just down the road from us. You can catch salmon and steel head. We also have a friend down the road who's a fishing guide. For a fee, he can take you out on the Columbia River fishing for the day. We're happy to lend you our BBQ when you return with your catch! Just 20 minutes from here is the town of Gresham. Its population is just over 100K. The downtown has some really great restaurants and cool shops. You can also go on a 20 mile bike ride from Gresham to downtown Portland. It's one long, well maintained bike/walking path. Even closer, less than 15 minutes away, is the quaint, old town of Troutdale. It's population is just over 16K. The downtown has some great restaurants, fun antique stores, and an outlet mall. Less than a mile from there is a major outdoor concert venue that's mainly operational in the summer time. Past performers include Adele, Heart, Bob Dylan, Fun, Willie Nelson, The Pretenders, Sugarland, Norah Jones, Steve Miller, ZZ Top, Tony Bennett, Michael Franti, Train, Sheryl Crow, and many others. Leaving here to the I-84 on-ramp is about 10 minutes. A 30 minute drive to the west on I-84 will take you to downtown Portland or heading east takes you to the scenic Columbia River Gorge. Also, the airport is 25 minutes away. Portland offers diverse cultural experiences- awesome restaurants, entertainment (plays, concerts, etc.) great stores and charming neighborhoods. Very bike friendly! Beautiful clean city! The Columbia River Gorge offers many unbelievable hiking trails (many with waterfalls), river rafting, kite boarding and wind surfing. Skiing is about an hour drive from here on Mt. Hood. ( Timberline, Mt. Hood Meadows and Mt. Hood Skibowl). Skibowl has the largest night skiing terrain in the country. Come enjoy!
Two charming, small, country stores are within 3 miles (Corbett Country Store & Big Bear Country Market). Big Bear's has a small restaurant inside of it. The other has sandwiches, ribs, etc. All of our neighbors have about 5-50 acres.... peaceful and lots of space.
Our stay at Wendy's and Robert's cozy and charming country estate was incredibly enjoyable!! We were grateful to escape the noisy traffic in Portland and found sanctuary a short car ride away at this relaxing haven. Upon our immediate arrival we were greeted by our SWEET host, Wendy and the family's loveable and very polite canine companions. We were given a pleasant outside tour of the lovely rolling hills, with a backdrop of approachable furry friends, including a handsome horse, docile sheep and a pair of adorable fuzzy alpacas. The accommodations went above and beyond par. With all of the privacy and outstanding amenities, our generous host even gifted us edibles to suit our diet choice and she was available upon our request to answer questions about the sites to visit. The location was in the heart of the Colombia River Gorge. The majestic views from the gorge and especially the sunsets were a memory we will cherish. A very warm thank you to Wendy for making us welcome as if it were our second home. I wish we were neighbors. :))
Thomas
2016-09-20T00:00:00Z
We only stayed two nights but it didn't seem long enough! The space was cute and comfortable and the view from the room, beyond beautiful. Robert & Wendy went above and beyond as hosts and we look forward to staying there again in the future.
Taylor
2016-04-17T00:00:00Z
Anyone who wants to hike and stay off the beaten path should definitely stay here. My hosts were so amazing!
Chuck
2017-04-05T00:00:00Z
Robert and Wendy was a fantastic host. They really made us feel like an old friend visiting their wonderful home. Their house was so beautiful and private. Wake-up to an amazing view and enjoy cup of coffee sitting outside and playing with super friendly shepard. I will be back every year.
scott
2016-05-29T00:00:00Z
The host family were great! They contacted me on the day of planned arrival to facilitate checking in. They also provided us with local maps and ideas of places to eat. They provided small snacks and coffee. The space was clean, quiet and organized. The location was a bit far out but the land was amazing and a peaceful retreat.
Samantha
2016-11-07T00:00:00Z
Wendy and Robert were some of the most communicative hosts we've had. Super friendly and easy to work with! They were accommodating with our arrival time and generously flexible with our check-out time. The space is clean and beautiful with all the basics. We were able to split our time between lazing inside watching Netflix spending time outside with the animals. Keno was one of the friendliest horses I've been around and he loved the apples and carrots that Wendy left for us to feed him. We were already very familiar with the area, but Wendy and Robert provided a lot of resources that would be helpful for those visiting out of town. We would gladly return!
Emily
2016-10-30T00:00:00Z
Absolutely beautiful! The view was gorgeous. A perfect place to get-away and relax. Wendy was very welcoming, and a wonderful hostess. 2 thumbs up! I look forward to visiting again. Thank you!
Hannah
2017-02-19T00:00:00Z
Wendy are Rob are awesome hosts. They always want to know how things are going and if you need anything. They are quick to answer questions and the location is awesome. We loved the view and pool table. Thank you so much.
Brian
2017-03-31T00:00:00Z
Værelsestype
Helt hjem/lejlighed
---
Ejendomstype
Hus
---
Med plads til
3
---
Soveværelser
Corbett, Oregon, USA
Private Guest Cottage on Horse Farm Sanctuary. 30 miles East of Portland, foot-hills of Mt. Hood. Close to Sandy & Colombia Rivers. Ski, Snowboard Mt. Hood, Fish, Ride. Trail Rides & Riding Lessons available upon request for a very reasonable fee.
When I was kid I used to love reading about Horseback Riding Holidays in England and Ireland. Well how about that very same thing just outside of Portland? Welcome to Corbett Farm.
The neighborhood is best described as calm and tranquil. Lots of trees, fresh air and horses. If you enjoy fishing you are close to both the Sandy and Colombia Rivers. Dec/Jan-May/June the farm is a great spot for folks who want to ski or snowboard Mt. Hood and also spend time in Portland.
Stuart is a very nice host. The cottage is cozy and clean. You got everything you need. The farm is beautiful! We woke up in the morning, and saw the peacocks walking around - just like a wonderland afar from the city. Really wanna go back in the summer!
Yi
2015-11-30T00:00:00Z
Stuart was a great host. The apartment above the garage was clean and comfy. My absolute favorite part of our stay was the 7 month old baby horses. They were SO sweet! Stuart took my husband out for a ride around the neighborhood and he had a great time getting to experience galloping on a horse for the first time. The location was perfect, just far enough out of the city for our taste. Thank you so much Stuart for opening your beautiful apartment to us. P.S. the farm fresh eggs were delicious!
Amy
2016-04-06T00:00:00Z
Russell Family Christmas
Megan
2015-12-26T00:00:00Z
Okay, everyone, do yourself a favor and book this place. The apartment itself is a perfect size for 2 people (2+ for us, as we had our toddler along) -- it's super clean, quiet, and we loved waking up and going out to see the animals, from the horses to the peacocks to the cool garden slugs. Our 1.5 year-old daughter could not get enough of the "neighs", and we all enjoyed exploring the property, eating raspberries off the vine (yum), and just enjoying nature. It's an easy, picturesque drive from Portland. We went back into Portland once or twice during our stay, but also loved just staying out to enjoy the farm. Stuart was extremely helpful in many ways, including leaving a few food items to get us started and making recommendations for outings. We followed his suggestions to go to Vista House (a beautiful drive -- follow old highway 30 to see Waterfall Alley), and a drive up Mt. Hood for a lovely brunch at the Timberline Lodge. Stuart also went the extra mile and drove to secure a pack 'n play on the first day of our stay, to make sure our little one (and others that might visit after her) had a place to sleep -- awesome!! We would absolutely stay again. Looking forward to it!!
Sara
2015-08-04T00:00:00Z
Super friendly host, more than happy to have us stay at his guest home even though it was Christmas day. He even invited us to join his family for dinner. The apartment itself was clean, warm, super comfy, super cozy, and well outfitted despite its small size. As an animal lover, this was an especially wonderful spot to spend Christmas day. When we weren't admiring and laughing at the adorable animals interacting outside, we were relaxing in the comfort of the apartment and peeking through the windows to giggle at them periodically. Stuart clearly loves his animals and extends that same warmth to his guests. Aside from that, the premises is beautiful and if you hike across the creek in the backyard up to the plateau a few meters beyond, you'll see an incredible sunset. My husband and I both thought this was a wonderful place and we hope to return one day.
Nina
2015-12-27T00:00:00Z
We loved staying at Peacocks and Ponies even though we were not there for long. Stuart was very accommodating and helped us get around.
Eunice
2015-08-10T00:00:00Z
Stuart was difficult to get ahold of after I paid. I specifically asked about the tiny house and got booked for the apartment. After being displaced into the garage apartment (advertised as a cottage) I found the shower to be moldy and have dead bugs in it. The dishes are cracked and chipped. The dishes that were useable had dried food on them. These are huge health concerns. We had no idea where we could hike and explore. When I tried to discuss the miscommunication about the tiny house with Stuart he became dismissive. All in all I am very disappointed in our experience. This was a very expensive experience.
Kimberley
2016-07-09T00:00:00Z
Corbett farm was amazing and so was the host, Stuart...beautiful property..peacocks and horses..fantastic horseback ride..the guest house is great, clean, cozy, fully supplied with everything we needed. We didn't want to leave, would definitely return!
Christy
2014-10-25T00:00:00Z
Værelsestype
Helt hjem/lejlighed
---
Ejendomstype
Lejlighed
---
Med plads til
2
---
Soveværelser
Corbett, Oregon, USA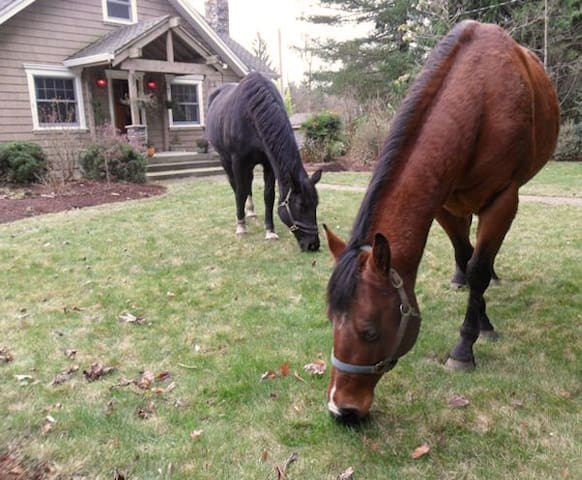 Sandy - Airbnb
:
Gennemsnitligt

5

ud af

5

stjerner fra

596

gæsteomtaler