A vacation rental, Mesa Valley GuestHouse is located at the base of the Black Mesa on the Walker Ranch, near Kenton, OK. The area is secluded and private. You are 40 miles from the nearest town, gas station and grocery store. Peaceful, Quiet, and Amazing! Come See Us!
Mesa Valley Guesthouse is a privately owned HOME and secluded in the Valley of the Cimarron River. We have 4 bedrooms, and a den that has a trundle bed and the living room sofa makes out to a queen bed. The nearest neighbor is 3 miles. We are 40 miles from the nearest grocery store and gas station. The nearest Walmart is about 100 miles. Therefore, you must have plenty of gas and food for your stay!
Beautiful country....Peaceful, Quiet......God's Country!
I normally write a review the same day we return home, but I had to think about this one a while longer. I just couldn't find the right words to describe our very brief but enjoyable stay. I've had to settle on, "Amazing." We had an amazing experience! Cerita is an absolute pro at being an outstanding AirBnB host. The furnishings and the way Cerita communicated with us made us feel very warm and welcome. The house has great TV (dish) and fast, reliable internet. We just loved it and want to return when we can spend more time at the house. In her listing, Cerita points out that the house is 40 miles from a grocery store/gas station. This is 100% accurate, so be certain to get your goods and gas either in Bosie City, OK, or Clayton, NM. Also, if you're on Sprint or T-Mobile, you might have cell-signal issues in that 40-mile radius, so be certain to download offline (SENSITIVE CONTENTS HIDDEN) maps if you're unfamiliar with the area. Thanks, Cerita, for hosting us. We hope to return soon- Nathan and Corinna Hood
Nathan
2016-11-14T00:00:00Z
Mesa Valley GuestHouse is such a unique experience. No light pollution at night so you can stargaze and breathtaking surrounding area to explore in the day time. We had no problems with our cell coverage and the wifi and other amenities in the house were superb. Cerita was a wonderful host and always answered our emails promptly. We only wished we could have stayed longer, but we will definitely come back in the future.
Jing
2016-08-03T00:00:00Z
Our stay at the guest house was great! We stopped there on the way back to Tulsa from Colorado. We wanted to stay somewhere other than a typical hotel off the interstate. We took the back roads and saw some amazing country. Beautiful part of Oklahoma that most don't see. I've never seen so many stars in my life!
Lindsey
2017-01-03T00:00:00Z
The stay was great! Really cool place to have discovered. Everything was nice, in order, and felt very homey. I do intend on going back.
Matt
2016-05-15T00:00:00Z
Truly one of the best things about AirBnB, from discovering the place to a successful booking took less than five minutes, it was a decision that I will never regret. From start to finish Cerita was easy to communicate with and very responsive. As for the place? where can I begin, the night sky was the main draw for me, and it did NOT dissapoint! But we also managed some morning hiking/exploring, wildlife everywhere! such a beautiful place and the house truly does feel like you're visiting family. I can't say enough nice things. I will definitely be back when I can spend more time here, I was just passing though on a longer road-trip, but the Mesa Valley GuestHouse will now be a straight up Destination for me in the future!
Jeffrey
2015-11-16T00:00:00Z
Cerita was amazing to work with! She was in contact with us immediately after we applied for our stay and was constantly available to be reached throughout the duration of our stay. The guesthouse was beautiful and the surrounding area was absolutely amazing. We also received the warmest of welcomes from "Needy" the cat that stays around the guesthouse. He was ridiculously affectionate and was always ready to hangout. If we get the chance to visit the area again we will be sure to stay here again.
Alex
2015-10-27T00:00:00Z
Cerita & her husband were unable to be nearby due to a family celebration. Never the less, she emailed me about the trip and kept in touch by email and phone to make sure we had found the Guest House and that all was well. This was an isolated home, so Certia cautioned us to have enough food for the evening & following morning. The house had a very friendly outdoor cat that certainly made us feel welcome. All electronics [TV] use was clearly explained if we'd wanted to use them. We preferred sitting on the front porch & watching the cows in the field & listen to bird songs. We were so pleased to stay at this Guest House as it was close to our hike at Black Mesa Nature Preserve near Kenton, OK. We very much enjoyed the restful country evening. They had a brochure for Capulin Volcano, not far away. So we took off driving through a very beautiful country road alongside the Cimmeron River on NM 456 highway & about 17 miles of dirt road to the volcano.
Beverly
2015-05-06T00:00:00Z
The listing doesn't do this place justice. The views from this area are amazing, and the best part of all is how quickly it changes! From here, you can spend the days exploring the area and the nights star gazing. I especially recommend taking the drive to Capulin Vocano. Lake Carl Etling is another must see, and just minutes away! Cerita is a gracious host and we really felt like we where at home in her guest house. It was clean, comfortable, and cozy! We will definitely be returning!
Jimmy
2016-07-05T00:00:00Z
Værelsestype
Helt hjem/lejlighed
---
Ejendomstype
Hus
---
Med plads til
12
---
Soveværelser
Kenton, Oklahoma 73946, USA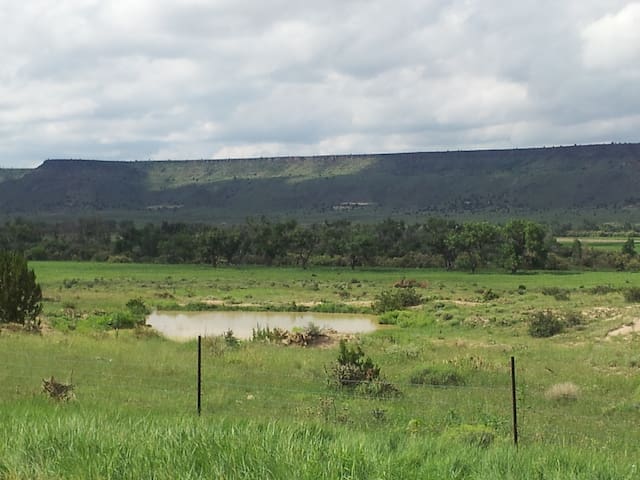 Indtast datoer for at se den samlede pris. Yderligere gebyrer gælder. Der kan blive tilføjet skatter.