En halv blok fra Times Square!
En halv blok fra Times Square! Venligst (email hidden) af dig selv inden du booker. Et foto ville være rart. Lejligheden ligger i en walkup bygning. Vær venlig ikke at bringe for meget bagage, fordi det vil være svært at få op ad trappen Store lejlighed halv blok fra Times Square på 44th street. Gåafstand fra Forever 21, Toys R 'US, MTV, alle Broadways teatre, Best Buy Theater, Sephora, og Starbucks. 24 timer Walgreens og Duane Reade er også rundt om hjørnet. Lejligheden har kabel, aircondition, internetadgang, rene håndklæder, og en fuld køkken. Den eneste ulempe er, at lejligheden er lige ved en neonskilt, så det ikke er så mørkt om natten. Sengen rådighed er en dronning seng og har skuffer at sætte dine ting i. Det er en hyggelig plads også! Der er rene håndklæder og gæster kan bruge mine gryder, pander, og køleskab til at lave mad, som de ønsker. CHECK IN / OUT TIDER: Anytime efter fire værker. Check ud er klokken 10. RYGNING ER IKKE TILLADT Der er et fælles badeværelse, og gæsterne vil få adgang til stue og køkken. Jeg elsker mine gæster og kan lide at tilbringe tid sammen med dem, når jeg er til rådighed. Jeg elsker, hvordan alt er gåafstand! Elmo og Cookie Monster er en halv blok væk i Times Square. Det er ret ved th (URL SKJULTE) tog. Den 6 tog, Port Authority Bus Terminal, Grand Central, og Penn station er mindre end 10 minutters gang.
Jeg elsker, hvordan alt er gåafstand! Elmo og Cookie Monster er en halv blok væk i Times Square.
I will feel guilty if I have been living in such an awesome place but fails to recommend it. Jean's place is exactly located in the heart of times square and I like the decoration of her room very much. Besides, Jean is a very nice host who helped us a lot. If I have a chance to go to NYC again, I will still choose Jean's room!
Mary
2013-01-22T00:00:00Z
the location is very convenient for shopping and traveling. J. is really friendly. It's really a great place for our journey!
阳
2014-12-22T00:00:00Z
Really fun host easy to ' live ' with. I recommend her place specially if you are young. The location is amazing and the apartment is clean . I'll come again if i need a place in NYC ! Meryl.
Meryl
2013-01-30T00:00:00Z
Even though the host had to cut our stay short for personal reasons, she was accommodating and helpful during our stay. The location of the apartment is incredibly convenient. We would definitely stay with her again.
Kaylee
2015-05-08T00:00:00Z
Good room and good location in New York Time Square area!
Alejandra
2013-05-08T00:00:00Z
Jean is really nice and the location is great! Everything is neat. My friend lost her glasses in the house and jean mailed them back to us! She is really a nice host!
Xiao
2013-04-29T00:00:00Z
真的是一個很方便的地理位置~而且大部分在紐約都步行,若累了還可以先回aparment休息或放置購買的東西⋯唯一缺點就是,淋雨間非常的小。房間對於我們2大行李跟2小行李而言,真的有一點擁擠⋯Jeany的人還不錯,其中兩天我們跟當地團到Niagara fall 2天1夜,我們將2大1小的行李暫放在她家,所以去玩也變得輕鬆~
Poohpooh
2016-09-17T00:00:00Z
The location was right in the heart of Times Square and really close to the subway. The overall stay was decent considering the price and location of the place. It was difficult to contact Jeany with the phone numbers she provided on the website, so the best way to contact her is via email through Airbnb. Also, the bathroom is clean except the shower itself (it's got that residue buildup all over). Additionally, since we were so close to Times Square, it never got dark in the room even with the shade, and you can hear construction and people cheering for Good Morning America.
Edith
2016-06-19T00:00:00Z
Værelsestype
Privat værelse
---
Ejendomstype
Lejlighed
---
Med plads til
2
---
Soveværelser
New York, New York, USA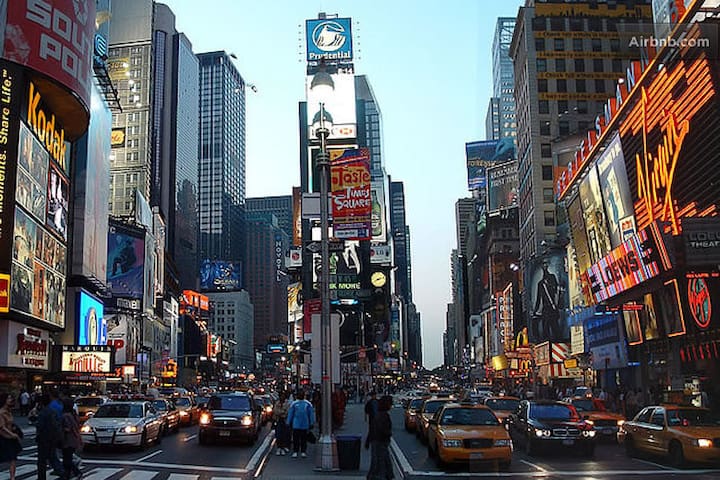 Come stay in my beautiful, newly renovated townhouse! Gorgeous hardwood floors, bright sunny windows, vintage and artsy decor, plenty of privacy, and a social atmosphere. Spacious private backyard to enjoy. :)
Planning on visiting NYC or need a temporary place between moves? Come for a stay in our guest rooms! Located in the historic Crown Heights neighborhood, our brownstone apartment is conveniently situated across Prospect Park from the Park Slope area and within walking distance of the Brooklyn Museum of Art, The Brooklyn Botanic Gardens, The Brooklyn Children's Museum, The Jewish Children's Museum, Several churches of all denominations, and the newly restored Brooklyn Public Library(Main Branch). The area has an eclectic taste which reflects the diversity of cultures inhabiting it. Crown Heights has some lovely architecture and a variety of peoples and shops, ranging from variously hatted and top-coated Orthodox Jewish residents to vegan Rastafarian Afro-Caribbean restaurants and college students. The guest room is quite cozy and has everything that you might need, including a travel adapter for your electronic devices. Currently there is a very comfortable twin(single) size bed with a pillow top mattress, a small bedside table, and a spacious closet. You would be sharing the common spaces (kitchens, living room, 3 bathrooms, and backyard) with other guests, as I have several guest rooms. So, why is this better than staying in a Hostel? We offer lot's of Free amenities: Secure Wireless internet, free state-of-the-art laundry machines to use and a kitchen with great tools and culinary gadgets. For all you shoppers, the bathroom has a weight scale that you can use to weigh your luggage before heading off to the airport! In the backyard there is a small garden with a beautiful flowering tree. You can park safely on the service road, which is right in front of our house, for free. We also have several bicycles(and helmets) that you can use to ride around the neighborhoods. As an added bonus, we are only a few steps from the Subway! The 3 & 4 trains run express into downtown Brooklyn and Manhattan. The B43 bus also stops right outside our door, and that will take you directly to Williamsburg, Greenpoint and Bushwick!
The diversity of people and cultures are what drew me in to this neighborhood. Also the fact that it is a family area, which provides a little sanctuary away from the hustle and bustle of busy areas like Manhattan.
Daniel was very welcoming. Day 1 he walked with me to the local store so that I knew where to go. Always made me feel welcome. The room was exactly what I paid for.
Bob
2016-04-27T00:00:00Z
I didn't get to meet Daniel but his friend Chad was very friendly. The place is very close to the subway station and very clean . Daniel was very understanding as I had to change my reservation and flexible with arriving times. A great place for a short stay!
Christel
2016-09-24T00:00:00Z
Great location. Just Right for a place you just need to rest when your in The City. Clean Quiet Comfortable.
Terrance
2017-01-07T00:00:00Z
C'est la première fois que je testais Airbnb et je ne suis pas déçue. Superbe expérience, lieu propre, chambre agréable et calme. Daniel est très agréable et répond aux attentes de ses hôtes ! Au top !
Jenny
2016-12-15T00:00:00Z
There are a few minor negatives and major positives to staying at Daniel's place. First, the negatives, which really depend on your needs and expectations. The place is very, very spartan and bare-bones. The rooms are just a bed and a nightstand, and that's pretty much it. The bathrooms are utilitarian at best. The kitchens are fine, they are nice to have even if they aren't great. Same with the "living room," which is just fine. The place as a whole is very basic, with little "comfort," it's not cozy or homey. Just a basic, budget living space to crash in. Having said that, there are two huge positives. One is Daniel himself. He is extremely helpful and communicative. He makes sure that his guests have all the information they need and are well taken care of. I actually never met him in person but he took great care of me when I had a question and made sure that I had all of the relevant and important information I needed before I checked in, which I did easily, even without him being there. He was a great host. Secondly, this place is at a perfect location! This is really THE reason to stay here. In less than a minute, you are on a subway that goes directly into Manhattan and takes you to some of the major destinations. It stops at Times Square and Penn Station, so you can get to those places on one train, door to door, from Daniel's place. This is especially fantastic if you are coming into and leaving out of NYC at Penn Station. So easy to hop on the one subway, door to door, with all of your stuff. Having the subway so close and easy to use really is totally worth any minuses about staying here. I definitely recommend staying with Daniel, mostly for this reason.
Robert
2016-12-19T00:00:00Z
I had a great stay at Daniels! He made sure I had all the information I needed on arrival - and kindly showed me around the house. The room is as discribed and was perfect for my stay!
Thomas
2016-11-30T00:00:00Z
Daniel's place was spacious, quiet and comfy and also located very close to public transport making it easy to commute around the city by subway. i didn't get to meet Daniel, but he was a considerate host nevertheles!
Emilia
2016-12-05T00:00:00Z
It has been a great stay at Daniel's house. The house is cozy, quiet and very comfortable. The room was beautiful and there is a big kitchen where you can have breakfast, lunch or dinner. Everything is very clean and Daniel is a great host. He helped me at all times and we had a good conversation.And the neighborhood is fine. Recommendable visit! I will be back at Daniel's house when I go to NY.
Roberto
2016-11-13T00:00:00Z
Værelsestype
Privat værelse
---
Ejendomstype
Hus
---
Med plads til
1
---
Soveværelser
Brooklyn, New York, USA
Only a few minutes away from the subway station. To Manhattan take J or M line just 12 minutes. From JFK 30-40 min, to LGA 18min. Room is clean and nice, cozy with full size bed. Safe and friendly neighborhood. Share the bathroom with a person.
Nice and friendly neighborhood
My first airbnb-experience and it was great! Mimi was a great host, i enjoyed my stay and the location, connection to the city was good. the appartment was very clean. I would love to visit her place again :)
Norma
2016-09-25T00:00:00Z
The host met me and showed me around the space. The location was convenient, right near the metro station, and the room was just the right size. I'd definitely stay again.
Kelly
2016-10-05T00:00:00Z
Mimi was very kind and answered my question right away. She allowed me to leave my luggage after checkout so that I could go sightseeing in Manhattan. The room, bathroom, living room were clean and comfortable. Easy Access to Manhattan and JFK airport. Would stay here again.
Ryoko
2016-09-26T00:00:00Z
I really enjoyed staying at Mimi's place. The room is quaint, with only the essentials, and the rest of her apartment is lovely! The place is two minutes away from the subway station (as well as a 24hr Dunkin' Donuts) with easy access to Manhattan. I was only staying for the weekend so I didn't have any large luggage with me, but it might help you to know the apartment is on the first floor. As a host, Mimi was always very responsive and helpful. The room is a steal at this price! 10/10 would recommend.
Phoebe
2017-03-27T00:00:00Z
good host easy to communicate and helpful. will definitely choose here again easy transportation and safe place to live.
Yi Hong
2016-09-16T00:00:00Z
It's really cool place! Also thanks a lot for Mimi for her hospitality!!! It was my first time in USA but partly as for her I so enjoyed that time!!! And I felt myself as in "my cup of tea"
Zhibek
2016-09-12T00:00:00Z
We had a nice time at Mimi's house. The neighbourhood was very lively. Subway is nearby, so getting somewhere is very easy.
Esmee
2017-04-05T00:00:00Z
Simply put, this was the best AirBnB situation I've experienced in this part of town (especially for this price!). I thought it was too good to be true, but the house was actually clean (Mimi cleaned the sheets right before I arrived), and the host had a method for helping me pick up the key that worked flawlessly.
Alex
2016-10-03T00:00:00Z
Værelsestype
Privat værelse
---
Ejendomstype
Hus
---
Med plads til
2
---
Soveværelser
Brooklyn , New York, USA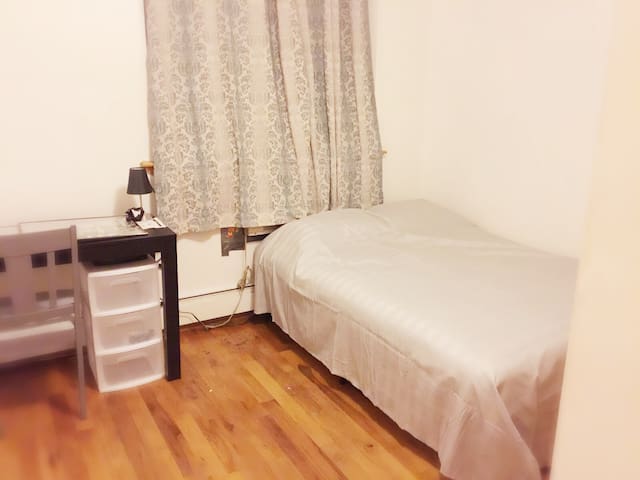 Ledig Beliggende i Manhattan I nærheden af Central Park 4people delt værelse (2 køjesenge) Du kan checke ind når du vil
Good place, flexible time and quiet.
Amornpan
2017-04-06T00:00:00Z
Elin is a very nice host and also very friendy. she hlped me to carry my super heavy baggage to the 3th floor when i arrived,she even invited me to jion her perfct thanks giving party at night. i think if i come to NYC next time, i will choose to stay in her apt again.
maggie
2016-11-28T00:00:00Z
The location is in Harlem but its nice because really close to central park (5-10min walk). The appartment is quite busy. Ellin is sharing two bunk beds placed in the living of her appartment. Its small but she is doing her best to keep it clean.
Lucy
2016-11-30T00:00:00Z
This place is okay, but there are still some problems that can be addressed.
Mao
2017-03-23T00:00:00Z
You can go to the place easily by subway from Grand Central station and if you want to go sightseeing after your staying, you can move to downtown from uptown so you can experience many famous places in Manhattan then . Check in and check out are really flexible and clean rooms and reasonable price for Manhattan so you'll like it:)
RIKU
2017-02-18T00:00:00Z
Very convenient location, feel safe and comfortable there. Will come again:)
Nancy
2017-02-01T00:00:00Z
I had a wonderful time at Elin's place, she was nice and helpful at all times. It is very well located near to 2 metro stations that can take you anywhere you want. I highly recommend this place.
Tania
2017-03-02T00:00:00Z
What an amazing host! So friendly, patient, helpfull and great in her communication from the moment I had booked my stay untill I left the city. Totally recommend this place and this woman! Thank you so much!
Thijs
2017-03-27T00:00:00Z
Værelsestype
Deleværelse
---
Ejendomstype
Lejlighed
---
Med plads til
1
---
Soveværelser
New York, New York, USA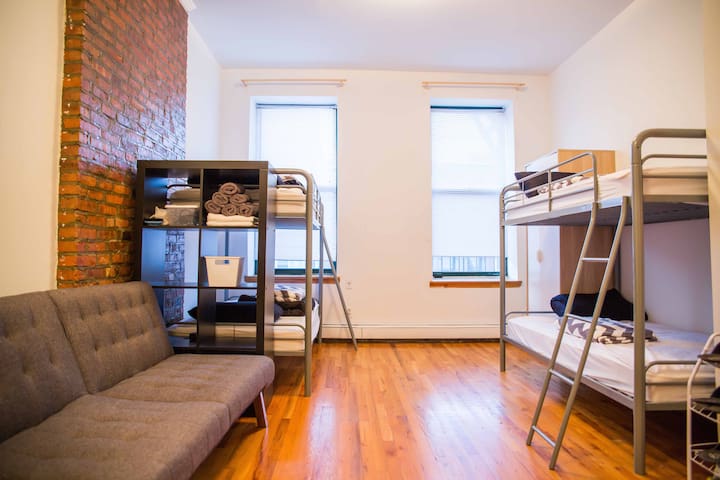 The apartment is close to Bars, Shops & transportation. You'll love it because of the coziness, modern style, feels like home with privacy. This is good stay for couples, solo adventurers, business travelers, students, & Intern's and Mother/daughter trips. Lots of shops nearby, store about 2 building's away, barista on the next block and a vegan spot on the corner. The area is quiet and clean. Washer & Dryer Inside. Bonus... I have a parking spot available if you drive here.
The room has 3 windows, Ruku TV, lock on your door, ac & heat, bed, dresser, closet, waste basket, bed table, & a lamp and Iron and a board. Bright and sunny room that faces the courtyard.
Very convenient, local shops, places to eat and bars nearby and within walking distance. Vegan spot & barista is less than a block away.
The room is nice with TV and clean, the room can smell better,though.
Zanxiao
2017-02-04T00:00:00Z
Nous sommes arrivé en métro dans la rue parallèle, il s'agit d'un quartier animé avec beaucoup de commerce et à 25-30 min de Manhattan en métro . Que cela soit en journée ou le soir, nous nous sommes toujours sentis en sécurité même lorsque nous sommes rentrés tard le soir . Bushwick est bien desservi par les transports en communs ( bus, metro ) que cela soit pour aller à Manhattan ou le reste de Brooklyn. Joy est une hôte très agréable et disponible. Nous nous sommes sentis tout de suite comme chez nous. Le logement correspond aux photos. Très positif, il n'y a aucun couvre-feu imposé. Joy possède plusieurs chambres d'hôtes ce qui nous a permis de rencontrer et d'échanger avec d'autres voyageurs . Autre point positif, nous sommes libre dans les horaires, nous pouvons utiliser la salle de bain et la cuisine à n'importe quelle heure . En résumé, il n'y a aucun point négatif et nous reviendrons avec plaisir si nous avons la chance de retourner à New-York . Encore merci à Joy pour son accueil et sa générosité .
Allison
2016-10-14T00:00:00Z
I felt very welcome, joy showed me everything that I needed upon my smooth check-in and let me head straight to bed after my 12 hour long journey. Would happily stay with her again.
Carmen
2016-11-12T00:00:00Z
I enjoyed the Bushwick neighborhood. A great combination of art, corner stores and up and coming restaurants! I enjoyed chats with Joy.
Sakiko
2016-11-23T00:00:00Z
We had a great time at Joy's place! It is a cute and clean home and Joy is such a kind person with great humor! We will definitely go back.
Jasmin
2016-09-21T00:00:00Z
I really enjoyed staying at Joy's. I came in late due to some airline delays but she stayed up to make sure I got in safe and sound. The space is really beautiful and close to everything re: transportation. She even gave me breakfast in Saturday morning. My room had a little tv that linked to chromecast so I was able to cast my Netflix app while I was in bed. Overall, a wonderful experience. I liked being in a space filled with people but with privacy -- it felt like being at home.
Celeste
2016-05-09T00:00:00Z
Joy es una hermosa persona sin duda. Nos ayudo mucho y el lugar es perfecto, limpio, habitacion comoda y muy cerca del subway y aeropuerto. Joy y Saint Ro nos hicieron sentir como en casa. Estaremos encantadas de regresar.
Guty
2016-05-27T00:00:00Z
We had a wonderful stay. Joy is a great host. She made sure that we got to her place safe by giving us explicit directions. We arrived very late, around 11:30 pm and she was waiting for us to make sure we make to her place safe and sound. Each day she would take time and tell us what attractions we could do around the neighborhood and New York at large.
Thabo
2016-01-02T00:00:00Z
Værelsestype
Privat værelse
---
Ejendomstype
Lejlighed
---
Med plads til
2
---
Soveværelser
Brooklyn, New York, USA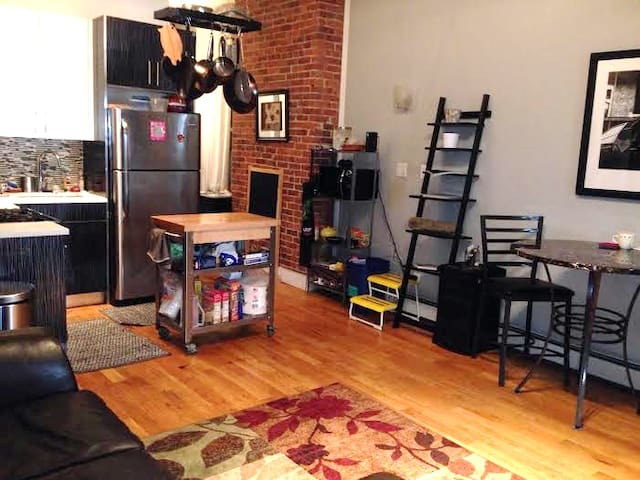 Vi er tæt på JFK lufthavn, 3 dagligvarer (Walmart), 2 Banker, 1 posthus. JFK lufthavn er en 10 minutters kørsel (cost $$ 16-22). Offentlig transport til huset tager en time-Q111 Rosedale Bus (4min gang til huset), LIRR Rosedale (20 min gang til huset). At Manhattan- Q111 Bus til E Tog eller LIRR til Penn Station eller x63 udtrykker Bus. Også, vi er en 10 minutters kørsel til Green Acres Mall, Walmart, Home Depot, Olive Garden, Apple Bees etc. Der er et skrivebord til rådighed og yogamåtte til destress.
Vi er på tværs af gaden på en legeplads / skole. Vi er en 5 minutters gang til Brookville Park. I en 10 minutters gang - der er den Rosedale Queens Bibliotek, posthus, Walgreens, Jamaica Mad Tag, Laundromat, Cleaners, lokale bar pub, lokale restauranter og købmand. I en 20 minutters gang er der Rosedale LIRR Station, der kan tage dig direkte til Manhattan i 25 minutter. I en 30 minutters gåtur er der Green Acres Mall Center med adgang til Walmart, Target, Home Depot, Best Buy, Macys, TGIF, Arbys, Olive Garden, rød hummer osv Hvis du tager en bil / uber / førerhus alle disse steder er en 5 minutters kørsel. JFK er en 10 minutters kørsel.
It was a warm and comfortable stay just before taking an early morning flight from JFK. Einstein was very kind and helpful. Good value for money.
Didem
2017-03-13T00:00:00Z
The host is pretty nice! But the old house failed to block down external noices for me, such as people's voice and mysterious metal clash. It took me one hour or so to get sleep, but still I slept to morning because I was too tired to stay awake for those sounds.
Ci
2017-03-24T00:00:00Z
Warm place and warm hosts :O)
思嫻
2017-02-01T00:00:00Z
Very accommodating
Laura
2016-12-18T00:00:00Z
The area was pretty quiet. Christine was very helpful and offered a comfortable stay. Even had a cute little desk in the room. I would definitely recommend.
Laci
2017-03-19T00:00:00Z
If you don't care about cleanliness, and noisy roommates and just want a bed to sleep in, then this is the place for you.
Rose
2017-02-21T00:00:00Z
Einstein seems like a nice guy, he is friendly and humble. I also like the fact that there's a parking space, the location is very nice and decent
Olaolu
2017-03-03T00:00:00Z
Great experience staying with this cute couple. I especially liked the free Wi-Fi. And convenient location to the city centre and airport.
Paul
2017-03-17T00:00:00Z
Værelsestype
Privat værelse
---
Ejendomstype
Hus
---
Med plads til
1
---
Soveværelser
Queens, New York, USA
Greetings Travelers!
Hello Travelers, My guest room is 11X12 ft. The features include three large windows, a desk, dresser, closet and a night stand. The bed is full size and is a futon. The mattress is special and is not standard, it is quit comfy. There is also a memory foam pad on top. I use only 100% cotton bedding and towels. The room also has drapes for those that prefer a dark space. There is also an ipod/iphone dock. The apartment is almost 800 sq. feet and has lovely hard wood flooring. I am on a third floor walk up. The kitchen has granite counter tops, stainless steel appliances, microwave, coffee maker & tea kettle (which you can use any time). I also guide books of NYC for my guests to use. The living room also has a LCD 32 inch TV, with cable. I also offer wireless internet. The bathroom is a good size and has a large frosted window, which brings lots of natural light. The bath is a shared space. I also have 45 gallon fish tank in the hall. I do provide towels but I do not offer toiletries expect for hand soap. I am gay friendly as well. I have one cat. Within a one minute walk there is a Laundromat, dry cleaner, supermarket (with a great beer selection), 24 hour deli, day spa, diner, pizza shop, gourmet prepared food/coffee shop, another vintage coffee shop and sells hand made/eco friendly items, bar, two churches and several restaurants. Near two subway lines, one is two blocks away the other is 8 blocks away. Manhattan is 20 minutes away. The area in live in historic Clinton Hill/Fort Greene. Fort Greene itself is also know as the Brooklyn Academy of Music Cultural Distract. Brooklyn Academy of Music is an internationally recognized movie theatre and performance space that showcases cutting and established works and companies such as American Ballet Theatre and Mark Morris Dance Troupe. We have three universities in the 'hood which are St. Joseph's College Brooklyn Campus, Pratt Institute, and Long Island University Brooklyn Campus. The area is not a traditional 'college' atmosphere, most of the population consists of young families and professionals. We are very culturally and ethnically diverse area. There are lost of restaurants, bars and historic mansions and brownstones. It is important to me that my guests are comfortable. I am a native New Yorker and happy to provide recommendations, travel directions and advice to help make your stay more enjoyable. On the desk I provide various travel guides which hold maps, transportation and event information. I offer guided tours to the following areas: DUMBO, Fort Greene/Clinton Hill, Brooklyn Heights, Lower Manhattan (Financial District, Tribeca, Soho, West Village), Upper West Side, Central Park and Upper East Side and Museum Mile. The fee for tours vary, please contact for details. Please contact me about availability before booking. I request my prospective guests to fill out the airbnb.com profile (including photo) or provide personal information through the website's email before I will accept a reservation request. I request notification of your arrival time at least 72 hours in advance of your arrival (when applicable). HAVE A BLESSED DAY!
Amalia's a great host - engaging and very helpful! And the place is great - clean, comfortable and as advertised!
Rod
2015-04-01T00:00:00Z
While my 3-night stay was short & sweet, I enjoyed discovering this new Brooklyn neighborhood. Amalia's living space was HUGE (by NYC standards) and the bedroom was very spacious and the bed itself was very cozy. The closet in the room had plenty of hangers and space as well as a 3-drawer dresser. Perfect for a girl who does not travel light :D I enjoyed playing with Tigger, the docile cat, and it was great for Amalia to meet me early so that I could drop off my bags on the day of check in. I wasn't expecting to walk up a few flights of stairs, but it wasn't a huge issue as I had 1 large bag and another carry-on sized on. I imagine if you have more luggage it might be difficult to transport that up & down the stairs.
Georgina
2016-10-09T00:00:00Z
We had a great experience renting from Amalia. She is very friendly and was able to help me out alot as a first time visitor to NYC. The apartment was very quiet for my visit, and is also very clean. The room looks nicer in person than it does in the photos. The location is 1 block away from the subway so transportation is easy. There is also a bar, a coffee shop and a restaurant within steps of apartment. This is probably the best deal for anyone traveling to NYC.
Elijahwan
2011-03-17T00:00:00Z
We had three nice nights in Amalias home. The place was clean and the bed comfortable. Amalia is a great host and we would stay with her and her cat "Mr. foofoo" again anytime. You must try the coffee shop just around the corner!
Alexander
2012-01-25T00:00:00Z
This is my second visit at Amalia's wonderful flat in Clinton Hill. Returning to her guest room gave me a comfort of coming home. Amalia is a wonderful hostess and I look forward to my next visit to Brooklyn!!!
Amy
2013-06-09T00:00:00Z
This room is really perfect: Great neighborhood, close to the subway, clean, bright, large and wih a friendly, easy-going host. Loved it!
Sarah
2012-01-09T00:00:00Z
Amalia was the consummate host, super nice and accommodating, and her place was clean, comfortable and close to Manhattan. I look forward to my next stay. Best, Allan
Allan
2011-05-14T00:00:00Z
Do not hesitate ! The apartment is great : clean, luminous and comfortable. The neighborhood is safe, lively and you can find everything you need just accross the street : supermarket, laundry, great food and...a nail spa ! And everything has already been said about Amalia : she is the perfect host. Patient, welcoming and thoughtful. She took time to walk us around, she knows everything you need to enjoy your stay and she gives great advices. We spent several nights going out together in bars and restaurants and we had a great time. Clinton Hill is the perfect place to be if you want to discover New York : everything is close : Williamsburg, Prospect Park, Manhattan, the Queens and Coney Island ! Enjoy ! Et pour la partie en français, plus facile pour moi. Nous avons passé deux semaines géniales grâce à Amalia. Elle n'est pas du tout intrusive. Nous étions parfaitement autonomes et nous nous sommes très vite sentis chez nous. Le quartier est vraiment agréable, vivant et vide de touristes. Comme nous nous sommes vraiment bien entendus avec Amalia, nous avons passé plusieurs soirées ensemble mais si vous avez envie de faire votre vie de votre côté, elle vous laissera. Trois stations de métro sont toutes proches et elles permettent de rejoindre rapidement tous les endroits sympas où vous pourriez avoir envie d'aller. Donc encore une fois : n'hésitez pas.
Amelie
2011-06-15T00:00:00Z
Værelsestype
Privat værelse
---
Ejendomstype
Lejlighed
---
Med plads til
2
---
Soveværelser
Brooklyn, New York, USA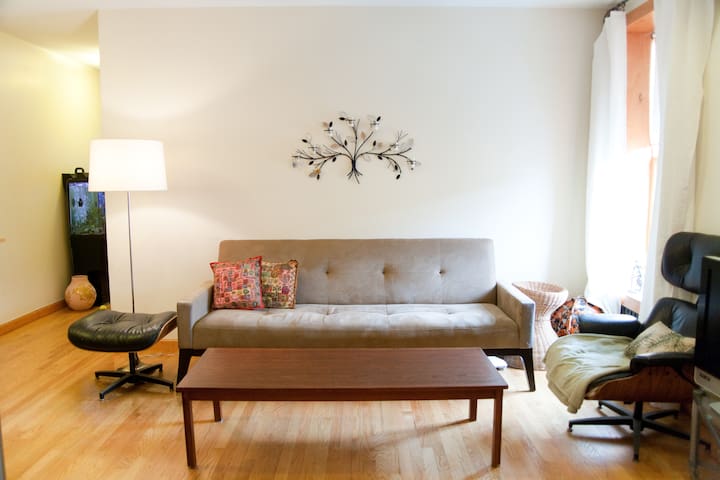 Kun få skridt fra 4 metrolinjer, mange restauranter og utallige barer, caféer og butikker, denne centrale Lower East Side / East Village værelse giver nem adgang til New Yorks attraktioner. Beliggende i den yngste og mest levende del af Manhattan, vil det give dig en autentisk og spændende NYC oplevelse!
* * * I stedet for en forespørgsel, så send mig en besked (undersøgelse) og fortælle mig lidt om dig selv. Jeg er også glad for at besvare eventuelle spørgsmål. Jeg ser frem til at høre fra dig! Bedste, Tim * * * Beliggende i en moderne to-værelses lejlighed (delt med mig), din private værelse er indrettet med helt nye faciliteter, herunder et skrivebord, en ultra-komfortabel queen-size hukommelse skum madras, bløde håndklæder og en 26 "fladskærms-tv med Netflix. En renoverede badeværelse deles med mig. Dit værelse har en sydvendt vindue med masser af lys og en blackout skygge. Det overser en livligt hjørne, og kan nogle gange være lidt støjende i weekenden. Jeg har jeg har ørepropper til rådighed, hvis du vil have dem. Du vil få adgang til taget og dets fantastisk udsigt over Freedom Tower, Chrysler Building og mere. Rummet har sin egen aircondition om sommeren og sin egen varmelegeme vinteren.
En af New Yorks livligste og mest trendy kvarterer, Lower East Side tilbyder utallige restauranter, butikker, barer, natklubber, kunstgallerier og ydeevne steder for dig at nyde. (Pianos, Spitzer s, Schillers, Skønhed og Essex, Arlene købmand, The Box og GalleryBar er blot et par natteliv eksempler). Kvarteret er dynamisk, sikker og har en masse at byde på historisk - i fortiden det tjente som hjem for så mange af byens indvandrere, at det endnu har sit eget museum (The Tenement Museum). Opholder sig i Lower East Side er let, med fødevarer, andre forsyninger og vaskeri let tilgængelige og tæt ved. Der er en laundromat mindre end en blok fra lejligheden, hvor du kan vaske eller få dit tøj vaskes, og en købmand i meget bygning næste dør. Også metroen er omkring et minut væk, og der er mange linjer. Når du er klar til at udforske yderligere, kan du tjekke andre stilfulde kvarterer i nærheden, herunder SOHO, Greenwich Village, East Village, NOHO og mere.
Tim er en fin fyr, som man kan spørge til råds om forskelligt i NY. Det var ingen problemer med nøgleafhentning og alt var i sin skønneste orden. Kan kun anbefales.
Søren
2016-05-22T00:00:00Z
Tim was super helpful from the first day I arrived until the last day , the neighborhood is very nice, the food it's amazing and it's a lot of bar around !!!
Oscar
2016-07-11T00:00:00Z
We stayed two nights at Tim's place and we loved it. Good location! the room is the same as shown in picture. The host Tim is very kind and gave helpful suggestions. Yes, I will come back.
Yunxia
2016-08-29T00:00:00Z
Tim's house was just what we were looking for: cosy, clean and very well located. The neigboirhood is cool, full of nice restaurants, bars, excellent options for brunch and close to the subway. Tim was just the best host ever! Made us feel welcome and gave us lots of good tips to explore the city! Would definitely recommend this flat to a friend.
Marisa
2015-09-24T00:00:00Z
Tim is a great host! John and I haven't ever really experienced a _bad_ host situation, but Tim, by far, exceeded all of our expectations. His apartment in SoHo was very comfortable, clean, and conveniently located - in Manhattan though, everything you need is always within a couple blocks. Tim is a very hospitable host, and we consider him a friend after our stay in his apartment. If you are looking for a great NYC experience, stay here! Tim has lived in the city for nearly a decade and was more than willing to answer any questions we had about local attractions, delectable eateries, and transportation. We are definitely planning on staying with him again when we come back to the city. As far as amenities, I can't think of anything that was overlooked.
John & Erik
2014-01-08T00:00:00Z
We spent 3 days at Tim's - and it was a pleasure to come back to his apartment / our room after a long day exploring the city! The room is clean, warm and incredibly comfortable. The location is hard to beat - especially if you are exploring the East Village / SOHO / Williamsburg areas -- you won't even need your metro card. Plenty of great cafes, restaurants and bars for all price ranges within the apartment's vicinity. Would highly recommend staying here! Thank you Tim for being tremendously accommodating. It was genuinely a pleasure to meet you.
Tali
2014-03-27T00:00:00Z
Very clean, couldn't have been better.
Mike
2016-01-14T00:00:00Z
Hôte très sympa. Chambre propre et bien située. Quartier central pour visiter. Très bien
Thomas
2016-08-26T00:00:00Z
Værelsestype
Privat værelse
---
Ejendomstype
Lejlighed
---
Med plads til
2
---
Soveværelser
New York, New York, USA
You will feel relaxed and inspired in this spacious yet cozy NYC room with classic brick fireplace. Features include: TV, refrigerator, desk, closet, and iHome radio! Close to Williamsburg / Manhattan and located just one tiny block from the subway!
★★★★★★★★★★★★★★★★★★★★★★★★★★★★★★★★★★★ Please see our other room available in the same apartment here: https://www.airbnb.com/rooms/3311412 ★★★★★★★★★★★★★★★★★★★★★★★★★★★★★★★★★★★ Perfect for just you or for a couple, this cozy unique Brooklyn room is sure to be the right accommodation for your stay in New York. Highlighting the room is a beautiful exposed brick fireplace displaying a classic Brooklyn brownstone feel. Featuring New York themed modern design, you will find this space to be delightfully functional and inviting. ====================== PRIVATE ROOM FEATURES: ====================== ★ Luxurious, comfortable full size bed with memory foam topper ★ 32" TV with Direct TV service, remote, and DVR ★ Personal in-room mini refrigerator ★ Bluetooth iHome alarm clock for all your listening needs ★ High speed Internet ★ Lamp, desk, chair, and full-length mirror ★ Complementary umbrella ★ Closet with tons of hang-up space ★ Clean linens, towels, and wash cloths provided ★ Locking door for an extra sense of security (Keys provided upon check-in) =========================== COMPLEMENTARY AMENITY BAR: =========================== We welcome our guests to partake of our complementary amenity bar that includes: ★ An assortment of coffee, teas, hot chocolate, etc. ★ A variety of cereal, oatmeal, and poptarts ★ Various single serve snacks such as granola bars and Ritz crackers
============================= WELCOME TO THE NEIGHBORHOOD! ============================= The neighborhood is a central fixture of Brooklyn's urban landscape. A few subway stops away from Manhattan and steps away from trendy Williamsburg. Enjoy a quick bike ride to some of Brooklyn's more famous attractions including the Brooklyn Bridge, Prospect Park, and Boerum Hill. Guests will enjoy witnessing the energy of this historic neighborhood's rejuvenation. Restaurants, Bars, Deli's, Coffee Shops, and Bodegas line just about every corner here. It never leaves you feeling far away from the things you love!
Super fint rent værelse, gode badeværelser og imponerende snack/kaffe-arrangement til fri afbenyttelse. Ligger dog i kedeligt kvarter uden så mange hyggelige spisesteder og helt uden shoppingmuligheder. Værterne er meget venlige og imødekommende.
Pia
2015-04-08T00:00:00Z
Kan anbefales. Korrespondancen med Kevin var hurtig og effektiv. Indtjekningen var super nem med kodelås, værelse/bad/toilet enkelt, rent og tilfredsstillede. Vi var yderst tilfredse. Hilsen Selma og Henny
Henny
2015-06-16T00:00:00Z
Rigtig hyggelig og rummelig lejlighed i Brooklyn. Super søde og hjælpsomme værter. Det var meget professionelt og der var alt hvad vi havde brug for. Vi vil helt sikkert anbefalet dem til andre.
Katharina
2015-07-29T00:00:00Z
We stayed with Kevin and Josh for a full week. We felt welcome, both Kevin and Josh were very friendly and willing to give advice. The apartment looked nice, our bedroom was clean and had all the facilities we needed. The neighbourhood is alright, and the metro is just a 5 min. walk away from the apartment. We had a great time!
René
2015-04-19T00:00:00Z
Kevin and Josh made our accommodations in NYC very enjoyable! The apartment and room were very clean and well maintained - plus the bed was actually REALLY comfortable! The apartment was right around the corner from the G line and it was an easy 40 mins anywhere into the city! Highly recommend this location to anyone visiting NYC! Thanks guys!
Cassie
2015-08-03T00:00:00Z
It is a very nice, clean and stylistic place. The space is perfect for a couple which just want to enjoy New York a little bit and for others as well. The subway station is nearby so you can travel to Manhattan etc relatively quick. Thanks Kevin for the stay!
Lukas
2016-01-12T00:00:00Z
The room Kevin offers is great. The one thing that left the biggest impression on me was how comfortable the bed was. The neighborhood was nice, though I didn't stay long enough to really explore it. Additionally I only met Kevin for a short bit but he was very welcoming and friendly! If I'm ever traveling through NYC again, I know who I'll be contacting!
Patrick
2014-07-31T00:00:00Z
Very well organized and convenient to stay. The host provided all the details you'd need. We didn't need to contact the host for anything during our stay there for 3 nights.
Zoya
2016-09-27T00:00:00Z
Værelsestype
Privat værelse
---
Ejendomstype
Lejlighed
---
Med plads til
2
---
Soveværelser
Brooklyn, New York, USA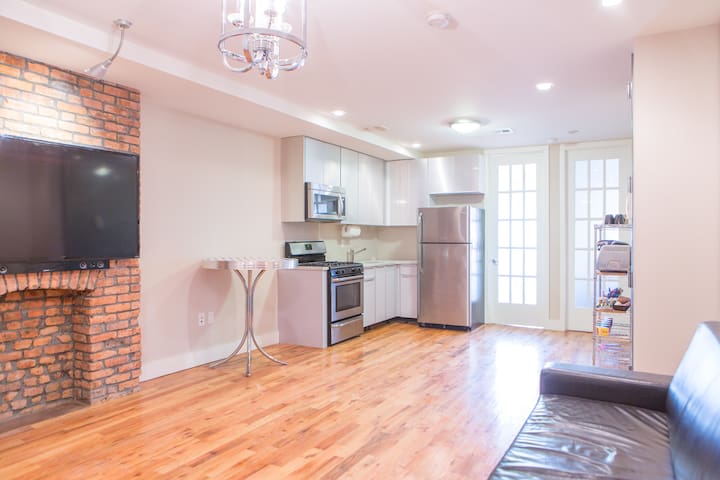 Sunny quiet private bedroom (with single bed) in a small condo building near the Brooklyn waterfront and Brooklyn Bridge Park. Enjoy a separate bathroom used only by the guest, high speed wifi, a modern kitchen, and free laundry.
Red Hook is an interesting neighborhood, very near New York harbor and has great views of the Statue of Liberty and several good restaurants.
Marjorie is great, and the space is just beautiful. She is very welcoming and inviting, and even sent me home with cookies! 5 stars all the way!
Tawney
2015-12-20T00:00:00Z
The listing was extremely accurate. This was my first Airbnb and Marjorie made sure that it was a great start! Throughout the trip, I knew that I could rely on Marjorie and that she would be willing to answer any questions that I had. She was very receptive and friendly and I thoroughly enjoyed my time in Brooklyn.
Vance
2016-03-29T00:00:00Z
Had a spectacular first time in NYC & Brooklyn thanks to Marjorie. Super accommodating and a wonderful host.
Joe
2017-03-25T00:00:00Z
What a generous, extraordinary host! Marjorie's place is sparkling clean and cozy in a perfect part of Red Hook. It really is smack dab in the middle of the creative neighborhood. The bedroom, kitchen, bath and living area feel brand new, smart and upscale even as her building is a wonderful red brick classic. Immediate neighbors and family make it even better. Marjorie is at once kind, adventurous and professional. Be sure to ask her where to explore on a bicycle!
Dana
2015-11-11T00:00:00Z
My stay with Marjorie was great! I wished I booked more nights. Everything was nice and clean. The room was very cozy! Everything you need is near by: supermarket, restaurants, bars. The bus is just 1 min walk away and its super easy to go to Manhattan. I can totaly recommend it!
Marie
2016-02-09T00:00:00Z
Staying with Marjorie was my first airbnb experience and I couldn't have hoped for a better one! I felt very comfortable and welcomed in her home. The only thing I regret is the fact that I didn't spend more time getting to know her. I would gladly stay with her again.
Michelle
2016-02-06T00:00:00Z
This was a great experience!
Dominique
2016-01-23T00:00:00Z
I can't speak highly enough of my stay with Marjorie. She was a gracious and generous host, the room and adjoining private bathroom were both spotless and also very comfortable, and it was great to have full use of the kitchen. It was very quiet and I was able to sleep really well. Red Hook is a fantastic area with a supermarket (Fairway), cafes (Baked) and coffee shops (The Black Flamingo) right on your doorstep. Once you get the hang of taking the 61 bus or walking to Carroll Gardens subway stop getting around is very easy and convenient, and it never felt far to get to Manhattan or the rest of Brooklyn. Thank you Marjorie for a wonderful experience, I hope to stay with you again when I come back to New York!
Helen
2015-12-27T00:00:00Z
Værelsestype
Privat værelse
---
Ejendomstype
Lejlighed
---
Med plads til
1
---
Soveværelser
Brooklyn, New York, USA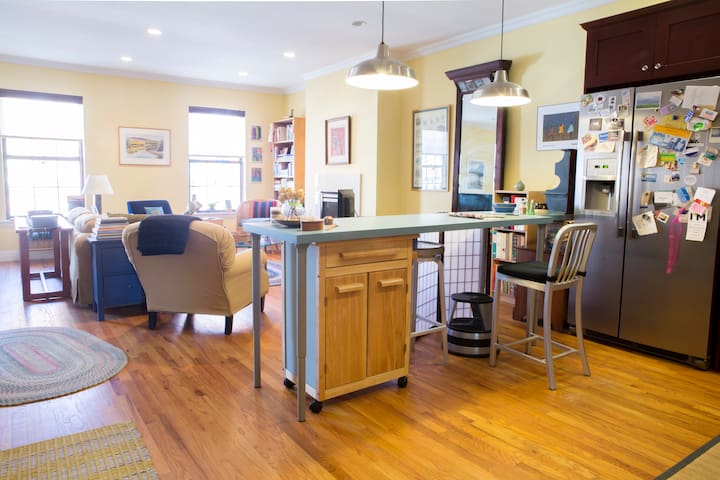 Ledig Beliggende i Manhattan, nær Central Park 4people delt værelse (2 køjesenge) Du kan checke ind når du vil Selvfølgelig GRATIS WIFI
great affordable place!
Patricia
2017-01-22T00:00:00Z
I missed my bus and she saved me! I ask her for her couch and that's all I needed for the next morning bus ! She is very nice and answer very fast ! Also very reliable !
Alex
2016-12-07T00:00:00Z
Affordable and conveniently located
Joshua
2017-03-28T00:00:00Z
Nice place that's close to Central Park and subway.
Peter
2016-12-06T00:00:00Z
Positives points : -Good location -Pretty cheap -Pretty clean -Good quality-price ratio -Host responsive. Negative points : -Annoying noises from buses and métro -Temperature is not well managed in the apartment, too cold or too hot, I even got sick because of that. -No real interaction or conversations with the hosts, we just get in the apartment, sleep and get out basically without meeting them. To conclude, it s a decent Airbnb, definitely not the best though. It is a good deal if you travel alone.
Geoffrey
2016-12-21T00:00:00Z
Ellin was amazing. Just everything you need for a perfect stay in an airbnb.
Ally
2017-03-27T00:00:00Z
Elin was helpful and nice. The place is exactly how it looks in the pictures.. its quiet and hygienic
Shraddha
2017-01-29T00:00:00Z
Mi estadía donde Ellin fue maravillosa. Pasé un tiempo muy agradable, Ellin es una host cordial y se empeña por mantener el lugar limpio. Las reglas de convivencia son las usuales y no te pide nada difícil de cumplir. El lugar está cerca del Midtown por tren, que lo pueden tomar tanto en la calle 103 como la 110, la casa está sobre Lexington y 106, por lo que lleva caminar tan sólo unas pocas cuadras para tomar el metro. Volvería a este lugar definitivamente, la relación precio-experiencia hace que el lugar valga la pena!
Diego A.
2017-02-11T00:00:00Z
Værelsestype
Deleværelse
---
Ejendomstype
Lejlighed
---
Med plads til
1
---
Soveværelser
New York, New York, USA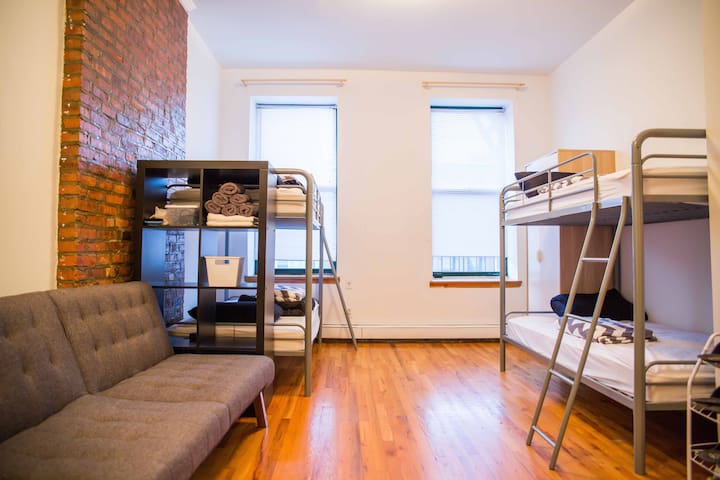 This full sized bedroom is bathed in natural light and comes with a queen sized orthopedic pillow top bed with designer bedsheets. 10 minutes to get to Times Square via the express subway just one block away. Private closet and hardwood floors.
***if your dates aren't available, or want to see cheaper/better quality listings scroll down to see other private bedrooms in this apartment. This is a private bedroom in a shared apartment, meaning shared spaces (kitchen/living room/bathroom) *** This apartment offers a better value than any other similarly priced Manhattan apartment, here's why: - This place was just entirely renovated from top to bottom. New hardwood floors, kitchen tiles, bathtub, amenities, paint, everything. - According to navigation apps, its just a 12 minute subway ride away from Times Square/Midtown due to the express subway that's just a block away. Not only that, but the M60 Express Bus takes you directly from LaGuardia Airport, and drops you off one block away from this apartment. - It's covered in windows and natural lighting. - The whole place is stylishly and tastefully decorated, while being kept clean at all times. - You have your own full sized closet. - We do our best to anticipate your needs before you even have them. If you forgot something at home, we probably have it here for you. We go the extra mile for our guests with amenities like umbrellas, hair dryers, ironing boards, kettles and french presses, FAST wifi, extra blankets incase you get cold, whatever we can think of to make your stay more enjoyable. - Unlike other Airbnb listings that don't mention the exhausting five floor walk up, our apartment is conveniently located on the second floor. No dragging heavy suitcases up endless staircases! - Our kitchen has pots and pans, silverware, glassware, an electric kettle and french press, microwave, oven, stove top, and a full size refrigerator and freezer that you're free to use. Here are the four private rooms available in this apartment. Some are nicer, some are cheaper, take a look: https://www.airbnb.com/rooms/11164840 https://www.airbnb.com/rooms/11181494 https://www.airbnb.com/rooms/11180604
What's lovely about this neighborhood is its culture, proximity to everywhere you'd want to visit, and just 14 blocks from a walk through Central Park. West Harlem is a rapidly gentrifying area, with luxury condos being built across the street and a Starbucks on the corner.
Super appartement au nord de central park. Chambre confortable, litterie agréable. Très bien situé à 1min du métro (à 10min de time square en métro). Malheureusement la propreté de la salle de bain laisse à désirer, pas nettoyée de la semaine voire du mois... Dommage!!
Marie-Adèle
2016-05-10T00:00:00Z
Robs room-mate was very welcoming to us and the area was very vibrant and lively, the place was clean and just as expected, will definitely be staying here again
Julian
2016-08-18T00:00:00Z
Harmonica was great! Rob wasn't around for me to interact with,which is fine. The place was spotless.
Rei
2016-10-11T00:00:00Z
Rob is a great communicator. He made sure for my stay to be as comfortable as possible. Directions were easy, the place's location is so convenient.
Mais
2016-10-06T00:00:00Z
Rob's place is as accurate as the pictures. I had a bit of trouble with the room at first but Rob handled the situation with me and dealt with it right away. Obviously since there's a shares bathroom, it wasn't always the cleanest but it worked. Overall, the bed was comfortable and location was great.
Despina
2017-01-14T00:00:00Z
The room is great,but there is some noise during the night.subway and park is very close to the room
青云
2016-12-06T00:00:00Z
I stayed 3 nights with my cousin and I have to say the room was nice with a very comfortable bed......But the bathroom was not clean at all and we had to pay a cleaning fee, I don't mind paying a cleaning fee but if you're charging me a ''cleaning fee''make it Clean!!!
Tabita
2016-12-11T00:00:00Z
Clean ; very comfortable house for your stay in New York
Damilola
2017-02-05T00:00:00Z
Værelsestype
Privat værelse
---
Ejendomstype
Lejlighed
---
Med plads til
2
---
Soveværelser
New York, New York, USA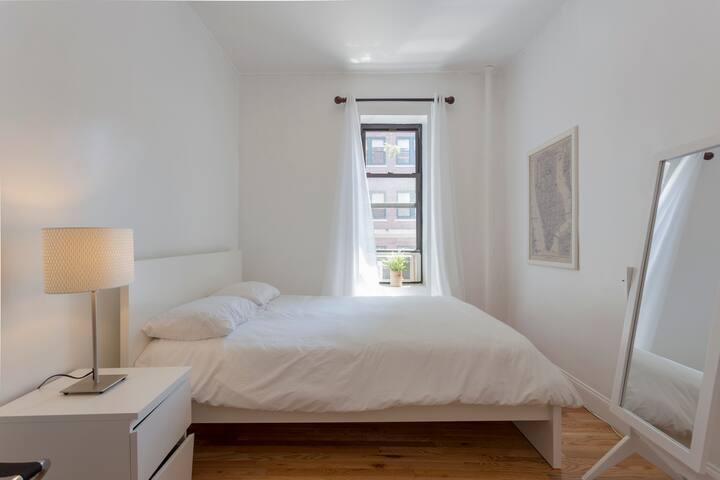 I live in a very quite neighborhood. It is 5 minutes from Kennedy Airport. My home has surveillance cameras a private entrance and is very clean. We now offer complimentary water, coffee, tea and hot chocolate.
We have worked very hard to make our place exceptionally comfortable. We have traveled around the world and know what make your stay comfortable. Our rooms are located in our finished BASEMENT and there are about 10 steps. If your luggage is heavy we have a back door access to assist you with your luggage
Our neighborhood is very close to JFK. Were is a no fly zone so you don't see or hear the planes. Our neighborhood is quite with plenty of local restaurants, convenience stores , and drug stores.
Great stay! Wonderful environment. Great host!
Samantha
2017-02-27T00:00:00Z
I had a wonderful experience with Donna and her sister. They were very quick to respond to my request, and greeted me so warmly. I felt like k was with family. They even graciously arranged for me to leave my vehicle at their residence for the duration of my trip. I will definitely stay with them EVERY time I fly from JFK. They're only three minutes away from the airport. I'm so grateful for their hospitality and care.
Vincent
2016-02-25T00:00:00Z
Dona & Sandi are warm, friendly & honest. They provided us with helpful local information. The location is handy to JFK, for travellers like us who were passing through. One difficulty (which could affect some people) is the access, which is via a side entrance to a narrow landing and down some steep stairs - do-able, but tricky with luggage.
Andrew
2016-07-25T00:00:00Z
The hosts are really really really warm-hearted! This is my first time coming to the US and I don't know anything about living here. They not only provided me a nice, clean place to sleep one night, but also gave me so many guidance about how to arrive their house, the climate of New York and so on. Thank you soooo much! Highly recommend you guys to choose their house!
Ran
2016-08-25T00:00:00Z
Very nice and super clean place, close to the airport. We stayed only some hours, waiting for the next plane, but was really nice!! For sure we will book again on our way back to home, thanks ladies!!
Valentina
2016-07-21T00:00:00Z
The hosts were very nice and personable. I had no problem getting a hold of them when I needed help. The room was very clean, private and had everything we needed. There was even food available if we needed that. Having that option was really good for us.
Shannon
2016-11-28T00:00:00Z
Such a great stay, exactly what it says on the tin! Donna and Sandi both so friendly and helpful, the room was spotless and had everything you needed, a very short journey to the airport and near some great shopping in Queens. I would highly recommend this air bnb - not just because it's a stopover for the airport, but also nice to explore a neighbourhood I would otherwise have not seen in New York. Keep up the good work Donna and Sandi :) x
gulli
2016-11-02T00:00:00Z
I felt like at home ! You have access to a kitchenette which is pretty cool and the room is very comfortable. Dona was really nice and drive me back to the airport ! Super host, thanks a lot.
Florent
2016-02-07T00:00:00Z
Værelsestype
Privat værelse
---
Ejendomstype
Hus
---
Med plads til
2
---
Soveværelser
Queens, New York, USA
Situated right in the middle of the melting pot that is Downtown NYC. Metropolitan apartment ideally located just minutes away from World Trade Center, Brooklyn Bridge, Liberty Island, South Street Seaport, Little Italy, and many more! You'll love th
My apartment is spacious and feels incredibly open. Not the usual in Manhattan. The tile front door & kitchen opens up to a carpeted living room with lofted ceilings as tall as two floors. This specific room is 'classic New York' meaning it is just enough to be a cozy spot to rest, dress, stash your things, etc. The upstairs rooms and bathroom all connect to the balcony/hallway upstairs. The balcony upstairs is open to the living room. Because of its open structure, the space generates great social environments between myself, my roommates, and guests from around the world or just across the river. Everyone escapes in their own private room. It is easy to feel at home in the big city staying here.
In the downtown area, you get the big city feeling of huge skyscrapers in without the mass of people that constantly occupy the midtown streets, 24 hours a day. Take it from a local. Midtown is not for living in. It is for going out on the town. Live Downtown where it is quite at night and the dining is better! Also...Ask me for recommendations in any category. I am likely to know where to get what you are looking for ;)
Well worth your money in gold. Easy to get to. So much around the place to see. And hosts where great. Thank you will be back.
Mickey
2017-04-03T00:00:00Z
Friendly, clean apartment in a great location. Stephanie and her roommates are great hosts. Room had a comfortable bed and enough space to store all my things. Would stay again.
Frank
2017-03-19T00:00:00Z
This place is well located and clean. Stephanie and Alex are responsive, good-natured and helpful, especially since we were a last minute booking.
Kamuron
2017-03-29T00:00:00Z
Værelsestype
Privat værelse
---
Ejendomstype
Lejlighed
---
Med plads til
2
---
Soveværelser
New York, New York, US, New York, USA
You'll love my place because of the high ceilings, the coziness, the location, easily accessible to anywhere in Manhattan. My place is good for couples, solo adventurers, and business travelers.
Great private apartment located in a nicely kept brownstone building, It has lots of character and charm. Hardwood floors, Exposed brick/ Fire place, 40" Flat Screen TV, Half bath, Shower only, High ceilings (10.5 ft), Lots of sunlight, Kitchenette w/Stainless steel appliances
15-20mins from Downtown, Times Square
Katrina was extremely welcoming and responsive. Her studio was comfortable and provided many amenities not always found in NYC including privacy, air conditioning, cable, and wifi. In addition there were added thoughtful touches including shower/bathroom amenities and dishes. She was very accommodating and flexible during our stay despite last minute changes. We were grateful for her kindness and generosity. We were familiar with the Washington heights area which was of benefit, but the a (express) train is only a few blocks away and the c (local) train is steps from the building. I would stay in this unit again.
Angela
2016-09-14T00:00:00Z
Katrina was very nice and even had the kindness to get me a cheese cake as a welcome present. Appartment was very clean and practical. Only downside is that neighbourhood can get a bit loud and noisy at night. Overall good stay and recommended
Raja
2016-11-11T00:00:00Z
Værelsestype
Privat værelse
---
Ejendomstype
Byhus
---
Med plads til
2
---
Soveværelser
New York, New York, USA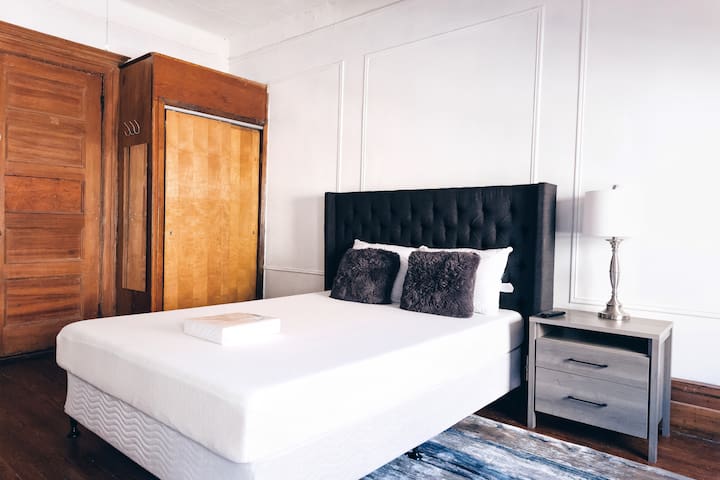 My place is close to Achor Coffee, Kafe Louverture, Bohaus, and Tree House bar. You'll love my place because of the ambiance in a nicely redone old brick Bed-Stuy building. My place is good for couples, solo adventurers, and business travelers.
Bedford-Stuyvesant, popularly known as Bed-Stuy (sounds like: Bed-Sty), is located in central Brooklyn and nudges up against ultra-hip Williamsburg. A historic neighborhood that boasts both pristine brownstones and unkempt storefronts, generations-old Bed-Stuy residents share their streets with newcomers and hip kids. That's the Airbnb Neighborhood Guide and I'd say it's almost on-point, but the locus of artistic activity has shifted to Bed-Stuy and Bushwick from Williamsburg, to a large extent. This migration has brought an influx of new businesses and retail, and there are lots of new coffee shops and restaurants opening up, as well as local stalwarts that have been here for years. I'd encourage you to take a look at the Guidebook to see recommended destinations in the area.
Very nice apartment, clean and comfortable. The people we met were very nice and quiet too. I would highly recommend this room!
Margot
2017-03-22T00:00:00Z
Great newly renovated apartment in Brooklyn. Lovely and clean with modern fixtures and furniture. Check in was easy and can be anytime as you get keys from a lock box. Only downside was there no wifi, which I didnt realise when booking. I made the mistake of assuming everywhere did these days.
Zara
2016-12-10T00:00:00Z
good
Hua
2016-12-20T00:00:00Z
Ava was a very gracious host, sending me messages to update me and answer my questions. I liked the clean minimalist look of her place, and the little pieces of art and quotes which give her place character. The room looks as depicted, and it was comfortable for my stay. It was a little small, but understandable for NY living standards. Room also smells fragrant, and was well heated for the winter weather. I was grateful that she allowed me to leave my bag outside of the bedroom since I did some exploring on the day that I checked out. If I come back to NY, I would consider staying here again. Thanks Ava!
Arthur
2017-03-26T00:00:00Z
Really a comfortable place to stay for a night before flight.
Daniel
2017-04-01T00:00:00Z
This house is very clean, renovated and convenient. the host is a very nice person. And you can communicate with other guys who choose here and make friends. I make a friend with a guy who was an architect. We share a lot of information about where to go in New York, which is very good for exploring New York City. The checking process is very convenient, and it is easy to find a parking space in front of this house.
Yage
2017-01-06T00:00:00Z
It is a new renovated, very clean apartment. It is in a residential area of Brooklyn, but walking distance to a central metro station. You usually share the apartment with other guests which feel like a hostel and it was nice. Bed was comfortable, bathroom was new and clean, kitchen was very useful. I would recommend this place, good for its value.
sinem
2016-12-29T00:00:00Z
Nous avons eu un problème avec les clés lors de notre arrivée. Elles n'étaient pas à l'emplacement prévu et Ava n'était pas joignable. Heureusement la situation c'est bien finit et nous avons pu entrer dans l'appartement. Sinon la chambre est très bien, les photos sont conformes à la réalité.
Angéline
2016-12-24T00:00:00Z
Værelsestype
Privat værelse
---
Ejendomstype
Lejlighed
---
Med plads til
2
---
Soveværelser
Brooklyn, New York, USA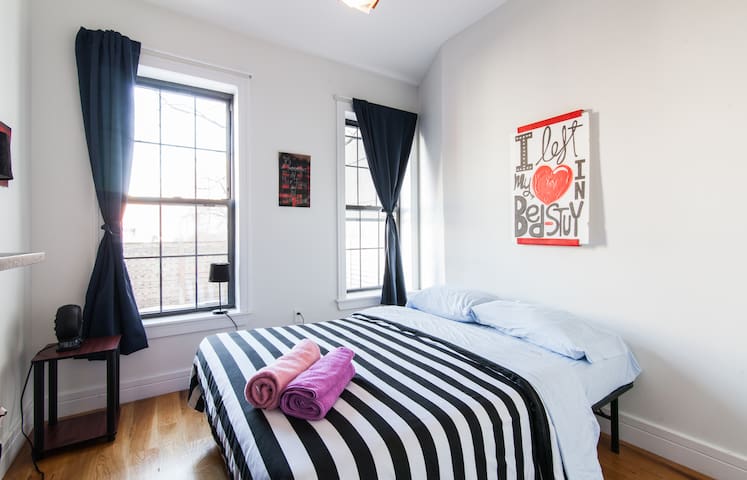 Located within walking distance to prime transportation hubs and trendy neighborhoods, my little "cupboard under the stairs" is perfect for an adventurous traveller looking to experience life in the city. (Nickname is Harry Potter reference!)
The pictures are pretty objective when it comes to the place! I like to set clear expectations from the onset so that all my guests are happy. It's a very organized, simply furnished, perfectly located place in the heart of the city. The biggest thing to keep in mind is that the studio only has a private shower - the toilet is in a shared room of its own shared with my two neighbors. It's how I'm able to list for what I consider a reasonable rate AND more importantly, legally :) It's is a completely private studio though! A couple of guests have brought a guest along in the past and its worked out just fine, but mainly because they're a couple and don't mind sharing a twin bed. I set it to 1 person because it's definitely ideal for 1, but if you can keep your things organized, 2 would be sufficiently comfortable if you're looking for a practical, convenient place to stay. I myself live an exceptionally simple life - I don't have a lot of material things so it's no issue at all. I travel extensively and tend to purchase only clothing that I love to wear until they're all worn out!
It's located just a block or so from the Highline and a short walk to the hudson river waterfront and popular Chelsea/Meat Packing/West Village spots. I definitely suggest to walk to your destinations, it's a surprisingly quick walk to almost anywhere!
Jeg havde et rigtig godt ophold hos Marcos! Han gav mig de informationer jeg havde brug for og var meget venlig og hjælpsom.
Mikkel
2016-01-02T00:00:00Z
Marcos place was just what I needed. He was very responsiveness and the apartment was clean and tidy. Would recommend,
Matthew
2016-01-16T00:00:00Z
The reservation was canceled 7 days before arrival. This is an automated posting.
Léon
2014-07-10T00:00:00Z
My partner and I stayed here for 5 nights. Everything about Marcos' description is accurate - it is small but perfectly adequate as Marcos makes the most of his space - my partner and I certainly didn't feel too cramped. The place could do with a little spring clean but this is a young guy's flat so we weren't too surprised about this! The walls are pretty thin so if you're planning on partying, be aware your neighbours will hear you! Location wise, it is perfect. A few minutes walk to subway and the Highline. It is also just round the corner from 'Pizza Suprema' which is ranked one of the best pizzeria's in NYC. A few doors down on the same street down there is also a great Thai place. As a host, Marcos was perfect. He responded to everything quickly and there was absolutely no problems at all. Overall, this place is great if you are on a budget - you get what you pay for! At the end of our stay we were sad to say bye to this little place. Thanks Marcos for a great stay :)
Kirsty
2015-04-15T00:00:00Z
Apartment was exactly as described. Small but perfect for someone staying alone or I'm sure two people could make it work! Very clean and organized. Marco was a great host, he even left work to buy an AC unit because he noticed the old one stopped working right before I checked in!
Jordan
2016-06-07T00:00:00Z
Marcos was very helpful and accomodating. Its a great location, and good place to stay if you want to find something on a budget.
Johan
2015-02-06T00:00:00Z
I'd stay here again! Had a great few days in NYC and you really can't beat the location. I decided to commute mostly by Citi Bike rental, and this flat is perfectly positioned between two avenues with protected bike lanes running all along them, and plenty of rental stations. The apartment was well-appointed, and while certainly not large, I found there was just enough space and working surfaces (desk, dresser, wall-mounted dining table, kitchen counter) to keep myself well-organized and comfortable during my stay. I'm 5'10 and the bed was just big enough. Marcos was very communicative via email and the AirBNB messaging and I felt like I had all the information I needed and more. Wi-Fi was solid and easy to connect to.
Scott
2016-06-27T00:00:00Z
The place was just as advertised. Despite being tight for two people, two of us managed to sleep comfortably on the bottom bunk (couch) without even needing to go up top. It has all you need, and if you think you can beat this location/price combo, you probably haven't been to NYC before. Coordination with Marcos was simple, he keeps a close eye on his email.
Jim
2015-01-01T00:00:00Z
Værelsestype
Helt hjem/lejlighed
---
Ejendomstype
Lejlighed
---
Med plads til
1
---
Soveværelser
New York, New York, USA
You will use one large, furnished, private room of a two-bedroom apartment and share a bathroom with the host. The apartment is located a few blocks away from Central Park between 8th and 9th Avenue. The closest subway station is Columbus Circle 59th Street. Great restaurants, Broadway and all transportation are easily accessible. The cost of the room is $73 per night. Weekly rate is available. There is a $12.00 fee per guest. The apartment also features hardwood floors and a second-floor walk-up. There is a full-sized bed,TV, microwave, and a small refrigerator as well as other appliances. Wired internet, WIFI, TV, electric heat, bed sheets and towels are included. A kitchen is available in the living room. You can come in any time except midnight. Basic check in/out time is 12pm. I am flexible on the schedule so please ask. Please note there is a cat in the living room. The living room is a private place for the host. Also, because the place is close to the street, there is some traffic noise from outside (especially in the morning).
Shun is very nice and quiet. I had a great week of staying at his place. Big individual room with all facilities. I love to come back again in future. The only thing to improve is the cigrate smell from his room. It's separated from the rental room but the smell can travel to the whole place. Shun should buy a airfilter to put in his room. It will be a better environment.
Elaine
2010-11-24T00:00:00Z
Lets start with the good part: the room is in a great area and there are many great places in walking distance. The woman who let us in and was very welcoming and friendly. We got tea, cocoa, a microwave, a fridge, mugs, a toaster and a water boiler to use. BUT the TV didnt work; it was way to cold, its hardly possible to sleep; the bed was not like at the picture, it was much worse; the host didnt answer me when i had a problem finding the appartment; the room was not that clean, neither was the bathroom
Romana
2015-01-20T00:00:00Z
I will divide the evaluation, so you have a better point of view. And I would also like to explain that I traveled with my boyfriend, and were all day out walking, so we didn't need to stay in the room during the day. Pros: location is great, in the middle of the city. Shunichi is almost always out or inside his space, so you won't feel controlled. The bed was as announced and host offers a few more things as scissors, shampoos, some cuttlery, things that may come in handy. Cons: room is tidy, but is quite dark (curtains could be washed too). Air conditioner works, but makes a lot of noise during the night (and you'll need it in hot summer). Bathroom is clean as far as you can see, but if you glance a little further, you'll notice some dirty spots. My towel was a bit dirty also, I had to use my bf's. Apt is on first floor (consider that if you carry heavy luggage). What seems to be living room is stacked with boxes and things -I understand is his place after all, but it may shock you when you enter. And kitchen is definitely a no to use it. However, Shunichi is very respectful and shy, so he won't mess around you but will help you get the best out your stay. Would return, if I make a similar trip.
Lau
2016-09-01T00:00:00Z
Shun is a great guy! Everything was perfect!!
Guto
2012-02-19T00:00:00Z
Great stay at Shun's apartment. GREAT location, within walking distance of Times Square and a host of other attractions. Spacious room, nicely warm despite frigid weather. Lots of privacy, great internet connection. Also lots of good inexpensive restaurants around. I especially enjoyed a Cuban place around the corner with great Cuban jazz.
Bernard
2010-12-17T00:00:00Z
chambre tres bien située, du bruit mais c'est normal on est en plein Manhatan. Le propriétaire est tres discret je vous le recommande tres bonne adresse
Damien
2010-08-18T00:00:00Z
I stayed 2 nights at Shun's place and I definitely recommend him to others. If you are a busy traveler, who will be most likely spending time outside (especially downtown Manhattan) and wants to have privacy and spend quite time for good rest at the end of the day at the place you stay, his place will be the perfect choice for you. The stuffs I listed under [What I did not like] should be considered as minor issues. My overall experience was very positive. [What I liked] (1) Location was truly AMAZING. You cannot ask for more. Very close to Columbus Circle subway station and there were many little places to grab something to eat. There are 24 hours McDonald, Starbucks, 24 hours grocery store, Central Park, Shopping Mall and so on very close by. (2) Shun was a wonderful host. He is very flexible, kind, and communicative. He adjusted check-in, check-out time for me and even took care of my luggage on the day I was supposed to check out because I had to wait until 6PM to get in to the next accommodation arrangement. (3) Wireless Internet works very well, and TV in the room has many channels you can enjoy while you are in your room, (4) Fridge, microwave, some plates, and flatware in the room come extremely handy when you want to keep some drinks cold and have little snack without having to use the kitchen [What I did not like] (1) It was very tricky to use shower temperature control. The water becomes easily too cold or hot. (2) Lighting in the room was bit dark to me (3) No mirror in the room (4) Heating system was broken at the time I stayed, so I had to use Shun's small portable heater that was not strong enough
Yu Jin
2012-02-23T00:00:00Z
What a wonderful experience. WOW! The host, the apartment, the location, the price. I could not have asked for a nicer, cleaner, more hospitable place and host. If and when I return to NYC, I do hope this is still available. If not, how sad for me. Thank you for making my trip such a positive and enjoyable experience.
Eddie
2009-11-04T00:00:00Z
Værelsestype
Privat værelse
---
Ejendomstype
Lejlighed
---
Med plads til
2
---
Soveværelser
New York, New York, USA