Escape city life and experience the relaxing tranquility of Mount Glorious. In this rainforest environment atop a mountain you can breathe sweet mountain air, take a nature walk in the rainforest, play board games by the fire, gaze at the forest from your bed and awake to nature's birdsong. After a restful sleep you can meander just 100m to sip coffee at a cafe with stunning views to Moreton Bay or to a cozy timber cafe nestled in the rainforest. All this just 45 mins drive from Brisbane!
This spacious, fully self-contained BnB accommodates three people in the main space or the booking can be expanded to include additional rooms for extra people. It has a rustic warm cozy feeling due to the creative use of timber and furnishings, yet the high ceilings, exposed beams and open plan gives you room to move. It is made from mostly recycled timbers and second hand materials in line with our lifestyle philosophy. The BnB's main open plan space has the Queen bed nestled adjacent to the fireplace facing the rainforest. Sitting snugly in the corner, with a screen for privacy, is an extra Single bed. This space has additional warmth or coolness with a new Aircon unit. From the nearby ensuite you can gaze over the rainforest whilst showering. However, due to relying on rain water we ask guests to take quick showers. The extra room, if needed, is the quaint attic bedroom which sits above the adjacent Zen Room with another Double bed and King single. If more than three guests are booked in we open the second bathroom for use. The Zen Room is a peaceful carpeted room nestled between the main space and the attic room. It has yoga mats, meditation cushions, CD's & yoga DVD's and literature. This room has an additional fireplace for winter. It fits five yoga mats or it can just be used as an additional quite, contemplative space. Guests have their own private deck with peaceful rainforest views. There is a BBQ, outdoor dining setting & lounging chairs to enable guests to imbibe the peace while wining or dining. The large kitchen/dining area is stocked with all the usual appliances and looks over the forest. The BnB occupies one end of my long, split level rambling house. Complete privacy is afforded to guests because between the BnB and my living space is the Zen Room and my foyer. One of us is on-site in the evenings if you require assistance but otherwise we rarely see our guests unless they request our interaction, in which case we would gladly oblige. Tea / 'real' espresso coffee/milk/sugar is provided upon arrival. You can enjoy breakfast at one of the four cafes or bring some goodies with you to cook and enjoy your own breakfast on your deck. Mount Glorious has no food stores for groceries so any home cooking supplies need to bought on your way from Samford (20 mins) or The Gap (30 mins). This Retreat welcomes same sex couples and people with disabilities and their carers. It has wheelchair access to the deck, living space and bathroom but unfortunately the shower itself is not a wheelchair-accessible shower. Sorry.. The temperature is approximately 5 degrees cooler than Brisbane. Winter nights are spent by the cozy fire whereas in summer the cool mountain breezes are a welcome relief from city's heat. My property is called "Glamalye" which is Celtic for "fairy magic". When the mist rolls in and the fireflies frolic, its easy to see why !
Embraced by lush rainforest, the mountain hamlet of Mount Glorious, at 680m above sea level, is just 45 minutes drive from Brisbane city centre. It is quiet during the week and attracts visitors to the Maiala National Park on the weekends. It is populated by artists, writers, musicians and nature lovers. The property is set on acreage within easy walking distance from the rainforest walks, cafes and the magnificent world-class sculpture garden (Phoenix Sculpture Garden) set amongst the thick lush rainforest - an absolute must to visit!
Beautiful rustic lodge on the top of a mountain. Dream come true.
Gavin
2016-01-12T00:00:00Z
A lovely rainforest retreat. Cosy little cottage with a warm fireplace in the cooler months. Perfect place for relaxing and soaking up nature in all its glory.
Katrina
2016-09-11T00:00:00Z
Lovely rustic retreat, set in a scenic rain forest area close to Brisbane it makes a great weekend getaway. Well appointed independent living areas allows privacy. I plan to have a few visits each year as it was great value and such a nice place and great host.
Carol
2013-05-13T00:00:00Z
Amazing peaceful experience would return any time
Brad
2013-06-24T00:00:00Z
Bernadette is a lovely host, and her place is delightful. Mount Glorious is a really beautiful place, lovely and isolated, and the dramatic mountains make for great views and fun walks. Will definitely return.
Anthony
2013-04-18T00:00:00Z
Bernie struck just the right balance between granting privacy and being available to help. An amazing location for peace and privacy and 6 degrees cooler than down in Brisbane.
Paul
2016-12-11T00:00:00Z
Sean loved the place and was perfect for some rest and recovery. We look forward to coming back together! Thank you for being able to accommodate him at such short notice! x
Rachael
2013-06-01T00:00:00Z
Location and view from verandah are excellent, and description is accurate. Bernie provides everything guests need, and even stocked kitchen with supplies for us (so we didn't have to carry excessive load on motorbike)! She's warm and welcoming, but also happy to give guests their own space if they want it.
Cameron
2015-03-26T00:00:00Z
Værelsestype
Helt hjem/lejlighed
---
Ejendomstype
Gæstehus
---
Med plads til
6
---
Soveværelser
Mount Glorious, Queensland, Australien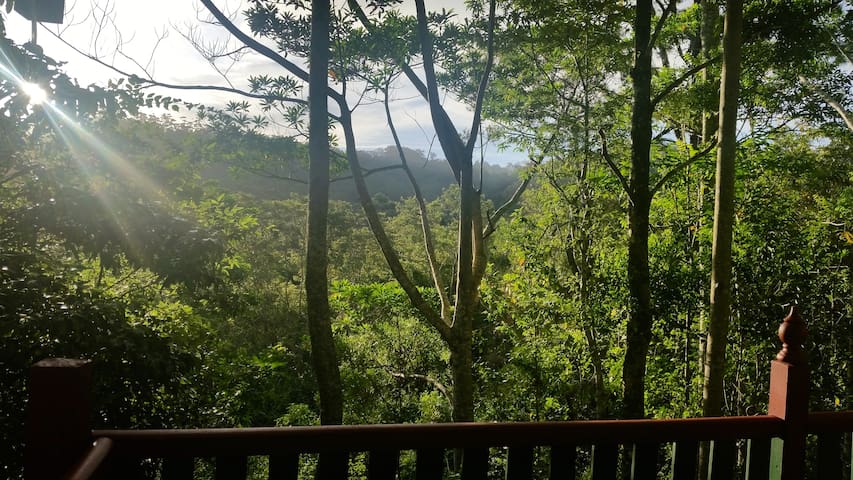 This is a modern two room woodland style cabin in the heart of the luscious Mount Glorious rainforest. The space is perfect for couples, city escapists and creative people seeking inspiration, comfort and peace. There is access to rainforest hikes, waterholes and a soothing fireplace to come home to during the winter. The second room features a comfy home style theatre with a wide selection of movies to choose from. O'lleys Cafe is opened next door on Saturday and Sundays.
Værelsestype
Helt hjem/lejlighed
---
Ejendomstype
Sommerhus/hytte
---
Med plads til
2
---
Soveværelser
Mount Glorious, Queensland, Australien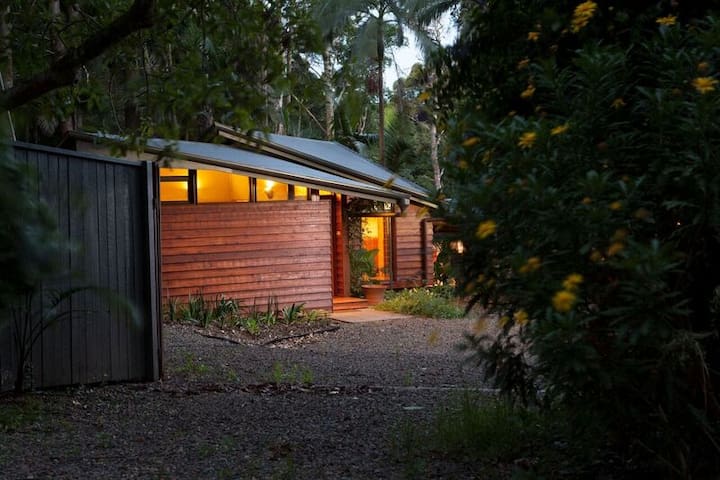 Special Discount - Did you miss out on this weekend Labour Day weekend? Don't worry! There's special discount for all you hard workers for the following weekend - 10 am Friday 5th to Sunday 7th May afternoon 5 pm. Usually $160 for 2 night stay. Special price of $140. AND you can add on Sunday night for an extra $50 (saving $50 on the 3 nights.) Light breakfast items are provided to have when you're ready, or enjoy a brunch at a local cafe with a fireplace welcome. Check out the reviews.
Only 50 mins from the CBD . You'll start to unwind as you begin to climb through the tall old rainforest trees. From your cabin, see the city lights twinkling in the distance with your view over the rainforest to Moreton Bay and the islands - it feels like the rush and bustle is miles away. Have a glass of wine on the verandah while you cook your dinner on the BBQ. The cabin is small and cosy, with a kitchenette, sofa and a comfy double bed, with quality fresh linen. There's a heater & some warm throws to keep you snug.
It's peaceful watching the light fade over the forest as the evening comes in, listening to the birds' last calls as they head home. Mt Glorious is a small village; only a couple of hundred residents who care about their special environment. I ask you to respect the peace and quiet too. There's a couple of weekend options for cafes where you can sit by the fire. There are no shops so bring any provisions you need with you although you can pop down to Samford Village - the nearest shopping centre (about 20klms) which has a good range of cafes, arts and crafts, an IGA and couple of bottle shops - oh, and a service station. I usually keep a 10 litre petrol can in case of emergencies.
We loved our stay at your home. The peace and serenity in your gardens made our stay special. The added touches you provided was lovely. I especially loved your thoughtful touches of, crochet edges on the sheets and hand embroidered flowers on the towels.There was nothing left undone. It was especially nice to see your library and share a conversation with you on local knowledge.
Margaret
2017-02-18T00:00:00Z
As soon as we arrived we were welcomed by Bev with open arms and freshly baked date bread. We knew right away we were in for a beautiful stay. Everything was amazing. The views, incredible garden, wild parrots, butterflies, and of course symphony of frogs at night. The cabin was cute and cozy with incredible views and all the amenities we needed. The tea house was a perfect place to relax with a glass of wine and book. We were beyond impressed and knew we made the perfect choice for a weekend getaway on Mount Glorious! Highly recommended! Thank you Bev!
Jessica
2016-11-13T00:00:00Z
Our second stay at Bev's lovely little cottage on Mount Glorious, and we are already looking forward to our next visit. As with last time we were made to feel very welcome, and the cottage was tidy and comfortable. The gardens were in exceptional form, and our time spent enjoying a coffee by the pond was a highlight of our experience. Perfect for a quick break away from the city to refresh and reconnect with nature. Our thanks again to Bev for making our stay a great experience.
Nicholas
2016-11-18T00:00:00Z
Beverley was the perfect host! The house was easy to find and the drive there from Brisbane was easy and absolutely beautiful. She welcomed us with an amazing bubbly spirit, warm smile and some very helpful tips on the area. We walked into our very cosy accommodation which was spotless and had a yummy home made pumpkin soup to warm us up. The linen was good quality, the bed and pillows were comfy and the fruit loaf that was waiting to be eaten was the best ever! Her garden is second to none and was an absolute joy to walk around and eat breakfast in. Again, breakfast was provided. We cooked it up and lapped up the sunshine and friendly birds and the incredible view! We returned home super relaxed even though we didn't want to leave. The perfect getaway for a couple. Thanks again Beverley!
Claire and Tom
2015-07-27T00:00:00Z
Beverley was such a warm and welcoming host. Her place was like a disney movie-beautiful gardens covered in roses and little birds and bees fluttering around the place. And gorgeous hidden places in the garden to sit and watch the world go by. The Shed was a very cute place to stay and had all the essentials. Beverley saw us sitting by the pond while the sun was setting and kindly brought us some blankets to keep warm. She even baked me a birthday cake! We had a wonderful experience! Highly recommend staying here.
Cassie
2017-01-08T00:00:00Z
cute and cosy cabin with a beautiful view. Beverly is a lovely host who makes you feel right at home. Loved our stay thankyou
Cassandra
2016-05-26T00:00:00Z
Perfect getaway with beautiful garden setting, with Bev being a lovely host. She is thoughtful and you will be spoilt with delicious meals as Bev loves to cook. The cabin is very quaint, private from the main house, and is excellent value either for a weekend or a week's stay to explore the local national park, or visit local cafes. Sunrise vistas over the rainforest out to the Moreton Island are spectacular.
Seelan
2015-06-03T00:00:00Z
Thank you to Beverley for making us welcome at her Mt Glorious cabin. She had plenty of local info available and it was very convenient considering a friend's wedding nearby. I would recommend this place to others and wouldn't hesitate to stay here again.
Andrew
2016-10-02T00:00:00Z
Værelsestype
Helt hjem/lejlighed
---
Ejendomstype
Sommerhus/hytte
---
Med plads til
2
---
Soveværelser
Mount Glorious, Queensland, Australien
White Gum Cottage is a private, secluded cottage on our beautiful 15 acre property, Turkey's Nest, at Mount Glorious, a registered wildlife refuge, surrounded by pristine rainforest. Escape from the bustle of city life, with cosy fire and serene forest views, perfect for a romantic escape or a family holiday. We take pride in the homely atmosphere, tasteful decor, attention to detail, and the personal touches of flowers, candles and chocolates. Close to cafes and National Park walks.
White Gum Cottage is one of two delightful, private, self-contained cottages, as well as a luxury B&B suite, on our beautiful property at Mount Glorious, just 45mins from Brisbane city CBD. Each is designed to provide the ultimate in privacy and relaxation. It is a perfect place to escape the bustle of everyday life. White Gum Cottage (sleeps 4) has two bedrooms (one with queen bed, one with double bed), bathroom, full kitchen, living and dining room with fireplace. and a verandah overlooking the forest. A wide variety of native birds come down to feed on the verandah, making this a great spot for photography enthusiasts. Mount Glorious is surrounded by D'Aguilar National Park. There are beautiful walking tracks through both rainforest and gum forest. At 620m above sea level, it is cooler than Brisbane in summer, and can get quite cold and misty in winter - a good time to sit in front of the fire with a glass of wine and a good book! In addition to White Gum Cottage, see our Rose Gum Cottage under our separate airbnb listing "Romantic cottage close to Brisbane", and The Macadamia Rainforest Suite under "Luxury B&B suite in the rainforest". Unfortunately there is no public transport to Mount Glorious. Access is by car only. Parking is on site, beside your cottage. We have operated the cottages for eight years, and have many regular guests. We enjoy meeting the many travellers who come to Mount Glorious to relax and spend a quiet time together, and savour a forest environment so close to the city. Our cottages have a warm and welcoming atmosphere, to which we add features such as port, home made chocolates, candles and fresh flowers. Massages in your cottage can be arranged - please ask.
The little village of Mount Glorious is surrounded by National Park. It offers a restaurant and four cafes, and a Sculpture Garden (open Sundays). Mount Glorious is 650m above sea level. Temperatures are on average 6 deg cooler than Brisbane. It is pleasantly cool in summer, and can get quite cold in winter.
A lovely stay. The cottage easy to find and instructions on how to check-in where clear and simple. As this was a chance to "be a complete hermit" I actually really appreciated the fact that arriving and leaving the cottage was a "self sufficient" process and no direct contact with the hosts was needed unless I wished it. A friendly wave from Russell one afternoon was the perfect exchange. Complimentary chocolates and port were addictive! Thank you. Highly recommended.
Shari
2015-08-10T00:00:00Z
Didn't see much of our hosts, that was ok with us, we were there to relax after a hectic week, they stated anything we needed to contact them that was fine by us, very cosy and rustic cotttage we enjoyed our stay. John & Audrey.
John
2016-11-08T00:00:00Z
Everything it promised it would be, tranquil little hide away in the bush with all the amenities of home - was a little taken a back at first that there wasn't a TV in the cottage but read later we could have borrowed one from our host. Turns out we got along quite well without it which was a nice surprise - rugged up next to the fire at night, bird watching during the day. There were a few noisy motorbikes going up and down the mountain over the weekend though.
Josie
2016-07-04T00:00:00Z
Soooo relaxing. We had a lovely time. Beautiful rainforest and distant views. Lots of birdlife. Friendly hosts who are very helpful. Rustic charm with a lot of unique personal touches. Thoroughly recommended. Thankyou :~)
Mick
2014-10-07T00:00:00Z
The cottage was every bit as lovely as the photos and description show. It's very private and the verandah looks out into the rainforest. It has everything you need for comfort and an enjoyable stay. I would highly recommend it for a relaxing get-away where you can leave the busy world behind for a few days.
Sharon
2016-04-06T00:00:00Z
Værelsestype
Helt hjem/lejlighed
---
Ejendomstype
Sommerhus/hytte
---
Med plads til
4
---
Soveværelser
Mount Glorious, Queensland, Australien
A meandering twenty five minutes from Brisbane CBD, via a billboard and horn free zone awaits the The Highlands @ Jollys Lookout a small sustainable eco farm in the Brisbane hinterlands. Get your regular dose of country life at the farm house.l
Ok.. so you want to really spoil someone, make up for something, celebrate something worth celebrating, catch up with friends or family, try something different, getaway and relax or just have some fun. Well, we know we have something that will suit your occasion. Without venturing to far out of the big smoke (literally 15 mins out of surburbia) you will feel like you are far far away in the country. Well you will be in the country it just won't be far away, with all the country smells, sounds, and surrounds. Perched on the side of a mountain in the highlands of Brisbane you will find out little farmstay.
I say Jollys Lookout, you say Mount Nebo, others only know Mount Glorious, internet search engine says D'Aguilar. It's all our neighbourhood really, all hundreds and thousands of acres and whilst there may only be one thousand of us tops up here, we do have a few gems that pack a punch. A couple of local cafe's, a winery, kilometres of mixed forest and rainforest trecks, with waterfalls, canyons, old growth with an unimaginable abundance of wildlife. You'll even find holistic therapists and a realtor when you decide you want to join the lucky few!
Jason lives on the property so was readily available to help with anything. He's a really nice guy and even let the children feed the horse, which they were really excited about. The tennis court and pool are great. The views are spectacular. The supermarket/shops are about a 20-30 minute drive, so I would make sure you take essentials with you to save some time. It really is a beautiful spot.
Amen
2016-10-04T00:00:00Z
This place has a spectacular view and a huge deck with a pool. It's a great place to relax and enjoy the sounds of nature and the many lookouts and bush tracks. The main bedroom and ensuite is huge and has air conditioner. Its a great place to take your family for a relaxing weekend.
Peter
2016-12-03T00:00:00Z
We had a really great time at jollys look out and Jason was really friendly and easy to approach! The place is really cool and spacious and the view is beautiful! It was a great space for the kids to run around and they loved the tennis court and pool! Jason even brought the goat round for us to feed! The place could do with a bit of TLC and general maintenance and I would definitely bring a stash of drinking water if we stayed again as the filtered tap was super slow haha! Overall it was awesome, we loved the master bedroom with ensuite! This place would be really great for big groups of people! Thanks for having us Jason :)
Ange
2017-03-25T00:00:00Z
Jason was an amazing host. Very knowledgeable about the area with many useful tips and advice. We arrived with 2 European dogs and cats straight from the quarantine facility and Jason did everything imaginable to make the property as safe as possible for our little zoo. The property itself is spacious, well kept and very clean. The location is enchanting if you like nature extraordinaire with an amazing chorus of birds waking you in the morning and much to discover during the day. You will definitely need a car to get around. We had amazing two weeks and hope we will stay in contact with Jason.
Thomas
2016-10-25T00:00:00Z
The house was spacious and comfortable with million dollar views, comfortable beds, and the perfect space for 3 bushwalking "girls" to come back to relax in. Jason went out of his way to make us feel welcome, allowed us to drop things in fridge early, and even produced a big Bbq when we asked. The place is perfect for days in the mountains, and could house quite a big family in comfort.
Lise
2016-11-27T00:00:00Z
The location was amazing. Our kids and family enjoyed the pool, the tennis court and the nature.. Jason was an amazing host, he made sure we were ok and also arranged transport to the airport for us. If we get the chance again, we will for sure stay there again
Binil
2017-04-06T00:00:00Z
Beautiful restful place for a family get away. While all of us struggle with unplugging it was great to see the children running around in the tennis court, swimming, working out and swinging on the swing. This was a perfect space for our blended family and a few day visitors to relax, have a bbq and see the children communicate without a screen. The view and bush noises were lovely to wake up to and we really enjoyed cooking meals together in the kitchen which was very well equiped. We used the bbq and all enjoyed the pool. I wouldn't hesitate to recommend to anyone who wanted a restful few days to recharge. Thank you Jason you made our stay special.
Jasmin
2017-01-23T00:00:00Z
It was a great time at Jason's farmhouse, it's a beautiful place to relax with friends or family. We played tennis every day and had a refreshment in the pool as well. Jason is very a friendly, helpful and funny man, I would definitely stay again!
Jasmin
2017-03-03T00:00:00Z
Værelsestype
Helt hjem/lejlighed
---
Ejendomstype
Hus
---
Med plads til
10
---
Soveværelser
Jollys Lookout, Queensland, Australien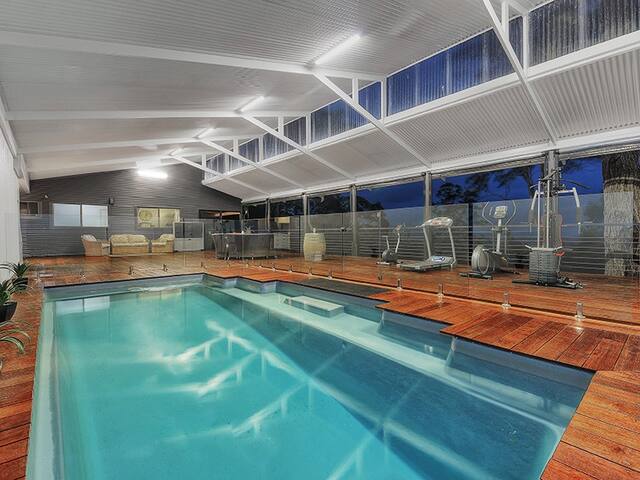 We were met by Megan's husband on arrival and shown the cottage. The photo's did not do it justice, it was very spacious and comfortable with everything supplied. We were there to do a reining clinic in Burpengary so had no time to really speak to Megan and her husband but did enjoy the peace and quiet the cottage offered. The cottage is on a ridge with walking tracks all around the property. A haven for twitcher's if the drawings in the guest book are to be believed. I would love to go back with a book.
Julia
2016-03-20T00:00:00Z
Thankyou, excellent hosts. Very clear communication, very welcoming and accommodating. Simple, clean and great views. All basic needs provided for, with some lovely extra touches.
Erin
2015-10-18T00:00:00Z
Our hosts were very approachable and welcoming from when we first booked. Even though our party had staggered arrival times they were there to greet us and ensure that we were all orientated to our accommodation the most spectacular scenery that surrounded us, I wish we had the time to stay longer! The cottage was exactly what we needed and perfect for a getaway for the weekend. Thankyou very much for letting us stay on your beautiful property and ensuring we had a comfortable stay. :-)
Monica
2016-10-22T00:00:00Z
Very pleasant welcome and evening meal followed by a night walk spot lighting looking for the wildlife. Wonderful dawn chorus and mountain views whilst enjoying breakfast on the verandah. Megan and Roger have created a wonderful home and environment.
ian
2016-10-19T00:00:00Z
Wow! what a beautiful spot! Absolutely loved the bush land setting and seeing so many kinds of birds and one very curious Koala. The walking tracks were great, lovely views. The cottage was very comfortable, I loved the little touch of the Bougainvilleas on the bed with the towels and the chocolates! We dined with Roger and Megan on their balcony overlooking the Cedar Valley lights, the food was delicious and we really enjoyed their company, it turned out that we had a little in common with them, they are a really interesting couple, who love nature and have such a great wealth of knowledge, thank you guys for a great weekend, we would definitely like to come back again one day!
Carole
2016-05-30T00:00:00Z
Lovely relaxing bush setting. Megan and Roger were very helpful and welcoming. The cabin was comfortable and had everything that we needed.
Rachael
2017-03-25T00:00:00Z
Great job Megan and Roger. Loved staying at your cottage. Would definitely come back.
Jack
2016-10-15T00:00:00Z
I highly recommend Megan and Rogers Cottage and Maria and myself had a very relaxing and enjoyable stay! This is the second time we have stayed and we had a great time!
Glen
2017-01-08T00:00:00Z
Værelsestype
Helt hjem/lejlighed
---
Ejendomstype
Sommerhus/hytte
---
Med plads til
3
---
Soveværelser
Samford Valley, Queensland, Australien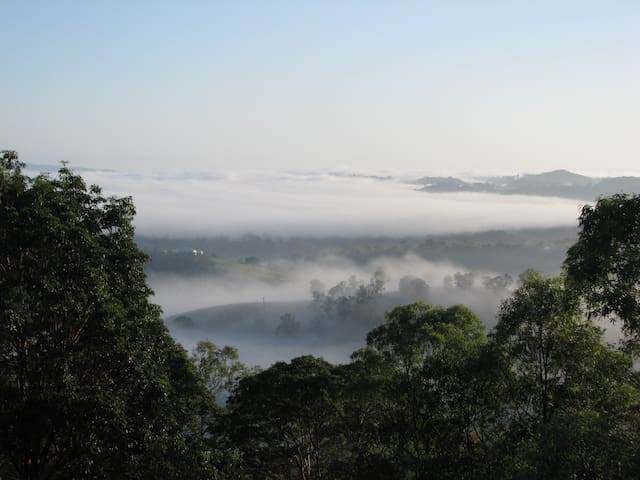 Currawong Cottage is located at picturesque Kobble Creek Cottages. It is situated on the highest point of the Kobblecreek property with breathtaking elevated views of the D'Aguilar Ranges overlooking 52 acres of native bushland abundant with native birdlife and wildlife. It lies approximately 10 minutes drive from the rural village of Dayboro, or 20 minutes from Samford Village. There are three other cottages on the property namely Wonga, Figtree and the beautiful Homestead.
Currawong is a self contained cottage with large deck, under cover parking, kitchen, one bedroom with queen bed, cosy living area including fire place with TV and Foxtel. Extremely private and peaceful.
There are many local surrounding attractions within driving distance, from cafes, restaurants and bakeries, antique dealers, scenic drives, and forests and fishing at nearby Lake Samsonvale. National Parks including Mount Glorious and Mount Mee are also within short driving distances.
A lovely stay and so close to Brisbane. A great place to escape the city and the accommodation was lovely:-)
Ashley
2017-03-27T00:00:00Z
We had a wonderful trip to Kobble Creek Cottages. The cottage was clean and tidy and very new with all the basic necessities. The views of the mountains are breathtaking and beautiful.
Richard
2017-03-18T00:00:00Z
A quiet weekend away with amazing views was just what we needed. Sitting on the deck enjoying a wine of the afternoon, you feel like your hours away from the city. The property was clean and had all the amenities you need. The hosts were available if you needed. Looking forward to returning to this beautiful place!
Simon
2017-03-26T00:00:00Z
Great little cabin for a night away from the city, yet only a short drive through the countryside from the CBD. Amazing view and all the conveniences of home. Will stay again.
Melissa
2017-01-27T00:00:00Z
Love the peace and quiet. Away from town.
Sally
2017-03-05T00:00:00Z
Beautiful little cottage, with an amazing view. Heather was really helpful and lovely, would definitely return
Katie
2017-04-01T00:00:00Z
Great little place for a relaxing weekend getaway. Lovely view over the surrounding bushland.
Erin
2017-02-05T00:00:00Z
So peaceful and able to unwind from the everyday stresses.
Luke
2017-04-09T00:00:00Z
Værelsestype
Helt hjem/lejlighed
---
Ejendomstype
Gæstehus
---
Med plads til
2
---
Soveværelser
Kobble Creek, Queensland, Australien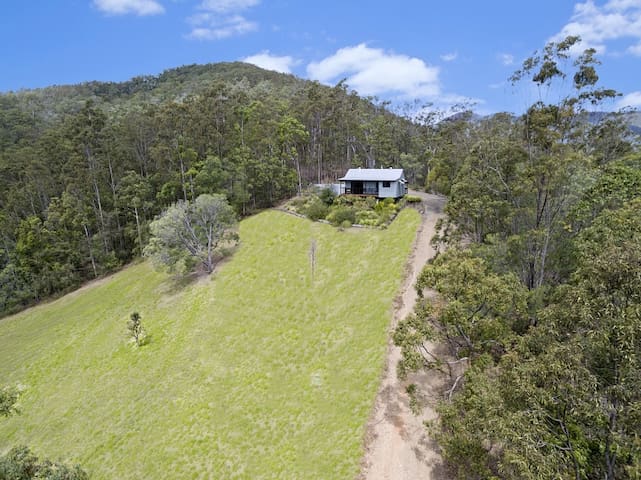 Our guesthouse offers a romantic escape, or maybe just a place to unwind. You can soak up the bird songs from your garden alfresco and watch the local horse riders go by, head into the village for its quirky cafes, explore the local pony trails or enjoy hiking through the nearby rainforests of Mt Nebo and Mt Glorious. We enjoy a safe, quiet, friendly, country-style neighbourhood that is still only half an hour from the city, so its perfect for couples, adventurers, and business travellers.
We live about 30 minutes drive to Brisbane City, or about 45 minutes drive to Brisbane Airport. You can also catch a train to Ferny Grove Station, but will then need to drive for about 12 minutes or catch a taxi to arrive at our place. For daily commuters, driving to the station and catching the train into the city takes around about an hour door-to-door.
We live in the beautiful Samford Valley, and Samford Village is only 4 minutes drive away. An informative write up on Samford is here: (URL HIDDEN) The village has a vibrant weekend café culture for those looking for a relaxing coffee and breakfast, and draws the horse riders, bike riders, and motoring enthusiasts from far and wide. The village has a grocery store, petrol station, restaurants, fast food stores, medical centre, butcher, chemist, banks etc. For those that love the markets, the Samford Valley Markets are held on the second Saturday of every month, and the Ferny Grove Markets are on every Sunday from 6am to 12 noon. Our home is set on 3.8 acres of horse pasture, gardens, and mature trees, and our neighbours all enjoy similar acreage properties with a variety of livestock including goats, sheep, horses, cows and alpacas. Its a quiet neighbourhood that looks green and lush if we've had good rain, and since we are away from the suburban and city lights the night skies are truly spectacular.
Our interstate relatives loved the quietness of the area and mentioned that they would stay there again when they visit us next time. They said hosts were very lovely.
Patricia
2017-03-07T00:00:00Z
Megan has been wonderful, highly responsive, and carrying to us ! This apartment is really perfect, no noise, confortable. The breakfast was amazing ! A dedicated park place was set up as well for us! Just a pleasant and perfect host ! Thanks again, Megan and Derek
Sylvain
2016-12-30T00:00:00Z
A very tidy , immaculate clean and well organized place, good for couples and single travelers who are interested in the hinterland. Very welcoming and friendly hosts ho did everything and more to make us feel at home. We will recommend them any time!
Gerlinde
2017-03-13T00:00:00Z
Megan was extremely welcoming and provided little snacks and extras which made it very convenient. The location was lovely and very scenic. The unit was clean, comfortable and very well equipped for an extremely reasonable price.
Carola
2017-01-20T00:00:00Z
Loved the guesthouse, had a wonderful easy stay, thank you for your thoughtfulness and great hospitality
Marco
2017-03-03T00:00:00Z
Megan was so kind and made us feel so welcomed. The guest house was fully equipped with everything we could have wanted or needed during out time there. We stayed for a week and loved every second of our time there. It was a private, relaxing stay.
Sage
2017-01-06T00:00:00Z
We loved everything about our stay. Megan was a wonderful host and the accomodation perfectly suited our needs.
Marcus
2017-04-09T00:00:00Z
Megan's place is truely a littkebpiece of paradise. The accomadation had everything and more we needed to make our getaway comforable. Megan is a awesome host who has thought of everything. From the time we booked communication was great, we were warmly welcomed and showed around the accomadation. The fridge was stocked with juice, milk, cupcakes, fruitcake and more. The pantry had most staples you need plus all the cooking utensil needed. The accomadation was very well decorated with a very comphy bed. Megan even moved her car to the smaller park so our 4wd could fit. Thanks again for making us feel welcome. Cheers Josie and Mark. We will definatley be back
Josie-Leigh
2017-01-08T00:00:00Z
Værelsestype
Helt hjem/lejlighed
---
Ejendomstype
Gæstehus
---
Med plads til
2
---
Soveværelser
Wights Mountain, Queensland, Australien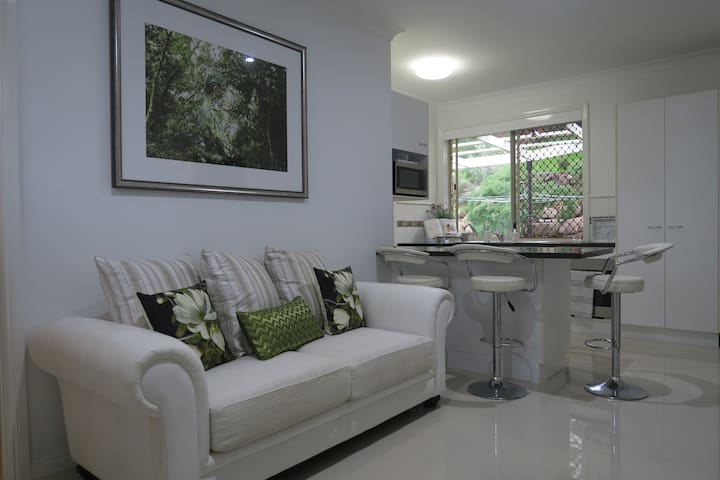 Enjoy "Gum Haven" , surrounded by magnificent bush views from the stand alone unit at the foot of Camp Mountain. Queen Bed. Tennis Court & Large Swimming Pool , with high dive rock Lots of Birds, Nature & Bush Walks. Samford Village nearby. Small pets on application (mustn't chase wallabies). Free WiFi & Foxtel.
Modern open plan stand alone unit , situated next to the main house on 5 acres with lots of birds & wildlife (you often see wallabies grazing early in the morning). 3 pm CHECK OUT SUNDAY when you book Friday & Saturday night. NOT AVAILABLE FOR LARGE PARTIES OR GROUPS. Situated in a very quiet area in the heart of the Golden Valley at the foot of Camp Mountain, the unit is 5 minutes from Samford Village and 20 minutes drive from the magnificent Mount Glorious Lookout and National Park. Dine out at multiple nearby restaurants or dine in poolside or have an outdoor BBQ and fire pit (check with us re fire conditions , extra firewood and utensils available at minimal expense). If you want to cook there is a microwave, an electric frypan, cutting board, an egg boiler and a single hotplate with a small lidded saucepan. The drinking water is sweet tasting spring water, with rain water tanks as a backup. All waste water is recycled onto the gardens. The toilet is a bio-cycle , which also recycles onto the garden, so no foreign matter in toilet or sink please. The room is fully screened, has block out curtains (careful they are delicate) , ceiling fan, ceiling insulation , solar activated whirly birds and just in case has reverse cycle air con as well. The Large Deep swimming pool has a dive rock if you are game and the tennis court has a large shed (balls and rackets in the wooden box). Now with FREE WI FI in the unit. Home delivery dining options guide and local info manual in unit. Kitchenette including microwave (frozen meal options in freezer), full size fridge freezer and portable convection oven , cutting board and knives, electric frypan and tepenyaki hot plate available. Access to the laundry in the main house available on request. Extra toilet paper is stored behind the bathroom mirror cabinet. The carport is right at the front door and will keep two large vehicles out of the weather. There is a large dam on the property so please don't let toddlers wander. Foxtel pay movies and pay events available (please put payments in the jar in the freezer with the frozen meals) Level Powered Caravan Pad available for hire as well.
The unit is surrounded by lots of trees birds and wildlife. Situated at the foot of Camp Mountain Lookout and Nature reserve (inc bush walking tracks). Close to many other National Parks and Nature Reserves, (more info in the visitors manual in the unit). 5 km to Samford Village with lots of dining and retail options including IGA and the Samford Pub. 40 minutes drive from QTC the home of the Brisbane International Open
What a wonderful experience, beautiful accommodation so clean and nice plus super friendly hosts. You won't be sorry if you stay here, we would definitely love to return. Gardens and pool are amazing and the quiet seclusion of the property gives a perfect opportunity to recharge your batteries which is exactly what we did. Thanks Pete and Glenys.
Paula
2016-07-25T00:00:00Z
Glenis and Peter were very friendly and accommodating. We only stayed for one night, but the place was clean, all amenities were working and we had our privacy when we wanted it...and their dog was the cutest, friendliest and gentlest dog I have seen in a long time. I'd recommend this place to anyone who wants to feel like escaping the city and having a relaxing time with nature.
Ivan
2016-02-14T00:00:00Z
Beautiful place, nice people, really good value for money would definitely stay again
Danielle
2016-03-25T00:00:00Z
Simple. Quite. Peaceful. Luxurious.
Joanne
2016-06-24T00:00:00Z
The room was perfect and very neat and tidy - really hot showers too! Very sport orientated and with brand new facilities. The most comfortable bed I've EVER slept on - with really nice sheets! The best sleep I've had in years!!!! Thank you to the hosts! Would recommend to all xoxo
Ashley
2016-06-06T00:00:00Z
What a wonderful place! We planned to go for some walks in the area, but with the tennis court, swimming pool and pool table we had so much to keep us entertained we barely left! We absolutely loved our time here and Glenis and Peter were super helpful and welcoming. The description is very accurate, the place was very clean and looked better than the pictures. This place is perfect for a couples' weekend away.
Becky
2016-03-27T00:00:00Z
What a gem we discovered less than 35 mins from Brisbane. We had a great time, enjoying the fire, bush walks, a game of tennis and a fabulous breakfast in Samford township. The accommodation was spotlessly clean with all the amenities you could ask for. Would love to stay here again.
Ryan
2016-07-02T00:00:00Z
Quiet and tranquil - Clean and comfortable - great hosts and adorable little dog - saw wallabies/all sorts of birds. Thx
Linda
2016-09-22T00:00:00Z
Værelsestype
Helt hjem/lejlighed
---
Ejendomstype
Lejlighed
---
Med plads til
2
---
Soveværelser
Camp Mountain, Queensland, Australien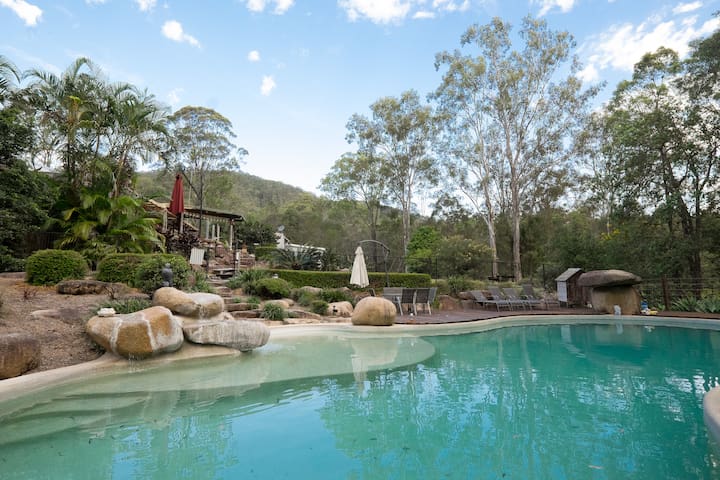 The Old Surgery Cottage Accommodation (TOSCA). Located in Camp Mountain, Samford Valley - a stylishly converted fully equipped, two bedroom cottage; separate and private from owners home; abutting National Park with views, birds, walking trails, cycling, cafes, city train nearby.
A modern two bedroom cottage overlooking picturesque Samford Valley. Formerly the Camp Mountain Veterinary Surgery, the cottage is situated on 5 acres of landscaped garden and native bushland and is home to a superabundance of native birds and other wild life. There is access via the carport or road, through the garden to enjoy those views with strategically placed seating. The courtyards and front patio allow you to be comfortably 'outside' to relax with a book, or your iPad. D'Aguilar National Park can be accessed directly from the cottage to a range of 'fire', 'pony' and tramping trails. These lead out onto local, 'traffic sparse' roads. It can be your 'get-away', or a base for an action packed 'change of scene'. Walking, cycling, wining and dining, or simply reading and relaxing in beautiful surroundings—yours to choose. ACCOMMODATION Fully furnished two bedroom cottage adjacent to, but separated from, the main house. Rooms are all sunny, bright, and with leafy outlooks: - 1 Queen bedroom - 1 Double bedroom (air-conditioned) - 2 foam mattresses and futon bed also available - Fully equipped kitchenette - Separate Dining and Lounge rooms - Bathroom with Shower, WC, and Vanity - Front patio with couch and squatters chair - Private courtyard off each bedroom FACILITIES - Ample parking - Quality furniture in both bedrooms - Comfortable beds - Blinds to all windows - Privacy lattice screening - Range of books, record player and records, children's toys, and board games on request, Wi-Fi - Iron and ironing board, portable heater and fan - There is no TV in the cottage at this stage but if there is a TV show (or the news) you need to catch, it can be (recorded and) watched in the main house. - Some equipment not stored in the accommodation can be made available, such as a BBQ (Webber) and a Juicer SERVICES We do not provide meals, however we offer 'breakfast ingredient' hampers by arrangement. Always available are breakfast cereal and milk, tea and coffee, as well as a home made frozen meal (curry and rice, or a spaghetti meat sauce) for late night arrivals. We are happy to put your dirty dishes through our dishwasher on special occasions, and have arranged a 'box' to facilitate this. With it is a notebook where messages (housekeeping type) can be left for us. There is the use of washing machine, clothes line and dryer if required. Professionally laundered bed linen and towels are provided, along with soap and other essentials. On the 'Food' side of things we encourage you to take advantage of the numerous Restaurants and Cafes in the Village and environs, or utilise the kitchen facilities to 'do your own thing'. For 'self-catering', there is an excellent IGA in the village that stocks a wide range of gourmet food.
TOSCA adjoins the D'Aguilar National Park yet is only 20 km (25 mins) by car or train from Brisbane's CBD, and a 5km walk, drive or cycle to Samford Village. Dayboro, Mt Glorious, Mt Mee, Redcliffe and Bribie Island are a leisurely drive away through picturesque forests and farmlands. Samford is well known for its restaurants, cafes, antiques, handcrafts, gift shops, museums, art galleries, bush walks, and cycle trails.
A perfect get away spot with everything you could need. Perfect for a quite stay amongst the trees overlooking the valley.
Ant
2016-11-29T00:00:00Z
We stayed here with our 6 month old baby for three nights in October 2015. We found our hosts Valerie and John to be extremely thoughtful & accommodating. The unit itself is a converted veterinary surgery apposed to (but detached from) Valerie and John's own residence. As the property is quite elevated, the views of the surrounding mountainous terrain are quite spectacular and the sunsets are something else. The residence includes: electric frypan, induction hot plate, microwave, big fridge, kettle/toaster, all the cutlery & utensils you could need, breakfast supplies (and some goodies), turntable and records, guitar, lots of books, toys for the kiddies. No wifi that we were aware of but I didn't ask and I believe it is available on request. Val kindly supplied a portacot and toys/books for our little one. The residence is spacious with some adorable veterinary-orientated finishings. We saw a pair of boobook owls in the driveway. The residence is around 40 minutes from BNE airport (subject to traffic). Loved the location - just 20 minutes from Newmarket, which we liked. There are two bedrooms, each with a ?queen sized bed (I think .. or maybe double!), and I saw a trundle bed type arrangement under one of them. We flew up from Melb so didn't have our dogs, but there is a very well-enclosed area for doggies if you want to bring yours. And while you're at it you can look up your dog breed on the dog breed chart or the dog breed cards in the residence! Accommodation is 10 mins or less to Samford Village. Samford Village seemed quite busy and pleasant, with a lovely playground and good coffee available. It seemed somewhat touristy - we heard lots of different accents in the cafe. Multiple takeaway options are available if you don't feel like cooking. We tried the Thai - it was pretty good. I didn't see an air-conditioner in one of the bedrooms but there might be a pedestal fan available (knowing Val there would be for sure!) The bigger bedroom definitely has an airconditioner. It was really comfortable. I definitely recommend this accommodation to families, couples, groups and singles who like the bush and wildlife. You'll love it!
Madeleine
2015-10-27T00:00:00Z
Valerie and John were vey welcoming. They were there to greet us when we arrived and showed us around the property, where everything was and how everything worked. The property is 80s style. The two double rooms are comfortable. One has air-con. There is a futon in the living room plus another two mattresses (1 double and one single). The bathroom has a shower with great pressure. The kitchen is basic with all the plates and utensils you need; a microwave and plug in induction cooker - so a little limited if you are looking for opportunities for any fancy cooking. We bought our own food but the kitchen was stacked with milk, tea and cereal and it was very clean and tidy. I was visiting friends in the Samford Valley area so it was a perfect place to stay and have brekky because there is very little accommodation. Samford Village is about 5mins drive and has a great supermarket and some wonderful cafes. I'd particularly recommend the Flying Nun. Overall this cottage is a quiet and peaceful place where you'll wake up to bird calls - a totally delightful retreat.
Susie
2016-03-10T00:00:00Z
We loved this spot. The location near the national park was amazing. We thoroughly enjoyed all of the flowers and the birds. The house is very comfortable and held the 5 of us readily. Val and John were kind enough to leave some goodies for us as we were only to be there for 1 night between airports. Groceries and restaurants readily available 10-15 minute drive. Thank you both for the hospitality and lovely place to relax.
Rebecca
2016-01-07T00:00:00Z
The cottage is just beautiful, so well appointed and very private. The rooms are large and very comfortable, the beds were generous and the kitchen had everything we needed, even a basket of goodies for our breakfast! We loved our short stay with Val and John, who were very welcoming, and could not have asked for a better weekend getaway in the beautiful Samford Valley. I'm sure we'll be back.
Michele
2015-10-12T00:00:00Z
简直无法形容Valerie和她丈夫有多好!如此体贴入微善良亲切!是我通过airbnb认识的最最nice的房东!房子在曲径通幽的森林里,对于国内旅行者应该是非常难得的居住体验,适合自驾。I love u Valerie!
tianhan
2015-11-04T00:00:00Z
A beautiful place to stay - better than that portrayed by the photographs. Valerie and John are warm and friendly hosts who made my daughter and I most welcome. I would definitely return if the opportunity presented itself.
Steve
2015-10-21T00:00:00Z
We thoroughly enjoyed our stay at this apartment. It is located in a quiet and relaxed surrounds. We were impressed by the space, warmth and details of the inside of this place. Our host were very friendly, eager to help with any of our questions. We hope we can come back another time.
Tamás
2016-10-03T00:00:00Z
Værelsestype
Helt hjem/lejlighed
---
Ejendomstype
Hus
---
Med plads til
6
---
Soveværelser
Camp Mountain, Queensland, Australien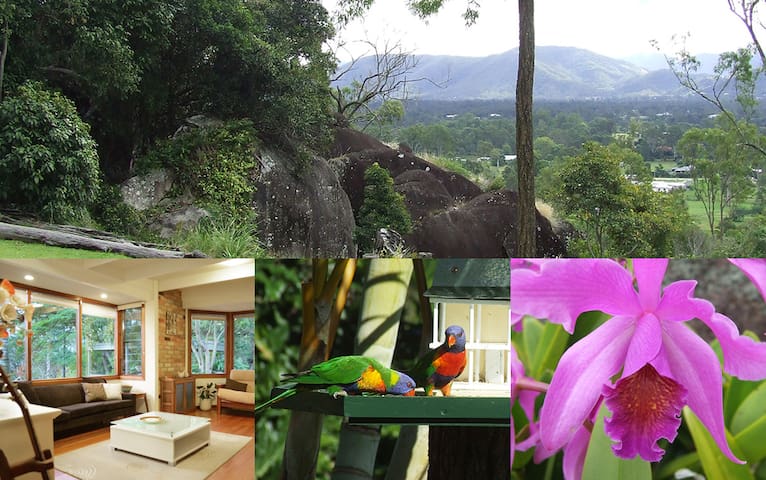 Experience the country life style, scenic walks, enjoy the breath taking views, simply relax and unwind and soak up the peace and tranquillity that Samford has to offer. Our property is on the foot hills of Mt Glorious and Mt Nebo a short drive to Samford Village or you can take a drive to Mt Mee and taste test the local wines at Ocean View Winery. The valley has so much to offer water falls, creeks or join in on feeding the animals on the farm or simply relax by the pool on those hot days.
The ground floor 1 brm self contained unit is separate from the upstairs owners accommodation. It is surrounded by amazing Views over looking Mt Nebo, Mt Glorious and Mt O'Reilly. Short drive to Samford Village or Mt Glorious. The apartment is part of a hobby farm that has rams, sheep, horses, cows, geese and chickens on a lush 10 acres and we welcome you to join in and feed the animals should you be interested or sit back and relax and unwind soaking in the country atmosphere. A self contained large ground floor, one bedroom Unit with private access. There is also a separate sofa bed in the lounge room which pulls out to a double bed for extra guests. Should you have a young child there is also a separate mattress in the main bedroom which can be made up in the main bedroom. We are running an organic hobby farm and have respect for our animals and beautiful surrounds as we feel lucky to live in this beautiful part of the world.
Bring your horses or bike and discover the Scenic Samford Pony Trails. The Samford Area has boutique restaurants, scenic drives, close to wineries, and scenic walks in the National Parks and friendly village feel with lovely cafes and restaurants to enjoy.
Karen has been such a lovely host and we enjoyed the time at the lovely place in the hinterlands of brisbane. The kids took great pleasure feeding the animals and swimming in the pool. The only regret is that we could not spend more time at this beautiful place and with these nice peoples. Thanks again and see you Thomas, Andrea, Emma & Sophie
thomas
2016-01-13T00:00:00Z
From the moment we drove up the driveway we knew we were somewhere special. Our expectations were confirmed when we saw our accommodation - very well appointed and comfortable with every possible need/want accommodated. Beautiful outdoor area just perfect for a leisurely breakfast. Time restrictions did not allow us to explore the pool or check out the livestock but for a couple of retired budgies it was wonderful to drift into sleep to the sound of sheep and cattle. Our hosts were friendly and acknowledged our privacy. All up a wonderful stay.
Liz
2015-11-22T00:00:00Z
Karen was easy to talk to, accommodating and helpful. The accommodation was well presented and the rest of the property was beautiful and rounded out with the pool. A great place for kids.
Brodie
2016-04-28T00:00:00Z
Staying here for the month was a wonderful experience and I would definitely return here whenever I was in the area. My hosts made me feel very welcome, not only when I arrived, but throughout my visit, with so many little extra touches - fresh eggs, ham and honey all from the farm. The location is fabulous, with all the charms of country living and the accommodations were clean, spacious and very private. Having the use of the barbecue, the outdoor dining area and the pool were all an unexpected bonus. If you are anywhere near the valley, you should certainly treat yourself with a stay at this country retreat.
Peter
2015-09-27T00:00:00Z
Although we only live aprox 40 mins from Samford ourselves (in Brisbane), we decided to book 3 nights here as a last minute getaway before the end of school holidays. The area is beautiful and views from the house are fantastic. We only briefly met Karen and Phil, before they headed away for the wkd themselves, but they were both friendly and informative. Phil managed to squeeze in time to take the kids to feed the animals and they even got a quick spin on the quad bike which they loved. They enjoyed running round the wide open space collecting lemons and feeding the animals (which they could do as they pleased with the big bin of bread provided). They took a particular liking to Abbey their beautiful horse!!! Was lovely to have bacon and eggs on the bbq provided (with the eggs collected by the kids themselves - which they were delighted with). Muffins, milk and juice were also provided. We also made it to the Samford show which was on the same wkd which was a bonus. We really enjoyed our stay at Karen and Phils. Thanks for allowing us to stay!! (oh and we loved the use of the outdoor fire pit provided for the chilly evenings!!)
Angela
2016-07-10T00:00:00Z
I had a great time away at Karen's lovely property. the peace and quite was just what I needed to take a break from the hustle and bustle. Highly recommended.
Fergus
2016-01-27T00:00:00Z
Stunning spot, it was a delight to stay here. Karen and Phil are wonderful hosts and made me feel so welcome and at home.
Wilhemeena
2015-12-09T00:00:00Z
Beautiful and peaceful place, would highly recommend if you want to get away and breathe! Very accommodating hosts, especially as we booked with such little notice. Lovely goodies in the fridge waiting for us, and wonderful for our three yr old to see all the animals around the farm - we could have happily stayed much longer than our two nights.
Adilia
2016-05-07T00:00:00Z
Værelsestype
Helt hjem/lejlighed
---
Ejendomstype
Lejlighed
---
Med plads til
4
---
Soveværelser
Samford valley, Queensland, Australien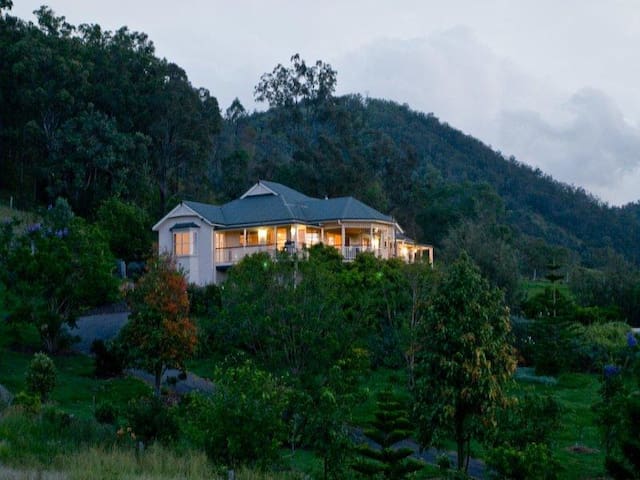 Dette private, fritliggende mursten flad vil overraske & glæde. Ideel for dem der gerne vil have en afsondret stille rum, er det beliggende i den grønne forstad The Gap (ca. 12kms fra Brisbane CBD) & er tæt på offentlig transport. At leve uafhængigt af hovedhuset er en del af, hvad der gør denne flade et unikt og eftertragtet mulighed. Nyd vores komfortable queensize seng, privat badeværelse, air-con, køleskab, vaskemaskine, wifi, tv, pool adgang & privat gade adgang.
Dette er en meget efterspurgt område at bo i på grund af nærheden til naturen og nærhed til byen. Hvis du kan lide udendørs, er der masser af løb og busk vandrestier i en nærliggende naturreservat (Walkabout Creek) samt svømning / kajak i Enoggera Reservoir, og vi er omkring 15 minutter væk fra Mount Nebo.
Very lovely room. Has everything you need! Added bonus of a private yard for your four legged friend :)
Keely
2017-03-07T00:00:00Z
Our stay with Pat, Bec and their adorable children Ella and Lucy was wonderful! They were extremely kind and helpful from the very beginning and provided us with everything we needed including breakfast. The space itself was very clean and had even more than we could have asked for (Netflix, own, private bathroom etc.) They helped us plan our whole trip but also let us have some privacy. We felt at home and would love to meet this lovely family again someday. Very recommended! Thanks again for everything.
Sappho
2016-11-20T00:00:00Z
Cosy,nice friendly place. Great for one or max two people. A little tight in the washroom but overall excellent value for money.
john
2016-11-28T00:00:00Z
It's a really lovely flat, it have all you need, for you stay. Bec welcomed us and told us all we needed. Heighly recommend.
Anni Kjærulf
2017-04-09T00:00:00Z
Pat & Bec were there to greet us with their little family and instantly made us feel welcome. The little unit was comfortable with lovely leather lounge and armchair, large flat screen TV, comfortable bed and use of the pool whenever we wanted. It was a great place to stay and we would recommend it to anyone. Pat couldn't do enough to make us feel at home and he and Bec were such lovely personalities that anyone would feel welcome in their company. It was a great place for our two little dogs with a nice lawned area they could play on and room to run around and a nice big park just down the road to take them for a walk.
Krystal
2016-11-06T00:00:00Z
Well if I could give 10/10 I would. This is phenomenal. The place itself had every thing you needed plus more. The bed was heaven. And to have netflix and a huge TV made everything so much better. To be able to chill and watch TV was great for me and my partner who have been travelling. The location was so relaxed and quite, being out the city was great but being able to access the city if needed was also great. It was about a 30 min walk but it's a really nice walk to the nearest supermarket (Coles) which is located in a shopping centre with facilities such as maccas and subway. Pick up a go card at the Gap Village and grab the bus just outside to get to the city. Really easy. Pat and Bec were absolutely amazing hosts and made us feel welcome from entering the place. They were intrested to find out about our travels. Shame we didn't have a BBQ or use the pool. Pat even offered to take us to the airport at 2 am which was so nice!! Absolutely loved this place and if we came back to Brisbane I would definitely stay here. 11/10
Zak
2017-03-28T00:00:00Z
Graet Location. Easy to locate and enjoying a restful time
Linda
2017-01-05T00:00:00Z
Perfect for our requirements. Excellent facilities and accommodation
Peter
2017-01-28T00:00:00Z
Værelsestype
Privat værelse
---
Ejendomstype
Gæstehus
---
Med plads til
2
---
Soveværelser
The Gap, Queensland, Australien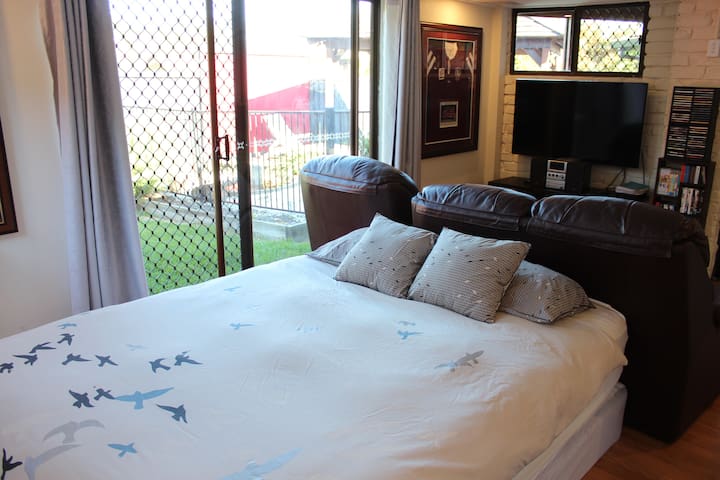 Nous avons une unité autonome sous notre maison avec sa propre entrée privée. Il comprend une kitchenette, salle de bains (douche), un bureau, une terrasse privée et la piscine est libre d'être utilisé. Il y a beaucoup de stationnement dans la rue en dehors de notre maison avec un arrêt de bus à distance de marche. Venez vous faire plaisir de rester dans l'une des plus vertes banlieue de Brisbane.
L'écart est une belle banlieue verdoyante avec beaucoup de promenades fantastiques.
Værelsestype
Privat værelse
---
Ejendomstype
Hus
---
Med plads til
2
---
Soveværelser
The Gap, Queensland, Australien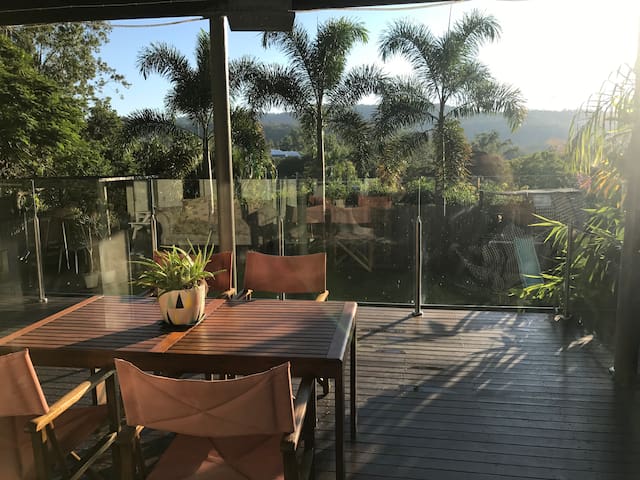 Samford Valley home stay on an animal and organic foods hobby farm. Share a room with a couple who are in the double bed. The single raised bed is available.
Such a friendly family. Great pool. Cheap- ( I bunked with others) but it was exactly what I needed. I am Very grateful of their hospitality.
Glenn
2017-03-11T00:00:00Z
Værelsestype
Deleværelse
---
Ejendomstype
Hus
---
Med plads til
1
---
Soveværelser
Wights Mountain, Queensland, Australien
Upmarket modernes Haus mit separatem Garten Wohnung mit 2 große Schlafzimmer (Queen & 2 Einzelzimmer), Bad, Wohnzimmer, Küche, große Veranda in einem schönen grünen Vorort der Nähe zu Brisbane Forest Park & Enoggera Resevoir
Separate Selbstversorger-Apartment mit 2 Schlafzimmern (1 Queen & 2 Einzelzimmer) im Erdgeschoss mit Veranda und Zugang zum Garten. Bar Kühlschrank, Mikrowelle, Wasserkocher und Toaster mit allen Utensilien und Geschirr in separate Küchenzeile. Barbecue auf der Veranda. Alle Zimmer & Veranda sind groß, komfortabel eingerichtet und ruhig für Ihren Genuss. Beide Schlafzimmer haben Fans und für den Fall, dass seine erforderlich, Klimaanlage in der gesamten Wohnung wird automatisch betrieben werden
Dieser Bereich von The Gap liegt in der Nähe von Brisbane Forest Park und voller Vogelleben. Unser Haus ist ruhig und fängt die Brise, weil es auf einem Hügel liegt.
This was truly a home away from home and my husband and I were very pleased we made the right decision to stay here. We love the tranquil atmosphere here. We have enjoyed the magnificent outlook from the balcony...What a wonderful spectacle to see the sunrise from here! No need for a morning alarm. The happy cockatoos with their morning chorus will ensure you are up in no time :-) The self-contained apartment was immaculate and uncluttered. The living room was tastefully decorated and pleasing to the eye. And most importantly, it has all the essentials for a comfortable stay. Meryl was friendly and accommodating but at the same time respecting our privacy. I really appreciated her kind gesture when she offered to drive me to Coles for some supplies. We wouldnt hesitate to stay here again. And we would highly recommend to anyone who is after a quality stay.
Pauline
2016-05-16T00:00:00Z
What a fantastic stay! My sister, 5 month old daughter and I stayed here the night before my wedding. The owners sent us excellent information via email in advance and gave us a call in the morning to ensure we were set up well and to reiterate we were to call if there was anything they could do to help. The place surpassed the pictures. It was homely, impeccably clean, comfortable and they'd left nice things for us like milk, bread, yoghurt and muesli. They'd also left out an iron and ironing board for us because they thought we might need to iron before the wedding, and mosquito coils for the evening outside. These thoughtful touches made us feel very welcome and at home. The beds were comfortable, with good linen and fluffy towels. The apartment is at the end of a long cul de sac and almost nestled in the mountains. It is incredibly peaceful with lots of bird life and beautiful sunsets. I would not hesitate to book here again and I will be recommending a stay here to any friends who want to stay in Brisbane in future.
Bree
2016-03-27T00:00:00Z
Very comfortable and clean with lovely breakfast provided. Private entrance, quiet with everything we needed provided and also wine and chocolate on arrival which we really appreciated. We felt very happy staying here. Great place to stay away from city but good bus service to city.
Jack
2016-11-18T00:00:00Z
Thank you Meryl and Dave for a wonderful stay at your beautiful home. You made me feel right at home. The self-contained apartment was very clean, spacious and comfortable and it had everything I needed. The view from the large veranda was absolutely breathtaking and so relaxing. Staying at Cockatoo's Rest was definitely the right decision and I would highly recommend it to anyone. Thanks again Meryl and Dave for your hospitality, you are super hosts!
Michelle
2016-08-28T00:00:00Z
We've stayed here before and consider it our favourite accommodation option in Brisbane. Meryl is a wonderful host, generous and considerate, and the unit is spacious, clean, comfortable, and in a great location. It's everything we want plus some lovely extras touches!
Wendy
2016-12-04T00:00:00Z
Meryl was extremely helpful and considerate during our whole stay, adding lovely thoughtful touches like a bottle of wine & nibblies to aid rapid relaxation upon arrival, a range of herbal tea bags, magazines, and fresh wood-fired bread! We loved this place - the apartment felt very spacious and comfortable, and is in a great location where most of the outlook was trees as far as we could see, yet accessible to all the places we needed to go.
Wendy
2016-07-09T00:00:00Z
Stayed with Meryl and Dave twice in November and would have stayed the entire month but they were booked. Just a really really nice place to stay. Looking forward to staying again in our next trip to Brisbane.
john
2016-11-22T00:00:00Z
I have stayed here for the second time. I have again enjoyed staying here immensely. It is truly a home away from home and i recommend this place highly :-)
Pauline
2016-07-04T00:00:00Z
Værelsestype
Helt hjem/lejlighed
---
Ejendomstype
Bed & Breakfast
---
Med plads til
4
---
Soveværelser
The Gap, Queensland, Australien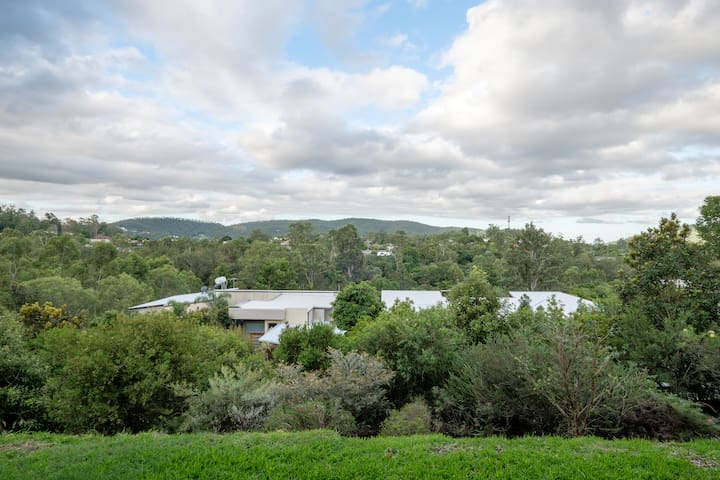 Nous aimerions partager notre endroit merveilleux dans le Australian Bush avec vous! Situé à seulement 10 km à l'ouest de Brisbane City Center, au pied du mont Coot-Tha. Très paisible et calme appartement de 2 chambres avec cuisine entièrement équipée et une grande terrasse extérieure couverte, ce qui est excellent pour le petit déjeuner, tandis que les oiseaux chantent tout autour de vous! Vous pouvez facilement entrer dans la région du mont Coot-Tha pour de belles promenades ou apportez votre vélo de montagne, d'explorer toutes les pistes qui vous sont proposés.
Le bach est spacieuse et propre, a sa propre cuisine, salle de bains rénovée juste, wc séparé et une grande terrasse avec vue brousse et d'oiseaux. Notre endroit est idéal pour les personnes visitant leur famille et amis dans le quartier, pour les personnes qui envisagent de déménager dans la région ou pour les personnes qui aiment être près de la nature. Si vous ne répondez pas à la faune australienne à notre place, situé à seulement 10 minutes en voiture de notre maison, vous trouverez Lone Pine Koala Sanctuary où vous pouvez caresser koala'S, des kangourous et des pythons. installations de lavage sont disponibles ainsi qu'un Fer et planche à repasser. Wifi gratuit disponible. Malheureusement, nous ne disposons pas d'un lave-vaisselle.
L'appartement est situé à la base du mont Coot-Tha. Il est un quartier calme, vert et vallonné avec beaucoup d'arbres de gomme et la vie sauvage. Il y a 2 petits centres commerciaux à proximité, sur une min 2 km ou 5 loin, de petits cafés, restaurants, supermarchés, coiffeurs, lieux de pédicure, etc.
We had a very good time in Brisbane and Rose was really kind. The house was perfect for our holiday and absolutely comfortable.
Tobias
2012-05-23T00:00:00Z
This is a superb house in a beautiful setting as described in the ad. It was very quite and peaceful place and our family love it very much. A very nice welcome on our arrival. House is spotless and very well equipped with everything you need. We love the kookaburra's company, we even hold them on our hand on our last day. We highly recommend this house and wish to be back and stay longer next time. Thank you Rose and his family for
Wendy
2015-08-16T00:00:00Z
Rose and her husband, Maarten are very kind and helpful. We arrived at late night, and there was a heavy rain. There was no power supply on the night we checked-in (is not Rose's fault, as half of Brisbane was affected, due to the adverse weather condition). Maarten came to use several times to assist us with what we needed. Brizzies Bush Bach is a nice place to stay, with trees surrounding. You can expect some visitors to visit you at the deck, somtimes wallaby, lorikeets & etc. Rose's cat, Joey, a friendly cat, may also be there. The house is fully equipped with all you need, including the washing machine and kitchen. The property is very near to supermarket (about 3km) and not far from Brisbane CBD (about 10km). My family was very glad to stay at the Brizzies Bush Bach, we definitely will come here again if we travel to Brisbane again. Once again, thank you Rose & Maarten!
Tan
2013-02-01T00:00:00Z
We had a really lovely time staying here. Rose and her family are really lovely welcoming people, who are very helpful, very accommodating, and easy going. The place itself is fantastic, really clean, bright, comfortable, and we found it great to sit out on the balcony overlooking the beautiful forest and relax. We saw kookaburras, pacific baza, about 40 other types of bird, and wallabies all in the garden! It's located outside of central Brisbane, but was an easy short commute to the UQ campus, easy to get to the CBD either by bus or car, and Mount Coot-Tha (excellent walking, views, and mountain biking!) is right on the doorstep. Overall, we would definitely recommend staying here!
Matt
2013-07-05T00:00:00Z
The reservation was canceled 83 days before arrival. This is an automated posting.
Yen
2012-09-10T00:00:00Z
We had a rather unusual request for Rose to stay at her property and she was very willing to have us! The property is very close to Brisbane but somehow feels like you are hours away from the city. Super clean, modern & comfortable living space & the host was very nice. I have been travelling the world staying in Air B&B this year and this is easily in my top 3, highly recommended.
Tarık
2016-10-05T00:00:00Z
Wonderful place and wonderful hosts. We loved our stay at Brizzies Bush Bach.
Tiffany
2013-09-05T00:00:00Z
Rose is a genuinely nice lady and it was a very pleasant stay too. would recommend to my friends.
Nick
2016-12-18T00:00:00Z
Værelsestype
Helt hjem/lejlighed
---
Ejendomstype
Hus
---
Med plads til
5
---
Soveværelser
Kenmore Hills, Queensland, Australien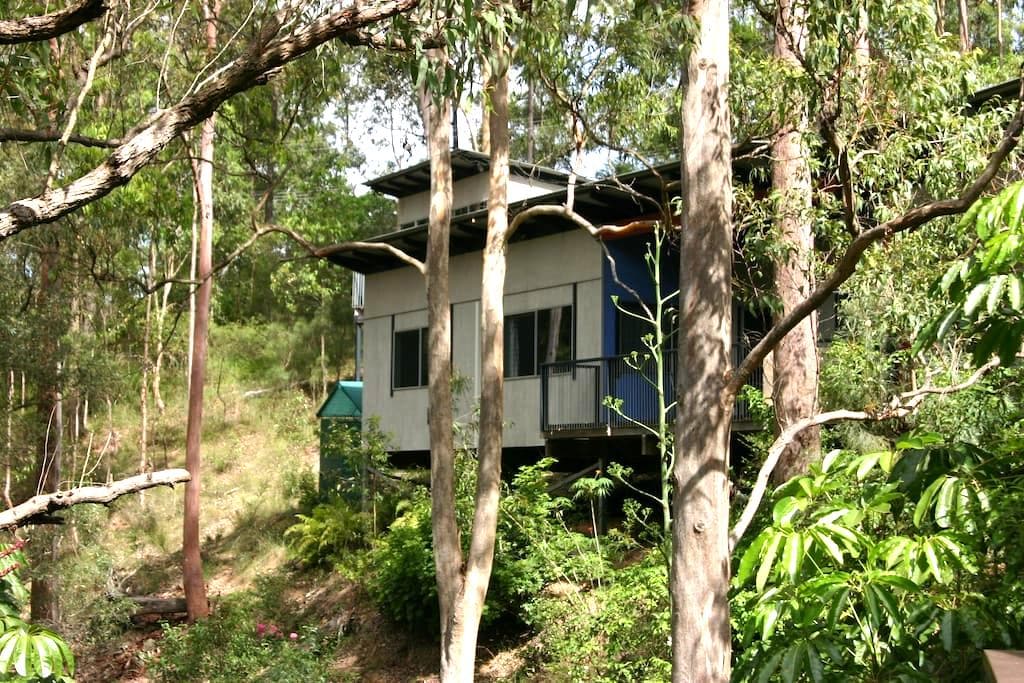 Pia was an excellent hostess. She explained everything well and the accomodation was spacious, clean and well maintained. Lovely quiet area which suited me for my retreat. I would be happy to return. I loved her greyhound, such a beautiful friendly animal
Sandra
2016-10-05T00:00:00Z
My partner and I had a truly wonderful experience staying with Pia and her adorable puppy. Due to an error on Air BnB's part Pia had only about an hour's notice before our arrival, but you'd never know it by her incredible hospitality. She went above and beyond to make us feel at home and welcome. The space was comfortable and very clean, and we really enjoyed Pia's company. The neighbourhood was quiet and peaceful. We are looking forward to one day returning to Brisbane for another visit!
Michael
2016-07-11T00:00:00Z
Pia is a kind and wonderful host...she is kind and helpful and made my stay very warm and welcome:-) the house and location is beautiful and I highly recommend staying here:-) Thankyou so much Pia
Jlp
2016-09-21T00:00:00Z
It was a pleasure staying at Pia's place Super clean and comfortable. Pia is lovely as is her beautiful quiet well behaved pup. Great place for business traveller or just needing a tranquil stop over. Deb
Deb
2017-04-01T00:00:00Z
Værelsestype
Privat værelse
---
Ejendomstype
Hus
---
Med plads til
1
---
Soveværelser
The Gap, Queensland, Australien
Détendez-vous et détendez-vous dans une belle maison de 3 chambres qui surplombe le mont Cootha et la cime des arbres. Il est un rapide 15 minutes au cœur de la ville de Brisbane en bordure d'une réserve naturelle luxuriante!
Ma belle maison vous offre un environnement confortable, spacieux et relaxant pendant que vous restez à Brisbane. Il est à seulement 15 minutes en voiture dans la CDB et à 2 minutes de supermarchés, des magasins et des restaurants. Je vais chercher à rendre votre séjour inoubliable en vous offrant des lits confortables, une cuisine moderne entièrement équipée, un grand salon / salle à manger, salle de bain contemporaine et un grand pont pour regarder les oiseaux indigènes. Pour ceux qui aiment explorer la forêt, il est facile de pistes graduées bush à seulement 300m de la porte d'entrée. Il y a aussi un beau lac pour la baignade et la marche pittoresque pistes du Parc National D'Aguilar, 5mn de la maison. Si vous préférez un jeu de golf, vous pourrez jouer au golf à 3 minutes de la maison à 18 trous Ashgrove Golf Club. Alors que ceux qui préfèrent une scène urbaine, vous êtes très proche du centre-ville, des restaurants, des cinémas et des attractions. Il y a un arrêt de bus 3min à pied de la maison qui vous emmènera directement dans le coeur de la ville de Brisbane.
L'écart est un recherché Brisbane banlieue comme il est niché dans une belle vallée de montagne. Il a une communauté très sympathique avec les marchés fermiers, 18 trous de golf de café et un village commercial. Il est bordé par le Parc National D'Aguilar avec un lac de baignade et faciles pistes de randonnée classés pour les personnes de tous âges. L'écart est aussi le début de la Mt Nebo promenade touristique qui serpente à travers une belle forêt d'eucalyptus qui bordent le Parc National D'Aguilar et se poursuit à travers le mont Nebo jusqu'au mont Glorieux. Sur le chemin, vous rencontrerez belvédères alors pourquoi ne pas sortir, avoir un étirement et tremper dans l'atmosphère.
A fabulous find in Brisbane. A clean tidy apartment tucked in amongst birdsong in The Gap, yet only 15 min from Brisbane city centre. Our host Annie was helpful and is that kind of person who makes you so welcome. Those finer details, such as fresh flowers throughout the apartment, a welcoming snack amongst others made it a home away from home for us. thanks Annie and Renzo
Daniel
2015-08-18T00:00:00Z
Annie was awesome! so helpful and flexible with us. The apartment was clean and comfortable. The neighborhood was lovely. Out of the city but close to some stores and coffee shops with a pleasant walk through a park. The milk, water, and coffee that she had available was above and beyond. Very awesome to arrive and not having to worry about buying the basics. I would definitely stay here again if we ever make our way back to Brisbane.
Micah
2016-10-03T00:00:00Z
Fomos bem recebidos por Annie , a casa é muito confortável e o anúncio corresponde a realidade.
Inês
2016-05-19T00:00:00Z
great place with a wonderful supply of coffee and snacks to get us started.
Mic
2015-10-13T00:00:00Z
I did not actually meet Annie, but my friends who arrived earlier did. The place was most suitable for a group (3 couples) and had all the amenities you could wish for. I would go there again under similar circumstances. It is close to the city and yet has all the charm of being in the hills
Alan
2016-04-25T00:00:00Z
This was exactly what we were looking for, it was everything that Annie described it as and great for a family. Would suit couples as well. Very clean and tidy - smart and comfortable. And Annie was a very obliging host - thankyou Annie. :-)
Geraldine
2016-05-24T00:00:00Z
Annie's Forest Hideaway provided an ideal home away from home for our week in Brisbane. The house is light, airy and spacious and the kitchen and bathroom are beautifully presented. The back deck is a great spot to enjoy the ambience of the treed back yard. Annie's is very attentive and all communication was very prompt and helpful. We felt very comfortable and private in our entire upstairs accommodation. Although we used our own car, bus travel is ample and only a short walk to the pick-up spots. The neighbourhood is very quiet and added to the peacefulness of our stay. Thank you Annie.
Janette
2016-05-15T00:00:00Z
Annie and Renzo are fantastic hosts! We felt like home in the beautiful apartment from the first minute and there is nothing to improve from our point of view! It is the perfect place to stay with a family, as you have a huge veranda outside with an own BBQ and lots of inside space to sit and relax. The kitchen is completly equipped and there is nothing we missed during our stay :-) We strongly recommend to stay with Annie and Renzo for every traveller.
Sabrina
2016-01-14T00:00:00Z
Værelsestype
Helt hjem/lejlighed
---
Ejendomstype
Hus
---
Med plads til
6
---
Soveværelser
The Gap, Queensland, Australien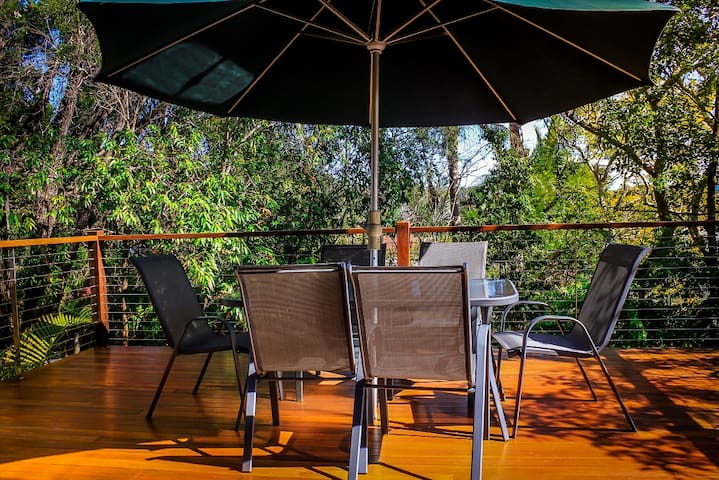 1

–

18

af

112 Lejeboliger
Indtast datoer for at se den samlede pris. Yderligere gebyrer gælder. Der kan blive tilføjet skatter.