The house is close to major highways, parks, restaurants and nightlife. You'll love your stay because of the neighborhood. It is ten minutes from a NJ transit train station (only one hour to New York City by train!) and a few minutes from historic and bustling Morristown. The home is quiet and cozy. It is good for couples, solo adventurers, business travelers, and families (with or without kids).
Desk, WiFi, Flat Screen TV, Microwave, Refrigerator, stove, washer/dryer, and iron/ironing board.
The room is very clean, exactly as shown in the pictures. The location is convenient. The hostess Maria is a wonderful communicator. She really makes you feel welcomed and being taken good care of. I'd recommend this place to travelers and will come back again
ZhaoZheng
2016-12-16T00:00:00Z
Maria is nice, accommodating host,she made breakfast for me , I felt at home during the staying, the room is clean, the quilt is soft made me sleep very well, Looking forward to the second stay here some day I come back. Highly recommended
Jerry
2017-04-02T00:00:00Z
Maria is super nice and communication was prompt. The room is nice and right next to own private bathroom. TV with cable is in the room which is great
John
2017-02-02T00:00:00Z
Great place .warm welcome . Nothing to complain
SATYARAJ
2016-11-11T00:00:00Z
Maria is such a lovely person. I could tell that she genuinely wanted me to make me as comfortable as possible while staying at her place. When she learned I liked tea in the mornings, she would have it ready for me, she made sure I was comfortable with the temperature at night, and she kept the private bathroom stocked with everything you could think of. I truly enjoyed the time I spent here; Maria really went the extra mile to ensure that I felt at home.
Alyssa
2017-03-29T00:00:00Z
Just as described and presented. Maria is a friendly and caring host. I was able to get around with Uber/Lyft and there are food/coffee and freeway not far from there.
Eric
2017-02-08T00:00:00Z
Very Decent Neighbourhood
SATYARAJ
2016-12-08T00:00:00Z
The private room and bathroom are exceptionally clean and well organized. Maria is also a very kind and conscientious host. Infinitely better than staying at a hotel. I highly recommend a nights stay (or more)!
Joseph
2016-12-15T00:00:00Z
Værelsestype
Privat værelse
---
Ejendomstype
Hus
---
Med plads til
4
---
Soveværelser
Morris Plains, New Jersey, USA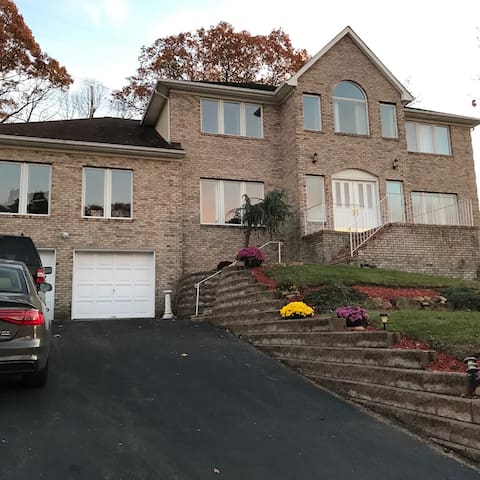 private parking, 1 king bed + 2 twin beds. 10 minutes to Seton Hall, Drew U, Hilton, , St Barnabas Hospital, 30 minutes to NewarkLibertyAirport, 1 block to gym and pool, bus to NYC, wifi, microwave, skillet, refrigerator, coffee maker, toaster.
Less than 1 hour to Manhattan theatre district by public transportation or Uber. 1/2 hour to Newark/Liberty Airport. 15 minutes to Morristown Airport, 1 hour to NY airports. 1 block to New York Sports Club gym and pool. 3 minutes to Short Hills and Livingston Malls. Many excellent restaurants. 15 minutes to Washington Revolutionary Headquarters and Thomas Edison Factory and estate. Milburn Playhouse Theatre, South Mountain Recreation Area, Turtle Back Zoo, Skating, boating, fishing, bicycle paths and trails.
Quiet, safe, great restaurants and shopping.
Everything is as described. Place was clean and had the essentials. Would recommend for a quick stay.
Dave
2017-01-16T00:00:00Z
Nice place very clean owners were helpful if I had an issues. The only thing I had an issue with was the blanket. I am a tall guy and the blanket was to small. That's an easy fix though. Besides that great place to stay.
Jay
2017-02-05T00:00:00Z
Very Comfortable stay
Sowmya
2017-02-13T00:00:00Z
Stayed here to interview for a residency position at Saint Barnabas Medical Center which is only a 5 min drive away. A great place to stay. Very organized and clean. Cecilia is great at communicating all the required information.
Andrés
2017-01-18T00:00:00Z
Værelsestype
Helt hjem/lejlighed
---
Ejendomstype
Lejlighed
---
Med plads til
4
---
Soveværelser
Livingston, New Jersey, USA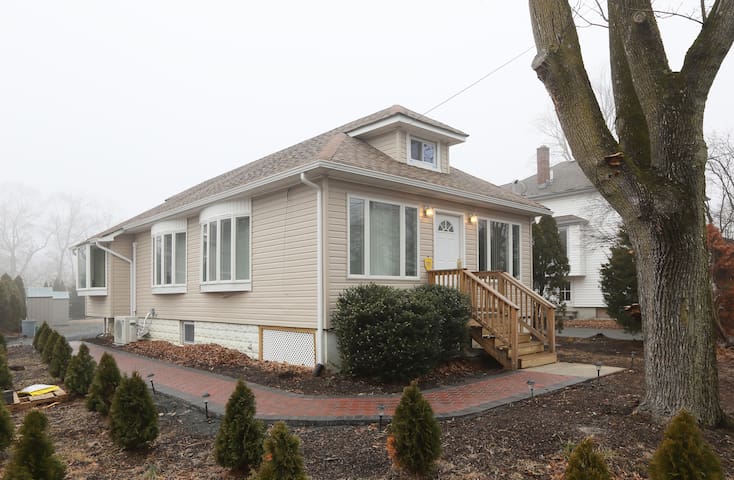 Located in Cozy Lake, Oak Ridge. Great for a romantic getaway, some peace and quiet or a short break. This is a quiet residential neighborhood. Great location for outdoor activities, public golf course 2 minutes away. hiking and biking. Warwick NY is 30 mins away and a great historic town to visit with wineries in the area too. Ideal for 2 adults. The listing shows for 3 people which is to add a child or a pet.
The house has been completely renovated and is very comfortable. A 1920's home with modern conveniences. Come enjoy home away from home in a clean space.
Quiet neighborhood on a dead end street, lots of wildlife that may pass through including bears and wild turkeys.
Michelle is a superb host. I changed my reservation twice during my stay and she was very accommodating. The place has all the basics and more. Cozy and clean. And she is super quick to reply. Thank you so much, ~H
H
2016-10-01T00:00:00Z
Everything was great.
Sean
2016-08-28T00:00:00Z
This place was such an awesome getaway cottage! Not only is the house beautiful, but the host thought of everything in terms of design detail, as well as what to stock in the fridge. We spent our evenings by the fire pit, listened to the crickets to fall asleep and stared in awe each morning at the black bears in the yard from the corner of windows in the dining area. I honestly cannot say enough about how wonderful our experience has been. We hate to leave and are definitely coming back!
Adam
2016-09-18T00:00:00Z
I spent the weekend at The Cozy Cabin. I have to say it was lovely. The pictures do not do it justice. Cozy and open. Clean and bright. A huge fireplace!! The kitchen had all sorts of welcome surprises that I was told to feel free to sample. Michelle was prompt with responses and very accommodating. You can tell she put a lot of love into this cabin. I would certainly rebook here. Thanks for the hospitality!
Christina
2016-11-14T00:00:00Z
We had planned a trip to Eastern Pennsylvania to go winter camping, but a massive snow storm wrecked those plans! With less than 24 hours notice we were squeezed for a place to stay when we found Michelle's place. It was a dream come true, the value for such a great place to stay cannot be beat. The heat worked phenomenally, the kitchen was fully stocked and the layout was cozy and functional. The neighborhood was quiet except for the occasional turkey call. We quickly were snowed in and had a great time sitting by the fire and eating home cooking. Michelle's snow plow service dug us out and wven dug out our car too, we couldn't be happier. I highly recommend staying at this spot!
Meredith
2017-03-17T00:00:00Z
Wow! Amazing little cabin. Michelle thought of everything. Anything I forgot,was there. This is the cleanest place Including hotels,that I've ever stayed in. I'm a huge cook,so I brought tons of food to cook.Kitchen is a cooks kitchen.Love the mix of modern(kitchen and bath) with the rustic woodsy look in the main area. Lots of food there already. Coffee,cookies,candy and left overs from recent guests.Loft bed was comfortable. I love love love a fire. Since it was a cold weekend we kept the fire going all weekend. Michelle provided us with a good amount of wood but we needed more.Ended up going towards the Acme very close by and saw a local selling wood in the front yard. Got a ton for 20bucks from this friendly gentleman. Bbq'ed all my meat outside on the provided BBQ. I'm blown away by this place! Will be back!!
Dustin
2017-02-12T00:00:00Z
The place was awesome!!
Sal
2017-04-06T00:00:00Z
It was cozy, we loved the fire place, and was surprised at the amount of good food in the house. This place over delivered!
Cristina
2017-03-25T00:00:00Z
Værelsestype
Helt hjem/lejlighed
---
Ejendomstype
Sommerhus/hytte
---
Med plads til
3
---
Soveværelser
Jefferson, New Jersey, USA
The suite over looks the Musconetcong River and is located next to Stephens State Park. The area offers lots of hiking and biking trails, historic sites, restaurants, family-friendly activities, Centenary college and the International Trade Center business park. You'll love this place because of the relaxing outdoor ambiance. This place is good for couples, solo adventurers, business travelers, and families.
The suite has a small room with a bunk bed, a main room with a queen sized bed, loveseat, and cable TV, a kitchenette (refrigerator, microwave, coffee maker, dishes, and flatware) and a table that can seat four, a full bathroom featuring a shower stall.
Beautiful view of the creek in backyard, very peaceful and soothing. Bed was very comfortable! Loved my stay, highly recommend staying here if you need a nice getaway.
Carly
2017-02-18T00:00:00Z
Our stay at Donald's trail house was pleasant. We were looking for a weekend to get away from the busy and noisy city life and got exactly what we wanted. The scenery was beautiful and the trail house had everything we needed. Donald left a handy sheet with all of the helpful information we would need for our stay. I would highly recommend Donald's trail house for anyone looking for a nice place to be close to nature.
Mayra I.
2017-01-23T00:00:00Z
Beautiful view out of the windows facing the river. Quiet and cozy location. Fantastic for a weekend get away from the city! Be prepared, there is no kitchen sink or stove, although there is a hot plate, fridge, microwave, and bathroom sink for washing dishes.
Nina
2017-03-19T00:00:00Z
Wonderful gem of a place, perfect getaway from NYC. Right on the banks of a burbling brook that you can hear from bedroom, quite soothing. Walking distance of several good trails. The mattresses were very comfortable and the apt well heated. Clean and host has obviously paid attention to details to make the stay a good one. Donald was great at communicating and quick to respond to all questions. One recommendation - if you are arriving when it's dark, get tips on how to get to the house as we had to interpret our gps a bit on the final half mile.
Mina
2017-01-27T00:00:00Z
The house is very comfy. The host gave us all the required informations and is available in case of issues.
Dom
2016-12-27T00:00:00Z
This is a fantastic location, right by the river. It is down a half-mile dirt road, very peaceful and off the beaten path. I would definitely stay here again, and recommend it to anyone staying in the area. It was challenging for me to locate exactly the right house at night, since (SENSITIVE CONTENTS HIDDEN) has the address a bit off from where it actually is. Use the location marker on AirBnB instead!
Chris
2017-02-03T00:00:00Z
Quaint river-side accommodation for up to 4 people, with a kitchenette and bathroom. Very scenic location with a river and a nearby park. Budget-friendly in an area with few other options. Good for a secluded getaway.
Seva
2017-03-25T00:00:00Z
Donald is a great host and his place was perfect for me. I would definitely recommend his place.
David
2017-03-29T00:00:00Z
Værelsestype
Helt hjem/lejlighed
---
Ejendomstype
Lejlighed
---
Med plads til
4
---
Soveværelser
Hackettstown, New Jersey, USA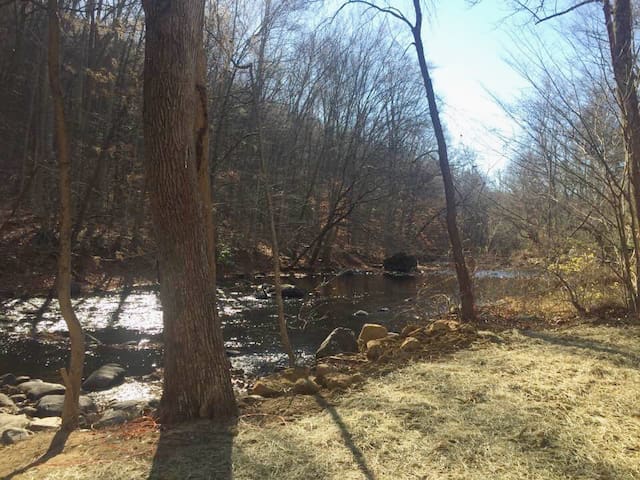 The Cottage - Privacy, quiet yet completely current. You feel a world away, yet your a stones throw from EVERYTHING Home base for business travelers, vacationers, NYC folks looking to getaway, a home to connect with local family, couples, solo adventurers, families and of course GNO. Ski, snowboard day trips abound, Mountain Creek, Poconos - 33 miles to Manhattan NYC - 27 miles-Newark Airport,42 miles LaGuardia Airport NY,53 miles JFK Airport NY - 1.2 miles from Main Street in Boonton
Chill living room, breakfast bar in kitchen to chat while cooking, serene covered porch, 2 bedrooms with open beams, cathedral ceilings, hardwood cherry-wide plank floors, ceiling fans, central air/heat, 2 full bathrooms, 1- walk in slate tile shower, 1- with full tub/shower. We have a queen size air mattress located on the all-in-one washer/dryer in the closet adjacent to the bathroom on the first floor, for use in the common space if needed. Hi end professional appliance should you decide to cook, Keurig of course, fully stocked with cooking utensils/pots/pans/plates/glasses etc to make a gourmet meal. Perfect to relax, calm the chaos and re-connect. Welcome to The Cottage
Main Street Boonton is 1 mile from the house and has some great culture, eats, shops and art. Every cuisine imaginable in a very relaxed setting. Bus to NYC on Main Street in Boonton (Lakeland Bus), 57 min ride on the bus and/or a shorter drive in a car. Walmart is 3/4 mile away for anything you forgot to pack, and ACME supermarkets are celebrating their Grand opening on September 16th, 2016. Morristown is 10.4 miles away and is a little city with great music, restaurants, theater - ((URL HIDDEN) for great performance, up coming shows include, Art Garfinkel, George Thorogood, Doobie Brothers, Melissa Ethridge, Kenny Rogers. Head to dinner before the show at Jockey Hollow Morristown Great tapas at End of Elm, bunch of BYOB options. For a fantastic meal and experience as well as local to the house, RAILS steak house is a must. Three floors, live music and a speakeasy on the lower level. Tons of culture and world class hiking only 3 miles away at Pyramid Mountain. Jersey Shore beaches an hour away, and paradise. Apple Picking in Warwick NJ, NY Giants and NY Jets both play in NJ, NJ Devils, NJ Performing Arts center and Prudential center are all in Newark NJ are 22 miles from the house. NYC in your backyard.
This was an awesome place! Clean, great location, and beautiful. Karl was very easy to contact and accommodating. We will be coming back!
Kayl
2017-02-27T00:00:00Z
Amazing place, amazing hosts!! Everything was perfect with our stay and Kate and Karl went out of their way to make our holiday perfect. Beautiful home in a great area.
Carrie
2017-02-21T00:00:00Z
Had a lovely time at the cottage. It was warm, clean, and quiet. There were snacks and a welcome pack on arrival which was a nice touch. Hosts were very communicative when needed and provided great service. Wouldn't hesitate to recommend.
Housam
2016-10-11T00:00:00Z
The house was very clean and decorated very well and very welcoming feeling and we have enjoyed the stay .
Sam
2016-11-21T00:00:00Z
Was a lovely stay with my family a few days before my wedding! They were incredibly accommodating, and the space was cozy with nice upgrades. Thank you!
Stephanie
2016-09-30T00:00:00Z
Very quiet home on a quiet block. If you're looking for a great comfortable place to stay in Boonton, make this your destination.
G
2016-08-12T00:00:00Z
Awesome place to stay - perfect for our family and in a great location - tucked away, but close to the highway, shops, and food. Karl was a great host, too. Next time we are back in Jersey, we'll be staying there!
Michael
2016-10-09T00:00:00Z
Absolutely amazing place, both Kate and Karl were very receptive to our requests and went above and beyond to make our stay great. Close to Morristown and public transport, quaint little town. The cottage is perfect for a family, amazing kitchen, amazing interior, all around lovely. Will definitely be returning when we are in the area.
Carrie
2017-02-12T00:00:00Z
Værelsestype
Helt hjem/lejlighed
---
Ejendomstype
Hus
---
Med plads til
6
---
Soveværelser
Boonton, New Jersey, USA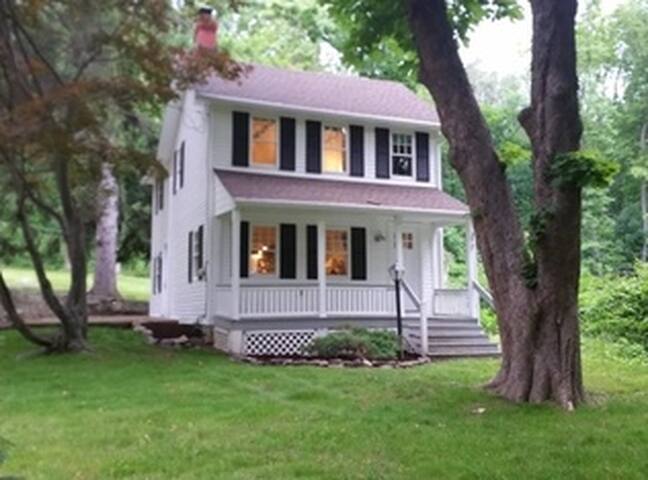 Rustic elegance surrounds you here, streaming sunlight & wildlife views bring nature in.Renew your spirit,relax,and recharge. Find sublime in the travertine soaking tub. Romantic for two, luxurious for business traveler, fun for friends gathering, fabulous accommodation solution for your overflow of family guests. This unique farm is also available for purchase. If you have cabin fever, come out to the country and stay in our log cabin, see what you've been missing!
Unique accommodations, barrier free entry, radiant heat floors, elegant while casual and very private.Located halfway between Mountain Creek and Camelback Ski and Recreation areas, one mile to Swartzwood State Park and Paulinskill Valley Trail. Local wineries, breweries and even a new distillery to visit nearby! Great area restaurants, antique shopping, along with events at Sussex County Fairgrounds (only 8.2 miles away). For the business traveler we are located four miles from Newton Medical Center, Sussex County Courthouse, and town of Newton. Contact us by email (EMAIL HIDDEN) we are happy to make suggestions to help you make the most of your trip.
Quiet rural area.Every season has fun things to explore. farmers market,country fair, nearby horseback riding,lake beach and kayak rental reasonably priced. Lakeside dining, fishing and hiking within short distance.
Værelsestype
Privat værelse
---
Ejendomstype
Naturhytte
---
Med plads til
2
---
Soveværelser
Newton, New Jersey, USA
Guests will have access to my fully furnished, fully-equipped home. Enjoy your own private bedroom and bathroom with use of my entire home during your stay, including the outdoor patio, garage and 2-car driveway. There is a washer/dryer for your use conveniently located in the upstairs laundry room. My home has been fully updated with granite countertops, marble bathrooms, stainless steel appliances and hardwood floors – see pictures included below.
Perfect for those in the area on weekdays that are looking to save on a hotel! Long-term weekday rentals available - please inquire. -Fully furnished, as pictured -Dishes, flatware, pots, pans, sheets, towels, etc. are all included and available for your use -Private bedroom and bathroom includes full empty closet with shoe organizer, desk, nightstand, and shelves for your personal use -Internet access included
The neighborhood is quite lovely - very quiet, super-safe and family-friendly. The walking paths and tree-lined streets make for a lovely escape from the workday!
Værelsestype
Helt hjem/lejlighed
---
Ejendomstype
Byhus
---
Med plads til
2
---
Soveværelser
Bernards, New Jersey, USA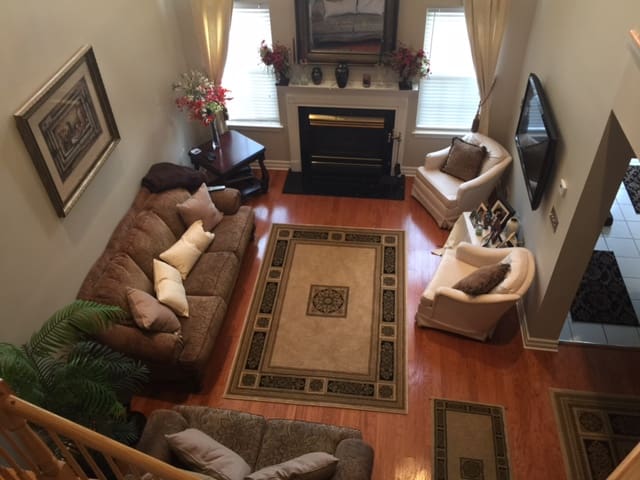 Stay with us at our beautiful, comfortable guest suite within our Private Residence. A great space for an extended stay. Enjoy the comfortable queen bed and luxurious bath. Large walk in closet, office desk and chaise lounge. Book today!
Beautiful guest suite within designer's private luxury home Walking Distance to town, shops, restaurants, tennis courts and sports fields; with a convenient 35-40 minute bus ride to NYC. This Private guest suite has a Sun-Drenched Office Area, Bedroom, Custom Spa Bath, Shared Mudroom/Laundry Facility, Large Walk-in Closet, Granite & Hardwood Floors. This is a beautiful space within a private residence, with shared entry and private entrance on the second floor. This guest suite was custom designed with loads of natural light, within a newly constructed Luxury Residence. Central Air Heating & Cooling, make comfort easy. The space includes all needed dishes, glassware, toiletry, linens, towels, premium cable TV, and WiFi, wireless internet. The designer & builder lives in the residence so last minute requests can always be accommodated. Book and enjoy your stay!
During the Summer and Fall months there are weekly Farmer's Markets in walking distance. If you like to go for a run there is a beautiful neighborhood with rolling hills and amazing homes.
I stayed in this cozy room for six nights. It's a lovely space: the bed is comfortable and there's a great armchair that's perfect for curling up and watching all the premium cable channels Stephen thoughtfully makes available. The bathroom was immaculate and spacious. The wifi worked perfectly. There are a small fridge and microwave in the room, along with a selection of dishware. I made a quick trip to Whole Foods up the road when I arrived and I was set for the week. Stephen is a great host and responded to my messages within minutes.
Sasha
2017-01-07T00:00:00Z
Beautiful house and nice suite! Easy to get to city by bus!
harvey
2016-03-11T00:00:00Z
I felt like I was part of the family. The room was very nice and clean.
Mary
2016-09-15T00:00:00Z
If I have to summarize my experience at Stephen's place in one word, that will be, "EXCELLENT". I had absolutely no problem staying in his house. He is a very nice, family man with small children, which I can personally relate to, as I have small children of my own. He always asked me if I needed anything. His room is nice and big and equipped with everything including a private bathroom. I also liked the private parking. I had stayed one month for my medical school rotation at Clara Maass Medical Center. It is a very short distance from any big cities in New York and New Jersey. I highly recommend to everyone to stay at Stephen's place.
Arif
2015-10-09T00:00:00Z
Stephen is a nice,warm heart guy,the house is clean,surroundings is quiet
Jerry
2016-11-29T00:00:00Z
My son had a summer internship in the NJ area and spent 5 weeks in Stephen's stately home. Stephen and his wife were very gracious hosts and made sure my son was well taken care of while he was there. The room was absolutely lovely and very well appointed, with a TV, mini fridge and attached full bathroom. The room overlooks the large beautiful backyard, which looks like park. The residential neighborhood is quiet and conveniently located. We very highly recommend Stephen and this beautiful room in his home!!
Susan
2015-08-15T00:00:00Z
I have nothing but great things to say about my stay at Stephen's. Their house was absolutely beautiful and spotless. The room itself was very clean, comfy, and cozy. You also get to have your own private bathroom which was wonderful. The neighborhood and area was very safe. Their whole family was very welcoming and friendly. I would highly, highly recommend the room for anyone looking to stay in the area and I too would choose Stephen's place again when I'm back in the area.
Stephanie
2016-02-02T00:00:00Z
Very good experience! It's a good choice for long stay. Their is a walk in closet and private refrigerator. Stephen is very observant for all the details of the room. They provide all different kinds of dinner set. There are cleansing cotton in the private bathroom. And the wifi speed is very quickly! Easy to park!
Yingyi & Rui
2016-04-03T00:00:00Z
Værelsestype
Privat værelse
---
Ejendomstype
Hus
---
Med plads til
1
---
Soveværelser
Roseland, New Jersey, USA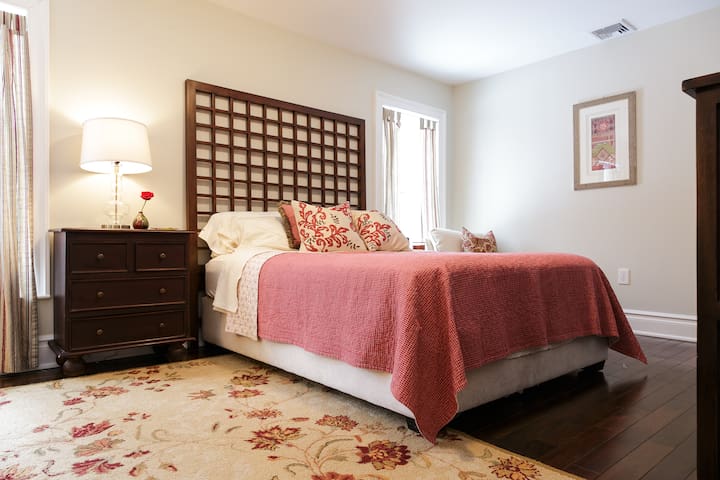 Pete is a professional brewer, and Ali is a professional artist. We love using Air BNB when we travel! When the first floor of our 2 family home is vacant, we are happy to get you set up with a safe home base. Cranford is a safe and quaint neighborhood with great walkability. Passes to New York and New Jersey museums are available to borrow ($100 refundable deposit). A full kitchen is available for your exclusive use.
Potential for permanent residency on the Office-Residential-Commercial zone if you looking to move to Cranford, NJ. There is lots of love in this house. The first floor is my child hood home. Pete and I are adventurers too! More updated photos coming soon. As of April 2017, we are getting the apartment ready for your arrival after May 2017!
This town has great walkability, and it's what I love about my home. Town Center, including train station and great restaurants is less than a 10 minute walk away. On our days off, Pete and I don't even start our cars. Commuting to New York City is less than $20 by bus (113 or 114), and the train is on the "Raritan Valley Line". 4 miles east, on the next train stop is the town of Westfield, known even more so for its restaurants and shopping.
The host canceled this reservation 38 days before arrival. This is an automated posting.
Mary and Bob
2017-04-03T00:00:00Z
Værelsestype
Helt hjem/lejlighed
---
Ejendomstype
Hus
---
Med plads til
2
---
Soveværelser
Cranford, New Jersey, USA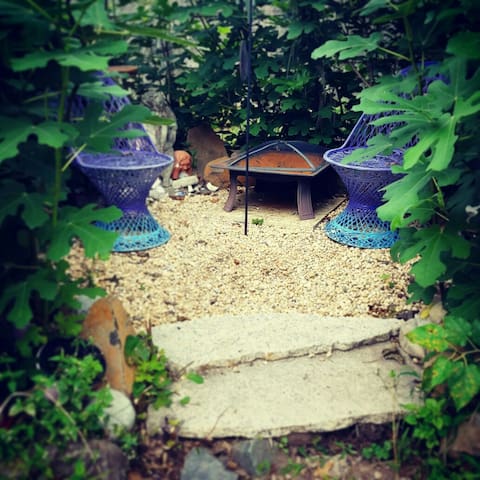 My place is close to the city center, restaurants and dining, parks, and art and culture. My place is good for couples, solo adventurers, business travelers, and families (with kids). A security deposit of $300 is needed to book. You will get this back when you leave. Thanks
Værelsestype
Helt hjem/lejlighed
---
Ejendomstype
Lejlighed
---
Med plads til
1
---
Soveværelser
New York, New York, USA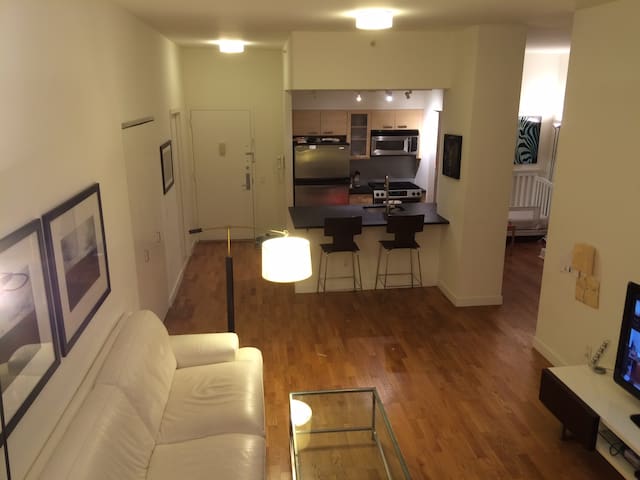 I am in Township of Union (Union County), NOT Union City. Ideal for couples, solo guests, business travelers and pets. Have extra twin mattresses if needed. Walk 10 minutes to NYC Express Bus, 5 min drive to Train, 10 min drive to Newark airport.
In Union, NJ. Nice comfortable house.
Quaint commuter town. Very close to GS Parkway, I-78, Rt 22,and NJ Turnpike.
It was my second time staying at John's place. He is an awesome host and provides everything you need during your stay. I totally recommend it, and I will be going back.
David
2016-12-12T00:00:00Z
John is a wonderful host. He goes above and beyond to make sure your are comfortable during your stay.
Archibold
2017-01-27T00:00:00Z
John is an awesome host. Very knowledgeable, cordial and friendly! The place is very well kept up. It gives you a small warm cottage feelings. He didn't get a lot of notice with my coming but still made sure I had plenty of blankets and towels. He values your privacy and its like the whole place is yours. Overall a brilliant experience and I will most certainly be going there more often! Location is conveniently located and has parking. 5 star experience without the 5 star price tag!
Frank
2016-10-26T00:00:00Z
John was such a great host. His place was clean and the bed was so comfortable. He gave me a lot of great tips for commuting into NYC. I highly recommend this host!!!!
Patti
2016-10-01T00:00:00Z
John has a heart of gold and is a great conversationalist!!! Always eager to assist and provide direction for your interests. The room was neat and tidy, clean bed linen almost daily and the house was always warm...not forgetting early morning coffee!
Alex
2017-01-24T00:00:00Z
John was a great Host. The place is clean and the listing is accurate. I would recommend this place to travelers.
Babak
2017-02-23T00:00:00Z
John is a great host! He makes you feel at home. He is very friendly and helpful. The room is really comfortable, fresh towels and blankets are always available. A delicious breakfast is provided every morning. It was an awesome experience and I would be staying at his home again. And, for international travelers he speaks French, German and Spanish.
David
2016-11-04T00:00:00Z
John is a great host. Extremely helpful. The house is very nice and the room is comfortable and as described. Bathroom is clean and nice. My stay has been a bit extended for work and John has been helpful in every way possible. Would recommend anyone to stay here visiting the area that wants a little more residential accommodations.
Brandon
2017-03-12T00:00:00Z
Værelsestype
Privat værelse
---
Ejendomstype
Hus
---
Med plads til
2
---
Soveværelser
Union, New Jersey, USA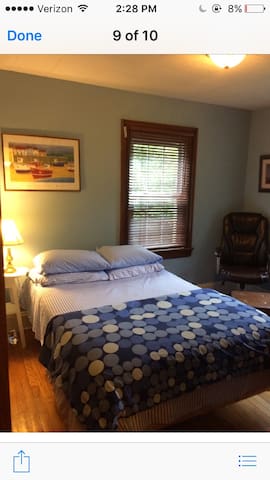 Tastefully appointed home on highly desirable deep water Davis Cove with stunning views of Lake Hopatcong. Fully updated home offers spacious bedrooms, three bathrooms, premium furnishings, beautiful landscaping, 50 Ft dock, lakeside deck/seating, hot tub, wood burning fireplace, game room, fully equipped kitchen, large outdoor grill, swimming, fishing, boating. Quite side-street neighborhood. Outstanding guest service from your hosts. Don't just stay anywhere... make it memorable!
This is a new listing in 2016! Our lovely updated and upscale lakeside home offers three levels and is tastefully decorated and furnished. The meticulous landscaping offers many varieties of ornamental shrubs and flowers. We think you will agree that this is one of the best locations on the lake in the deep water Davis Cove amidst the multimillion dollar estate homes. There are three spacious bedrooms upstairs including our large master bedroom with a comfy king size bed, sliders that open to a balcony, and stunning views of the lake even as you lay in bed. Bedroom #2 features charming antique furniture and paintings and a full-size bed. Bedroom #3 has two very comfortable single beds. There is one full bath upstairs and also a newer high capacity washer and dryer (detergent and bleach provided). A covered front porch leads to the main level. The open floor-plan on the main level offers a fully appointed kitchen, with microwave, dishwasher, toaster, two coffee machines (a drip and a Keurig), gas range/oven, wine cooler and higher quality cookware/cutlery/accessories (i.e., Wustoff professional knives, Caphalon cookware, etc.). The main living has a large wood burning fireplace (a limited amount of wood is included), large HDTV Smart TV with Blu-Ray DVD (and a library of movies), Netflix access, all the premium movie channels and premium on demand and a bluetooth sound system that will play music off your smart phone. Complimentary WiFi is available. The main level also features a full bath and a 4th bedroom if you need it with a trundle bed that sleeps 2. The dining table comfortably seats 6-8 with 3 more seats at the kitchen counter. There is a spacious deck off sliders that overlooks the lake with a table/chairs/lounge and a new Weber Genesis gas grill (available for our guests). A walk out game room (professional grade Foosball table, board games) is on the lower level which is also equipped with a small kitchen and a bathroom. A few more steps down and you are on a large 50x20 Ft. deck right on the water which features a sofa, chairs, umbrellas and a guest favorite - a 5 person Thermospa hot tub right on the water that is available year around. The 50ft dock is perfect for fishing or you can tie-up your own boat or jet ski (or rent one from the many marinas on the lake). I can also provide my motorboat as a rental thru Boatbound - its a Sea Ray 180 sport and I offer daily rentals at a very reasonable rate and complementary use of waterskis and a 4 person tube. A staircase leads down into the water for swimming in the largely sand bottomed lake. We can provide flotation devises, swim rafts, water-skis and a 3-4 man towable tube with all the riggings. Bring your own Kayak or you can use our Kayaks - one is a 14 ft. Necky Manitou for the more experienced paddlers and one brand new, lovely fiberglass Hurricane Skimmer 116 which is a sit on top for all levers of paddlers. Paddles provided. And don't forget your fishing poles - Lake Hopatcong is one of prime freshwater fisheries on the East Coast. The property is lovely all four seasons a year. Great for a family vacation or a romantic get-away. I keep the house immaculately clean, all the beds will be made with fresh linens, and there are both beach and bath towels provided. I even provide two bath robes for the Hot Tub. Discounts available for weekly and monthly rentals.
Deep-water Davis Cove is one of the nicest spots on Lake Hopatcong with 180 degrees lake views. The Lake itself has a long and rich history, discovered by the Lenape Indians 14,000 years ago, this was the chic destination for New York actors and socialites at the turn of the century and the roaring 20s. Today, the Lake is knows as the largest in New Jersey with 43 miles of shoreline and is very popular for fishing, water sports and restaurant-hopping via boat. Our home is on a quiet side street with little traffic and the neighborhood is perfect for walking, running with side roads and hills. There are numerous restaurants in the vicinity and also all around the lake.
Bob is an excellent host. His house very clean, extremely well-equipped and very comfortable. We have absolutely no complaints and would highly recommend Bob's property to anyone! Our stay was perfect! Thanks!
Peter
2017-02-02T00:00:00Z
We enjoyed our stay at Bob's house. The house is well furnished with good quality kitchenware, linen and etc. You just need to bring your clothes. The lake view is beautiful from the deck and master bedroom especially the sunrise. Bob is very responsive and accommodating to our needs. We will return one day.
carmen lee san
2016-11-06T00:00:00Z
Our family had a wonderful stay at Bob's lakeside home. The home itself was perfect for our family and being right on the lake, in beautiful Davis Cove, was fabulous. Our boys loved fishing off the dock every night. And we all enjoyed spending time swimming in the lake. The house had everything we needed and Bob was always available to deal with any issues. Thank you for a great stay!
Tara
2016-07-10T00:00:00Z
This lake house was just as beautiful as the pictures on the site. Everything we needed or wanted was there for us. Aesthetically pleasing and easy to be in, from fireplace to hot tub!
Joseph
2017-02-13T00:00:00Z
Bob was a pleasure to work with from the moment we requested our vacation dates. He was flexible with check in time, and in the days leading up to our vacation he let us know he would provide robes and extra firewood given the sub zero temperatures that would occur during our stay. We appreciated the extra thought and felt taken care of before we even arrived! Upon arrival, Bob made us feel at home quickly by showing us around the property. Bob provided take out menus and a map of the lake as well, little touches that we appreciated. The house is incredible, the photos are only a glimpse into the beautiful view and pristine condition of the house. We cooked every meal at the house, and had everything we needed to do so. The bed was extremely comfortable, linens wonderful as well. The hot tub was where we spent most of our time, even in the cold weather! We were greeted by swans who love to hang out by the rock, and enjoyed feeding them bread that Bob had left for us. Overall, the weekend we spent at Lake Hopatcong was incredible. The house was perfect, and we truly can't wait to visit the house again.
Jordan
2016-02-14T00:00:00Z
I had a fantastic time when I stayed here for my birthday. I came with family to enjoy a relaxing time away from the city busy life. This is a great option! The views an beyond beautiful. Bob was great with giving us a detailed tour around the house and left us with restaurant recommendations. You will have everything you need! I will definitely come back. It was a simple and nice drive also. I had the best birthday of all time mainly because this house is so breath taking.
Maev
2016-04-02T00:00:00Z
such a beautiful place. . . the time we spent on the lake was wonderful. We just wished we had more time. Anyone looking for nice place to spend a peaceful vacation . . this is the place.
Brenda
2016-04-20T00:00:00Z
What a spectacular weekend. This place is simply stunning. The interior is impeccably clean and beautifully furnished. The views of the lake from the wonderful outdoor patio are gorgeous. And the cherry on top was the hot tub, a awesome place to sit and soak as the sun sets. The host Bob is readily available for any questions and communicates extremely well. He greeted us upon arrival and made sure we were comfortable with the best experience possible before leaving. We seriously felt like we were in suite at a 4 star hotel. Will definitely stay here the next time we are in the area.
Mark
2016-05-02T00:00:00Z
Værelsestype
Helt hjem/lejlighed
---
Ejendomstype
Hus
---
Med plads til
7
---
Soveværelser
Hopatcong, New Jersey, USA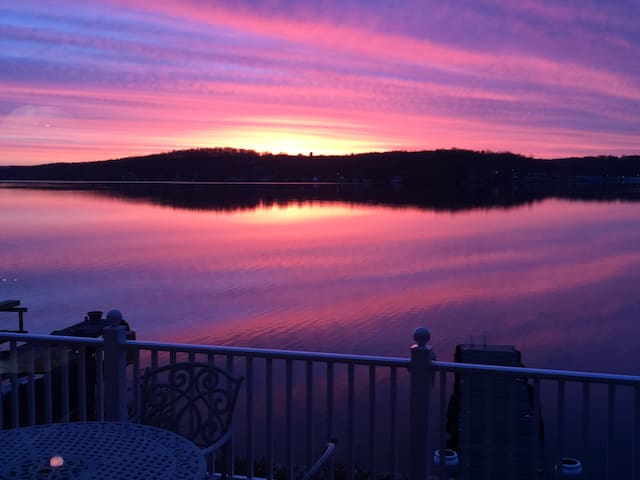 The house, upscale single family home locates in a beautiful neighborhood in Scotch Plains NJ and has a lot to offer. The entire house has 4 bedrooms and two and half bathrooms. About your room : Furnished basement, Private bedroom Queen size bed, TV/DVD player, free WIFI and closet , and your own private bath and living room .Guests will have access to all the amenities the home has, Fridge, washer and dryer are all available in the house. Sharing nice gourmet kitchen and dinning room. There are plenty of restaurants and shopping within walking distance as well. Local stores in the area provide all you need for your stay. If you're visiting NYC, there is direct bus service to the city, or you can drive to the nearest train station, which would take you into or out of NYC 24/7 and spare you the traffic along the way. About your hosts: Friendly couple who live in the main house, we love soccer and English premier league games are available by Fox soccer channel Saturdays and Sundays.
Tony and Kim have been fantastic hosts for the 3 weeks I stayed at their place. The place is really worth the money. Tony is particularly helpful and does his best to make you feel at home.
Kirti
2014-08-27T00:00:00Z
Tony was an extremely accommodating host and my experience there was very pleasant. The basement is spacious, the room is nice and the bed was comfortable. I would definitely stay there again if I had the chance .
Kariem
2015-09-02T00:00:00Z
Great host! Great experience
P
2016-06-04T00:00:00Z
Tony is a friendly and gracious host. I've had a great time staying at his place.
Hasan
2016-06-26T00:00:00Z
Tony and his family are great hosts. I stayed for a week and did not have any problem. They are always very friendly and helpful. The room is in the basement hence does not get much natural light, but apart from that its very comfortable, cozy and clean. The location is also good, has many shops and eating places within a mile.
Avik
2014-06-15T00:00:00Z
I never felt welcome but was instead essentially ignored. The space was not clean and was full of clutter. Sheets and towels were never changed. The space and the bathroom were not clean when I arrived and were never cleaned during my stay. The broken toilet was disgusting, and the lack of heat was uncomfortable and unpleasant; I should not have had to use a space heater, which gave me a bad headache . I felt uncomfortable complaining, so I just put up with it until I found another place to stay. Could't wait to leave. I thought about asking for my money back but didn't want any further problems with the host. Personally I think that airbnb should refund my money to make up for a nasty experience.
Linda
2016-12-26T00:00:00Z
Very large space with separate living area and bedroom. Bed was very comfortable. Basement is finished and very quiet. All the comforts of home.
Michael
2013-01-24T00:00:00Z
Tony was an excellent host. The bed was made and there were fresh towels waiting for us in the bathroom. The accommodations were exactly as pictured, with plenty of space in the bedroom and living room area.
Ricky
2015-05-12T00:00:00Z
Værelsestype
Privat værelse
---
Ejendomstype
Hus
---
Med plads til
2
---
Soveværelser
Scotch Plains, New Jersey, USA
Beautiful home in the suburbs of NYC with full use of entire house and backyard including a grill for BBQ. We are walking distance to restaurants on Springfield Ave and minutes away from downtown where there are lots of great place to eat. Perfect location for families visiting NYC but wants a quiet place to stay. We have a toddler room with toddler bed and changing table. The express train is 38mins to Penn Station. We have high speed WIFI and a finished basement.
You have access to the entire house. If you have any questions please feel free to contact us.
Maplewood is a beautiful town approximately 35mins outside of NYC. The people here are very nice, creative and outgoing. There's wonderful parks, libraries and activities for children and families.
Værelsestype
Helt hjem/lejlighed
---
Ejendomstype
Hus
---
Med plads til
4
---
Soveværelser
Maplewood, New Jersey, USA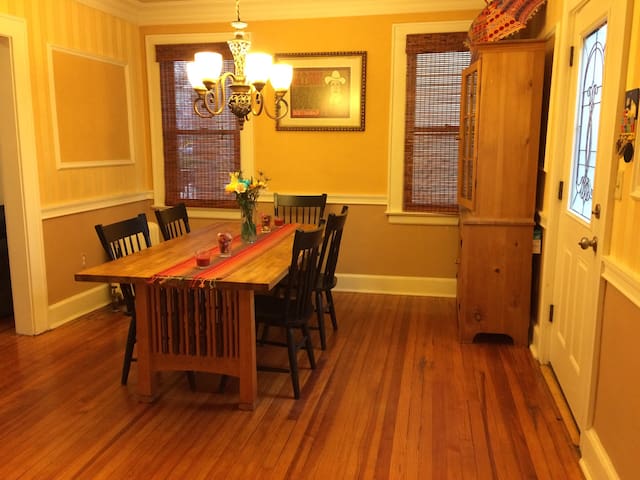 Full apartment available late April currently under construction. Apartment provides a king master bedroom, Jack and Jill bathroom, laundry, full kitchen, family room and recreational room with the bar and a pool table.
Full apartment currently under construction kitchen and bathroom still remain to be done additional family room and Billiard extruding wet bar area... but also can be segmented so that the Fourier kitchen bathroom and master bedroom suite are all you rent. Fully furnished all appliances and amenities
2 train stations within a mile from my house. I have a built-in swimming pool outside kitchen and gazebo with internet and television very peaceful neighborhood two and a half acre lot. Great Swamp bird sanctuary is basically in my backyard lovely area for walks.
Værelsestype
Privat værelse
---
Ejendomstype
Lejlighed
---
Med plads til
2
---
Soveværelser
Long Hill, New Jersey, USA
I am very close to Newark (URL HIDDEN) place is close to public transportation to NYC via bus or train. The 112 bus stop to the Port Authority is one block away. The Roselle Park train station is less than 5 minutes away. The house is close to the Garden State Parkway, exit 137. There are great restaurants and dining in Cranford, only a few miles away. You'll love my place because of the neighborhood and the outdoors space. Kennedy and LaGuardia are far from me.
I live in a residential area with pleasant walking and a large park nearby.
The host canceled this reservation 2 days before arrival. This is an automated posting.
Daniel
2016-12-28T00:00:00Z
Cheryl and Jase made my husband and I feel right at home at their house. When we arrived Cheryl offered us tea and we had a nice conversation. We were admiring Cheryl's Civil Rights Movement memorabilia and she had an abundance of knowledge that she shared with us about her experiences. She is quite an inspiring woman and we are grateful to have had the opportunity to chat with her this weekend. Their home is small, but more importantly it is clean. Be aware that there is only one bathroom in the home that is shared. However, we never had to wait to use the bathroom, and as I mentioned, it is clean! The room has a bunkbed with the bottom bunk being a full size matress. This was comfortable for my husband and me sleeping on the bottom bunk. There is a cat, but she was hiding most of the time we were there. Wifi works well. Plenty of street parking. 24 hour CVS is right down the street. Overall, very pleased with our stay!
Stephanie
2017-02-12T00:00:00Z
Værelsestype
Privat værelse
---
Ejendomstype
Hus
---
Med plads til
2
---
Soveværelser
Roselle, New Jersey, USA
The Raritan Inn is located on 24 acres in northwestern New Jersey, adjacent to the South Branch of the Raritan River and the 17-mile long Columbia Trail. You'll love my place because of the eco-friendly ambience, the delicious homemade breakfast in the morning, the private rooms for guests, and nearby outdoor activities. My place is good for couples, solo adventurers, and business travelers.
Værelsestype
Privat værelse
---
Ejendomstype
Bed & Breakfast
---
Med plads til
2
---
Soveværelser
Califon, New Jersey, USA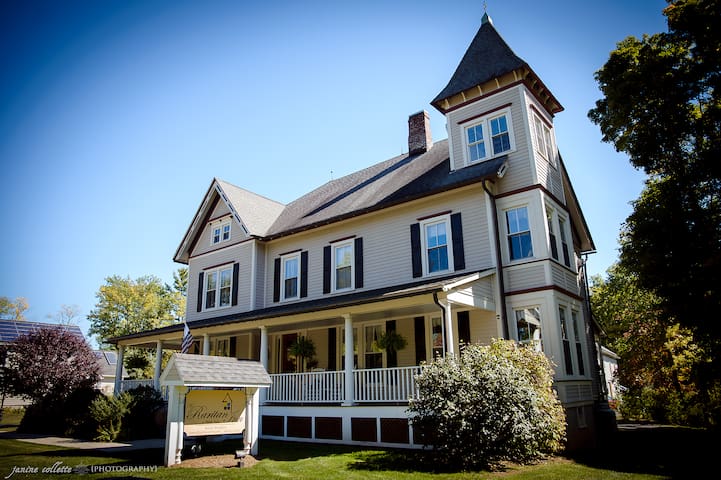 ***Update: We are out of the country from 4/8 - 4/20 and will not be able to respond to booking inquiries until 4/20. *** Super cozy, lakefront suite. Open your door and become showered by Nature and exhale away all of your stresses. Good for anyone needing a break from NYC's energy or wanting to relax away from home. Only 31 miles from New York City (1 mile from train station), 1.5 miles from downtown Denville (great shopping, restaurants and bars), and minutes from all major high ways.
A majestic house right on Rainbow Lake in Parsippany, NJ, located 31 miles from NYC. The Suite has a large loft room with it's own small, full bathroom (it's a lakehouse, give us a break). There's another room off to the side with a table and 4 chairs that you can sit, eat a meal, or play cards at with plenty of closet space for extended stays (and a laundry room should you need it). Outside, you have access to a fire pit, a canoe, a paddleboat, and comfy chairs to sit in. One Hoboken guest told us, "I can't believe how beautiful this lake is, so close to NYC!" On the first floor is a kitchen, nook space overlooking the lake, and large living room with a fire place. You're welcome to use the 1st floor space, just be aware that we'll be using it too (and our beloved doggies, Sweet Pea & Ninja will want to be your new best friends). Positive energy and socializing would be expected. : )
****PLEASE NOTE THIS HOUSE IS LOCATED IN A LOVELY NEIGHBORHOOD SURROUNDED WITH LONG TERM RESIDENTS. THIS HOUSE IS IDEAL FOR A QUIET GETAWAY. PREFER CALMER RENTALS. ****** If you like eating out, there are some great restaurants nearby: - Sogo - sushi and hibachi - Cafe Metro - organic, locally grown - Ah Pizz - pizza, italian - Denville Dairy - if you're an ice cream fan, you can't miss this place. In the summer, the lines are way out the door. - Thatcher McGee's - Irish bar and restaurant - Veggie Heaven - vegetarian and vegan fare
Very comfy and clean
Paul
2017-02-02T00:00:00Z
Everything was great. Enjoyed the stay will come back again. Thanks
Alan
2016-12-29T00:00:00Z
This is my second stay here. The room is very good, plenty of space. Great location right on the lake. Hosts are super nice and friendly. Bathroom and shower are small but fine for 1 person
John
2017-03-01T00:00:00Z
Great hosts, great space, peaceful experience.
Bob
2017-01-19T00:00:00Z
This was a beautiful location literally right on the lake - yet in the heart of a busy region. Plenty of privacy for a relaxing get-away, and the place was super cozy. Plenty of amenities were provided which was so great when I realized I had forgotten things like toothpaste late at night (they even had hot chocolate!). Highly recommend a stay here!
Nikki
2017-01-30T00:00:00Z
Katie is super nice and very responsive to any questions. The room is beautiful and right next to the lake. Everything was clean and there was even a TV with FIOS !
John
2016-12-20T00:00:00Z
The place was very clean, private and charming - exactly as described and shown on the pictures! Katie and Chris were very friendly, quick to respond and easy to deal with.
Aleksey
2017-01-15T00:00:00Z
Really enjoyed our brief stay... Very comfortable and relaxing vibe... Nice basket of snacks and thoughtful basket of things you may have forgotten at home of toiletries. Will definitely come back next time work calls!
Cortney
2017-04-03T00:00:00Z
Værelsestype
Privat værelse
---
Ejendomstype
Hus
---
Med plads til
2
---
Soveværelser
Denville, New Jersey, USA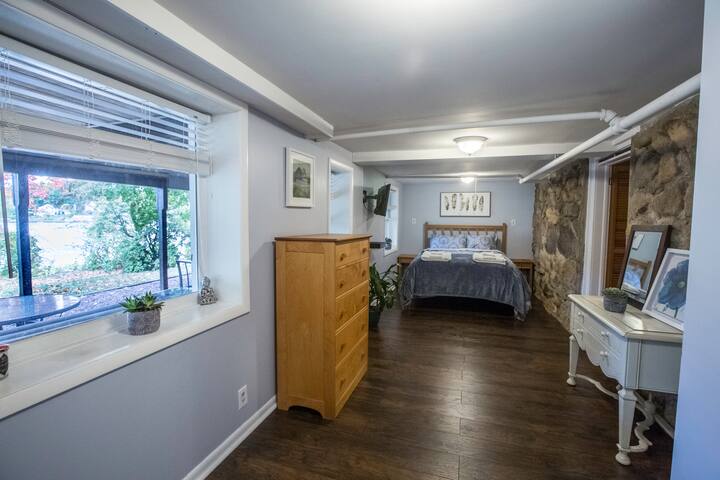 Morris County - Airbnb
:
Gennemsnitligt

4.91

ud af

5

stjerner fra

252

gæsteomtaler
Indtast datoer for at se den samlede pris. Yderligere gebyrer gælder. Der kan blive tilføjet skatter.