Victoria Drummond Tower was built as a Folly Tower in the victorian period in 1858 by Victor Drummond Delap as part of Monasterboice House & demesne. The tower is regarded as a folly tower built in remembrance of his late mother Victoria Drummond Delap. Recently restored into a small habitable dwelling and is now available for rental for selected months of the year. A very unique and enjoyable place to stay with a vast range of local & historical amenities at your disposal.
Drummond Tower comprises of 4no. floors including a top roof level which guests can enjoy extensive views of the surrounding countryside. The ground floor comprises of a kitchen area with cooking and washing facilities. On the first floor there is a comfortable living room with adequate space to relax and watch TV or read books form the extensive book collection. The second floor bedroom is the last of the internal floors which comprises of a queen sized bed with en-suite, shower and washing facilities. One of the great advantages is waking up in the mornings and looking out over the tree tops and the immediate countryside. The top floor level is the external castellated roof terrace. There is 360 degree views of the area and space to enjoy the fine weather. The roof terrace is illuminated so one can access the area during at night to look at the stars
Drummond Tower is situated in the countryside on the Boyne Valley Drive - R168. 5 mins from Monasterboice Round Tower & Melifont Abbey. Newgrange, Dowth, Oldbridge (Battle of the Boyne) and Slane / Collon Village is within 15mins drive. Drogheda is located nearby with shopping, Restaurants and Bars. We would recommend Monasterboice Inn (5 mins drive) with selection of fine food & beverages
First I would like to mention how cool this airbnb is. Typing the coordinates into a GPS makes it feel more like a treasure hunt, and calling this place a hidden gem would be underselling. Do yourself a favour and book it more than one night. The hills are beautiful and spotted by cows/sheep, and the grounds are absolutely stunning. The study makes you feel super regal and the rooftop terrace is breathtaking. I didn't want to check out!
Sarah
2017-04-05T00:00:00Z
If you are looking for a castle/tower home to be part of your Irish experience or a unique place to stay, this is it. Eanan did an amazing job turning this near 150 year old tower into a modernized home without taking away the look and feel of the tower. The views are incredible from the top. Eanan was always available for any questions and made sure I had a comfortable stay.
Evan
2017-04-03T00:00:00Z
Værelsestype
Helt hjem/lejlighed
---
Ejendomstype
Slot
---
Med plads til
2
---
Soveværelser
Drogheda, Louth, Irland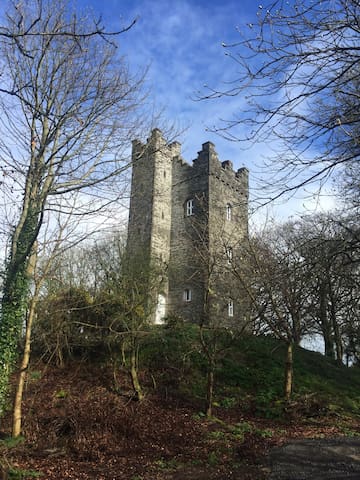 Welcome to the heart of Louth! On our doorstep is Monasterboice Round Tower & High Crosses. A short drive to Hill of Slane, Drogheda, Mellifont, Castlebellingham, Clogherhead, Beaches, Newgrange, Battle of Boyne, Millmount, Annagassan Viking Village
This is a really lovely cottage, very authentic, warm, cosy and welcoming. The phone reception is not great in this area but is ok outside the building
We are in the countryside while having everything on our doorstep. We are very lucky to live in such a wonderful peaceful place. We are close to many good restaurants in Monasterboice, Clogherhead, Annagasson as well as Drogheda. There is often good live music in Drogheda at the weekends.
If you are looking for a quaint place to stay with rustic charm, Elma and Barry's place is perfect. Very comfortable and quiet. Exactly what we were looking for after staying in Dublin. We also appreciated fresh eggs for breakfast from their chickens.
Kris
2016-06-22T00:00:00Z
The Ferney Park Cottage was incredibly charming and inviting! Elma was beyond kind and accommodating when she found that we hadn't thought to stop at the market before coming for the night, as we had just arrived that afternoon from the US. She stocked our kitchen with fresh eggs (from her own chickens), milk, butter, bread, ham and apples. It was the very nicest of welcomes and a wonderful start to our lovely tour of Ireland! We are very grateful and wish we could've stayed at the Ferney Park Cottage longer.
Peter & Kathleen
2016-09-27T00:00:00Z
Barry and Elma were ace! Really welcoming, funny and warm. We loved the little cottage, the hens and the pigs and the fabulously large gardens and we were made to feel like we could just roam around like we owned the place ourselves. Thanks!
Catherine
2016-08-15T00:00:00Z
En mycket trevlig stuga. Mysigt och välordnat. Elma är en mycket trevlig värd som gör allt för att du ska trivas.
Staffan
2016-11-06T00:00:00Z
you could not ask for more welcoming hosts! we felt as though we had been family friends for years. we stayed 6 nights. very quiet. very comfortable. the cottage has old irish charm but with modern amenities. we got to enjoy veggies straight from their gardens. we couldn't have asked for more. there is so much to see & do that we would suggest a longer stay.
charles
2016-09-01T00:00:00Z
Even if you don't meet Elma and Barry you can feel their hospitality. The cottage is lovely and the area is central to historic sites.
Elle
2016-07-12T00:00:00Z
Elma and Barry's cottage is great. The location is lovely, quiet and relaxing. They were very kind and considerate and left us fresh eggs and milk which were great as we were disorganised and forgot to bring breakfast for the following morning. Would definitely stay again. Oh and they have an excellent hand drawn map of the area - really useful!
Katie
2016-09-13T00:00:00Z
Fantastic weekend. Elma and her family were very kind and welcoming to us. Our rental car fell through last minute, so they even collected and dropped us off. The cottage was extremely homey and cozy. We had a great time, and we hope to return again soon.
Steven
2016-11-01T00:00:00Z
Værelsestype
Helt hjem/lejlighed
---
Ejendomstype
Sommerhus/hytte
---
Med plads til
3
---
Soveværelser
Ferney Park, Louth, Irland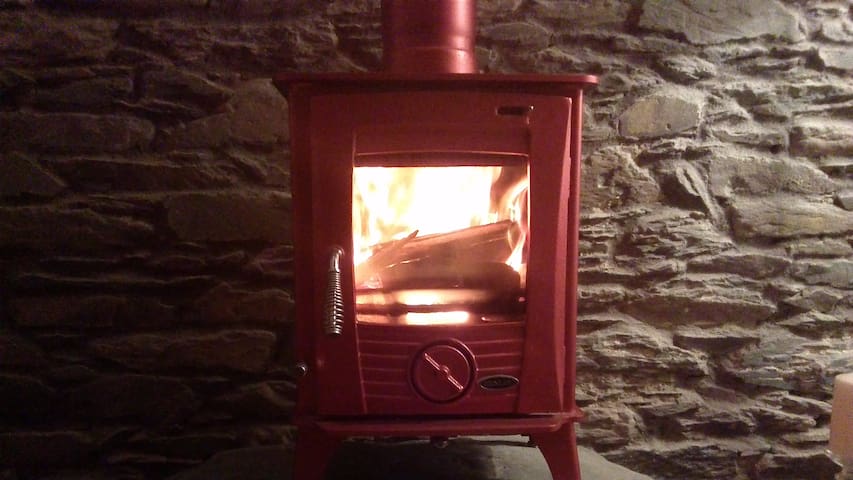 Quirky new build cedar-wood chalet adjacent to my family home, located in the picturesque Boyne Valley approx 35 miles from Dublin. Close to the monastic site at Monasterboice and the world famous Newgrange monument.
The Rookery is a new build cedarwood building with electric central heating and wood burning stove. It has one double bedroom and a mezzanine with a 4 foot bed and a single bed. As it is in the countryside, you will need transport to get there and for touring the area. There are good restaurants in the area and in the neighbouring town of Drogheda, 8 kilometres away. There are plenty of attractions within easy reach including Monasterboice tower and high crosses, Mellifont Abbey and Newgrange, plus the historical areas around the Boyne valley.
We are situated in the valley of the river Boyne, close to many interesting and historical sites including: Monasterboice round tower and high crosses Newgrange and Bru na Boinne Old Mellifont Abbey Millmount Museum, Drogheda Oldbridge Estate and the Battle of the Boyne Trim Castle We are within easy reach of Dublin (1 hour) and Belfast (1.5 hours), and on the motorway route further afield. Galway is 2.75 hours drive, Kilkenny 2 hours, Cork 3 hours, and Donegal town 3 hours.
Chris nous a très bien accueillis à The Rockery. Le lieu est très plaisant et bien situé pour visiter les sites historiques alentours (Newgrange, chateau de Trim...). Dublin est accessible. La maison est très agréable, ensoleillée et bien équipée, y compris pour cuisiner (mixer et cuiseur à volaille).
Émilie
2016-08-15T00:00:00Z
Chris's place is in a gorgeous location, really beautiful. It's really well equipped and extremely comfortable. I highly recommend it, and will probably be back very soon.
Sarah
2016-01-25T00:00:00Z
Really great, comfortable, home from home. Ideal for two friends as had separate sleeping area each. The property would comfortably sleep 5 though - using 2 double beds. If I return to Drogheda I would be keen to rent the property again. We arrived late and the property was left for us to access and Chris was very welcoming. His document outlining directions to the property was clear and easy to follow.
Hannah
2016-07-11T00:00:00Z
A great place in terms of comfort and style. The whole facility well appointed. Terrific host.
Mart
2017-01-07T00:00:00Z
The Rookery turned out to be exactly what we had hoped for - the location is central to so many sights and a great jumping off point for day trips. Chris was a great host. Before our arrival he was very responsive to our questions and his directions were bang on. When we arrived there were little chocolate bars in a jar on the counter, milk in the fridge and tea and coffee there too (two boys on the trip...guess how long they lasted!). The Rookery itself is a gem - very comfortable, everything you need and lots of delightful design elements that you discover over your stay. Chris has put together a binder of resources that cover the Rookery, the sights around, maps. The Rookery also felt very private and secure.
Jacquie
2016-08-22T00:00:00Z
Our first AIR BNB experience and Chris has set the bar high for the competition. He was a wonderful host, made sure we had everything we needed during our stay. Also was very helpful with recommendations of places to visit and with directions. The Rookery turned out to be a great choice for us, located in The Boyne Valley, was a great place to visit with lots of attractions nearby for all ages. A quiet country setting, but located a short drive to lots of other places. We were able to visit nearby Dublin, as well as Galway, Belfast, Kilkenny and the Wicklow Mountains after a short drive. Can't imagine a better experience !! THANKS Chris
roger
2016-04-01T00:00:00Z
Everything was great. The Rookery is wonderful decorated and you can really relax there. We haven't meet the host because he was away but his daughter in law came to welcome us. Location is great because it's close to Dublin and not too far from Belfast.
Ivanka
2017-01-03T00:00:00Z
The house is the perfect place to relax and enjoy the Irish countryside. Really cosy, decorated with an amazing taste, very well equipped...felt in love with this place! Thank you so much Chris!
Jean-Philippe
2017-03-05T00:00:00Z
Værelsestype
Helt hjem/lejlighed
---
Ejendomstype
Hus
---
Med plads til
4
---
Soveværelser
Louth, Louth, Irland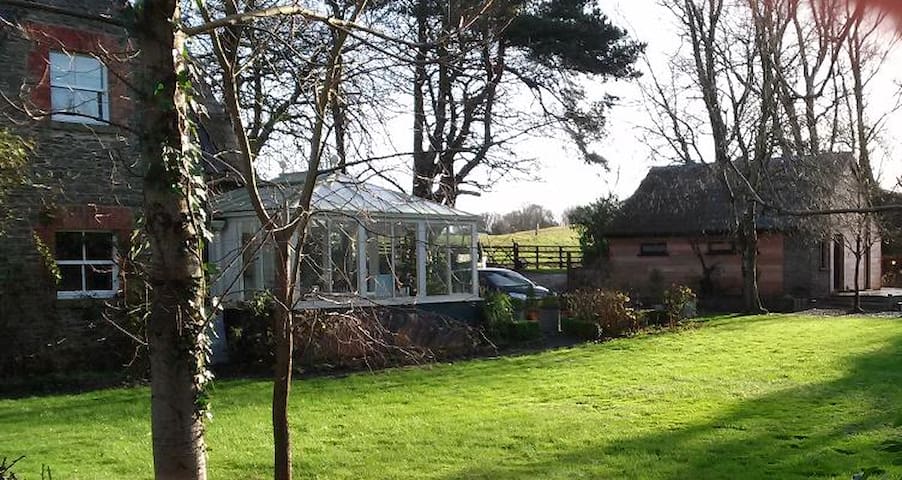 Would you like to visit Newgrange, a stone age burial site older than the pyramids of Giza ?? Would you like to see the Hill of Tara, Slane Castle, Monasterboice round tower, Mellifont Abbey or maybe tour the historic town of Drogheda. Would you like to be collected at the airport, driven in comfort around all the sights in this historic area and fed home cooked food each evening. Generally the area can be all properly seen in 3 days , Newgrange and Knowth on day one, Hill of Tara, Slane castle and the ancient abbey on Slane hill and Monasterboice round tower and Mellifont abbey on day 2 and then the History of Drogheda from 432 when St Patrick arrived to the 1916 rising on day 3 but it is possible to see most of it in 2 days if time is short for you. Almost all of the local historical venues have professional guides to tell the whole story of their historical significance. Each day a packed picnic lunch is provided and evening meals consist of local fish and meat in season (or vegetarian dishes). Cost includes all food, airport collection and delivery and travel to the listed historical venues. Cost is listed per person but there is a 20% discount for children under 12. Cost does not include the entrance fee at each historical site. My recommendation is that you purchase a heritage card for each person. These cost €21 for normal adult or €8 for studentsand children (must show student card when buying) or €55 for a family of two adults and 3 or 4 children. The card is valid for a year and can be bought at the first site we visit, ie Bru na Boinne visitor centre. If you intend to stay in Ireland for a week or two the card will pay for itself quickly since adult entrance to Newgrange is €6 and Mellifont abbey is €3. This cost is mainly to pay for the guide who does a wonderful job of describing far more than my memory would hold. Guests can be collected from airport (or come to house direct) from 10am onwards and checkout is ideally by 11am on day of departure but this can be flexible. The two bedrooms ideally suit 2 adults and one or two children and to provide the best service I am limited to one family staying per visit. This allows me to concentrate on giving you my best service. Linen and towels are also provided. If you wish to come in a rented car parking is available. For your stay you will also have a bathroom exclusively for guests use available to you. Internet broadband and use of PC to check email is also provided. I consider myself to be a good host, I enjoy all forms of cooking and I love to tell people as much as I know about my lovely neighbourhood. I also have a West highland terrier called Harry and he welcomes guests with a friendly bark. My aim is to make you feel as comfortable and relaxed as possible.
Værelsestype
Privat værelse
---
Ejendomstype
Bed & Breakfast
---
Med plads til
4
---
Soveværelser
Balgatheran, County Louth, Irland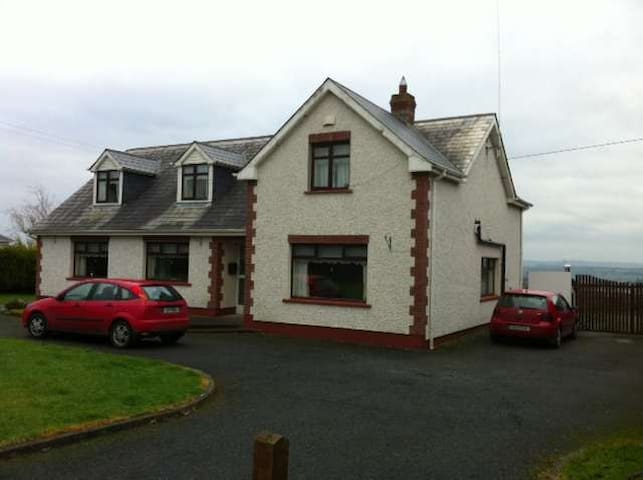 Indtast datoer for at se den samlede pris. Yderligere gebyrer gælder. Der kan blive tilføjet skatter.