New apartment, ground floor, small garden and parking in closed court. It is 3 km from the lake, from the A4 Milan-Venice, Leone shopping center and the train station to Verona, Venice and Milan is 2 min. in the car. Walking distance to the castle, the beautiful squares, major shops and restaurants and bars with live music. The last Sunday of the month antiques market on Thursday weekly market. Beautiful trails for bikes around the country.
Værelsestype
Helt hjem/lejlighed
---
Ejendomstype
Lejlighed
---
Med plads til
4
---
Soveværelser
Lonato, Lombardia, Italien
The St. Anthony Pergola is a Bed & Breakfast in the historic center of Lonato del Garda, in a ground floor apartment with private entrance. The B & B is a family business, we will be happy to welcome you and advise you on the excellent opportunities for cultural, artistic, environmental, nature, and in the nearby cities of art. Perfect for groups of friends, families with children, couples.
The kitchen offers the possibility to freely prepare breakfast or can be prepared by me. You can also dine outside in the courtyard, under the pergola. A room with a sofa, TV and seventeenth century fireplace can offer perfect relaxation.
Værelsestype
Helt hjem/lejlighed
---
Ejendomstype
Lejlighed
---
Med plads til
3
---
Soveværelser
Lonato, Lombardia, Italien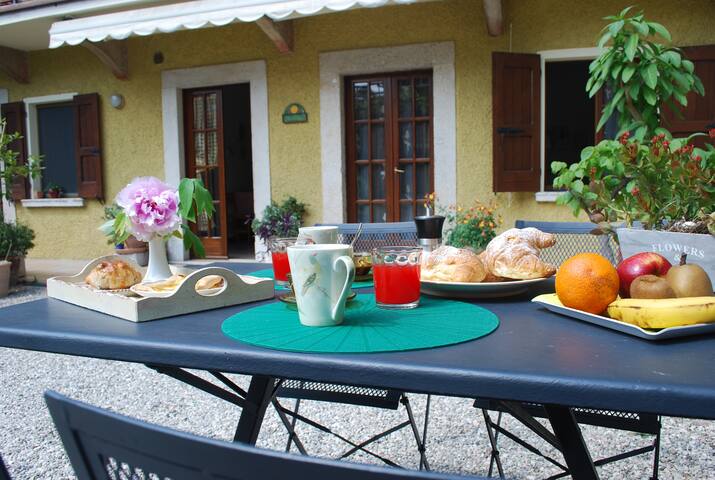 Bedroom with frescoed with spacious bathroom in a prestigious eighteenth century building, the first floor with grand staircase. Breakfast cured. Parking and garden. The Palace is 4 km from the motorway A4 exit Desenzano, 5 km from Lake Garda. At 10 minutes from Sirmione, 20 minutes from Salo. Can easily reach the coast of Brescia, Verona and the Garda Trentino also means lake.
The accommodation in this environment gives the thrill of a journey through time.
The neighborhood is a typical Lombard village, dominated by a castle, from the dome of a cathedral and a municipal tower.
Quelques jous de pure magie chez Maria Grazia et Angelo. Nous avions besoin d'une parenthèse de calme et de beauté après les semaines terribles vécues à Paris... Au delà de nos attentes, le lieu, nos hôtes et la région magnifique nous ont charmés. Sous les plafonds somptueus aux allégories des quatre saisons, bercés par la musique baroque et arie chantés par Pavarotti, nous avons été envoûtés par la beauté charmante du palais Girardi. C'est une adresse que nous aimerions garder pour nous seuls... Nous y retournerons très vite, et plus longtemps! Merci encore Grazia et Angelo.
Agatha
2016-01-02T00:00:00Z
Quel enchantement de découvrir un tel lieu empli des élégantes traces du passé ! Grazia et Angelo partagent leur passion de l'histoire et l'amour du beau: musique, peinture, architecture... Vivre un petit-déjeuner servi dans la salle à manger au plafond gracieusement décoré, avec le timbre magnifié de Pavarotti, tout près dans le salon de musique...inoubliable ! Catherine et André
André & Catherine
2016-05-14T00:00:00Z
My sister and I stayed with Angelo and Maria this past weekend. This was the second visit for me and again we left Lanato with fond memories which we will cherish for years to come. Angelo is such a knowledgable gentleman and an attentive host. The property is impeccable. Thanks once again for welcoming us so graciously. We wish you and Maria all the very best and hope we can stay in touch. Pamela and Vanessa
Pamela
2015-11-22T00:00:00Z
We have had a nice stay in Lonato, in the beautiful palazzo of Maria Grazia and Angelo. When you enter the gate you are surprised by the house, that is hidden in the street. Coming up you enter a beautiful palazzo that is decorated even more beautiful. The rooms have fantastic high sealings and frescos. The room is clean and has a nice bathroom. Different than most B&Bs, you life in the area with Maria Grazia and Angelo, which take good care - breakfast tea tips and stories about the area are part of the experience. Also, Angelo will take care of closing the house at night and side note: he makes a great scrambled egg! The morning is filled with musica Classico and in the city of Lonato Maria Grazia will send you to a very nice restaurant! The stay was different, but very nice and we enjoyed the hospitality! Thank you Maria Grazia and Angelo.
Robert-Jan
2016-08-24T00:00:00Z
Most beautiful peaceful place, perfectly restored with amazing taste. Wonderful charming hosts, I am looking forward to another visit
Patricia
2016-05-25T00:00:00Z
We had an absolutely wonderful stay! This apartment is beautiful and quiet and the hosts are so welcoming. I lost my cellphone one night and the host kindly drove to the restaurant to find it after midnight! They really went above and beyond with hospitality. We'd love to go back!
Naomi
2016-07-14T00:00:00Z
Che meraviglia! Residenza unica e di grande valore, location ideale per visitare tutte le sponde del lago, e non solo. L'accoglienza è stata estremamente calorosa e ha reso l'esperienza di soggiorno davvero eccezionale. Davvero consigliato!
Carlo
2016-07-11T00:00:00Z
We really enjoyed our staying at Maria Grazia and Angelo place! A beautiful and crispy clean room with bathroom located in a beautiful antique palazzo with stunning original frescoes and stucco on the ceiling and walls. It was feast for our eyes! Vintage window with authentic shutters were coming out in a beautiful garden. We slept on a very comfortable bed in a tastefully furnished room. Bathroom with a shower and tub is royally large. Maria Grazia made sure you could find everything in it you would need after a long trip, including a generous set of fluffy towels. At the day we arrived the hosts organised a concert performed by two young and talented musicians in the palazzo's main living room for some special local guests arrived. We were kindly invited to join the concert and were impressed by the performance. Next day we had delicious breakfast accompanied by sounds of Turandot Puccini, which, with rich entourage of antique villa produced a sensational and unforgettable impression on us. Maria Grazia and Angelo are wonderful and charming hosts, they made us feel welcome. They do everything to make your stay as pleasant and comfortable as possible. We enjoyed our talk with them and learnt a lot about the history of the villa and Lombardia region in general. We will definetely come back. Thank you Maria Grazia and Angelo, we had a great stay! Sasha and Karina
Sasha
2016-06-22T00:00:00Z
Værelsestype
Privat værelse
---
Ejendomstype
Lejlighed
---
Med plads til
2
---
Soveværelser
Lonato, Brescia, Italien
Double bedroom, balcony and private use of the bathroom. Wireless, kitchen and living room are available. The owner lives in the apartment that is quit, surrouded by greenery, next to historic center. Free parking. 5 km from Garda Lake.
You can go to your room without entering the kitchen and living room.
L'appartamento dista 500 metri dal centro storico.
Michela is an amazing host and the home is beautiful! Everything that we needed was provided and very clean. Michela went above and beyond giving us great recommendations and delicious breakfast. I very much recommend staying with her!
Jean-Francois
2015-07-19T00:00:00Z
Muy bien ella es un señora muy dulce y educada, si la descripción de la casa es correcta, es más de lo su ella ofrece, y para ir al Lago de garda en carro es buen lugar
Lizbeth
2015-09-28T00:00:00Z
Michela è molto attenta, puntuale e precisa nelle comunicazioni e la sua gentilezza basta da sola a farti sentire coccolato.
Valentina
2016-04-11T00:00:00Z
Michela é stata una valida padrona di casa , ci siamo trovati benissimo , é stata accogliente e di grande compagnia. La camera comoda con un bagno grande ... Ci ritorneremo con tanto piacere . GRAZIE MICHELA.
fabio
2016-04-18T00:00:00Z
She is the best host i ever met. The room condition was really good and the view was good too. And i like her and this house she took care of me and gave me the best way to travel around Desenzano. Everybody has to stay here okay? She is the best !!!!!!
우
2016-05-08T00:00:00Z
Michela was a fantastic host. She picked us up from the local station and when we got back to her home she laid out fresh homemade ice tea which was delicious. Michela made us feel extremely welcome, the room was clean and we would definitely recommend her place to anyone.
Harry
2015-08-17T00:00:00Z
Geweldige gastvrouw. We voelde ons echt welkom!
Marielle
2016-05-20T00:00:00Z
Nous avons dormi une nuit chez Michela. C'est une hôte formidable. Elle nous a très bien accueilli dans son grand appartement où nous nous sommes senti à notre aise. La chambre est grande et dispose d'un petit balcon. De plus, la salle de bain privatisée est un vrai plus. Michela nous a aussi préparé un petit déjeuné maison qui était très bon. Nous recommandons vraiment cette adresse.
Dylan
2016-06-30T00:00:00Z
Værelsestype
Privat værelse
---
Ejendomstype
Lejlighed
---
Med plads til
2
---
Soveværelser
Lonato del Garda, Lombardia, Italien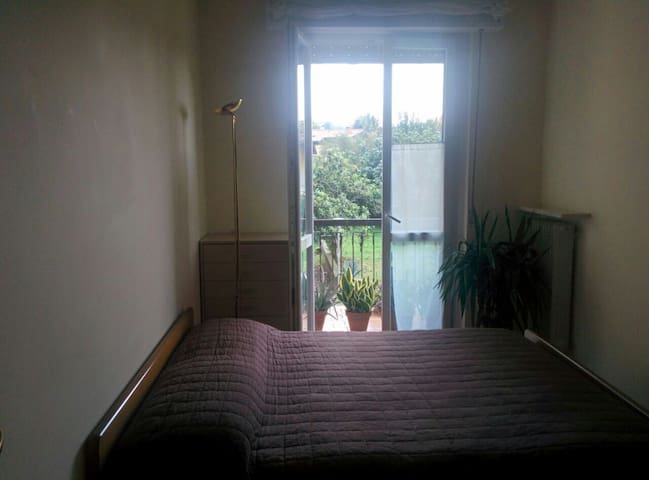 Ny stuelejlighed med have, der støder op til det historiske centrum af Lonato del Garda, en kort afstand fra Gardasøen og skønheden i de omkringliggende landsbyer. Det giver den bedste komfort for ophold på op til fire personer.
Lejligheden ligger i et nyt kompleks af rækkehuse i et roligt område kun få skridt fra den middelalderlige Citadel og Rocca af Lonato D / G. I nærheden af Gardasøen
En Lonato vil blive fascineret af den naturlige skønhed og historiske
Très bon accueil, Aldo est disponible pour venir nous chercher dans Lonato. Des petits gâteaux maison et des jus de fruit pour l'accueil. le logement est très propre et agréable, tout à fait conforme au descriptif.
Michel
2015-08-21T00:00:00Z
The apartment was amazing. Aldo is a wonderful person and a great host. In addition thank you very much for your kindness. I definitely can recommend Aldo's place.
Arash
2016-03-30T00:00:00Z
Aldo foi muito gentil e atencioso deste o primeiro contato. Respondeu sempre prontamente a todas as perguntas que enviei. Foi claro nas instruções para chegarmos ao apartamento no dia do check-in e pontual para receber as chaves no check-out. Para nos receber, preparou deliciosos biscoitos típicos feitos com amêndoas e nos explicou como tudo funcionava. Também deixou à nossa disposição itens além do básico como shampoo, gel douche, sucos, etc. A casa é nova, muito limpa, bem cuidada e totalmente equipada. As cama e o sofá-cama são muito confortáveis. Está localizada numa região muito tranquila. sem dúvida, voltaria a me hospedar lá!
Angela
2015-10-12T00:00:00Z
É a segunda vez que nos hospedamos no apartamento de Aldo. O local é muito agradável e tranquilo. O apartamento é muito bem equipado e bem mantido. Por exemplo, o fechamento do box agora é com portas de vidro, não mais com a cortina que se entre vê na foto do banheiro. Aldo é muito gentil e atencioso, pontual e disponível para ajudar. Por ter familiares na região vamos para lá 1 vez ao ano e espero poder me hospedar muitas outras vezes ali.
Angela
2016-07-20T00:00:00Z
Aldo was an amzing host. the house was perfect, with everything that you think you can need, beside the basic things, the kitchen was full with all the thing that a modern kitchen have. we have a computer free to use with free internet, the rooms design with a lot of investment and thinking on all the details. the house has a lots of windows doors air coming from al the direction , and with nice view The neighborhood very clean quit and with free parking. and the village locate in the middle of any place, 1 hour to Verona, 1.5 hour Milan, 20 minutes to Garda Lake, 1.5 hour to Venzia , 1 hour to Bergamo and..... but the Aldo is the "story", he help us with anything we need, with smile and strong will to help and to make our trip comfortable, on the second day we tag the address of the house on the GPS in the car as "Home", and we really fill that it was a home during the trip. and Aldo fill like part of the family.
william
2015-07-06T00:00:00Z
Tres bien recu personne tres avenante Avec ds boissons ds le frigo plus ptits biscuits fait maison en plus parle et comprend un peu le Francais nous a donner de tres bonne adresse pour manger de bonne pizza et si nous avions Besoin de lui on pouvait lappeller enchante de Notre sejour merci Aldo Cest agreable de rencontrer ds gens comme vous
Jean pierre
2016-08-21T00:00:00Z
My boyfriend and I had a great stay at Aldo's flat during our Lake Garda holiday! The apartment is located close to the centre of the small town of Lonato. If you don't mind going by car to visit the lake, it is a good place to stay as it is more quiet, cheaper and not as crowded as other locations right beside the lake. Aldo is a very nice and helpful host. His flat is extraordinary clean and well equipped. On arrival, we found everything as it was described by Aldo. My boyfriend and I were very happy and we can heartily recommend Aldo's flat. Laura (21)
Laura
2016-09-12T00:00:00Z
Our stay in Aldo's appartement was just amazing. It was a very clean and cosy place. It was near to the lake and the other accomodations. Aldo was very nice and gave us some handmade cookies, juice, water and a bottle of wine. We really recommend this place!
Amélie
2016-08-06T00:00:00Z
Værelsestype
Helt hjem/lejlighed
---
Ejendomstype
Lejlighed
---
Med plads til
4
---
Soveværelser
Lonato, Lombardia, Italien
5 appartamenti in antica cascina ristrutturata e posizionata sulle colline moreniche adiacente al casello autostradale di Desenzano del Garda (BS) - comodo ai servizi ( ristoranti, supermercati, autostrada) imerso nel verde,tranquillo, 5km dal lago e centro Desenzano 20km da Gardaland,Zoo,Canewaorld.....
5 appartamenti in un borgo vecchio restruturato molto tranquillo ed acogliente
imerso nell verde tranquillo,ottimo per camminate,escursioni in bici.....
Værelsestype
Helt hjem/lejlighed
---
Ejendomstype
Lejlighed
---
Med plads til
4
---
Soveværelser
Lonato del Garda, Lombardia, Italien
My apartment for 6 persons is set in the countryside of Lonato and will charm for new spaces, comfortable and bright, and the beamed ceilings, is suitable for families with children, groups of friends, couples, for business or holidays. It has two bathrooms and is disposed on 3 floors. The last will leave you breathless and is loved especially by children!
The apartment has a separate entrance with a small space. In the same complex there are 2 other apartments for 4 people each. And 'composed on the ground floor of a living room with sofa bed and TV and a kitchen equipped with refrigerator, stove, microwave, kettle, induction hob, dishwasher and all necessary utensils; on the second floor of a bathroom and a double chamber; on the third floor another bathroom and a bedroom with two single beds.
The apartment is located in a quiet area and the whole neighborhood will make you feel at home!
Værelsestype
Helt hjem/lejlighed
---
Ejendomstype
Lejlighed
---
Med plads til
6
---
Soveværelser
Lonato, Lombardia, Italien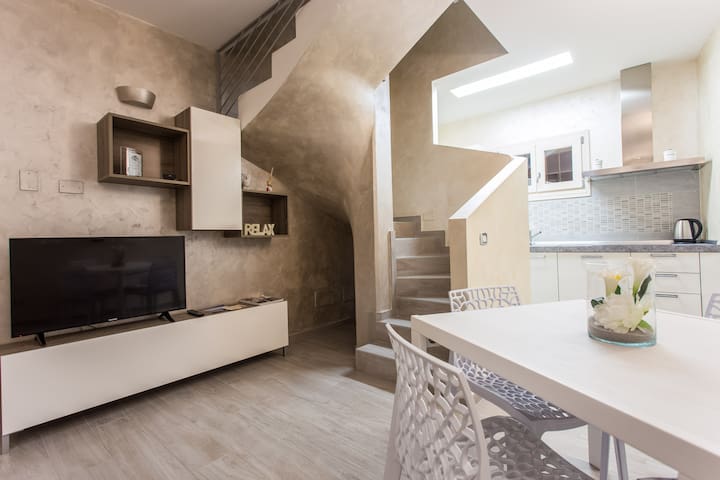 Apartment located in Lonato just 6 Km from Lago di Garda in a very quiet corner. It has a big private terrace and parking space. It's very close to Arzaga Golf Club and it can be quite strategic as access to the west side of the Lake avoiding the traffic of the lake side road.
Erverything perfect,perfect,perfect!!!! Thank you so much Fulvio!
G. Marie
2016-08-16T00:00:00Z
Fabulose appartment, modern design with a touch of bohemian athmosphere. We stsyed there with three small kids. The kitchen is fylly equiped. The host was very friendly and helpful, fluent in English. Would defenatelly stay at Fluvio's appartment again.
Yuval & Alina
2016-08-22T00:00:00Z
Wir wurden von Fulvio's Bruder und seiner Mutter empfangen. Die Englischkentnisse auf beiden Seiten reichte für alles Wichtige vollkommen aus :) Das Appartement war toll! Es gab alles was das Herz begehrte und noch mehr darüber hinaus. Genug Handtücher, alles wichtige für die Nutzung der Küche, Waschmaschine war vorhanden. Alles sehr sauber und schön gross. Fulvio erkundete sich nach unserem Wohlbefinden per sms zwischendurch. Die Terasse war schön gross und lud zum Entspannen ein. Die Lage war für uns vollkommen ok, da wir mit dem Auto da waren und somit alles super erreichen konnten. Es gab einen Stellplatz fuers Auto und man hat uns auch Unterstellmöglichkeiten fürs Fahrrad zur Verfügung gestellt. Alles in allem wirklich TOP! Mehr als zu empfehlen! Das einzige Manko: Leider gab es kein WLAN. We were greeted by Fulvio 's brother and his mother . The English knowledge on both sides were totally enough out of everything important :) The apartment was great ! There was everything the heart desired and even more beyond. Enough towels , everything important for the use of the kitchen , washing machine was available. Everything was very clean and nice and big . Fulvio explored between through to our well-being via sms . The terrace was nice and large and invited to relax. The location was perfectly OK for us as we were there by car and thus could achieve anything great. There was a parking space for car and you have asked us storage facilities for bikes available . All in all really good ! More than recommended! The only drawback : Unfortunately, there was no wireless .
Maria
2016-07-26T00:00:00Z
We had a very nice stay at Fulvio's place. We were received by Fulvio's mother and brother who were very friendly and welcoming. The apartment was very nice, clean and well located to visit il lago di garda. Lonato village also worth also a detour. We would recommend it without hesitation.
Bénédicte
2016-08-09T00:00:00Z
Děkuji za ubytování. Apartmán je opravdu krásný, krásně vybavený s velkou postelí a rozlehlou verandou. Nejtěžší bylo opustit apartmán tak čistý jak byl. A pozor na komáry, ale i na to mysleli, je tam Reid do zásuvky. Takže bez problémů. Měli jsme problém s příjezdem, ale Fulviova rodina nám pomohla. A navíc jsme zastihli i slavnosti 26.-29.8., takže jsme zažili i Italskou zábavu/tancovačku. Skvělé, skvělé. Thank you for your accommodation. The apartment is really beautiful, beautifully furnished with a large bed and a spacious porch. The hardest thing was to leave the apartment as clean and tidy as it was. Just beware of mosquitoes, but there is a "insect killer machine". So no problem. We had a problem with the arrival, but Fulvios family helped us. And we caught some festive from 26 to 29.8, so we saw even a evening entertainment. Great, great.
Jana
2016-09-01T00:00:00Z
Værelsestype
Helt hjem/lejlighed
---
Ejendomstype
Lejlighed
---
Med plads til
5
---
Soveværelser
Sedena, Lombardia, Italien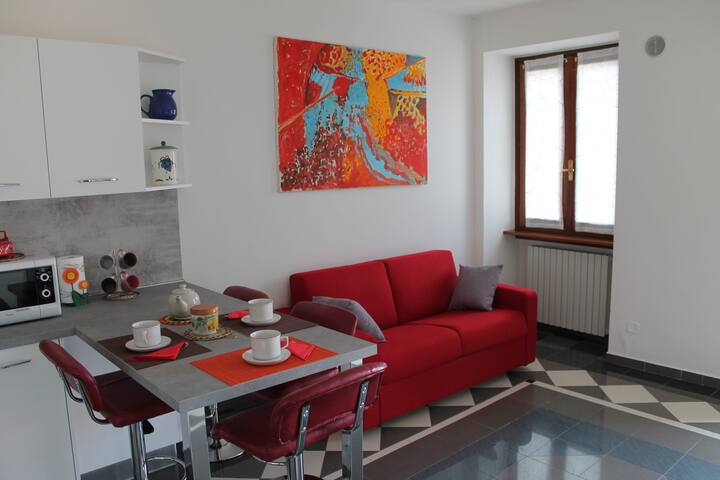 My two rooms apartment has been designed to offer a comfortable stay for up to 4 persons. Due to its position, you can easily explore Garda Lake westbound or eastbound avoiding traffic jams or relax on the porch or in the garden. Privacy, quiet and cleanliness are guaranteed.
My cozy apartment is located on ground floor of a residential building, very quiet and welcomly. The apartment is nice and spacious and has a nice porch with table, chairs and sun-umbrella for enjoying relaxing meals. It 's also possible to sunbathe in the garden until mid-afternoon. It has a bright and large living room with fully equipped kitchen, including a dishwasher and a microwave and all the tools for preparing meals. Sofa bed is comfortable for two persons and easy to convert. Bedroom overlooks the garden just like the living room. There is a large double bed with latex mattress and a big wardrobe. Bathroom is spacious, and provided with a shower.
My house, in which I nicely lived for 7 years, is located in a quiet residential neighbourhood on the suburbs of Lonato. Lonato it's not a touristic place like the near Desenzano, but all my guests are always impressed from the beautiful historical center of the village, the castle, and some other spots you can reach on foot from my house and I suggest you to see. Beaches in Padenghe or Desenzano are only 10 minutes away and here you won't have any problems with traffic jams or noises. Lonato is also a good place if you plan to discover the lake by bicycle or motorbike.
La casa di Veronica è molto carina e funzionale, dotata di tutti i confort, compreso wi-fi free. Si trova a 6km circa da Desenzano, a Lonato, paese molto carino con tutti i sevizi necessari, compresa la stazione dei treni e l'autostrada molto comoda. Inoltre Veronica è stata molto gentile e disponibile, è persino venuta a prendermi alla stazione dei treni.
Rossella
2014-11-04T00:00:00Z
L'appartamento è proprio come descritto, davvero molto accogliente e confortevole, ha anche un bellissimo spazio fuori, che si fa apprezzare nelle belle giornate, ci siamo sentiti davvero a casa:-) La zona è strategica, è comoda per i servizi, molto vicina a città più grandi, in ogni caso ogni posto che abbiamo visitato nei dintorni era molto bello e caratteristico. Veronica è una perfetta padrona di casa, disponibile e molto organizzata, in casa ci ha messo a disposizione anche info e piantine turistiche per il soggiorno :-)
Daniela
2015-01-06T00:00:00Z
Wir haben knapp 2 Wochen in Veronicas Wohnung verbracht und die Wohnung ist super schön. Die Wohnung ist genauso wie auf den Bildern, alles ist sauber, voll ausgestattet, modern und hat eine tolle Terrasse mit Garten. Uns hat es an nichts gefehlt. Vor allem ist sie ein klasse Ausgangspunkt für Ausflüge, ob Venedig, Verona, Desenzano oder den unteren Teil des Gardasees, alles ist innerhalb einer Stunde zu erreichen. Veronica hat uns herzlich begrüßt, uns alles gezeigt und war in jeglicher Hinsicht und immer hilfsbereit. Wir können die Wohnung und auch Veronica als Gastgeberin nur empfehlen und kommen bestimmt wieder.
Rebecca
2015-08-09T00:00:00Z
A casa de Veronica não deixa nada a desejar. Tudo novo, limpo e muito confortavel.
ROGERIO
2017-01-10T00:00:00Z
We really enjoyed beeing at Veronica for a weekend! She is helpful, sympathic and tried to make our time really nice and simple! The appartment is really enjoyable, very clean, comfortable and a really nice place to both relax and have a lot of fun! Thanks a lot for everything, Veronica!
Caguama
2015-05-27T00:00:00Z
Veronica is a very nice lady and also let us earlier into the apartment. Apartment itself very nice and modern. Kitchen utensils a little outdated. With the car very near to Desenzano and Sirmione. I would recommend this apartment definitely.
Leunora
2016-03-22T00:00:00Z
We had a pleasant stay at Lake Garda! Veronica is very reliable and friendly. The flat is well equipped, in a quite location, but not far away from the lake. Perfetto!
Sabine
2014-07-20T00:00:00Z
The flat was just as shown on the pictures, very clean and well furnished. Veronica was there as agreed and gave us the key. Nevertheless the flat is poorly soundproofed, you understand every word the neighbours are speaking next door. When the toilet is used above, you have the feeling to be next to a huge waterfall! And they were very noisy and partying, twice during our 5 night stay, until 4 o'clock in the morning!!!!
Yvonne
2016-03-30T00:00:00Z
Værelsestype
Helt hjem/lejlighed
---
Ejendomstype
Lejlighed
---
Med plads til
4
---
Soveværelser
Lonato del Garda, Lombardiet, Italien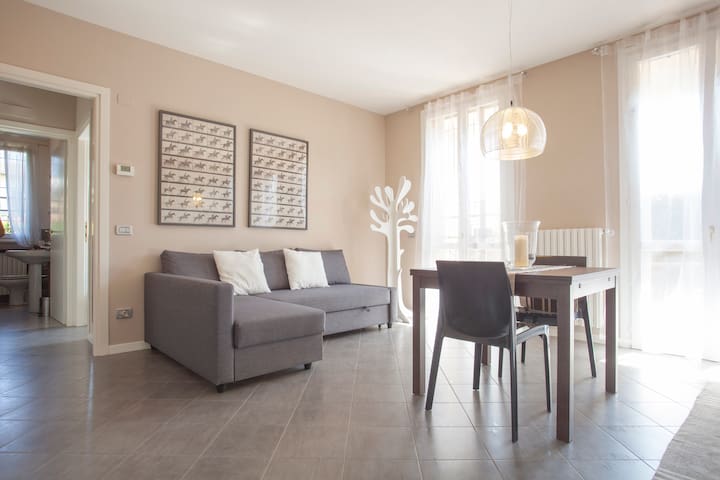 The apartment at your disposal is on the first floor in an old restored building is in the historic center, bright and furnished
Værelsestype
Helt hjem/lejlighed
---
Ejendomstype
Lejlighed
---
Med plads til
4
---
Soveværelser
Lonato, Lombardia, Italien
Spazioso appartamento a piano terra in tranquilla corte immersa nel verde a pochi minuti da Desenzano del Garda. Ospita fino a 4 persone, con una camera matrimoniale e un divano letto doppio. Bagno, cucina attrezzata e una caratteristica grande taverna con stufa a pellet. Wi-Fi gratuito; 2 posti auto privati interni. La casa si trova in zona tranquilla a 5 minuti da ogni servizio e comoda alle principali vie di comunicazione.
Appartamento a piano terra con camera matrimoniale, sala/cucina completamente attrezzata, bagno con doccia e lavatrice, grande taverna con pietre a vista. Può ospitare fino a 4 persone. Biancheria e asciugamani a disposizione. Parcheggio privato.
L' appartamento si trova in una posizione strategica per visitare i dintorni, a 5 minuti dall'autostrada Milano-Venezia , 1 ora 1/2 da Milano o da Venezia. A 10 minuti dal Lago di Garda con le sue stupende Località (Desenzano, Sirmione, Salò..), 15 minuti dalle Terme di Sirmione. La romantica Verona è a soli 45 Km. Per gli amanti dello sport South Garda Karting e Tiro a volo Concaverde a 5 minuti. Numerosi i campi da golf e i centri ippici nelle vicinanze.
This apartment is a fantastically equipped place. It 5 mins from the main road for those hoping to overnight somewhere on there way to/from a location. It is 20 mins from Lake Garda which is a bonus. It has everything you need and we thoroughly enjoyed our time there. We will definitely stay again if we are passing by. It is quiet, has a great bathroom and fully equipped kitchen. The lounge is in the basement but there is a small hang out area on the ground floor which is adequate.
Tree
2016-10-08T00:00:00Z
Sabrina è una host fantastica. Purtroppo non è stato possibile conoscerci di persona, ma si è rivelata molto disponibile. L'annuncio rispecchia perfettamente l'alloggio e la zona è molto tranquilla. Ideale sia per soggiorni brevi che lunghi.
Francesco
2016-10-09T00:00:00Z
Bellissimo appartamento al piano terra in una zona di campagna molto tranquilla ma vicina all'autostrada ed ai centri principali della zona lago. Dell'abitazione mi ha colpito molto la taverna al piano sotterraneo:ampia coi particolari in pietra ed un enorme divano rosso in pelle a centro sala. Ottimo gusto nell'arredo. Sabrina è un'oste gentilissima e disponibile. Mi ha fatto piacere conoscerla
Cristiano
2017-01-29T00:00:00Z
Sabrina was a very welcoming and accommodating host. She ensured a smooth check-in, even after our flight was delayed and we were quite late in arriving. The place was clean and well-prepared. The basement tavern is gorgeous and a lovely place to hang out. The place is a brief drive to Desenzano and Sirmione. We only stayed briefly, but very much enjoyed ourselves and would stay again.
Marisa
2016-09-12T00:00:00Z
Sabrina è uu'ottima host, puntuale e cortese
Maurizio
2016-11-27T00:00:00Z
Хорошая квартира, в тихом месте! Отличный вариант для отдыха от городской суеты
Dmitry
2016-08-21T00:00:00Z
The flat we like very well, everything was just as described. Sabrina and her boyfriend are very nice hosts. We had a nice and a quiet holiday. Highly recommended!
Bettina
2016-08-14T00:00:00Z
Sabrina is a very sympathetic hostess. We spontaniously decided to stay one more night which wasn't a problem. The flat is as described- the kitchen is very modern and the fridge is spacious and amazing! The bathroom is okay although the temeratureregulation of the water was difficult. Unfortunately the flat lays on the ground floor and for this reason it is very dark but it stays cool during hot days. You can sit outside as well but the table is too small to have a meal there. In front of the house there is a parking which is great but important as well as Cominello is a bit remoted.
Randi
2016-07-28T00:00:00Z
Værelsestype
Helt hjem/lejlighed
---
Ejendomstype
Lejlighed
---
Med plads til
4
---
Soveværelser
Lonato del Garda, Lombardia, Italien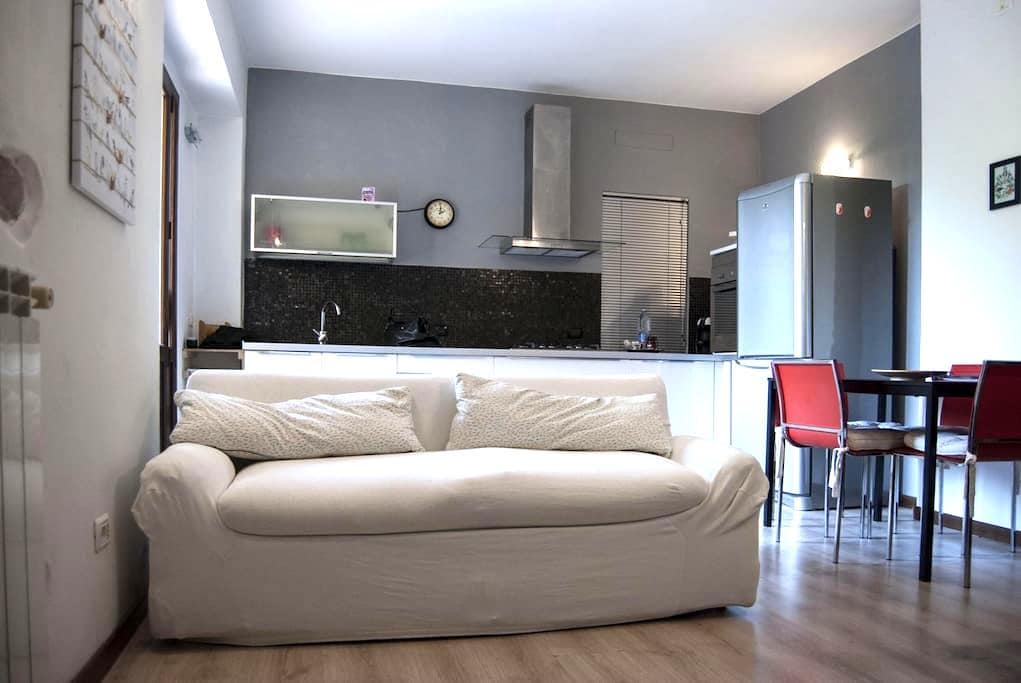 Il Filatoio è vicino al Lago di Garda,ai trasporti pubblici, l'aeroporto di Verona e Bergamo, il centro città, parchi, arte e cultura. E' adatto a coppie e chi viaggia per lavoro.
La bellezza ed eleganza della casa in un antico complesso Medievale oggi offerto ai viaggiatori di tutto il mondo per scoprire l' incantevole Lago di Garda e dintorni
Il complesso Il Filatoio si trova in una zona tranquilla e comoda a tutti i servizi
La propriétaire étant en déplacement, c'est Monica qui nous a accueillies lors de notre arrivée tardive suite à différents imprévus. L'accueil fut chaleureux et courtois. Situé dans un quartier calme et résidentiel, ce logement est spacieux et se trouve en tous points conforme aux photos. Malgré l'absence d'une véritable cuisine, il reste fonctionnel et confortable. Sa grande terasse est appréciable pour profiter d'un moment de détente. Seul petit bémol de ce séjour, un problème d'eau chaude à notre arrivée qui a très vite été résolu. Situé à quelques km du lac, il est facile de se rendre à Desenzano et aux alentours afin de profiter pleinement de la région. Ce fut un plaisir pour nous d'y séjourner. Un grand merci à Monica pour ses conseils et sa gentillesse.
Océane
2016-07-03T00:00:00Z
Wir wurden von Monika sehr freundlich begrüßt. Die Schlüsselübergabe hat auch super geklappt. Außerdem hatten wir Wlan, obwohl dies nicht in der Beschreibung war. Schade, dass keine Küche vorhanden ist, aber das wußten wir ja vorher. Insgesamt ein sehr angenehmer Aufenthalt.
Erich
2016-08-03T00:00:00Z
Nous avons été merveilleusement bien accueilli par Monica; les lieux sont conformes aux photos, tout est très propre, l'endroit est spacieux, la literie est formidable... Tout est prévu, café, thé, friandises, lave vaisselle et produits ménagés mais il manque cependant une plaque de cuisson et un évier.
Cathy
2016-07-18T00:00:00Z
Værelsestype
Helt hjem/lejlighed
---
Ejendomstype
Lejlighed
---
Med plads til
3
---
Soveværelser
Lonato del Garda, Lombardia, Italien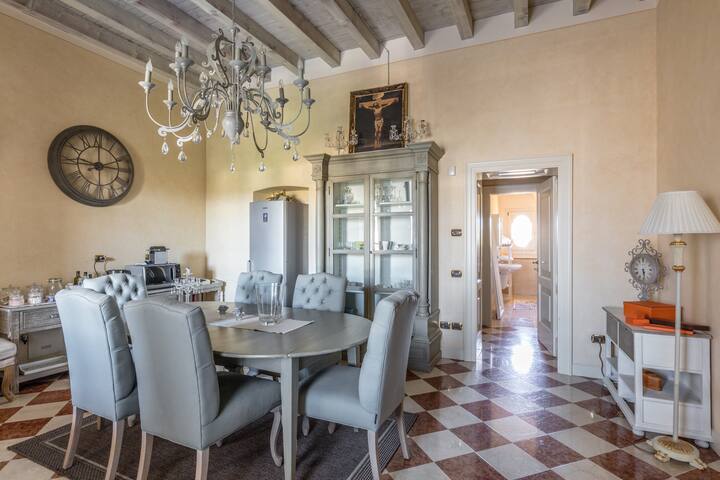 Immerso nel verde delle colline, a poca distanza dal lago di Garda, accogliente appartamento con giardino situato al piano terra di un rustico caratteristico con vigna che fa da tenda al porticato. Natura, piste ciclabili, pace, perfetto per famiglie
Immerso nel verde delle meravigliose colline moreniche, a poca distanza dal Lago di Garda, accogliente appartamento con giardino situato al piano terra di un rustico ristrutturato con gusto. All'ingresso vi accoglie una splendida vigna che fa da tenda al porticato. All'interno trovate un ampio soggiorno con divano letto da una piazza e mezza, un divano, un tavolo da 6 posti. Nella camera da letto, con soffitto a volto, si trova un letto matrimoniale e un letto singolo. Il giardino è una chicca, è molto accogliente, c'è tavolo con sedie e un barbeque da sogno. La casa è provvista di una piccola e funzionale cucina e un grazioso bagno con una grande doccia. Perfetto per coppie e famiglie.
Godersi la natura e la pace della campagna con la comodità di essere a due passi dai luoghi turistici tra i più belli del nord Italia. Se amate la pace di un delizioso giardino con barbeque, le escursioni in bicicletta, passeggiare in tranquillità tra le colline con paesaggi meravigliosi, questo è il posto per voi.
For us every trip is about dealing with people. Especially when going abroad where people are different, culture is different and even the language is different. Probably the most important people, when traveling with the help of Airbnb, are the owners of that house/ apartment where we intend to stay. Sara and Michele are just incredible! They were very joyful every time when talking to us, they were eager to help every time we had any questions (where to eat, where to find a shopping centre, how to turn on water, etc.), they were really glad to see us every time we met. The apartment they have for guests is in the ground floor and their own apartment is on the first floor right above. That makes them your neighbors for the period of your vacation and that makes them really close to you. On the other hand if you want privacy you will never be disturbed. It is amazing how practice and some typical italian design blend together in this apartments, you will definitely love that stone walls, little garden, barbecue place, coach you want to spend all your time on... And Paco - the Cat!!! Unfortunately we cannot say anything about Sedena itself, because we had too many places to visit by car in our wish list. We made a trip around Garda lake, we spent the whole day in Verona, we visited Brescia and Iseo lake and so on (By the way, Desenzano del Garda has a lovely historical centre and fortress).Thus didn't have time to walk in Sedena. Still we can say that the location of Sedena and the province of Desenzano is really good for such car rides.
Inna
2016-06-05T00:00:00Z
Sara's house is very beautiful, typical italian style. Sara and Michael are excellent hosts. Location of house is excellent. Sara's site is helpful. Thanks a lot for the great experience.
Julie
2016-10-15T00:00:00Z
Very charming place. Typical italian house with a very nice garden. Sara and Michael made us feel very welcome. We will return next year.
Eugen
2016-05-28T00:00:00Z
Nous avons passé un super moment en famille (2 adultes et 2 jeunes enfants) dans le logement de Sara à Lonato del Garda. C'est un appartement aménagé dans une ancienne ferme, charmant et très agréable, avec un jardin. Il est idéalement situé au sud-ouest du lac de Garde pour visiter la région, les stations du lac et les grands villes des alentours. Sara est une hôte très sympathique et très disponible, elle vous donnera de bons conseils et de bonnes adresses à visiter dans les environs. Merci à elle et à sa famille pour ce séjour!
Laurent
2016-08-06T00:00:00Z
Es war ein wundervoller Aufenthalt. Wer etwas Abseits des Tourismus am Gardasee Urlaub machen möchte ist hier genau richtig. Sara und die Nachbarschaft sind wunderbare Gastgeber. Die Unterkunft ist wie beschrieben, perfekt. Der Ort Lonato, gleich nebenan, bietet alles was man zum Leben braucht. Und man ist auch nicht weit weg, gleich am Gardasee. Wir waren rundum zufrieden.
Bastian
2016-09-10T00:00:00Z
x
Zsolt
2016-06-22T00:00:00Z
Sara e Marco sono simpatici e molto alla mano. La loro casa è accogliente, le foto sono belle ma dal vivo la casa è più calorosa. Il quartiere è molto tranquillo.
Katarina
2016-03-31T00:00:00Z
Sara and Miquele have been amazing hosts! I'ver never met any host this friendly and helpful. Thanks so much! The location is absolutely beautyful and clean. The appartment has been restaurated with a lot of love and a keen eye for the detail. If you're looking for a calm location in beautiful surroundings and you're ready to walk or ride a ew minutes to the next town, this is the go-to spot! Thanks for having me guys :-)
Sebastian
2016-04-23T00:00:00Z
Værelsestype
Helt hjem/lejlighed
---
Ejendomstype
Lejlighed
---
Med plads til
4
---
Soveværelser
Lonato del garda, Lombardia, Italien
(URL HIDDEN)Country Residence of 90 square meters, a Fantastic Pool, the Stillness and the colors of the Garda, a few kilometers from Desenzano del Garda and Sirmione and much more for our guests, this is the ideal place for holidays on Lake Garda.
- NEW SWIMMING POOL WITH SALT WATER - UNLIMITED INTERNET @@@ (URL HIDDEN)Dear guest, We want you to feel right at hom(URL HIDDEN)We ❤ ❤ Super Host-AIRBNB MORE 'SPACE MORE' COMFORT! "COURT centenaro COUNTRY HOUSE" A Country Residence in Modern Style. "The Lake Garda our business card, the tranquility and the strategic position of our advantage" We are about 3 KM. FROM LAKE. The apartment, newly built, covering an area of about 90 square meters. more outdoor spaces, (including a private terrace sun of about 35 sq m) is located in a pleasant and tranquil environment surrounded by nature, can accommodate up to four people comfortably. The modern decor is nice and elegant. It is a versatile structure that adapts to different types of guests because of its characteristics: Meta Kids Friendly for the tranquility of the place and the beautiful pool, for athletes who have opportunity to practice sports of all kinds, the younger looking to explore pleasure resorts, couples of all ages for relaxation and comfort that provides the context. AVAILABLE: The kitchen, which overlooks the outdoor patio with table and chairs to enjoy the view of the beautiful swimming pool. A large and airy living for your moments of relaxation. A bathroom with shower and a laundry. A double room and a twin room overlooking the private terrace for sunbathing. The apartment also has a private garage and outdoor parking. Nearby you can find all the facilities: a few steps from home point, a renowned gastronomy (always open, even on Sundays) that prepares great dishes to take away, so you will always have your lunch or dinner ready, fully enjoying your vacation without having to cook, comfortable dining in the garden; newsagent, a typical restaurant, also a few kilometers. the largest commercial center of Lake Garda for your purchases "Lion Shopping Center."
Located in the hinterland of Lake Garda, between the morainic hills. The residence is surrounded by lawns and a beautiful promenade walking or cycling in total relaxation, the landscape changes depending on the season, beautiful colors warm the heart. All this without sacrificing the ability to reach Desenzano, Sirmione really MINUTES OF AUTOMOBILE (WE ARE IN THE LAKE COUNTRY IS ABOUT 3/4 KM) and to appreciate other places and landscapes equally distinctive and wonderful. Other amazing places of Lake Garda are easily accessible by car, train or bus service: Limone sul Garda, Gardone Riviera, Lazise, Bardolino, Garda, Malcesine and Riva del Garda. A good choice for those who are attentive and demanding.
Everything great
Михаил
2017-01-05T00:00:00Z
Roberto is a very good and attent host for the appartment. The communication was good before and during our stay. The appartment was clean, well furnished and it felt lux. During our stay we had the best weather so we enjoyed it a lot! The place is really quiet, but you need a car if you want to see the nice towns like Lazise, Bardolino and Sirmione.
Annelon
2015-05-09T00:00:00Z
The staying was very comfortable and the place is near to everything (motoway and other villages near to lake), we have passed a wonderful holiday and the apartment is so nice make us feel home. We cook our own food and Roberto & Gabriella even prepared the chopsticks and wok which is very useful, also we had the GPS with us all the time which made us so easy to go every where. Our host is so nice and gentle and the apartment has all we need. Great place to stay, I personally recommend this place to everyone, they even bough a bike for my mum to go around. I don't know in other words how to describe our trip, but it is just superb.
Lei
2015-03-02T00:00:00Z
We had a wonderful time at the Lago di Garda. Roberto was uber friendly. The appartement is very nice, clean and well equipped. We didnt miss anything. There even is a lockable garage available. The location is a big plus! The appartement is not located in a touristy area which we enjoyed very much. Plus you get to drive on beautiful land roads through fields and little villages! Whenever we come back, we know where to stay. Thank you very much for providing us with a comforting home so we could really enjoy our time in Italy!
Alexander
2015-06-08T00:00:00Z
Roberto and Gabriella made us feel very welcome. Their apartment had everything that we needed and was beautifully maintained.
Marilyn
2016-09-17T00:00:00Z
This is a great place to stay. The appartment is even better than on the pictures. The pool is great (was still a bit cold though :-)) Roberto and Gabriella are perfect hosts. They gave us a warm welcome, have shown and explained every detail of the appartment and even during our stay they texted us to make sure everything was OK! I can really recommend the appartment abd these kind people as your host! We'll be back!
Hans
2014-05-20T00:00:00Z
Roberto and gabriellas house was spacious fully furnished with all we could need for our trip. They were so helpful and had a folder of tourist advice about the surrounding area. Unfortunately we did not have a car which made things difficult and I would advise future guests to get a car.
Catherine
2014-07-28T00:00:00Z
Roberto & Gabriella were just wonderful: they came to welcome us and explain how works everything, advise us about things to see and places to go, and contact us twice to see if everything was going well and at the end of our stay to wish us a good travel. The flat its better than in photos and very clean: seems like a four star hotel with munch more room, the rooms were very wide and there were two bathrooms , one of them with automatic washing machine , wich it's very useful when you're travelling with kids. Also there were some breakfast and some cooking stuff to eat at home if you like.
carlos
2014-07-07T00:00:00Z
Værelsestype
Helt hjem/lejlighed
---
Ejendomstype
Lejlighed
---
Med plads til
4
---
Soveværelser
Lonato del Garda, Lombardia, Italien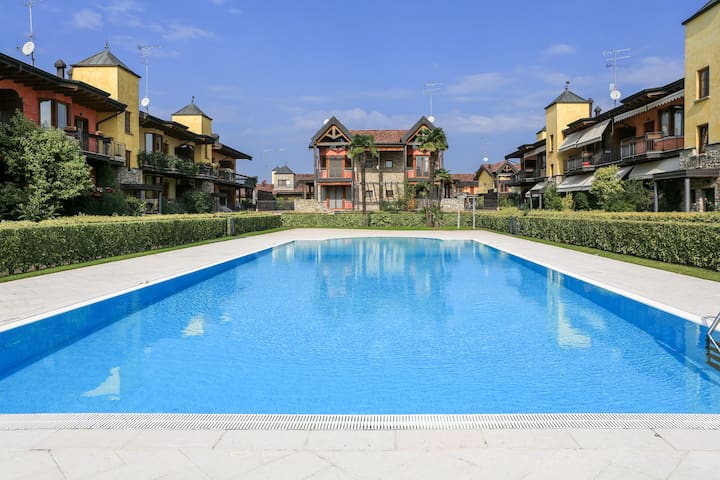 L'appartamento si trova a piano terra molto vicino alla stazione, supermercati, bancomat, centro commerciale, autobus urbano ed extra urbano. Siamo in una zona residenziale dove è possibile sentire il "rumore" di bambini, cani e naturalmente il passaggio del treno. L'appartamento è appena stato ristrutturato nel 2016 e si è cercato di fare il nostro meglio inserendo arredi di buona qualità e moderni con tutti il necessario (frigorifero, congelatore, piastra induzione, climatizzatore e tv lcd)
Værelsestype
Helt hjem/lejlighed
---
Ejendomstype
Lejlighed
---
Med plads til
4
---
Soveværelser
Desenzano del Garda, Lombardia, Italien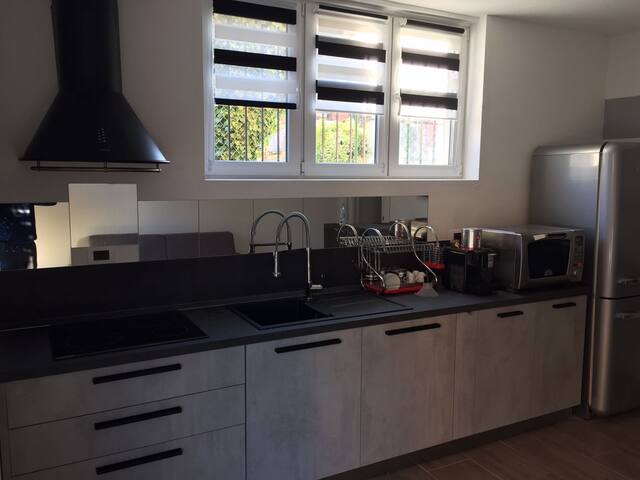 full kitchen with dishwasher, oven, microwave. Bedroom complete. Bedroom with two single beds. Sofa bed in the living area. Large terrace. Conditioned air. On request baby bed. 2 bikes available. Very close to the mall "sails" with supermarket, pharmacy and medical service. Stop bus to get to the center and / or to the beach 5 minutes walk.
Værelsestype
Helt hjem/lejlighed
---
Ejendomstype
Lejlighed
---
Med plads til
6
---
Soveværelser
Desenzano del Garda, Lombardia, Italien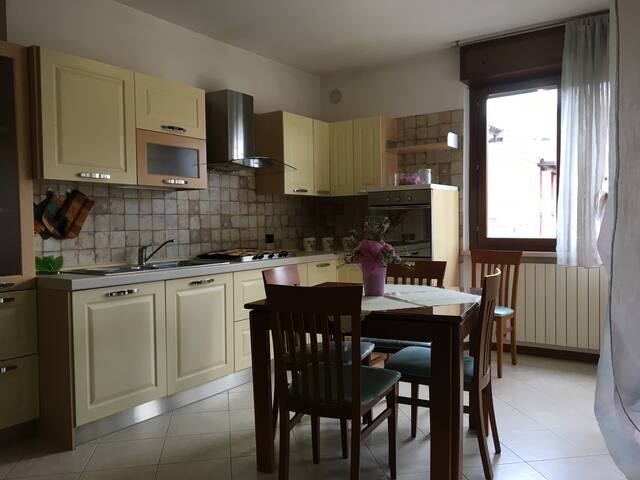 2 bed rooms - 1 bathroom - kitchen - swimming pool - a big garden - terrace with lake view - tv - washing machine - sittingroom - aircondition - fireplace - very near expressway and lake - and near Milan Verona Venice -
the location is beautiful - for 4 person
the peace - and the lake -
Lucia hosted us perfectly: pick up and return of the apartment were when it was best for us, being her extremely flexible. The apartment has everything you can ask for, and much more: it's a home completely equipped and you need to bring nothing more than the bread :-)
Lucas
2016-05-30T00:00:00Z
The flat was clean and comfortable, I got a garage as well. The lake view is even better in real then on a picture. Communication with Lucia was clear and fast, I can fully recommend her. It was pleasure to stay in her flat.
Tomáš
2016-07-07T00:00:00Z
Lucia ist eine tolle Gastgeberin und ihre Ferienwohnung ist wirklich schön! Man hat einen wunderschönen Blick auf den Gardasee und in gut 10-15 min ist man auch zu Fuss dort. Wir hatten unseren Hund dabei und auch das war kein Problem! Wir haben uns sehr wohl gefühlt...
Charlotte
2016-09-30T00:00:00Z
Es ist eine traumhafte Unterkunft. Mann ist ganz alleine mit einer hervorragenden Aussicht zum See und eine sehr sehr gute Ausstattung. Die Gastgeberin ist sehr freundlich und hilfsbereit. So etwas findet man nicht alle Tage. Wir können nur sagen das ist Erholung auf sehr hohen Niveau und wir werden ganz bestimmt wieder kommen. Wir freuen uns schon darauf.
Rudolf
2016-06-22T00:00:00Z
Très bon accueil, très bon emplacement et la piscine merveilleuse en prime. Vu imprenable, appartement atypique très bien agencé et équipé. Très calme et résidents agréables. Garage en prime et sécurité de la résidence.
Christophe
2015-08-23T00:00:00Z
Super séjour avec une hôte disponible. appartement agréable avec piscine appréciable en cette saison
Lionnel
2015-08-01T00:00:00Z
L'appartement est sympa et très équipée et la vue est magnifique. La piscine est impeccable.
Agnes
2016-07-30T00:00:00Z
Cozy apartment with big pool and fantastic views. Lucia was a great host. Thank you.
Renaldo
2016-09-08T00:00:00Z
Værelsestype
Helt hjem/lejlighed
---
Ejendomstype
Lejlighed
---
Med plads til
5
---
Soveværelser
Lonato del Garda, Lombardiet, Italien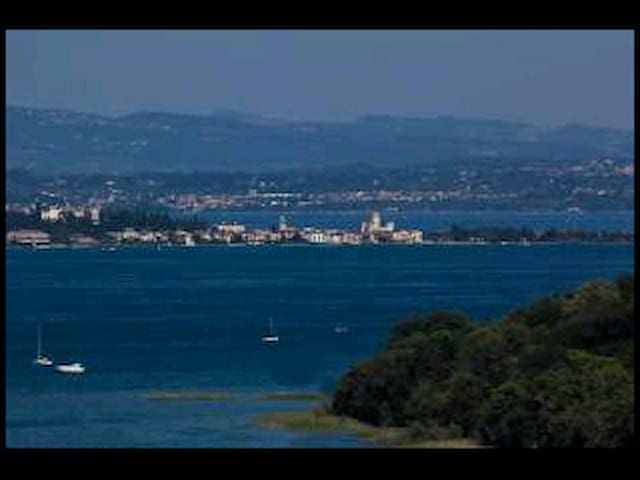 At 500 meters from the lake in a quiet location , spacious apartment . Great location services : close to the city center, parks , railway station and main roads . The apartment is suitable for couples and business travelers , located in the residence of the owners . It lends itself to use for the whole year .
In a quiet location, the apartment is located at the bottom of a street and is equipped with every comfort .
Great location services
Очень удобное место. Спокойно и тихо. До центра 5 минут пешком. До супермаркета U2 также модно дойти пешком 10 мин. Есть место для бесплатной парковки рядом с домом. Дворик нужного размера с мангалом, столом и стульями. Помещения просторные и удобные. Все чисто, удобно и очень по-домашнему.
Igor
2017-03-16T00:00:00Z
Wir haben uns sehr wohl gefühlt.Die Gastgeber sind sehr nette und zuvorkommende Leute .Schade , daß wir kein Italienisch sprechen. Wir konnten aber trotzdem (mit Händen und Füßen, und ein bisschen englisch ) das nötigste erfragen. Die Wohnung war wie beschrieben. Parkplatz vorm Haus war immer vorhanden. Die Unterkunft War sehr sauber. Die gute Lage (zur Innenstadt 10 Minuten zu Fuß ) , erspart die lästige Parkplatzsuche. Ein Lebensmittelladen ist in unmittelbarer Näher (5 Min zu Fuß ) Wir würden gerne wieder kommen. Vielen Dank an Luisa und ihre Familie.
Jolanta
2016-08-18T00:00:00Z
Luisa a tout fait pour nous faciliter notre séjour. le logement est mieux que sur les photos car il est spacieux merci pour votre accueil
Tej
2016-07-26T00:00:00Z
Спасибо Луизе и Марко за гостеприимство! Мы провели замечательную неделю у берегов озера Гарда. У дома очень удобная локация - мы гуляли в старом центре Desenzano и объездили окрестности. Посмотрели замки в Sermione и Torri del Benaco, отличный зоопарк Parco Natura Viva. Заодно съездили в Венецию и покатались на Ferrari в Модене. Дом (отдельная часть общего дома) очень уютный и чистый - у него большая кухня-гостиная и отличный камин! Марко показал нам окресности, ближайшие рестораны и магазины. Хозяева были очень любезны и доброжелательны - встречали как своих друзей. Рекомендую дом Луизы, мы бы с удовольствием вернулись в него еще раз!
Ivan
2016-12-30T00:00:00Z
Beautiful,clean and cosy flat not far from Lago Di Garde. The familly who provides us this accomodation is lovely,helpful and accomodating. Matthew showed us the best way how to go to the lake. They communicated quickly and I can only reccomend it. Thank you. Hana
Hana
2016-08-02T00:00:00Z
Casa pulita e ordinata, perfetta per 4 persone. Luisa ed Antonio sono degli ottimi padroni di casa, gentili e disponibili. Il centro di Desenzano è raggiungibile anche a piedi.
Enrico
2017-01-02T00:00:00Z
Luisa and her family made us feel like we were very old and dear friends whom they have been waiting for long time :-) They were extremely friendly and cared about us. Neighborhood was quiet, clean and beautiful. By the way, the place is actually better than looks like in photos.
Karin
2016-08-24T00:00:00Z
Luisa and her family were very friendly and wonderful hosts. We had a warm welcome with some Biscuits and cold water on arrival. The flat was clean and had all the needed appliances and utensils for our stay. Air conditioning was very useful in the afternoon as it was hot.The flat ideally suited 4 of us as a family with two teenagers, we were able to use the garden and washing machine, Luisa's wonderful brother Antonio was master with the BBQ which he shared very generously with us. It was a short walk to the supermarket but the town centre & lake also a short walk was a little tiring in 32c summer heat, we had a car and managed to park very close to the lake and also had daily excursions to the towns around the lake. Sirmione was the most prettiest, spent two days there one of which was a hike to Jamica beach, mostly only the local residents know how to get to it and you need to get there early for a parking space or have to park a mile out and walk. Luisa's flat is as described and we were ideally located on a quiet residential street. all in all wonderful experience.
Patrick
2016-08-11T00:00:00Z
Værelsestype
Helt hjem/lejlighed
---
Ejendomstype
Lejlighed
---
Med plads til
5
---
Soveværelser
Desenzano del Garda, Lombardiet, Italien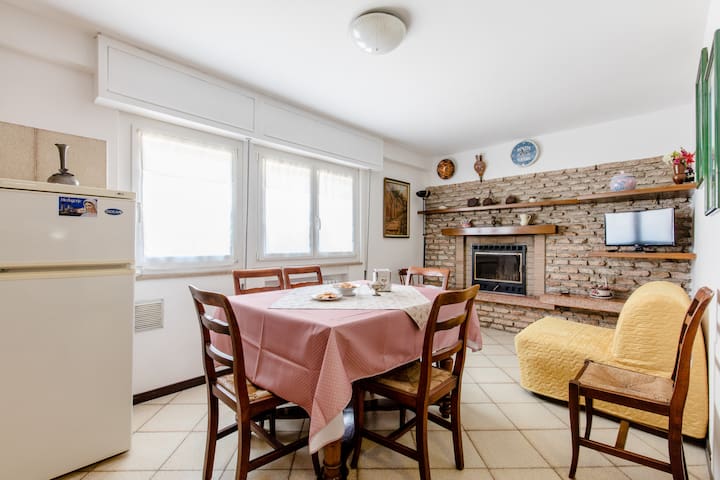 Lonato - Airbnb
:
Gennemsnitligt

4.87

ud af

5

stjerner fra

380

gæsteomtaler