Nehmen Sie in wahrem Delta Gastfreundschaft in diesem charmanten Hause im Herzen von Greenwood entfernt. Direkt auf der anderen Straßenseite von Little Red Park, zu Fuß in der Innenstadt, Yazoo River & Yazoo River Trails, ist dieses Haus ideal für die Besucher einen Eindruck von der Delta Verlangen.
Der Nordosten Greenwood Nachbarschaft ist voll von Bäumen gesäumten Straßen, freundliche Nachbarn, und ist ein wunderbarer Ort zu laufen, gehen oder mit dem Fahrrad.
The most restful weekend I have had in months, a wonderful experience a Brantley's home! Extremely clean, thoroughly organized and everything laid out for the most delightful experience.
Bill
2016-07-17T00:00:00Z
Wow! Just WOW!!! Brantley's home is so appealing, comfortable and relaxing. Four of us stayed there while participating in Greenwood's Bikes, Blues & Bayous Cycling event! The check in and check out was absolutely hassle free! I highly recommend you stay here!
Douglas
2016-08-07T00:00:00Z
This home is a perfect location for everything Greenwood. It is decorated wonderfully and so much more comfortable then staying in a hotel.
Esther
2016-12-30T00:00:00Z
Charming may be an understatement! Brantley's place is absolutely gorgeous, with beautiful décor and regional flair. The neighborhood was also very nice and quiet, and conveniently located. Brantley was incredibly accommodating and very responsive to any questions I had. My friends and I thoroughly enjoyed our time there, as it was a perfect place to relax and rejuvenate and Brantley included a guide of suggested places to visit in Greenwood. We were so glad we chose this place and will definitely be back!
Treshika
2017-01-01T00:00:00Z
Brantley's home is amazing! Comfortable, beautifully decorated, and so close to the shops and restaurants in Greenwood. We would have walked had we not run the Viking Half Marathon that morning! We had never stayed at an AirBnB before, and Brantley answered my many questions quickly and was so friendly. Brantley thoughtfully left a list of local restaurants and shops with great descriptions. Brantley also graciously let us check-in a little earlier than scheduled since we were in need to a post-race shower. We are already planning our return trip for next year!
Jessica
2017-03-26T00:00:00Z
The term "charming" accurately describes this beautifully decorated home, which is full of southern character. It is easy to find in an interesting, quiet neighborhood. Brantley has thoughtfully prepared a detailed description of her home and the surrounding area along with suggestions for dining and local activities. Also, she provides brochures with the added bonus of a surprise to take home. She quickly responded to emails and answered questions before and after we arrived. The beds are comfortable, the kitchen and bath are well-stocked, and the furnishings are delightful. As a native delta girl myself, I promise you will have a dose of southern hospitality at its best if you stay here. It is a hidden gem, which will not remain a secret for long!
Paula
2016-07-13T00:00:00Z
The house was perfect for our trip to visit family! Exactly what we needed, beautifully decorated, and in a great location!
Aryn
2016-09-23T00:00:00Z
Everything was great and accurate! Great home!
Michael
2016-12-11T00:00:00Z
Værelsestype
Helt hjem/lejlighed
---
Ejendomstype
Hus
---
Med plads til
4
---
Soveværelser
Greenwood, Mississippi, USA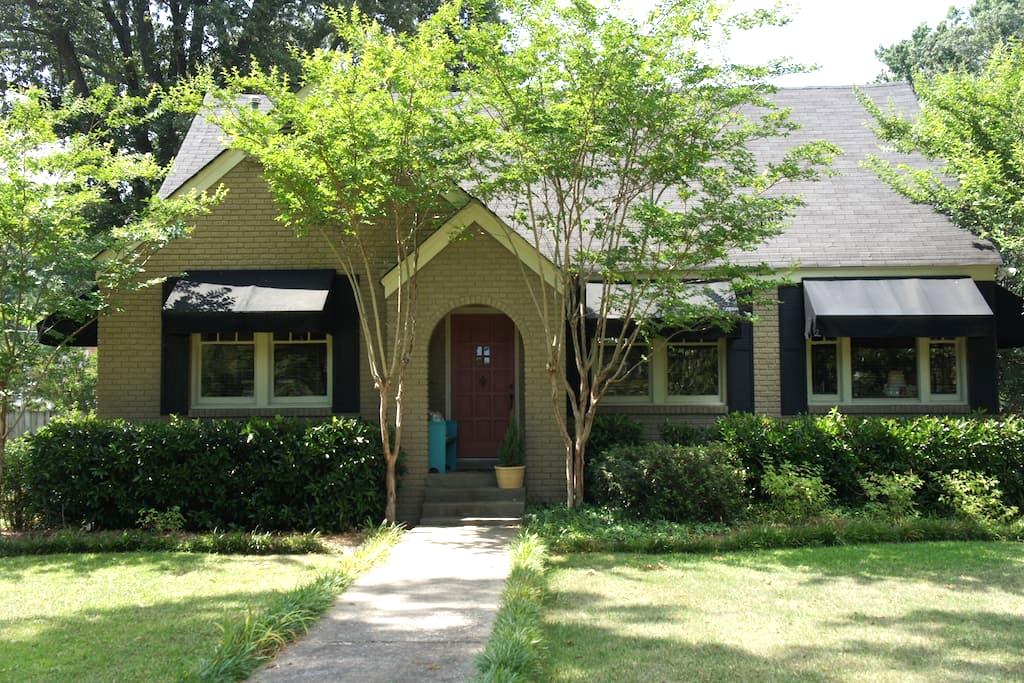 Nouvel appartement de loft offre plafonds beadboard élevés, de grandes fenêtres donnant sur la place, les planchers de bois franc d'origine pour une grande atmosphère. Il fournit également une cuisine complète, laveuse / sécheuse, une cabine de douche et de bain, nouvelle CVC, et de nombreux placards. Confortable, confortable, pratique, l'appartement est à distance de marche d'un célèbre épicerie, un bon restaurant, le palais de justice et l'hôtel de ville, et de nombreux sites intéressants. Grenade Lake et Interstate 55 sont chacun environ 2 miles.
Construit en superbe bâtiment rénové datant de 1867, le loft est propre et moderne avec beaucoup de charme d'époque. Facile à vivre, beaucoup de stationnement, et beaucoup à explorer à pied.
Nous aimons la grande partie intacte Square, entouré de briques immeubles commerciaux de ligne 2 étages. Nous aimons être capable de marcher à Orléans ou à un événement au First & Celebrations vert en bas. Nous aimons vivre à côté de Robin Whitfield Studio and Gallery, et M & M Kustom Cars, où Lee Taylor reconstruit véhicules anciens de toutes sortes. Robin aime montrer les merveilles de Chakchiuma Natural Area Swamp, à quelques pâtés de maisons.
Værelsestype
Helt hjem/lejlighed
---
Ejendomstype
Lejlighed
---
Med plads til
4
---
Soveværelser
Grenada, Mississippi, USA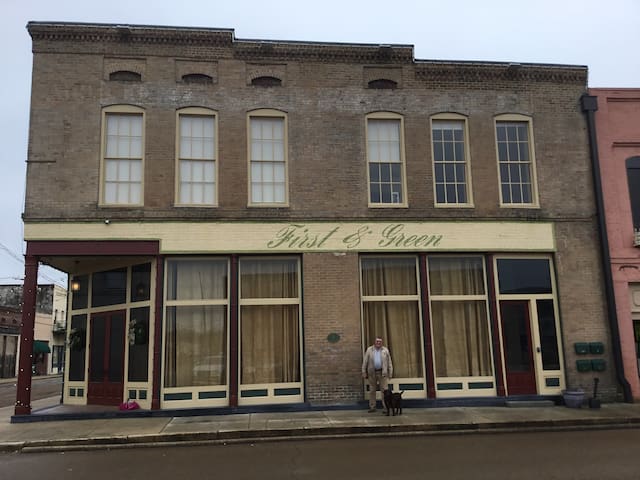 I have a log house out in the woods 15 minutes from oxford ready for a break of of reality and a weekend to forget about stress and just relax this is the place to be beautiful very cozy inside
Værelsestype
Helt hjem/lejlighed
---
Ejendomstype
Hus
---
Med plads til
2
---
Soveværelser
Indianola, Mississippi, USA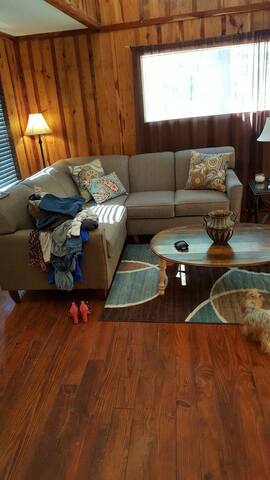 Bequem zu I55 & Grenada geistert, liegt unser Haus in einem bewaldeten Tal. Große Zimmer bieten eine Fensterwand und mehrere Französisch Türen zu privaten Decks & geheiztes Pool mit Poolhaus öffnen. Erdgeschoss Master-Bett / Bad-Suite mit Home-Office.
Großes, luftiges Zimmer mit hohen Decken und komfortabel, klassischem Mobiliar.
Bequem zu I55, UMMC Hospital und Holmes Community College noch privat und ruhig gelegen.
Værelsestype
Helt hjem/lejlighed
---
Ejendomstype
Hus
---
Med plads til
12
---
Soveværelser
Grenada, Mississippi, USA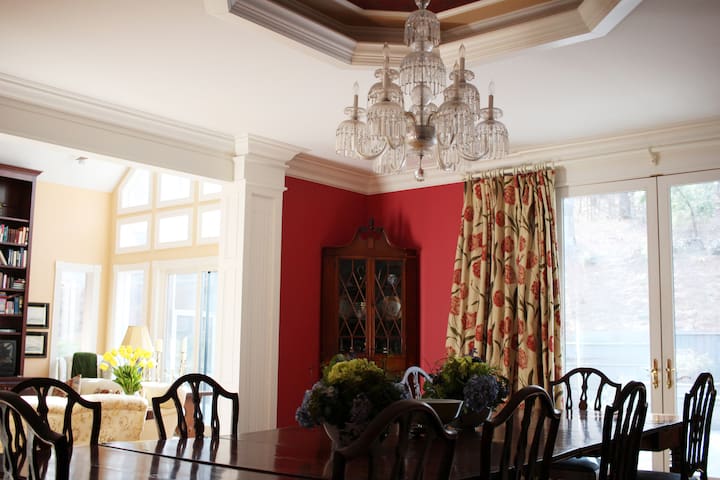 We stayed here for nearly two months for work. If not for this place we never would have been able to complete the project! We needed a comfortable, nice place to stay that could accommodate our dogs, and Boo was such a great host and one of the nicest people we've ever met! Over such a long stay I was surprised that not once did he ever seem to get tired of us or our dogs who can be a little annoying at times. He even barbecued a couple times and made some really awesome food! The place itself is awesome, plenty of room to relax indoors and out, great patios, fully stocked kitchen, and super comfortable bed. Also, you can't beat the indoor pool! It really was like a home away from home. I can't recommend this place highly enough, Boo is a great and friendly host, the house was awesome, we had a great time.
Lindsay
2015-10-12T00:00:00Z
Awesome home! I cannot wait to stay here again!
Patrick
2017-01-15T00:00:00Z
Really enjoyed the stay. Great value and close to the lake which was great for our fishing trip.
Alan
2017-03-05T00:00:00Z
Boo Corbett's place in Grenada is one of a kind. Beautiful views of the hilltops of northern Mississippi, great decks, a wrap around porch with a swing, & unique amenities like an indoor pool & sauna in the downstairs apartment. The place was very peaceful, & Boo's two gentle, docile dogs made my Mom lonesome for her own back home. Boo met us, gave us an orientation to the place & its history. Next time we'd have him cook for us, as his photo catalog of his meals he has served make it obvious after his career as a chef cooking is still a passion and gift. (And the best restaurant in town was likely a few stars lose than what we saw in Boo's photo album.) Great, rustic place, peaceful, all the amenities plus some. Thanks Boo.
Warren
2016-06-07T00:00:00Z
Fantastic house. Clean and very beautiful. We did not particularly enjoy waking up to blaring music in the morning, but there are worse things. Outside of the music, fantastic house and accommodations.
John
2016-11-13T00:00:00Z
One of a kind! Great custom built home in quiet grove of pine trees. Our family of 4 with our beagle and my parents all had plenty of space. With a bedroom on each floor, it was ideal. Loved the pool and sauna and back deck with white lights at night. Will definitely be back when in the area again. Thanks Boo!
Linda
2016-12-27T00:00:00Z
We really enjoyed our stay at Stone Canyon! The house was very clean and inviting. We loved the view from the deck - it was a nice private wooded retreat. We would definitely recommend this place to friends!
Erin
2016-10-24T00:00:00Z
Værelsestype
Helt hjem/lejlighed
---
Ejendomstype
Hus
---
Med plads til
8
---
Soveværelser
Grenada, Mississippi, USA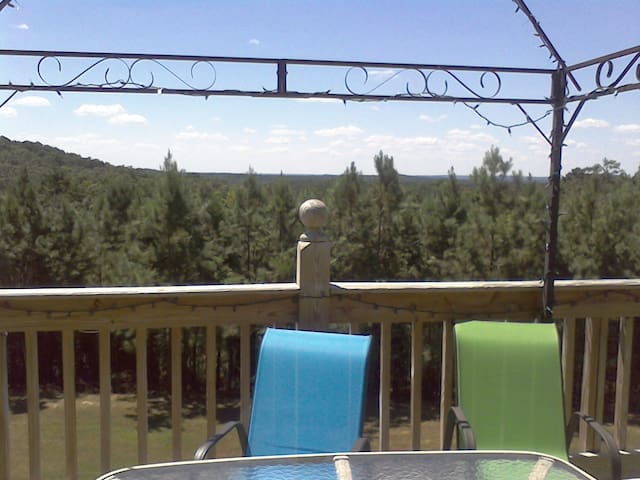 Indtast datoer for at se den samlede pris. Yderligere gebyrer gælder. Der kan blive tilføjet skatter.