Close to Convention Center, Disney World, Epcot Center, Hollywood Studios, Universal Studios, SeaWorld, Fun Spot, I-4, International Dr., Colonial Dr., Fun Spot, Millennial Mall, Florida Mall, Artegon, Factory Outlets, restaurants, nightlife, public transport. Good for couples, singles and business travelers. 24-hour check-in via lock-box. Don't need to drive. Bus stop is a short walk from the house. You can also use public transportation to Universal Studios and other theme parks.
Newly renovated house close to everything! Plenty of parking in a residential, quiet, neighborhood. Your room has a coffee maker with free coffee provided (regular & decaf), free bagged tea, and water bottles. There is a flat screen TV in your room with Orlando local TV channels, YouTube and Netflix (need your own account). It has ChromeCast and can also play your favorite movies/songs stored on a USB flash drive.
The house is close to everything: theme parks - dining - shopping. Universal is down the street, Fun Spot and International Drive are minutes away. We are near three major shopping malls: Millennial Mall, Florida Mall and Premium Discount Outlets. Many restaurants open late; Outback, Applebee's, Kobe, Golden Corral, Starbucks and Einstein Bagel nearby. Orlando Chinatown is about ten minutes away. Many shops and places to explore! Our house is located in a working-class neighborhood adjacent to MetroWest, an upscale community with nice lakes and golf courses. The house is near public transportations, major roads, and highways. The neighborhood can be busy and lively during weekend daytime. But it usually quiets down by nighttime.
Tung is nice. It is very kind of him to print the tickets for us. And the room is clean and cozy. Good experience!
嘉
2016-11-08T00:00:00Z
It was very clean, private. Very nice people. Would recommend to others
Tyler
2016-11-08T00:00:00Z
Tony is really openminded, helpful and friendly host. The communication with him was great! When you are looking for a small, cozy room near Universal, Disney or Downton Orlando, Tonys room is great for a few nights!
Anneke
2017-03-25T00:00:00Z
Awesome host! Tony was available, friendly and they even invited us to have a surprise Japanese dinner with his wife who cooks very well. Thanks again for everything.
Audrey
2016-12-27T00:00:00Z
Great place to stay. Close to most amenities of downtown. Secure parking. Would stay again
Leiming
2017-01-29T00:00:00Z
Tony & Tia were great hosts. Thank you for the accommodation, quick replies, and hospitality.
Harrison
2017-03-02T00:00:00Z
Ubicación espectacular y la casa muy bonita. Tony y Tia muy agradables y atentos
Melina
2017-02-28T00:00:00Z
Everything was perfect! Near all studios, easy check in/out, very nice communitiv hosts, comfortable bed and spacious room! Would recommend you to stay here!
Simon
2016-12-08T00:00:00Z
Værelsestype
Privat værelse
---
Ejendomstype
Hus
---
Med plads til
2
---
Soveværelser
Orlando, Florida, USA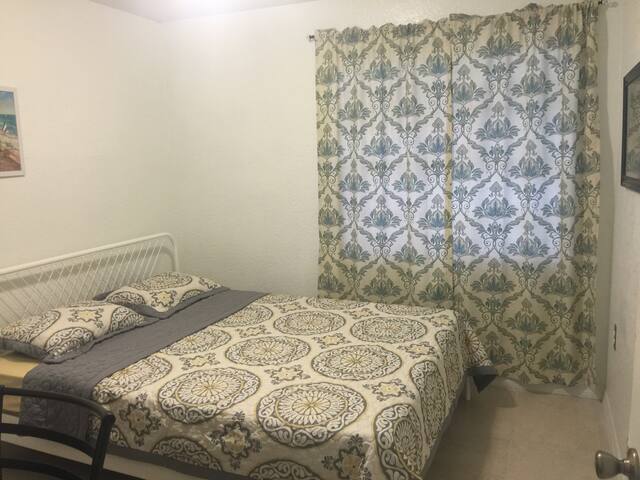 Welcome to our home! Its conveniently located to shopping plazas, restaurants, entertainment and themes parks. Your room is spacious, clean and tidy. It has closet space to hang your clothes, free WIFI and a desk to work on. Enjoy a well kept, clean shared bathroom, that has fresh, soft towels for you. Feel free to come socialize with us in our lounge by the fireplace! Or sit and relax on the patio.
Our home is open to you, please treat it with respect.
We love our neighborhood! It's peaceful and our neighbors are kind and friendly.
It was really short stay but so great.Eugene&Eva have beatiful and peaceful house.Our room was cozy.We hope that next time we stay longer.
Lucie
2017-03-20T00:00:00Z
The best airbnb-experience ever! Eva and Eugene are super kind, generous, welcoming and helpful. The room, bathroom and rest of the house is so clean and beutiful. Comfortable bed and good shower. The house is located in a cute and calm neighbourhood close to downtown Orlando and Universal Studios with a car but you can also take the bus really cheap, but it takes a bit more time. I would recommend this place to anyone and would definitely visit again!
Elin
2017-03-10T00:00:00Z
Clean and comfortable bed, no TV in the room so use your phone or tablet. The WiFi is good. Parking for two vehicles on the cul de sac. Warm and inviting host. Pool area is nice to chill out. Pool wasn't heated so probably not usable till summer, still nice area to get some sun. Shops close by and a good Mexican restaurant as well as theater. Check out was a breeze. Host has chocolates and fresh towels along with clear instructions on a personalized card when you arrive. Great value bring earplugs though, room next to us was rocking and boots were knocking when we came in at 1am. also it may have been tree service time for the community because there were wood chippers arrive did chain saws at around 8am. Great for solo or budget minded couples.
John
2017-03-21T00:00:00Z
Me and my wife absolutely loved staying at their beautiful home!! From the start to the beginning, it was a terrific and extremely smooth experience, even better than any hotel that I have ever stayed in. Firstly, Eva and Eugene were very accommodating and personable, even with our late check in and check out. Secondly, we were welcomed warmly with fresh towels and chocolates, in a very clean and cosy room. Lastly, even though Eva was under the weather, she made sure our stay was comfortable. Hands down this was our best AirBnB experience. If I visit Orlando again, i would definitely stay here again.
Moeez
2017-03-17T00:00:00Z
Great place, would like to stay again
CHENJUN
2017-03-15T00:00:00Z
They were very nice and generous. We had a nice time staying with them, And we will do it again. Their house was very nice, clean and quite.
bashayr
2017-03-06T00:00:00Z
Great friendly people
Stephanie
2017-03-27T00:00:00Z
This was the best Airbnb that I've stayed at. Eugene and Eva were really friendly and accommodating. I really enjoyed my stay and would recommend to anyone.
Ardhys
2017-03-12T00:00:00Z
Værelsestype
Privat værelse
---
Ejendomstype
Hus
---
Med plads til
2
---
Soveværelser
Orlando, Florida, USA
Enjoy a spacious bedroom and closet on the 2nd level of our pet-friendly family home. There is 1 full size bed and 1 twin size bed to the room. Our neighborhood is conveniently located near West Oaks Mall, Health Central Hospital, 408, Turnpike, I-4.
Enjoy privacy in a spacious bedroom on the 2nd story of our pet-friendly home. The room has a brand new queen size bed and a twin size bed, blinds, paint, a desk and doors with a lock. The home is equipped with wifi, full kitchen, and a washer/dryer. The bathroom is shared with another room. You have the option to book both rooms if you would like a private bathroom. If you would like to use 2 beds for only 2 guests, there is a fee of $5 per night
Our neighborhood is conveniently located near West Oaks Mall. Nearby highways include Florida's Turnpike, 408 Expressway, and Interstate 4. McDonalds, Taco Bell, Jaxby's, Twistee Treat, Sushi, Thai Food, Pizza, Chinese, and lots of restaurants are less than 5 miles away. Health Central Hospital 0.9 miles Walmart 1.3 miles Starbucks 1.3 miles Publix 1.5 miles Post office 1.8 miles Universal Studios 8.3 miles Orlando International Airport 22 miles Sea World 9.9 miles Disney World 14 miles
Sharla
2017-01-11T00:00:00Z
The place is close to locations such as orlando and highways. Youll be kindly received please also be kind they are a wonderful family. You will rest good dont worry about the bed, it is fantastic. Air conditioning and bathroom, wifi. ETC... Place is 5 stars stay.
Fabian
2016-12-08T00:00:00Z
Great people, totally value for money place. The hosts tried their best to make us comfortable. Would definitely stay again!
Aditya
2017-01-16T00:00:00Z
Great place especially for the price. The Owens family was very friendly, courteous, helpful, and respectful. Best AirBNB if have stayed at.
Ed
2016-12-14T00:00:00Z
The host canceled this reservation 8 days before arrival. This is an automated posting.
Tong
2016-12-19T00:00:00Z
Everything was perfect! The room, the house was very clean and comfortable. Owens Family were so kind. I definitely recommend this place and I will stay with them again in my next travel to Orlando. They assisted me in all I needed, even to rent a car, which was ver nice! I'm very happy to have stayed with them. :)
Roxana
2017-01-13T00:00:00Z
The family is very polite and took care of all my needs. It felt like I was staying with my family.
Anadi
2016-12-31T00:00:00Z
Great place! They were very warm and welcoming. I had a wonderful stay here.
Chandrasekar
2017-01-09T00:00:00Z
Værelsestype
Privat værelse
---
Ejendomstype
Hus
---
Med plads til
3
---
Soveværelser
Orlando , Florida, USA
HULK ROOM We're thrilled to host people from all over the world! Our goal is to help you have the time of your life! We offer a shared room in the most convenient location! Near Universal Studios and Downtown Orlando! Walking distance to the supermarket, McDonald's and many more shops and restaurants. Near bus stops that take you everywhere in Orlando conveniently! Our house has it all: good warm people, a nice swimming pool, plenty of room for you and a very cozy environment!
NEW HOUSE
It was one of my great experiences staying with Vanessa&Bruno.
Ali
2016-02-09T00:00:00Z
Greatest hosts ever
Rakaan
2016-12-31T00:00:00Z
A very nice place to stay with a variety of of social and friendly guest
Reginald
2017-01-23T00:00:00Z
The place may not be luxurious or very comfortable. It is suitable if you're planning to stay for a few days (a week max. ) But you'll definitely get to meet some cool people and have great conversations! The people there make the place awesome.
Atef
2017-03-15T00:00:00Z
Place is 7 mins away from the closest bus stop. Neighborhood can seem a little sketchy at first but actually it is pretty safe. Uber and Lyft to downtown or Universal studios $10-15. It's a great place to make friends and meet people from all over the world. Girls room is nice. Linens were clean and the hosts are the nicest :)
Geovanna
2017-01-04T00:00:00Z
A mix of nice people.
Ron
2017-03-30T00:00:00Z
Gustavo and K. Are awesome host!! I LOVE them..I feel at home.. (URL HIDDEN) brother from another mother!! GO Brazil.. Big up!
Shanique
2016-06-13T00:00:00Z
Ok
Alvin
2017-02-10T00:00:00Z
Værelsestype
Deleværelse
---
Ejendomstype
Hus
---
Med plads til
1
---
Soveværelser
Orlando, Florida, USA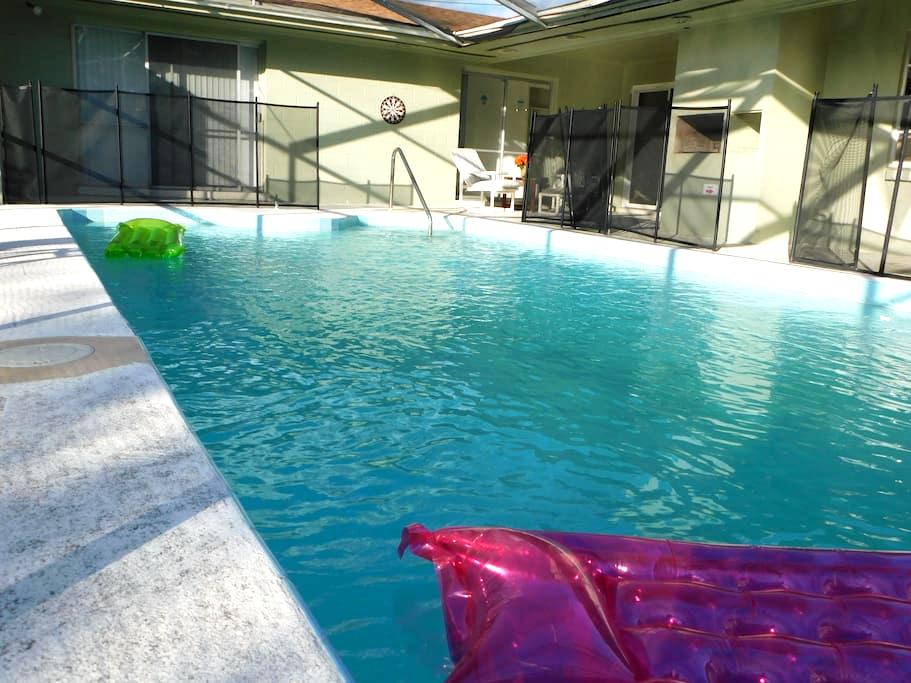 Welcome to our home! Come relax and unwind in our peaceful, open floor plan home. Your room is spacious. Has an empty closet for your clothes with hangers, a desk and chair to work on, free WiFi and comfortable bed. Enjoy a clean shared bathroom as well, with fresh soft towels. Our kitchen is also open to you, so feel free to make yourself at home! We have a lovely patio that has a gorgeous sunset every evening! Perfect place to sit back with coffee or tea and reflect on the days adventure.
Our home is open to you, please treat it with respect.
Our neighborhood is really peaceful with friendly neighbors.
Great host! Very generous and caring and the communication was excellent through-out our entire stay! Their home was very well decorated and clean ( and beautiful btw ) . I definitely wouldn't mind coming back here ! Thanks Megan & Berry for your awesome hospitality!
Jasmine
2017-01-31T00:00:00Z
Had the most wonderful stay with Berry and Megan! They have an absolutely beautiful home and we're extremely accommodating with our busy schedule and arrival times. They have the best hospitality and know how to make their guests feel at home. Thanks so much again! :)
Jenna
2017-03-16T00:00:00Z
Berry and Megan were extremely welcoming and provided a luxurious hotel-like experience in a warm and comforting home!! Location was great as well!!
Ursula
2017-02-23T00:00:00Z
Berry & Megan are amazing host. There home is beautiful and very clean. They treated me like family. They are warm and fun spirited people. They made my first experience with air bnb a great one and i will suggest staying with them to everyone i know.
Rickie
2017-02-03T00:00:00Z
Had a wonderful time here. Their home is impeccable! Loved it! Also close to stores and restaurants.
Temidayo
2017-02-18T00:00:00Z
Berry and Megan were lovely!! The place was great as well. Overall 10/10 would recommend
Dean
2017-01-28T00:00:00Z
Our stay with Megan and Berry was nothing short of perfect, their home is absolutely immaculate and we felt totally welcome as soon as we arrived. We felt so lucky to have found such a perfect base for our visits to the theme parks and we were so sad to leave Megan and Berrys beautiful home. We would highly recommend them as fantastic hosts, and the two little dogs are an adorable bonus too!!
Harriet
2017-03-04T00:00:00Z
The house is BEAUTIFUL (and clean)! The hosts are sweet and accommodating. I definitely recommend!
Mackenzie
2017-01-27T00:00:00Z
Værelsestype
Privat værelse
---
Ejendomstype
Hus
---
Med plads til
2
---
Soveværelser
Orlando, Florida, USA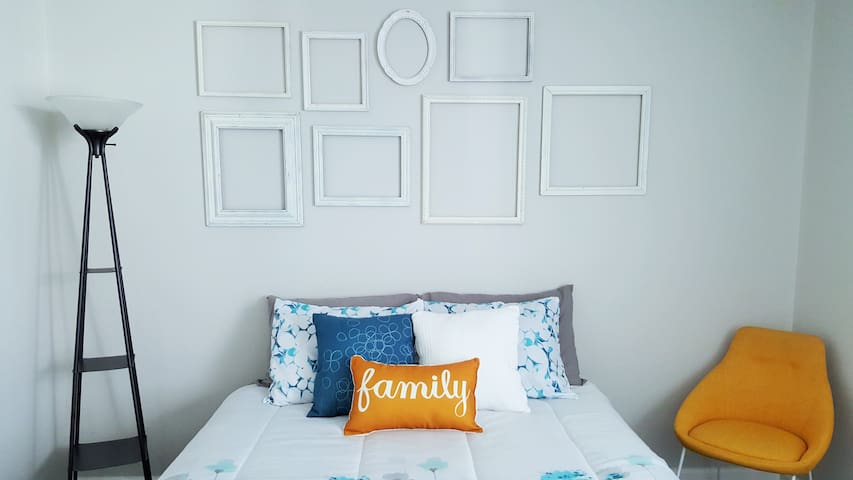 We have a large upscale modern house with a salt water pool, a huge yard, on a spring fed lake near theme parks, outlet/shopping malls, restaurants/bars/spas, International Drive and many other attractions. Your room is designed with high end furniture and bedding and has beautiful views of Palm Lake. When you aren't at the theme parks or shopping, enjoy kayaking, swimming and watching Netflix, Hulu, Amazon and Sling Live TV from home.
YOUR PRIVATE ROOM: Your room is decorated and furnished with high end brands such as West Elm, Crate & Barrel and CB2. You have a beautiful view of Palm Lake. You have a nice queen size bed with a Ralph Lauren down-alternative comforter and four memory pillows. The room has a large 55" LG Smart TV with unlimited Netflix, Hulu Plus, Amazon Prime and Sling Live TV subscriptions for your enjoyment. There is a closet and a dresser for your clothes. The room also has a large full length mirror and a small dining table for two. YOUR PRIVATE BATHROOM: Your private bathroom has beautiful granite counter tops and comes with shampoo, conditioner, body soap, tissue paper, body lotion, towels and a hair dryer. Your bathroom is NOT connected to your room, you will need to pass through the living room and kitchen, but it is your private bathroom that is not shared with anyone else in the house. OUR HOME: Our home is roughly 3,300 square feet / 306 square meters with a private large salt system swimming pool located on Palm Lake and a huge beautiful yard. We have a formal living area, a formal dining area, a casual dining area, a large living room with a 75" Samsung Smart TV, a large modern kitchen with stainless steel appliances and granite countertops, an outdoor patio area with modern lounge chairs that is completely screened to help keep out Florida bugs, a laundry room and an area to park your car. You are also welcome to use our kayaks and we have an iMac in case you didn't bring your computer. PEACE OF MIND: It's also good to know that all the bedrooms in our house are in completely different locations, so you don't have to worry about waking somebody up late at night or early morning from watching TV or chatting.
Our home is located in Dr. Phillips, which is considered one of the nicest districts in Orlando. It's also located in the tourist area of Orlando where most of the attractions are located. Universal Studios is right next to Dr. Phillips, you can even see their fireworks from our house. We have a lot of great restaurants and grocery stores and we are near outlet malls, shopping malls, theme parks, International Drive, Disney Springs and many other attractions. Example distances from our house (TRAFFIC VARIES)... THEME PARKS: -Universal Studios (8 minutes / 3.8 miles) -SeaWorld (15 minutes / 7.1 miles) -Disney World (20 to 25 minutes / 13.1 to 14.2 miles) GROCERY STORES: -Publix (4 minutes / 1.6 miles) -The Fresh Market (4 minutes / 1.8 miles) -Trader Joes (5 minutes / 2.7 miles) -Whole Foods (10 minutes / 4.1 miles) OTHER POINTS OF INTEREST: -Restaurant Row (5 minutes / 2.7 miles) -City Walk (7 minutes / 3.8 miles) -International Drive (12 minutes / 3.8 miles) -Mall at Millenia (15 minutes / 5.1 miles) -Orlando Vineland Premium Outlets (15 minutes / 9 miles) -Disney Springs (17 minutes / 8.3 miles) -Orlando International Premium Outlets (20 minutes / 6.1 miles)
Jonathan and Cammy were awesome hosts! Their place was absolutely stunning and the pictures were spot on! Such a great value even though we only were able to stay for one night, I definitely will be returning if I ever come back to Orlando! Love this place and would recommend to future travelers!
Madison
2016-08-05T00:00:00Z
We had a wonderful stay at Jonathan's house. The room and the rest of the house were exactly as described and everything was clean and modern. Jonathan and his partner were both extremely helpful both before and during our stay. He arranged for us to check in early and during our stay advised us on places to eat and visit. They are both lovely people and the house is delightful and positioned on a beautiful lake away from the hustle and bustle of Orlando but within an easy ten minute drive from the attractions. I couldn't recommend Jonathan and his place more, my only regret is that we weren't able to stay longer.
Oli
2016-09-16T00:00:00Z
Let me start by saying this place is beautiful inside and out. Jonathan and Cammy were beyond wonderful. They were very friendly, nice and knowledgeable of the area. The space was better than described. The house and room was super clean, modern, luxurious and the bed was very comfortable. They have a huge yard on a lake. I was able to take a quick swim and their pool is deep, which was nice. The location was really great. It was so close to Universal Studios that I ended up just taking Uber because it was half the price of parking there. I don't have any complaints, I'd love to stay here again.
daniel
2016-07-27T00:00:00Z
Great stay! The place was super gorgeous and Jonathan was very welcoming. I would definitely stay again
Caroline
2016-10-16T00:00:00Z
Jonathan was an excellent host. He went above and beyond to make sure my wife and I were comfortable. His house is very lovely and located in a quiet neighborhood. I would stay here again in a heart beat. Jonathan even provided us with a helpful pamphlet with lots of different places to go to, restaurants, and outdoor activities. Thank you for allowing my wife and I to stay in your gorgeous house.
Michael
2017-02-20T00:00:00Z
Everything was amazing! The house is fantastic and Jonathan and Cammy were very welcoming. They respected our space, but were still available if we needed anything. They had great recommendations for places to eat and things to do. It was such a great vacation, so relaxing and fun! This was such a great place to stay. We would definitely do so again.
Megan
2017-03-27T00:00:00Z
The house was really nice and clean. Everything you need is close by. Definitely recommend staying here!
Hannah
2017-03-08T00:00:00Z
Jonathan's place is a beautifully decorated, very clean and organised house next to a wonderful lake. The neighbourhood is quiet and safe. The service is truly five star experience, everything is organised, provided and taken care of. Jonathan gave us excellent hints about which restaurants to try and how to have great time in Orlando. Jonathan and Cammy are young, friendly, happy couple, it was great to have nice chats with them. The two dogs (Roxy and Jelly) are lovely, friendly and always open to some play or petting :). The place is highly recommended!
Martina
2017-01-13T00:00:00Z
Værelsestype
Privat værelse
---
Ejendomstype
Hus
---
Med plads til
2
---
Soveværelser
Orlando, Florida, USA
Beautiful and well located private room in Orlando. 3 fully furnished bedrooms. Nice swimming pool and outside area. Walking distance (1.5 miles) from Universal Studios; restaurants and grocery. Easy access to I4 and Orange County Convention Center.
Beautiful, renovated and well located House/Rooms to rent in Orlando. We have 3 fully furnished bedrooms. Nice swimming pool and outside area. Walking distance (1.5 miles) from Universal Studios; easy access to I4 and Orange County Convention Center. Bars restaurants and supermarket less than 1.5 miles away. This room shares a bathroom with the other simple room. If you want private bathroom, please search for "Nice and cheap Private Master Room". We have TV, internet, a nice pool and a fire pit outside so you can enjoy your mornings and evenings doing something different! The kitchen has utensils so you can prepare your own food and enjoy a nice meal at home! We will do our best so you feel as comfortable as if you were in your own house! Pets are welcome at the house… Please let us know what kind of dog you have, how many and if they sleep/stay in a cage or not. Thank you and hope you have an amazing experience! The guests have access to their own bedroom and all the common area of the house (living room, dining room, kitchen, laundry room, outside area and swimming pool). If you need any help feel free to call me and I will assist you as best as I can!
It was really scenic and close to universal studio. It was quiet and to restaurants and other places are about $6-7 by Uber
Justin
2017-03-12T00:00:00Z
The host made us feel very welcome and comfortable in the house. It was a close walk to Universal, and we didn't mind the semi-private set up of the house. They provided us with a floor mattress as well as clean towels to use when we showered. They were great hosts and I would recommend 10/10!
Sarah
2016-05-12T00:00:00Z
I didn't actually met Grabiela but her brother is warm welcoming. I house is very clean with a beautiful kitchen and a pool. I really enjoyed the stay with my friends there and it was very near to universal studios. I would definitely recommend and stay here again.
Rashmitha
2016-03-18T00:00:00Z
My Gf and I only stayed at Gabriela's place for one night but it was a great experience! We arrived pretty late as our flight from LA to Orlando arrived around 11:30 but this wasn't an issue. The house was very clean and her brother was very kind. We would definitely stay there again. Thanks, Gabriela!
Franchesca
2016-02-28T00:00:00Z
Very accommodating, nice sized pool, nice area, pretty private as i relaxed in my room i felt like i had the place to myself, very reasonable price also, she responds quickly and even let me extend my checkout time i definitely reccomend
Jeremiah
2016-12-01T00:00:00Z
Gabriela and her brother are amazing hosts. My boyfriend and I adored the house we staid at and are eager to visit again. They were accommodating and flexible since we staid up for Halloween Horror Nights.
Carolyn
2016-09-17T00:00:00Z
This was a wonderful place to stay. It was clean, conveniently located, and best of all, the hosts were incredibly pleasant! We would definitely stay here again!
Teresa
2016-02-14T00:00:00Z
Amazing home. Very clean. Booked last minute and there were no problems. Gabriel responded quickly. Will definitely stay here again.
Adam
2016-05-10T00:00:00Z
Værelsestype
Privat værelse
---
Ejendomstype
Hus
---
Med plads til
3
---
Soveværelser
Orlando, Florida, USA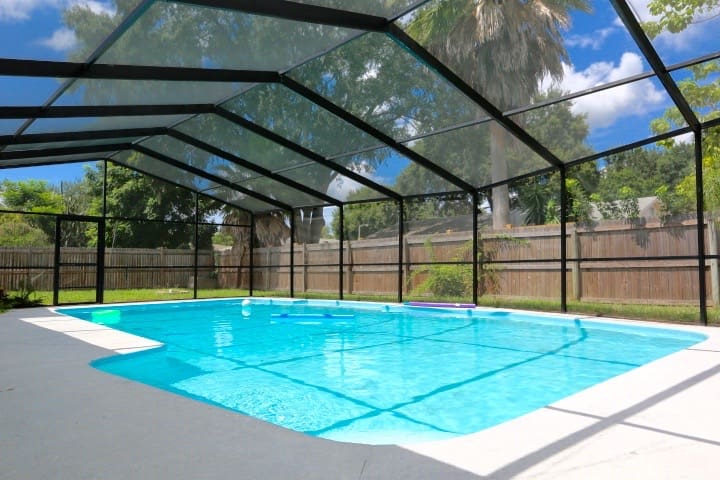 Close to Parks, Attractions, Convention Center, Premium Outlets. 24/7 Walmart, Publix, Coffee shops, Restaurants and Grocery stores a mile away. All the benefits of the city with a country feeling. Quiet. Safe. Clean. Lots of parking. Oversize Pool. Large Paved Patio with a Lake View. Hammock with wheels. You can roll it to any desired spot ( relax ) Large Trampoline, Tree Swing ( for the kid in you ) Basketball Hoop, Air-Hockey table, Ping-Pong table. ( for some fun ) Piano ( music )
The property sits on a 2 acre lot and has a private entrance with a long driveway that ends in a big circle that has lots of parking space. Horses are from both sides of driveway. They are very friendly and would love to be pet or get a snack. It is the first mail box on a dead end street The house is not seen from the street. ( very safe and quiet ). Hammock ( in the garage to protect from weather ) Your Private, Quite Room has: The room and bathroom are located on the left side of house. If you wish to have more privacy please use the screen room divider to separate your room and bathroom from the rest of the house. You can also have a private entrance through the bathroom ( blue key ) or you can enter from main entrance ( Red key ). You will have Queen size bed. Very comfortable with a bunch of pillows. Small Refrigirator Microwave Complimentary Coffee, Tea, Water and Snacks Desk / chair Recliner Large closet with hangers Ceiling fan with lights Laminate wood floor Windows has blinds as well as a thermal insulated blackout curtains to make the room darker during the night and cooler during the day.
Located on a dead end street: beautiful, natural, quite, safe.
Tammy is an amazing host. Always in the mood to help and make your day better. She shared tips to save money and enjoy the local attractions even more. The house is really nice, confortable and clean. You can take advantage of the complimentary waters, coffee and snacks in the room. Thanks a lot! We are very glad to have met you and we really enjoy staying at your place. See you in Buenos Aires :).
Nuria
2016-11-01T00:00:00Z
We had a great time staying here! The house was beautiful, the room was extremely comfortable and everything was very nicely decorated. Tami was a great host and very accommodating. I would definitely stay here again!
Joey
2017-03-22T00:00:00Z
Tami is lovely host. Friendly and welcoming. We felt very comfortable in Tami 's home. The house is spacious and so very clean. Very peaceful and met all. Our needs. Highly recommend this place.
Renny
2017-01-04T00:00:00Z
Ha sido increíble!!! El cuidado que pone Tami a cada detalle es en verdad acogedor. La casa está perfectamente ubicada a 20 minutos de todos los parques. Ella y su familia son extremadamente amables. El cuarto está muy bien decorado y cuidado. La limpieza es extrema. Me volvería a quedar ahí. Simplemente una experiencias increíble! Mi total recomendación!!!
Michkin
2016-12-15T00:00:00Z
We liked Tami's place. 24h private access, free parking. Private bathroom next to the room. Mattress is comfortable. You need to know that Tami love pets so there are some but they are pretty friendly and you can pet most of them. We were there for visiting Disney and Universal Studios. Home is about 25-30min from Disney and 20min from Universal. We did not have time to talk alot with Tami but she was very nice & friendly and help us for some stuffs we needed. Nous avons aimé la maison de Tami. Un accès privé 24h, stationnement gratuit et une salle de bain privée. Le matelas est confortable. Vous devez savoir que Tami aiment les animaux donc il y en a plusieurs, mais ils sont très gentils et vous pouvez les flattez pour la plupart. Nous avons été là pour visiter Disney et Universal Studios. La maison est à environ 25-30min de Disney et 20min d'Universal. Nous n'avons pas eu de temps pour parler beaucoup avec Tami, mais elle est très gentille et courtoise. Elle nous a aidé pour quelques trucs que nous avions de besoin.
Olivier
2017-01-15T00:00:00Z
Tami was so welcoming and accommodating to us! Even though we got there very late the first night, she communicated with us frequently to make sure everything was in order for our arrival. Throughout our stay she checked in on us and answered every query we had quickly. It was a pleasure staying with her and we would gladly do so again.
Amy
2016-10-10T00:00:00Z
Tami es muy amable y muy buena anfitriona! Se ocupó de que nos sintiéramos como en nuestro hogar! Su casa es hermosa y esta muy bien ubicada! Realmente recomiendo hospedarse en "Little House in the prairie" fue una muy linda experiencia!!!
Eli
2016-10-04T00:00:00Z
Tami's home is really nice!! It feels like the countryside but close to everything in Orlando. The location is perfect. We didn't meet Tami but her brother was very helpful and kind. Tami writes small notes to explain every detail to her guests which is really nice. Also Tami offers coffee, crackers, popcorn, chocolates and more surprises. Definitely I recommend this beautiful and full of nature place in Orlando!!
Alejandro
2017-01-22T00:00:00Z
Værelsestype
Privat værelse
---
Ejendomstype
Hus
---
Med plads til
2
---
Soveværelser
orlando, Florida, USA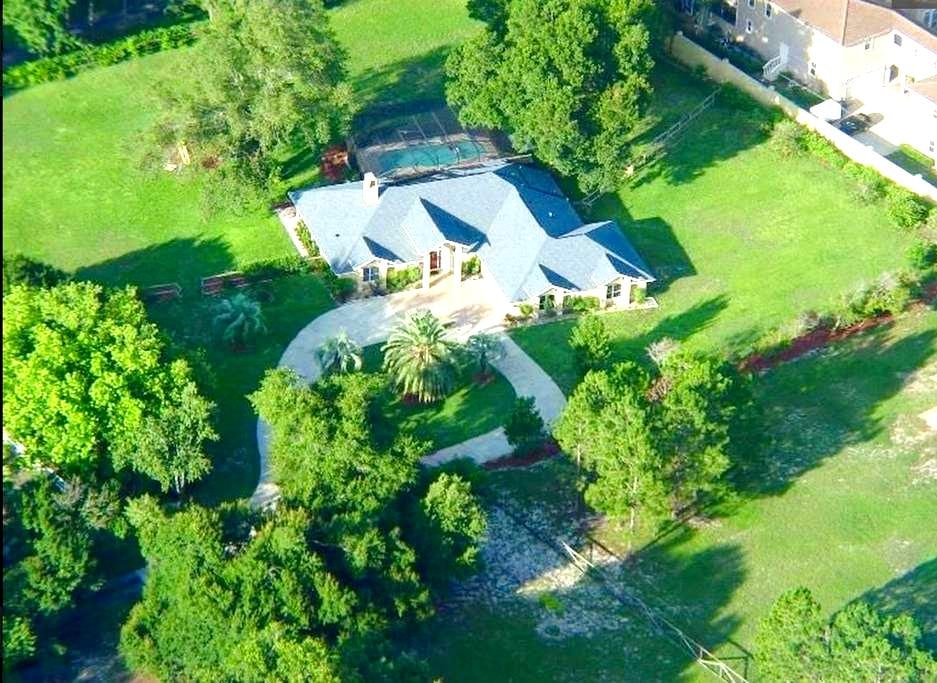 Sleeps 8 Townhome full kitchen large fenced yard private screened in pool , great for grilling out .linens, towels . Pet friendly Highway is one mile away its an hour and a half to beach ,minutes to Disney universal great restaurants within a mile and public golf
Orlando Town home with Private Pool 15 Minutes form Universal, 35 minutes from Disney 5 minutes to major highway 25 minutes from Orlando International Airport Golf course within 2 miles - Fenced lush landscaped yard with private screened in pool - Large corner lot - Granite counters with stainless steel appliances - Side by side with ice maker and double oven - Large laundry room with washer and dryer inside home - Bright open floor plan with neutral colors - 3 small bedrooms upstairs Master has King size bed with walk-in closet and private bath, the other rooms include Queen Size sleeper sofa and another king size bed - Downstairs Living Room has Queen size sleeper sofa as well - 2.5 bathrooms, half bath downstairs - Textured walls crown molding - Blinds and ceiling fans in every room - Storage space -
It is my goal that you are comfortable and have a great stay.
The house was a perfect fit for my family's visit to Disney. The location was minutes away from everything. And the pool was a great treat for everyone.
Noraima
2015-07-24T00:00:00Z
Clean and spacious, good place to stay for many people.
Sarah
2015-11-08T00:00:00Z
The host canceled this reservation 10 days before arrival. This is an automated posting.
Kim
2015-11-29T00:00:00Z
First I want to take a moment to thanks my host for making me And family feel like we were home, also thank you for excellent communication to make sure my needs and my family we're take care. My family and I had a great time. The house was amazing, everything was clean and ready for us, of course I have to say that my kids enjoy the pool the most. The neighbors were great, and quiet we felt save, everything was close to the house, the restaurants, it was very convenient that the house is around many places like Universal Studios only 15 minutes away and Walt Disney only 25 mins away. I recommend this host and the place if I decide to travel again this will definitely be a place for me to go.
Juan
2014-07-07T00:00:00Z
We had the pleasure of staying at Roxanne's Townhome while visiting Orlando. She was easy to communicate with and the process of checking in and out went smoothly. The house is exactly as advertised, and for the price we paid it was a great deal. We also had a car so being a little far from Universal/Disney was not an issue. The rooms were big, the kitchen was well equiped and the private pool was the icing on the cake. Overall I would recommend this property for large groups and families visiting Orlando. Having a car helps if you're planning on visiting Disney but beside this is a great property.
Reza
2013-09-30T00:00:00Z
The reservation was canceled 10 days before arrival. This is an automated posting.
Ryan
2014-07-22T00:00:00Z
It has been a wonderful experience lived in this nice house. The house is in a good condition with two queen size beds and two soda beds located in a nice and friendly community. I would definitely choose this place again if I visit Orlando in the future.
Jun
2015-05-23T00:00:00Z
We had a great experience with our host Roxanne, The townhome was centrally located. It was very clean.
Rudy
2015-01-28T00:00:00Z
Værelsestype
Helt hjem/lejlighed
---
Ejendomstype
Hus
---
Med plads til
8
---
Soveværelser
Orlando, Florida, USA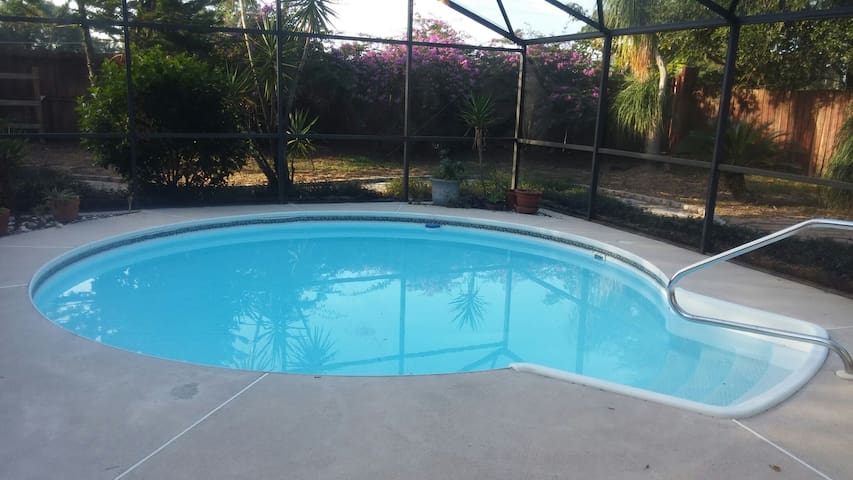 My place is close to Universal, Disney, Camping World Stadium and downtown. You'll love my place because of the views, the outdoors space, and the ambiance. My place is good for business travelers and vacationers to the theme parks.
Futon, dresser, desk, chair night stand w/ light. usb charging ports. Ceiling fan w/light. Shared Bath
Quiet residential neighborhood off the beaten path but close to everything fun. Spectacular sunsets over the lake.
This was my second stay at Jay's place and I have nothing but good things to say about it. Jay is a great host and will do almost anything to make your stay more enjoyable. The house itself is amazing and I wish it was warmer so I could have spent time out at the pool, and if you're a golfer he has a chipping range down by the lake! Highly recommended
Austin
2017-03-16T00:00:00Z
Jay is a great host! The house is awesome and it's close to everything you'd need.
Austin
2017-02-01T00:00:00Z
I really enjoyed my stay with Jay. Everything was exactly as pictured. The house was easy to find and in a nice location, close to shops and restaurants. Jay is a really nice guy and I enjoyed chatting with him. He has great suggestions on things to do locally. When I return to Orlando, I will stay again!
Alicia
2017-02-11T00:00:00Z
I had the pleasure of staying at Jay's home for a month. Check-in/check-out was seamless. The house was large, organized, and spotless and I enjoyed making meals in the fully stocked kitchen. The pool area overlooking the lake was just breathtaking. Jay himself is super laidback and friendly. What a great experience! I can't wait to visit again
Aziza
2016-12-30T00:00:00Z
I stayed at Jay's for a week and it served it's purpose and beyond. Standard furnishings, surprised I had Netflix in my room. The very best part is the backyard which was absolutely stunning with the pool and the lake. Breath taking view during the day and spectacular view of the Disney fireworks at night. Jay was a great host and offered advice about local attractions. Would stay again.
Andrea
2017-03-27T00:00:00Z
I lived here for almost 2 months, and have nothing but positive things to say. Backyard has a gorgeous waterfront view, the pool is well lit and clean, and the house overall is quick and easy to call 'home.' Jay is a great guy and thoughtful host.
Mac
2016-11-23T00:00:00Z
Jay's is very welcoming and helpful. Stayed for a while and he was willing to go the extra miles helping out to go places where it'd normally be difficult without a car. I'd highly recommend you living here, good location, the house is really nice (and you get a pool too), and he's a great host!
Nicole
2016-09-22T00:00:00Z
Værelsestype
Privat værelse
---
Ejendomstype
Hus
---
Med plads til
1
---
Soveværelser
Orlando, Florida, USA
Private 750 sq guesthouse located next to my home in Dr. Phillips. It's perfect for families with small kids! It has its own private entrance, master suite with queen bed, living room with sofa bed, crib, air mattress, & full kitchen. Shared backyard with large pool, playground, grill and fire pit. Large driveway parking. Just 3 miles to Universal & 10 to Disney. 10min to International Drive & 20min from the airport. Falo Portugues y hablo Espanol. Qualquer duvida e so perguntar!
Private guesthouse with access to huge backyard with amenities such as pool, swing set & firepit. House is located at Dr Phillips, a residential upscale neighborhood near Universal Studios.
Guest house is located very close to Universal Studios, and minutes from Disney. Just 10 minutes drive to International Dr. with lots of restaurants, bars and the famous Orlando Eye ferris wheel.
Our trip to Orlando was for both business and pleasure, so when looking for a place to stay we wanted somewhere affordable, convenient to both the convention center and local attractions, and safe. Prior to our arrival, Juliana was pleasant to communicate with, and once we arrived we found her and her husband to be incredibly hospitable. The rental was exactly as described and pictured in the listing, and we had no problems during our week-long stay. Although we had brought our own toiletries and snacks, our hosts had stocked the rental with everything we could need and more. They even had a box of a dozen soft chocolate chip cookies on the kitchen counter for us, and Juliana had left several toys and books for our daughter to play with (these were set up in their own little "nook" near the kitchen). Juliana told us to let her know if there was anything we needed that wasn't already in the guest house, but the rental was so well stocked that nothing was lacking. Since we had our toddler with us we took advantage of the pool and swingset in the backyard. It was great to be able to keep our daughter entertained outdoors without having to go to a local park, although there are several options, including Lake Eola Park that we went to for the Sunday market, not far away from the rental. The pool had several floats/toys for children, which our daughter loved. Juliana and Gregory have two daughters of their own, and one night they invited us inside their home so our daughter could play with theirs. Gregory even pushed our daughter on the swing along with my husband one night. Again, we found them to be very generous hosts, and we would absolutely consider staying with them again.
Karla
2016-07-01T00:00:00Z
Juliana and Greg are amazing hosts. The place is exactly as advertised. Comfortable, calm, well equipped and very conveniently located, just a few minutes from Universal and I-drive. Definitely a good choice.
Bernardo
2017-01-02T00:00:00Z
Our stay at Juliana's and Greg's guest house was better than we could have ever imagined. The communication from the beginning with Juliana was a breeze, she answered any and all of our questions accurately and promptly. The property itself was spotless and exceeded our expectations. The guest house made our stay very comfortable and enjoyable. The backyard and amenities were great for my daughter who enjoyed swinging daily and had tons of room to play. Our host were very thoughtful, asking what time my daughter napped so as not to wake her when they were doing the landscaping. The location of the house is fantastic! The shopping, restaurants, and proximity to Universal/Disney/Sea Word/ I-drive is huge plus, you are only 5-15 minutes from everything. I have to believe that my stay was the intention of Air BNB when first developed from a concept. All my expectations were exceeded, and as a frequent business traveler I can confirm it is not the norm in the hospitality industry these days.
Jason
2016-07-21T00:00:00Z
Værelsestype
Helt hjem/lejlighed
---
Ejendomstype
Hus
---
Med plads til
4
---
Soveværelser
Orlando, Florida, USA
You can walk to Universal Studios, McDonald's, Hooters and Walgreens. By car is 3 minutes from International Drive, Walmart. Less than 10 minutes from Premium Outlets, Orlando Eye and 20 minutes away from Disney. Enjoy Orlando!
Great location!
Neil
2016-10-04T00:00:00Z
DO NOT STAY HERE. IT IS NOT COMFORTABLE, CLEAN OR SAFE. No te quedes aquí. Não fiques aqui. 不待在這兒。 여기 체재 하지 않는다. ここに滞在しないでください。 If you are looking for a single room or a whole house, DO NOT STAY HERE. If you are familiar with hostels, this unit will feel familiar and comfortable to you. This AirBnB property is nothing more than a hostel that uses a house instead of a bigger structure. The unit is overcrowded and therefore maintaining security on this property is impossible because guests leave sliding windows and doors open and/or unsecured. The devices on the sliding windows and doors are too complicated and therefore the guests do not know how to use them or why they are needed. If there are 9 people staying in the facility and someone walks through an open unlocked sliding door, that is a lot of belongings that will go missing. The owners may not be financially responsible when guests leave the facility unsecured. I locked up several times prior to leaving after all the other guests have left for the day. The foreign guests don't understand. Since this review is being published, the owners are now aware in a public format that their efforts for securing this property are not effective and they have been warned. This is a house in a residential neighborhood. It has two bedrooms, a small kitchen and small living room. The house is worn throughout every room. Every surface is dirty, scratched and worn. The furniture inside the house is sparse, old and filthy, especially the couch which is made of a fabric that has the oil and grime from every person whom has ever sat or laid on it. The couch feels like an oil soaked rag. The lighting in the home is dim and many of the fixtures in the living/dining room lack light bulbs. 2 light bulbs are needed in the overhead fan/light and two bulbs are needed in a standing floor light fixture. I brought this up to Orlando (one of the property owners) and he initially insulted me by telling me how to operate the fan/light and then he told me he would take care of it the next day. That didn't happen. It never happened. My guess is that the property owners / managers do not care and their English is not of a standard high enough to understand my concerns. The mangers/owners (Orlando, and the other two ladies whom contact details were provided) appear to own several properties in the area, so look for a similar picture so you can try to stay away from these properties. If you want a good AirBnB experience, this is not it. I have traveled quite a bit. I have used hostels, hotels, camp sites, RVs, couches and AirBnb over the last few years and this property is at the bottom of those experiences. The occupancy of this unit is about 9 people but it could be more. There are 3...
Brian
2016-11-25T00:00:00Z
Buena ubicación para los parques de Universal a 20 minutos caminando, solo tiene lo basico para descansar es más como un hostal y le falta un poco más de limpieza.
Felipe
2016-09-16T00:00:00Z
Excelente casa!!! Super perto do parque da universal, fui a pé e voltei todos os dias (15 minutos). Perto de restaurantes, farmácias e supermercados. Camas boas, casa super arrumadinha, parece uma casa de boneca e a Alê é super simpática e atenciosa. Super recomendo!!!! Excellent home !!! Close to Universal's park, I went walking and came back every day (15 minutes). Close to restaurants, pharmacies and supermarkets. Good beds, super tidy house, looks like a doll house and Alê is super friendly and helpful. Recommended !!!! Excelente casa !!! Super cerca los parques de Universal a (15 minutos Caminando ). Cerca de restaurantes, farmacias y supermercados. Buenas camas, super ordenada y se ve como una casa de muñecas y la propietaria Alê es muy amable y servicial. Super recomendado !!!!
Karoline
2016-12-01T00:00:00Z
Ale offers transfer from the airport at a reasonable price, she was very clear about the house rules. This is just a simple place where you can go and spend the night, is more than enough, since you pretty much spend the whole day at the parks. I felt a strange smell in the room, I let the host know and she took care of it, and she was always texting me to make sure everything was okay. I also got to know people from other countries, really good experience and is very close to universal :) MAKE SURE you buy tickets with the Host, good price.
Javier
2016-10-28T00:00:00Z
The host canceled this reservation 5 days before arrival. This is an automated posting.
Lucy
2017-03-01T00:00:00Z
This was my first negative experience with AirBnb and will definitely make me much more careful about how I select places to stay. Though the listing is for a private room, the other room in this small 2 bedroom duplex has several beds which are rented out individually. This results in many guests coming and going at all hours of the day/night (the very loud door keypad was activated around 2-3am most nights). The location was excellent for visiting Universal Studios, however I would recommend spending a little more $ to have a more enjoyable vacation. The need to have a security camera set up in the living room should set off alarms as to the quality of guests flowing in and out of this residence.
Dan
2016-09-28T00:00:00Z
Good
재용
2017-01-24T00:00:00Z
Værelsestype
Privat værelse
---
Ejendomstype
Hus
---
Med plads til
4
---
Soveværelser
Orlando, Florida, USA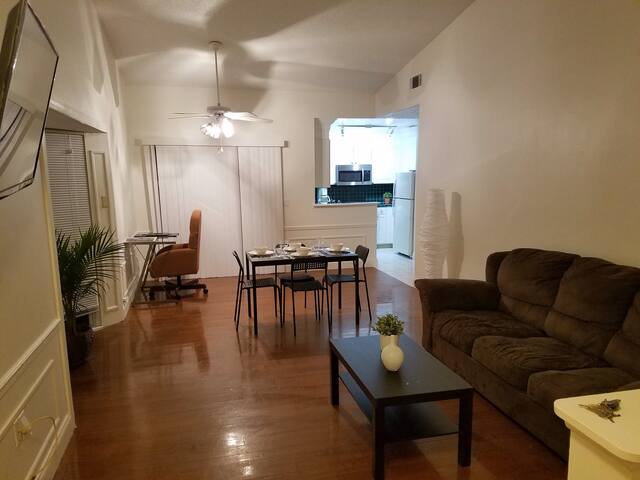 Living, Kitchen, 2 bed, 2 baths
Hi, are you going to bring the dog? In front of the Universal Studios
The Green
Værelsestype
Helt hjem/lejlighed
---
Ejendomstype
Hus
---
Med plads til
5
---
Soveværelser
Orlando, Florida, USA
Hello :) A Master Guest bedroom with a new comfortable 12" memory foam king bed with a beautiful view + full bath double sink, bathtub shower combo is available. A single person upto 3 people are welcome to share the Master Guest bedroom + bathroom. I have 1 indoor friendly cat. My town home is located in a beautiful upscale resort style gated community. You will need to scan your gov issued ID in order to enter this gated community. View my queen bedroom @: http://abnb.me/EVmg/RrCtceyPoC
My beautiful peaceful home is a 2 story, 3 bedroom, 2.5 bathroom townhome built in 2005 within a resort style, gated community. All of the furniture is new. I also have an office space with a desk and 2 comfortable chairs. Please bring towels for your use. Please do not hesitate to ask me questions. Epcot has the Flower and Garden Festival now through the 1st week of May until Mother's Day. Avatar is scheduled to open at Disney's Animal Kingdom at the end of May 2017! Universal's Volcanic Bay brand new water park is opening May 25th, 2017! Universal is less than 3 miles from my home! MegaCon is May 26th... close to my home too! I'd be happy to tell you about the many vegetarian and vegan friendly restaurants in Orlando.
Teak restaurant sports bar across from the community gate. 10+ restaurants within 1 mile, Universal Studios - 3 miles, Disney - 9.5 miles, Super Walmart - 1 mile, Millenia Mall - 3 miles, Shopping Outlet - 4 miles, Whole foods and Trader Joes - 4.5 miles, Many vegetarian and vegan friendly restaurants with a 25 min drive. 2 golf courses within 4 miles. Cocoa Beach - approx 1 hour drive. Epcot has the Flower and Garden Festival now through the 1st week of May until Mother's Day. Avatar is scheduled to open at Disney's Animal Kingdom at the end of May 2017! Universal's Volcanic Bay brand new water park is opening May 25th, 2017! Universal is less than 3 miles from my home! MegaCon is May 26th... close to my home too! I'd be happy to tell you about the many vegetarian and vegan friendly restaurants in Orlando.
I stayed here for about 6 nights, the house is very nice and the room had a private bathroom that was very comfy. The area is gated and will require Id upon entry every time, that wasn't so annoying but definitely secure and relieving. Very quiet that was my favorite, definitely a good night's rest and very calming
lambo
2017-03-16T00:00:00Z
Værelsestype
Privat værelse
---
Ejendomstype
Hus
---
Med plads til
3
---
Soveværelser
Orlando, Florida, USA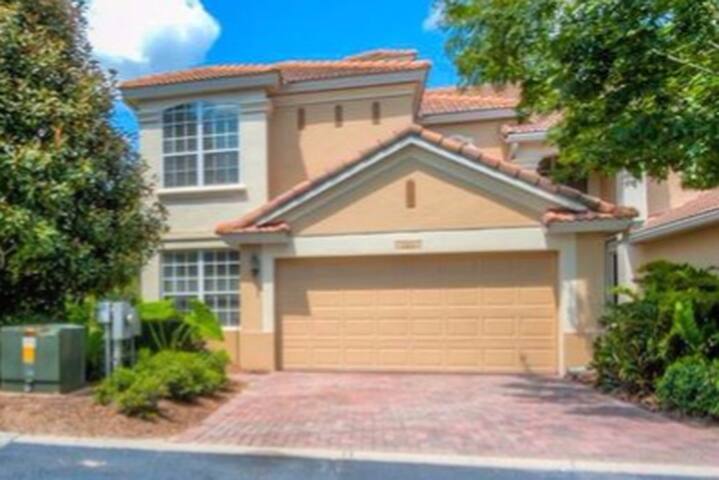 Our goal is to help you have most time of your life. We offer a shared bedrooms in the best location near Universal Studios and Dr. Phillips area. Ask about our convenient transportation and rent car.
Værelsestype
Deleværelse
---
Ejendomstype
Hus
---
Med plads til
6
---
Soveværelser
Orlando, Florida, USA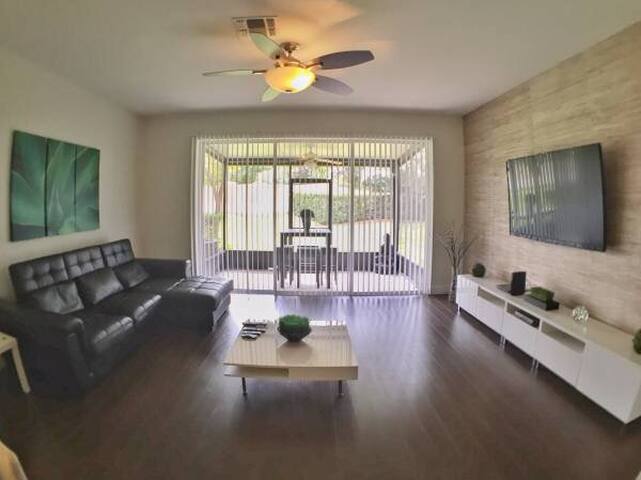 You'll love my place because of the unique location, near of everything. 10 minutes(by car) from the Universal Studios, 20 min from Disney and a lot of restaurants. The Comunity is quiet and very friendly. The bedroom is very comfortable and quiet with all you need to rest after a fun park day. My place is good for couples, solo adventurers, business travelers, and families (with one kid). FIRST TIME USING AIRBNB!!! USE MY COUPON CODE AND GET $ 40/IN TRAVEL CREDIT - www.airbnb.com/c/aiath
LOCATION! LOCATION! LOCATION! We are located close to the Universal park in a non-touristy, family friendly, quiet area. There is a small shopping center that is a 7 minutes walk or 3 minutes drive with: •Fresh Market •CVS • French Bistro •Japanese Restaurant • Gator's Sport bar •Dunkin Donuts • ATM •Banks Attractions distance by car Universal: 10 Minutes Disney: 20 minutes Outlet: 20 minutes Downtown: 15 minutes Airport: 30 minutes
It was great! Nice hosts, the bedroom and bathroom were clean and comfortable, It was a surprise for us that they have breakfast incluided, And it was really good actually. Definitly I'd be back there. :)
Maryleen
2016-07-27T00:00:00Z
it was a great trip. tips for other vistor:the universal is not as good as LA 's one. So u can plan your time on 4parks of Disney or sea world.
shuai
2017-01-19T00:00:00Z
O bairro é tranquilo e residencial, espaço super aconchegante, banheiro privativo, um bom cafe da manha, excelente Wi, disponibilidade de usar a cozinha bem equipada, lavandeira dicas de passeio, considerei primordial: todas minhas mensagens foram respondidas e a preocupação com o meu check in pois cheguei à noite e um pouco tarde. Super recomendo.
Fatima
2017-02-04T00:00:00Z
Amazing days with Ana. literally everything around you, and all utilities. It's my choice if I will come back to Orlando again.
Saad
2017-01-01T00:00:00Z
Bra boende, Ana var underbart hjälpsam
patrik
2017-02-13T00:00:00Z
First time Airbnb and Ana was a wonderful hostess. She has a beautiful home, she was very clean and respected my privacy. She answered all my questions. I would defiantly recommend her to all my friends. 10/10 would comeback.
Keely
2017-03-19T00:00:00Z
Ana and Walter are one of the best hosts we have stayed with. Everything was perfect. It was great interacting with both Ana and Walter. The place is close to Universal and Disney as well. The locality is very peaceful :) If you are in Orlando, make sure you stay with Ana and Walter :)
pranjal
2016-12-18T00:00:00Z
Ana's place is as it is advertised, clean and nice. Location's convenient and close to major attractions via rides offered at nominal fees by the host. Oh and free breakfast! Would recommend for stays.
Jordan Shihern
2017-03-22T00:00:00Z
Værelsestype
Privat værelse
---
Ejendomstype
Hus
---
Med plads til
2
---
Soveværelser
Orlando, Florida, USA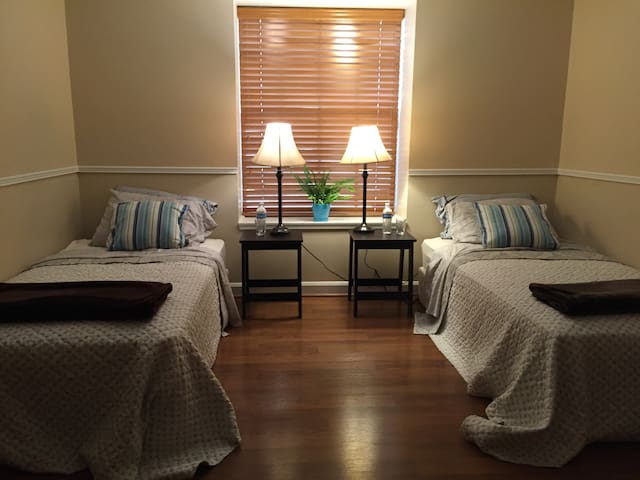 The ADV is the price for SUITE MASTER w/king size bed for 2 ppl. After 2 has to pay Room 2 (W/ Queen bed for 2 ppl) if you are in 4 ppl the bathroom has to be shared among yourselves. I provide you freshTowels,Hairdryer,Mini refrigerator,beverages, all the toiletries. Smartv ,Netflix, Wi-Fi, FreeParking. We live at the house n work as well. We spend the most of time inside house. Please don't feel uncomfortable for that Universal 3 miles Outlet Premium 5mi Conv. Center 7mi Disney 15mi
we live in a big townhouse with 3 bedrooms, living room. kitchen. You can enjoy the whole space. I have a dog her name is Noa. she's is really quite and friendly she never barks or bothers my guests. DONT WORRY SHE LOOKS LIKE A PITBULL BUT SHES NOT.
I live in a condo with a lot of townhouses around... my neighborhood is very quite and safe, the house has alarm and cam system, It's very safe.
Very good home and I was enjoying their
humoud
2017-02-10T00:00:00Z
La mejor ubicación con la mejor anfitrión, super confortable, excelentes amenidades, super atención, todo de primera clase, nos quedamos 3 días y fue la mejor elección que pudimos hacer, super recomendable, si vienes a orlando este es el lugar para pasarla bien
Luis
2017-01-30T00:00:00Z
A Nicoly e 0 Igor nos receberam muito bem, a casa estava muito limpa e superou nossas expectativas. A localização é realmente muito proxima aos parques, eu optei por nao alugar carro , utilizei somente Uber e foi muito facil, além disse Nicoly nos deu muitas dicas do q fazer na cidade, quais restaurantes ir e tambem dicas dos roteiros dos parques. 100% recomendado.
Fabio
2017-02-24T00:00:00Z
Absolutely loved our stay. Thank you so much for your hospitality. It was a pleasure to meet you guys and your wonderful dog Noa.
Donald
2017-02-05T00:00:00Z
It was very nice trip!! We wanted to air BnB close with Universal studio so we found this air BnB it was super nice and good location!!! I recommend it!!!
석이
2016-12-14T00:00:00Z
great location,universal studio just 10-15mins away from nicoly's home,nice host,we arrived first day late and nicoly's been waiting for us to get us the door,she told us to feel free to go and come back anytime throughout the day and gave us the key to the main door,she has a very friendly dog at house and she even waked her dog up at the night just for my daughter says she would like to see, my daughter loves nicoly and her dog both,we would highly recommend people to choose this place if they have a plan to trip to florida!!!
mengwei
2017-01-05T00:00:00Z
Un Lugar Maravilloso,una perfecta Ubicacion y un Trato Exquisito ,me he encontrado como si fuera mi casa,lo recomiendo .Nicoly e Igor ,unos excelentes Anfitriones,magnifica Pareja.Recomiendo el Lugar.
Pedro
2017-03-03T00:00:00Z
It will be your right choice!
Xin
2017-03-09T00:00:00Z
Værelsestype
Privat værelse
---
Ejendomstype
Hus
---
Med plads til
4
---
Soveværelser
Orlando, Florida, USA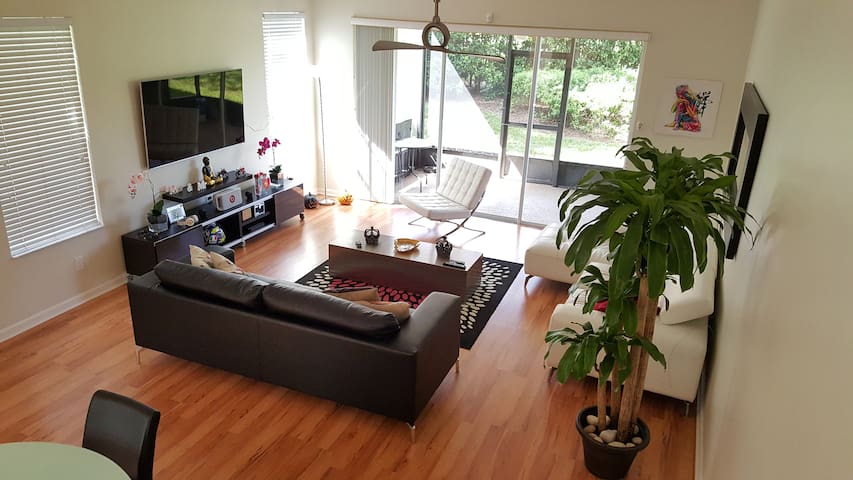 The Vegan House sits close to Disney, Universal, Lockheed Martin, I-Drive (tourist and shopping area), Orange County Convention Center, both Atlantic Ocean and Gulf Coast Beaches, Kennedy Space Center, Rollins College, Valencia, UCF, & Windermere. Breakfast always include
Our modest split plan ranch-style home has 2 carpeted comfortable bedrooms (double in one, queen in the other), with ample closet space, close to each other with nearby full bath with double sinks, tub and tub shower. We never double book, so the space(s) is (are) yours privately; I.e., each stay includes both bedrooms for guests to enjoy, either for one couple with the other room as a lounge room, or for the comfort for two separate couples or a family with kids. As our special guests, please feel like ones. Our home is comfy and secure . . . not fancy, rather humble . . . so feel free to interact with us (or not), eat with us, and roam the territory. But please respect our privacy in our bedroom, and be neat, kind, and clean up after yourself. Your comfort is our priority. The cooling/heating zone is separate from our private bedroom, so you are in control of the thermostat on your side of the house. Feel comfortable in the common areas, as we foster communal . . . well . . . communing! We respect that you're sharing our space might at first be awkward, but relax, we're cool with it, and we're accustomed to sharing most of what we have and our space.
Our quiet and friendly neighborhood with only single family homes is in the Dr Phillips location of unincorporated Orlando. Our subdivision is called Hidden Springs. We have home owner rules, which must always be followed and respected--no exceptions!
It's one of the best Airbnb I've ever been. If you are looking for a place to be close to universal studios, this is your house.
Alberto
2017-03-09T00:00:00Z
I wish I could give it 6 stars. The best Airbnb we have stayed at yet.
Phil
2017-02-05T00:00:00Z
Cynthia and Steve were incredibly kind, funny, and hospitable. Their home is cozy and the food is stellar!
Jessica
2017-03-25T00:00:00Z
This was our very first time using Airbnb and I can honestly say we will be staying again. I feel like we didn't just stay at someone's house for a week, we developed a friendship. Steve and Cyndi are just so welcoming and warm. The meals that we're prepared for us were so tasty. And Cyndi had so much wisdom to impart on the subject. I learned so much. The house is gorgeous and perfectly located. It took us almost no time at all to get to the parks. The beds were very comfortable and always kept extremely clean. We never had to ask or want for anything. Please give them a try. You won't regret it one bit.
shay
2017-01-28T00:00:00Z
Cynthia and Steven are the kindest, most generous, most friendly Airbnb hosts I could ever have the pleasure of staying with. They truly are a B&B. From the moment we arrived we felt welcomed and at home in their home. Cynthia warmly welcomed my gluten-free (dairy-free) diet and had baked muffins just for our arrival. In the morning she was up bright and early and served a delicious breakfast of oatmeal, tea, gf toast/bagels and fruit. Everyday there was something new or special. We loved her gluten-free, dairy-free, sugar-free cookies. On weekends they have their grandchildren who were an absolute delight! It was my moms second experience with Airbnb and the first experience left her hesitant, but after staying at Cynthia and Steven, she can't stop talking about how much she enjoyed meeting them and getting to know them and she hopes to meet up with them next time they visit Jacksonville. If you are looking for a warm and inviting spot to stay in Orlando, look no further! This is the spot to stay.
Laura
2017-03-20T00:00:00Z
Our four-night experience was excellent. Cindy and Steve were extremely welcoming. They truly went above and beyond our expectations. The breakfasts were all excellent, as were the two dinners they prepared for us ($20 fed the whole family). They made our stay feel like a bed and breakfast. In addition, Steve stayed up late and hung out after we returned from Universal and Islands of Adventure. He offered us beer and we all watched movies together. Truly a class act. The location of this house is prime. It takes a 15 minute, $5-7 Uber ride to get to and from Universal Resort. The neighborhood is quiet and safe - it's pretty upscale. The house is in great shape and newly renovated. Our hosts even allowed one of my kids to stay in their granddaughter's play room, which she loved. The living room is spacious. The Chihuahua is sweet and followed us around a lot. She does bark occasionally, especially when you first wake up in the morning (strangers in the house!), but was never overwhelming. Cindy offered to put the dog in their bedroom, but we were fine having her around. She begs during meals, but that didn't bother us. My kids loved having her around. The beds are spring mattresses (we have foam at home), but were still comfortable. The kids and I slept well each night. The rental includes two bedrooms with full beds and your own bathroom, with tub/shower and a double sink. More than enough for our family of four. Wifi was included, and the hosts give you your own set of house keys so you can come and go as you please. Steve offered us rides frequently, and Cindy was extremely accommodating to our meal requests. They are good people. The next time I go to Orlando, I will definitely stay with these folks. I felt like the price of the listing was too low, given our accommodations, location, and meals. This house is a great value!
William
2017-01-07T00:00:00Z
I traveled with my mom and sister to Orlando to go to the parks, the stay was wonderful. I enjoyed my time here and my family did too. It is close to the parks, so the location is really nice for Universal, Disney and Seaworld type of trip. So, I totally recommend it. One word of advice, please be kind with their vegetarian lifestyle and at the same time, enjoy their food which they look like enjoying serving and sharing their style. And the beds were comfy, so you will sleep after the 20 hours walk inside the parks.
Domllermut
2017-01-19T00:00:00Z
The host canceled this reservation 3 days before arrival. This is an automated posting.
maya
2017-01-05T00:00:00Z
Værelsestype
Helt hjem/lejlighed
---
Ejendomstype
Hus
---
Med plads til
4
---
Soveværelser
Orlando, Florida, USA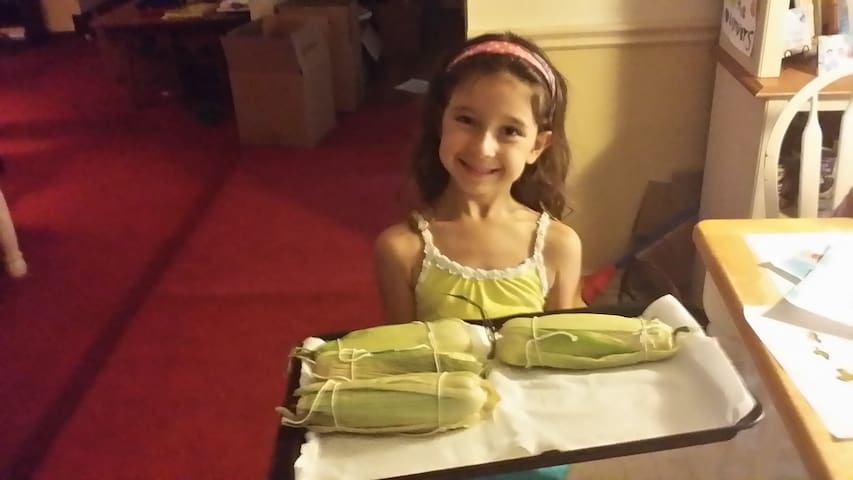 Gotha - Airbnb
:
Gennemsnitligt

4.78

ud af

5

stjerner fra

423

gæsteomtaler