The Clearwater Cabin Project is an initiative of the University of Manitoba Architecture program, the Harvest Moon Society (har(URL HIDDEN) and residents of the tiny town of Clearwater, Manitoba. The three cabins are nestled in the stunning Pembina River Valley. They were each designed by architecture students and built largely from reclaimed lumber by droves of volunteers. Amenities include restful beauty, interpretive trails, canoeing, local diners and much more!
My boyfriend and I spent two nights in the Liu-Ming Studio during the middle of October. Every part of our trip to Carissa's eco-cabin in Clearwater was perfect! Carissa was a very accommodating host. She went out of her way to make sure that we had everything we needed for an enjoyable stay. She lent us a flashlight, refilled our water jug, and provided tons of good quality firewood. She urged us to call/text her with questions if we didn't feel like walking to her place. She also gave us advice on some beautiful spots to check out nearby. Each of the three cabins is literally a work of art. Liu-Ming, where we stayed, had a double loft bed, a large shelving unit for holding supplies (including two lanterns Carissa provided for us), and a picnic table on the deck directly outside. My favourite thing about the room was the view of the sunrise offered directly behind our heads from the loft bed in the morning. Visiting on a nice mid-October weekend, we brought lots of blankets and slept comfortably despite the cabin's lack of a heat source. We checked out the other two cabins and both are beautiful too, each with their own personality. The Artist Residence has a very modern feel and a unique right-angle double door unlike anything I've seen before. The Honey House Cabin had a more warm, rustic feel and really gave the impression that these places were built using materials reclaimed from an old schoolhouse...which they were! Each has a different number/size of beds, so keep that in mind when choosing a cabin. Personally, we liked ours best. The three cabins were positioned about a minute's walk from Carissa's house and they're fairly close to each other but far enough apart to provide some privacy. They share the coolest looking outhouse I've ever used and, like another commenter said, her homemade hand sanitizer is amazing. We used the firepit both nights and had a great time. Carissa's two dogs visited us a few times and they were both very friendly. (Carissa offered numerous times to call them back inside if they were bothering us, so if you're not a dog person or if you have allergies I'm sure she'd be very accommodating.) Just make sure you're aware of her pets as you drive in because they might come out to greet their new guests! Clearwater was a beautiful, tiny, super friendly town. A few things we recommend checking out: 1) Grab breakfast or coffee/hot chocolate at the local restaurant (~5 minute walk from cabin). 2) See Cypress Creek and the rolling hills of the Pembina Valley from atop the bridge near Broadway Street (follow the "Scenic Lookout" sign in town). 3) Hike the 1-hour nature trail to explore the creek, riparian forest, a farmer's field, and their extensive baseball diamonds. Follow along with the info booklet provided near the trail's entrance. Overall, I would totally recommend this place.
Jaclyn
2016-10-17T00:00:00Z
Our host made us feel welcomed and helped with supplies we didn't have but I paid twice, once on my credit card and once in cash and was not happy to discover my credit card had been charged after I paid cash
Mireille
2016-09-07T00:00:00Z
The host canceled this reservation 4 days before arrival. This is an automated posting.
Ellen
Carissa is the prefect host to a lovely little funky getaway. Although the cabins are simple, my girlfriend & I were comfortable and really enjoyed the small farm settling. We enjoyed being involved in some of the Fall's harvest, as well. Great little private cabins, great host. I certainly will recommend this place to others! Never underestimate the friendly hospitality & charm of a small Manitoba town! Cheers! Greg
Gregory John
2016-10-13T00:00:00Z
Okay, so our family has literally travelled the world. We have never experienced anything quite like the Clearwater cabins. (Note: the bunks have mattresses, which isn't shown in the picture, and made our stay much more comfortable than we anticipated). You can tell architects designed these cabins. So cool. The little hamlet of Clearwater a magical place where people still smile and wave at each other when they pass on the road. That quiet contentedness is like stepping into another world. In fact, it felt like being in the Hobbit's shire. Carissa, the lovely owner/caretaker, is an herbalist by trade and placed little vases of fresh flowers in each of our cabins. These cabins are like nothing you've ever seen. Our kids stayed in #1, three twin mattresses in a tidy little space adjacent to Carissa's workshop. A grand picture window looks out on a lovely meadow. In the far distance, you can see cows on a hillside. Windows on two sides both open to let in the breeze. Husband and I stayed in Cabin #2. The lofted bed has a wool futon (vs the regular mattresses the kids had) and again, windows on two sides that opened to let a breeze in. Both cabins were provided with kerosene lanterns and LED lights - we chose to use the lanterns and loved the soft light they threw. Our cabin had a generous porch with a sturdy picnic table on it. Cabin #3 also has an amazing view. Grass paths are mown between the cabins, the firepit and the outhouse. Solar lights dotted the path to make navigating at night easy. The outhouse looks like something a hobbit would have built, and somehow, magically, didn't smell. HOW she manages that, I'll never know. The organic hand sanitizer that she makes and provides (made with aloe, witch hazel, lavender and lemongrass essential oils) was so fantastic I tried to buy some from her, but she said she didn't have any for sale, she just makes it for the cabins. Now, the cabins: Spaced apart along a hill, they are far apart enough for privacy, but close enough that you can be with friends (or your teenage kids) and still feel together. Carissa provided plenty of dry wood, paper, kindling and matches for the firepit which we sat around for a little while. Nice. An easy walk up the hill and around the corner is the town's restaurant/post office. We were shocked and delighted to have GREAT food there. My salad, for example, had crisp-fresh chopped romaine, red & yellow bell peppers, red onion and tomato. It's the kind of place where the lady at the table next to you gets up to refill her own coffee and stops to ask you if you want some. Wonderful. The burgers were outstanding. The town has an interpretive trail that has signs about the town's history, very cool. Step into another world, a nicer, quieter world. Camp without putting up a tent. Come here.
Christin
2016-07-04T00:00:00Z
Værelsestype
Helt hjem/lejlighed
---
Ejendomstype
---
Med plads til
8
---
Soveværelser
Clearwater, Manitoba R0K 0M0, Canada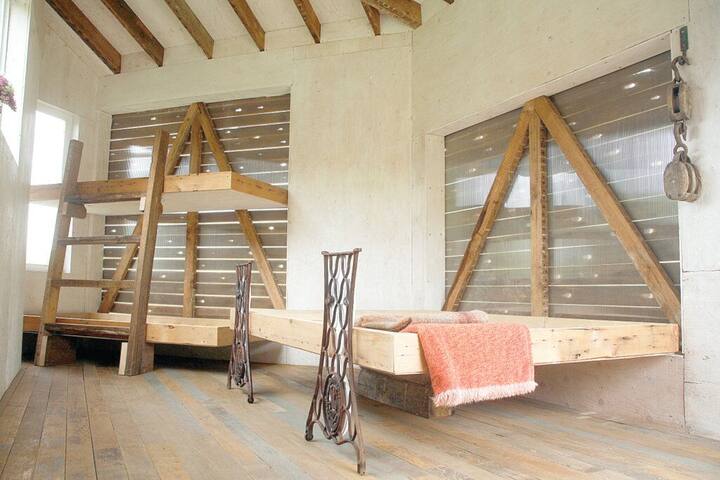 Fully furnished apartment with private entrance inside family home. Private parking with beautiful yard, just minutes from Devils Lake and boat ramps. Washer/dryer included, full kitchen, queen pillow top mattress in bedroom, + queen sofa sleeper & updated bathroom. Amenities include all linens & kitchen utensils + guests have gas grill, deck and picnic table for use.
The space feels like home and includes everything needed for a comfortable stay. Dishes, linens, towels etc. There is a gas grill available for the guests. We also have a place for guests to clean fish or ducks and dog kennels.
We didn't want to leave! Spotless, such a comfortable bed and the kitchen had everything you would need if you wanted to make your own food there. New cupboards and counter top - it's so different from staying in a motel/hotel because you are in someone's home. I found this place to stay at airbnb (my first time with airbnd) and don't think I'll ever stay in another Motel if I ever have to. I wanted to take my mom just on an overnight get-a-way for one night, but next time I'll book for two nights. Mom and I both love gardening, and you can spend the afternoon just walking around the beautiful yard that is full of unique gardening ideas, flowers, etc. We loved it and will be back! Thank you Roxanne! I'd give this review an A plus rating!!
Christine
2015-09-26T00:00:00Z
Roxanne was a great host. The apartment very well appointed and comfortable. Gardens were beautiful. Glad we stayed and we return again.
Gregg
2016-09-03T00:00:00Z
Roxanne was a great host. The apartment lived up to all that was in the description. We had a very nice time in Devils Lake.
Jeff
2015-08-29T00:00:00Z
Roxanne was very accommodating for us as we arrived a couple hours later than we expected. We had a comfortable sleep and were on our way in the morning, so didn't have a chance to meet. Beautiful yard!!!
Jeff
2016-09-13T00:00:00Z
Very good stay. Comfortable and clean. Quiet and peaceful surroundings.
Jean
2016-09-05T00:00:00Z
From check in to check out over the course of 5 weeks, Ray and Roxanne were excellent hosts. The apartment was clean and comfortable with all of the kitchen tools and comforts of home available. If you love luscious gardens and lots of greenery with yard decorations this is the place you must visit. Often times the hosts are willing to share the vegetables of their garden with you and even a possible s'more on the summer nights. A very convenient location about 5 minutes from town and a view of the lake on the way. Deer are often seen in the backyard in the evenings as well. Would highly recommend this BNB for a short term or long term stay while in Devil's lake!
April
2016-08-25T00:00:00Z
Roxanne and her husband were so very kind and provided a lovely apartment for us to stay in. It was clean, spacious, and provided enough room for 4 adults and a toddler. The yard was absolutely beautiful and had lots for our toddler to do! We boated and fished at Devils Lake while enjoying our stay. There are two boat ramps and the casino marina within 3-5 minutes away! Perfect little place for our fishing weekend.
Ashley
2016-07-05T00:00:00Z
I absolutely loved staying here. Ray and Roxanne's home is nestled in a restful, beautiful spot with a large backyard that was great to relax in. Their apartment offered everything I could need and they put in a lot of little touches that made it feel like a special stay. These are fantastic hosts, and a big part of the reason I enjoyed my time in Devil's Lake!
Colin
2016-09-16T00:00:00Z
Værelsestype
Helt hjem/lejlighed
---
Ejendomstype
---
Med plads til
4
---
Soveværelser
Devils Lake, North Dakota 58301, USA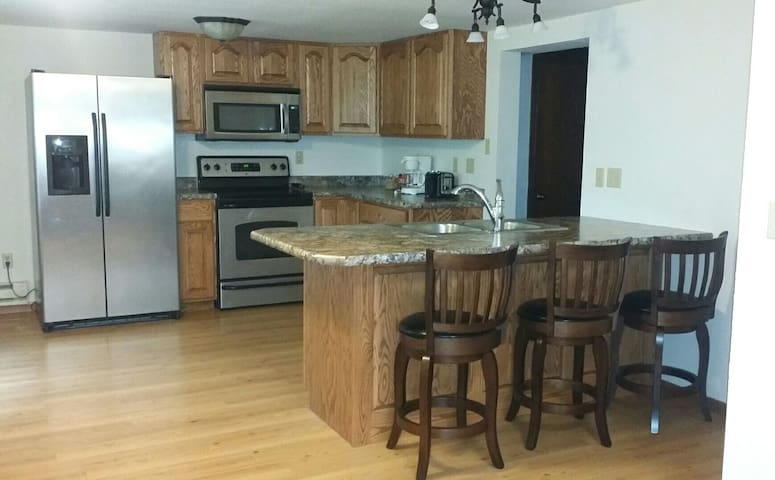 Fully Furnished. Open floor layout. My place is good for anyone from families with kids to the solo adventurist.
The Cabin is close to what most would consider to be absolutely nothing, but that is what makes it a special place to stay. You will definitely get the "rustic" feel. Wildlife is plentiful, the location is rural, and from the front deck you will see a smattering of trees over rolling hills and farmland for several miles to the horizon. Fire pit with wood provided. Residence on premises.
Located 12 miles from the nearest grocery store and gas station and 13 miles from the eastern shores of Devils Lake.
Very nice little get away spot with nature all around you. Clean, private and quiet-exactly what we were after. Much better accommodations than what is available elsewhere in the area. The fresh baked caramel rolls we found in our cabin were a real treat!
Pat
2016-09-12T00:00:00Z
Nice quiet place.
Lynsay
2016-08-17T00:00:00Z
John was a great host and the place was perfect for me and my wife. We were driving through and looking for a place to see and take pictures of the stars and Northern Lights and Johns place worked perfectly as it was away from lights and in an open location. We also enjoyed the recommendations about places to eat in the lovely town of Maddox, about 12 miles away. While the property may at first look geared to hunters or fishermen (and it appears great for that) it should not be over looked by families or others who need some extra room in a quiet, beautiful location. We'd be happy to stay again!
Jay
2016-10-05T00:00:00Z
Very nice cabin in a very peaceful setting.
Tompat
2016-07-11T00:00:00Z
This place is great. Unique, picturesque and peaceful.
Russell
2017-02-04T00:00:00Z
Great place.
Josiah
2017-01-16T00:00:00Z
Værelsestype
Helt hjem/lejlighed
---
Ejendomstype
---
Med plads til
10
---
Soveværelser
Maddock, North Dakota 58348, USA
Indtast datoer for at se den samlede pris. Yderligere gebyrer gælder. Der kan blive tilføjet skatter.