This place is close to the Rutgers - New Brunswick area, it is not far from New York City to the north and Jersey Shore to the south. It is near several highways (NJTP, Rt 18, Rt 1, GSP) which will allow you to travel to NYC, Philly, Jersey Shore, etc. There is a lot close by such as: parks, restaurants, shops, etc. The room is cozy with a comfy bed. My place is good for couples, solo adventurers, business travelers, and pets welcomed.
Close to Rutgers University. Close to highways. Nearby shopping, restaurants, entertainment, etc.
Many convenient shops, stores, restaurants, etc within a short drive from the location with a few places in walking distance.
Awesome place to stay. Very clean and great people to top it off!!
Jasmine
2017-02-09T00:00:00Z
Great stay! A Nice, and clean home for anyone to get comfortable. The host is all about the guest which makes the stay that much more enjoyable. PICK THIS ONE!
Tyrone
2017-02-18T00:00:00Z
The place is clean and neat with many amenities. Ruell is a fantastic host and I would recommend him to anyone looking to stay there.
Hunter
2017-02-16T00:00:00Z
I had an awesome stay. The place was clean. The room was very comfortable. I fell right asleep in the bed. Love the mattress and pillows. The TV with the Netflix and stuff was a good plus. I liked the common areas too. The living room had a nice big TV, game consoles, pretty cool stuff. I loved the dogs. The girl one was so cute and friendly. I'll definitely stay here again if I'm in the area.
Cal
2017-02-26T00:00:00Z
Ruell was very accommodating! The room was well furnished as was the rest of the house. His dogs got along great with mine, I'll have no problem visiting again!
Jared
2017-03-21T00:00:00Z
Clean, comfortable and convenient. Ruell is an attentive host and we would certainly stay with him again.
Ed
2017-03-30T00:00:00Z
Amazing stay!!!
Neeraj
2017-03-26T00:00:00Z
Just as described great room, very clean very quiet I would recommend to anyone
Jeffrey
2016-12-24T00:00:00Z
Værelsestype
Privat værelse
---
Ejendomstype
Hus
---
Med plads til
2
---
Soveværelser
East Brunswick, New Jersey, USA
One bedroom next to garage, hardwood floor, heating and A/C, one closet, two large windows with blinds, minimal decor, fan with light, little Japanese table. Kitchen, living room, laundry, etc are shared with host family.
Families or single females (host family has two daughters and would prefer girls). Message host about bringing pets.
Quiet neighborhood, all single houses. Close to an elementary school. 7 min drive to local farms and parks.
Everything was perfect. Extremely clean, very nice bathroom, kitchen to use, nice and comfy bed. Location just as described, right off the I95, perfect for our road trip. Communication was also perfect, thank you for everything! 10/10
Anna
2017-04-07T00:00:00Z
Very nice. Awesome area home and house. Welcomed without issue and the pics of what you see is what you get. Great awesome will do it again.
Mayco
2017-04-09T00:00:00Z
Great place quiet neighborhood, friendly family.
Jasper
2017-04-06T00:00:00Z
Værelsestype
Privat værelse
---
Ejendomstype
Hus
---
Med plads til
2
---
Soveværelser
East Brunswick, New Jersey, USA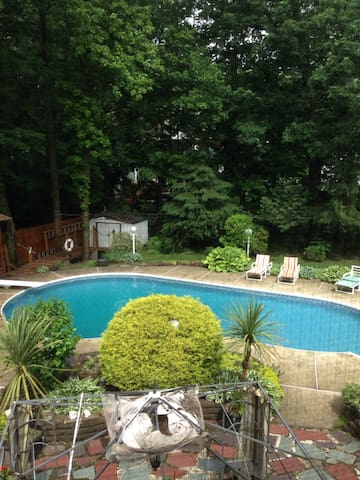 Sunny. 2 guests. Private bath. wifi, wired Ethernet. Private entrance. Washer/dryer, kitchen. Off-street parking. 6 miles to Rutgers Cook Campus. 15 miles to Princeton Univ. 5.4 miles to bus station (non-stop to Port Auth). 8 miles to New Brunswick train station. Beaches within 1 hour drive: From Sandy Hook to Point Pleasant. (Long Branch, Deal, Asbury Park, Avon, Belmar, Spring Lake, Manasquan. Check g-o-o-g-l-e maps). (Bed: double: 54" W x 75" L) 3 mi outdoor, lit tennis courts. Breakfast.
"Private suite". Guest bathroom/bedroom are located in back of house, on first floor. (Host bedroom is upstairs.) Separate entrance. Bathroom has a shower (no tub).
Quiet, suburban neighborhood. In-between exit 8A and exit 9 on the NJ Turnpike. Close to Route 18 and Route 1. supermarket: 24-hour ShopRite in Spotswood, NJ. (2.5 miles away) Lots of charming local eateries. See the Guidebook for suggestions. 3 miles from Bicentennial Park. Walking. Basketball courts. Tennis courts are lit at night! Paradise. Need some ideas for the weekend? Lots of interesting walking tours in historical towns: Princeton, Cranbury, Landings Lane. Check the Guidebook and don't hesitate to ask me for suggestions.
Leslie was a great host. She had breakfast available for me if I wanted it and the room was clean. She was very helpful in helping me find find resterants to eat at. If I am ever in the area again I would definitely want to stay again. As a solar installer by trade I was very pleased to see she had enough solar on her roof to power her whole house.
Ben
2015-11-22T00:00:00Z
Leslie was a great host during my 12-week stay here. She was easy to reach and communicate with her before my arrival and during my stay. She provided me with great information about the area and suggestions for things that might be of interest to me. A variety of breakfast items were always available and I enjoyed the vegetables from the garden. The room and bathroom were clean and spacious. The kitchen is adequately stocked with cooking utensils, although space in the fridge can run tight if it's a full house. The house was situated in a quiet, suburban neighborhood with many nearby parks that I could run through. I particularly enjoyed running out to Rutgers Gardens, which was 5 miles away.
Amanda
2016-09-17T00:00:00Z
The value of the stay here absolutely exceeded the price. I do appreciate all the things the owner provided. She is a very kind lady who provide you a very laxative space for you in the house.
Yong
2016-03-15T00:00:00Z
I loved the opportunity to stay with Leslie and family--I was only in town briefly for a wedding, but she had great information on local parks and activities, and the house and amenities were exactly as described! The room is spacious, bright, and comfortable, and the house itself is well-situated in a quiet neighborhood, but close to many shops, restaurants, and public transportation. I really enjoyed when we had the chance to sit down and chat over morning coffee, and even though I stayed pretty busy while there, Leslie was very flexible and accommodating when my travel plans changed last minute! Highly recommend staying here if your are in the area!! :)
Kristen
2016-05-14T00:00:00Z
I had an excellent time staying with Leslie and John! I felt very welcomed. They are great people. I really enjoyed having conversations about many topics. They are super smart, btw, :). The bedroom and bathroom were really specious and clean. It was really nice to have a separate entrance to the house close to the bedroom. The kitchen was also specious. They have everything you may need. Thanks to John, now I know how to make soft boiled eggs. The location of the house was perfect for me. It is close to beautiful parks and the neighborhood is really nice and quite. Perfect for a relaxing time after work. Thank you Leslie and John! It was a pleasure to meet you. I will see you soon.
Arturo & Saurabh
2016-10-02T00:00:00Z
My first experience with Leslie was so good that I booked again for two more weeks. The most important thing for me is to feel at home and to feel comfortable at all times and this is definitely the case here. Again, everything was amazing and very clean.
Adi
2015-09-16T00:00:00Z
I'm still here~Just extended the stay, love Leslie, love this place, convenient to drive to any outlets in PA, NJ and NY, which means a lot to my work here, if you are a shopper, it will helps you too. And, I just had my birthday here with Leslie's family,thank you for the great atmosphere, thank you for taking picture for me and a tons of other things, not yet the time to say "next time" , I'm still here~~
YUTING
2015-12-22T00:00:00Z
Leslie is an amazing host, is super friendly, and makes you feel at home. The room is very clean, comfortable, and private. It even has a full couch! The bathroom is very clean and has all the basic amenities, clean towels, sheets, etc... Overall, I highly recommend booking this room.
Adi
2015-09-02T00:00:00Z
Værelsestype
Privat værelse
---
Ejendomstype
Hus
---
Med plads til
2
---
Soveværelser
East Brunswick, New Jersey, USA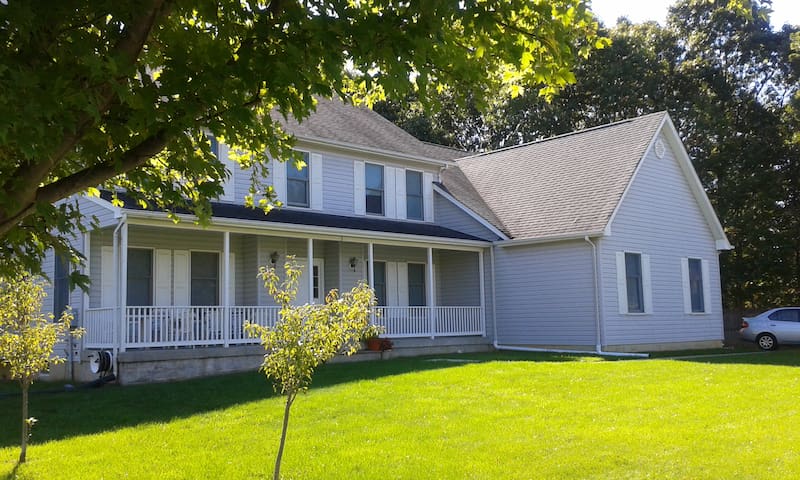 Offering a basement suite with a bedroom, living area, bathroom and kitchen. Large flat screen TV in the living area is hooked to cable and offers all premium channels and Netflix. Home is hooked up with Comcast Business Internet and offers very fast and reliable wifi. Basement kitchen has a range and microwaveThere is also a treadmill for use by guests.
The neighborhood is family friendly but it is a suburban home so while it makes for pretty walks, shops are more than a couple miles away. Lyft and Uber are easily available for rides to the NYC commuter bus. Lyft to commuter bus station is $7-$11. Commuter bus tickets are $18-$21round trip. Bus rides into NYC are 50 minutes and the bus staion is less than 10 minutes away. My husband is sometimes happy to provide rides to the station, mid-morning.
Very nice place with private living in basement. Kitchen, spacious bathroom , and living area!!! Definitely worth the money and value!
Roger
2017-01-21T00:00:00Z
Munira was very sweet and allowed us to book an extra day.
Kayla
2017-03-27T00:00:00Z
Good with communication, very clean, and very spacious. Munira opened her home to two artists who were working at my theatre company for a month. They were pleased with the kitchen and space.
Kayla
2017-03-26T00:00:00Z
Munira and her husband were unbelievably welcoming and courteous. Their communication was beyond excellent and the suite was exactly as described. I had a very comfortable stay and all questions were answered in a very prompt manner.
Yodline
2017-04-05T00:00:00Z
Munira and her husband and son are gracious hosts and so welcoming. Munira made us amazing Chai Tea which was very delicious and perfectly hit the spot. They are so easy to communicate with and very comfortable to be in their midst in our 'home away from home'. Suited our needs perfectly and plan to be back in the future! Everything was easy and smooth from start to finish. Thank you!!!
Ryan
2017-01-29T00:00:00Z
Værelsestype
Privat værelse
---
Ejendomstype
Hus
---
Med plads til
4
---
Soveværelser
East Brunswick, New Jersey, USA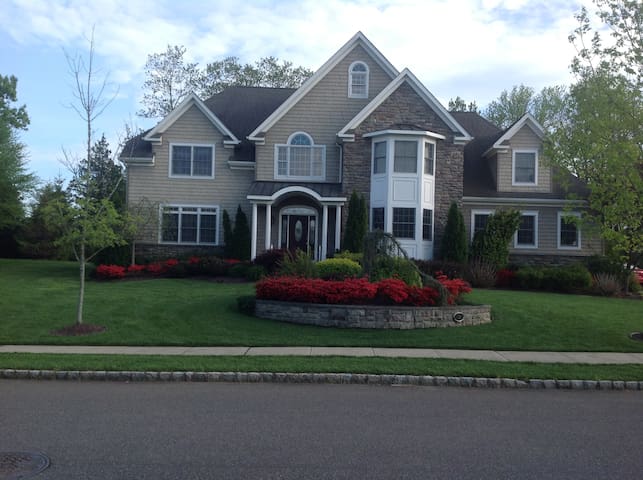 Spacious bedroom with one and a half bath and a walk in closet in East Brunswick. 45 minutes commute to NYC, Close to major transit lines. 5 minutes drive to Rutgers University and 25 minutes drive to Princeton University. 25 minutes from Newark Liberty International Airport. You would find a bunch of nice restaurants and stores within 2 miles of our home.
Ample space for parking on street.
Peaceful neighbourhood close to major transit routes and Rutgers University.
Danish and Shawna were fast and considerate communicators, answering all my questions, and reaching out to give us updates before we arrived. The room was perfect, comfortable, private, with it's own half bath, and seats and table and great bed were clean comfortable. The full bath is next door also clean and easy access. Easy parking, and amply space to bring in luggage. I was traveling with my mum and 11 month old daughter and we really enjoyed meeting Shawna and her two boys, they were such a warm family. She met us and gave us a tour and all the pertinent info right away, and provided us with privacy during our stay, and offered space in her fridge from my baby's food. It was easy to get to and leave from coming through NYC area. We enjoyed our stay and recommend this place to stay.
jocelyn
2017-03-22T00:00:00Z
Great location... Courteous host, coordinates with you well. Recommended.
Vyas
2017-01-21T00:00:00Z
It is a neat & clean room , value for money , Danish was very helpful and nice fellow.
Shivani
2017-03-10T00:00:00Z
Danish and his wife are very nice and helpful. The room is clean and private. The utility is also very good.
Siyu
2016-10-07T00:00:00Z
Danish and his wife are both very welcoming. The room was clean and the king size bed was comfortable.
wen
2016-09-08T00:00:00Z
Danish was very kind and easy to communicate with. The bedroom is a great size, the guest shower has great water pressure, and the guest portion of the home was very clean. Parking, door code, and Wifi made everything very convenient.
Jacob
2016-10-01T00:00:00Z
Danish's place was clean and spacious. He and his wife were friendly and accommodating. The bed had a heating blanket to help with the cold. Also,we had access to a microwave and a refrigerator. The room was as pictured and has an attached toilet. The bathroom has a stand-in shower and was located near the main entrance to the house. We had a good experience overall.
Priya
2016-10-12T00:00:00Z
It's my second time staying here, Danish and his family are very kind, and the room is nice and clean.
Nanxi
2016-10-23T00:00:00Z
Værelsestype
Privat værelse
---
Ejendomstype
Hus
---
Med plads til
2
---
Soveværelser
East Brunswick, New Jersey, USA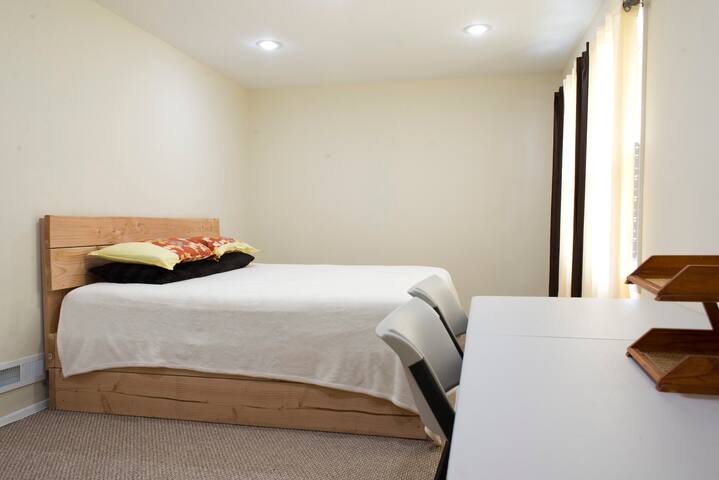 Accommodates 3. Upstairs bedroom. Private bath. Washer/dryer, kitchen, great room, piano, wifi, Ethernet, exercise equip, ping pong. Off-street parking. 6 miles to Rutgers Cook Campus. 15 miles to Princeton U. Non-stop bus to NYC. Beaches within 1 hour drive: From Sandy Hook to Point Pleasant. (Long Branch, Deal, Asbury Park, Avon, Belmar, Spring Lake, Manasquan. Check g-o-o-g-l-e maps). 3 miles to outdoor (free) lit tennis/basketball courts. Breakfast. Lots of great things-to-do in guidebook.
Bathroom/bedroom are located upstairs, side by side. Bathroom has shower and tub and double sink. The bedroom has a sofa bed (double) and a twin bed. In Europe, this is called a "family room". Great for a family traveling with 1 child. Be sure to checkout our guidebook for some local gems.
Quiet, suburban, upscale neighborhood. In-between exit 8A and exit 9 on the NJ Turnpike (5 miles from each exit). Close to Route 18 and Route 1. supermarket: 24-hour ShopRite in Spotswood, NJ. (2.5 miles away) Lots of eateries to experience. See the Guidebook for suggestions. 3 miles from Bicentennial Park. Walking. Basketball courts. Tennis courts are lit at night! Paradise. Across the road from Heavenly Farms Park. Need some ideas for the weekend? Lots of interesting walking tours in historical towns: Princeton, Cranbury, Landings Lane. Check out the guidebook and ask me for suggestions.
this is the bigger room upstairs, it is very spacious, the sofa bed can allow 2 more person sleep there so totally the room can hold 3 persons, if you have friends to visit you during stay this is a good choice. The room is quite warm in winter time, and the toilet was beside the room, very convenient and clean.Really enjoyed my stay there, thank you Leslie!
YUTING
2016-02-04T00:00:00Z
I had the opportunity to stay with Leslie recently (and am going to do so again!) and loved the experience. The room was extremely spacious, with a couch, desk, tons of storage and space and extremely quiet. Neighbourhood is lovely and plenty of shops within a short car journey (for which there is ample parking at the property). Leslie really made me feel at home, enjoyed conversation on many occasions and definitely fostered a very welcoming environment. Can't wait to stay there again.
Martin
2015-09-14T00:00:00Z
The host made me feel welcome and the Airbnb description of the accomodation is accurate. If you're looking for quiet - this is a terrific choice. It's a suburban location. I found the bed to be comfortable and the bathroom to be clean and spacious. The host asked me questions to ensure nothing was missed and I was taken care of.
Jim
2016-09-09T00:00:00Z
My stay at Leslie's was fantastic. The house was clean and spacious and the room was exactly as described. Leslie was a very hospitable and considerate host. She also has great knowledge of the local area and went the extra mile at every opportunity to make sure the experience was nothing short of first class. I highly recommend staying at Leslie's.
Jordan
2016-04-17T00:00:00Z
Nice clean room with sleeping space for three. Leslie was very kind and accomodating!
Sheva
2016-08-07T00:00:00Z
Living in Leslie and John's beautiful home is one of the best experiences for our family. We stayed in their home for half a month and in a couple of days' time we began to feel it's a real home for us! They are super accommodating, warm, responsive and easy going. Our bedroom is spacious, the bathroom is incredibly big and clean. Their kitchen has all kinds of handy utensils and tablewares, we had space in both fridge and pantry and were free to cook everything, which saved us a lot of money. If you like cooking Leslie's kitchen is perfect. Leslie invites us to use the public space, washing machine and dryer freely. We talked a lot, shared some foods and ideas, great fun talking to you by the fireplace! The location is perfect, a very quiet and beautiful neighborhood, easy to get to anywhere. Also they provide private parking space. Thank you for making this Chinese New Year so special for us. We'll miss you a lot and will surely come back to see you again in the future.
Jane
2017-02-06T00:00:00Z
At this point, I've decided to stay for a while with Leslie. Can't fault anything, happily meets my needs (and anything that is requested is provided rapidly!). No complaints at all
Martin
2015-10-24T00:00:00Z
Stayed with Leslie for an entire month this time, enjoyed it thoroughly. Perfect location-wise, is hospitable, very clean and a bargain rate. Only reason I am leaving shortly is to have my own place!
Martin
2015-12-02T00:00:00Z
Værelsestype
Privat værelse
---
Ejendomstype
Hus
---
Med plads til
3
---
Soveværelser
East Brunswick, New Jersey, USA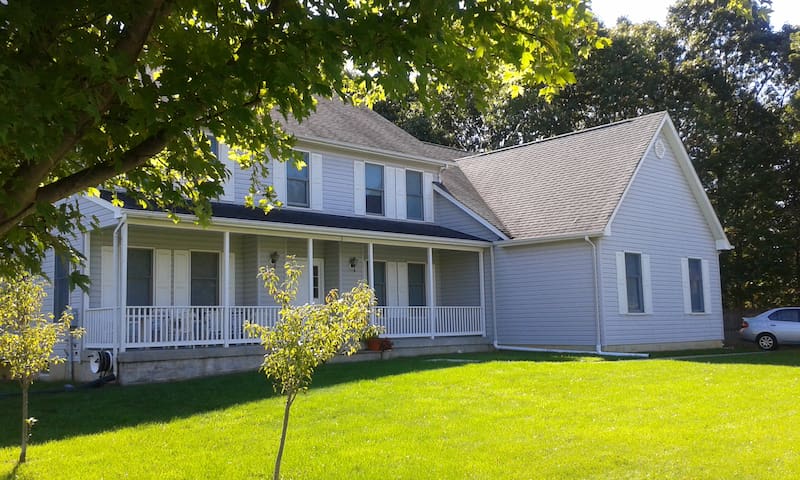 Cozy & spacious room fully furnished 1 Full Size, 1 twin size mattresses, Private bathroom, walltowall carpet, Non-Smoking, Pet Free environment, Wi-Fi,Common Kitchen & Dining area, TV (Cable, Netflix), Balcony, Free parking, many board games & card games. Convenient location is very safe, quiet, suburban and family friendly neighborhood.
Excellent courteous host
Paul
2017-04-05T00:00:00Z
Great Guy!! Very nice, and accommodating.!!
Michael
2016-12-16T00:00:00Z
Everything was great! Aman is a wonderful host. I will definitely stay there again.
Rafael
2016-03-10T00:00:00Z
Aman was welcoming and friendly. If you need a cheap place to drop in, this is a good spot
Brent
2016-09-15T00:00:00Z
Great guy to stay with. He is always ready to help. The place is great to stay for professionals.
Bahr Uddiyn
2016-03-01T00:00:00Z
To be clear this is the living room. He is the only person living there--he has his own room and he is quiet. He is very sweet, kind, patient and hospitable. He offered to make me a snack and was quick to give me directions to places in the area. You will need a car to visit here and get around. The apartment is clean and he offered me a towel and other small necessities. I am a woman in her 40s and I felt comfortable. The area is very, very safe and it's in a nice family apartment complex. It is also quiet there. I felt like he made sure I had everything needed. I asked him to drag the futon onto the carpet because the wood frame was too much on my back and he was eager to do it. I drove to Rutgers University in the morning and it was pretty close. I'd definitely stay again!
Vanessa
2016-02-17T00:00:00Z
My experiences was great!!! Since I get there I filled like home. Aman was very helpful, everything was clean and nice. Definitely is a great place to crash after a long day!!!
Oscar
2016-02-22T00:00:00Z
Aman is a very nice and welcoming host. I enjoyed talking with him and he was more than welcoming. He told me about the nearby restaurants and offered to help if I needed anything. The place is safe and quiet, and the apartment is better than you might expect on arrival, since the apartment building is a bit run-down. The room is large and has a TV, stereo and a table and chair where one can eat and work. The A/C works well.
John
2016-07-29T00:00:00Z
Værelsestype
Deleværelse
---
Ejendomstype
Hus
---
Med plads til
3
---
Soveværelser
East Brunswick, New Jersey, USA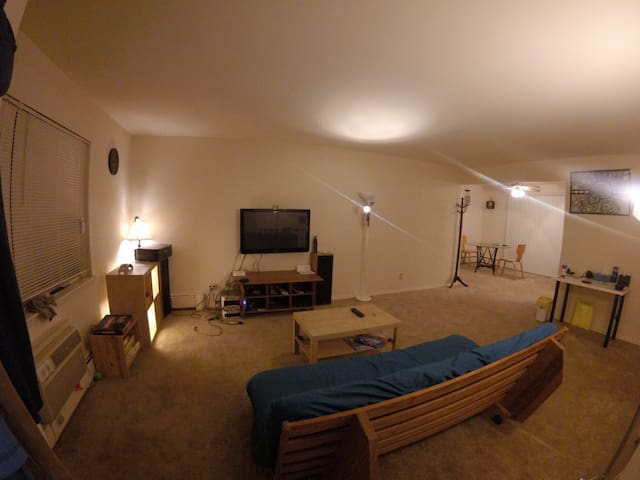 My place is close to the city center and restaurants and dining. You'll love my place because of the high ceilings, the ambiance, the location, the views, and the people. My place is good for couples, solo adventurers, and business travelers.
Girish is a nice host. After going around New York I needed some good sleep, silence and calmness and that's what I found at Girish's accomodation.
Mariza
2016-12-31T00:00:00Z
Værelsestype
Privat værelse
---
Ejendomstype
Hus
---
Med plads til
1
---
Soveværelser
East Brunswick, New Jersey, USA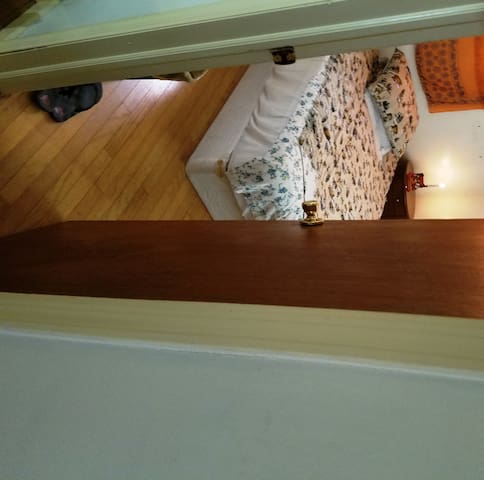 A very quiet and a very light bedroom with 2 Tonkinese retired show cats residing in. They can move to my room if you prefer privacy. My cats ONLY tolerate FEMALE GUESTS. No smoking/drinking in my house. Naturally. :) Extra one guest is +$40/night.
My Tonkinese cats bring extra warmth and cuteness to my house. They are extremely friendly and people oriented creatures. They improve everybody's mood and even health. Although Tonkinese cats are considered to be causing less allergy than other breeds - if you are allergic to cats it may not be the right place to rent with us. As per my cats request I can only rent my place to FEMALES. Thank you for understanding. The room can accommodate up to two people, extra person will be +$40. So if you are staying by yourself it's $80/night. If you are two people - it's $120/night.
There is beautiful Rutgers Gardens 5 minutes drive from us. There is a library, a Center of Performing Arts, a Butterfly Park, the EARTH Center, a farmers market in East Brunswick. The neighborhood is very quiet and green. My house is only 15 minutes drive to the Rutgers University, 35 minus drive to Princeton, 40 minutes drive to the Point Pleasant Beach and even less to other beaches. You can walk to a small shopping mall with a few nice restaurants, bank, CVS, and a French bakery. In the summer there is a fruit and vegetable stand 3 mins by walk from our house. I am getting organic milk and vegetables delivered directly to my home.
Elena was a very accommodating and gracious host. I was in town for an academic conference and I stayed for several days for Shabbat and a Jewish holiday (due to prohibitions on travel and carrying luggage during those days). Elena went out of her way to make me feel at home and was proactive in communicating with me. The bed was made and the bathroom cleaned every day. The cats are well-behaved--the most chill cats I have ever been around (I am saying this as someone who is not fond of pets!). The area is very safe and tranquil. I would definitely book this room again.
Gina
2016-10-25T00:00:00Z
Værelsestype
Privat værelse
---
Ejendomstype
Hus
---
Med plads til
1
---
Soveværelser
East Brunswick, New Jersey, USA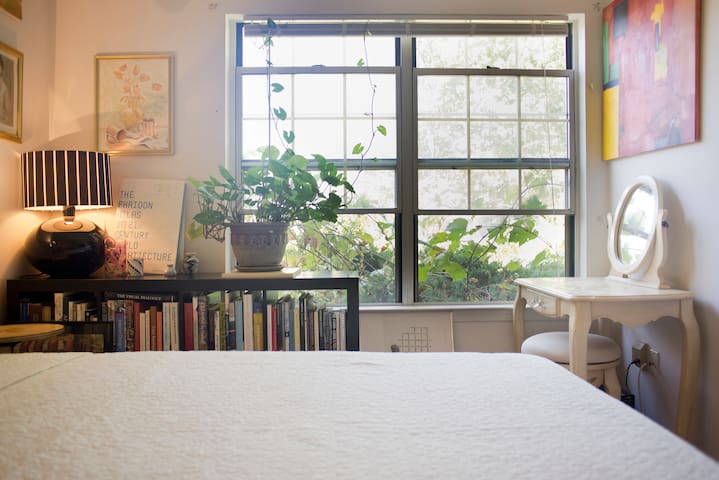 Fully furnished, 5 bedroom house in East Brunswick, NJ. Central heat and AC, and washer/dryer. Large back yard and nice deck. Wifi and cable TV included. Great location - close to New Brunswick, easy access to NJ Turnpike and Jersey Shore.
5 bedrooms and 2 full baths in a nice, quiet, residential neighborhood close to shopping and restaurants. Large Living Room/Dining room and a kitchen with full sized appliances including a dishwasher and microwave. Free cable TV and wifi included. Washer/dryer in the house. Unfinished basement for storage if needed. Large fenced-in back yard with a nice desk
Close to shopping and restaurants, this location is ideal for touring around NJ. Easy drive down rt. 18 to get to the shore, or a short drive to the local train station to get to NYC (about an hour train ride).
Værelsestype
Helt hjem/lejlighed
---
Ejendomstype
Hus
---
Med plads til
8
---
Soveværelser
East Brunswick, New Jersey, USA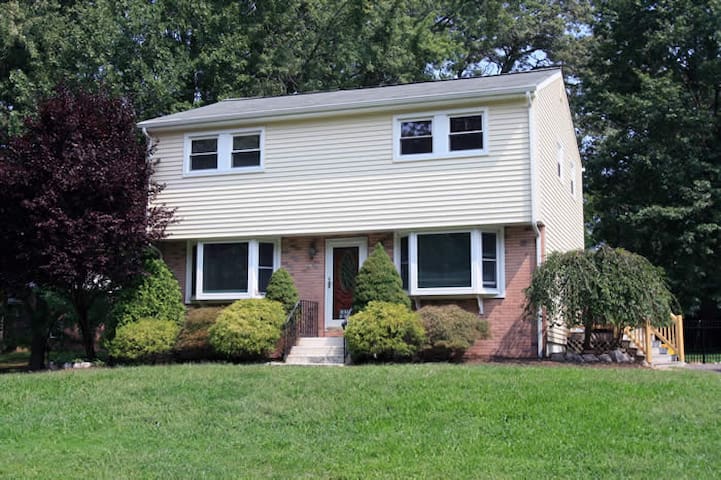 An entire lower level private bungalow with 2 BR. 1 private bath, bar and overabundant living space - 2,200 square feet. Close to Princeton, Ryder & Rutgers Universities. Close to New Brunswick, Bridgewater, J & J and all the major Pharma companies. Just few feet from nature preserve and deer habitat.
An entire floor of more than 2,200 square foot of executive living with 2 bedrooms, furnished with 1 queen size bed and 2 single beds, a large sofa in the spacious living room, wet bar with stool chairs and an additional sitting area. You will have more than enough space to move around with a total feeling of home. Can sleep up to 10. Free parkling
You will have a quite environment, nature, greenery, deer watch in backyard and minutes from shopping, Restaurants, Princeton, New Brunswick and 60 minutes to New York City. You are 30 minutes to Newark Airport
Robert and Denise were wonderful hosts who helped us make feel at home. They made our check-in effortless. The grounds around the home are also wonderful for enjoying the fresh air.
Ali
2016-09-10T00:00:00Z
Had a overall positive experience.. Good communication and Denise was there to greet us when we arrived. The space is as described, Large and roomy, but the bathroom could use some tlc...Also A/C was out. Neighborhood was nice and Denise was helpful recommending restaurants nearby.
Mark
2016-07-28T00:00:00Z
Richard and Denise were wonderful and gracious host. They were tentative to our needs. Robert would send us a "Good Morning" message which was thoughtful. They have a beautiful house and their space is large enough for a family to stay. The AC was out during our stay, however Robert did his best to provide us with fans to keep us cool. We ended up having a relaxing weekend and enjoying our getaway.
Maey
2016-07-25T00:00:00Z
When we arrived, there was a person there to greet us. I was not Denise and Robert. That lady took let us in and showed us the space downstairs. About 15 minutes later Denise and Robert came down and said hello to us. They chatted with us for 10-15 minutes and then let us know to contact them should we need anything. The following evening, Robert brought us down a bottle of wine, that was nice (despite the fact that we don't drink wine, it was a nice gesture). The a/c has apparently broken the day before, so they provided quite a number of fans to help us stay cool. Initially, I thought it would be a problem, but the evening/nighttime was cool, so we slept comfortably. There were enough towels in the bathroom. There was silverware, extra plates, toilet paper and trash bags. The two rooms are quite far apart from each other, which is great for privacy. We have two children and it was quite a bit of space. They also said it would be fine to play on the lawn outside, so that was great. The location was also convenient for me to get to Rutgers and Bridgewater.
Anastasia
2016-07-27T00:00:00Z
Excellent place, quiet neighborhood and convenient location. Robert was very kind and responsive. Me and my family enjoyed the warm hospitality of Robert & Denise. Air condition is working fine, there was also dehumidifier that was very useful for my wife who is asthmatic and sensitive to humidity. We definitely like to stay there if we visit the region in the future.
Ibrahim
2016-08-20T00:00:00Z
Very beautiful place.. They provide just about everything. Enjoyed my short stay here.
Phillip
2016-11-13T00:00:00Z
Our hosts were prepared for our arrival with a key and an escort to our room - which happened to be the entire basement apartment. All that space was such a blessing after being on the road and in small rooms along the way. Plenty of space to spread out. We were provided with fresh, clean linens and there were brochures & menus for us to learn about the area & restaurant options. Robert & Denise were kind enough to have fresh fruit out and cold bottled water waiting for us, too. They checked on us periodically to make sure we had everything we needed. The best part was that we needed absolutely nothing because they thought of everything!
Jill
2016-07-23T00:00:00Z
We arrived with no problem and greeted outside from our host. House was beautiful and accommodations were spacious for my family of 4.
Wendy
2016-07-13T00:00:00Z
Værelsestype
Helt hjem/lejlighed
---
Ejendomstype
Hus
---
Med plads til
5
---
Soveværelser
Franklin Township, New Jersey, USA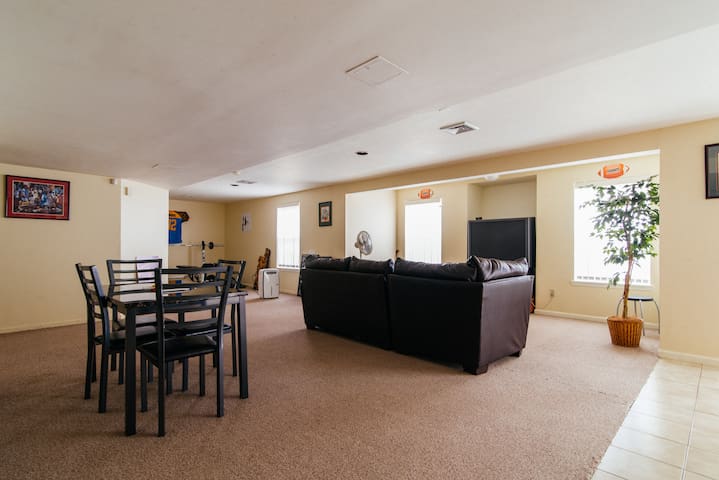 This cozy bedroom has a firm/ supportive twin bed, end table, closet, a dresser, luggage rack, hamper bag, bathroom tote, WIFI, 2 light fixtures for bright and dim lighting, and a towel/hat rack behind the door. A small TV is available upon request.
Check in time: 4:00 PM or after. Check out time: 10:00 AM. I need to get ready for next guest. Thank you. Please be verified on this site with a photo license or passport if you are interested in staying for a visit. Your first and last name, a head shot photo of yourself, and a detailed written description about yourself needs to be included on the site. The city, state, and country where you reside needs to be posted as well. Past references from Airbnb are preferred but I do consider those without. If you are coming with a guest I will require their first and last name as well and a photo ID. Sorry if this process is inconvenient but I am inviting you into my home and need to feel comfortable with this arrangement, as well as any other guest that may be staying. This bedroom on the 1st floor is one of three on the site. The bathroom is just steps away and may be shared if there are other renters. A cleaning product is always available for inbetween uses plus it is monitored when more than one quest is visiting. Sheets, pillows, blankets, bath towels, hand towel, wash cloth, soap, shampoo, and conditioner come with the furnished room. To assure ultimate protection and sanitary conditions the mattress is fully encased in a zippered barrier blocking, antimicrobial, waterproofing, and temperature balancing fabric. Behind the door is a rack to hang towels to dry and hats. The thermostat is set on a comfortable temperature of 71-73 degrees, whether the heat or central air conditioning is on so I ask that you do not open windows. Many people suffer from allergies so I keep my home as allergen free as possible with the use of an air purifier and high quality filters. There are hardwood and tile floors throughout the house. The front patio and the backyard are cozy areas to relax, sip on a drink, read, work on your laptop, have something to eat, get a tan, or just enjoy the beauty of the yard. There are electric outlets outside ... please close covers when finished using them. Come out of your room and enjoy the serenity of the outdoors. Please remember to lock the back door when you come back in.
The house is located in a quiet safe suburban neighborhood. Great for walking. A 3 minute car ride to stores and restaurants. A 5 to 10 minute car ride to Rutgers University & High Point Stadium, the Delaware & Raritan Canal State Park Trail, 6 Mile Run, Stress Factory Comedy Club, golf courses, St. Peters & Robert Wood Hospitals, Colonial Park, New Brunswick State Theater in downtown New Brunswick, skating rink. Buccleuch Park & mansion, Johnson Park with historic village & zoo, & downtown Highland Park, and historic homes. 15 to 20 minutes by car to Duke Farms Estate in Hillsbourough, Princeton University in downtown Princeton, Somerset Patriots Ball Park Stadium in Bridgewater, shopping on Route 18 in East Brunswick, Route 1 North in Edison and Route 1 South in North Brunswick. Regional Airport in Manville if you want to fly your private plane in. Looking to take a 45 - 90 minutes day trip? Go North to New York City, Brooklyn NY, Bear Mountain upstate NY. Vernon Valley water park NJ, Liberty Science Center NJ, and Hoboken NJ. Want Jersey Shore areas? Downtown Red Bank, Englishtown Flea Market, and Six Flags Amusement Park. Beaches: Point Pleasant, Long Branch, Asbury Park, Seaside Park, Belmar, Long Beach Island. Go west to Penn. New Hope, Peddlers Village Poconos, Philadelphia, and Flemmington outlets NJ, farm stands, town of Chester NJ The great part about being in Central Jersey is that you can get just about anywhere in a day...have a great time ... & then come back home. There is something for everyone.
Leslie was the best host. There was very good communication between us and we were greeted with a lot of warmth when arrived. Every morning we found breakfast and this was a pleasant surprise to start the day. During our stay we were busy and I wish we had more time to spend with Leslie. Her house is superb and tastefully furnished. We had a wonderful stay.
Stefano
2015-07-24T00:00:00Z
Leslie was a gracious and generous host. Everything was as described, very nice and comfortable. I had convenient access to the Rutgers campus. Would certainly book again.
Stefan
2016-04-08T00:00:00Z
The room was very clean and overall the house was nicely put. You would need a car to get around and parking is not an issue. Leslie showed around the home which has a lot of living space decorated well. The place is very suitable fr working professionals.
balamurugan
2016-08-03T00:00:00Z
I had a great experience staying with Leslie. She and Bella (her toy poodle) immediately made me feel welcome. I had access to the house with all the amenities I needed and more. The room I stayed in and the house is immaculate. Also the bed was extremely comfortable. Her house is very close to Rutgers. I look forward to returning as the opportunity arises.
Fatmata
2016-05-16T00:00:00Z
Leslie is a great host, she showed me around the city and made my stay very comfortable. The house is pretty and clean, I wish I could stay longer!
Yun
2015-06-30T00:00:00Z
Leslie and Bella (her dog) were very welcoming. The room and kitchen are spacious, and the place is clean and really well decorated. Leslie helped me out with regards to nearby places to eat, and helped me in my apartment search. The neighborhood is quiet and safe. I'd highly recommend Leslie as a host and would glad to be back..
Prithvi
2016-11-22T00:00:00Z
My stay at Leslie's could not have been any better! I was interviewing at St Peter's University Hospital for a medical residency position which was a 5 minute drive from Leslie's place. The house is beautifully decorated, with exquisite art taste. All the amenities, rooms (bedroom, bathroom, kitchen) were comfortable, clean and essentially on point. Leslie (and her 6 pound dog) were very welcoming. They made my short stay very pleasant. Thank you!
Nerea
2016-11-03T00:00:00Z
Very clean and accommodating
Ahmed
2016-11-08T00:00:00Z
Værelsestype
Privat værelse
---
Ejendomstype
Hus
---
Med plads til
1
---
Soveværelser
Franklin, Township, New Jersey, USA
Comfi bed with private bathroom. Clean and Comfi stay guaranteed. Centrally located to everything. Bus to NYC at corner, close to route 27, route 1, route 18, route 130, NJ Turnpike. 40 min to NYC, Philadelphia and more. 5 min away from Neighboring towns: Piscataway, Edison, Bridgewater, Somerville, 20 min to Princeton, Ewing and 35 min to Trenton.
Our home is clean and safe
Neighborhood is clean, sage and welcoming. Rated as the most diverse place to live, we have a wide variety of food choices and geographically close to everything!
Værelsestype
Privat værelse
---
Ejendomstype
Hus
---
Med plads til
2
---
Soveværelser
Franklin Township, New Jersey, USA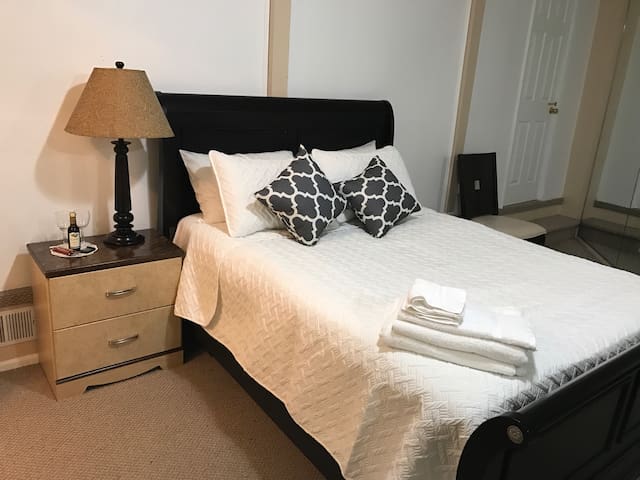 Private room with queen size bed at single family house,bathroom, above ground pool during summer,close to New Brunswick, NJ and Rutgers University and about 25 min by car to Princeton University, train or bus from New Brunswick to New York Pen Station
Værelsestype
Privat værelse
---
Ejendomstype
Hus
---
Med plads til
2
---
Soveværelser
Franklin Township, New Jersey, USA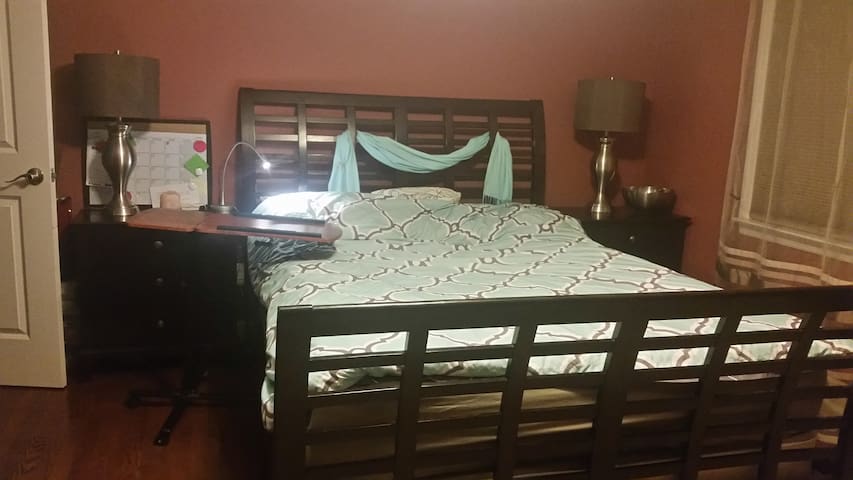 Extra bedroom in nice ranch home. Queen size bed, CAC, 2 windows with view to nice yard, with internet available. Location is a/k/a Somerset, near RU, RWJUH, Rutgers Prep, SPUH, J&J, Pharmaceutical and Cosmetics Companies, Somerset/New Brunswick If you want more space, look at: A Nice Clean Place - Mi Casa Su Casa II
This room/house is located 15-20 minute walk from College Avenue and downtown New Brunswick's George Street. There are several grocery and convenience stores just a few blocks away. Guests are welcome to use the kitchen!
Safe, clean, family oriented, good neighbors. Convenience stores within walking distance. Big, safe, clean parks nearby -Johnson's Park with zoo nearby (15 min) -Buccleuch Park (pronounced (Bugle-low)
I stayed at Orlando's home for one month while I was doing a rotation at Robert Wood Johnson University Hospital. Orlando upgraded me to his second room (Mi Casa Su Casa II), because he had some troubles with his calendar and another guy was staying in the room I actually had booked. That's why this review is regarding Orlando's Mi Casa Su Casa II room. I was very lucky to get this upgrade, because the Mi Casa II location is much bigger and more a private apartment rather than just a room. It is located in the basement of Orlando house and has its private entrance. Once you are coming down the stairs, you realize that everything looks exactly like on the fotos on Airbnb. There is a living room with two couches, a huge Flat-TV, a dining table and a fully equipped kitchen. The bed in the bedroom is big enough for two persons and there's plenty space to store all your belongings in the cupboards. The bathroom is very clean. You'll share it with Orlando, but he just uses the bath downstairs for showering, so he'll be in there only once a day. Another thing you'll realize when entering the apartment is that everything is very clean and tidy. Cleanliness is a major desire to Orlando, so he wants you to keep everything as clean and tidy as possible as well. The garden of Orlando's home is very well groomed. There is a table with chairs in front of your entrance where you can sit outside and enjoy the surrounding nature. The location of Orlando's house is great. You can reach the closest grocery store within 5min walking by foot. It is located in a small mall where you also can find some places to eat and a laundry. So basically you can reach everything for your everyday need within a couple of minutes walking by foot. To reach the center of New Brunswick (or for example Robert Wood Johnson University Hospital or the train station) it takes you about 25min by foot (~1.5 miles). There's a direct connection from New Brunswick train station to Manhatten (Penn Station). It only takes you about 50min by train to reach Manhatten. I used to go there every weekend because it's so convenient. There are also connections to Princeton, Trenton, Philadelphia and many more. I had no car while staying at Orlando's home, but still I was able to reach all the places I needed to go within 10-30 minutes either by foot or by bike. Orlando kindly allowed me to use his bike, which was extremely useful to me as it provided me mobility and cut down my time to go to work to only 10min - once again many thanks for that Orlando! The neighborhood seems very safe, I walked home alone at night several times and never felt unsafe or in danger. Nevertheless Orlando's home is secured by an alarm system, which probably wouldn't be necessary but it...
Christian
2016-09-28T00:00:00Z
Le séjour passé chez Orlando était super. Orlando est très accueillant et cherche sans cesse le meilleur pour ses hôtes. La maison correspond parfaitement aux descriptions du site, elle est agréable et très propre.
Adrien
2015-05-27T00:00:00Z
Orlando has strong responsibility sense. He was always making sure everything is going well in his house. Me and my friend are impressed by cleanness of his house
Tagore
2017-04-09T00:00:00Z
房东人不错 大家互不打扰 挺安静的
李
2017-03-16T00:00:00Z
We really enjoyed our stay at Orlando's Mi Casa Su Casa II room. He is a very nice guy, always doing his best to make you feel comfortable and offering help as often as needed. We, a fellow student and I, booked the room for 4 weeks in October, while doing a rotation at Robert Wood Johnson University Hospital and Saint Peter's University Hospital, which both are not far from the house. For going there, Orlando allowed us to use his bike. In addition to that, we also bought another bike, so that there are two bikes now for use. As there is only one bedroom, Orlando bought a second bed for the living room, so that each of us had his own privacy. For detailed information about the location you should read Christian's review. He stayed in the apartment just before us and I totally agree with everything he is saying. Orlando really likes it tidy and clean, so the apartment, house and garden look accurate. We could always reach him by phone when we needed help or had questions. He took us to the supermarket, went with me picking up the bicycle and sometimes gave us a ride when we went out. If there was any complication, we could talk about that and finally made an arrangement. Thanks again Orlando!
Fölix
2016-10-30T00:00:00Z
Værelsestype
Privat værelse
---
Ejendomstype
Hus
---
Med plads til
2
---
Soveværelser
Franklin Township, New Jersey, USA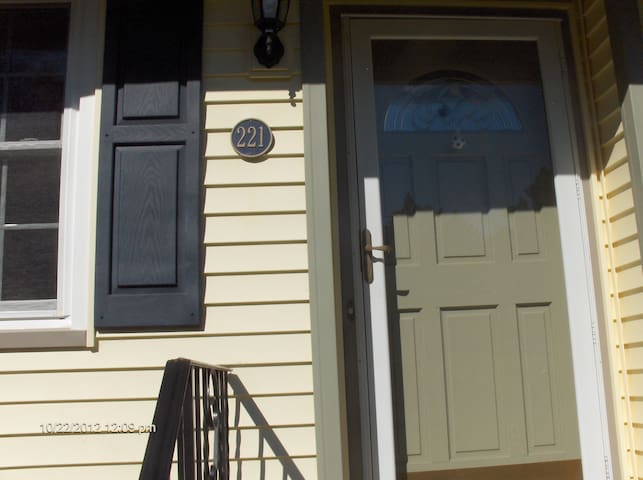 My place is close to parks, great views, and art and culture. My place is good for couples, solo adventurers, and business travelers.
This Antique home sits on an acre of land with a gazebo, beautiful trees, and a garden in the colonial neighborhood of East Millstone. Take a stroll down to the canal and hike the tow path all the way to Princeton, or grab a canoe or kayak from one of the vendors and get a good workout.
Lucia is a thoughtful and gracious hostess. I felt at home!
Reesa
2016-12-21T00:00:00Z
Værelsestype
Privat værelse
---
Ejendomstype
Hus
---
Med plads til
2
---
Soveværelser
Franklin Township, New Jersey, USA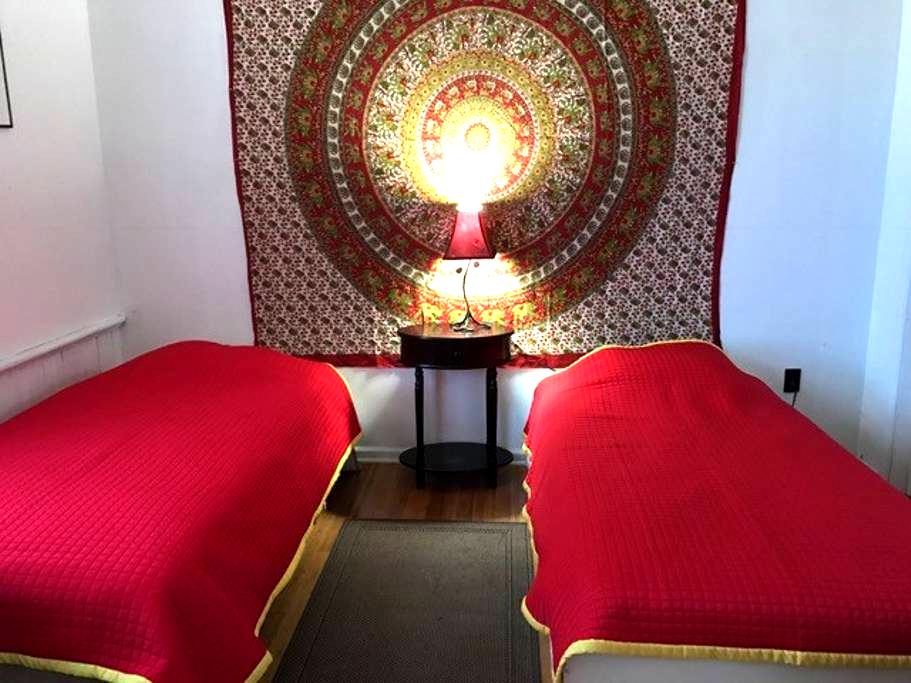 My place is close to public transport, nightlife, the city center, and parks. You'll love my place because of the coziness, the comfy bed, and the neighborhood. My place is good for solo adventurers and business travelers.
Good room, good host
Alex
2016-09-21T00:00:00Z
Good
Alex
2016-10-07T00:00:00Z
Værelsestype
Privat værelse
---
Ejendomstype
Hus
---
Med plads til
1
---
Soveværelser
Franklin Township, New Jersey, USA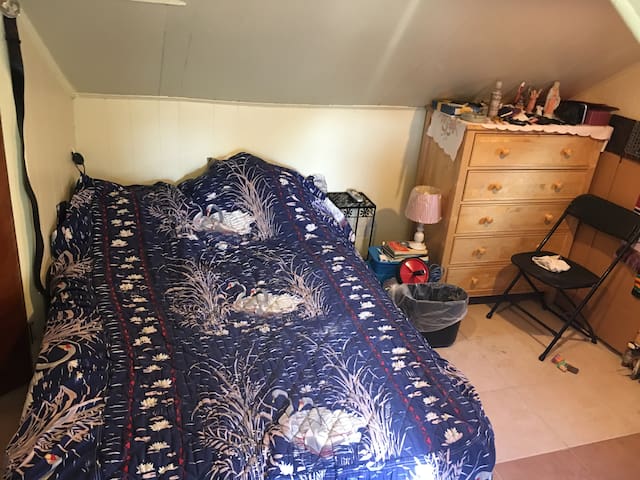 Our suburban home is centrally located to the major highways of New Jersey & Rutgers campus. It is recommended to have your own transportation especially in the colder months although public transportation available to easily get around town & to NYC
ATTENTION RUTGERS STUDENTS Are you looking for affordable off-campus housing? Need a quiet place to study? Space to host an overnight guest? A place to park your car, bicycle? The freedom to prepare your own healthy meals if you choose? Privacy, convenience and the safety of home without the nosy roommates? Well.... Welcome home.... Here, you will have your own spacious room, where the furniture you want will fit. Here's what's offered ~Two comfortable twin sized beds (one for you, and your guest, or a roommate of your choice) ~Armoire (available for your use if you choose) ~Cable TV- including premium channels HBO and Showtime ~Wireless Internet ~Washer and dryer ~Eat-in kitchen ~Large living room, perfect for hosting a few friends or visiting family ~A really friendly people loving pup! SO WHERE IS THE GREAT PLACE?? Located in nearby Somerset, accessible by public transportation (limited), major interstates and highways. You can easily walk to the the Coach Bus Station to New York or NJ Transit New Brunswick Station in 15 minutes. Smooth ride into downtown New Brunswick if you have a bicycle. If you need a rental car for the weekend, get great deals with Hertz ~ they can pick you up as well. If you own a car, you can safely park in the driveway. Conveniently located are supermarkets and popular food chains like Papa Johns, Arby's and local favorite restaurants. IS THIS THE RIGHT PLACE FOR ME? If you are ~Rutgers Student ~UMDNJ Medical Student/resident ~RVCC Franklin student ~Out of State Summer student ~International Student ~On a tight budget ~unable to stay on campus housing ~in transition after graduating and not ready to return home ~overnight stay for seminars (affordable alternative to the local hotels) ~NOT ALLERGIC TO DOGS---- we just adopted one from the shelter OTHER FACTS I am located near several major cities: New York City (1 hour) Philadelphia (1 hour) Rutgers/New Brunswick (15 minutes) Edison (15 minutes) Bridgewater (15 minutes) Newark/Union/Elizabeth (30 minutes) Princeton (45 minutes) Infamous Jersey Shore (45 minutes) Six Flags Great Adventure (1 hour) Atlantic City (2 hours) Washington DC (4 hours) Baltimore (3 hours) Boston (4:45 hours) .....whatever the reason, you NEED a place like this to call home for a while, or at least until you graduate and get that dream job!! :-)
Our neighborhood is quiet and peaceful. A full service grocery store is within walking/ biking distance (3 miles) and access to the college campus buses is also close by (5 miles).
It was a last minute trip for business, and Samantha was so helpful. I contacted her the day before and she promptly replied yes. I got in early evening but was exhausted, I then had to leave again by 4am. I felt bad being a recluse and having to get up so early and possibly bothering everyone but she was so kind and insisting it was fine. Samantha even offered I could come back after work if I needed to rest up!! So kind and so sweet. Beds were fine, two simple twin beds in the private room. Towels already provided on the made bed. Samantha has a loving and warm family that are extremely welcoming!
Alan
2012-11-19T00:00:00Z
Very welcoming including their dogs. we can use pretty much everything from the house. It saved us a lot of time and effort.
Hime
2015-06-15T00:00:00Z
I stayed this house for six month. I love this house!! First of all, Brian and Samantha are very kind host. In addition, this house was very comfortable. I could use air-conditioner, heater, speed-wifi and Kitchen, all of things like my parents house. When I have problems in my school or somewhere, they really helped me. So, I feel, they are real my family. Especially, there is very special dog named Peny. She is so cute!!! If you choose this house, it will be a great choice!
희진
2015-02-16T00:00:00Z
Samantha is extremely helpful when it comes to giving directions and making sure you are able to find your way around the area. The room was clean and the bed was very clean and comfortable. I requested a hair dryer and iron, and she was able to help me with this. The house can be a little noisy at night, so I would say this room is perfect for vacationers with a flexible schedule.
Kaya
2012-10-24T00:00:00Z
Samantha's place was warm and welcoming. The most standout thing about this stay was how incredibly helpful Samantha was throughout. The area was lagging from the effects of Sandy, and she went out of her way to arrange transport, rental car and connections while I was there. A great stopover with no fuss.
Zubin
2012-11-16T00:00:00Z
The Clarke family was wonderful to us, we had a great time at the jazz festival, our stay at the Clarke house made our trip possible (no reasonable hotel rooms remaining). We really felt like we were staying with family which was great.
Odessa
2012-10-09T00:00:00Z
Brian and Samantha are very kind and friendly hosts, and I was able to use their kitchen and wifi, which was very helpful. Brian one night even shared his dinner with me! There were four slightly overexcited and loud dogs around, though, which I was not prepared for, and the room is not the one in the pictures, but a rather simple dorm-like room. Overall, my experience was positive, but I feel like these two things could have been communicated better. The area is okay, nothing special, train station and campus are about 35-40 walking minutes or $6-8 by cab away.
anna
2015-05-25T00:00:00Z
Samantha's home is so welcoming. We had a long travel day and we felt we had arrived home as soon as we walked in the door. Sam is very helpful with information about her area: shopping, transportation, routes to take, restaurants, etc. AND her beds are very comfortable. I slept like a baby.
Merna
2012-11-07T00:00:00Z
Værelsestype
Privat værelse
---
Ejendomstype
Hus
---
Med plads til
2
---
Soveværelser
Franklin Township, New Jersey, USA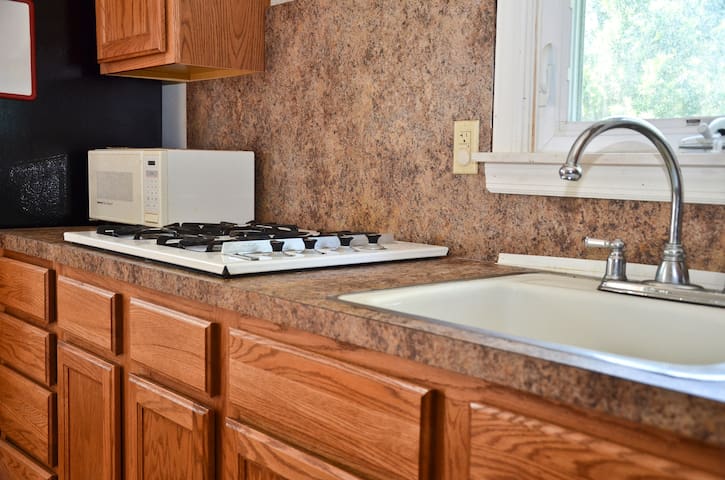 1

–

18

af

300+ Huslejemål
Indtast datoer for at se den samlede pris. Yderligere gebyrer gælder. Der kan blive tilføjet skatter.