Our 3 bedroom 2 bath, 3000 sq foot brick home on 2 acres, 20 min from elvis Presley birth home. 1 hour from Graceland. Enjoy country living with dogs, cats and chickens.
We contacted each other by text the whole time we traveled to the home and while we were there. We did not see each other except the night we checked in. I would have liked to socialized more but with our schedule time did not permit it. It was very clean. We came and went as we needed to with no problem.
LISA
2016-09-07T00:00:00Z
Audra and her family made me feel very welcome. Her children were so precious!!! The room was very comfortable and I got a great night of sleep! I would recommend this rental to anyone!
Connie
2016-12-05T00:00:00Z
Had a nice stay! I only got to stay long enough to sleep a few hours, but I got some much needed rest. Very nice place.
Shelby
2016-11-08T00:00:00Z
Audra and her family were lovely. The house was very clean and coffee, fruit, and breakfast bars were provided in the morning. The bed was comfortable and area was quiet, a perfect place for us and our 2 dogs.
Karen
2017-01-02T00:00:00Z
Awesome place. Quiet, clean and peaceful! Definitely recommend.
Charles
2017-03-09T00:00:00Z
I had a late arrival and left early in the morning so I actually did not see the host. All I was looking for was a quiet place to sleep passing through Mississippi on a road trip where my dog was welcome, and that's exactly what I got! The host was very accommodating and the home was very clean.
Carlyn
2016-07-12T00:00:00Z
Audra and her kiddos were great and welcoming to us. She was super communicative before our trip. Easy access to Tupelo. Will stay again on our next trip!
Cathrine
2016-09-10T00:00:00Z
We needed a place to stay for the Ole Miss game and Audra's place was a nice find. The rooms were clean and she was very accommodating and hospitable. She got up early to brew coffee and made us feel at home.
Mark
2016-09-26T00:00:00Z
Værelsestype
Privat værelse
---
Ejendomstype
---
Med plads til
3
---
Soveværelser
Guntown, Mississippi 38849, USA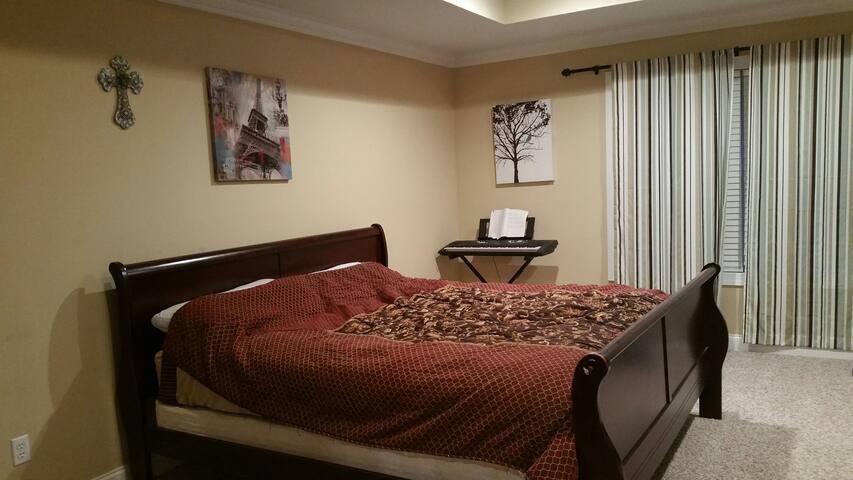 Our home Is in quite country, we have dogs. Cats and chickens. We are 20 minutes from tupelo, to elvis Presley birthplace and 1 hour and 30 minutes from memphis.
Very nice neighborhood, and quite
Quite, peaceful
This was my first time using Airbnb and i didn't totally know what to expect. Audra graciously answered all my questions and made us feel very welcome. It was a great place to stay, very clean and very quiet.
Charles
2016-10-31T00:00:00Z
Værelsestype
Privat værelse
---
Ejendomstype
---
Med plads til
2
---
Soveværelser
Guntown, Mississippi 38849, USA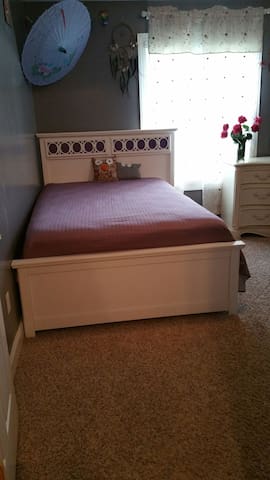 Log Cabin, built in 2015 in quiet, peaceful neighborhood on private land. Vaulted ceiling, large timbers, 200+ year old logs. Custom made beds, cabinets, doors, and staircase. Decorated with old and new. Gas logs, Satellite TV, Central H/A, Security
Unique log cabin built in 2015. Attention given to every detail. Sleeps 4. One queen and two twins in the loft. Everything is furnished. Washer/Dryer, iron, dishes, utensils. Charcoal grill (charcoal/lighter fluid provided). Outdoor fire pit and seating area.
It's quiet and private
The cabin was amazing. It was a great surprise for my boyfriend birthday present. Must go again.
Laura
2016-09-18T00:00:00Z
This is a wonderful cabin to say the least. Jimmy and Jill have paid careful attention to every detail from decorating to providing every utensil. We expected that it would be nice but it exceeded our every expectation. Just as advertised in every respect and more. Highly recommend.
Gary
2017-03-03T00:00:00Z
Wow!! If you haven't stayed here you are definitely missing out! This cabin has it all, from its rustic charm to its modern amenities! The decor was fabulous and made the cabin feel so cozy! Jill and Jimmy have thought of everything you could possibly need while you are there. They were wonderful hosts!! Their communication was exceptional, and their response time was extremely fast! I highly recommend a getaway to The Oakley House!! We will definitely be back!!
Angie
2017-02-17T00:00:00Z
Wow..Words can't even describe our experience. The pictures definitely don't do it justice either. Jill was extremely sweet and provided for us more than we even expected. The house is absolutely beautiful. The inside was perfect, very cozy and warm. This is one of my favorite places we have ever stayed. We even lit a fire in the fire pit one night and roasted marshmallows. Very relaxing. We have a house full of children and finally arranged to be able to take a trip for our anniversary and it was wonderful. The house is set on a wooded lot and it does not at all seem like we were so close to town. Also there are several things to do in the area. We went to Shiloh one day which was only about a 20 min drive away. Would definitely recommend this place and we will be back!
Jennifer
2016-10-26T00:00:00Z
Great cabin out of the way. Private, with a great porch, wonderful history, and plenty of space. A great stay, incredibly comfy and enjoyable.
Rachael
2016-11-10T00:00:00Z
Amazing. This was just a quick stop on out way back home but it was super quite.
Matt & Nettie
2016-10-16T00:00:00Z
Very very very cute, clean, and cozy!
Bruna
2017-01-14T00:00:00Z
The Oakley House is a relaxing and beautiful home. We loved being in the country but not too far from town. The owners are wonderful and very helpful. Hope to return one day!
Wendy
2017-02-09T00:00:00Z
Værelsestype
Helt hjem/lejlighed
---
Ejendomstype
---
Med plads til
4
---
Soveværelser
Corinth, Mississippi 38834, USA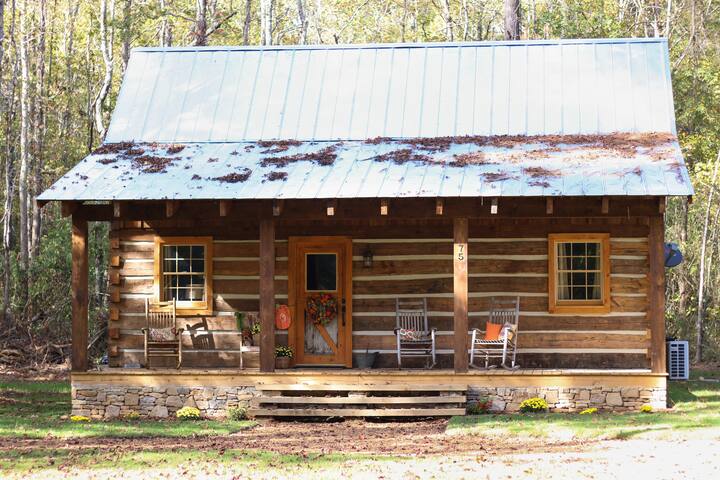 The Bear Creek Saloon Guesthouse is situated on 3 peaceful acres conveniently located 1/4 mile off of the Natchez Trace Parkway in Tishomingo, MS. Guest suites include queen/twin beds, kitchen, full bath, and laundry area.
The guesthouse is situated on 3 acres and offers privacy and a view of nature. The fire pit area enables guests to experience outdoor grilling or a cozy campfire.
The guesthouse is bordered by a forest of pine trees and other varieties. Although it is a private setting, surrounding towns are nearby.
Everything was as described at the Bear Creek Guesthouse. The accommodation was spacious and amenities all there. We ordered in groceries and cooked our own dinner - great service from the store who seemed familiar with the drill. We came in from the north on bicycles so didn't actually get to Tishomingo until we bicycled out the next day - not a problem for us. Full comfort and clean. Recommended.
Gerry
2016-10-31T00:00:00Z
The listing was very accurate. Very private ,clean. Splendid accommodation .
Sue
2016-10-11T00:00:00Z
Convenient location, nice and quiet, plenty of room, a few minutes from the park. Could have fit the whole family!
Kevin
2015-06-13T00:00:00Z
We had to cancel at the last minute but Christi was great, very helpful while making the reservations and after I had to cancel. I will definitely book with her again if we are ever in the area again.
Amy
2014-09-20T00:00:00Z
Christi's guesthouse was perfect. It provided everything a cyclist would need. Christi told us lots of helpful information in advance -a local grocery or restaurant that delivered fresh food to the guesthouse for a nominal fee, arrival instructions, laundry availability. I would highly recommend staying here if you are cycling the Natchez Trace Parkway. Thanks Christi!
Nancy
2016-07-17T00:00:00Z
We stayed here last week while traveling along the Natchez Trace. Nice, quiet place with plenty of room to stretch out, both indoors and out. We did not have a chance to use the outdoor areas having arrived late and needing to leave early, but there was a huge fire pit area that would have been great for sitting outside. The rental was one large room, like an big, over-sized studio. Full kitchen, table and chairs, tv, A/C and heat (although we didn't use the heat), a couple of ceiling fans and 2 beds--plenty of room for 3 people to comfortably stretch out. We loved the spacious bathroom--plenty of hot water and fluffy towels. Best part was the laundry facilities--thank you! After a few days cycling, it was nice to be able to wash and have fresh riding kits! Best of all was that Christi had arranged for some local businesses to deliver food. The unit is a bit outside of town, so the delivery option was fantastic. You could get groceries or food from a local restaurant.
Mary
2016-04-30T00:00:00Z
Felt like home!
christina
2015-10-04T00:00:00Z
Apartment was very cute and had everything we needed. Lots of info about local attractions. So close to Natchez Trace, very convenient.
Harriet
2016-04-10T00:00:00Z
Værelsestype
Privat værelse
---
Ejendomstype
---
Med plads til
3
---
Soveværelser
Tishomingo, Mississippi 38873, USA
Fully furnished apartment in a quiet, private setting. Wi-Fi, laundry, stainless steel appliances and plenty of parking. Ideal for a quiet, private getaway. Near Pickwick Lake and Shiloh National Battlefield.
Værelsestype
Helt hjem/lejlighed
---
Ejendomstype
---
Med plads til
4
---
Soveværelser
Corinth, Mississippi 38834, USA
Beautifully created for quiet moments , soft lighting helps create the feeling of home. Surround sound for the TV gives the theater effect if you choose and candles throughout the home colours the air with soft relaxing aroma. The blue-ray player has a 7.1 playback. Dine in simple luxury while seated in Phyco Antwerp chairs with a pitcher of sweet tea and buttered biscuits nearby. The plates don't match, the bowls aren't big but the breakfast is homemade. Ya'll come see me now, ya hear!
The queen size bed with 800 count thread wraps you in soft luxury as you drift off to sleep on a med-firm memory foam gel mattress that is in the There is also accommodations for those that would prefer satin sheets. The kitchen is open for experiments of gourmet cooking with a double oven with convection cooking for the health conscious or the broiler for the steak lover. (PSST...There is also an outside grill if you choose )
Quiet safe neighborhood without having neighbors so close that you can touch their home from yours. An outdoor patio lets you sit and enjoy those warm summer evenings and there is an antique stove that you can build a fire in just to hear it crackle.
Værelsestype
Privat værelse
---
Ejendomstype
---
Med plads til
2
---
Soveværelser
Tupelo, Mississippi, USA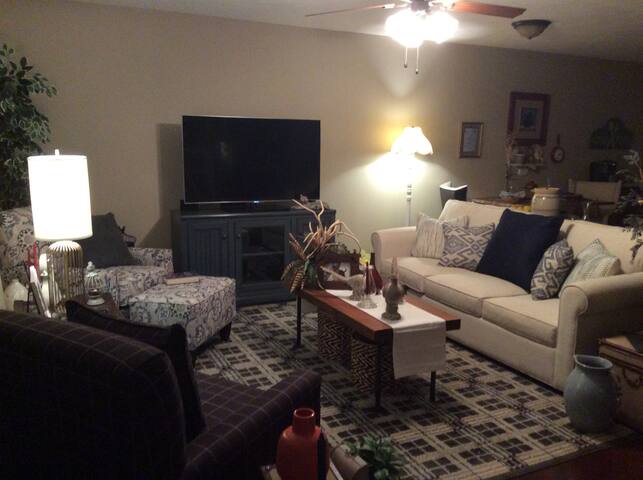 Home away from home! This "In-laws" apartment is separate building from my house. It has small kitchenette, bath with shower & front door parking. It is centrally located in Tupelo,on a cul-da-sac. We have woods behind us with all manner of wild life. Long term pricing available.
Private space all to yourself. This studio apartment offers a full size bed, kitchenette, wifi and is convenient for hiking, shopping or most anything in Tupelo area.
We have the feel of being in the country without the commute. Peaceful escape but yet 5mins from shopping, eating & entertainment events!
It was a nice place to stay for the night! Would recommend to anyone staying in Tupelo
David
2016-12-04T00:00:00Z
Værelsestype
Helt hjem/lejlighed
---
Ejendomstype
---
Med plads til
2
---
Soveværelser
Tupelo, Mississippi 38804, USA
My place is close to nightlife, the city center, and parks. You'll love my place because of the coziness, the location, and the people. My place is good for couples, solo adventurers, and business travelers.
Værelsestype
Privat værelse
---
Ejendomstype
---
Med plads til
2
---
Soveværelser
Tupelo, Mississippi 38804, USA
A Southern colonial style home located on a cul-de-sac with easy access to downtown or the mall. This spacious bedroom is on the second floor, has a sitting area, gas fireplace and window seat.
I would highly recommend this jewel for anyone to stay. Ms. Mary Jo was so very kind and helpful. Her home is beautiful. The location is close and perfect for shopping and dinner or anything you need to do! I am so glad we had the privilege to stay her while we were in Tupelo!
Lindsay
2017-02-06T00:00:00Z
Mary Jo set the bar very high for any Airbnb hosts! The home was fabulous and Mary Jo was very friendly and accommodating. I will definitely request to stay again when I am in Tupelo!
Lorri
2016-10-23T00:00:00Z
My wife and I were doing a road trip visiting many national historic site and spend only one night in Mary's house. We lived in one of three bedrooms in the 2rd floor, a room with portraits of George Washington, Abraham Lincoln, and Declaration of Independence. The bedroom and decoration of the whole building were just like the history museums we visited in those days. The house was amazing: plenty of rooms, cozy, clean and quiet, large windows providing lots of sunshine. I cannot describe how excited we were to live there. Mary was a fantastic hostess. When we wanted to look around the house, she turned on the lights of every room and talked about their stories. She made for us a breakfast including a variety of fresh fruits, yogurt, cereals, coffee and juice. We noticed that she slowed down her speaking so we could follow her since my wife and I were both speaking English as second language. Mary was a perfect person to be with, her home is so great to stay, and her cat was naughty and cute. I would never forgot the night there and would definitely recommend to everybody.
Boxiang
2016-01-27T00:00:00Z
My husband and I went to Tupelo for a church conference and have always enjoyed staying in Bed & Breakfasts, so decided to check into one there. We were so impressed with Mary Jo and how she made us feel at home and accepted us (even when we arrived in the wee hours from the airport!). Her work schedule didn't allow her to cook every morning but she did a super job when she could. Her home is very beautiful and comfortable. It is in a good neighborhood and we felt safe there. We would highly recommend her to anyone!
Rory
2015-11-23T00:00:00Z
This was my first Air BNB excperience and it may spoil me for any further stays. Mary Jo's home is gorgeous, exquisitely decorated, and spotlessly clean. Her home, itself, is a nearly 10,000 sq ft New Orleans-style Colonial that sits on a couple of acres less than a mile off the Natchez Trace Parkway. The bedrooms are spacious and very well furnished and I think you could possibly host the World Cup in her kitchen. If not there, then certainly in her fully furnished basement. Mary Jo is a superlative host, kind and considerate of the needs of her guests and anyone who stays with her will be far richer for the experience.
Kaye
2015-10-12T00:00:00Z
Mary Jo is an amazing hostess! Her hospitality was above and beyond the call of duty. The home was immaculate and very spacious. Being able to use the kitchen area and assortment of coffee flavors was a treat as well. It was a very private place. I highly recommend it if you want to feel like a Queen and King in a tucked away castle. Thank you, Mary Jo, for a refreshing stay which we needed.
Angela
2016-09-08T00:00:00Z
Loved Mary Jo's house!!! Clean, SPACIOUS, and perfectly suited to our needs. Also Mary Jo is super cool and was really helpful as we were working. Enjoyed chatting with her. Wholeheartedly recommend this place, whatever your needs are.
Sam
2015-12-14T00:00:00Z
MaryJo was a great host and we really enjoyed staying in her beautiful home! The room was huge, well appointed and had a nice view of the backyard. MaryJo offered us breakfast and gave us a tour of her impressive kitchen (ask about the fireplace).
Steve
2016-10-06T00:00:00Z
Værelsestype
Privat værelse
---
Ejendomstype
---
Med plads til
2
---
Soveværelser
Tupelo, Mississippi 38801, USA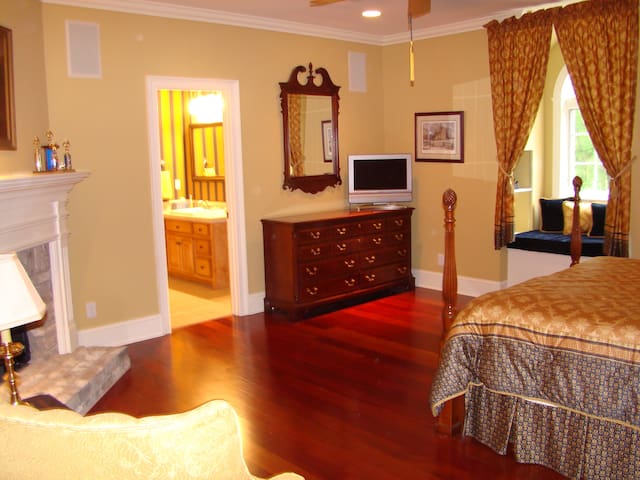 Sunny room with balcony. This location is convenient to Toyota & hospital. Central Tupelo on quiet cul-de-sac. I love hosting interns & hospital residents! Ask about long term rates.
My neighborhood is quiet & very peaceful. We have woods behind us like living in the country. But all the convenience of city.
Værelsestype
Privat værelse
---
Ejendomstype
---
Med plads til
2
---
Soveværelser
Tupelo, Mississippi 38804, USA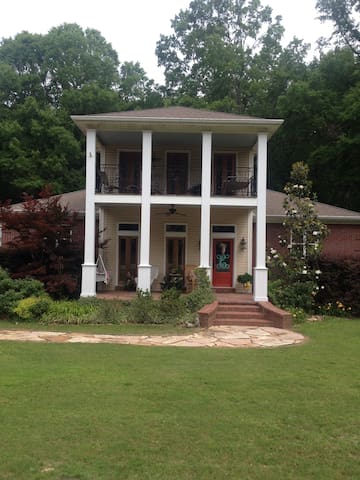 Second floor large bedroom with gas fireplace and futon sofa bed for a third guest. Jack and Jill bath joins to another bedroom if additional guest accommodations are needed. Second bedroom with queen bed accommodates two for an additional $60 per night. Window seat overlooks a quiet cul-de-sac.
Couldn't have been any lovelier. Mary Jo was the perfect hostess.
Donna
2016-11-19T00:00:00Z
AMAZING experience... spectacular home & room accommodations; sublime host!
brooks
2016-02-27T00:00:00Z
A fantastic home with a wonderful host. Mary Jo made check in and out simple. She made me feel right at home.
brian
2016-05-02T00:00:00Z
This is a beautiful home and a wonderful place to stay. Mary Jo is an awesome hostess .The backyard is park-like and a very peasant place to sit for morning coffee. You will not be disappointed staying here!
brian
2016-04-11T00:00:00Z
I slept great and enjoyed good coffee and conversation in the morning. Another good stay. Would definitely come again
Lorri
2016-10-25T00:00:00Z
It's true about southern hospitality. Mary Jo was welcoming and kind, the room was immaculate, the bed very comfortable and I felt at ease coming and going. Mary Jo made me coffee and breakfast and even let me watch a movie in the home theatre. I just had a magical weekend and I hope to return.
Alex
2016-06-06T00:00:00Z
Both the home and the neighborhood are excellent. Mary Jo made me feel welcome the moment I arrived. I would not hesitate to stay here again when I return to Tupelo.
Robert
2016-05-21T00:00:00Z
Mary Jo was a gracious host with a simple check-in process. The house was exceptionally clean.
John-Ross
2015-09-15T00:00:00Z
Værelsestype
Privat værelse
---
Ejendomstype
---
Med plads til
3
---
Soveværelser
Tupelo, Mississippi 38801, USA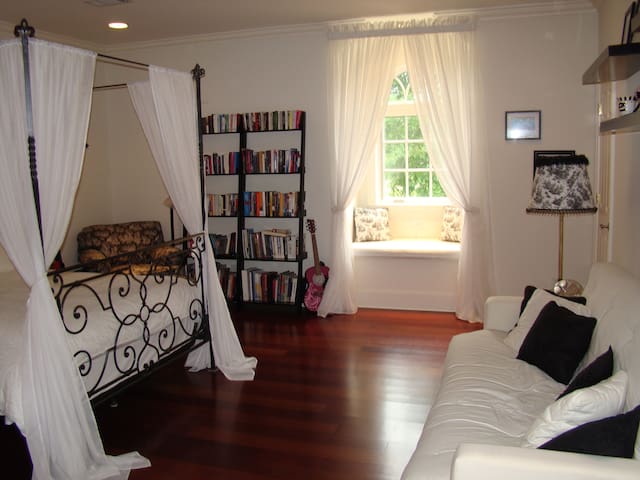 Second floor large bedroom with gas fireplace. Jack and Jill bath joins to another bedroom if additional guest accommodations are needed. Window seat overlooks a brick courtyard with fountain.
Værelsestype
Privat værelse
---
Ejendomstype
---
Med plads til
2
---
Soveværelser
Tupelo, Mississippi 38801, USA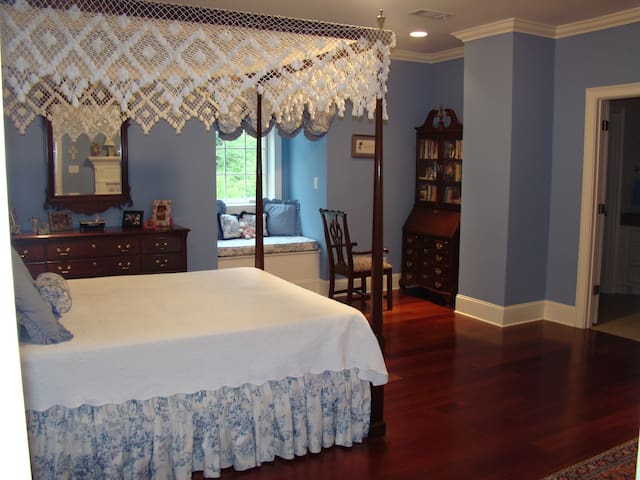 Indtast datoer for at se den samlede pris. Yderligere gebyrer gælder. Der kan blive tilføjet skatter.