Indtast datoer for at se den samlede pris. Yderligere gebyrer gælder. Der kan blive tilføjet skatter.
8 Lejeboliger
· Arctic Ocean
8 Lejeboliger
· Arctic Ocean
Large room with private bathroom and shower and a beautiful views of Iqaluit and Frobisher Bay. Located in a quiet area, walking distance from downtown. A great place for couples, solo adventurers, and business travellers looking to experience Iqaluit.
Private bathroom, shared kitchen I am mindful of personal space and respect privacy. However, will be more than happy to answer any questions about life in Iqaluit.
Taxis are available for $7 flat rate
Kristine was extremely welcoming and went out of her way to make me feel at home and like part of her family. I could not have imagined a better way to discover Iqaluit for the first time. The house is lovely and welcoming, with beautiful views on the bay. The room is very cosy and has a desk and a long chair; the room is nicer and larger than it appears in the pictures on Airbnb, I was pleasantly surprised. I would strongly recommend Kristine's place to anyone traveling to Iqaluit, it was a wonderful experience and one that I am sure to repeat on my next trip to Nunavut. Thank you!
Audra
October 2016
We enjoyed the beautiful view at Kristine's place. Very comfortable and homey room. Fridge stocked full of snacks with coffee and tea in the room. 15 min walk into main area and beautiful view up from the hill. Highly recommend. Was a bit noisy at times as it is a daycare on the other side during the day but we weren't too bothered. Highly recommend.
Rox
January 2017
Kristine was so friendly, welcoming, accommodating and helpful! She was able to help me with whatever I needed and even kept the fridge full with food and drinks — so thoughtful.
Brittany
December 2016
I had an absolutely amazing stay at Kristine's house during my visit to Iqaluit. Easily the best Airbnb I have ever stayed at.
Dustin
March 2017
Kristine's home, and family, are both beautiful. The home is super clean and organized and very comfortable. Beautiful views from every room as the house sits atop a hill overlooking town and Frobisher Bay. Everything is within walking distance however taxis are readily accessible and very affordable if you prefer not to walk. Kristine went above and beyond to make us feel welcomed and right at home. I would recommend Kristine's home to anyone for their stay in Iqaluit.
Heidi
November 2016
Everything was smooth and easy. And the place has a beautiful view (as described). Didn't spend much time there, but Kristine and her family went out of their way to make me feel welcome whenever I was there. Highly recommended!
Matt
November 2016
Kristine and her family were really friendly and lovely to talk to. The room is clean and very nice, with a breathtaking view. It's in a suite to the side of the house, with its own bathroom, so it's pretty private. I really loved staying here and would recommend it to anyone visiting Iqaluit!
Melody
October 2016
The large room at Kristine's has a killer view, private bathroom and is very private and cozy. There's a little fridge stocked with some food, juice, a kettle, coffee maker, lots of storage and really comfy bed. Internet access is provided. Plus access to living/dining room and kitchen. Kristine and her kids are very friendly and welcoming. The house is a bit of a hike from town but walkable or cabs are easy. It's worth it for the views!
susan
November 2016
Værelsestype
Privat værelse
---
Ejendomstype
Hus
---
Med plads til
2
---
Soveværelser
1
Iqaluit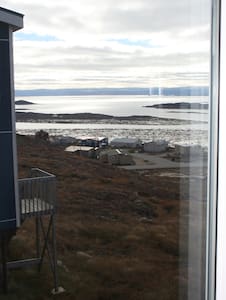 Private bedrooms for rent in a fully renovated appartment. Up to 4 rooms available. Located in Apex (same cab price than anywhere in town), very traditional community and very quiet. Lots of walking trails, beach, and water view. See photos.
Cabs are the best way to travel around town. It is $7 / trip wherever you go. If you give me your arrival time, I am happy to pick you up at the airport upon your arrival.
I'm so glad I stayed with Joelle, she is a friendly and cheerful person and an accommodating and welcoming host. Joelle picked me up at the airport and showed me around town. I spent most of my time in Iqaluit working but when I had free time Joelle invited me to different events and activities so I got to experience the local life as well. Thr house is well-maintained. The room is in an excellent condition, clean and with nice artwork. I was glad to have access to the kitchen and be able to cook once in a while.
Alina
February 2017
Joelle is amazing. I spent a week at her lovely home in March. Apex is a bit of a drive from town, but I never regretted it. She made me feel welcome from the minute I touched down in Iqaluit, and showed me around town. I'm so glad I ended up staying with Joelle instead of the overpriced hotels in town.
Mark
April 2014
Værelsestype
Privat værelse
---
Ejendomstype
Hus
---
Med plads til
4
---
Soveværelser
4
Iqaluit
My place is Downtown, close to: Nightlife, Restaurants, Water Front, Shopping, Recreation Centre, & the Gym. You'll love my place because of the Location and its Ambiance. It's a fairly fancy place and is well kept. My place is good for couples, solo adventurers, and business travelers.
You can get anywhere in town by cab at a flat rate of $7! Caribou Cabs 867-979-4444 Paipa Taxi 867-979-5222 There is wireless internet available. Find "Meshnet" on your wifi and connect. When you open a browser, it will give you your internet options.
Værelsestype
Privat værelse
---
Ejendomstype
Lejlighed
---
Med plads til
2
---
Soveværelser
1
Iqaluit
A lovely, contemporary home with a spectacular view overlooking the Arctic Ocean and Frobisher Bay in exotic Iqaluit, Nunavut. We are happy to provide you with information on sightseeing and an entry to Inuit cultural events. Full kitchen you are welcome to use, clean linens, ensuite washroom, healthy and gluten-free breakfast options, washing machine, WIFI and more. 1 bedoom with Queen Bed and adjoining full, private washroom. Free Wifi. Within walking distance to downtown Iqaluit and the sea. A few minutes from the territorial park. Kitchen, laundry, living room, full washroom. When we are in town, daily.
On certain dates, we are able to rent the entire house--with an additional loft bedroom for two and additional washroom.
Ellen and Chris were fabulous hosts and the accommodations were exactly what I expected and hoped for. They were very welcoming and warm. Would definitely stay here again!
Holly
June 2014
Raven's Nest is a modern house set on a ridge overlooking the central area of Iqaluit. The room is spacious and comfortable (single or couple) with a full ensuite. The bedroom and open-plan main living area of the house have great views west to the town below and out to Frobisher Bay. Ellen and Chris are welcoming hosts, helpful and friendly. They are intelligent and interesting artistic people you would like to have as friends. As they are long time Northernphiles, you benefit from their experience and knowledge; you feel as if you really know life in Iqaluit. In summary, a wonderful place to stay!
Evan
January 2014
I can not say enough great things about the accommodations and the hosts of Raven's Nest. It really made our short trip to Iqaluit that much more enjoyable. Ellen and Chris were so generous with their time and energy and made us feel extremely welcomed. You would be lucky indeed to get to experience the North throughout the lenses of these lovely hosts.
josee
February 2015
Ellen and her husband were absolutely the best hosts! These folks were pretty awesome. We just spent the night in town to catch the connecting flight in the morning. Ellen picked us up at the airport and welcomed us to their beautiful home that had a great view of Iqaluit. Their home was clean and nicely decorated. They even made a delicious dinner for us (we were too tired from traveling to even think about food - I was just going to make instant noodles at the most!). Breakfast was also very pleasant and Ellen drove us back to the airport while touring us around town. My best airbnb experience to date!
Danica
April 2014
We could not say more about how lovey our time was with Ellen and Chris - they made us feel completely welcome, and at home. Their place is beautiful with an amazing view - we can't wait to come back again! Thank so much. Anne and Noah
Anne
October 2016
Ellen and Chris's home in Iqaluit was perfect in every way. It was about a 15 minute walk into the main part of town and our room was attractive, comfortable and exceptionally clean. We were grateful to be able to use their kitchen to prepare some of our own meals and the views out the windows of the city and Frobisher Bay were fabulous. As first time visitors to the Arctic, we were so appreciative of Ellen and Chris's suggestions of things to see and do and of the opportunities we had to talk with them about life in Northern Canada. Thank you so much for your warm hospitality.
Kathy
August 2014
Ellen and Chris were the best hosts I've had on Airbnb so far. They made all facilities available to me while at the house (kitchen, food in the kitchen, laundry, etc.; Ellen even made their car available to me!). Both are great individuals and have lots of interesting storied to share. If you're visiting Iqaluit, and it's your first time in the North, I suggest staying with them. They'll give you some bearings (Chris even took me around town to various points, to give me a good feel for the city) while in Iqaluit and make you feel right at home.
Tapan
April 2014
Unfortunately we did not get to meet Ellen and Chris but Ellen was still a lovely hostess. She had everything ready for our arrival and was available via phone for any of our questions. She was so welcoming when we spoke. The house was beautiful and clean with an incredible view. Ellen's decorating was so homey with so many lovely touches and art pieces local to the area. The house was about a 10 min walk to downtown.
Erin
October 2016
Værelsestype
Privat værelse
---
Ejendomstype
Hus
---
Med plads til
2
---
Soveværelser
1
Iqaluit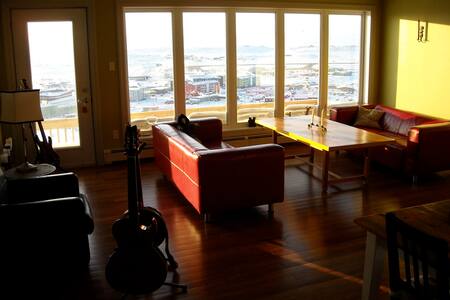 Great view of Frobisher Bay. It can fit up to 5 people, 2 bedrooms with double beds and a pull out couch in the living room. However, please note and make sure to ask us if we are there: if so only 1 room w a double is available.
We can rent our whole house when we are away for vacation or work OR 1 room and a pull out couch when we are home. Please make sure to ask us when you inquired to see if we are home or not. Our home is in a great part of town and has a view directly on Frobisher Bay. Its a bungalo style home with 2 bedrooms and an office and an open living room and kitchen. Fully furnished with space to park 3 cars if needed. Our home is located in Tundra Ridge, which is about a 10-15 min walk to "downtown". There is a quick stop convenience store just around the corner for quick groceries, coffee (Tim Hortons) or gas. If the entire home is booked then you will have access to all rooms, kitchen, living room, bathroom etc. It is also possible to book a private room in the house while we are in town. You would still have access to the kitchen, living room, bathroom but it woud be shared with us. We don't have any kids or pets. If we are in town we would be happy to help you find your way around town (its very easy) and let you know what's going on in town. We can answer any questions about our home, Iqaluit or the weather by email before your stay.
Tundra ridge is located near the middle school and elementary school, our house is located on a pretty quiet street with a great view. Easy access to the tundra, Arctic Winter games arena and quick stop. Not far from downtown, you can walk to grab a cab very easily. There is parking on our driveway, if needed you could fit 2 or 3 cars in the driveway. There are no buses in town but cabs are easy to call. Downtown is a 10-15 min walk downhill. Iqaluit is a great city with more going on than you would think. If you're lucky you can find aeroplan tickets to get here. Once you're here, there are no buses but you can get a taxi anywhere in town for $7.
Rosanne and Vincent made me feel very welcome. They made feel as if I was home from home. They gave me full access to the kitchen and and gave me rides around town. They also provided me with more appropriate warm cold weather gear. (Without this I would have been confined to indoors all the time)
David
April 2016
Very clean, easy to contact the host with any questions and concerns, wonderful view of the bay, the accommodation was exactly as described by the host. We had a HOO-t!
Andrew
January 2016
After unexpectedly finding an airBnB in Iqaluit we were pleasantly surprised by the accommodations when we arrived. The place was very spacious, clean, and had a very warm feel! Rosanne and Vincent were always available to answer any of our questions and went out of their way to supply us with tourism information and point out the ins and outs of Iqaluit. We would definitely stay there again! Thanks for the accommodations!
Matt
February 2016
Our host was nice and welcoming. The house was beautiful and the view was great. I would for sure recommend future travelers to stay here when they get a chance to come to Iqaluit.
Tina
March 2016
Værelsestype
Helt hjem/lejlighed
---
Ejendomstype
Hus
---
Med plads til
5
---
Soveværelser
2
Iqaluit
WE have four bedrooms to rent situated on beautiful Frobisher Bay. Each bedroom has a double or a twin bed. Eating area and a separate kitchen privileges for guests. Each room has Free Wi-Fi, toiletries, TV, small coffee machine and towel sets.
Clean, cozy hotel quality beds. The bedroom, kitchen, bathroom and large deck are accessible. Jack is available to help in anyway throughout your stay.
On the water next door to the best pizzas in town. Gorgeous view with easy access to other amenities. Maps and pamphlets available. Jack shares all about his Inuit culture and traditions. Separate tours available through town $50.00 per person. Taxi phone numbers are Caribou Cabs 867-979-4444 $7.00 per person and Pai Pai Cabs 867-979-5222 $7.00 per person Hypo-allergenic poodle on premises to greet you.
Caroline made me feel welcome even before we arrived. She warmly greeted our group on arrival and showed us the ample amenities and nice rooms. She was always available to answer questions and offer suggestions. When our original plans fell through, she and her wonderful Inuit husband Jack helped organize a marvellous alternative for us. We felt like part of the family while still having privacy in the house. Caroline and Jack shared their insights and knowledge about Nunavut and the area and really worked to make our experience there a memorable one. We couldn't have dreamed of a better situation.
janet
August 2016
It is a very beautiful house and the hosts were very nice. They answered to my questions and they helped me by giving me some advice. It's very convenient for those who walk as it's close to downtown. The views are spectacular.
Irena
October 2016
Værelsestype
Helt hjem/lejlighed
---
Ejendomstype
Bed & Breakfast
---
Med plads til
7
---
Soveværelser
4
Iqaluit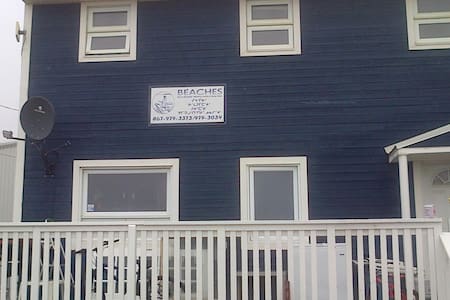 Apartment includes: 2 couches, tv with cable, dishwasher, stove, 3 fridges, microwave, coffee pot, toaster, pots and pans, cutlery, plates and glasses. Wifi is included. Bathroom: 2 shower stalls, 1 toilet, 1 urinal, 1 sink 5 bedrooms:each with bed
Just down off Federal Road.
Mark welcomed us ver well. He showed us around where our rooms were and our personal living area. We were a group of three and it was perfect for us. We had all of the amenities that we needed and Mark provided with everything we needed i.e extra keys, batteries, etc. The other tenants there were very quiet and respectful and I would recommend this spot to anyone who staying in Iqaluit. Thanks Mark and Mike!
Guillaume
April 2016
Værelsestype
Helt hjem/lejlighed
---
Ejendomstype
Lejlighed
---
Med plads til
5
---
Soveværelser
5
Iqaluit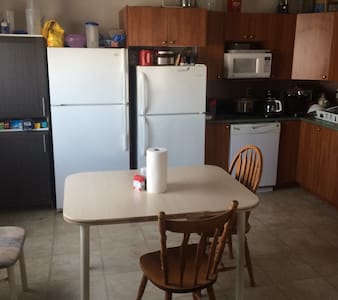 Apartment includes: 2 couches, tv with cable, dishwasher, stove, 3 fridges, microwave, coffee pot, toaster, pots and pans, cutlery, plates and glasses. Wifi is included. Bathroom: 2 shower stalls, 1 toilet, 1 urinal, 1 sink 3 bedrooms:each with bed
Værelsestype
Helt hjem/lejlighed
---
Ejendomstype
Lejlighed
---
Med plads til
3
---
Soveværelser
3
Iqaluit