fantastisk lejlighed i El Saler, omgivet af naturparken Albufera Valencia. Spektakulær udsigt over havet, skov og sø. Enklave uovervindelig. Ekstremt lys.
Très bon accueil et disponibilité de la part de Guillermo. Appartement très bien situé à quelques minutes de valence, une vue imprenable sur la mer à 50 mètres de la plages. Piscine superbe. L appartement est très grand avec de grandes baies vitrées donnant une vue saisissante sur la terre et la mer magnifique le matin de voir le levé de soleil.
Nicolas
2015-08-17T00:00:00Z
El enclave es tan especial como se puede ver en las fotos. Un lugar precioso donde se puede descansar y desconectar a placer. Te puedes pasar las horas muertas contemplando las vistas y la fauna local, mientras corre una brisa por los ventanales que es gloria bendita ahora en verano. El anfitrión super correcto, muy amable. Un detallazo que te deje para desayunar y beber porque no hay muchos servicios por la zona. Volveremos sin duda. Gracias por todo.
Lola
2016-06-27T00:00:00Z
El apartamento de Guillermo es tal como se ve en las fotos, todo de luz y blanco, con vistas impresionantes sobre el mar de un lado y el lago a detrás. Una terraza-apartamento, muy agradable, hemos pasado horas leyendo libros y escuchando música (Hay un equipo de música para Ipod, excelente, y una maquina nespresso, lleváis capsulas!). Ha sacado el el mejor de estos edificios raros en este lugar donde no se debería haber construido. 10-15 minutos de valencia, 5 de El saler o el Palmar, la playa en frente, 2 minutos andando, y que bonita playa!... Pues que mas hace falta? Nos esperaba a la dicha hora Guillermo, y su recepción ha sido muy agradable, con el desayuno por los siguientes días, pues eran feriados. Volveremos, sin duda!
Christophe
2016-03-28T00:00:00Z
La casa es estupenda, tiene encanto y las vistas son espectaculares. La climatización es sorprendente, en pleno agosto jugando con los estores y las ventanas siempre hay una temperatura ideal.
Marta
2016-08-11T00:00:00Z
Una ubicación privilegiada al estar en La Albufera, al lado de la playa y sólo por las vistas merece la pena (el amanecer y atardecer impresionantes). Valencia estaba en Fallas y era ideal al estar bien comunicado con la ciudad, pero fuera de ella para poder descansar. Nos encontramos a gusto y el apartamento es amplio y bien equipado. Se agradece encontrar algunas cosas básicas de comida en la cocina para preparar el desayuno. Sí que sería bueno una puesta a punto del baño y la zona del lavadero-despensa en la cocina. Ya tengo ganas que sea junio o septiembre para volver por aquí.
Jesus
2016-03-20T00:00:00Z
Un apartamento ideal para una escapada. Ubicado en un lugar privilegiado, en primera línea de playa y en el que da gusto despertar con la luz que entra por cada uno de los ventanales. Guillermo es encantador, muy atento y agradable. Sin duda muy recomendable.
Ruben
2016-09-11T00:00:00Z
Hay que reconocer que el piso es muy chulo, vistas espectaculares y con un enclave dentro de un paraje natural que lo hace muy especial. Pero el tiempo pasa y se echa de menos algo de mantenimiento y limpieza mas profunda. La cocina da bastante pena: un minichorro de agua en el fregadero y unos muebles que hay que tratar con muchísimo cariño para que no se autodestruyan. La limpieza brilla por su ausencia. Este comentario tiene un animo constructivo, después de una pequeña inversión y trabajo en esta vivienda, la recomendaría sin lugar a dudas.
jose
2016-05-03T00:00:00Z
What a fantastic place!!! The view is breathtaking and I have to say that the pictures reflect well the flat. The location is great and the people around are nice. Guillermo helped us the find the flat and explained us what was around. He was very receptive and helpful until the last minute. Great place and great host, nothing more to say apart that we will come back for sure.
Cajaruban
2016-09-13T00:00:00Z
Værelsestype
Helt hjem/lejlighed
---
Ejendomstype
Lejlighed
---
Med plads til
4
---
Soveværelser
Valencia, Comunidad Valenciana, Spanien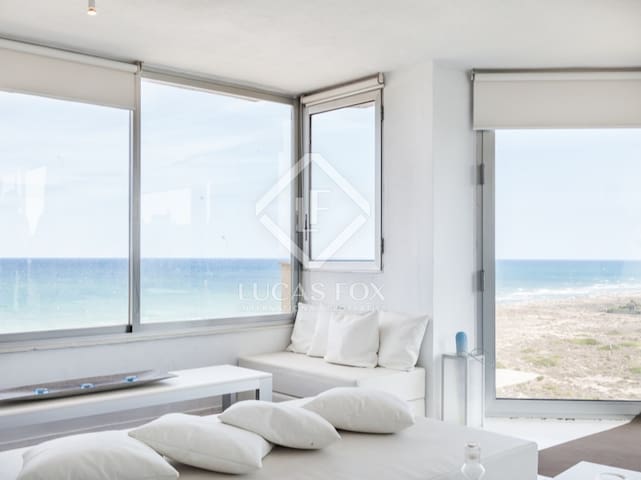 Nice loft apartment near the center of Valencia. WiFi connection. Two floors. Beamed cealing. Bright apparment. Little Juliete balcony with a view of a pinturesque market and the domes of Santa María Church. Apartment on the third floor of a historic building. No elevator.
The apartment has two floors: Upstairs is the doublebed attic room. The beamed ceiling gives the flat a cozy charm. Two velux windows make the flat very bright (light adjustable with sliding curtains). Downstairs is the second bedroom that includes a small bathroom on suite (also has a shower), the kitchen, the master bathroom and a spacious living room. The exterior facade has a window and a small balcony. Extras: Wi-Fi, three air-conditioning units (living room, and each room), 2 TVs and everything you need for a comfortable stay (Nespresso unit, orange juicer, hair dryer, etc.)
Jesus district has a nice food market, nice coffee shops and all types of services. It's only 15 minutes walking from the main square (Plaza Ayuntamiento).
Værelsestype
Helt hjem/lejlighed
---
Ejendomstype
Lejlighed
---
Med plads til
4
---
Soveværelser
València, Comunidad Valenciana, Spanien
Reforma acabada en el mes de marzo 2017. A escasos minutos del centro ciudad y de los principales sitios de interés en una zona repleta de bares y restaurantes. Transporte público a 100metros, 2 habitaciones, más cómodo y enorme sofá cama de matrimonio en el salón.
Nuevisimo, muy confortable, luminoso, super equipado. Vista increible a toda la ciudad!
En el barrio hay de todo, bares y restaurantes típicos, tiendas de todos géneros, supermercados, y un gran espacio público no asfaltado por aparcar el coche de manera gratuìta a pocos pasos del piso.
Magnifico alojamiento, con unas vistas impresionantes de la ciudad. Está muy bien situado, estuvimos en Fallas y estábamos al lado de todo. Silvana es una anfitriona espectacular, pendiente en todo momento de nuestra llegada, de poder entregarnos las llaves para nuestra entrada. Nos sorprendió con un desayuno el primer día, un detalle increíble. El alojamiento es grande, con un salón impresionante. Un piso recién reformado que da gusto nada más entrar de todos los detalles nuevos que tiene. Una copia completamente equipada y renovada. Simplemente decir que ha sido todo un acierto el quedarnos y que animo a todo aquel que quiera pasar por Valencia a quedarse en él. No podrán decir otra cosa, que repetirán si vuelven por Valencia a intentar quedarse de nuevo en él. Gracias Silvana por todo, eres una anfitriona 10!
Sergio
2017-03-20T00:00:00Z
Værelsestype
Helt hjem/lejlighed
---
Ejendomstype
Lejlighed
---
Med plads til
6
---
Soveværelser
València, Comunidad Valenciana, Spanien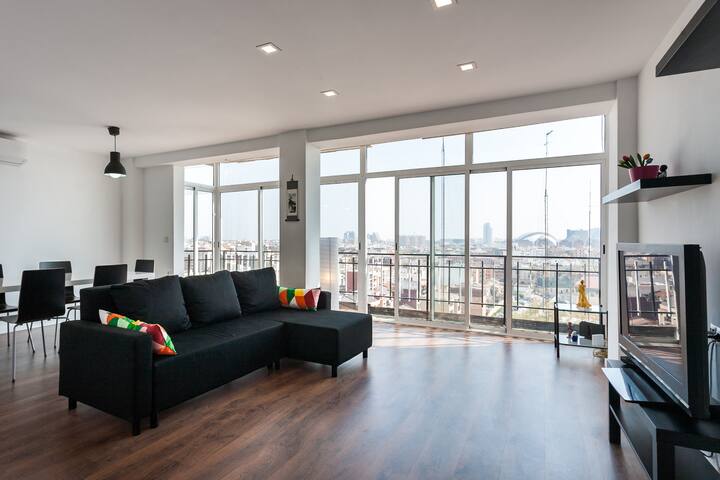 Beautiful apartment overlooking the sea and the mountains, 10 minutes drive from the city, parking, bus line 10 min walk, the house has all services
Værelsestype
Privat værelse
---
Ejendomstype
Lejlighed
---
Med plads til
3
---
Soveværelser
Valencia, Comunidad Valenciana, Spanien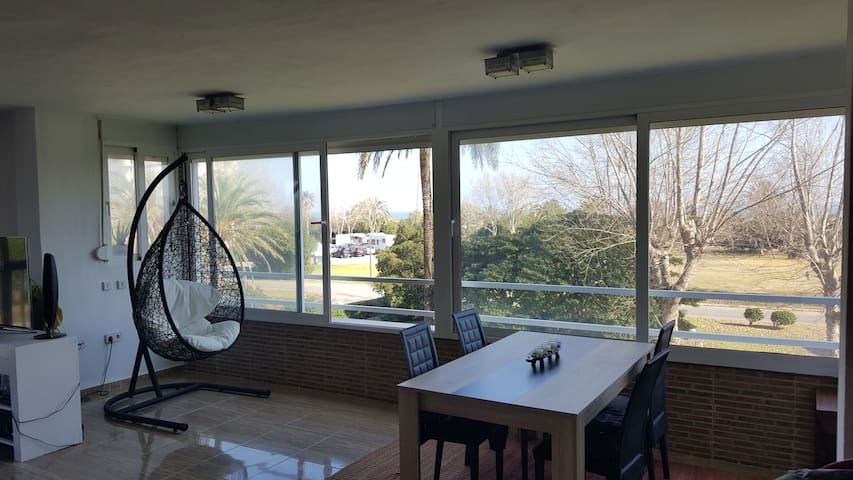 Bonic apartament en una zona tranquil·la a 5 minuts de la platja. Es troba situat al Parc Natural de l'Albufera, a 10 minuts a peu de la platja, a 10 minuts amb cotxe de València. L'apartament té dos dormitoris i s'ha remodelat totalment. Hi ha dues piscines per a nens i adults.
El apartamento es muy agradable, practico y tranquilo. Pero sobre todo la zona de la albufera es fantástica en esta época del año, poder disfrutar de los paseos y la luz ha sido un placer. Estas sin embargo a diez minutos de Valencia en coche, de la ciudad de las artes y al lado de los pueblos del Saler y el Palmar. Los dueños son muy amables y en conjunto ha sido una experiencia positiva.
María
2015-11-28T00:00:00Z
The host canceled this reservation 16 days before arrival. This is an automated posting.
Andrea
2016-12-27T00:00:00Z
Hemos pasado unos días muy tranquilos en una zona espectacular. Al lado de Valencia (A 10 minutos del centro de la ciudad) y en todo un oasis natural. Dunas, bosque y playa. Muy recomendable
Andreu Albert
2016-12-15T00:00:00Z
The host canceled this reservation 99 days before arrival. This is an automated posting.
catherine
2017-01-07T00:00:00Z
La casa es como se muestran en las fotos. Estaba todo super ordenado y limpio. Raquel y su marido son super amables. Si volvemos a Valencia no dudaremos en repetir.
Monica
2017-03-20T00:00:00Z
Wer die Ruhe und Natur mag und trotzdem in der Nähe einer wunderbaren Stadt wie Valencia sein möchte, für den ist die Wohnung in der Albufera ideal.
Carmen
2017-01-05T00:00:00Z
Hemos pasado unos días fantásticos con nuestros dos hijos de 1 y 4 años. La casa está ubicada en un sitio genial para pasear, ir en bici y disfrutar de la naturaleza. Hay buenos sitios donde comer a 5 min en coche y está muy cerquita de valencia para disfrutar de los museos, bioparc, etc. Nos vino a recibir el marido de Raquel cuando llegamos y nos pusieron un radiador x si lo necesitábamos, que con los niños ha sido un detalle. El piso está muy cómodo y perfecto para ir con niños.
Olalla
2015-12-08T00:00:00Z
The flat is very nice, but remote for travellers without a car. We are traveling by train and took a taxi from Valencia which cost 30 EUR. The taxi had a very hard time finding the apartment building. We are arrived on a Sunday late afternoon. We expected shops, restaurants or cafés to be nearby, within walking distance... The one tiny store was closed. We did not bring food so we were without food. Raquel and her husband met us and were friendly. The bus system is OK to get to Valencia and back. The main food markets are in Valencia. The area is quite and peaceful.
Virginia
2016-06-19T00:00:00Z
Værelsestype
Helt hjem/lejlighed
---
Ejendomstype
Lejlighed
---
Med plads til
5
---
Soveværelser
Valencia, Comunidad Valenciana, Spanien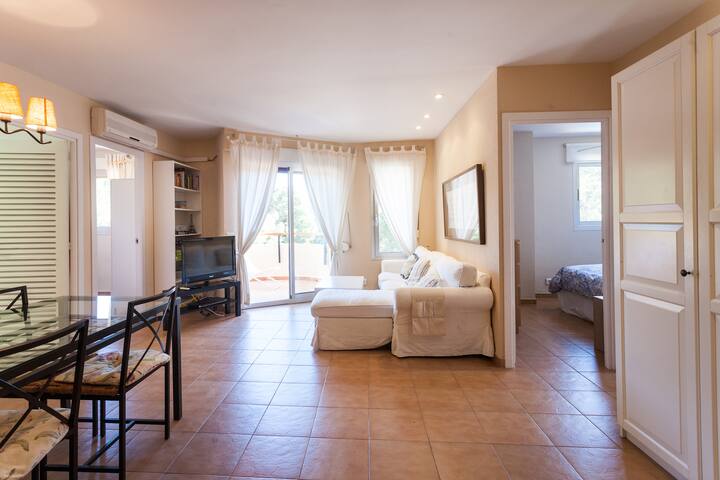 The apartment is on the street Chiva Alfafar, south of Valencia. From the center of Valencia (Calle Xativa) you are in: ·Car: 14 minutes. Bus (lines 180 and 182, bailén output - Parc Alcosa stop): bus 32 minutes + 4 minutes
Μείναμε 2 μέρες στο σπίτι του Alvaro και γενικά μείναμε ικανοποιημένοι. Είναι ένα μεγάλο διαμέρισμα με 2 υπνοδομάτια, το οποιο θα πρότεινα σε παρέα που θέλει να πάει διακοπες. Το σπίτι βρίσκεται στη τοποθεσία Αλφαφάρ, δηλ 20λεπτα απο το κέντρο της Βαλένθια. Αν έχεται αμάξι είναι καλή λύση γιατι έχει δωρεάν πάρκιν η περιοχή αλλιως η αστική συγκοινωνία ειναι αρκετα καλή. Το σπίτι ειναι καθαρό και άνετο, άξιζε την τιμή του.Αρνητικό του στοιχείο η αποσταση απο το κέντρο. Αυτά.
Λευτέρης
2016-06-16T00:00:00Z
El anfitrión muy atento y amable,todo correcto y limpio y el barrio muy tranquilo! Muy recomendable!!!
Sergio
2016-03-21T00:00:00Z
Très bon accueil et bonne communication avant d'arriver sur les lieux.
Alice
2016-07-08T00:00:00Z
Todo genial!!! El piso tranquilo y (URL HIDDEN) cama confortable, y Llanos y su marido encantadores y atentos con nosotros!; Mil gracias
Néstor
2016-06-27T00:00:00Z
El apartamento es para dormir y poco más. Como dice en el anuncio, lo que hay es lo que hay. Nosotros fuimos para el Gran Premio de moto go y llegábamos de noche, pero el apartamento no invita a más. No conocimos a Alvaro, y tampoco se comunicaba demasiado cuando hablábamos, pero un amigo suyo que nos ayudó, Sergi, fue súper amable y correctísimo, facilitándonos así la llegada, información de la zona, preocupándose por cómo iban las cosas... este chico un 10. Al apartamento le hace falta una mejora para ser alquilado.
Juan
2016-11-14T00:00:00Z
Nos atendió Sergi, el amigo de Alvaro, y la verdad que muy bien, el chico se porto genial dejando que saliésemos del piso un par de horas mas tarde que la hora de salida y super amable y accesible para cualquier problema que surgiera. Repetiremos!!!
Loletes
2016-12-11T00:00:00Z
El barrio tranquilo, la casa bien y la limpieza muy bien. Cerca de todo en coche, un poco alejado de Valencia centro sin coche, pero hay transporte urbano. Cama muy cómoda y todo lo necesario en la cocina.
africa
2016-03-28T00:00:00Z
Apartamento sin lujos pero con todo lo disponible para pasar unos días. Perfecta relación calidad- precio y sobre todo inmejorable atención por parte de los anfitriones. El check out ajustable a nuestras necesidades lo cual se agradece muchísimo. Gracias! Esperamos volver pronto.
Adrián
2016-06-30T00:00:00Z
Værelsestype
Helt hjem/lejlighed
---
Ejendomstype
Lejlighed
---
Med plads til
6
---
Soveværelser
Alfafar, Comunidad Valenciana, Spanien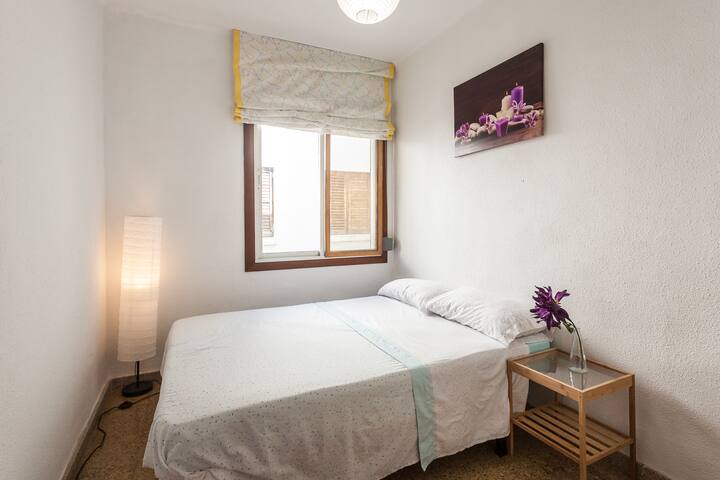 Pocs llocs en el món tenen la platja parc natural a 10 minuts de València, Ciutat de les Ciències. Rutes pel Parc Natural, platges, passejos en barca per l'Albufera, golf a 3 minuts, una gran piscina i els nens natació, futbol ..
L'apartament (planta baixa) està situat al parc natural. Situat entre l'Albufera de València, i la platja Garrofera, un lloc tranquil i especial, envoltat de pins. Ideal per a grups d'amics o per a una família s. Es pot gaudir de nombroses rutes pel parc natural, passejades en vaixell per l'Albufera ... Es troba a 3 km del camp de golf del Saler. Es troba a 10 quilòmetres de València. Visita la Ciutat de les Ciències i les Arts i l'Oceanogràfic només 10 'en cotxe per la carretera CV 500. Apartament amb totes les comoditats. i totalment equipada. No cal portar tovalloles o. Tres habitacions, dos dobles (una amb lliteres) i una individual. Sofà-llit pe(URL HIDDEN)persones si cal. Aire condicionat al saló i pantalles en totes les finestres. Té una plaça d'aparcament privat. El clima és molt agradable. Zona molt tranquil·la i segura. Parc infantil i camp de camp de futbol. La urbanització envoltada de jardins. Botiga, farmàcia i un bon restaurant a 100 metres.
És un barri molt segur i tranquil. No hi ha turisme de masses. Si vols volar, tens 10 minuts amb el seu propi cotxe a la ciutat de València.
Apartamento conforme con el anuncio.
Manuela
2016-05-09T00:00:00Z
Nice and fully equiped appartement. Contact with Gema was great. We had a good time here. The Albufera park is beautiful and at walking distance. Valencia centre is just 15 min away. Supermarket and restaurant at 5 min, but closed when we were there. Beach at 5 min. Thanx for everything!
Tekla
2016-05-04T00:00:00Z
We had a brilliant week's holiday at Gema's apartment with our three children. The apartment was well-equipped and clean with everything we needed. The host's representative met us on time and helped us out with a few queries during our stay. We loved the location, near the pine forest, the lake and the beach and the swimming pool on site was lovely. The kids had a great time in the smaller splash pool too. The supermarket and restaurant are just a few minutes away too so really convenient and the bus into Valencia was quick and easy.
Mandy
2016-08-22T00:00:00Z
Es una pena que no sea la propietaria quien te recibe. La persona a cargo nos recibió con la casa a 50 grados, teniendo aire acondicionado... No nos explico como llegar a la piscina ni lo importante que era pegar el coche a la pared para que nuestro vecino pueda aparcar. Tampoco tuvo el detalle de hacer la tercera cama que faltaba. No fue una cálida bienvenida como intuyo que gema hubiera logrado. Respecto al anuncio, no es un bajo. Es una primera o segunda planta. Subes dos tramos grandes de escaleras, luego atraviesas literalmente la terraza del vecino (encantadores por cierto) y luego otros 3 escalones. Me hubiera gustado saberlo ya que fuimos con un bebe y un niño. El parque de niños está abandonado, como los alrededores del barrio. La casa es más oscura de lo que se ve en las fotos ya que todas las ventanas dan a espacios arbolados, pero de noche el salón está muy cálido iluminado. El aire acondicionado está en el salón, imposibilitando a la mitad de la familia poder quedarse en el salón viendo una película porque todas las puertas debían permanecer abiertas por el calor y donde más da el frío es justamente en el sofá. En general la casa estaba muy bien equipada y limpia. La playa no está cerca y es muy fea. El camino para llegar a la playa que nos recomendó gema no es apto para carritos. Lo mejor es ir en coche a otras playas cercanas de arena. No repetiría la casa ni la zona. Descubrimos a 4 kilómetros otros pueblos más bonitos, limpios y mejor cuidados que la albufera.
Lola
2016-09-10T00:00:00Z
Gema fue encantadora desde el principio, y muy dispuesta para cualquier cosa que necesitáramos. No nos faltó de nada, la casa estaba genial, muy limpia y completamente equipada. La zona muy tranquila (hay que tener en cuenta que el coche es bastante necesario para moverse). Lo recomiendo sin duda!
Ana
2016-11-13T00:00:00Z
El apartamento en perfecto estado, y equipado. El anuncio se ajusta a la realidad. Buen ambiente en las zonas comunes en una zona tranquila a 10 minutos de Valencia Gema nos dio un trato perfecto antes y durante la estancia. Muchas gracias Sitio para repetir sin duda
Alberto
2016-07-03T00:00:00Z
Excellent apartment. Thank you.
Chris
2016-11-07T00:00:00Z
The apartment was clean and as described. We had a great time.
Damian
2016-09-28T00:00:00Z
Værelsestype
Helt hjem/lejlighed
---
Ejendomstype
Lejlighed
---
Med plads til
5
---
Soveværelser
Valencia, Comunidad Valenciana, Spanien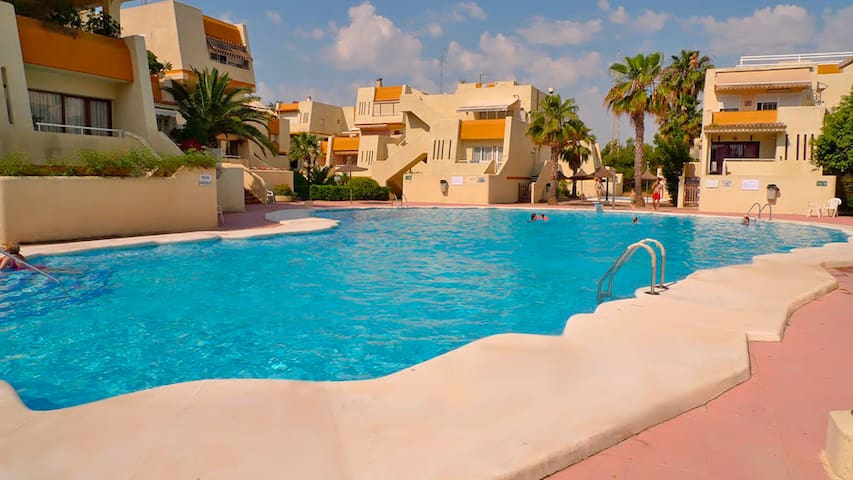 Almussafes is located a few kilometers from the city, beach and less than the Albufera Natural Park. Perfect for a holiday and rest.
Un magnífico piso, con plaza de garaje, muy buena ubicación y la zona muy tranquila. Esta totalmente equipado, Rosa a sido una magnífica anfitriona. Un 9 sobre 10. Repito seguro.
luis
2017-02-16T00:00:00Z
Fantastico alojamiento en Almusafes, un trato fantastico por parte de la propietaria. Impecable!! Si necesitas alojamiento por la zona, ni lo dudeis!!!!
Jose
2017-04-02T00:00:00Z
El apartamento es nuevo y nos encontramos la sorpresa de que tenia parking, que nos vino muy bien cuando llegábamos de Valencia de madrugada. El transporte de cercanías esta a 5 min en coche. La atención del anfitrión fue buena.
Pedro
2017-03-20T00:00:00Z
Værelsestype
Helt hjem/lejlighed
---
Ejendomstype
Lejlighed
---
Med plads til
4
---
Soveværelser
Almussafes, Comunidad Valenciana, Spanien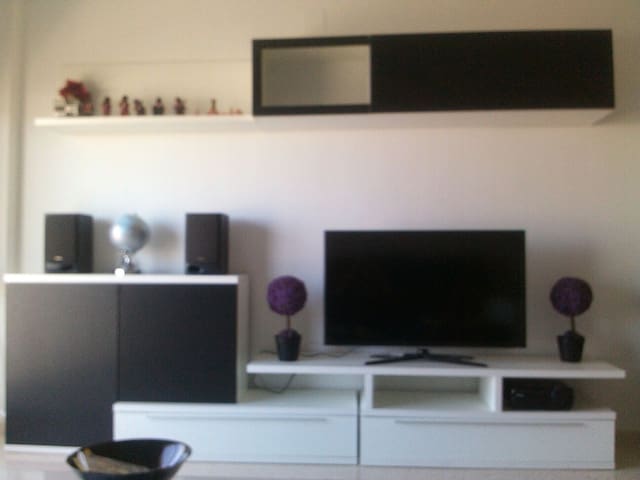 Aparment edifici en 2014 amb Wi-Fi, 2 TELEVISIÓ, RENTAVAIXELLES, rentar a màquina, lloc d'estacionament i vistes fantàstiques de les arts i les Zones De La Ciutat del Aparment sciencies.The té una terrassa, una sala d'estar amb un sofà-llit, un dormitori, kitcken i una
El pis té unes fantàstiques vistes de les Zones De La Ciutat Arts i les Ciències. Al Aparment pot dormir quatre persones 2 al dormitori i 2 persones a la sala d'estar. Té una plaça d'aparcament al mateix edifici
El barri és fantàstica, amb un centre comercial (restaurants moltes botigues, supermercats ....) a 2 minuts caminant. L'Oceanogràfic un, el museu de les ciències, prediu, el Hemisfèric a menys de 8 minuts a peu. La platja de 7-8 en cotxe o autobus. El centre històric de 8 minuts en autobus
Well, we must said, that this appartment is really nice, well located, sunny, even more beautiful than in the pictures. And Encarna is really very friendly host, she picks us at the airport at 21:30, she gave us very usefull informations about public transport, and much more informations about Valencia. We also highly recommended this appartment, if we ever come back to Valencia, we will choose this appartment again. Family Gregor
Boštjan
2014-10-11T00:00:00Z
Encarna es una anfitriona muy atenta, nos ofreció flexibilidad tanto en la llegada como en la salida y fue muy accesible durante nuestra estancia ayudándonos a resolver algún imprevisto. La casa es tal cual se aprecia en las fotos, está bien equipada, tiene de todo, y el vecindario es muy tranquilo. Está bien comunicada con el Bus. Una casa totalmente recomendable
Alex
2015-10-12T00:00:00Z
Fantastic Flat. We had a great time in Valencia. Perfect location :) Will stay there again if we return to Valencia.
John
2016-05-10T00:00:00Z
He pasado muy bien en su casa con mis padres. A ellos les gustaba quedar allí y yo también. Su casa es muy bonita y muy moderna. Además Encarna me ha enseñado las cosas importantes como entrar la casa simpáticamente.
Ha Eun
2014-06-27T00:00:00Z
La casa estaba bien situada y muy cómoda. Encarna, muy amable. La comunicación, perfecta.
Juan
2016-10-29T00:00:00Z
Highly recommended. The apartment is new, Science Park is in 5 minutes walk, bus stop to the centre - across the street. Encarna is nice person who can help you in any situation.
Sam
2014-11-02T00:00:00Z
Останавливались в этих чудесных апартаментах на 5 дней, получили огромное удовольствие: расположение, шикарный вид, паркинг под домом с лифтом, закрытый двор с детской площадкой, рядом большой торговый центр с огромным супермаркетом) апарты оборудованы абсолютно всем для комфортного проживания) респект Encarne!!) встретила и провела нас прекрасно!!! Огромнейшее спасибо!!!!!!!!!!! muchas gracias !!!!!!!!!
Alex
2016-02-03T00:00:00Z
Ein Traum war die Woche Urlaub in Valencia. Die Unterkunft hat dazu sehr viel beigetragen! Zentrale Lage ca 10 min mit dem Bus zum Strand und auch in die Stadt mit ca 10 -15 min mit dem Bus. Einkaufsmöglichkeiten in einer Shopping Mal sind direkt vor der Tür sogar bis abends 22:00 Uhr. Encarna ist super hilfsbereit und es gibt wirklich nichts was im Haushalt fehlt. Ich komme auf jedenfall im nächsten Jahr wieder. Bis bald Encarna
Kirsten
2016-09-07T00:00:00Z
Værelsestype
Helt hjem/lejlighed
---
Ejendomstype
Lejlighed
---
Med plads til
4
---
Soveværelser
Valencia, Comunidad Valenciana, Spanien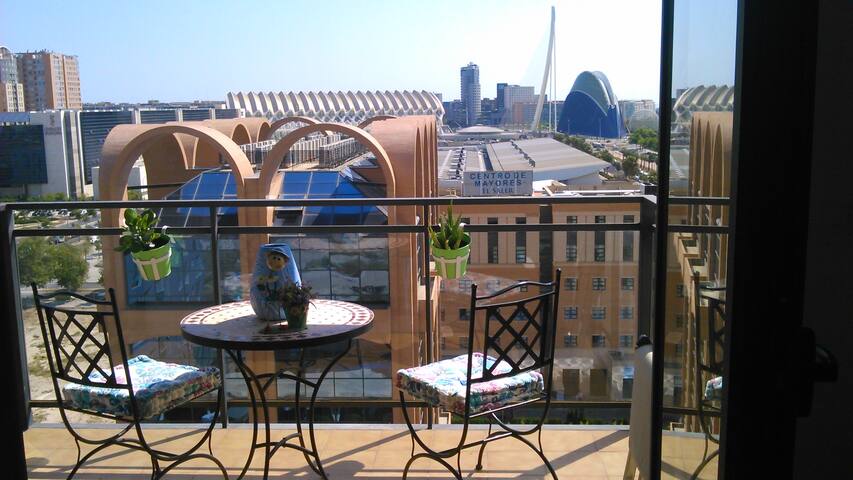 Ático súper soleado de 15 metros cuadrados y otros 15 de terraza orientada a poniente con vistas a la calle Cádiz. Dispone de mini cocina con todo lo necesario, ducha, zona de estar con sofá cama y zona de dormir en altillo con cama de 135 cm. Situado en el corazón de Ruzafa, un barrio lleno de tiendas, cafés, bares y restaurantes con encanto. A 15 minutos de la estación del Norte y el centro histórico y a unos 25 de la ciudad de las ciencias y las artes. La playa 20 queda a unos minutos en bus
Mini apartment with terrace and everything you need to spend a few days enjoying the valencian sunny day and alive night. It consists of living room with sofa bed, shower, kitchen and a loft bed with ladder.
Ruzafa has become the most interesting neighborhood of Valencia. vintage shops, new bars and charming restaurants, art studios, etc. All this combined with local always with the flavor of yesteryear. Ruzafa market remains a benchmark those who like to eat and drink well at home.
L'appartement est conforme à la description et aux photos. Il est confortable, propre, chaleureux, calme et bien équipé. Parfait pour deux personnes. On a beaucoup apprécié le toit-terrasse. Le logement est très bien situé dans un quartier dynamique du centre ville : restos, bars, discothèques, magasins sont à proximité. L'ami d'Isaac a été très accueillant, nous a donné une carte pour nous indiquer les principaux monuments du centre de Valence. Il a été de bons conseils. On recommande cet appartement !
Laurie
2016-08-09T00:00:00Z
The apartment is small, but perfect for two people (either a couple or friends, you can also sleep on the couch), because everything we needed was there. It is very clean and the location is great, just in the middle of the vivid neighbourhood of Ruzafa. If I would go back to Valencia I would definitely book this room again.
Lotta
2017-02-05T00:00:00Z
El apartamento es muy acogedor y la ubicación es excelente.
Dani
2017-01-16T00:00:00Z
Wow Wow Wow! Wonderful place in the fantastic and vibrant russafa! The view is just amazing! I highly recommend this place! Isaac is a terrific host! friendly and full of tips to Visit Valencia! We also met José who was helpful and nice! Thank you guys for everything, you just made our trip unforgettable! See you soon for sure :):)
Adeline
2017-01-27T00:00:00Z
We had a really nice stay at Isaac's place. The apartment is located in the heart of Ruzafa, a cool neighbourhood filled with great hangouts. Since the apartment is on the 5th floor it's really quiet. And the terrace is a big plus! Thanks Jose and Isaac, see you next time.
Bas
2017-03-28T00:00:00Z
The apartment is small but very cozy and has a great terrace! The area is really close to the old town and has nice shops and restaurants. We preferred sleeping on the sofa which was fine. The communication and Check-in were fine and we met Jose in person and he gave us good recommendations.
Berenike
2017-04-06T00:00:00Z
Great host, very helpful and provided some great ideas for things to do on our stay. The area is vibrant and lively which was perfect for us.
Ellie
2016-08-15T00:00:00Z
Super séjour! Le quartier est très sympa et animé jusque tard le soir (difficile de dormir fenêtre ouverte). Bars et restaurants pas chers et très bons. Pas loin du centre, facile de s'y rendre à pied. Proximité du métro et d'arrêts de bus. Hôte très sympathique, nous avons été bien accueilli et nous avons eu de bons conseils! Terrasse très sympathique! On y retourne sans hésitation..
Laurence
2016-10-24T00:00:00Z
Værelsestype
Helt hjem/lejlighed
---
Ejendomstype
Lejlighed
---
Med plads til
2
---
Soveværelser
València, Comunidad Valenciana, Spanien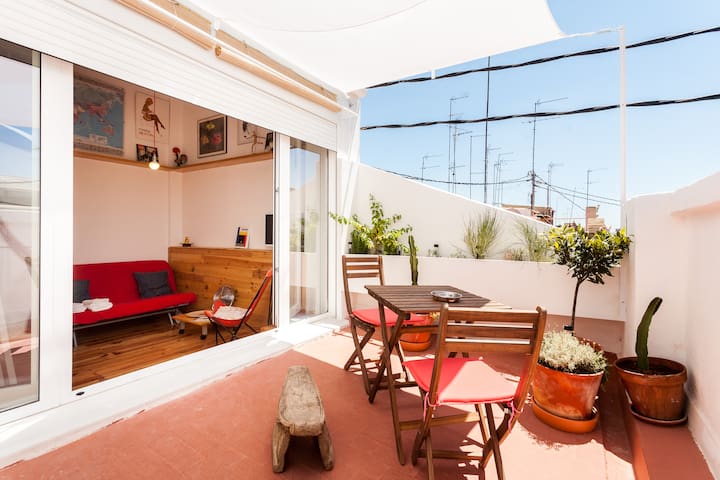 Piso de 50 m2, bien iluminado y situado al lado de la ciudad de las artes. Perfecto para dos amig@s o una pareja. El piso es muy agradable.
Værelsestype
Helt hjem/lejlighed
---
Ejendomstype
Lejlighed
---
Med plads til
2
---
Soveværelser
València, Comunidad Valenciana, Spanien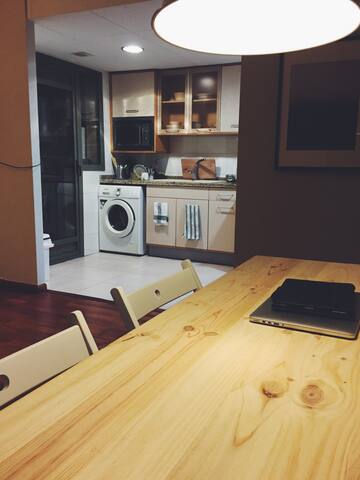 Small apartment (30 m2), simple and with a terrace that lets you to enjoy the sun and the night of Valencia with spectacular views. The apartment is very accessible, you can go by walking to discover all the monuments, shopping, restaurants and walking areas. In the house we borrow you some tourist information about the city.
Perfecte locatie; prima verblijfsruimte, wel met eenvoudige bedden. De bedbank lijkt me voor 2 personen niet echt comfortabel, zeker voor meer nachten. Keuken voorzien van voldoende benodigdheden. Geen waterkoker en geen broodrooster, wel een klein oventje om brood te roosteren of snack te verwaren en magnetron. Door de hoogte (9e etage) geen last van stadsgeluiden terwijl het super centraal ligt. Alles op loopafstand en voor strand bus bijna voor de deur. Tijdens mijn verblijf badkamer niet schoon. Dakterras was heel fijn: ruim en zonnig.
Anne
2017-04-02T00:00:00Z
The host canceled this reservation 40 days before arrival. This is an automated posting.
Palina
2017-03-14T00:00:00Z
Emplacement très bien mais état moyen. Bon courage si l'ascenseur est en panne pendant vote séjour, une vraie galère !
Pierre
2017-03-20T00:00:00Z
Marias Unterkunft hat unsere Erwartungen übertroffen. Es ist eine kleine Wohnung mitten im Haezen von València, direkt am Plaza Ayuntamiento. In unmittelbarer Nähe liegen der Mercado Central, der schöne Plaza de la Reina und der Bahnhof, zentraler kann man nicht wohnen. Neben der tollen Lage erhält die Wohnung ihren Charme durch die Terasse. Man hat einen unglaublich schönen Blick über die Stadt und kann die Sonne genießen. Trotz dem regen Treiben das unten vor der Haustür herrscht, ist es oben in der Wohnung ganz ruhig. Auf der Ausziehcouch und dem Bett zum Ausklappen konnten wir besser als erwartet schlafen. Und last but not least ist Maria ein guter Host! Die Absprache hat sehr gut geklappt. Maria hat immer schnell geantwortet, war zuverlässig und sympathisch.
Sandra
2017-03-26T00:00:00Z
Great location and communication from owner. Would return.
Jazz
2017-01-02T00:00:00Z
Had a very pleasant stay at Maria's apartment. Her son and daughter picked us up from a nearby plaza, which was very sweet of them. The apartment was very neat. Although it was a little bit dusty, but i am very allergic to dust so i will notice it immediatly. The dust wasn't visible though! The rooftop terras was even prettier then on the pictures. The location is perfect!!!!
Roos
2016-09-11T00:00:00Z
Primera experiencia con Airbnb muy satisfactoria! Maria Jose ha sido una anfitriona fantástica y el apartamento se ajustó a nuestras necesidades y expectativas ¡Muchas gracias!
Laia
2016-12-11T00:00:00Z
Maria José était très accueillante et nous attendait dès notre arrivée à l'appartement. Le logement est situé en plein centre, parfait pour découvrir la ville. Une jolie petite terrasse en +, et un appartement fonctionnel. On recommande!!!
Héloise
2016-11-14T00:00:00Z
Værelsestype
Helt hjem/lejlighed
---
Ejendomstype
Lejlighed
---
Med plads til
3
---
Soveværelser
València, Comunidad Valenciana, Spanien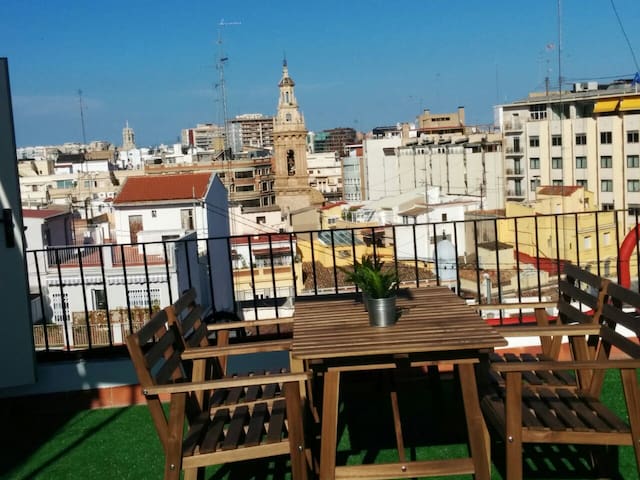 This reformed LOFT with 40m and 40m of terace, with air conditioner, towels, bed sheets, coffe maker Nespresso, shampoo/gel, TV 32", wifi, iron, hair dryer and full equiped kitchen. The terrace are equiped (table+chairs) The apartment is perfect for couples, families and business travelers.
BABY CRIB KETTLE ROASTER SQUEEZER MICROWAVE OVEN
You have supermarkets, shops, restaurants... It is perfect for walk arround the city. You have the Center off Valencia 15 minutes walking and "Ciudad de las Artes y las Ciencias" 15 minutes walking. One minute walking you have "Antiguo cauce del rio Turia".
El apartamento es una pasada, realmente encantador y es exactamente como está descrito. La zona muy bien comunicada, transporte, supermercados y zona de ocio muy próximas. Totalmente recomendable. Y Paula un encanto también, sin problemas con horarios y aparentemente muy simpática. Disfrutamos mucho de la experiencia, muchas gracias!
Sofía
2017-02-19T00:00:00Z
Really nice place to stay! Host was ready to help and very nice. Flat is perfect because it is next to city center and a lot of bars and restaurants near by.
Agnė
2017-03-23T00:00:00Z
La estancia perfecta. El apartamento es como en las fotos. Estaba limpio y es muy acogedor y la zona céntrica y bien comunicada. Los anfitriones muy atentos.
Íñigo
2017-02-05T00:00:00Z
Un grand merci à Paula pour son accueil. Appartement nickel propre, bien équipé et confortable. On se sent très bien chez Paula. Bonne situation, plein de commerçants, très sympa, à proximité. 10'' de bus du centre historique ou de la plage. Super. Je conseille et je reviendrai.
Eric
2017-02-25T00:00:00Z
L'appartamento è da sogno. Così come in foto; sospettavo non fosse in una posizione centrale, invece è comodissimo per raggiungere Ciudad de las Artes y las Ciencias e con l'autobus si arriva in quattro fermate al Mercado Central. Molto consigliato, vorrei tornarci subito! Vorrei anche fosse la mia casa :)
Giulia
2017-04-10T00:00:00Z
L'appartamento si trova nel quartiere di Ruzafa che è il giusto compromesso per chi cerca la tranquillità, in una zona comunque vivace e piena di localini caratteristici, a pochi passi dal centro storico. È posizionato a metà strada tra la città delle arti e delle scienze (e la zona del porto e delle spiagge) e il barrio del Carmen, raggiungibili tutti con lo stesso bus (il 19) che ferma proprio sotto casa. L'appartamento, poi, è perfetto. È dotato di tutte le comodità; la vera chicca, però, è la terrazza da sogno che si affaccia sui tetti della splendida Valencia. Quando torneremo soggiorneremo sicuramente ancora qui. Cinque stelle meritate!
Alessandro
2017-04-07T00:00:00Z
The place looks nice in pictures but is even nicer in person. 10-15 min bike ride from the center. Well worth the price.
Luis
2017-03-20T00:00:00Z
Had a wonderful time staying in Paula's apartment. It was a great location and quiet once inside. The rooftop was wonderful in the sun. Would definitely stay here again.
Rachel
2017-03-13T00:00:00Z
Værelsestype
Helt hjem/lejlighed
---
Ejendomstype
Lejlighed
---
Med plads til
3
---
Soveværelser
València, Comunidad Valenciana, Spanien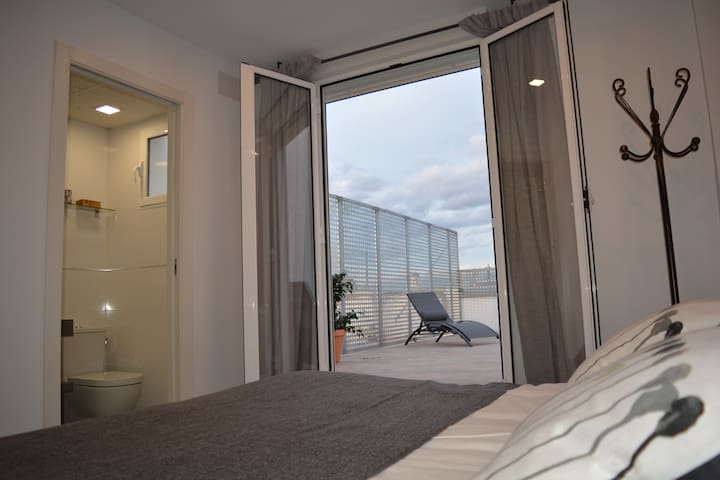 Sunny lejlighed, alle udvendige i Ruzafa marked. Den består af stue, 2 soveværelser med dobbeltseng, badeværelse med badekar, toilet, køkken og 2 altaner med udsigt over markedet. Ruzafa er den yngre, aktive og interessante kvarter i Valencia.
Lejligheden mid century stil er helt ydre og ligger på 6. sal med elevator, på hjørnet med udsigt over korsvej af gaderne Ruzafa med Pedro III den Store og især Ruzafa Marked, symbol af kvarteret. Du vil finde rene lagner og håndklæder og basale hygiejne poster i det.
Ruzafa er den "fedeste" kvarter i Valencia. I et par år er det blevet centrum for byens mest innovative kommercielle og kulturelle aktiviteter. Alle former for restauranter, cafeer boghandel, hvor arrangementer afholdes hver uge, showrooms, nyåbnede teatre, barer, diskoteker. Små "vintage" butikker, kunstnere atelierer og gallerier direkte salg af kunst, udendørs terrasser er altid fuld af unge mennesker, der bare har opdaget hvor man kan finde de mest interessante kvarter i Valencia
This is a beautiful apartment in a good location with markets, stores and bus lines all in close proximity. Jose waited late for us on a Sunday evening and took the time to show us where to go and what to do in Valencia. With a lift and good WiFi, this apartment is ideal for anyone.
Bruce
2015-10-21T00:00:00Z
It was a great stay with Jose. Very nice and classical Spanish apartment. It was easy to feel at home, definite reccommendation!
Alexander
2015-10-09T00:00:00Z
Perfect place! Perfect flat!
Vyacheslav
2016-09-24T00:00:00Z
Our stay at Jose's apartment was wonderful! This was our very first Airbnb experience and it couldn't have been better! Jose met us at exactly the time we arrived. He was very good at explaining everything and giving directions. The apartment is spacious and bright. It is very close to the train station and the old city. We enjoyed it so much we ate 2 dinners and 2 breakfasts in the apartment. I would definitely come back to stay here!
Joan
2016-10-01T00:00:00Z
Es un apartamento buenísimo y completo, con la opción de cocinar si se desea, con un mercado enfrente. La verdad ésta opción sobra, pues alrededor hay cantidad de bares y restaurantes con muy buenas ofertas. El barrio donde está ubicado es estupendo, muy cera del centro de Valencia, que por cierto me encantó, por su buen transporte, su arquitectura vieja y nueva, su organización. Conocí hasta el barrio Nazaret, pues no me bajé oportunamente en Arenas y fui a dar hasta el final de la ruta nro. 4 , el conductor contó que el restaurante enfrente era buenísimo. Claro que no lo comprobé pues tenía una cita para comer excelente paella valenciana en un restaurante de la playa.
Maria Aida
2015-06-20T00:00:00Z
We hebben de plaats gemakkelijk kunnen vinden en e-mail contact verliep goed.
Olga
2015-12-15T00:00:00Z
We had a wonderful stay at Jose place. He gave us a guide and explained the city. The apartment is located very central: the old town is just a ten minute walk away! It is a beautiful place.
Jasmijn
2016-08-18T00:00:00Z
José's appartment is big and beatiful. The neugbourhood is nice. The market is fantastic and there are a lot of nice places to have tapas just around the corner. José is a very friendly host. We had a lovely time!
Chiara
2016-03-01T00:00:00Z
Værelsestype
Helt hjem/lejlighed
---
Ejendomstype
Lejlighed
---
Med plads til
4
---
Soveværelser
Valencia, Valenciaregionen, Spanien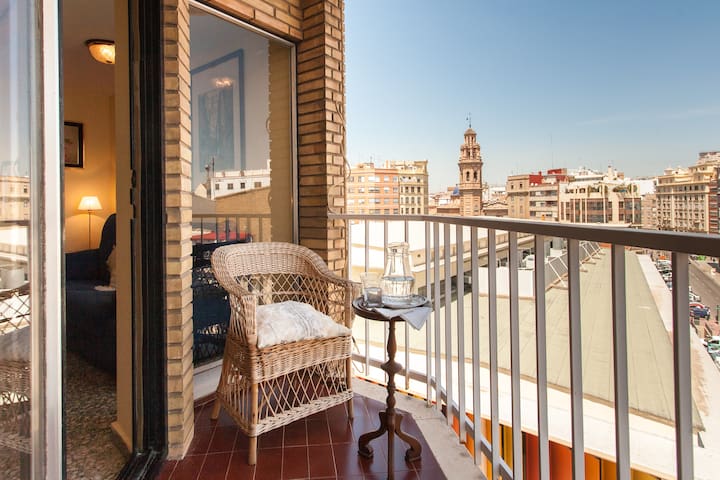 LOVELY APARTMENT, WIFI Se trata de un apartamento situado en un primer piso sin ascensor, a 20 minutos del centro de la ciudad, junto al Hospital DR Peset Alexande, muy comodo para pasar unos dias en el.
When we came to the appartament the host waited there for us and explained everything about the city, told us some good ideas about what to see and where to eat in Valencia. The appartament was very nice and clean. It had all facilities and fast wifi :) Also location is good. We had a great time in Valencia and highly recomens this place.
Jana
2015-09-21T00:00:00Z
L'hote avais l'aire très simpas. Malheureusement l'apartement n'a pas répondue à mais atente. Il faudrais aéré plus souvent car le premier jour étais un peut étouffant. Un problème de température dans la douche soie trop chaud soie trop froid. La climatisation serais un bon point pour le futur car le ventilateur en cette chaleur n'est pas sufisans. Mon marie est tomber malade plusieur jour à cause de celui - ci. Une machine à lave serais pas de tros. Dans l'ensemble l apartement est spacieux bien netoyer et bien situer. Domage que l équipement ne suive pas.
laila
2015-08-23T00:00:00Z
Chouette logement, basique, économique et pas très loin du centre, accessible en transport. Les murs ne sont pas très isolés mais ce n'est pas si dérangeant.
Adrien
2017-02-03T00:00:00Z
Хозяева вежливые и ждали нас ночью по прибытии (самолет прилетал поздно). Квартира чистая и соответсвует описанию и фото!Расположении хорошее - метро очень близко!Единственный недостаток - очень шумно,особенно это ощущается ночью.На нижнем этаже кафе,которое работает,видимо, до поздна.Соседи тоже довольно шумные и беспокойные,шумоизоляция почти нулевая! Людям, чувствительным к шуму, не рекомендовала бы! Остальным - добро пожаловать!Квартира в целом хорошая!
мария
2015-10-08T00:00:00Z
L'appartement est très propre, lumineux. Tout est bien équipé: la cuisine, la salle de bain, les deux chambres. l'appartement est tout à fait agréable. On était à deux dans l'appartement et il y avait assez de place même pour les 3 personnes. Le quartier est très calme, pas de bruits dans la rue et de la part de voisins. Il y a les supermarchés à côté ( 1 min) 24/24.Le méteo et bus sont aussi à proximité. L'appartement est très bien situé 15 minutes de centre ville a pieds. Proprietaire de l'appartement est une personne très sympathique et accueillante.A vrai dire vous êtes magnifique! Elle nous a donné l'information pour tout (la ville, les plages, les restaurants et les places à visiter) De plus, elle restait toujours en contact avec nous par whats up. Nous vous remercions et y retournerons avec un grand plaisir! Mikhail et Tatiana
Mikhail
2016-06-24T00:00:00Z
Todo perfecto. El apartamento es tal cual aparece en las fotos y es cómodo. Tiene todo lo necesario para una estancia corta. Es céntrico y con el metro a nada de distancia. La zona buena con cafeterías y supermercados, restaurantes ... etc todo a nada de distancia. El recibimiento amable y correcto.
Jennifer
2016-10-19T00:00:00Z
The place was great, and the hosts were very helpful. It was clean and just as pictured. It was a little out of the way, though!
Walker
2017-03-27T00:00:00Z
Amparo nos ha recibido muy bien. Nos ha dado todas las informaciones sobre la ciudad y nos facilitó la llegada. El apartamento esta muy cómodo, limpio y bien ubicado para visitar toda la ciudad. Recomendamos este lugar para visitar valencia y seguramente volveremos. Muchas gracias amparo !
mimiko
2015-10-18T00:00:00Z
Værelsestype
Helt hjem/lejlighed
---
Ejendomstype
Lejlighed
---
Med plads til
3
---
Soveværelser
València, Comunidad Valenciana, Spanien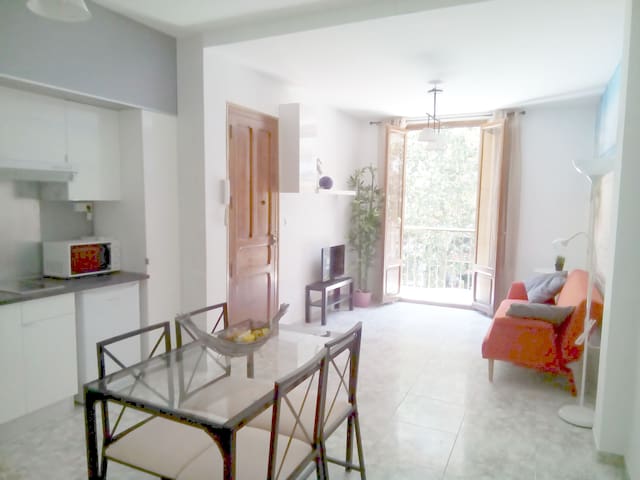 Nice apartment with little balcony, Wi-fi , free parking. Metro stop Av/Del Cid just two stops from the central street of the city and the historical center of Valencia (5 minutes) The av. del del Cid subway station is only 190 m from the apartment ! The old riverbed of the Turia river and famous BIO PARK is within 15-minute walking distance! There is a supermarket near the flat, where you can buy any kind of food. Note:There is no elevator in the house.The apartment is on the sixth floor.
The apartment is within a 15-minute walking distance from the famous Bioparc Valencia! Free Parking place near the house. Note:There is no elevator in the house.The apartment is on the sixth floor.
The apartment is within a 15-minute walking distance from the famous Bioparc Valencia!
Persons over 6 feet ===> mind your elbows and knees in the bathroom !!!
Jean Patrick
2017-03-20T00:00:00Z
El apartamento es precioso y encantador. Lo único es el barrio, que por la noche, a veces, puede ser ruidoso, pero no es culpa de Nelli. Mi experiencia ha sido muy buena y repetiría sin duda.
Fran
2017-03-26T00:00:00Z
Lovely host and a really nice, modern apartment which looks just like the pictures. It is also only 2 minutes to the metro and 5 minutes to the amazing park. Thanks again, Eleanor and Ryan
Eleanor
2017-04-03T00:00:00Z
Værelsestype
Helt hjem/lejlighed
---
Ejendomstype
Lejlighed
---
Med plads til
2
---
Soveværelser
València, Comunidad Valenciana, Spanien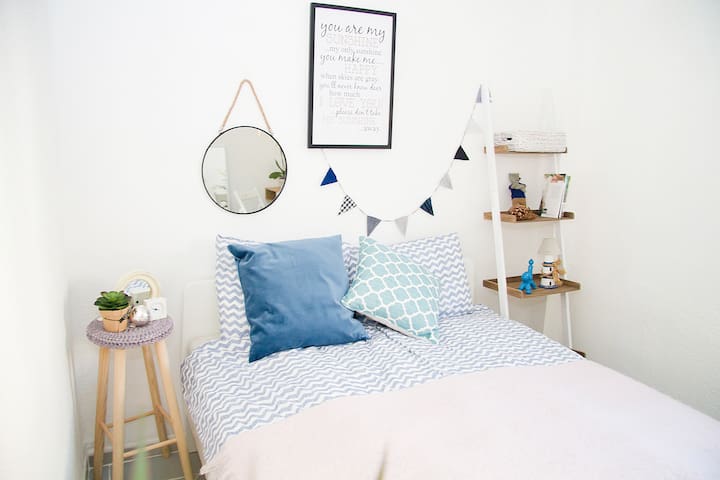 Located in the neighborhood of Russafa, the apartment has 85 square meters plus two terraces: one facing the city centre perfect to have breakfast looking at the neighbourhood and a bigger one facing the Central Park to enjoy a bbq with friends. The appartment is all painted in white and decorated in a minimal style. I share the appartment with my cat Zhola.
Best location to discover the city centre, charming ambient, and a lot of space and natural light.
El apartamento está en una zona estupenda, un barrio tranquilo por las mañanas y con movimiento por la noche cerca de la casa. La calle en la que está el apartamento es tranquila, sin embargo, así que si a alguien le preocupa el ruido, que se olvide. La habitación estaba muy bien equipada con espacio para guardar la ropa. ¡La estancia ha sido estupenda y Zhola es una gata majísima!
Paula
2017-04-10T00:00:00Z
Pilar was so sweet and hospitable. We arrived in the morning and she even delayed heading to work, so she could be there to greet us. The apartment was in great condition and looked exactly like the pictures depicted. There are two gorgeous balconies in the apartment with nice views of the city and the surrounding mountains. Pilar and her friends were extremely helpful and accommodating. We loved our stay at this place and would definitely stay here again or recommend the flat/apt to a friend. The Ruzafa neighborhood is amazing - tons of places to eat, drink, and dance. It's located close to the train station and about 15-20 min away from the Plaza de la Virgen and Mercat Central. It's an authentic Valencian neighborhood, therefore you won't run into too many tourist.
Ayesha
2016-11-22T00:00:00Z
Very comfortable place to stay . Fantastic location for exploring the city, and if you enjoy walking,then not too far from the beach . There are plenty bars and restaurants to choose from near as well. Had a great time and would return ☺️
Dotty
2017-03-13T00:00:00Z
We had a great time at Pilar's place. Very sympathetic host, a room with a view and a nice terrace!
Marie
2017-01-07T00:00:00Z
I was very fortunate to find Pilar's listing, as I wanted to stay in Russafa for a whole month. Everything was as promised, and I loved living on the top floor with 2 balconies! I could walk of my bedroom and have my breakfast on the one facing east, with views over Russafa. And then I'd have lunch around 2 to catch the sun on the other side, overlooking Parque Centrale in construction! Pilar was very helpful and made everything very easy for me, I felt quite at home. I thoroughly recommend her place!
Helgi Þór
2017-02-17T00:00:00Z
Definitely recommend this location as it is near the train station and only walking distance from getting to the metro. Very safe neighborhood given that we walked from the museum of science late at night. Very friendly host and house cat!
fernando
2017-02-22T00:00:00Z
excelente persona Con su atención,amabilidad.nos dio confianza fue muy paciente con nuestras preguntas y guiándonos por teléfono como ir a los sitios de la ciudad. nos ofreció su despensa horario flexible tranquilo limpio y agradable y su mascota muy chula un encanto de gatita.
Antonio Jose
2016-11-14T00:00:00Z
I stayed 3 nights in her house. She had very good hospitality. She is very nice. Her house was clean and tidy. I recommend to everyone for staying there.
Ali
2016-12-16T00:00:00Z
Værelsestype
Privat værelse
---
Ejendomstype
Lejlighed
---
Med plads til
2
---
Soveværelser
València, Comunidad Valenciana, Spanien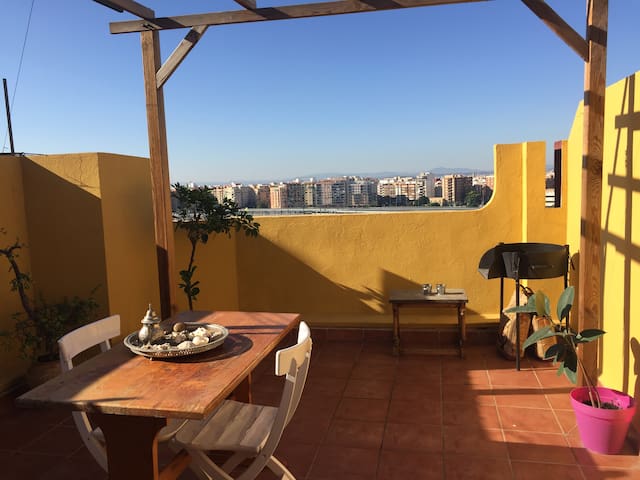 Grand appartement en première ligne de plage, dans le parc naturel El Saler. Superbes vues. piscine terrace.Swimming Big, un parking gratuit et des jardins. Entièrement équipé. Chauffage et air conditionné. TV à écran plasma et une connexion Internet. Micro-ondes, lave-vaisselle et lave-linge. Parfait pour les familles ou les couples romantiques. 10 min en voiture de Ciudad de las Artes y las Ciencias (10 km du centre-ville), à 5 min du lac Albufera.
Je to velmi pragmatický prostor, vytvořený pro požitkářství a confort. Opravdu světlé a svěží byt. výhled na moře z jedné z ložnic.
Byt se nachází v přírodním parku El Saler, velmi bohaté přírodní oblasti, kde se nachází jezero Albufera. Je to velmi klidné oblasti obklopen duny a borovice lesy. Je ideální pro sportovní a příjemné procházky. Na pláži se nachází 100 metrů od bytu. El Saler pláži je velmi klidná pláž, která si stále zachovává určitou divoké dotek.
Its a very Beautiful scenic Apartment flat east facing with amazing oceanic views. Myself and my wife really enjoyed our five days stay at Marta's flat, Marta is a wonderful host, though she was unable to receive us during that afternoon time, Marta's sister was there prior to our arrival to receive us and she was very helpful in explaining all the required necessary details for a comfortable stay at the apartment, thanks to both of you, this is a perfect holiday apartment for anyone who is looking for all the amenities and beautiful sea views, during every moment of your stay. Highly recommended Peaceful, Wonderful and all the above Safe place to spend your holiday in Valencia.
RAJANIKANTH
2017-03-23T00:00:00Z
Great space, amazing view. Because of the fact that place is a bit "hidden" the internet connection is bad, and there are limited shopping possibilities. Besides the above we enjoyed our stay very much.
Bartjan
2017-04-05T00:00:00Z
Værelsestype
Helt hjem/lejlighed
---
Ejendomstype
Lejlighed
---
Med plads til
4
---
Soveværelser
Valencia, Comunidad Valenciana, Spanien
Ribera Baixa - Airbnb
:
Gennemsnitligt

4.67

ud af

5

stjerner fra

474

gæsteomtaler
1

–

18

af

300+ Lejlighedslejemål
Indtast datoer for at se den samlede pris. Yderligere gebyrer gælder. Der kan blive tilføjet skatter.