WELCOME TO TODIANO, UMBRIA REGION!
Værelsestype
Helt hjem/lejlighed
---
Ejendomstype
Lejlighed
---
Med plads til
12
---
Soveværelser
Todiano, Umbrien, Italien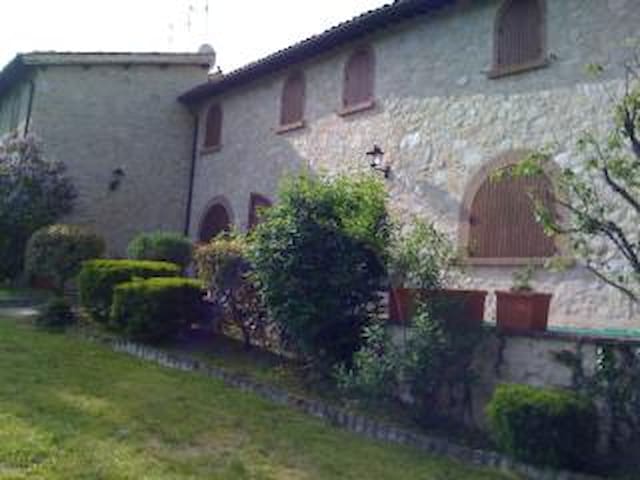 Muy bonito apartamento con cocina y jardín común. Para 2 o 4 personas. Los principales puntos que nos ispired son: la atención de los detalles y el confort de los huéspedes. El apartamento está cerca del centro de la ciudad: 5 minutos caminando.
Loft nuevo y grande, con baño, cocina y muy bonito jardín privado. Para dos o cuatro personas. El apartamento es adecuado para personas con discapacidad.
El apartamento está situado en el medio de la de Santa Escolástica plana, que está lejos de Norcia cinco minutos andando .El camino que conduce al lugar es uno de ruta favorecida para el turista que ama correr o andar en bicicleta en el campo, porque al final de la carretera, los turistas pueden el visite el lugar de Natura 2000 "Marcite" y la ruta de bicicleta del pasado ferrocarril "Spoleto - Norcia"
Anna hosted me for one night on short notice and it was the best money I spent in Italy. Unfortunately it was after the earthquakes, but that's what I was in Italy for. She was able to get me inside the walls for a tour of Norcia! I also grabbed dinner with two of her lovely children at the only open restaurant at the time. Highly recommend! Clean, spacious, beautiful!
Andrew
2016-11-21T00:00:00Z
Hosts were very friendly and helpful . They came to meet us near the apartment very promptly ,even though we were 3 hours early. The apartment is , if anything, nicer than it appears online. I would love to find the time to return there. A gem.
melvyn
2016-10-12T00:00:00Z
This is a great option for staying in the Norcia area. This large studio apartment within the host's family compound is bright and modern and feels very private. The apartment opens onto a beautiful herb and flower filled walled garden courtyard and there is space available to park a car. Anna and her family were lovely and made us very welcome; if you are lucky you may even get some of Anna's delicious homemade biscotti. Anna and her family are very helpful and accommodating, available at the ring of a door bell or phone call, and full of great tips on area attractions and local facts. Anna steered us to some great hikes in the surrounding national park. The apartment is located in a peaceful area about one km outside the walls of Norcia. It is an easy walk along a quiet road that runs through farm fields to get to town.
Steven
2016-07-13T00:00:00Z
Ringraziamo Anna e la sua famiglia per averci messo a disposizione questa splendida e sicura 'dimora' ed esser venuta incontro a tutte le nostre esigenze. La casa è bella, pulita e funzionale. Completa di ogni necessario, con una cucina moderna e un bagno ampio e spazioso. Connessione ad internet rapida ed efficiente. C'è anche uno spazioso giardino dove poter mangiare e passare del tempo libero. Massima rapidità nelle risposte e completa disponibilità a tutte le ore. Ottimo posto anche in ottica qualità/prezzo. Vivamente consigliato!
Brando
2016-10-01T00:00:00Z
Norcia is prachtig gelegen ... een valei tussen de bergen ... magnifiek. Jammer genoeg is Norcia nog in volle opbouw na de aardbeving van oktober. Desondanks hebben we toch genoten van ons verblijf. Het appartement was op wandelafstand van warenhuizen en van het centrum en naast een beenhouwerij met een wei vol zwijnen... tof om te zien. Het appartement was picobello (met een leuk en groot terras) en Anna en haar familie waren super lief. Ze hielpen ons zelf met het verder uitplannen van onze fietsroute
Annelies
2017-04-11T00:00:00Z
Verhuurder erg vriendelijk, op loopafstand van de stad Norcia.
Jochem
2016-06-14T00:00:00Z
Anna and her husband were great hosts - the appartment was very nice and clean and there was even cake for us when we arrived. Communication was easy and they supported us whenever needed. The area is great, Norcia is worth a visit and the local food is amazing.
Kristin
2016-10-23T00:00:00Z
Værelsestype
Helt hjem/lejlighed
---
Ejendomstype
Lejlighed
---
Med plads til
4
---
Soveværelser
Norcia, Umbrien, Italien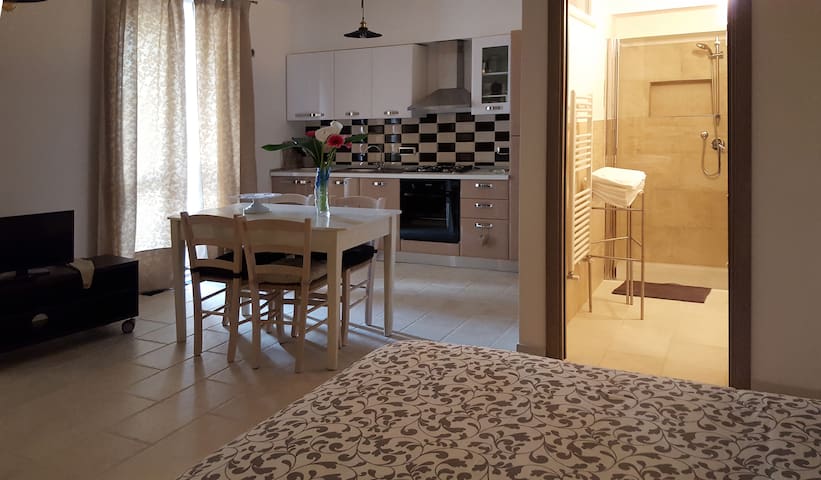 L'appartement situé au centre, confortable et abordable. Situé dans le centre historique de Norcia, dans le parc national Sibillini. L'appartement fait partie d'un immeuble ancien entièrement rénové en 1993 conformément à la réglementation anti-sismique. Il n'a pas subi de dommages causés par le récent tremblement de terre du 24 Août 2016 et suivantes.
Un grand vol de 14 marches de pierre mènent à l'appartement situé au premier étage d'un immeuble ancien. Il a une superficie d'environ 50 mètres carrés et se compose de: un grand salon avec cheminée, un canapé, une table et un coin avec un seul lit; une petite cuisine; une chambre avec un lit double ou deux simples lits; une salle de bain salle de petit morceau. Peut accueillir trois personnes et, si nécessaire, un autre sur le canapé.
L'appartamento è molto comodo e funzionale. Curato nei dettagli. Ivana, gentilissima, ha fatto accomodare la mia bicicletta in sala. Consiglio vivamente!
alessio
2016-06-04T00:00:00Z
Ivana's place in the heart of Norcia was a highlight for my husband and I. The house was in the best location; a stone's throw from the main piazza. Ivana graciously gave us her car space & showed where else to park in case someone else occupied our spot! The house is central to all other places in Norcia but above all we found Ivana to be a gracious and friendly host. I know that a feel of a place is subjective, but this felt right. Highly recommend
Diana
2015-05-05T00:00:00Z
la signora ivana è stata molto gentile e disponibile, l'appartamento pulito e confortevole..... ubicazione nel centro storico di norcia
MARCELLO
2016-07-04T00:00:00Z
Abbiamo passato tre giorni piacevoli a Norcia, nella accogliente casa messaci a disposizione da Ivana, in centro storico ma silenziosa, e dotata di tutto il necessario, più di quanto capita di trovare di solito in un appartamento destinato a brevi vacanze. Ivana è stata disponibilissima, è venuta a prenderci alla porta di Norcia sotto il temporale per guidarci a destinazione! speriamo di poter tornare presto... Silvana e Pietro , Bologna
silvana
2015-06-23T00:00:00Z
La posizione è perfetta; in pieno centro storico ma pratica da raggiungere avendo vicino un comodo (URL HIDDEN) casa è veramente carina ed accogliente, non manca nulla, compreso il collegamento wi fi. Ivana è stata molto gentile e disponibile, se capiteremo ancora a norcia la contatteremo sicuramente. consigliatissimo!
Gabriele
2014-04-08T00:00:00Z
A very nice place to stay! Ivana is a welcoming host, who will help you with any need. Norcia is a great town to explore; hikes--winter or summer, great culinary local delights, minimal tourist and great locals who share their love of Norcia! The apartment is warm which is very important in the winter. You control the temperature and it warms quickly. The apartment is spacious with a large bedroom - nice linens, new bathroom - great hot water and pressure, large living room with fireplace and a small kitchen. The apartment is on the 2nd floor of a secured building 1 block from the main street-- a great location. You have 16 steps to your door. The view from the apartment is breathtaking! The Sibillini mountains can be seen from your windows. The washing machine works well as does the TV with cable. The Internet works well yet you have to sign on each time. I will stay here again! You will not be disappointed!
Deborah
2015-01-04T00:00:00Z
This was a wonderful little apartment in central Norcia. Warm reception, clean house and overall a nice stay!
Sara
2016-04-28T00:00:00Z
Ivana was very hospitable and friendly, attentive to make sure we had everything we needed and at the same time respectful of our privacy. Her place was spacious and very clean, as well an excellent location in the quaint historically rich town. We only regret we didn't have the foresight to stay longer!
PAUL
2015-11-01T00:00:00Z
Værelsestype
Helt hjem/lejlighed
---
Ejendomstype
Lejlighed
---
Med plads til
4
---
Soveværelser
Norcia, Umbrien, Italien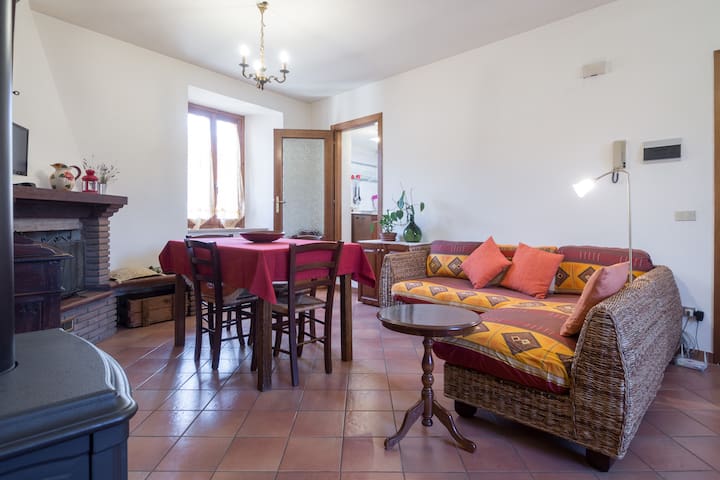 5 minutes from Piazza del Popolo, in the heart of the historic city center, immersed in the rue. quiet and peaceful area.
Apartment on the second floor without elevator in a building of only three interior. Living room with fireplace, kitchen, two bedrooms (one of which is for guests) and a bathroom with shower. Apartment on the second floor without elevator in a building with only three apartments. Living room with fireplace, kitchen, two bedrooms (including one for guests) and a bathroom with shower.
residential area in the city center where it is possible to walk to the beautiful views open from rue and reach the main tourist attractions or stroll along the river. Residential area where you can move by foot among the wonderuful views opened from the narrow streets and reach the main tourist attractions or walking along the river.
I had a very good time at Mattia's place. His room was clean and cozy and in the historical center of the town, a fascinating, quiet and charming place. He has been very efficient in terms of communication and check-in, giving precise instructions on how to reach his place from the railway/bus station. He has come to pick me up nearby his house and he helped me to carry my suitcase. Everything was perfect and I would stay at his place again.
Cristiana
2017-03-17T00:00:00Z
Due persone gentili e amichevoli. Siamo stati a nostro agio, come da amici. Raccomandati.
Francesco
2017-03-10T00:00:00Z
Ottima accoglienza, cordialità, colazione, centralissimo. E ottimi i padroni di casa. Raccomandatissimo
Stefano
2017-03-12T00:00:00Z
Coppia simpatica, casa pulita e accogliente, ottima colazione! Consigliato
Giselle
2017-03-31T00:00:00Z
Mattia è una persona eccezionale.. disponibile premuroso attento e umile mi ha fatto sentire come se fossi ospitata a casa di (URL HIDDEN) stanza è addiacente al centro pulita e tutto ordinato.. rosa e Mattia ci hanno preparato una super colazione.. tra i tanti soggiorni che ho fatto con airbnb questo è stato sicuramente il migliore perché caratterizzato da molto calore umano e da ospitalità fatta con il cuore.. tutte cose difficili da trovare nella società odierna.. grazie rosa e Mattia siete grandi!!!
Katia
2017-03-19T00:00:00Z
I ragazzi sono gentilissimi e disponibilissimi, la posizione è ottima. La stanza ampia, confortevole e pulita. Ci hanno coccolato fin dal primo momento con una calda accoglienza ed una superba colazione anche con prodotti biologici, consigli su ristoranti e luoghi da visitare. Ci siamo sentiti a casa. Consiglio a tutti questa dimora.
Ilaria
2017-02-26T00:00:00Z
Værelsestype
Privat værelse
---
Ejendomstype
Lejlighed
---
Med plads til
2
---
Soveværelser
Ascoli Piceno, Marche, Italien
We wish you a wonderful holiday and we invite you to take care of the house as if it were yours.
Bed & Breakfast "Solesta" the structure totally independent / apartment / and newly opened, located within the Borgo Solestà district, a stone's throw from the historic center. From here you can reach on foot all the historical attractions of the city, squares and rue / streets / stuffed. Ideal for those wishing to spend a holiday or purely art to discover the local cuisine / stuffed olives / and local traditions. The apartment was furnished with care, love and attention for all your essiggenze .. I wait for you...
We have suddenly decided to come to Ascoli and in 2 h have got in touch con Marta! She answered very fast and our late arrival was absolutely arranged by her. The house was very clean, fresh. She with warm heart helped us with maps and orientation in the city, We felt like at friends house, like she was waiting for us.. that was so nice in our midnight arrival, and no problem with check out after afternoon =) The district is 15 min by fit from the centre and comfortable to come with car a parking. very friendly and warm-heartedness Marta, thank you!
Natalia
2013-09-28T00:00:00Z
La Signora Marta molto gentile e disponibile. Pulito.
Gaia
2016-07-02T00:00:00Z
Ho prenotato l'appartamento nemmeno 12 ore prima del soggiorno, ero di passaggio ad ascoli, e ho trovato un host simpaticissimo ma soprattutto molto disponibile. L'appartamento è carino e pulito, ed è situato a pochi minuti dal centro. La posizione consente di lasciarela macchina in tranquillità senza incappare nella ZTL. Inoltre avevo bisogno di poter lasciare l'appartamente nel pomeriggio, e visto che c'era la possibilità, Marta mi ha dato piena disponibilità! Se dovessi ritornare ad ascoli, ritornerei qui.
Fernanda
2014-06-22T00:00:00Z
L'appartamento di Marta è molto spazioso,pulitissimo e ben arredato. Marta è molto flessibile con gli orari di check in e check out. Molto premurosa ci ha lasciato la roba per la colazione, acqua fresca e frutta. Si è prodigata per darci minuziose spiegazione su come raggiungere il centro, cosa visitare e dove mangiare. L'appartamento è situato in un quartiere molto tranquillo dal quale si raggiunge il centro in 10 minuti a piedi. Veramente consigliabile.
Flavia
2015-08-12T00:00:00Z
Bellissimo appartamento con bagno privato, cucina e un sacco di cose messe a disposizione dalla proprietaria per rendere il nostro soggiorno confortevole e "come essere a casa nostra"! Molto colpita dalla disponibilità, dalla bellezza dell'appartamento e anche dall'ottimo rapporto qualità/prezzo. Ottima posizione appena fuori dal centro storico, quindi zona molto tranquilla e silenziosa, con la possibilità di parcheggiare in modo gratuito. Bella esperienza, tornerò di sicuro qui la prossima volta che capiterò ad Ascoli!
Chiara
2013-09-09T00:00:00Z
Ci siamo fermati da Marta per il secondo anno di seguito, ottima ospitalità e cortesia
Giancarlo
2014-08-21T00:00:00Z
Удобное расположение, до центра города минут 7 неторопливым шагом, и машину можно припарковать во дворе. Марта очень позитивная и дружелюбная. В квартире все хорошо, кроме скрипящих пружин в кровати
Елена
2015-09-01T00:00:00Z
Grazie Monica. L'appartamento è grazioso e curato nei minimi dettagli! Non manca nulla! Pulitissimo ed accogliente! Monica ci ha detto..fate come se foste a casa vostra...e devo dire che ci si sente proprio a casa! Comodo e a pochi passi dal centro! Grazie Monica! Complimenti! A presto!!!
LELLA
2015-03-15T00:00:00Z
Værelsestype
Privat værelse
---
Ejendomstype
Lejlighed
---
Med plads til
2
---
Soveværelser
Ascoli Piceno, Marche, Italien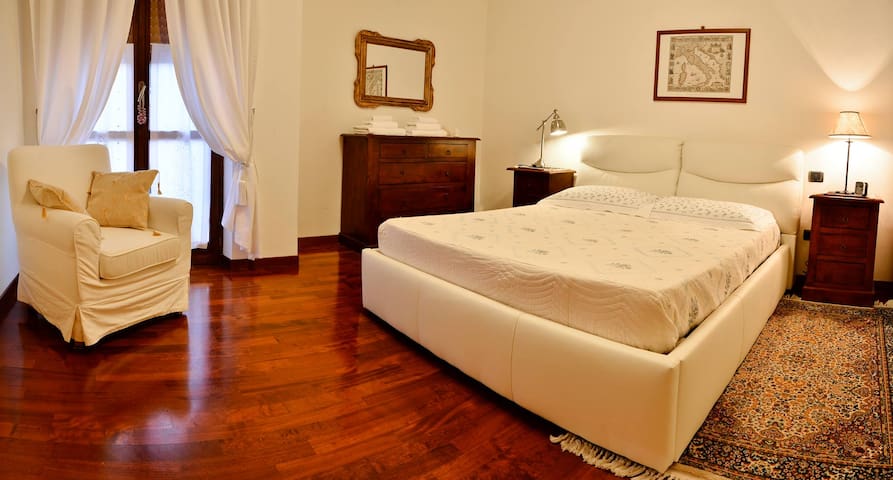 Accogliente bilocale luminoso e vista panoramica situato nel centro storico a pochi passi da Piazza del Popolo
Mimma e Mike, gentilissimi e disponibili, ci hanno assicurato un'accoglienza molto calorosa. L'alloggio molto comodo e pulito. Assolutamente consigliato.
Caterina
2017-02-10T00:00:00Z
L'appartamento è esattamente come descritto, se non migliore. L'abbiamo trovato estremamente pulito ed attrezzato di tutto quanto potesse esserci utile per un soggiorno di due notti. Mimma e Mike sono stati più che gentili fin dal primo contatto, essendosi fatti in quattro per accoglierci nonostante una richiesta tardiva da parte nostra; all'arrivo ci hanno enumerato le attrattive della città, poi si sono preoccupati in prima persona per trovarci un posto dove cenare; alla fine abbiamo cenato insieme e con l'occasione abbiamo conosciuto due piacevolissime persone, colte ed innamorate della loro città. Abbiamo condiviso ancora del tempo il giorno dopo, e nel complesso la nostra esperienza ad Ascoli è stata molto positiva anche per l'estrema disponibilità dei padroni di casa. Assolutamente da raccomandare.
Mauro
2016-08-08T00:00:00Z
Casa accogliente anche se essenziale , ottima posizione per raggiungere i punti più suggestivi della bella città di Ascoli, abbiamo anche noleggiato le biciclette per girarla in lungo e in largo ! Senz'altro un piacevole soggiorno !
Luisa
2017-03-26T00:00:00Z
Mimma e Mike sono stati a dir poco fantastici per l'ospitalità', la gentilezza, e la sincera amicizia che ci hanno offerto. Ho trascorso una settimana nella loro casa in Rua Sant'Emidio con mio marito e i miei due bambini. Siamo stati benissimo. La casa e' fresca, pulitissima e ha tutto il necessario per poter passare una bella vacanza. Nel cuore di Ascoli, ti permette di poter camminare ovunque e raggiungere tutti i quartieri più' belli in pochi minuti. Torneremo di sicuro il prossimo anno , ma questa volta staremo più' a lungo. :-)) Grazie di cuore per tutto
Marika
2016-07-13T00:00:00Z
깨끗하고 조용한 곳입니다 주인이 매우 친절해서 좋았습니다
미혜
2017-02-04T00:00:00Z
Bella casa curata negli arredi. Posizione comoda per arrivare a piedi in centro. La proprietaria e la figlia sono state molto ospitali, disponibili e attente a garantirci un bel ricordo del posto. Consigliamo a tutti di soggiornare qui. Un grazie sincero a Mimma e un augurio perché la tragedia del terremoto, avvenuta nelle vicinanze, non freni la gente a visitare Ascoli!
Fabio
2016-08-22T00:00:00Z
Mimma and Mike are wonderful. They had arranged a meeting place for our arrival, but the GPS in our rental car took us everywhere except where they were waiting! A word of warning to travelers: GPS does not have all the information needed to navigate you through the narrow cobbled streets of medieval European towns. Anyway, once we were finally able to meet Mimma and Mike and their wonderful daughter Domiziana, they put us immediately at ease. We shared amazing pizza and stuffed olives that night at a neighborhood place we returned to again and again over the following week. The apartment was spotless and exactly as represented in the listing. It's in easy walking distance of the many piazzas and points of interest in Ascoli Piceno. This town has an extraordinary feeling of community. Everyone of every age is out in the piazzas at night, strolling & meeting & talking, sharing laughter and food and wine and just living the dolce vita. We were captivated by it. Do not miss this town and the opportunity to meet this wonderful family and enjoy their hospitality. We hope to return in the future.
Lisa
2016-09-03T00:00:00Z
Io e la mia famiglia abbiamo alloggiato a Maison Rua per tre notti, tutto è stato magico! Lei si è dimostrata fin da subito molto disponibile, ci ha trasmesso l'amore per la città in cui abita, ovvero Ascoli, e noi ci siamo sentiti fin dal primo momento a casa. La sua casa è molto pulita, carina e curata in ogni minimo dettaglio. Ci torneremo sicuramente!
Debora
2016-07-24T00:00:00Z
Værelsestype
Helt hjem/lejlighed
---
Ejendomstype
Lejlighed
---
Med plads til
4
---
Soveværelser
Ascoli Piceno , AP, Italien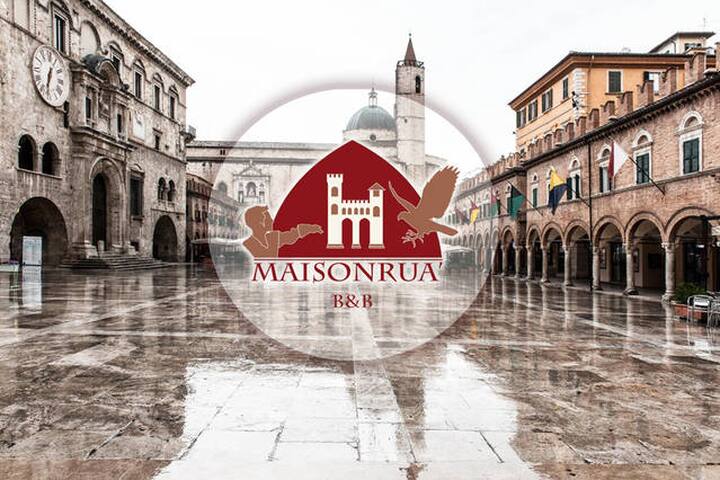 Pequeño apartamento en múltiples niveles en el segundo piso de la ciudad vieja, en un edificio histórico en travertino. Recientemente renovado, compuesto de: cocina, sala de estar, dormitorio, cuarto de baño y ático luminoso salón. Situado en un entorno tranquilo y silencioso, a un paso de la espléndida Piazza del Popolo. Aparcamiento disponible a sólo 100 metros de los 2,5 euros por día. En el corazón del centro histórico conveniente para hacer turismo, monumentos históricos y la universidad.
Eccellente! L'appartamento non ha deluso le mie (alte) aspettative. L'ho trovato spazioso, pulito e funzionale. Mauro e sua moglie hanno reso il mio soggiorno davvero perfetto: privacy, comfort e relax sono all'ordine del giorno presso la loro struttura. Considerando poi la splendida cornice di Ascoli Piceno il risultato è presto detto: consigliatissimo :)
Mattia
2016-12-04T00:00:00Z
Ad un passo dai luoghi più belli di Ascoli Mauro offre un Appartamento semplice, c'è una scala particolare per accedere alla mansarda ma tutto risulta gradevole e pulito. Abbiamo trovato il necessario per la prima colazione offertoda Mauro, persona gradevole e accomodante. Lo consigliamo a tutti quelli che hanno voglia di scoprire Ascoli ed il suo splendido centro storico.
Carlo
2016-12-10T00:00:00Z
Værelsestype
Helt hjem/lejlighed
---
Ejendomstype
Lejlighed
---
Med plads til
4
---
Soveværelser
Ascoli Piceno, Marche, Italien
Luxurious 2 bed 2 bath 1 car space in a perfect location close to the City and Fortitude Valley. Everything is at walking distance plus the gym and rooftop swimming pool with city views will be the perfect place to relax after exploring around town.
Værelsestype
Helt hjem/lejlighed
---
Ejendomstype
Lejlighed
---
Med plads til
6
---
Soveværelser
Villa Camponeschi, Lazio, Italien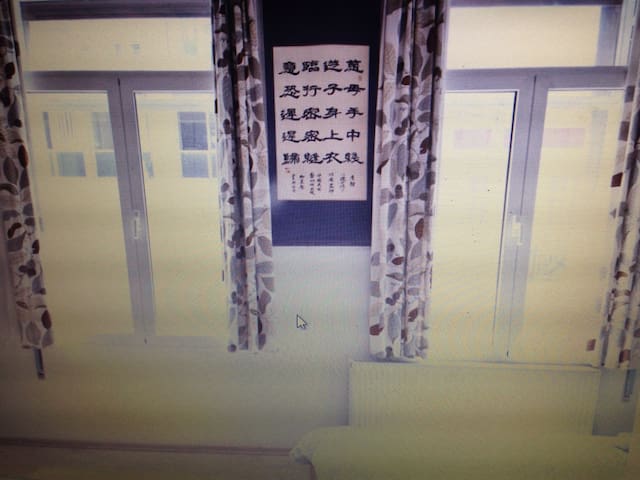 Ten charakterystyczny mieszkanie w nowo odnowionym gospodarstwie kraju oferuje wszystkie nowoczesne udogodnienia. Kamień gospodarstwo położona jest w spokojnej okolicy z widokiem na pasmo górskie Sibillini, to idealne miejsce do zwiedzania tego magicznego regionu
Doświadczenie przyjemną i relaksującą pobyt w starannie odnowione pokoje Włoski kraju ze wszystkimi nowoczesnymi udogodnieniami. Otoczony zielenią, budzić się przy dźwiękach śpiewu ptaków i zapierającym dech w piersiach widokiem na Monte Vettore! Apartament posiada dwie dwuosobowe sypialnie z szafy, szafki nocne i lampy i krzesła, każdy z en-suite dołączonej słonecznym ogrzewaniem ciepłej wody. Dobrze wyposażona nowoczesna kuchnia jest idealnym miejscem dla szeleszcząc jakieś włoskie przysmaki, znajduje się stół jadalny w kuchni. Jest sąsiaduje salon z przytulnym woodburner na chłodniejsze miesiące, idealne na relaks na koniec dnia popijając lampkę doskonałego lokalnego czerwony ... lub białe! W salonie znajduje się kanapa, która zamienia się w podwójną sofą do spania dla dodatkowych gości.
Zapraszamy do Casa di Pietra! Dom jest w małej wiosce w gmina we Montefortino z pięknym widokiem na okoliczne wzgórza i góry Sibillini. Istnieją 3 Agriturismi serwujące wyśmienite lokalne dania kuchni włoskiej w bliskim sąsiedztwie. Raj dla miłośników przyrody, jelenie, dziki i jeżozwierz są częstymi gośćmi, ptaki drapieżne mogą być dostrzeżone krąży nad naszym kraju. Spojrzenie na jasnym niebie, dostrzec kilka spadających gwiazd i pomyśl życzenie!
Wij voelden ons echt speciaal. Er lag van alles klaar en binnen 5 minuten stond de koffie klaar. De ontvangst was warm en met volle overtuiging waren we welkom. Ook tijdens ons verblijf waren Jeff en Sylvia steeds beschikbaar op een prettige en niet opdringerige manier. Lieten ons de omgeving zien (omdat we daar ook belangstelling voor hadden) en meegenieten van de lekkere vruchten die rondom het pand groeiden. Het appartement was super en voldeed aan al onze wensen. Super schoon, praktisch en mooi. Door de gastvrijheid, ligging en kwaliteit is het voor ons een heel fijn verblijf geworden en geweest.
Arie
2016-07-26T00:00:00Z
We had an amazing time! Jeff and Sylvia are the kindest hosts we have ever met: they are so caring and helpful! The apartment is lovely, every detail is pretty and at the same time you can find everything you may need in it. It's very well renovated. The garden is spacious, beautiful and there is plenty of places to sit and enjoy your breakfast or your dinner surrounded by the perfume of the flowers. The house is in the countryside but it's close to some cute towns where it's convenient to go for grocery shopping or just to sightsee a bit. All the nature around is beautiful, from the mountains to the lakes. We really recommend it and actually we hope to be back there soon too!
Claudia
2016-07-12T00:00:00Z
Værelsestype
Helt hjem/lejlighed
---
Ejendomstype
Lejlighed
---
Med plads til
4
---
Soveværelser
Montefortino, Marche, Italien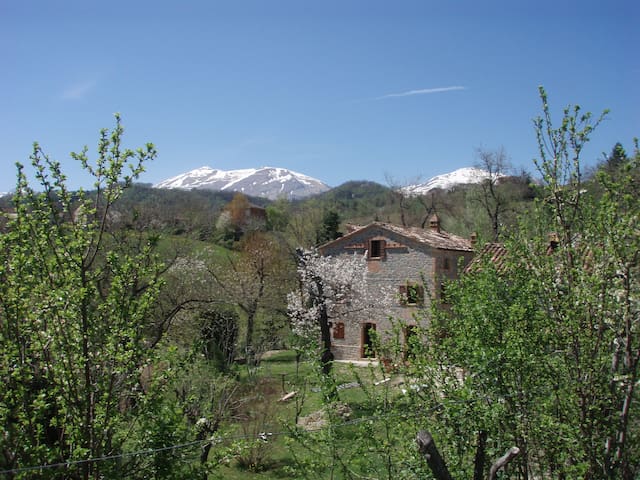 The apartment is located in a historic building in the center of Norcia. It has a small garden, a spacious living room, a relaxation area that leads to the bedroom equipped with a bathroom and a covered parking space in the garage.
Comfortable accommodation for 2-4 people a few steps from the center, a small garden, Wi-Fi and a carport.
The tranquility, the historical context, the nature.
Great experience, very nice house, confortable and large. With a lovely little garden where you can watch the stars in the night. Adriano will help you for everythings, he is a very kind person. Casa meravigliosa, silenziosa, nuova, pulita, molto comoda. Adriano è gentilissimo e prontissimo a soddisfare ogni necessità, renderà ogni cosa molto semplice!
Isabella
2016-07-29T00:00:00Z
Værelsestype
Helt hjem/lejlighed
---
Ejendomstype
Lejlighed
---
Med plads til
4
---
Soveværelser
Norcia, PG, Italien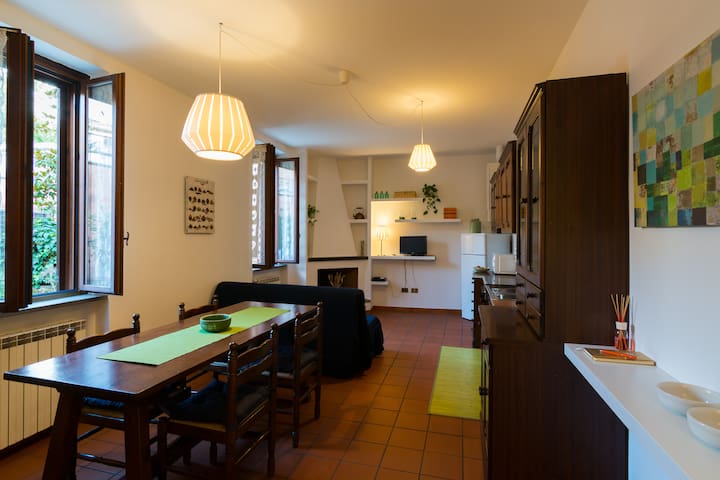 Personale molto gentile e disponibile...Appartamento pulito e molto carino, non propriamente come visionato nelle foto soprattutto la cucina un po troppo piccola (probabilmente le foto erano di altri appartamenti)...per il resto tutto ok!
Daniele
2016-03-30T00:00:00Z
Abbiamo soggiornato dal 31 Dicembre 2015 al 2 Gennaio 2016,eravamo in 4 persone, siamo stati veramente soddisfatti sia della cordialità del personale che ci ha accolti sia dell'alloggio. Casa confortevole e pulita. L'alloggio si trova a pochi passi dal centro di Amatrice..... Veramente soddisfatti...... ci torneremo... lo consigliamo fortemente.....
Dario
2016-01-02T00:00:00Z
Værelsestype
Helt hjem/lejlighed
---
Ejendomstype
Lejlighed
---
Med plads til
4
---
Soveværelser
Retrosi, Lazio, Italien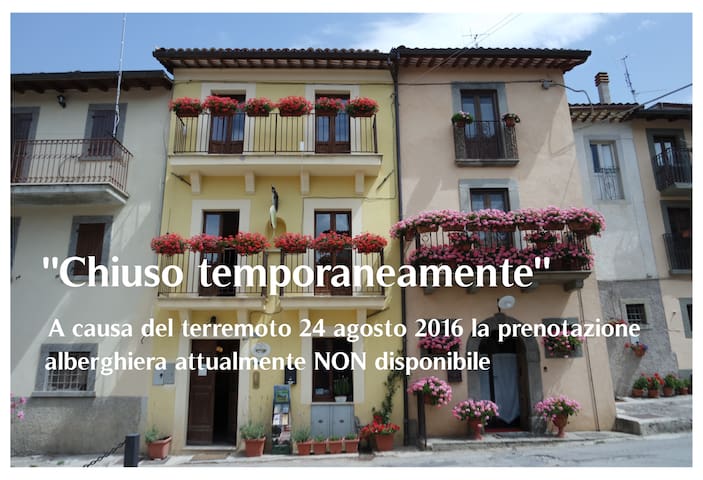 Appartamento nuovo ma arredato con mobili antichi, ampio giardino ed orto, vicino a L'Aquila e non lontano dal Gran Sasso e da Campo Felice.
Værelsestype
Helt hjem/lejlighed
---
Ejendomstype
Lejlighed
---
Med plads til
2
---
Soveværelser
Pizzoli, Abruzzo, Italien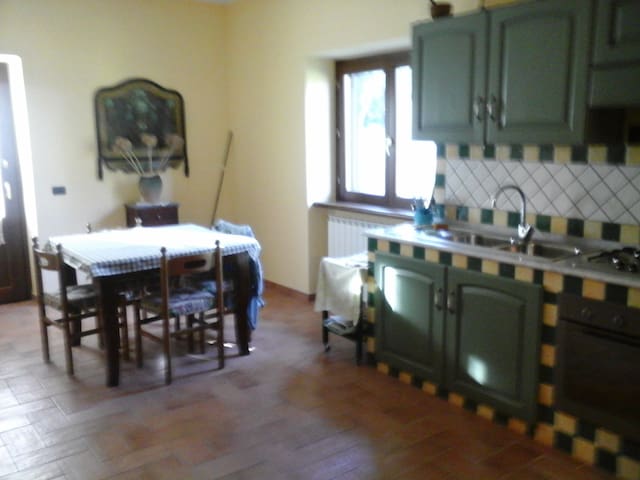 Ho passato estati indimenticabili in questo paesino di montagna ricco di natura e semplicità.
Soluzione perfetta per soggiorni rilassanti in mezzo alla natura con la possibilità di escursioni in montagna all'interno del Parco Nazionale dei Monti Sibillini.
E' una zona molto tranquilla e silenziosa.
The host canceled this reservation 2 days before arrival. This is an automated posting.
Carlo
2016-08-29T00:00:00Z
A casa di Ilaria siamo stati molto bene, è nel centro storico di questo tranquillo paesino (Visso) nel cuore dei Sibillini. La casa è in una zona silenziosa, molto bella e rilassante. E' fornita di ogni cosa, dalle stoviglie (di tutti i tipi) all'asse da stiro. Si vede che è stata ristrutturata da poco. L'arredamento migliorabile ma comunque completo di tutto. Unico limite è il difficile accesso alla stessa nel caso di disabili in quanto ci sono due rampe di scale. Noi sicuramente torneremo presto!
Nilde
2016-08-24T00:00:00Z
Soggiorno perfetto. Siamo stati accolti molto gentilmente e la casa si trova proprio nel cuore di Visso, magnifico paese nel cuore del parco dei Sibillini.
Francesca
2016-08-17T00:00:00Z
Værelsestype
Helt hjem/lejlighed
---
Ejendomstype
Lejlighed
---
Med plads til
6
---
Soveværelser
Visso, Marche, Italien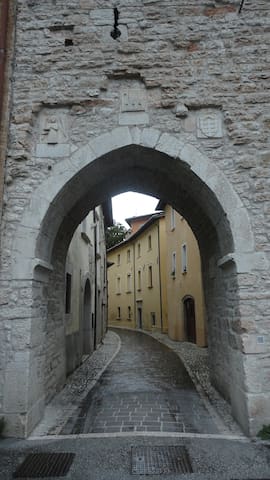 Mitt ställe ligger nära Natur och berg. Du kommer att älska mitt ställe på grund av läget, utrymmet utomhus, omgivningen. Mitt boende passar par och ensamäventyrare.
Værelsestype
Helt hjem/lejlighed
---
Ejendomstype
Lejlighed
---
Med plads til
3
---
Soveværelser
Amandola, Marche, Italien
Our cozy apartments are located in a characteristic mountain village, with two double bedrooms, with the addition on request of single beds, equipped with facilities, kitchen, living room, fireplace.
Opportunity to stay in a fairly fair place within the Gran Sasso National Park and Monti della Laga. In a small, quiet village nestled in the green and lying on the majestic slopes of the Gran Sasso.
A wonderful place, surrounded by nature and history. Possibility to practice many sports, from winter to summer. The property is just a few km from the ski resorts of Prato Selva and Prati di Tivo. The latter, during the summer season, offers an excellent bike park with various trails, horseback riding, excellent hiking trails and great dining venues. In addition, the country offers the opportunity to venture out into a place of excitement like a natural rock gymnastics, with short-sleeved cliffs that look forward to climbing from the most daring.
Siamo stati a Fano Adriano al b&b di Eugenia. L'accoglienza è stata ottima così come l'alloggio. Avevamo un intera casa a nostra disposizione, doppia televisione, frigo con succhi acqua e uso cucina con tutti i generi di prima necessità e per la colazione. Il paesino è molto caratteristico, consiglio anche la passeggiata e la seggiovia di Prato Selva a pochi km da Fano.
Adriana
2015-08-08T00:00:00Z
La descrizione dell'annuncio perfetta.
Lucia
2016-07-19T00:00:00Z
This is the place to stay if you plan to visit GRAN SASSO national park. The place is located in a small pretty village in the middle of the park. The accommodation is pleasant and the hosts are extremely friendly and welcoming, very careful to make sure that we had everything that we could possibly need. In the morning we were leaving they invited us for a coffee and chatting with them was like chatting with old friends.
Ivan
2015-06-06T00:00:00Z
Die Wohnung ist in einem sehr sauberen Zustand, Küche komplett eingerichtet, ein altes Haus in einem ruhigen Dorf. Wir hatten Pech mit dem Wetter, es regnete ununterbrochen und deshalb sind wir eher abgereist. Eugenia begrüßte uns freundlich, zeigte uns die Wohnung und übergab uns den Schlüssel. Wir haben Sie dann nicht mehr gesehen.
Elke
2016-07-17T00:00:00Z
We loved our stay in small, romantic and friendly city of Fano Adriano. Apartment is in great location with view on the valley from terrace. Spacious, nice and clean rooms, well equiped kichen. Host Eugenia is very nice, helpful and friendly.
Aija
2016-02-29T00:00:00Z
Accoglienza ottima. Appartamento spazioso e pulito. Paesino di montagna molto carino e perfetto per fare escursioni nel Parco Nazionale del Gran Sasso.
Danilo
2015-07-26T00:00:00Z
Nous n'avons pas logé dans l'appartement qui avait été loué initialement car nous étant renseignés sur la disponibilité du WiFi, Eugénia a eu l'idée de nous changer d'appartement pour un meilleur service Wifi. Eugénia s'est montrée disponible durant le séjour. Le village est charmant et dispose de toutes les commodités essentielles (bars, poste, pharmacie, alimentation,,). L'appartement était propre et la cuisine très bien équipée. Les habitants du village sont charmants et accueillant (une pensée spéciale à Aida du bar du même nom). A noter que si on se rend à Fano Adriano pour randonner, il convient de s'assurer du fonctionnement des funiculaires alentours. En effet, ceux ci ne fonctionnent pas systématiquement et alors les temps de déplacements deviennent importants.
laurence
2016-07-02T00:00:00Z
Very simple but cozy apartment with alla the amenities.... Hosts are very nice. We met the father that gave us also some suggestions about place to eat for dinner. Only one warning the agriturismo has amazing food but no prices are exposed... We paid quite much more than what we ordered. Simple tip. Ask for the prices of each course in advance.
Davide
2015-07-27T00:00:00Z
Værelsestype
Helt hjem/lejlighed
---
Ejendomstype
Lejlighed
---
Med plads til
3
---
Soveværelser
Fano Adriano, Abruzzo, Italien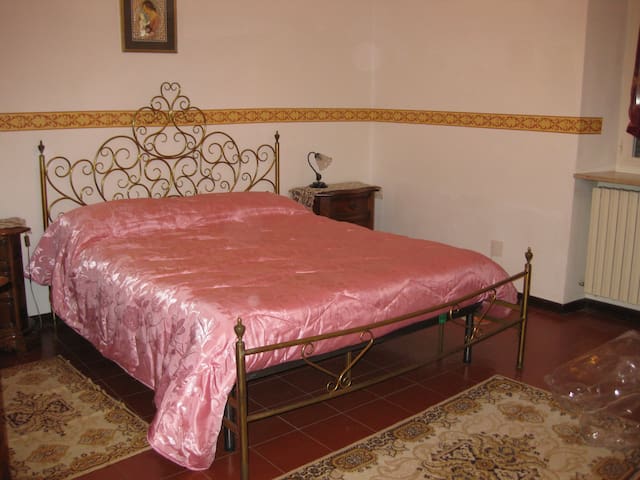 affittasi appartamento arredato, I° piano, 4 posti letto, tutti i comfort, angolo cottura, salone, camera matrimoniale, bagno, terrazzo, lavatrice, facilità posto auto, vicino santuario santa rita, norcia, castelluccio, sibillini, anche brevi periodi
Værelsestype
Helt hjem/lejlighed
---
Ejendomstype
Lejlighed
---
Med plads til
4
---
Soveværelser
Cascia, Umbrien, Italien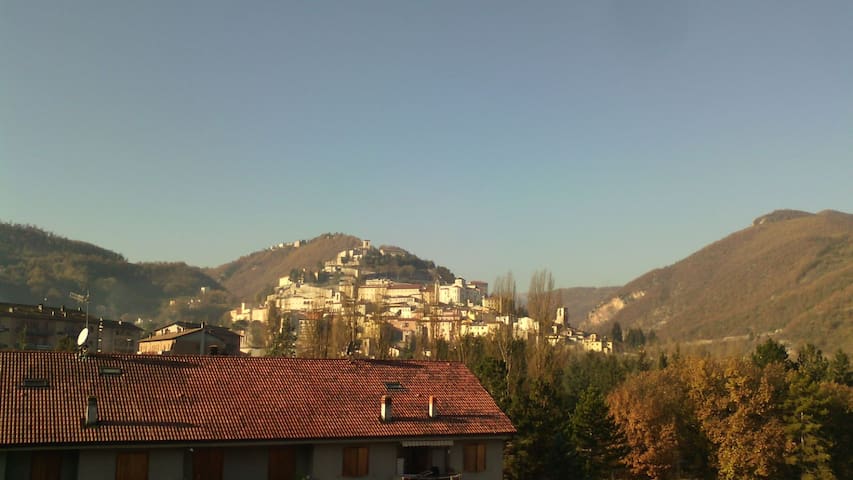 Il mio alloggio è vicino a Impianti sciistici - Ski resort Parco Nazionale dei Monti Sibillini - National Park Splendide viste naturali- Stunning natural views . Ti piacerà il mio alloggio per questi motivi: l'atmosfera- Atmosphere gli spazi esterni - Incredible relax in a natural and fresh place. Il mio alloggio è adatto a coppie, avventurieri solitari, famiglie (con bambini) e grandi gruppi.
Værelsestype
Helt hjem/lejlighed
---
Ejendomstype
Lejlighed
---
Med plads til
6
---
Soveværelser
Frontignano - Sammerlano, Marche, Italien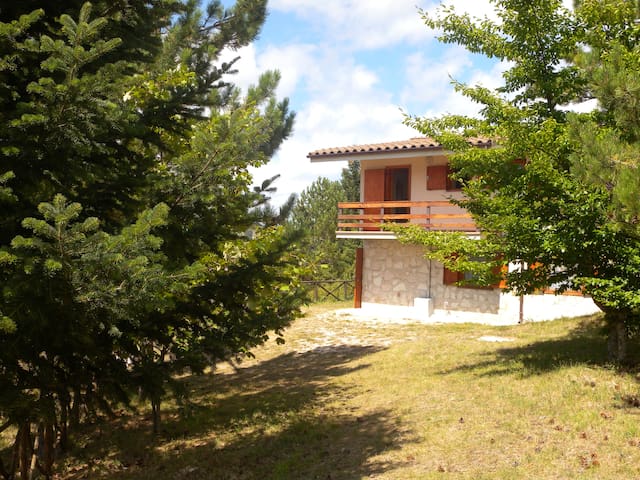 Det ideelle sted for din afslappende ferie i Marche.
Smuk countryhouse i bakkerne i regionen Marche.
Velkommen til Borgo Cerreto - Destination Marche Det ideelle sted for din afslappende ferie For nylig restaureret, Borgo Cerreto (dens oprindelse går tilbage til det 13. århundrede) er en perle skjult i bakkerne i regionen Marche. På kun 12 km fra Ascoli Piceno og 40 minutter fra San Benedetto del Tronto, det kendte feriested på Adriaterhavet, er det placeret på grænsen af nationalparken Sibillini Mountains. Fra sin 470 mtr over havets overflade højde det giver en fantastisk 360 ° udsigt over hele den centrale del af Appenninerne højderyg med som baggrund toppen af Gran Sasso. Ideel til en familie, der ønsker at have en fredelig ferie med mulighed for at besøge steder af kunst, gamle landsbyer, gør vandreture og cykelture eller rideture. Lejligheden indeholder en smuk West Garden, en stor hal (en gammel restaured stabil) med et køkken til at underholde og spise udendørs. Swimmingpoolen er beliggende i East Garden med en pergola og en skolefri legeplads. på kun 100 meter fra lejligheden og er under fælles brug med ejerne. Rom er kun 180 km væk kørsel gennem via Salaria; regionen Umbrien giver mulighed for at besøge den antikke Nursia (Norcia) 50 km væk, og et skisportssted i Forca Canapine på Vettore Mountain og Piana di Castelluccio di Norcia er 40 km væk på asfalterede veje.
Borgo Cerreto The apartment, or perhaps I should say villa, in Cerreto is a haven of peace and tranquility, and our hosts, Ingrid and Franco are the most charming and affable people I have met in my wide ranging travels in Europe. The location is fabulous and is a perfect base for exploring this wonderful region of Italy. The mountains of Sibillini and Gran Sasso are within easy reach and the atmospheric hilltop towns and villages are marvellous and full of the sights, sounds and evocative smells of the Italian Marche and Abruzzio. Take a car and drive round the boarders of Sibillini then into the campo of Casteluccio, through Visso, Fiastra via Amandola and breathe in the brilliant atmosphere of the place. Get back to the villa and take a glass of wine with a bruschetta made from the marvellous vegetables and herbs from Ingrids garden. Thank you for a memorable summer, grazie, grazie mille.
Neville
2016-09-29T00:00:00Z
Nous avons passé une très agréable semaine au milieu des montagnes. L'accueil a été extraordinaire par des personnes extrêmement gentilles. La belle maison en pierres gardait la fraîcheur et la terrasse était appréciée de tous pour manger. La grande piscine avec une eau à 28°C a été souvent rempli des rires et de bons moments. Les enfants ont aussi beaucoup aimé le trampoline. C'est un excellent endroit pour se rendre à Ascoli, faire des randonnées et profiter de se retrouver en famille. Certainement une des meilleurs adresses.
Gilles
2016-07-24T00:00:00Z
Siamo stati accolti da Ingrid e Francesco, i genitori di Irina, due gentilissime persone sempre disponibili e molto ospitali. In casa c'era il pane fresco, la frutta e tutto il necessario in cucina. La signora Ingrid inoltre ci ha preparato una lista di posti utili e tante letture interessanti sulla zona del Piceno ed oltre. L'appartamento e gli spazi condivisi sono meravigliosi, arredati con gusto ed impeccabili. La piscina con la sua vista mozzafiato sulle montagne dell'appennino è stata la ciliegina sulla torta di una vacanza stupenda. Non si puó non notare con quanto amore questa famiglia tiene alle propie tradizioni ed a mantenere intatto l'incantevole mini borgo di Cerreto. Grazie!
Massimiliano
2015-09-01T00:00:00Z
We had a wonderful stay and have been very well received by our hosts; including in need when our Son was ill, calling the doctor and bying his medicine. The house is in a tiny village part that is remote and calm but very near all. Ascoli and many places to visit nearby both at the Seasiders and in the mountainbike of Mont Sibilini. The rooms of the house rent are very pleasant, separate the sleeping rooms from the area where to Cook and eat outside on a patio. The overal feeling is staying in an old but functional house. The hosts are very friendly and we all loved being greeted by the cute dog of the house called 'Luna'. We would love to come back and recommend to go
Tim
2016-07-30T00:00:00Z
L'appartamento è in un bel borgo sulle colline sopra Ascoli Piceno (raggiungibile in 15 minuti di macchina), ben attrezzato e ampio. Siamo stati molto bene, purtroppo sfortunati col maltempo. L'ideale per una vacanza rilassante in campagna/collina e con molti bei posti raggiungibili in poco tempo.
nicola
2015-05-28T00:00:00Z
The most beautiful place! We stayed for 5 nights and had a wonderful time. Ingrid and Franco were very nice. They have a nice dog which is running around the village. The apartment was clean. The gardens were astounding, especially the one with the pool. We could pick vegetables in the garden. Linen and towels (pooltowels included) were supplied. Great place alltogether.
Fredrik
2016-08-14T00:00:00Z
Das Urlaubsdomizil Borgo Cerreto ist ein Traum! Es ist vom Wohnraum her überaus großzügig, sehr geschmackvoll eingerichtet und liebevoll restauriert. Besonders gut haben uns die große Wohnhalle mit offenem Kamin und die dazugehörige Küche mit Essplatz im Freien gefallen. Herrlich ist auch das große Gartengrundstück mit dem sehr gepflegten Swimmingpool. Die Gastgeber selbst waren zum Zeitpunkt unseres Urlaubs verreist, haben sich aber per Telefon und SMS mehrmals nach unserem Befinden erkundigt. Vor Ort wurden wir von Elena auf das Freundlichste begrüßt und in alle wichtigen Dinge eingewiesen. Dieses Haus in herrlicher Natur können wir allen als Paradies zum Entspannen empfehlen. Und auch an interessanten Ausflugszielen in der näheren und weiteren Umgebung mangelt es nicht. Wir haben vor, bei Gelegenheit wiederzukommen. Liebe Grüße an die Gastgeber und Elena Manfred und Sanni
Manfred
2016-06-13T00:00:00Z
This apartment is in a very special location in a tiny village in the hills about 15 km northeast of Ascoli Piceno. It consists of a two bedroom apartment in an old house, fittingly furnished. Moreover we had the use of a terrace behind the house and a large lounge and kitchen there. There is also a garden a few yards away with a large swimming pool and a terrace. The hosts: Ingrid and her husband Francesco were very welcoming, very friendly and they saw to it that we had a good time. Their summer residence is on the top floor.
Arie
2016-08-21T00:00:00Z
Værelsestype
Helt hjem/lejlighed
---
Ejendomstype
Lejlighed
---
Med plads til
6
---
Soveværelser
Ascoli Piceno, Marche, Italien