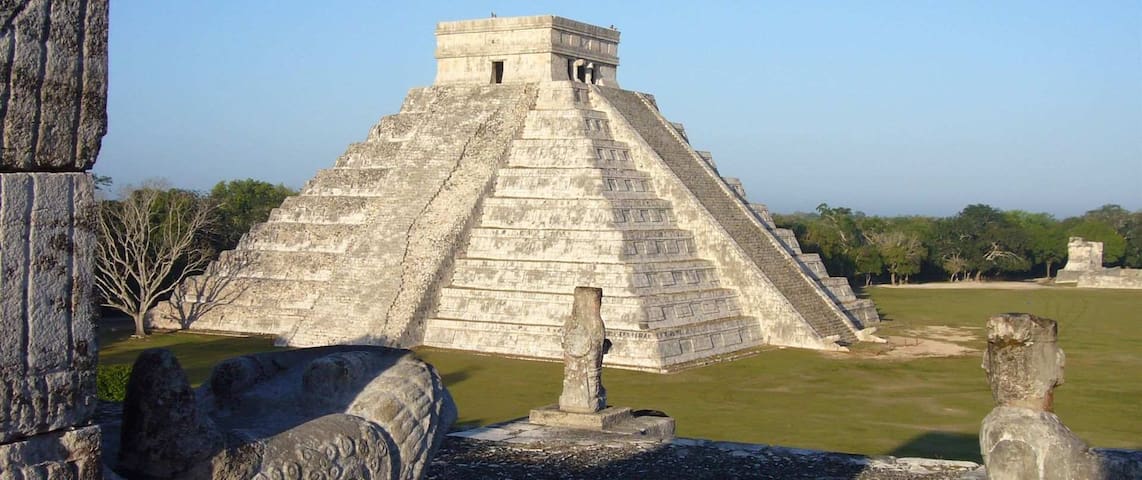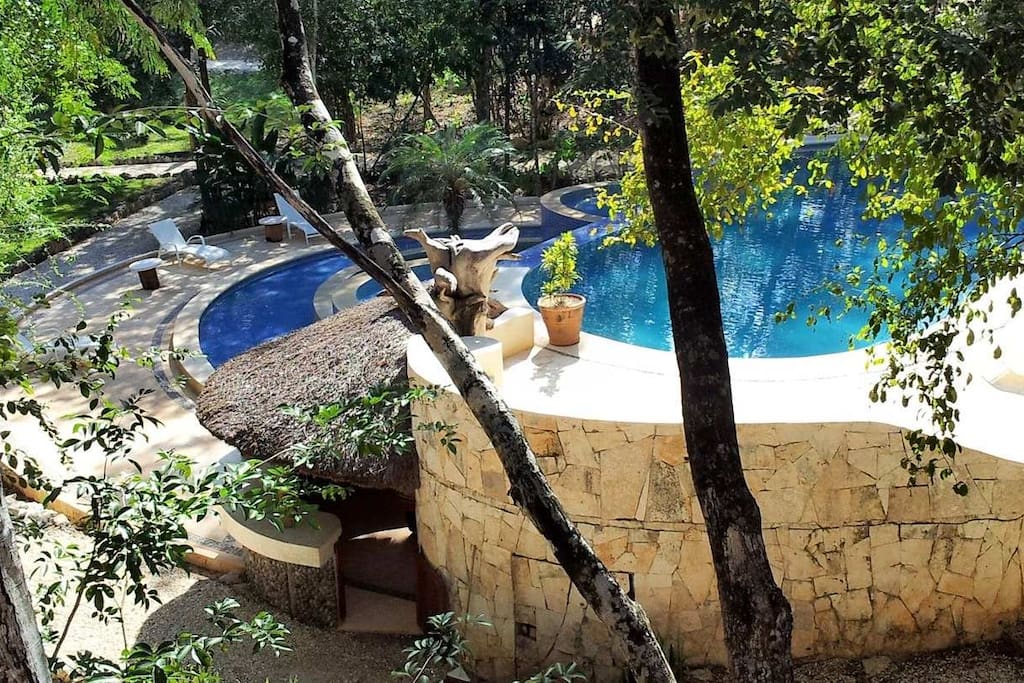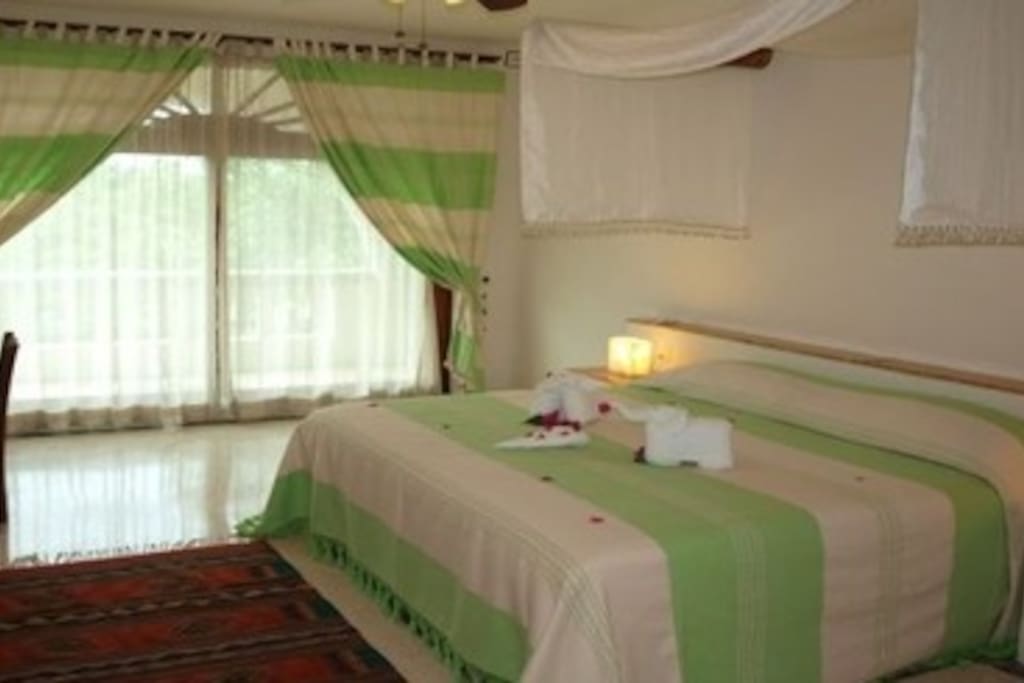 Chicen Itza- Jungle King size room
a charitable gift and human encounter, to relax your body and mind in the middle of the Yucatan jungle, integrating with nature and the cosmos providing a unique holistic experience with high quality hotel enjoying the best services.
---
---
The policy is to refuse certain bookings for the purpose of group events or parties, for example, bachelor parties. Advanced reservations massage services and spa treatments needed. Reservations can be made by contacting us before arrival. The property offers complimentary accommodation for children up to 11 years, always occupy the same room as their parents or guardians, using existing bedding. Only access to the rooms to guests registered at the hotel is permitted. This property does not accept pets or guide dogs.
---
---
---
This place is little three story hotel in the middle of the jungle about 1.5 km off the main hwy. Our room was very nice with a little rustic but had creative Eco design. The whole environment is very serene, quiet and relaxing. There is no TV, but there is WiFi. There is A/C which was used some, but we preferred just keeping the sliding door open. There are no phones to call the front desk if you needed, but we never did. There was a mini bar with complimentary bottles of water, and the beer and soda were not really expensive and very refreshing out on the deck on the balcony of my room late in the evening. There is a pool which looked nice but we didn't get in because it wasn't heated. There is a nice open air restaurant that served a great breakfast that was included. We also had dinner which was priced fairly considering the convenience. The restaurant captain visited us at our room and so we made reservations and orders our fine dinner. When we showed up they were ready and waiting. All was well prepared and service was excellent. So were the two extra margaritias Chicen Itza is down the highway about ten minutes. Our roof top had a deck that was just at the tree canopy level, and an observation deck on top of that which was great and you could see the Chicen Itza off in the distance. We saw very few other guests, so it was very private. Lots of nature surrounding you. You could hear lots of unique sounding birds and bugs at night when the jungle seemed to come alive. The site had several more private and multi room/multi level cabins. I could see this place a a great place to have a family reunion. We did not use the spa but I could see that they had the perfect setting. It was easy to find using the link to (SENSITIVE CONTENTS HIDDEN) maps which took us from the airport in Cancun directly to the tiny resort about two and a half hours away. Parking was easy. Lots of gravel walkways, a cute pond with geese, a little camp fire area. This is not some big fancy resort, it was more like a quaint and cozy private camp for grownups who enjoy nature and quality living. We spent the whole day and then later returned in the evening for the light show in Chicen Itza. We hired a guide who was great the cost was about $42 but we paid her $60 . I would not visit the park with out a guide. She made the whole experience more authentic and enriching. She was also help full with advising and finding us some one to exchange dollars to pesos which is a must do if you want to reap the full value of your miscellaneous purchase. I recommend it for you Eco adventure types. Wife and I loved this place.
---
The rental was great, it was a lovely king bed room, simply furnished and architecturally pleasing. The rental is actually in the Oka'an hotel a few kilometers from Chichen Itza, the entrance road directly across Calle 180 from the IL kil cenote entrance. We loved it, quiet and peaceful, and all the hotel staff were friendly and helpful. We really enjoyed dining with and talking with restaurant chef Brauolio, he was a joy and made us feel welcome. A complimentary daily American breakfast with fresh fruit was included. I think the Airbnb rental price was less than the rental rate shown at the hotel reception center. For more info read the reviews of hotel Oka'an on trip advisor.
Svar fra Caribbean Sun And Sea:
I am very glad and deeply grateful to you for saying so Randy. Actually my goal is to find those niche places not all get you to know. I need to have a qualified number of guests who need to discover this part of México's wonders. I hopefully will have you visiting me again in the years that will come. thanks again. Kind regards, Roberto Pino C.e.o Caribbean Sun and Sea - Viajando Méjico!
---
We had a really nice room with a big king size bed and a nice balcony with lake view. The shower was amazing and beautiful. The hotel is in the middle of the jungle and has a great view point where you can watch the sunset or sunrise. The staff was always nice and helpful. We had a great experience and would recommend it to everybody else.
---
The Hotel was really nice - in the middle of the jungle. It was hard to find, because the official hotel name is O'Kaan. There is a sign at the main road. The observation platform on top of the apartment building was beautiful for sunset & sunrise. We liked it ;)
---
CONOCE Caribbean Sun & Sea
Hola! Somos Roberto, Alejandrina y Massimo, una Agencia de Hospedaje ubicada en la maravillosa isla de Holbox.
Nuestra empresa familiar opera en propio con su Posada Hacienda la Catrina, y abraza actualmente 35 resorts y Hoteles con un total de más de 500 habitaciones céntricos, frente playa o en su cercanía.
Como Caribbean Sun & Sea estamos adquiriendo siempre más convenios con hoteles exclusivos y de nicho de mercado, Haciendas Henequéneras convertidas en Hoteles Boutique en Yucatán, ofreciendo transportación terrestre a Mérida, Playa del Carmen y al aeropuerto de Cancun, organizamos Excursiones y Circuítos turísticos en las zonas cercanas. Organizamos también Bodas en la playa de Holbox, o en lugares particularmente receptivos de energías universales con nuestro marco "Cásate Holbox".
Somos un equipo muy activo en la vida socio-política de la isla y luchamos para la sustentabilidad de la misma.

HOLBOX
En esta maravillosa isla ecológica de Holbox manejamos convenios de más de 500 habitaciones de hoteles frente mar de alta calidad o de lujo, además de otras habitaciones en el corazón del poblado a precios más económicos como algunos bed & breakfast.
Lo que nos distingue, después de siete años de trabajar en hospedaje y doce en bienes raíces, es la seriedad, la puntualidad, la amabilidad y la responsabilidad que ponemos en nuestros servicios y atenciones, sean en nuestras propiedades directas o indirectas. Por esto gozamos de consideración y respeto de parte de los aliados que promovemos.

En Caribbean Sun & Sea consideramos a nuestro cliente como nuestro mejor aliado, buscando para él/ella el mejor valor "precio-calidad" para que disfrute su vacación y nos siga recomendando para los "circuitos personalizados" que creamos según sus exigencias de presupuesto y de curiosidad geo-cultural que tenga. Todas las propiedades en listadas han sido verificadas por nuestro team personalmente y muchas de las fotos tomadas durante nuestras visitas. Es una garantía que con nosotros no encontrarán "sorpresas".

Es importante que nuestros clientes sepan adonde van, qué es la Isla de Holbox y qué van a encontrar, para no disminuir sus expectativas una vez llegados.
Por eso, exhortamos nuestros visitantes a ver videos en you tube sobre el destino Holbox y entender el concepto rústico y genuino de esta isla y de su gente, para pasar una mejor vacación.

Gracias por tu preferencia y gracias por tu pleno voto en nuestros listados!
Roberto Pino y Alejandrina Selem.



ABOUT US
Caribbean Sun & Sea
Hello! We are Roberto, Alejandrina, Massimo, a Local Travel Agency located on the beautiful island of Holbox .
Our family business operates with its own "Posada Hacienda la Catrina"and currently embraces 35 other resorts and hotels with a total of over 600 beach front or nearby rooms.
As Caribbean Sun & Sea we are acquiring more and more exclusive agreements with niche market hotels as Haciendas Henequeneras converted into Hotels Boutique in Yucatan, offering ground transportation to /from Cancun Airport or nearby cities, organizing Local Tours in nearby areas . We also organize weddings on the beach or particularly receptive places of universal energies in Holbox island, with our brand "Cásate Holbox" (Get married in holbox).
We are a very active "team" in social-political life in the island and we fight for its ecological sustainability.

HOLBOX
In this wonderful ecological island of Holbox we handle more than 600 hotel beach front room agreements from a good to high quality or luxury V.i.p., still handling more affordable rooms in the heart of the village.
What distinguishes us, after seven years of working in hospitality and twelve in real estate, is the seriousness, punctuality, kindness and responsibility we put into our services and attention, whether directly in our properties or not. For this consideration we enjoy and respect from allies to promote.

In Caribbean Sun & Sea we consider our customer as our best ally, searching for him / her the best "price-quality" value to make the best out of his/her vacation so to continue to recommend us to the "custom circuits" created according to his/her budget and geo-cultural curiosity requirements. All properties listed here have been personally verified by our team and many of the photos taken during our visits. It is a guarantee that you will not find "surprises".

A suggestion:
It is important that our guests know where they go, what Holbox Island is and what they will find in it not to lower their expectations once they arrive.
Therefore, we urge our visitors to watch videos on you tube about the destination "Holbox" and understand the rustic and genuine concept of this island and its people, to spend their vacation at its best.

Thank you for your preference and thanks for your full vote on our listings!
Roberto Pino and Alejandrina Selem
Sprog:
English, Español, Français, Italiano
Svarprocent:
100%
Svartid:
inden for en time
Kig på andre muligheder i og omkring Chichen-itza
Flere boliger i Chichen-itza: