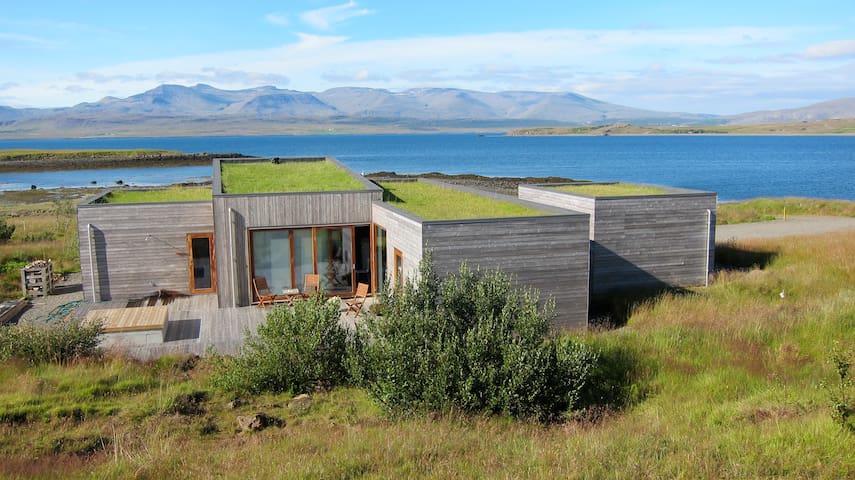 Helt hjem/lejlighed
5 gæster
3 Soveværelser
5 Senge
Om dette opslag
Med Airbnb kan du finde og booke unikke hjem—fra huse og lejligheder til træhuse og igloer. Oplysningerne om boligen nedenfor forklarer, hvad du finder i denne bolig. Hvis du har spørgsmål, kan du kontakte værten direkte.
---
Kapacitet 5
Soveværelser 3
Badeværelser 2
Senge: 5
Udtjekning: 09:00
---
Faciliteter
Køkken
Sted hvor gæsterne kan tilberede deres egne måltider
Varme
Centralvarme eller varmeapparat i boligen
Vaskemaskine
I bygningen, gratis eller mod et gebyr
+ Mere
Køkken
Køkken
Sted hvor gæsterne kan tilberede deres egne måltider
Internet
TV
Basisting
Basisting
Håndklæder, sengetøj, sæbe og toiletpapir
Varme
Varme
Centralvarme eller varmeapparat i boligen
Klimaanlæg
Vaskemaskine
Vaskemaskine
I bygningen, gratis eller mod et gebyr
Tørretumbler
Tørretumbler
I bygningen, gratis eller mod et gebyr
Gratis parkering på stedet
Trådløst Internet
Trådløst Internet
Konstant adgang til boligen
Kabel TV
Morgenmad
Morgenmad
Morgenmad til rådighed.
Husdyr tilladt
Familie/børnevenlig
Egnet til events
Egnet til events
Boligen har plads til en forsamling på 25 deltagere eller mere
Rygning tilladt
Tilgængelig med kørestol
Tilgængelig med kørestol
Nem adgang til bygning og bolig for gæster i kørestol
Elevator i Bygningen
Pejs
Dørtelefon
Dørmand
Svømmepøl
Svømmepøl
Privat eller fælles
Spabad
Fitnessrum
Fitnessrum
Gratis i bygningen eller i nærheden
Røgalarm
CO-detektor
Førstehjælpskasse
Sikkerhedskort
Sikkerhedskort
Oplyste oplysninger og ressourcer til nødsituationer
Brandslukker
---
Rengøringsgebyr:
654 kr DKK
Pris per uge:
11572 kr DKK

/uge
---
Beskrivelse
We are offering our modern 150 sqm. house, our second home, built in 2010. The house is secluded, located by the seaside with spectacular views and scenery on all sides. The surroundings are very quiet and peaceful.
We are offering our modern 150 sqm. house, our second home, built in 2010. The house is secluded, located by the seaside with spectacular views and scenery on all sides. The surroundings are very quiet and peaceful.
The house has a bright, open living area with large windows overlooking ocean scenery to the mountains across the fjord.
- Three bedrooms (sleeps 5).
- Double bed.
- Double sofabed.
- Single bed.
- A mattress for a child.
- Walk-in closet.
- One bathroom with a shower.
- Large porch.
- Fully equipped kitchen.
- A washer.
- Flat screen.
- High-speed wifi.
Our home is located 50m from the beach and the birdlife is varied and unique. Eagles live in the area and are seen occasionally as they rest on a small island just off the shore. Seals are also frequent visitors. Wild berries in august.
During the winter the Northern Lights are seen very clearly in the right weather conditions.
We believe our house is a good choice to enjoy the icelandic nature and scenery e.g.
- The fjord itself, Hvalfjörður.
- Glymur, the highest waterfall in Iceland.
- Esjan, popular hiking area around Reykjavík.
- The golden circle; Þingvellir, Gullfoss, Geysir.
- Snæfellsnes peninsula and the its national park.
All in all a peaceful and secluded place to stay all year around and an ideal workplace for artists and authors.
- 90 km (1 1/2 our drive) from the KEF airport.
- 43 km (40 min drive) to downtown Reykjavik.
For guests who want to stay in Reykjavik at the beginning or at the end of their trip we can recommend good hosts and their cozy apartment, located close to the center.
+ Mere
---
---
We will highly recommend this place and the hosts to our friends and family.

The house and the kitchen in particular was incredibly well-equipped making for a very comfortable stay .

Friendly hosts who give you a warm welcome and then leave you to enjoy your stay with trust and privacy?

Kristins house is absolutely gorgeous and located in an isolated area just a 30 minute drive outside of Reykjavik.

The living area is large, cosy and has an amazing view , the kitchen is very well equipped and invites you to cook.
---
Beautiful, bright, comfortable home; Stunning location; Gracious host. We've rented many vacation homes in the past 25 years and this was among our very favorites! I will definitely recommend Kristin's home to any family and friends who travel to Iceland.
+ Mere
This is one of the most incredible places we have ever stayed. We are on our honeymoon, and the house could not have been more peaceful and romantic. The design of the house is even more impressive and artistic than it appears in the pictures. The view is absolutely gorgeous, and we felt that we had plenty of privacy on our very own slice of the fjord.
The hosts could not have been more kind. We got in from the airport quite late, and they had gotten some groceries for us so that we could have breakfast in the morning. They met us at the house, even at such a late hour, to briefly explain the workings of the house and then left us in peace and privacy for the rest of our stay.
An ideal situation!!
+ Mere
From the moment I saw this Airbnb listing, I knew I wanted to stay here and, thanks to some openings coinciding with our visit and to Kristin's kind flexibility, it came to be! Upon arrival, we were warmly greeted by Kristin herself and, as soon as I walked through the door, I felt at home, a feeling I had throughout my stay. Kristin was so generous with her time in showing us around, explaining how things worked, telling us about the house, its history, the wonderful artwork and beautiful surroundings and offering suggestions for food, hiking and more, all in tune with our interests and needs. In fact, Kristin was a great communicator from start to finish! The house is as described and pictured but, also, so much more than words and photos can convey. Pure art, inside and out! The house is impeccably clean yet warm and inviting with never any feeling of "don't touch anything" that sometimes comes with places this fine. The bed was very very comfortable, the kitchen fantastic and with a gas stove, the bathrooms well-designed and beautiful (in fact, everything is well-designed and beautiful). Quite honestly, everything about the place was a great match for us and our preferences, including even the vacuum cleaner which was the same kind as I have at home! :-) We also felt such ease and resonance with Kristin and Magnus (whom we met later) which was added delight and bonus. I must add that the bird life around the house is entrancing, with Arctic Terns, Oyster Catchers, Wagtails and more dancing about and offering music with their distinct calls. The plants and wildflowers, the mountains and waterway, all add to the stunning vistas and unforgettable experience. This is not my first trip to Iceland but it was my first Airbnb experience in this country. I'm sure I will be back to Iceland again and, if there continues to be an opportunity to stay in this exceptional home, that will get me here faster! Thank you, Kristin and Magnus for sharing your very special home and for all you have done to make it so and to make us feel welcome here.
+ Mere
Our stay in Kristin and Magnus's home can be explained in one word: perfection.
Their skillfulness and generosity as hosts made our first AirBnB experience terrific and easy in every possible way.
The home is truly magical. The property and home as shown in the pictures are actually much more jaw-dropping than the photos can ever accurately portray.
Anyone who appreciates Iceland's majesty, scope and simple beauty will not be disappointed. Even after spending a week there, we still felt each day that the view out of the living room window (whether it be early morning light, mid-afternoon sun, or sunset each evening) was somehow not real. It's that amazing.
We visited in mid-July and so we had no "true" darkness, but the bedrooms both have room darkening blinds, so this really shouldn't be an issue for anyone who's worried about this.
Other reviewers have previously commented that the home feels right out of Dwell magazine and that is absolutely true. Whether it's the gorgeous concrete floors throughout (or the warmth provided from the radiant heating system in all the floors), the wonderful rear patio which is nestled precisely into a spot at the backside of the home in a manner that guards from the wind and creates the perfect spot for a sunny afternoon lunch, the floor-to-ceiling windows in the living areas, the terrific kitchen/dining/living rooms, or either of the beautifully designed baths, this place is just perfection for anyone who appreciates modern home design, clean lines, tasteful decoration and attention to detail. It simply "feels" right in every way.
One reviewer mentioned the aluminum plant across the water... This is not something to be concerned about. It is so far away that it's barely noticeable and you almost need to look for it. Not really worthy of a second thought.
Other reviewers also commented that the home was not possible to find with GPS trip-routing features. Not so... With our host's permission, we are sharing something we found helpful: the home's GPS coordinates for Google Maps or other navigation systems. Just copy and paste these numbers into the search field of Google Maps and you'll see a pin dropped in the driveway (home is to the left of the pin). You can use this pin to then do street routing from the airport. GPS (phone number hidden)
Based on our amazing experiences, here are some highlights that we recommend for other guests:
* Take advantage of a hike along the waterfall Glymur (less than an hour from the house; 30 km)
* Take a walk down to the water and over to the island you can see just off the shore at low tide (but if you do, plan to be VERY careful of protected waterfowl there)
* Enjoy the home's amazing outdoor shower (during warm season when water freezing won't be an issue)
+ Mere
beautiful house in a beautiful surroundings! ideal for families. the beach shore isn't steep so you can let even little kids play there on your own. kristin is a very nice and gentle host who gave us a warm welcome. and the house was already well equipped with groceries, spices, etc. all in all a perfect stay!
+ Mere
Kristin and Magnus were there to welcome us to their beautiful home. They took time to show us around and make sure we had everything we needed. They advised us on what to see and do, and kept in touch during our stay to make sure all was ok.
The views are breathtaking, the bird life rich and diverse, and it was lovely coming back to such a comfortable home each day, usually to brilliant sunshine still streaming in at 11pm!
A very special place! We will never forget the time we spent there.
+ Mere
Kristin and Magnus's house is exactly as featured on the photos : classy, comfortable, finely decorated and well integrated in its environment. The view(s) is (are) absolutely stunning and dramatic anytime of the day. The location is just perfect : remote enough to take a deep breath into the wild but only 30 minutes away from Reykjavik. The Fjord itself is amazing and Kristin and Magnus are warm and friendly people with whom it is easy to get along with.
We highly recommend this place, our best so far experience on Airbnb.
+ Mere
Om værten, Kristin
We are Kristín, teacher, Magnús, tv-cameraman, and our 14 years old daughter, Jana Katrín. We live in Kjós, Iceland and like art, films, music, travelling and outdoor activity. We are neat and quiet and value comfort and silence. By rented out the house we get the chance to meet people from all over and we love to provide a good service to our visitors.
+ Mere
Island
Medlem siden oktober 2011
Svarprocent:
100%
(seneste 10 kontakter)
Svartid: indenfor et par timer
---
Kig på andre muligheder i og omkring Kjosarhreppur