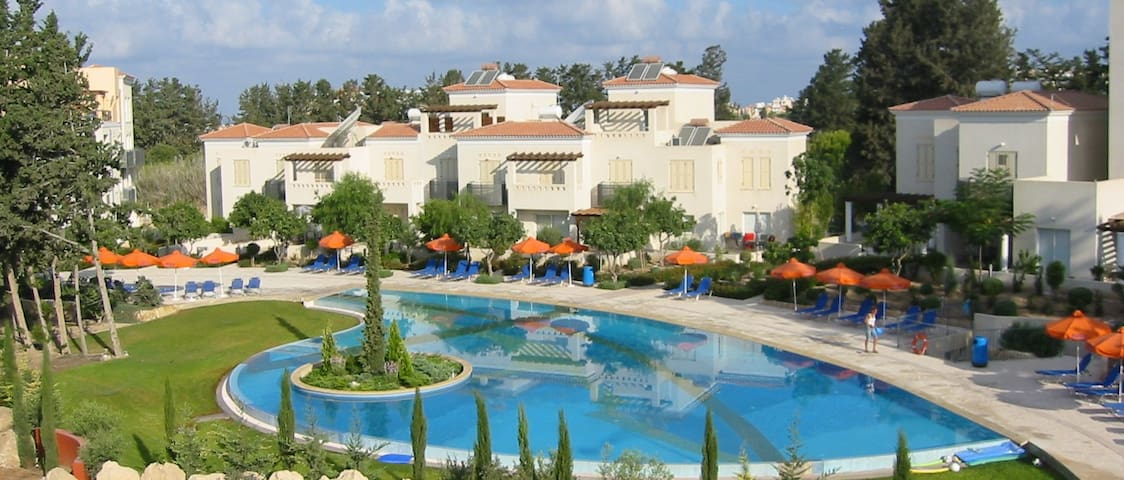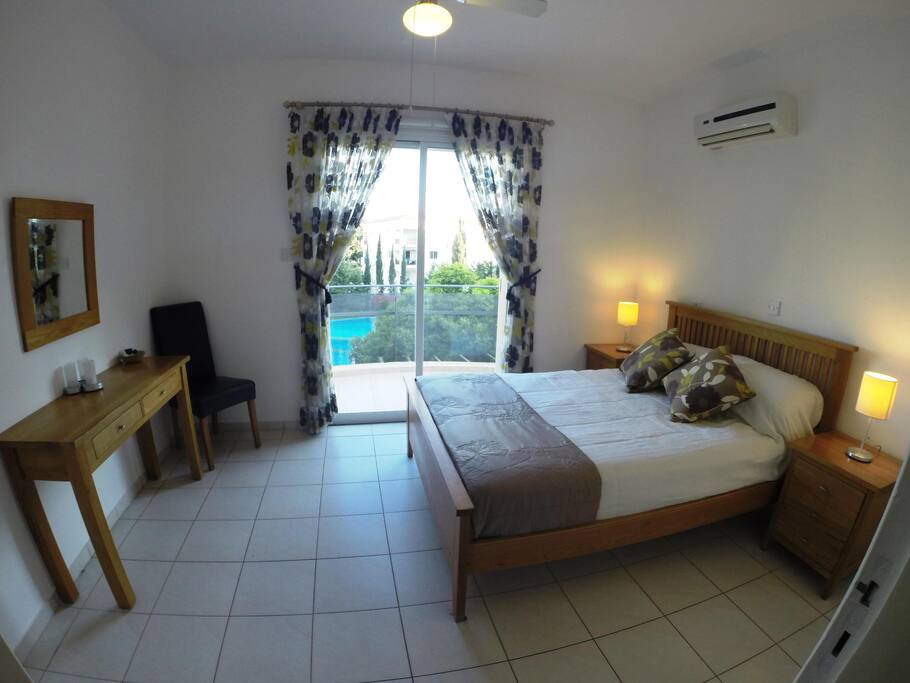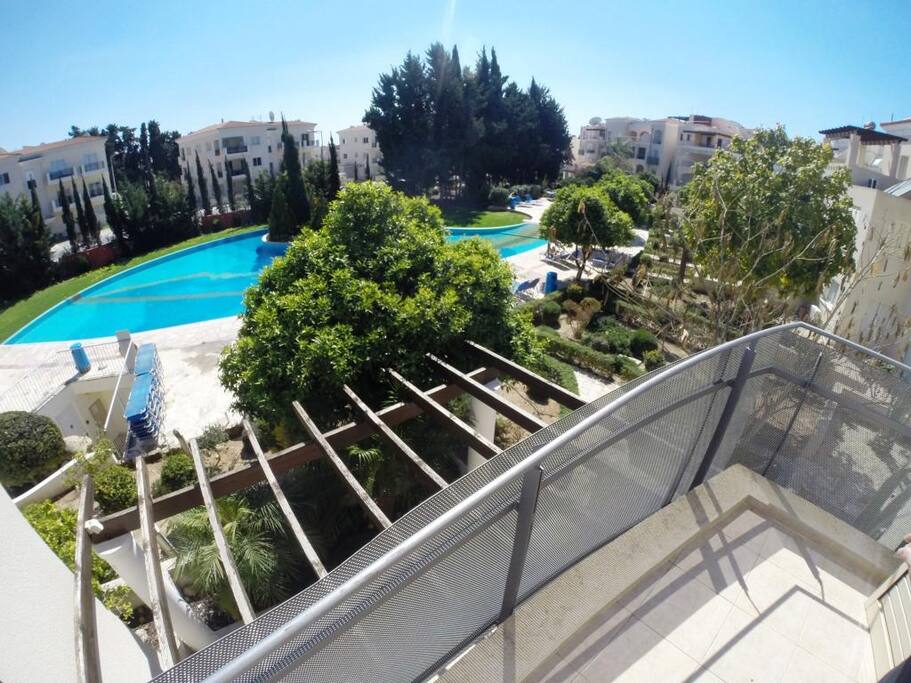 This House is perfect for families and couples. Superbly situated in a very popular and hugely sought after location in the heart of Kato Pafos, This poolside Two Bedroom Hesperides Gardens Townhouse is in a Mediterranean haven. Taking its name from the area once renowned for citrus orchards, this Mediterranean home enjoys not one, but two large pools. Large south facing veranda and balcony. Only twenty minutes walk to Paphos amenities and harbour.
Limited Availability for Summer 2018.
These are just some of the peak weeks available. Book now to avoid disappointment.
9-18th July Just Reduced
20-29th August
12-19th September
1-12th October
Calendar shows live available. Instant Book is available.
The paved poolside patio areas with sun beds and sun umbrellas are ideal for relaxation. The beautifully landscaped grounds adjoin a public park, lined with a row of tall mature poplars that invite you to take a stroll in-between refreshing dips in the pool.
Hesperides Gardens is a simply an unequaled residence of choice for those seeking to combine a relaxing and comfortable holiday near the sea in superb contemporary elegant and luxurious Mediterranean accommodation.
Location Type: close to beach, sea, near shops and restaurants
Theme: Luxury, Family, Couples, Historic, Holiday Complex, Romantic, Tourist Attractions
What is included ?
Air Conditioning/Heating/Ceiling Fans, Wifi Internet, Alarm Clock, All Linen Provided, Bedroom Towels (Not Beach Towels), Toilet Paper, Shampoo, Soaps, Clothes Dryer, Hair Dryer, Iron Board, Safe, Off Road Parking,
Local Activities Guide, Local Maps, Local Restaurant Guide
Kitchen: 4 Ring Hob, Oven/Grill, Cooking Utensils, Dishes Utensils, Freezer, Grill, Microwave, Oven, Washing Machine, Refrigerator, Hob, Kettle, Toaster
Dining: Dining Area, Seating for 4 people, Child's Highchair (available if requested prior to stay additional charge)
Lounge - 2 Sofas Seating for 4 people Flat Screen with UK BBC ITV CHANNEL 4 SKY TV Channels,
Bathrooms:
Bathroom 1 - Toilet, Bath with Power Shower
Bathroom 2 - Toilet , Ground floor
Bedrooms: 2 Bedrooms, Sleeps 4,
Bedroom 1 - 1 Double Bed , with pool-facing balcony
Bedroom 2 - 2 Single Beds,
Outside: Balcony, Terrace, Garden, Outdoor Furniture, Barbecue (available if requested prior to stay additional charge), Patio, Veranda, 4 garden chairs, Sun Beds,
Pool: Two Communal Pools - Very Large Infinity and Smaller Quiet Pool
Suitability: Short Term Holiday and Long-term Renters Welcome, Children welcome, Non smoking only, Pets not allowed
Entertainment: Books - Fiction / Non-fiction, Kids, CD Player, DVD Player, Radio, Stereo, Toys
Local Area
Services: Car Hire Taxi Transfers Available
Attractions: bay, caves, churches, cinemas, forests, live theatre, marina, museums, naturist beach, playground, restaurants, ruins, theme parks, water parks, waterfalls, winery tours, zoo
Leisure Activities: beach-combing, bird watching, gambling casinos, horse riding, scenic drives, sight seeing, walking
Local Services Businesses: ATM/bank, groceries, hospital, dentist, medical services
Sports Adventure Activities: cycling, deep sea fishing, fishing, freshwater fishing, golf, hiking, jet skiing, mountain biking, pier fishing, sailing, diving, skiing, snorkeling, bay fishing, swimming, tennis, water skiing, water tubing, wind-surfing, quad biking
Getting Here
It is easy to get to. Several budget airlines now fly direct to Paphos or Larnaca from Major Uk and European Cities. We suggest using SkyScanner to check flights before booking.
The house is only 20 minutes from Pafos Airport or 75 minutes from Larnaca Airport. It is very easy to arrange a transfer.
You will find taxi's are always available at the Airport. It costs between €30 and €35 for the transfer for up to 4 persons and will take about 20 minutes. If you arrive at Larnaca it is about €100 for up to 4 persons and 1.5 hours transfer time.
We can also suggest a local car hire company after you have booked. They will meet and greet you at the Airport and transfer you to the property free of charge (saving you €30 each way) if you hire a car for the duration of your stay.
To secure your booking a 25% Deposit Payment is due when booking, the balance is payable eight weeks before arrival.
What is available as an extra.
Food Pack - Bread, Ham, Cheese, Water, Orange Juice, Milk, Tea Coffee: £15.00 or €17.00 per stay
Extra beds fee - Travel Cot with bedding, suitable from birth to 24 months (approx 15kgs/33lbs): £3.00 or €3.40 per night
BBQ Hire: £3.00 or €3.40 per night
Housekeeping Fee - This is a Mid Stay Clean, Sheets and Towel Change: £50.00 or €57 per stay
High Chair suitable for babies that can sit unaided (around 6-9 months): £3.00 or €3.40 per night
NB. Please note we do not take bookings from young persons, all male or all female parties. This is without exception. Please do not book if this is the case, our manager in Cyprus has strict instructions to refuse entry and refunds will not be given.
Advert accuracy 5/5 Stars, Cleanliness 5/5 Stars, Check in and Out 5/5 Stars, Communication 5/5 Stars
Area Value 4.8/5 Stars, Value for money 5/5 Stars, Facilities 4.5/5 Stars
52 out of 53 people recommend staying here
Verified Reviews from 2017
Ellen June 2018
imon's Villa is a beautiful, homely, spacious place to stay for a holiday in Paphos. The big pool is just outside, making it perfect place for families staying here. There is a fabulous supermarket not far from the villa with so much wonderful fresh fruit and veg daily! And the centre of town is a walk away, where you can find the harbour/ restaurants, beach. Simon is great host, his communication is fantastic and he has thought of everything to help you with your stay. I really recommend this Villa in Paphos. We had such a wonderful time here.
Diana Family from Jurmala, Latvia October 2017
We have stayed for a week in October 2017. Very good apartment for couples or family with 2 kids. Best part is wonderful terrace and huge pool, which you can see closely from apartment and hear the kids. Wonderful grapefruit trees all around property, you can pick the ripe ones on the ground and make fresh juice, we took juice maker with us. Clean, almost quite, you can hear the cars in the back, but it's not busy street. But don't forget apartment is in the center of Paphos! With kids you need car to get to the beaches, actually the nicest beaches are in the Paphos center, to our taste. No too busy and noisy, with sand. Plenty of kitchen utensils. Wi-Fi is very good on the 1-st floor. Very good communication with owner. We would highly recommend this property.

Nicholas Couple from Watford, United Kingdom September 2017
This was our sixth stay in the house and as usual it was excellent .
We shall return again , Jenny and Nick , Watford

Annie Family from Barking Ipswich, United Kingdom July 2017
Lovely stay at the property, had a problem with the air con and Jacqui sorted it the very next day.
Our only minor issue was where the apartment was.
You really need a car to get about as there are no local shops or restaurants, and it would be a good half hour walk to a nice restaurant or to the nearest beach.
We hired a car for a few days and used a taxi company for the other times.
All in all a lovley place
Julian Family from Watford, United Kingdom July 2017
Thank you Simon for letting us stay in your house.
Our second time at Hesperides Gardens and again we had a fantastic holiday with family and friends. 16 of us staying in 4 different houses on site. Highly recommended.

Andrei Family from Saint-petersburg, Russia June 2017
Хорошее место. Отдыхали семьей - семейная пара с дочерью 13 лет. 10 дней (25.06-05.07.2017)
Компактная полноценная планировка виллы с хорошим оснащением.
Отсутствие посудомоечной машины и включенного в стоимость WI-Fi несколько снизило оценку по комплектности. Все-таки 2017 год.
Начальная чистота на низком уровне (по размещению на вилле потратили 2,5 ч на клининг мест общего пользования и перемывание посуды ). клининг за дополнительную плату (нами не использовался) - сомнительная опция с учетом качества стартового уровня чистоты и наличия средств для уборки, стиральной машины.
Однако большинство положительных отзывов о чистоте виллы и, учитывая ее хорошее состояние не смотря на длительную эксплуатацию (есть отзывы 2008г)- сложилось впечатление, что это нам не повезло.
Прибытие на виллу было в воскресенье и связаться по телефонам, указанным в инструкциях не удалось.
телефоны менеджеров (emergency), указанные в инструкциях, не были зарегистрированы в сети/
связались с клининг-менеджером, Джекки. Она показала нам код шлагбаума для заезда не территорию для парковки.
В инструкциях код парковки, к сожалению, указан не был.
Нашей семьей все "трудности" по прибытию и размещению были расценены как КВЕСТ, который был успешно пройден. И оставшиеся дни мы наслаждались нашим отдыхом.
Арендованная машина, пожалуй, является необходимостью при длительном размещении на данной вилле (хороший пляж с большой парковкой находится на расстоянии около 2,5-3 км)
Бассейн не для маленьких детей - глубина от 120 до 200 см. Есть заход по ступенькам, на которых мамочки с малышами и возились, но не долго.
территория квартала и бассейн убираются регулярно, не навязчиво для отдыхающих.
как везде на Кипре присутствует много кошек.
Translated from (Hidden by Airbnb) :
A good place. Rested family - a married couple with a daughter of 13 years. 10 days (25.06-05.07.2017)
A compact full-scale layout of the villa with good equipment.
The lack of a dishwasher and included in the price of WI-Fi slightly lowered the assessment of completeness. Still, the year 2017.
Initial cleanliness at a low level (for accommodation at the villa spent 2.5 hours for cleaning public places and washing dishes). Cleaning for an additional fee (we have not used it) is a doubtful option taking into account the quality of the starting level of cleanliness and the availability of cleaning equipment and washing machine.
However, the majority of positive reviews about the cleanliness of the villa and, given its good condition despite long-term operation (there are reviews in 2008) - it seemed that we were not lucky.
Arrival to the villa was on Sunday and to contact the phones specified in the instructions failed.
The managers' phones (emergency) specified in the instructions were not registered on the network /
Contacted the cleaning manager, Jackie. She showed us the barrier code for the check-in, not the parking lot.
In the instructions parking code, unfortunately, was not specified.
Our family all "difficulties" upon arrival and accommodation were regarded as QUEST, which was successfully passed. And the rest of the days we enjoyed our rest.
Rented car, perhaps, is a necessity for long-term accommodation in this villa (a good beach with a large parking is at a distance of about 2.5-3 km)
The pool is not for small children - the depth is from 120 to 200 cm. There are sunset on the stairs on which mothers and toddlers are fiddling, but not for long.
The territory of the quarter and the pool are cleaned regularly, not intrusive for vacationers.
As everywhere in Cyprus there are many cats.

Victoria Family from Paisley , United Kingdom September 2016
Nice house everything you need lovely large pool

Paul Family from Epsom, United Kingdom July 2016
Number 3 hesperides Gardens is very well set up for a great family holiday in the sun with views of the pool from the terrace ( if you have young children be careful of the stairs as being marble they are very slippy )
Be warned if you like to visit the beach( this is the one with the sand) as this is an arduous trek of which we never completed in under 45 minutes and the harbor is approximately 40 minutes whilst the shopping mall can be done in half an hour. We discovered during the second week things were made a lot easier when we hired a car- coral bay has a much better beach for children of all ages
Most of the Restaurants are very good in the harbour and if you can blank out your family perpetually moaning about marching to the beach and then to the harbour on a daily basis you will actually bring them home fitter and considerably lighter around the middle
i have given this review only 2 stars due to the inaccuracy of the information given at the time of booking, even though it has been changed after my complaining it is still not accurate enough

Abi Family from Kingswinford, United Kingdom July 2016
Our 2nd visit to Hesperides Gardens and definitely not our last! A fantastic apartment with every need catered for and at a fantastic price. The apartment is situated in a beautiful, clean residential setting, with the pool literally outside the door. The owner, Simon, could not have been more accommodating. Fantastic apartment, beautiful setting and within easy reach of pathos harbour. A real home from home.
Brian Couple from Middlesbrough, United Kingdom June 2016
Everything was as described, we had great time, pool was like bath water, only ever a few people in it, quite and peasfull, welcome pack.was good, only down side was it took nearly 30 minutes to walk to the first bar. Which was a struggle in the heat, taxi back cost 8 euros, I wouldnt want to walk back at night as pavements are bad. Not much for young kids.

Alex Couple from Bristol, United Kingdom June 2016
We had an absolutely brilliant stay at #3 Hesperides Gardens; the property was as described and ideal for what we wanted. Any contact with the owner was answered promptly, politely and with no disruption to our stay.
The apartment is close enough to the harbour and surrounding area that we did not use a car or taxi at all during our stay, other than the trip from/too the airport which was arranged with a local firm that came both recommended from Simon and also at a discount.
The biggest compliment we could pay would be to honestly say that on our next visit to Cyrpus, I would be hugely surprised if we looked anywhere else for accommodation.

Diane Friends from Audley, United Kingdom April 2016
The property was beautifully clean,well equipped and comfortable. It was difficult to tear ourselves away from the pool to explore. Its about twenty minutes walk away from the seafront bars and restaurants and a further five to the harbour in a lovely quite area far enough from the action but close enough to explore on foot. The local shop is five minutes walk for the basics. But if you're feeling lazy the taxi the owner recommended was about €8 and friendly and reliable. If you want to explore the local bus service is very reliable and runs to schedule all the time (unlike at home). We hired a car for a few days and visited coral bay, pissourri and latchi,all have lovely beaches. All in all we will definitely be coming back.
Fred Couple from Cheltenham, United Kingdom December 2015
lovely villa with well maintained gardens in a nice area of paphos, its a good 25 min walk to the harbour, bars and restaurants.
kings avenue shopping mall is only a 15-20 min walk. lovely shopping mall with good shops, cinema and restaurants. overall we had a lovely stay with good weather.

Debra Couple from Stockton On Tees, United Kingdom October 2015
We stayed for a week at the beginning of October 2015, and it was very enjoyable. The only (slight) downside was that my wife had a sore foot that made walking painful and the house is a little out of the way for bars, restaurants and the beach.
Having said that, the house itself was beautiful, clean, well maintained and if you didn't fancy going to any of the above, then the pool and sun loungers immediately outside the patio doors were perfect for relaxing.
A taxi rank 100 yards from the house meant that we were able to easily get to the harbour which is I suppose a 20 minute walk away. There are buses but they only ran until around 4pm.
Overall I would give the house a big thumbs up and would definitely stay there again.

Elaine Couple from Manchester, United Kingdom September 2015
We used Stevies Taxis from and to the airport, the driver knew the location and was very helpful and bang on time for return trip. The house was very clean and in an excellent position close to the beautiful pool. A welcome pack was much appreciated because of the late time of our arrival. The bedroom fan and A/C was a godsend, it was extremely hot for the 2 weeks that we were there. There is everything that you need in the house and I would not hesitate to recommend it to friends and family.
It took between 20 and 30 minutes to stroll down to the harbour area but buses are available for 1.5 euro each. 2 small "supermarkets" a short walk away.
Overall we had a lovely time in Simon's house and hopefully will be back in the near future

Julian Family from Shoreham, United Kingdom June 2015
We had a fantastic time at the house. This is our second time to the development but first to this house. House was clean and well furnished. The pool area is lovely and the location is just right, not too far from the centre of town but far enough away to be nice and quiet.
We are already getting dates together for our next visit!

Christopher Friends from Stockport, United Kingdom June 2015
Great house with loads of room with the highlight being the patio doors leading onto to small garden and large perfectly kept swimming pool, we have been to Hespiredes Gardens three times before and will be going back again,

Alice Family from Gateshead, United Kingdom May 2015
Had a great week the property is really excellent easy access to pool quiet. Unless you like to walk a hire car would be advisable or Steve's Taxis very reliable and cheap. Booking and contact with owner was very easy and quick replies to questions you may need to ask. The property is central and about 10 minute drive from attractions like the Water Park which was a brilliant day out,the harbour with its extensive restaurents and Coral Bay.
Thank you very much Cyprus7 we will be returning in the near future.

Simon Family from London, United Kingdom August 2014
Amazing. Just as described.

John Couple from Pontefract, United Kingdom March 2014
This was our second stay in our apartment. We had excellent weather for our week in March. The apartment was clean and well maintained. The facilities were marvellous and overall our stay was great value for money. We would thoroughly recommend these properties to our friends and we intend to book again for 2015 with our family.

Simon Family from London, United Kingdom March 2014
We had such a fabulous holiday with Cyprus7. It was so good, we booked again for August 2014. Just a word of warning, these properties get booked well in advance so book early. We cant wait now to go again.

John Large Group from Pontefract, United Kingdom October 2013
Fabulous apartment. Fixtures and fittings all of a very high standard and quality, lovely patio area and and only a few strides from the super pool. Our family group of ten had two apartments,. First trip abroad for some of the grandchildren and we could not have wished for a better holiday experience for them. We would certainly recommend to friends. We hope to visit again next year.

Kenneth From Bolton, United Kingdom October 2012
Lovely apartment next to an amazing pool surrounded by grapefruit trees and gardens.
Weather fantastic! This was our first holiday to Cyprus so hadnt expected it to be so warm this late in October.
Welcome pack was really appreciated, thank you. Jacqui just a phone call away if you need anything.
Quite a walk to the harbour but its flat and we just took our time. Well worth it though as there are so many restaurants and bars to choose from and coming back is easy after a good meal and drink or two. We did eat in a few times though.
Just hope we manage to come back very soon.

Nicholas Couple from Watford, United Kingdom September 2012
Summer 2013 was our fourth stay in the house and it was as lovely as ever . We shall return !!
Jenny and Nick
Kathryn From South Stoke, United Kingdom August 2011
We stayed for two weeks in August with our teenage children. The property was clean and big enough (especially as werent inside it that much) but the main attractions were outside - we loved the location close to the pool and the shady outside terrace where we could have all our meals. Its not too far to walk into Paphos itself and we always felt safe doing so and letting the teens walk home (after us!). The pool was clean and even in peak season not too busy with plenty of sunloungers. We enjoyed boat trips and drinking coffee / cocktails at the harbour. Wed recommend a car if you want to get out and about a bit, but it isnt 100% necessary. Overall a great holiday that suited all of our different tastes within the family.
Alan From Ashington, United Kingdom August 2011
Had a lovely week here on our family holiday. The house is very well equipped, well laid out ,and was spotlessly clean. We arrived late so the welcome pack supplied by the owner was very welcome. A part shaded patio area was well used for breakfasts and lunchtime snacks. The pool area is just a few metres down from the patio area, and while always busy never seemed crowded, and there was never any problem acquiring sun loungers in the positions we wanted. There seem to be a lot of owner occupiers in the complex who were very friendly and always keen to give advice about places to go, and places to eat, etc.. There was a genuinely friendly atmosphere around the place. On this note, the owner has a Review book in the house where guests are invited to add cards and reviews from restaurants they have visited, this was very useful. The house is situated in the Universal area of Paphos and is about a 20 minute walk from the main tourist and harbour areas. We walked in most evenings and got a taxi back (8 Euros) There are two mini markets about a 5min walk down the road which we found stocked everything we needed for our stay. I didnt hire a car, but in retrospect it would have probably been a good idea to, as we did seem to do an awful lot of walking - and it was hot!!! All in all we had a super time here and would have no hesitaion in recommending this property. Alan Bell
John From Lisburn, United Kingdom May 2011
We really enjoyed our stay at Hesperides and will definately be making a return visit. The property is beautifully furnished and fully equipped with everything you need, it was clean on arrival. We really appreciated the welcome pack as we arrived after midnight. The complex is lovely, well maintained and very secure. We stayed for two weeks in May, it was lovely and quiet and we enjoyed the pool area. The location of the property is in the universal area so we would recommend a hire car.

Paul From Wimborne, United Kingdom May 2010
The property is beautifully furnished and fully equipped with everything we needed, it was clean on arrival. The provision of the welcome pack was a nice touch.
The complex is lovely and well maintained. While we were there it was lovely a quiet and we enjoyed some peaceful time in the pool area. It is also possible to walk to Paphos harbour if you feel inclined!
We really enjoyed our stay at Hesperides and will definately be making a return visit.
Penny From Nr Bristol, United Kingdom June 2009
This was our second visit to the property. Once again the property was of an excellent standard . The welcome pack was very much appreciated as we did not arrive at the property until very late after many hours travelling. We will be booking for the same resort or property for next yaar and would not hestitate in reccomding to family and friends.
The owner Simon Foster is always contactable should you have any small queries which is very reassuring.
If the change over dates could be a little flexible ie weekend we will be rebooking for 2010.

Michael From Wimborne, United Kingdom June 2009
As we walked through the front door of hesperides gardens we did not know what to expect. We were in for a very pleasant surprise. the house was superb and very nicely furnished. There was a welcome pack which was much apprieciated as we arrived late at night. The gardens and pool are a delight and are well maintained. Will book again.

Helen From Pinner, United Kingdom May 2009
Very nice house with every comfort of home. Lovely terrace looking on to a large swimming pool. Lots of amenities nearby and approx 7 minute drive to Paphos resort and lots of restaurants. An ideal spot to relax in.

Sarah From Bishops Stortford, United Kingdom April 2009
We (my wife and I and our two children, aged 11 and 10) stayed in Simon Fosters house in Hesperides Gardens for two weeks at the start of April 2009 (over the Easter break) and would definitely recommend it to anyone.
The owner is extremely pleasant and helpful. For instance, we could not find a drying rail when we arrived so we were hanging washing over the balcony rail. Simon called us on our second day to ask if all OK and we mentioned this (it appears the original one was probably nicked from the terrace). The next day the owner's representative in Paphos called round with a new rail. Small thing but appreciated. Another nice touch was the bits and pieces waiting for us in the fridge when we arrived.
The house is lovely and in the perfect spot in the development for the pool. It was so nice to wander in to make a cup of tea and wander out again to continue sunbathing!
The development opposite Hesperides Gardens was being worked upon so there was some building noise. However it didn't spoil our holiday as the pool is nicely secluded.
Finally, the car hire firm recommended by the owner was excellent. Picked us up at the airport and dro pped us back as part of the price. Also, as an added bonus, they upgraded our car half way through the holiday as they needed the smaller one. Not sure this can be guaranteed every time though!

Barbara From Poole, United Kingdom September 2008
House is perfect, very comfortable very clean, with beautiful furnishings. Perfectly situated for sight seeing.
Excellent to have been to able step from the patio into the pool in a few seconds.
Exceptional complex. Will be booking for next September asap

Dave From South Benfleet, United Kingdom August 2008
Great apartment which was very clean. Ideally situated close to the pool which is lovely. Our kids aged 9 13 thought the pool was brill . Apartment is well equipped with all you need plus some handy new release DVD,S. These came in handy when we couldnt be bothered to go out to eat. We were contacted both by the owner and local agent to ensure all was OK during our stay, we had no problems at all.Car hire company recommended by owner was good and reliable providing a good service.
Upon research the apartment is a little more expensive than others at the complex. However to be honest I did try to re book for next year to find it already booked.
We had a great holiday and are very likely to return to this complex using this residence if available.

Penny From Nr Bristol, United Kingdom July 2008
Very clean and tidy property, all mod cons you need. Good location for the pool. Would recommend a safe for the property for passports and money.

Peter From Christchurch, United Kingdom September 2007
We had an wonderful holiday, the villa was modern clean and extremely well presented. there is a superb swimming pool which was always warm and inviting and easily accessed from the property's own sun terrace.
Within easy travelling distance are the shops and restaurants of paphos there is a local store close by for the essentials and an icecream van arrives at around 4pm each day.

Simon From London, United Kingdom July 2007
We had an amazing stay in this property. Just a word of warning it gets booked well in advance. We tried to book for next year but it was already booked. Perfect for a family holiday. Owner was very helpful. Thanks so much see you again soon.
Simon From London, United Kingdom July 2007
The house was in a great location walking distance to the restaurants, bars and local shop but far enough away that it was quiet and relaxing. It was fully equipped, the owners have thought of everything. The pool was bigger than expected, clean and very warm. The house was spotlessly clean and the beds really comfortable. It is ideal for families and couples. We are booking for next year.
Edenas From Kaunas
We stayed for two weeks and had a fantastic holiday. The house has everything you need for a relaxing holiday. The location is in a quiet suburban area of paphos which is ideal for peace and quiet but close enough to the restaurants, bars.The local ammenities are all close at hand and the kato paphos town and beaches only a 10 min walk. The communication with Cyprus 7 before and during the holiday was great. We had an amazing stay in this property.Hesperides Gardens is an excellent complex in a great location. The very thoughtful owners had supplied everything to make the place a home from home.The accomodation is furnished to a high standard and well air conditioned.The rear of the property is complimented by a large patio area that is superbly placed next to the lovely poole which was great for keeping an eye on our children yet private too. We enjoyed our stay so much, would highly recommend this place for a great holiday. Thank you for being so thoughtfull which made our stay memorable.
Nick From Watford
Once again , we had a lovely stay . We would thoroughly recommend the house !!
Jenny and Nick
Nichola From Willerby, East Yorkshire
What a brilliant house!! We stayed for two weeks and had a fantastic holiday. The house has everything you need for a relaxing holiday. The location is in a quiet suburban area of paphos which is ideal for peace and quiet but close enough to the restaurants, bars etc if you want to get a quick taxi drive (Stevies Taxis) in to the harbour area. The communication with Cyprus 7 before and during the holiday was great.
I would only make one suggestion and that is a BBQ on the terrace for guests to use would have made a brilliant house an amazing one as my husband would have cooked instead of me!!
Morten From Oslo
We very much enjoyed our holiday and are thinking about coming back next year.
The cleaning of the pool was somewhat disappointing, too much dirt at the bottom and too many bugs floating around in the pool. A big minus that there is no dishwasher. The dishes must been done immediately, otherwise aunts all over the kitchen.
Good location, security and great cooperation with car rental, brought to and from AirPort with car waiting outside apartment, excellent service.
Richard From Birmingham
Modern well equipped townhouse, good location but would recommend either a hire car or use Stevies Taxis (who were excellent) to get to the harbour as it is a long walk.
House exactly as described in details you wont be disappointed, pool area great too. House and grounds immaculately maintained.
It was very quiet around the complex in May, we would happily stay again for our main Summer holiday.
Have recommended the house to family and friends as we were that impressed.
Karen From Dunblane
Had a lovely week in Cyprus at Hesperides Gardens. THe accommodation is as described and well equipped. Great location beside the pool which we all enjoyed. The pool area is well maintained and was quiet no rush for sunbeds here. It is a good 25 minute walk into paphos although we enjoyed this and it does mean that you can enjoy all the lovely food without any worries!!! THe taxi company recommended by Simon was excellent picking us up at the airport and taking us back although we did find all the taxi companies reliable and friendly. If you want to explore surrounding area a car would be useful although bus service good. Simon and Jacqui both very helpful during our stay. If you want accommodation that is well maintained and not part of a huge holiday complex youll enjoy this property.
Samantha From Nottingham
We were lucky enough to book this beautiful house for a two week holiday from which we have just returned. The house itself is perfect - everything as described and all we could have wanted and more. The house is spotless and very well cared for. Its location within the complex, we thought, might be the best, being slightly elevated and since the picture was taken, the greenery has matured and offers a great deal of privacy. We could not fault it and not only was everything as described, there are plenty of helpful notes and instructions so all is clear and we were very well informed throughout the duration of our stay. We were delighted with the house and the service we received from the owner and would have not hesitation in recommending this property to friends and family, and also booking again........which we intend to do. The pool is stunning, the area quiet and the weather was delightful and we felt very safe. Our favourite restaurant was the typical Cypriot Taverna in the town, over 30 years old and famous for their Souvla (and their fillet steaks). All food here was delightful - some of the best food we have eaten anywhere. Had we found it early enough, we would have eaten there more than the three times we did. New Paphos is rather maze like so its worth looking around as even on our last few days we were finding more bars and tavernas which we had not come across before. Found a lovely cocktail bar which soon became a favourite haunt - quite contemporary, cool and quiet - and delightful, fresh cocktails were always available. The recommended taxi companies both offered a brilliant service as did CTT Car hire. We know there is more to explore and want to come back so very much. We laughed and sunned for the most relaxing two weeks and were greeted by local people who were always smiling, helpful and ready to assist if we needed. Most definitely a favourite holiday destination..........and we cant wait for next year. Simon - thank you very much for (Website hidden by Airbnb) really was awesome!
Mike From Wimborne Dorset
We had a lovely holiday - mostly due to the brilliant accomodation - we were able to relax and it was great having lots of private space - will use again.
Malcolm From Barton Upon Humber
Everything was perfect, will certainly book this property again

Ellen From Peterlee
house was very well equiped, decor and furnishings top class. Bedrooms both had plenty of room and storage and beds very comfortable. Complex and pool area very clean and tidy, as well as very quiet. Welcome pack was very well thought out, had all the basics you would need on arrival, and two small convenience stores within a few minutes walk. A 15 minute walk brought you to the start of the main bar and resteraunt area, slightly further to the harbour and beach. Would definately stay there again and will recommend to freinds and family. A big thankyou to Simon, who let us stay on at the house until our departure for the airport( two and a half hours over the normal time to vacate, as no follow on booking) as I was travelling with my elderly parents this was a great help. Also CTT car hire Simon recommends we found to be cheap, reliable, and very helpful, and they will give a free airport transfers when a car is booked for the full length of your stay. The only negatives I can think of is that there is some building work going on in the area at present, and you do back onto a road from which you here some noise, however neither of these spoilt our holiday in any way, it was still very easy to chill out and relax. Overall we had a wonderful holiday, we were a party of four adults of varying ages, and found plenty to do in the resort, as well as the accomadation itself feeling like a home from home.
Robert From Salisbury
Had a fantastic short break and would stay again
Wayne From Poole
Hesperides Gardens is an excellent complex in a great location. The very thoughtful owners had supplied everything to make the place a home from home.The accomodation is furnished to a high standard and well air conditioned.The rear of the property is complimented by a large patio area that is superbly placed next to the lovely poole which was great for keeping an eye on our children yet private too.The local ammenities are all close at hand and the kato paphos town and beaches only a 10 min walk. We enjoyed our stay so much that we will definately be returning next year and would highly recommend this place for a great holiday, guaranteed. Thank you for being so thoughtfull which made our stay memorable and stress free.
Valerie From North Featherstone
the house and complex were both excellent, the complex is still in the early stages and once the planting matures it will be a fantastic little oasis, will definately be returning.
Tracey From Bedlington
STAYED AT HESPERIDES GARDENS MID JULY WITH MY 2 SONS FOR A WEEK.COULDNT FAULT THE TOWN HOUSE WE STAYED IN. IT WAS FABULOUS! ID RECOMMEND IT TO ANYONE.VERY AIREY AND BRIGHT WITH EVERYTHING YOU NEED.AND THE POOL WAS ONLY A FEW STEPS AWAY WHICH WAS JUST ASWELL AS IT WAS VERY HOT.WELL WORTH A VISIT!!
Dave From Holywell
lovely and clean you do need a car little far out but excellent for a quite holiday. pool etc great needs a bar or cafe on site i tnink but over all excellent.
Tony From Cheltenham
A great place to stay, close enough to everything, fabulous pool but above all clean with comfortable beds.
Size: 85 m2.

Amenities: Bed Linen Towels, Terrace, air conditioning, heating, swimming pool, Free Parking, Paid wireless internet, Paid cot on request;
Bathroom: Toiletries, toilet, bath with shower, Bathroom, washbasin , Towels, mirror;
Bedroom: Bed Linen Towels, cupboard, double bed, built-in wardrobes, chest of drawers, Balcony, air conditioning, Ceiling Fan, Cribs Available;
Bedroom: Bed Linen Towels, built-in wardrobes, night table, reading lamps, air conditioning, Fan, 2 x single bed;
Kitchen: Cookware Kitchen Utensils, Crockery Cutlery, Iron Ironing Board, Washing Machine, cupboard, cooking hob, oven, electric kettle, microwave, toaster, fridge / freezer;
WC: toilet, washbasin , mirror;
Bathroom, WC
Gratis parkering på stedet
Overnatningsarrangementer
Soveværelse 1
1 dobbeltseng
Soveværelse 2
2 enkeltsenge
Ingen fester eller begivenheder
Indtjekning fra 15:00 til 23:00
Svartid:
inden for en time
Kommuniker altid via Airbnb
For at beskytte din betaling skal du aldrig overføre penge eller kommunikere uden for Airbnb's hjemmesiden eller app.
Kig på andre muligheder i og omkring Pafos