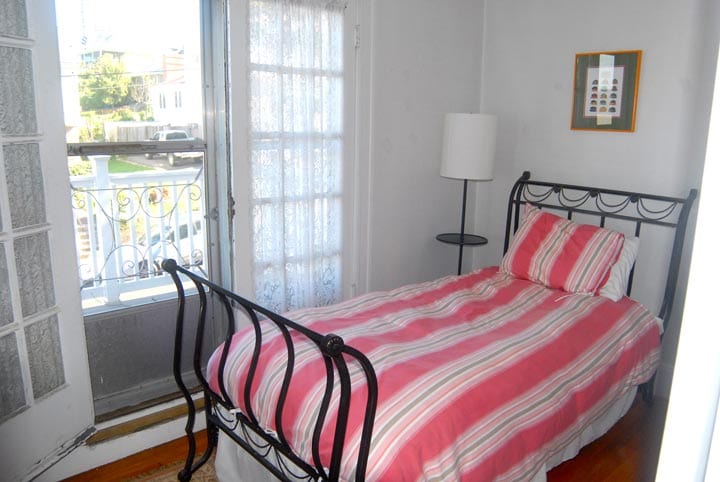 Privat værelse
1 gæst
1 Seng
Om Dette Opslag
Med Airbnb kan du finde og booke unikke hjem—fra huse og lejligheder til træhuse og igloer. Oplysningerne om boligen nedenfor forklarer, hvad du finder i denne bolig. Hvis du har spørgsmål, kan du kontakte værten direkte.
---
Sengetype: Alm. seng
Kapacitet 1
Soveværelser 1
Badeværelser 0
Senge: 1
---
Faciliteter
Køkken
Sted hvor gæsterne kan tilberede deres egne måltider
Basisting
Håndklæder, sengetøj, sæbe og toiletpapir
+ Mere
Køkken
Køkken
Sted hvor gæsterne kan tilberede deres egne måltider
Internet
TV
Basisting
Basisting
Håndklæder, sengetøj, sæbe og toiletpapir
Shampoo
Varme
Varme
Centralvarme eller varmeapparat i boligen
Klimaanlæg
Vaskemaskine
Vaskemaskine
I bygningen, gratis eller mod et gebyr
Tørretumbler
Tørretumbler
I bygningen, gratis eller mod et gebyr
Gratis parkering på stedet
Trådløst Internet
Trådløst Internet
Konstant adgang til boligen
Kabel TV
Morgenmad
Morgenmad
Morgenmad til rådighed.
Husdyr tilladt
Familie/børnevenlig
Egnet til events
Egnet til events
Boligen har plads til en forsamling på 25 deltagere eller mere
Rygning tilladt
Tilgængelig med kørestol
Tilgængelig med kørestol
Nem adgang til bygning og bolig for gæster i kørestol
Elevator i Bygningen
Pejs
Dørtelefon
Dørmand
Svømmepøl
Svømmepøl
Privat eller fælles
Spabad
Fitnessrum
Fitnessrum
Gratis i bygningen eller i nærheden
Røgalarm
CO-detektor
Førstehjælpskasse
Sikkerhedskort
Sikkerhedskort
Oplyste oplysninger og ressourcer til nødsituationer
Brandslukker
---
Pris per uge:
2421 kr DKK

/uge
Omfatter rengøringsgebyr.
---
Beskrivelse
Fresh home roasted coffee from around the world awaits you each morning along with a thick slice of my freshly baked artisan bread. This alcove room is comfortable for any length of stay with some stays up to 6 months. Excellent for those relocating.
This is a charming, bright, and sunny apartment with views of the Boston skyline and is absolutely a comfortable, professional, and safe place for both men and women. You will awake each morning to the smell of fresh brewed coffee - roasted here by me from exotic green beans. Pair this with some fresh baked artisan bread that I typically have on hand. If you love coffee and fresh home made bread, it doesn't get any better then this. If you are interested, I might give you a lesson or two on how to roast your own coffee. In addition to fresh baked bread toasted with jam additional breakfast offerings may include cereal, bagels with cream cheese, or, on occassion, a Colombian breakfast of arepa, egg, and cheese. It's delicioso and high protein breakfast, a great way to start the day.
Roslindale Village is a 6 minute walk away and is a lively and charming village square that has many fine restaurants, coffee shops, market, specialty shops, and farmer's market on Saturdays from June through October.
This room is perfect for anyone considering a long term stay. I now find my typical guest is staying for a month or more. This room is an excellent place for someone coming to Boston for an extended education, relocation, or business stay. Though the room is small the adjacent living room, for the most part, is yours to relax, watch tv, work, or browse the internet on your computer. This room was created by knocking down one of the walls in order to open up the front of the house. It is an "alcove" off the living room separated from the rest of the house by blackout curtains. Read the reviews, people enjoy it. There is plenty of storage for whatever you bring. Public transportation into and out of Boston is very convenient. It's what I use and it's faster than driving and parking. If your stay is for one month or more I will arrange to meet you at the airport or train station and return you there when you depart.
The room has a twin size bed that will accomodate one person. There is a living room, dining room, kitchen, back porch, front porch, and bathroom that is shared with the host. There is a full office with a printer, scanner, Macintosh computer, PC, and Linux computers. There is free off-street parking in driveway for one car. There is unrestricted on street parking. We are close to Rt. 128 for those who would use that route to arrive by car. If you enjoy biking around a city feel free to bring bicycles as they can be stored in the basement. Though there is no laundry on the premises your laundry can be done for about $5 per load for wash, dry, and fold.
I have just recently joined the movement away from cable tv and I get 27 channels in HD through an antenna. I do have internet with Netflix streaming via a Roku box and Apple TV that provides many alternative sources of tv entertainment. Wifi is provided throughout the house.
If you are an early morning person and want to go to the gym to start your day you can do so as my guest. Please let me know in advance of your arrival.
If you are arriving from outside the US and you need to arrange for a sim card for you mobile phone I can arrange that. If you need electric power adapters we can get those as well.
Once you book your room I will send you links to useful local information. If you would like to discuss special transportation needs then please feel free to ask. If you are coming from outside the US and want to get a sim card for your phone I can help you with that once you arrive.
You can feel free to use almost anything here. Feel free to cook in the kitchen and store food in the refrigerator. The local farmer's market runs June through November where you can buy the freshest of local produce and many other products. If you have luggage that is in your way I can store that in the attic.
This is a shared living experience. I live and work here. I spend all of my time in my office thus it affords the guest a sense of privacy to watch TV or some other sort of entertainment. For the most part you will have the entire front of the house to yourself. If you are here for a longer stay we might even share takeout, dinner, or go to a movie.
This is a very quiet neighborhood. So quiet you will hear the birds sing. Guests often remark at how quiet this neighborhood is for being in the 3rd most densely populated city in the US. You are within walking distance to the village square where you will find restaurants, markets, and a variety of shops.
Public transportation in Boston is as good as anywhere in the world. Every bus and train has a gps that lets you track it via your mobile phone or computer. There is no guesswork or wasted time in using the public transit system.
To get into Boston the bus is just a few steps from the front door and you can be in downtown Boston in 40 minutes on average, often less. My location is an excellent place from which to commute into downtown Boston, Mass General Hospital, the financial district, Back Bay (Copley, Prudential Center, Newbury St.), the Museuem of Fine Arts, Harvard Medical School, and the Longwood Medical Center.
If you are going to use public transportation I have a "Charlie Card" with enough of a balance to get you through the first day or so of your visit. You can reload them at any "T" station. The Charlie Card is very convenient for bus and subway travel and is less expensive per fare than using cash or the Charlie Ticket. I do expect that you will return these cards with the same balance as when you received them. The best deal on public transportation is the one week unlimited subway/bus pass for $17. The breakeven on that is about 5 rides.
If you book late on the same day as your arrival you may find that I am not available to you for a convenient arrival time. You should check that.
I am about as laid back, flexible, and accommodating as you could expect to find. Read the reviews, that's me. For the most part I have professional guests who are here for work, education, or relocation. This is a shared living experience. I work here as well as live here. It is a quiet home in a quiet neighborhood. I'm here to make your stay as pleasant as possible within the context of the "Airbnb experience".
I get up each day anytime from 6:00am on. I will get up to see to it you get on your way. I will coordinate with you so that fresh coffee is made and you are provided with fresh baked bread toasted with butter and jam. Any other breakfast items are on you. You can use the refrigerator to keep any food you may want. You can bring in most anything you want and use the kitchen and most everything else in the house.
+ Mere
---
No visitors allowed at anytime without prior approval. Overnight guests are not allowed at all. There is no room for guests. Don't ask.
No smoking.
11:00 PM is quiet time while watching private room tv is acceptable.
No eating meals in the room. It's too small, you'll see what I'm saying, and there's a nice dining table for that. Small snacks are fine.
If you cook and/or uses dishes and utensils then please clean them so someone else can use them. Do not leave anything uncleaned in the sink overnight.
Shared areas of the home are expected to be maintained after you use them. There are no room services provided other than normal cleaning. Closet and dresser space is provided for your clothes.
+ Mere
---
Duane is a super nice host. He is so kind and always willing to help me anything during my relocation. Every morning, Duane prepared nice coffee and breakfast, which makes me feel like home. He allowed me to move in with several boxes and park my car in the driveway.
The place is very clean, quite and in a safe neighborhood. It is a few minutes walk to bus stops, which take you to Forest Hills T station. Overall, it is a comfortable place and I really enjoy my stay here.
I highly recommended Duane's place, especially for those relocating to Boston.
+ Mere
Mahtava isäntä. Hyvät keskustelut aina aamiaisella ja välillä muulloinkin. Duane osasi neuvoa reitit paikkoihin joihin olin menossa ja ehdotti muutamia kohteita, joita en edes tiennyt olevan. Hyvin pohjoismaalaisen ajattelutavan omaava amerikkalainen. Ei ollut tungettelevainen, mutta oli aina valmis auttamaan.
Huone oli pienehkö, mutta riittävä, koska se yhdistyi suoraan olohuoneeseen, joka oli käytännössä yksityisessä käytössäni. Talo on vanha hyvällä tunnelmalla, ja näköala upea. Pysäköinti kadun varressa ilmaista, mikä on Bostonissa arvokas asia. Monikulttuurinen turvallinen naapurusto. Todella hiljainen katu. Wifi toimii.
Itse olin liikkeellä vuokra-autolla, mutta paikallisbussi kulki ihan lähikadulla. Etelä-Boston on melko sokkeloinen, joten suosittelen autoilijalle navigaattorin käyttöä.
+ Mere
From Turku, Finland ·
april 2015
Duane is very kind person, he hosted me in his apartment even I came just for one day in Boston. He helped me with info about Boston, took me with his car from the subway to his house and the most important, wrote me about a precious sd card full of photos from my trip which i lost in front of his house and sent me the files which are very important to me. I appreciate a lot what he did and I am sure he can help in other ways the people who decide to stay in his cozy house. Highly recommended!
+ Mere
From Bukarest, Rumænien ·
april 2015
Duane is a really nice, outgoing person. He will help you with anything you need. I enjoyed my stay there.
+ Mere
Duane's home is clean, quiet, comfortable and very pleasant. He is a very nice, helpful and available host, and the coffee is indeed good. Public transport into Boston was very easy. I would definitely stay there again.
+ Mere
I had a last minute change of itinerary and needed a place in the Boston area for the night between business appointments. Duane was nice enough to accept a same-day booking. The room is great, there was street parking right out front, and Roslindale is a cool area. Duane is a super host, and his homemade toast and coffee is outstanding!
+ Mere
From New York, New York ·
marts 2015
Duane is an excellent host! I would recommend him to anyone traveling to Boston. His place is located in a good neighborhood and is very well kept and clean. Not to mention that Duane roasts some outstanding coffee. I look forward to staying here again on my next trip to Boston.
+ Mere
Om værten, Duane
I am a self-employed professional. I work as a technology consultant out of my home office. I am very knowledgeable about Boston, it's history, and most importantly, how to get around in Boston. I was once a Boston cab driver. I enjoy a lot of outdoor activities including surfing and tennis. Perhaps most interesting to my guests is that I roast coffee from beans grown on the best plantations in the world. This is absolutely a comfortable, professional, and safe place for both men and women.
+ Mere
Boston, Massachusetts, United States
Medlem siden september 2011
Svarprocent:
100%
(seneste 30 dage)
Svartid: inden for en time
---
This is my favorite Chinese takeout restaurant and it has the approval of Chinese guests. Close, good price, and good portions. My favorite is the A2. Whats that? Youll have to come find out.

Washington Street

MA

02131

This little market has a good deli with some good deals. Also has the typical groceries along with wine and beer.

Washington Street

MA

02131

This is a classic family style restaurant. The food is decent but not award winning. The pizza is above average to very good. Prices are very reasonable and plenty of parking across the street.

Washington Street

MA

02131

A comfortable eating place and cozy bar with moderately priced meals.

Washington Street

MA

02131

Tony has been here almost 50 year and sells high quality Italian import foods. He makes sausage fresh every Thursday. Great selection of meats and cold cuts.

Washington Street

MA

02131

The Saturday morning farmers market in the Village Square is excellent! It runs from the first Saturday of June through to the first Saturday of November.

Poplar Street

Boston

MA

02131

This is a uniquely American place. Started as a pizzeria, bought by a family from Mexico, they blended the two cuisines. This is fast food and cheap.

Washington St

Boston

MA

02131

This franchise restaurant offers simple sandwiches.

Washington St

Roslindale

MA

02131

Bank of America. A good choice for long term guests to set up a temporary account.

Corinth St

MA

02131

This bakery offers great lunches including soups and salads. Its a great bakery too!

Corinth Street

MA

02131

A full featured grocery store.

Corinth Street

MA

02131

Small, fast food style taco restaurant.

Poplar St

MA

02131

Great breakfast place and family style restaurant. Open for breakfast and lunch only.

Corinth St

MA

02131

Very good Japanese restaurant.

Corinth Street

MA

02131

Full service pharmacy open daytime hours only.

Corinth St

MA

02131

A very nice Mediterranean style restaurant.

Birch Street

Rosalindale

MA

02131-3008

US Post Office

Cummins Highway

MA

02131

A better American style bistro.

Birch Street

Roslindale

MA

02131-3008

As good an Italian restaurant as any in the city.

South Street

MA

02131-1740

This restaurant recently opened in the village square. This is a second location for this restaurant and it is very good. The original won Best in Boston 2012.

Washington Street

Roslindale

MA

02131

Full service pharmacy. Pharmacy services until 9:00 pm.

Washington St

Roslindale

MA

02131

Office supplies, printing, faxing.

Washington St

Roslindale

MA

02131

Excellent Mexican restaurant.

Centre Street

MA

02132

High quality market 1.5 miles from my house. I walk there often but Ill arrange to go by car if you need to. After a long day you probably dont want to walk.

Centre Street

West Roxbury

MA

02132-1901

US Post Office

Centre St

Boston

MA

02132

Arnold Arboretum is a museum/park of Harvard University. It is a short walk to the top of Peters Hill which offers spectacular views. The park is extraordinarily beautiful. A great walk destination.

Arborway

MA

02130-3500

A cemetery you say? Yes, this is a fascinating place that not only has fantastic Victorian era sculptures it as has modern sculpture as well. Take a tour, maps provided.

Boston

Massachusetts

In the village square at 4195 Washington St Boston, MA 02131, not where the map says. Great Irish pub with good food.

Day Street

Norwood

MA

02062