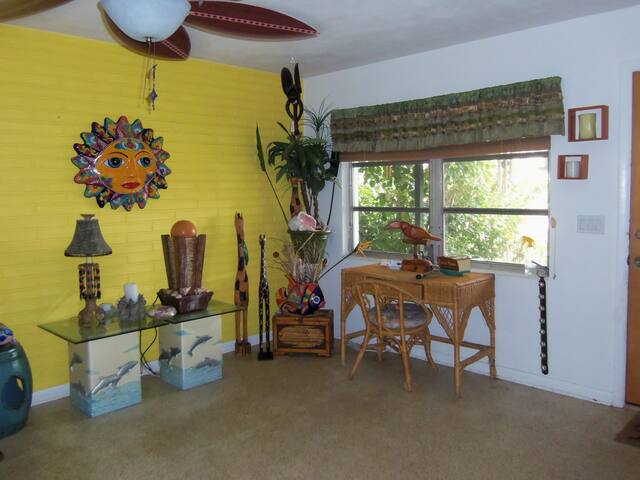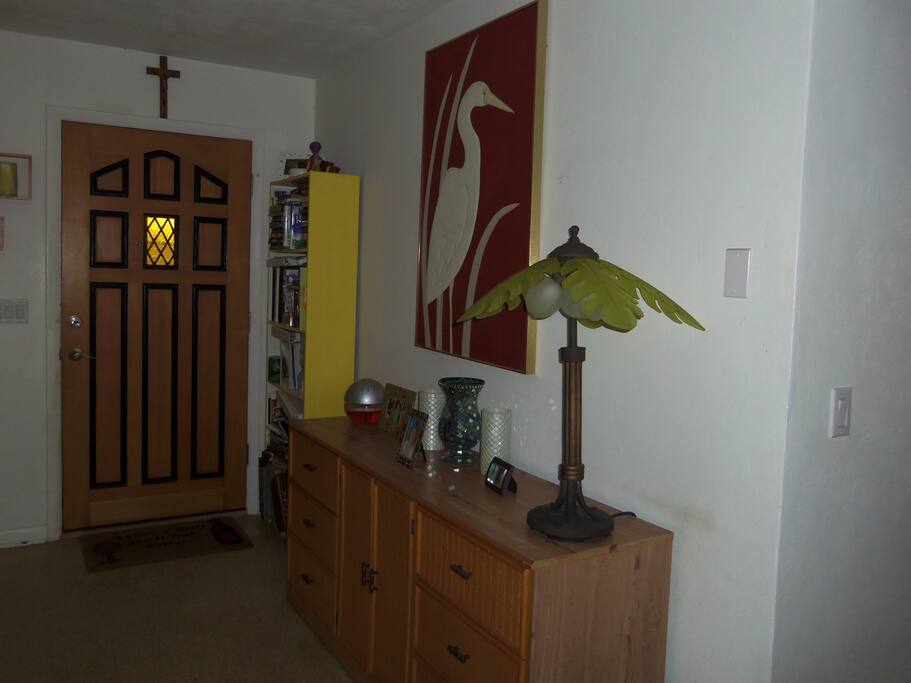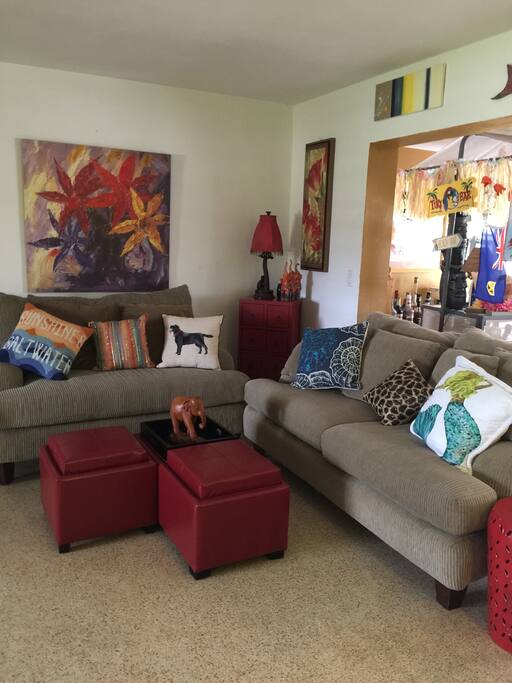 Privat værelse
6 gæster
1 Seng
Om dette opslag
2 Rooms,"JOAN'S TIKI" & "TIKI BAR OPEN". Sleeps 6. $45 is starting rate for each room. One room up to two adults & two small kids with air bed. Air bed is extra, extra for dogs. Second room has queen for two. I have extra air beds $$ for more people to put up anywere in house, if you rent both rooms. Book each room seperateHigher rates in season. Animals welcome! Cape Coral Yacht Club, safe area. Walk to Yacht Club Beach, Fishing Pier. 1/2 hr FMB & Sanibel
---
Holder husdyr:
Hund(e) og Kat(te)
Værelsestype:
Privat værelse
---
Køkken
Sted hvor gæsterne kan tilberede deres egne måltider
Basisting
Håndklæder, sengetøj, sæbe og toiletpapir
---
Ekstra gæster
137 kr DKK / nat efter 3 gæster
Rengøringsgebyr:
137 kr DKK
---
2 Rooms,"JOAN'S TIKI" & "TIKI BAR OPEN". Sleeps 6. $45 is starting rate for each room. One room up to two adults & two small kids with air bed. Air bed is extra, extra for dogs. Second room has queen for two. I have extra air beds $$ for more people to put up anywere in house, if you rent both rooms. Book each room seperateHigher rates in season. Animals welcome! Cape Coral Yacht Club, safe area. Walk to Yacht Club Beach, Fishing Pier. 1/2 hr FMB & Sanibel
WARNING....WARNING....You must love animals. I have two rooms for rent and can sleep up to 6 people WITH airbeds included. Once room sleeps up to to three with an airbed. Have extra air beds for other areas of the home. You will need two rooms for more than three adults. 2 in a second room. I have a third airbed, but it would have to be set up in the living room/or tv area of the home. Air beds are extra charge.
I have a big, big, 101 lb Lab/Poodle....HARDY! His companion is Cooke Dough a 15 lb cat! I have two rooms in my home and one bathroom. Please check with me to see if both rooms are open for three to six people. I also have air beds to set up for an extra fee. My home is fun and upbeat with a Tiki Bar, a very large fenced in back yard, with a small patio. gas grill, and a smoker for your use. Check our my mango, orange and lime trees. Front and back patio for smokers. Queen size beds and Air beds upon request set up of queen air beds for more people. I live in a Golfer's ,Baseball, and Fisherman's Paradise. Close to boat rentals, Cape Coral Yacht Club & Beach, racket ball, tennis, swim club, local fishing pier, Boat House Tiki bar, beer/wine, burgers, breakfast, etc. Watch the sunset from the beach, Tiki Bar, or pier on the river. A half hour drive to Naples, Punta Gorda, Sanibel & Captivia Islands, Pine Island, Matlacha and Fort Myers Beach. 15 minutes to downtown Fort Myers were something is always happening. Meals cooked by reservations. Laundry washed and folded for $10.00. Three hours to four hours to Disney, Universal and Discovery Cove. 2 hours to Bush Gardens, St. Pete and Tampa. Close to local shops, malls, and pubs. Shell collectors, sharks teeth, beaches for you and your pets! For the ladies, if you love to shop, your will have a blast at our Flee Maters Flee Market, Estate Sales, Second Hand Shops and Garage Sales. My home is located in a safe, clean neighborhood. Hardy loves company, especially those with four legs! Pets Welcome as long as they don't try to eat Cookie Dough. Coffee, Meat, Cheese, Breads served every morning. If you need help planning your trip, I can assist you and your family. Planning on moving? I am also a Real Estate Agent with a CIPS International License., Accredited Buyers Rep and Senior Rep.
Room is clean and offers your own refrig for drinks, etc. You have your own TV, but the Tiki Hut offers Netflix. Ask about longer stays for use of kitchen, and for a fee laundry. All rooms have a couple of sodas and beers in the refrig Help yourself. If you drink from the Tiki Bar please replace or leave cash.
Need help planning your trip? I have brochures in each room. Check out the FREE LIMO service from my home to Back Streets Bar/Sports Bar.
They will pick you up and bring you home for a tip only! We have Uber and taxi services.
I live in a wonderful old neighborhood that is very safe for walking or biking. You can have bikes deliver to my home for rental. Make sure that you go to Boat House Tiki Hut at the Yacht Club Pier and Fords Garage on Cape Coral Parkway.
There is public transportation within a mile that will take you to Fort Myers. Parking is on the empty lot next to my house. Just pull up on the lot.
Please do not use my driveway except to load or unload. Please do not park on the street or on my grass. Sprinkler system.
Arriving by bus or plane $10.00 pick up fee.
My house to close to everything. You will love this location. Take a boat to Key West and return the same night. Let me help you set up your vacation. Once you book, I can help you with discounts.
---
Passer ikke til babyer (0-2 år)
Respect my home and all that lives here. Coffee included in rent, ready by 7:00 AM Also frozen waffles, pancakes. I do not cook.
Bring your pets....I have doggie doors. There is a charge for dogs. Must not eat my cat " Cookie Dough" Must be on Flea & Tick Meds and have shots. Please do not slam doors at night! Enjoy your visit and most of all HAVE FUN. I can help you with your trip prior to arrival send me your email once you book.
---
---
Din vært
---
Cape Coral, Florida, USA
·
Medlem siden november 2009
"TIKI BAR IS OPEN" at Joan's House! I am a retired Philly tavern/ restaurant owner, who moved to Cape Coral, Fl. 10 years ago. I love living in PARADISE. I am a Realtor for Jones & Co Realty. I can help you find your dream home in Paradise. I work with investors, worldwide! I specialize in Gulf Access homes and Fannie Mae homes for investors.
I also teach school as a substitute for Lee County Schools. "Gotta Go Vacations" is my hobby. Let me sell you a home in Paradise or BOOK A CRUISE or ALL INCLUSIVE VACATION any where in the world. Prior to moving to Florida, I spent all my summers on LBI, NJ. I have a big, loveable, 120 lb. Lab/Poodle, "HARDY" and one cat, "Cooke Dough.". They use a doggie door. They love chasing the Florida critters. Make sure you lock your bedroom door at night, or you just might have HARDY licking your face. I spend my free time at the Doggie Beach in Fort Myers or on the road traveling to new exotic places, having a blast snorkeling, sailing, fishing and scuba diving. I love musicals, movies, reading, dancing, cooking, wave runners, roller coasters, Halloween, and to PARTY with HARDY at the Dog Bar in Cape Coral. Hardy spends most of his day swimming and playing at the Cape Coral Dog Spa and Resort. If I am not working, I spend cocktail hour at The Monkey Bar. Call for a free limo ride to and from Backstreets Sports Bar, .50 cent Tacos every Wednesday. Shelling Sanibel Island is fun. A trip to Matlache to visit the neat Art Gift Shops and Berts Bar to meet all the local shrimpers and fisherman while having a big plate of local fresh caught Grouper Fish, or a Heart Attack. side of Fried Mac & Cheese while sitting on the back deck watching mullet and dolphins play in the back bay.
Pine Island offers may great restaurants, go by car or boat to the Raggie Ass Saloon! Join me in PARADISE!Attractions + Things To Do in Cape Coral
Things To Do in Cape Coral: Railroad Museum South Florida#1 of 30 Things To Do in Cape Coral
Railroad Museum South Florida
8695 College Pkwy Fort Myers FL - miles from Cape Coral city center

The historic Seaboard Air Line railway station is home to the Museum. The station was built in 1926 during the Seaboard's push into South Florida to compete with Henry Flagler's Florida East Coast Railway. The building is a fine example of the Mediterranean style architecture of the era, with its arched entryway, stucco walls, and barrel tile roof. It is one of the few remaining structures to display the look of old Deerfield. The structure was listed as a Historic Site with the State of Florida Department of Archives in 1974 and earned a place on the National Register of Historic Places in 1990.For many years the station and surrounding area were an important produce shipping center, with farmers from Pompano to Lake Okeechobee renting warehouses. In 1942, the Army Air Corps took over...
Things To Do in Cape Coral: Edison Community College#2 of 30 Things To Do in Cape Coral
Edison Community College
8099 College Pkwy Fort Myers FL - miles from Cape Coral city center

Edison State College, located in southwest Florida, is a Florida public college, offering two and four year undergraduate degree programs.

Things To Do in Cape Coral: University Eye Surgery Center#3 of 30 Things To Do in Cape Coral
University Eye Surgery Center
13051 University Dr Fort Myers FL - miles from Cape Coral city center
Hotels Close to University Eye Surgery Center
Things To Do in Cape Coral: Broadway Palm Dinner Theatre#4 of 30 Things To Do in Cape Coral
Broadway Palm Dinner Theatre
1380 Colonial Blvd. Ft. Myers FL
~4.57 miles from Cape Coral city center

Things To Do in Cape Coral: Southwest Florida College#5 of 30 Things To Do in Cape Coral
Southwest Florida College
1685 Medical Ln # 200 Fort Myers FL - miles from Cape Coral city center
Hotels Close to Southwest Florida College

Things To Do in Cape Coral: Life International College#6 of 30 Things To Do in Cape Coral
Life International College
11735 Plantation Rd Fort Myers FL - miles from Cape Coral city center

Things To Do in Cape Coral: Edison and Ford Winter Estates#7 of 30 Things To Do in Cape Coral
Edison and Ford Winter Estates
Fort Myers FL
~6.59 miles from Cape Coral city center

The Edison and Ford Winter Estates contain a historical museum and 17 acre (6.9 hectares) botanical garden on the adjacent sites of the winter homes of Thomas Alva Edison and Henry Ford beside the Caloosahatchee River in southwestern Florida. It is located at 2350 McGregor Boulevard, Fort Myers, Florida, USA. It is open daily from 9:00 am to 5:30 pm, including Sundays.
Things To Do in Cape Coral: Lee County Sports Complex Hammond Stadium#8 of 30 Things To Do in Cape Coral
Lee County Sports Complex Hammond Stadi Mile Cypress Pkwy Fort Myers FL - miles from Cape Coral city center
Hotels Close to Lee County Sports Complex Hammond Stadium
Attraction type: : 14100 Six Mile Cypress Pkwy. Fort Myers, FL 33912Tel: Fax: of 30 Things To Do in Cape Coral
Lee County Sports Complex
14100 Six Mile Cypress Parkway Fort Myers, FL 33912 Fort Myers FL
~6.97 miles from Cape Coral city center

Things To Do in Cape Coral: City of Palms Park - Red Sox Spring Training Stadium#10 of 30 Things To Do in Cape Coral
City of Palms Park - Red Sox Spring Training Stadium
2201 Edison Av Fort Myers FL
~7.02 miles from Cape Coral city center

Hang out in the right field lawn section to watch the game and get autographs from Red Sox players. Seats in this section are relatively inexpensive, offer a good view of the field and allow fans to ask players for autographs on their way out of the stadium.
Things To Do in Cape Coral: Key West Express#11 of 30 Things To Do in Cape Coral
Key West Express
2200 Main Street Ft. Myers Beach FL
~7.25 miles from Cape Coral city center
The Key West Express is located at the world famous Salty Sam's Marina which is a water bound recreation destination for all ages. They offer everything including power boat and kayak rentals, charter boats for fishing or sightseeing, unique gifts and souvenirs, the Parrot Key Caribbean Grill - voted Best Waterfront Restaurant, and the Key West Express ferryMany visitors to Miami like to take a few days for a visit to the Florida Keys, particularly Key West. There is a saying that "getting there is half the fun," but some travel methods are more fun than others. If you are going to drive to the Keys, there is only one road to take – US 1. This busy road is often clogged with traffic, especially on some single-lane stretches. Thankfully, there is a new way to travel from Miami to Key We...

Things To Do in Cape Coral: Centennial Park#12 of 30 Things To Do in Cape Coral
Centennial Park
Fort Myers FL
~7.27 miles from Cape Coral city center
Centennial Park, a beautiful ten-acre community park located on the scenic banks of the Caloosahatchee River, conjures up memories of an old-fashioned park where families can stroll, picnic, and lazily enjoy the ambiance and charm of the south. On-site amenities include a large handicap-accessible playground area for children, fishing pier, boat docks and launching ramp, volleyball courts, two picnic pavilions, promenade path, and plenty of benches to sit and relax while watching a romantic sunset or the river view. In addition to numerous weddings and private parties, Centennial Park regularly plays host to various community events that you won't want to miss! Centennial Park is located in historic downtown Fort Myers, 2000 West First Street.The covered pavilions at Centennial Park ca...
Things To Do in Cape Coral: Fort Myers Historical Museum#13 of 30 Things To Do in Cape Coral
Fort Myers Historical Museum
Fort Myers
~7.39 miles from Cape Coral city center
The Southwest Florida Museum of History is located at 2031 Jackson Street just one block south of Martin Luther King Jr. Blvd. in historic downtown Ft. Myers. The museum is open Tuesday through Saturday from 10 am to 4 pm. It is open to individuals and for group tours.Housed in the former Atlantic Coastline Railroad depot, the Museum is home to the history of Southwest Florida. Paleo Indians, the Calusa, the Seminoles, Spanish explorers, and early settlers are just a few of the people you will meet as you view our exhibits. An authentic replica of a pioneer "cracker" house, a 1926 La France fire pumper, and a 1929 private Pullman rail car are also part of the tour.In addition, the museum also houses an extensive artifacts collection detailing early civilization, the Fort, the first...
Things To Do in Cape Coral: Fort Myers Beach#14 of 30 Things To Do in Cape Coral
Fort Myers Beach
Fort Myers FL
~7.59 miles from Cape Coral city center

Fort Myers Beach is a town located on Estero Island in Lee County, Florida, United States. The population was 6,561 at the 2000 census. It is part of the Cape Coral–Fort Myers Metropolitan Statistical Area.Fort Myers Beach is located at ?W ().According to the United States Census Bureau, the town has a total area of 6.2 square miles (16.0 km²), of which, 2.9 square miles (7.4 km²) of it is land and 3.3 square miles (8.5 km²) of it (53.41%) is water. The town is situated across the barrier islands of Estero and San Carlos.Estero Island and its sister island, San Carlos, make up the community of Fort Myers of the census of 2000, there were 6,561 people, 3,425 households, and 2,048 families residing in the town. The population densi...
Things To Do in Cape Coral: Six Mile Cypress Slough Preserve#15 of 30 Things To Do in Cape Coral
Six Mile Cypress Slough Preserve
Fort Myers FL
~7.63 miles from Cape Coral city center

The Six Mile Cypress Slough Preserve is a natural animal corridor between northern Lee County and Estero Bay. You can see alligators, wild pigs, otters, and more. During the dry season (October to June), birds like herons and egrets flock to the flag ponds. A 1.2-mile boardwalk winds through the 2,200-acre wetland, and includes a photo blind to get up-close photographs of the animals, and two observations towers. There are guided tours year-round, and self-guided tour brochures. Parking is $.75 per hour, maximum $3 (cash only). Bring food and drinks. Call to know the open hours.
Things To Do in Cape Coral: Burroughs Home#16 of 30 Things To Do in Cape Coral
Burroughs Home
Fort Myers FL
~7.80 miles from Cape Coral city center

Things To Do in Cape Coral: Imaginarium Hands On Museum#17 of 30 Things To Do in Cape Coral
Imaginarium Hands On Museum
Fort Myers FL
~7.81 miles from Cape Coral city center

Hands on exhibits and 3D theater make this aquarium fun for the whole family.Attraction type: Aquarium, Children's museum, OtherAddress: 2000 Cranford Ave. Fort Myers, FL 33901Tel: Fax:
Things To Do in Cape Coral: Calusa Nature Center and Planetarum#18 of 30 Things To Do in Cape Coral
Calusa Nature Center and Planetarum
3450 Ortiz Ave Fort Myers FL - miles from Cape Coral city center

The Calusa Nature Center and Planetarium is a private, not for profit, environmental education organization located in Fort Myers, Florida. Our 105 acre site has a museum, three nature trails, a Planetarium, butterfly and bird aviaries, a gift shop and meeting and picnic areas. Strolling through our Museum, visitors can learn about Southwest Florida's natural history. Daily educational programs allow visitors an up close and personal view of some of our resident creatures, including a skunk, bobcat, raccoon, white tail deer, Butterfly Aviary and Native Plant Nursery and an Audubon Aviary which houses permanently injured birds of prey (hawks, vultures, bald eagles, owls and more!).Various amphibians and arthropods are also waiting for you. The Museum's interpretive displays address...
Things To Do in Cape Coral: Discover Resort's Florida#19 of 30 Things To Do in Cape Coral
Discover Resort's Florida
959 Periwinkle Way Sanibel FL - miles from Cape Coral city center

Things To Do in Cape Coral: Estero Bay/Ft Myers#20 of 30 Things To Do in Cape Coral
Estero Bay/Ft Myers
Fort Myers Beach
~10.42 miles from Cape Coral city center

This is the place to come to enjoy wildlife, especially during the winter months while the birds are here. All the walking is on a boardwalk, mostly in the shade. There are several places to sit and just enjoy the peaceful setting. There are actually very few mosquitoes, even near the ponds. Mosquito eating fish in the slowly moving water help keep the bug population to a minimum.
Things To Do in Cape Coral: Sanibel Island#21 of 30 Things To Do in Cape Coral
Sanibel Island
Sanibel
~11.15 miles from Cape Coral city center

Sanibel Island is an island located on the Gulf coast of Florida, just offshore of Fort Myers. In 2000, it had an estimated population of 6,064 people. Located within Lee County, Sanibel is a barrier island – a collection of sand on the leeward side of the Gulf Stream from the more solid coral-rock of Pine Island.The city of Sanibel incorporates the entire island, with most of the city proper at the east end of the island. After the Sanibel causeway was built to replace the ferry in May 1963, the residents fought back against overdevelopment by establishing the Sanibel Comprehensive Land Use Plan in 1974 helping to maintain a balance between development and preservation of the island's ecology. A new, higher bridge without a bascule (drawbridge) having to open for tall boats and sailboat...
#22 of 30 Things To Do in Cape Coral
JetBlue Park - Red Sox Spring Training
Ballpark Drive Fort Myers FL
~11.63 miles from Cape Coral city center

Things To Do in Cape Coral: Germain Arena (Teco)#23 of 30 Things To Do in Cape Coral
Germain Arena (Teco)
Fort Myers FL
~13.70 miles from Cape Coral city center

Germain Arena is a 7,128-seat multi-purpose arena in Estero, Florida, United States.The arena was first named Everblades Arena in 1998 after the hockey team that played there. TECO Energy was the first company to obtain the naming rights to the building, changing the name to TECO Arena. In 2004, TECO Energy decided they were no longer interested in holding the naming rights. Germain Motor Company bought the rights, and in 2004 the venue was renamed to Germain Arena. This same company, an automobile dealership with locations in Florida, Arkansas, and Ohio, also holds the naming rights to the Germain Amphitheater in Columbus, Ohio.Germain Arena has been used as a multipurpose venue, primarily hosting the Florida Everblades ECHL ice hockey team and the Florida Firecats Arena Football Leag...
Things To Do in Cape Coral: Manatee Park#24 of 30 Things To Do in Cape Coral
Manatee Park
Fort Myers FL
~14.06 miles from Cape Coral city center

At Manatee Park you may glimpse Florida's most famous marine mammal. When gulf waters are cold—usually from November to March—the gentle sea cows congregate in these waters, which are warmed by the outflow of a nearby power plant. Pause at any of the three observation decks and watch for bubbles. Hydrophones allow you to eavesdrop on their songs. Periodically one of the mammoth creatures—mature adults weigh hundreds of pounds—will surface. The park rents kayaks in winter and on summer weekends, and kayaking clinics and free guided walks are available.Cost: Parking $1 per hr Open: Daily 7:30-sunset. Gates locked promptly at closing time. Visitor center daily 9-4.Manatee ParkAddress: 1¼ mi east of I-75 Exit 141 at 10901 Rte. 80, Fort Myers, FL, 33905 Phone: www.leepar...
Things To Do in Cape Coral: Bonita Beach Park#25 of 30 Things To Do in Cape Coral
Bonita Beach Park
Bonita Springs FL
~17.30 miles from Cape Coral city center

Bonita Springs is a city in Lee County, Florida, United States. The population was 32,797 at the 2000 census. According to the July 1, 2007 U.S Census estimates, the city had a population of 42,268. It is part of the Cape Coral–Fort Myers Metropolitan Statistical Area.
Things To Do in Cape Coral: Naples Fort Myers Greyhound Track#26 of 30 Things To Do in Cape Coral
Naples Fort Myers Greyhound Track
San Carlos Park FL
~19.24 miles from Cape Coral city center

A horn blares to signify the beginning of a race, and a voice booms from the loudspeaker, "Here comes Sparky!" Eight dogs are then released from the gate, appearing as a blur as they sprint after the mechanical rabbit. After one lap around the track ...

Things To Do in Cape Coral: Barefoot Park#27 of 30 Things To Do in Cape Coral
Barefoot Park
Naples FL
~19.52 miles from Cape Coral city center

Things To Do in Cape Coral: Delnor Wiggins Pass State Park#28 of 30 Things To Do in Cape Coral
Delnor Wiggins Pass State Park
Naples FL
~20.74 miles from Cape Coral city center

Delnor-Wiggins Pass State Recreation Area is a Florida State Park located on a barrier island on Florida's southwest coast near Naples, Florida, six miles west of Exit 111 on I-75. The Cocohatchee River and the Gulf of Mexico are accessible from the park, which contains a hard bottom reef.
#29 of 30 Things To Do in Cape Coral
Veterans Community Park
1895 Veterans Park Dr Naples FL
~22.85 miles from Cape Coral city center
Hotels Close to Veterans Community Park
aka Rover Dog Park
Things To Do in Cape Coral: Corkscrew Swamp Sanctuary#30 of 30 Things To Do in Cape Coral
Corkscrew Swamp Sanctuary
San Carlos Park FL
~25.11 miles from Cape Coral city center

Corkscrew Swamp Sanctuary is a National Audubon Society sanctuary located in southwest Florida, north of Naples, Florida and east of Bonita Springs, in the United States. The sanctuary was established to protect one of the largest remaining stands of Bald Cypress (Taxodium distichum) and Pond Cypress (T. ascendens) in North America from extensive logging of the tree that was ongoing throughout the 1940's and 50's. The Corkscrew Cypress Rookery Association was formed in 1954 to protect the area. The National Audubon Society accepted responsibility for management and started constructing the first boardwalk through the swamp in 1955. In all, nearly 45 square kilometres (17 sq mi) of wetland was purchased or donated (most from or by the owners, Lee Tidewater Cypress Center Co. and Collier Ent..

Let's not forget my favorite place for alligators, birds, snakes, everglades, and more is Babcock Ranch. It is really a fun tour in the wild. You will need advance reservations. Babcockwilde

Svarprocent:
100%
(
seneste 10 kontakter
)
Svartid:
inden for en time
Kig på andre muligheder i og omkring Cape Coral